Key takeaways
Pros
Modern design
Easy setup and implementation
All-rounder softphone
Advanced configuration options
Cons
Slightly confusing interface
Possible freezing issues on some computers
Might not work at all on some computers
Linphone is a well-rounded softphone that offers decent functionality suitable for any use case. The user interface has a couple of unusual design choices, but it's fairly easy to get used to. Apart from that, everything works as it should. While it doesn't bring any extra functionality, Linphone offers standard features that work great, especially for a free solution. It's an excellent choice for anyone who's looking to get a free softphone solution.
Installation and implementation of Linphone
As an open source softphone, Linphone can be simply downloaded from the official website and installed on your computer in a matter of moments. The installation process is standard. Once the app started, Linphone greeted me with a user agreement and a Getting Started Guide with multiple options. You can create or log into your Linphone account, connect a SIP account, or do a remote configuration fetch.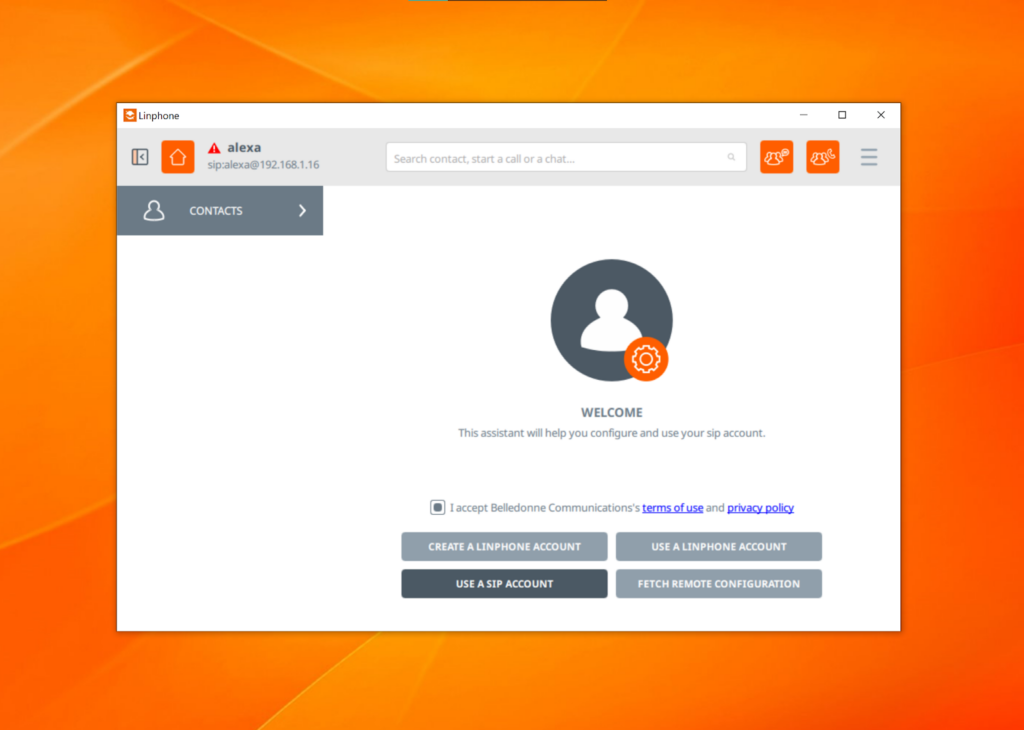 The startup guide also revealed the first problem I encountered with Linphone. The app froze and I had to restart my computer to make it function again. This problem persisted but eventually disappeared. Linphone had unusually long loading times during the setup, with the app taking a couple of seconds, and sometimes minutes, to perform even the most simple commands such as clicking a Connect SIP button in the startup guide. Eventually, I got stuck when trying to connect my SIP account. Reinstalling the app on my laptop didn't solve anything.
However, I did manage to get Linphone running on my other computer without any trouble. I'm not sure what caused problems with Linphone on my laptop, but it seems this problem isn't unique to me. A quick internet search revealed that freezing is a common problem of Linphone. However, the app works just fine on my other computer, and the loading times have been very short with no freezes occuring at all.
Connecting a SIP account was fairly easy with the setup guide. You simply input your details and connect Linphone with your provider. I didn't experience any major problems during this setup, and was finished within a couple of minutes.
User experience and features
The design of the app looks modern, which surprised me since Linphone is a free open source softphone. Most free softphones tend to have bland, outdated interfaces which is not the case here. The important buttons are highlighted with a striking orange color that catches your attention and helps you navigate. This is particularly helpful since navigation itself can seem unusual at first.
The user interface of Linphone looks confusing for such a simple app. It takes a while to get used to it, but once you do, you shouldn't encounter any difficulties. Some menus and options don't make sense at first. To give an example, the app has no dial pad, which is unusual for a softphone. Instead the home screen of the app seems to be the setup guide with the option to invite friends, and an account assistant.
There is also a home screen button at the top left corner. Now, having a home screen button is a standard in an app with multiple tabs, but Linphone has only one screen without any tabs, except for other menu buttons. Other usable buttons include a search bar at the top of the button, a simple contacts list on the left side, a chat room button accompanied by a conference meeting button at the top right, and lastly, a menu where users can access preferences, updates, the about section, and the quit button.
To dial a number, you have to click on the search bar at the top of the app. This search bar also allows you to search for a contact, and to create a new contact. Users have to rely on their physical keyboard to type a number, as there is no option to have a digital dial pad. While this might not seem like a huge issue, it can complicate things for some types of users who are accustomed to using their mouse instead of their keyboard. Overall, I got used to the search bar very quickly and it made certain tasks easier.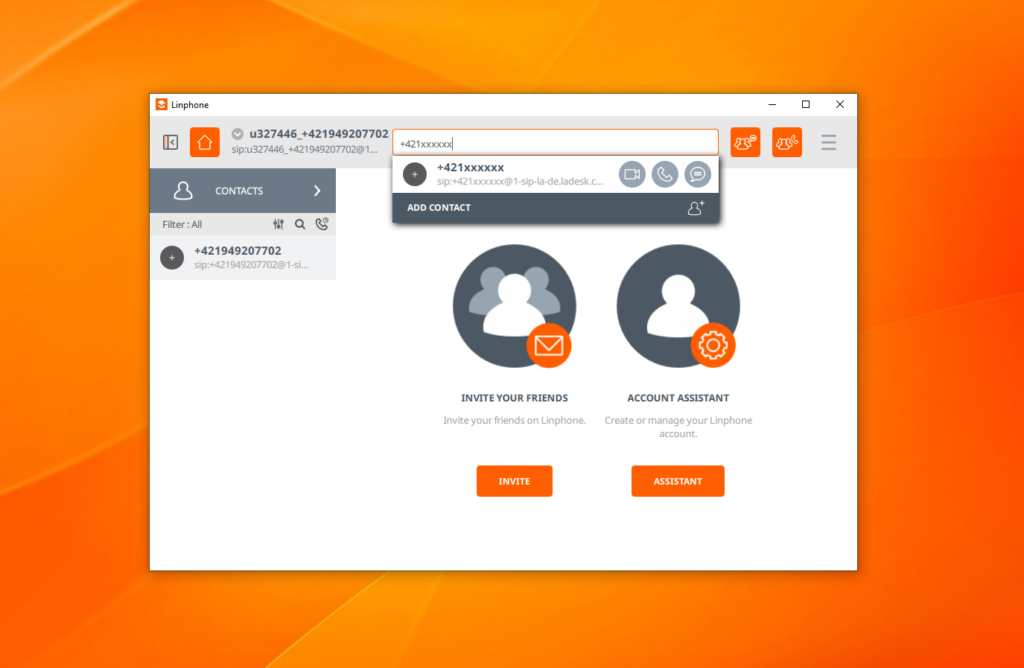 The next item is the contacts list, which is easy to navigate and use. Once you click on a particular contact or a phone number from the list, you will see the call log and the option to view messages. You also have the option to start a call or a video call, as well as send a message, search for a message, or add the contact in case it's not already saved in your contacts list. The contacts list also includes search and filtering, which is a very good addition. Adding a contact is simple enough, there are multiple fields for adding a number, email, website, address, and SIP accounts. There is, however, no option to leave a note.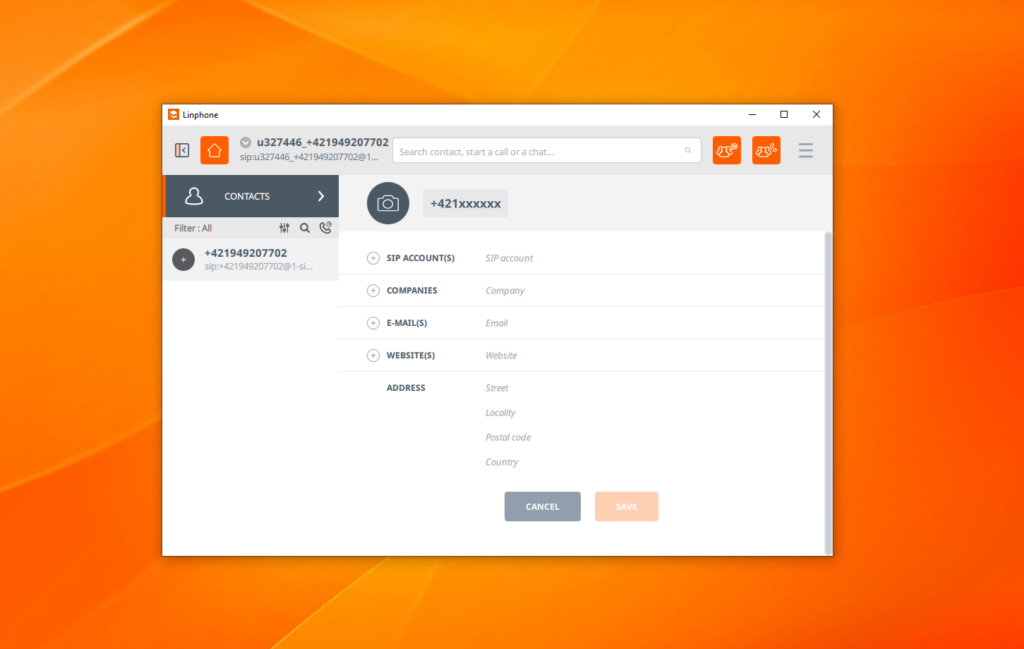 The app settings provide a fairly impressive range of options where users can tune the app to their preferences. Besides standard audio options, such as playback device and capture device selections, you can fiddle around with audio codecs. The same applies to video and video codecs. Calls and chats have their own set of options: auto answer, automatic call recording, notification options and more. The app also lets you switch to a different language and even choose a font for your text messages.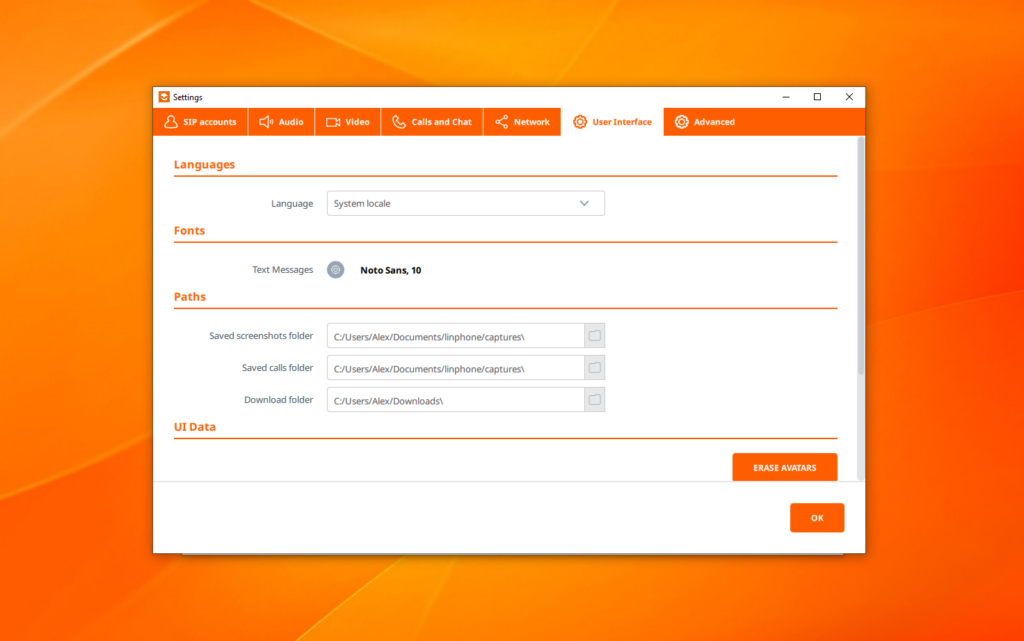 Calling works without any trouble and my experience was a pleasant one. I haven't encountered any major problems during any of the calls. The same goes for the messaging feature, which supports attachments for turning an SMS into an MMS. Overall, I consider Linphone a very good softphone calling choice that performed very well during my tests.
How does Linphone work with LiveAgent?
Linphone worked quite well with LiveAgent.The integration process was easy and it took me just a moment to complete. All I had to do was to create a new calling device in LiveAgent using my VoIP number. After that I just copied the details and pasted them into the SIP configuration in Linphone. That's literally it. If you would like to see how to integrate Linphone with LiveAgent, check out our integration guide at this link.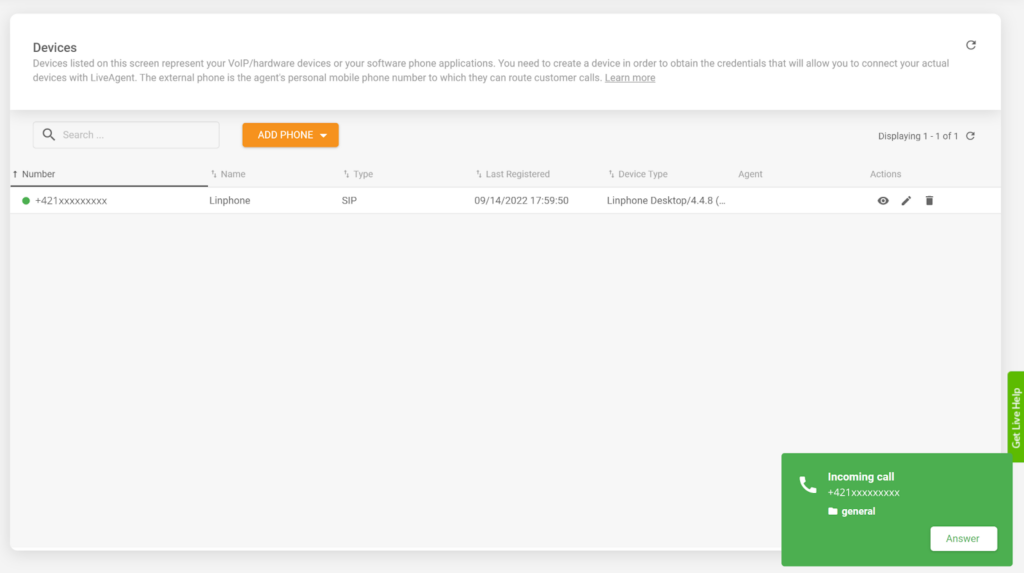 Conclusion
Linphone is an exceptionally well-performing solution, especially considering its low price. However, it is not perfect. I still wasn't able to figure out what caused the app to run perfectly on one computer, and not run at all on the other. Although the interface is slightly confusing at first, it doesn't take a long time to get used to it. My experience was smooth once I learned where each item is. The all-purpose search bar at the top seemed like an unusual choice at first, but I have to admit it can be very effective in certain situations. Most importantly though, it never halted my workflow in any way during normal use. If you're willing to learn the nuances and forgive the occasional bug, Linphone is a well-rounded softphone that will serve you well in most use cases.