Key takeaways
Pros
Nice variation in subscription plans
Rich features
Lots of attractive chatbot templates
Free plan available
Easy navigation
Cons
No checker for spelling mistakes
Managing more than 1 account at the same time is confusing
No video communication features
Sporadically, long loading times of the tool
Getting started with the Freshchat chatbot feature
Freshchat is a cloud-based customer messaging platform for businesses to engage with their customers in real time through various channels such as website chat, social media, and mobile messaging. The platform offers a range of features to streamline customer support, including chatbots, canned responses, and detailed analytics. The tool is designed to enhance customer experience by providing immediate assistance and personalized support. With Freshchat, businesses can improve customer service efficiency and increase customer satisfaction.
To get started, I first went to the tool's website (www.freshworks.com) and signed up for a free plan. I could pick from two options – using my email or Google. I went for the quicker version – Google – and proceeded further. This way, I only had to provide my company name and phone number as details.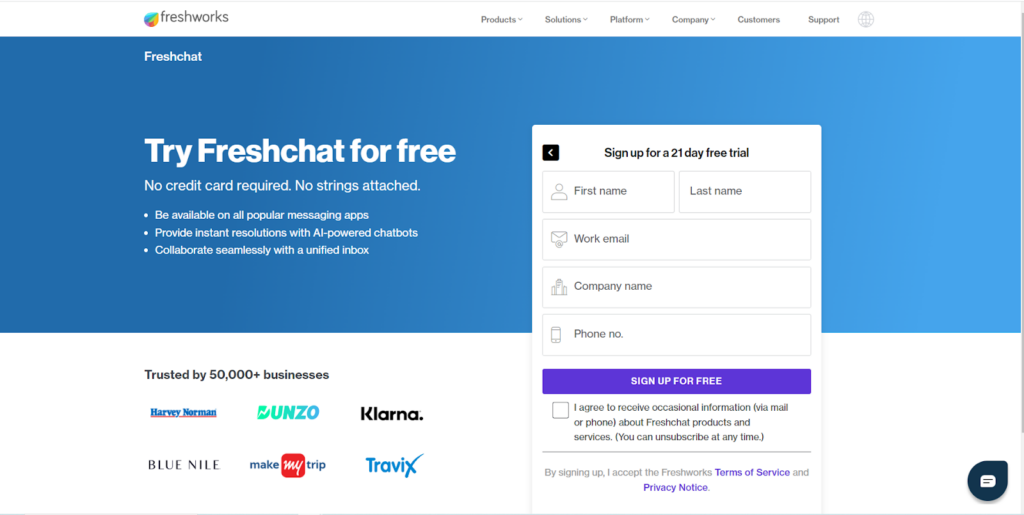 I can definitely say that Freshchat's sign-up process is designed to be user-friendly and accessible, even for those who are new to chatbot platforms. Most importantly though – it's designed to be quick!
The platform offers a comprehensive journey that walks you through the registration process. It ensures that you have all the information you need to get started. While the steps are easy to get a grasp of, the platform was working pretty slowly from the beginning – that's the only drawback I'd mention.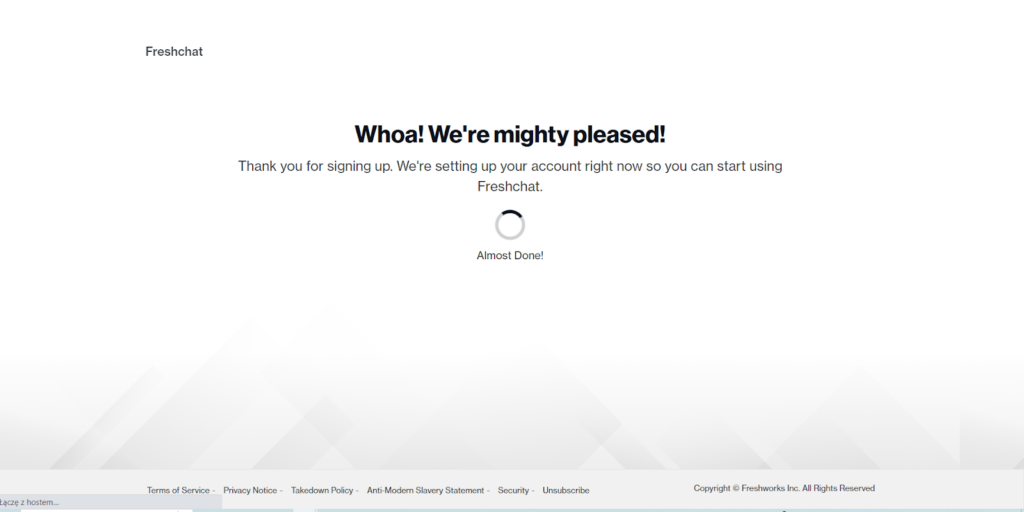 The installation process is straightforward, taking only a few minutes to complete. Once I signed up, I could begin exploring the tool in more detail. I think you won't find it problematic to sign up yourself at all.
Freshchat Chatbot Features and Implementation
Having successfully created an account, I could finally get to know the software better. The first thing that caught my attention was the really eye-friendly interface. Freshchat has a really intuitive design – I immediately felt like a fish in the sea.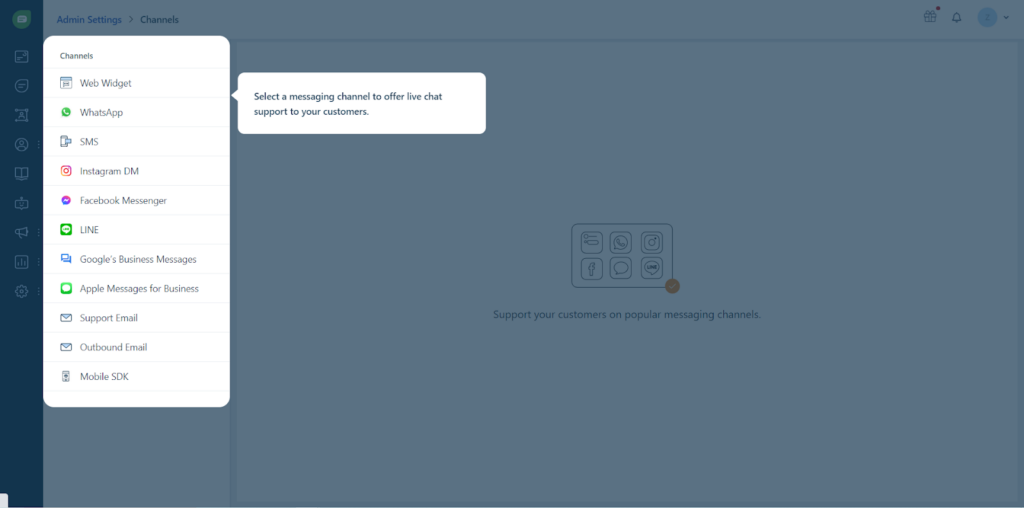 Looking at the tool on its own, it offers various interesting features to users like me. My personal favorites are analytics (e.g. customer satisfaction bar), FAQ section, and the "bulk actions" option when dealing with your contacts.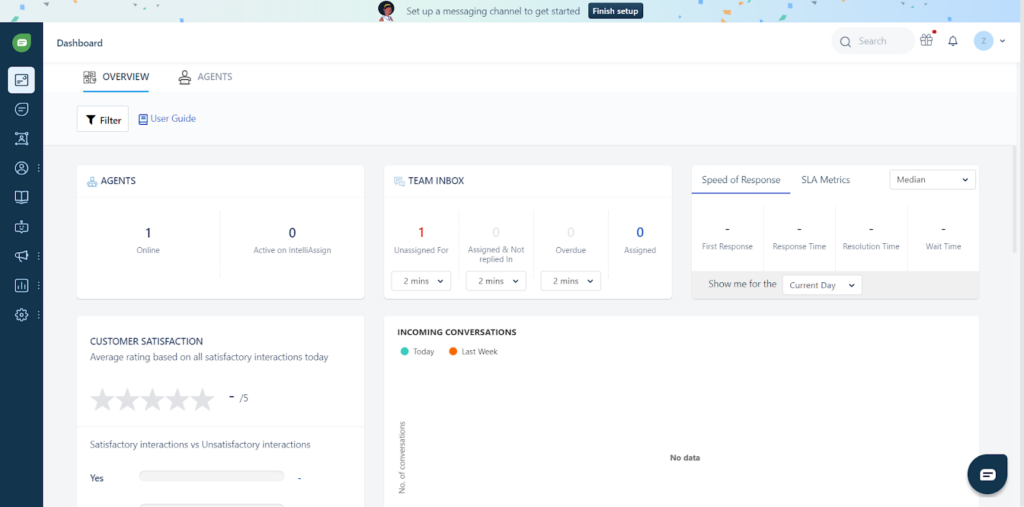 On top of all this, I was positively surprised by the "recommended features" section. This section helps you take as much out of your plan as possible. It suggests which features you should/could take advantage of.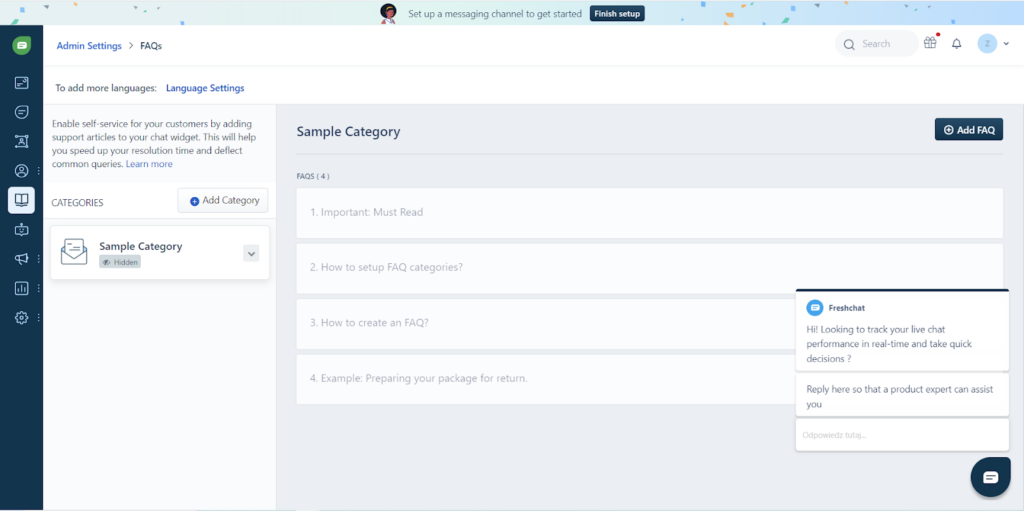 When it comes to those features, the ones that sparked the most interest in me were:
chat groups: the chance to organize teams into groups for faster problem resolution,
business hours: an option to set your chat's availability throughout the day and inform customers,
canned response: a way to create answer templates for faster and more consistent messaging.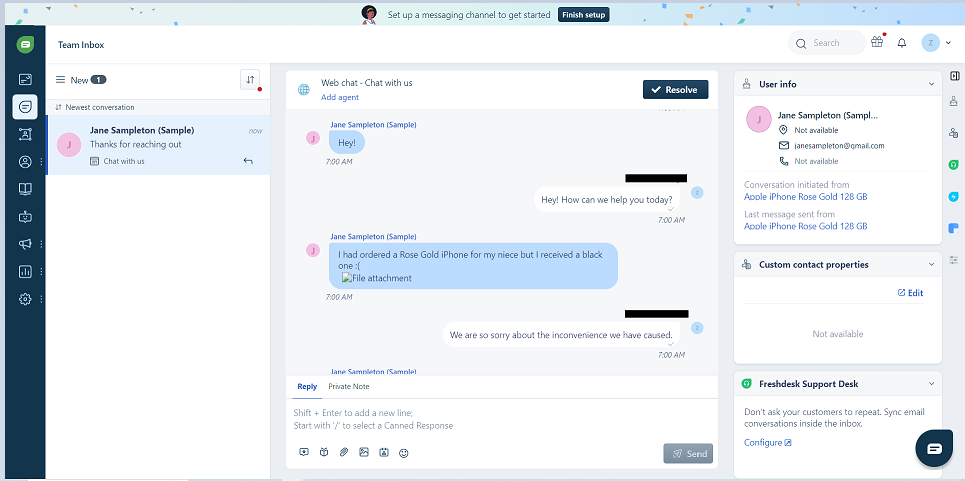 Finally, I absolutely loved the variety of different chatbot templates. While I didn't manage to check out all 50+ of them, it was awesome to see that I wouldn't need to create bots from scratch. Great addition.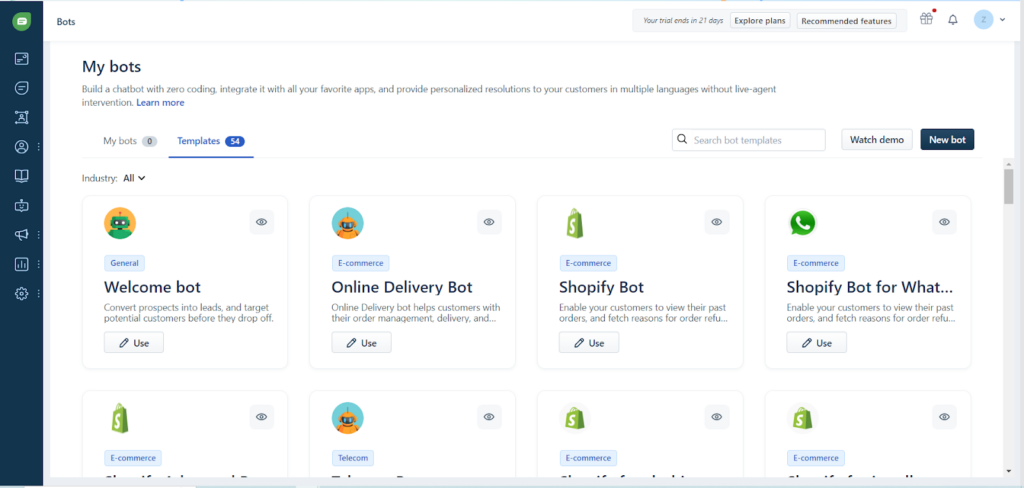 Overall, the tool is rich in interesting functionalities that are worth exploring. My only worry is that newbies wouldn't find this tool particularly easy to use. I'm saying this mainly because I didn't see any pop-up guides or tutorials on setup and features inside the tool. Despite this, Freshchat is a solid and reliable tool developed by people with knowledge and experience.
Performance and usefulness
I put Freshchat to the test on my Facebook Page. I must say, the results were impressive. Of course, like any chatbot, its effectiveness is directly proportional to the time and effort you put into configuring it. With the right approach, however, a well-planned chatbot conversation can save you countless hours. What's more, it can elevate your customer support game to the next level.
During my testing, I made it a point to fill in any blind spots I encountered and updated the chat widget regularly. But even without constant monitoring, Freshchat performed flawlessly, delivering top-notch customer service to every "visitor" on my Facebook Page. Of course, it's essential to remember that even the most sophisticated chatbot has limitations. That's why it's crucial to ensure that a human agent is always available to handle any complex inquiries that may arise. One of the best things about Freshchat is how easy it is to use and integrate into your existing support system.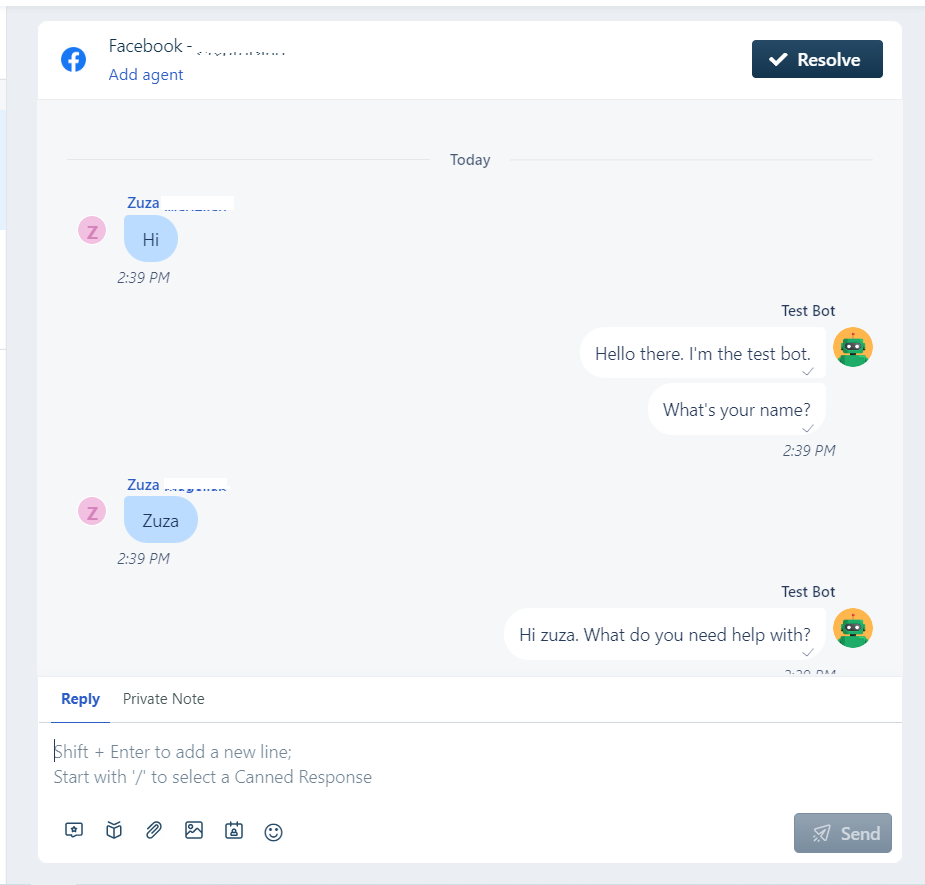 Freshchat Chatbot pricing
Depending on your requirements and your budget, Freshchat offers four options. The free plan is available for those seeking cost-free solutions. Yes, it is possible to enjoy the advantages of a chatbot without any monetary investment. Individuals looking to elevate the chatbot experience should dive into Freshchat's paid pricing plans to discover its unique features and benefits.
Free
First things first, there's a free plan you can take advantage of. It grants you access to up to 100 campaign contacts. Its features include chatbots, chatbot analytics, inbox views, topics, groups, and more. Given it's a free plan, the variety of features is quite wide
Growth
Next up, you've got the Growth plan. Billed monthly, it's going to cost you $18 per agent. This plan offers everything the free one does with some additions. Examples include up to 2000 free bot sessions per month, FAQs, user events and timelines, SMS, and WhatsApp business – to name a few.
Pro
Should you feel like the Growth plan isn't enough for your needs, you can always opt in for the Pro one – for $47 per agent per month on a monthly billing basis. The Pro plan gives you access to everything already mentioned. On top of that, you can also enjoy functionalities like live translation, auto-resolve, and conversation APIs.
Enterprise
Lastly, something for those that are hungry for even more – the Enterprise plan. This is the most advanced out of all tiers and will cost you up to $83 per month, per agent. What can you expect from it? Examples include allowed domains, user authentication, and 500 campaign contacts.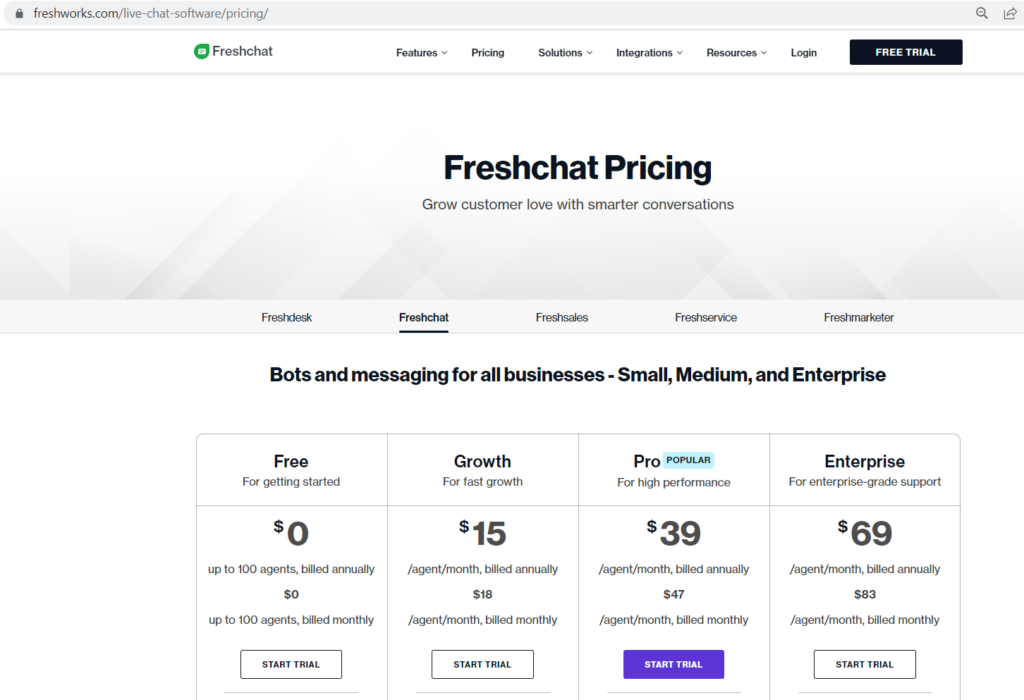 Conclusion
To sum up my review, I have gathered some final remarks about the Freshchat software. Broadly speaking, it's a tool worth exploring if you're looking for something cheap, as well as convenient, and quick to implement. If you're a fan of many chatbot templates and rich features – Freshchat is the tool for you.
Looking at the drawbacks, I only have 2 to mention. First of all, it can get quite expensive as the company charges on a "per agent" basis. So if you have a big team, it may be a bit of an expense. What's more, the tool may take longer to respond at times. I'm not sure whether it's a bug that causes the issue, a server overload, or other problems. All in all, I think it's a solution worth giving a shot – there's a 21-day trial and a forever free plan as well, so why not?
Frequently Asked Questions
I'm struggling to customize my Freshchat chatbot for Facebook Messenger

To customize your Freshchat chatbot for Facebook Messenger, navigate to the "chatbots" section first. Then select the chatbot you want to customize. After this, you will see various options to build, configure, and adjust your bot. Control your progress as you go with the "preview" feature, and unpublish the chatbot anytime to make sure you didn't release a faulty bot.

I have issues creating my first Freshchat chatbot on Facebook Messenger

To create your first chatbot for Facebook Messenger using Freshchat, connect your Facebook Page to the software. Once that's done, navigate to the "chatbot" tab in the UI. From there, you can start setting up your chatbot. You can build one from scratch or use existing templates.