What is gamification?
Gamification is the application of game mechanics/elements to non-game activities. It can be applied in numerous non-game environments such as customer service, marketing, sales, or educational content.
Why is gamification important for customer service?
Using gamification in customer service can increase agent engagement, promote healthy competition amongst teams and individuals, increase productivity, and promote collaboration to achieve a common goal.
Gamification leverages people's natural tendencies for competition, and as a result, can improve performance. Because customer service is a repetitive and challenging job, customer support agents need to be motivated, acknowledged, and credited to keep performing at a high level.
What gamification features does LiveAgent offer?
LiveAgent's gamification features are designed to praise, motivate, entertain, increase productivity, and foster collaboration in teams.
Rewards and badges
LiveAgent offers default badges that are based on the evaluation of each agent's performance in the last 7 days. If you're not a fan of the default badges, you can customize them to make your own.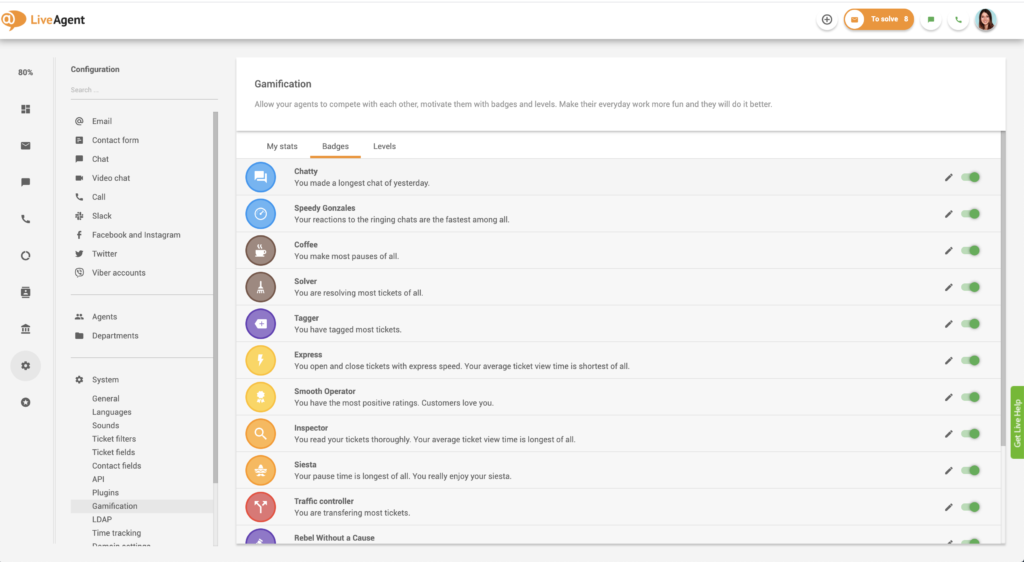 Here's a list of our current default badges:
Traffic controller – Assigned to the agent that's transferring the most tickets.
Siesta – Assigned to the agent who took the longest breaks.
Rebel without a cause – Assigned to the agent that received the most negative reviews.
Inspector – Assigned to the agent with the longest average ticket view time.
Speedy Gonzales – Awarded to the agent that reacted fastest to ringing chats. 
Rewarded – Awarded to the agent with the most positive reviews.
Coffee – Assigned to the agent that takes the most breaks. 
Novelist – Assigned to the agent who wrote the longest ticket reply the day before.
Tagger – Assigned to the agent who tagged most tickets.
Quatrefoil – This badge is assigned at random, and appears very rarely. It's rumored to bring good luck. While having this badge, customers will ask you only easy questions 🙂 
Express – Assigned to the agent that has the shortest ticket view time.
Hard worker – Assigned to the agent that's spent the most time online.
Chatty – Assigned to the agent that's had the longest live chat session the day before. 
Cleaner – Assigned to the agent that's resolving/deleting the most tickets.
Talkative – Assigned to the agent that's had the longest call the day before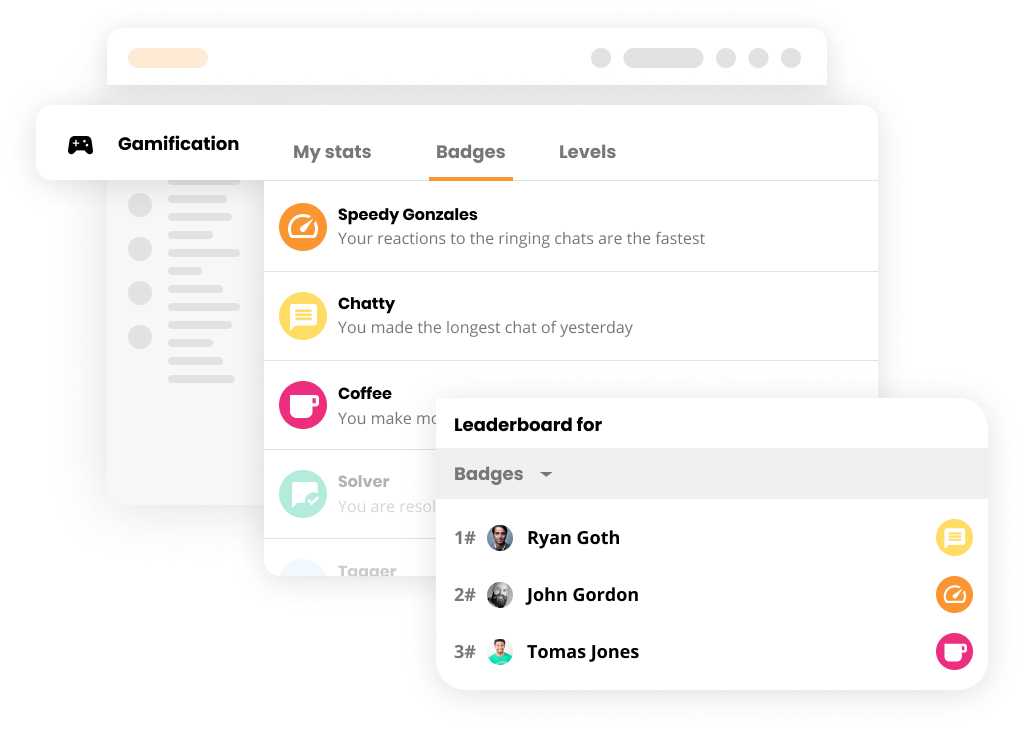 Levels
Levels are fun titles that are displayed next to each agent's name. They promote healthy competition and motivate each individual to reach the next level. Levels are achieved over time and determine your agents' current skills.  Once a level is achieved, it's permanent, meaning the level cannot be lost due to inactivity.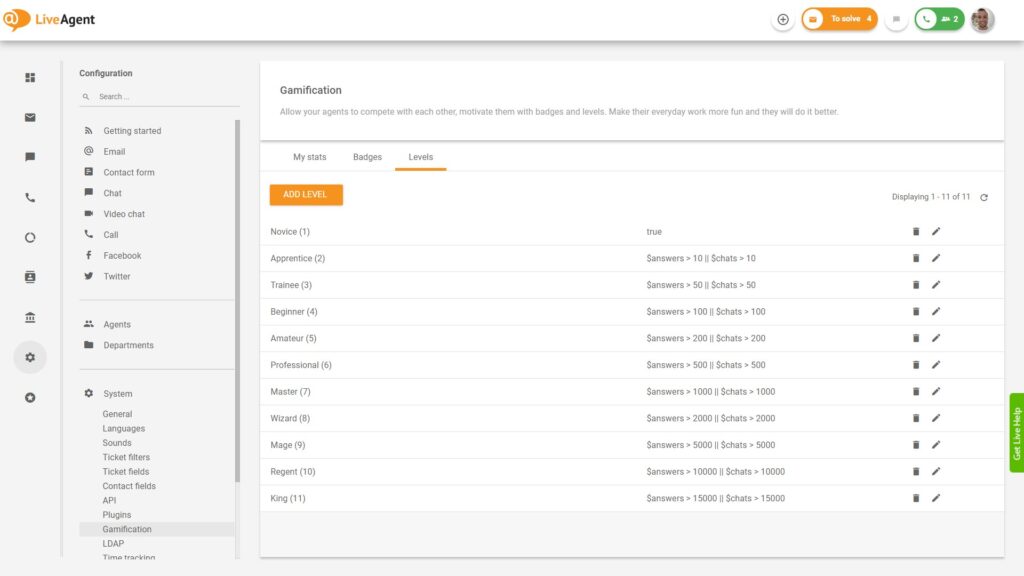 Currently, LiveAgent offers 12 pre-made levels. They're fully customizable, so if you want to create your own personalized levels that match your company culture, you can do so.
Benchmarks and leaderboards
Benchmarks and leaderboards showcase your agent's achievements right inside your LiveAgent dashboard. You can view metrics such as how long each agent has been online, how many messages they've responded to, how many calls they've taken, sales made, etc.
Benchmarks are a great motivator because they give your agents a real-time view of how they're performing in comparison to their colleagues. If an agent sees that they're lagging behind, they'll likely start improving their performance proactively.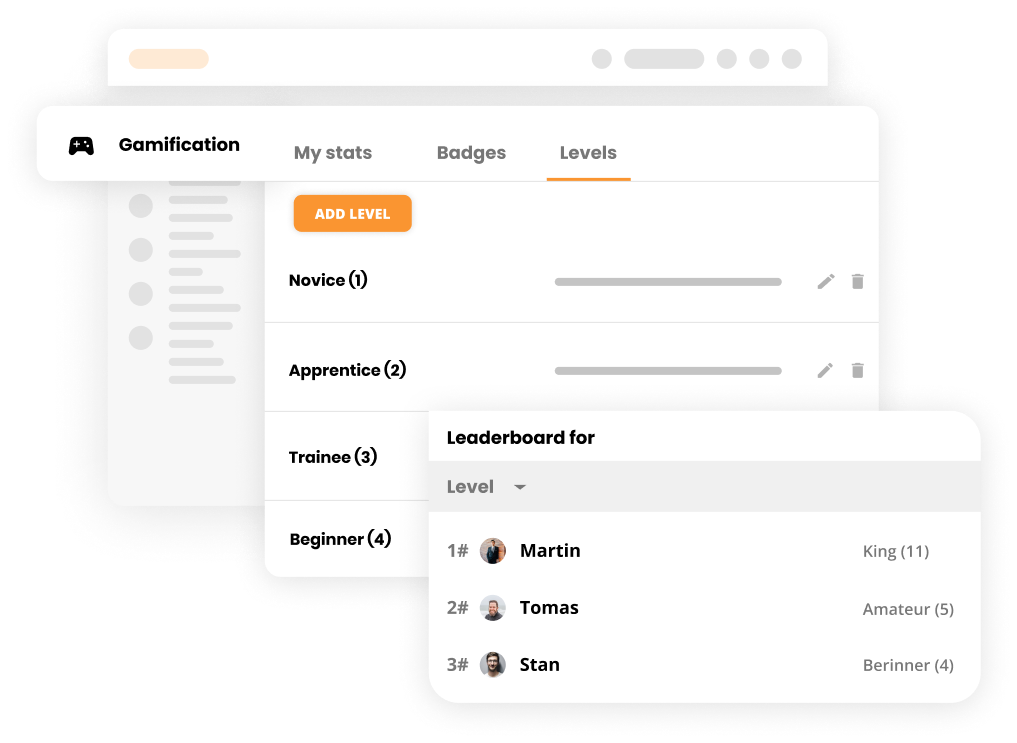 Additional features that can help keep your agents stay productive
LiveAgent's best customer service platform was created with productivity and teamwork in mind. The main goal was to create a product that makes the work of support agents easier– by creating tools that produce a more efficient workflow. Besides gamification features, here are other LiveAgent features to make your work even more efficient;
Internal chat
Internal chats allow customer support agents to chat with each other directly inside LiveAgent. Thus, they allow agents to consult their colleagues without having to exit the app. 
Agents can chat, ask for help, send attachments, and even send each other clickable ticket ID links that direct the recipient to the ticket in question. 
Internal call
Internal calls, just like internal chats, allow support agents to call each other directly through the LiveAgent app. If agents need assistance with a specific ticket, they can initiate an internal call directly from the ticket's interface.
Automation rules
LiveAgent offers three types of automation rules — time, action, and SLA.
Time rules are time conditional and executed if conditions are met. Time rules are generally used for mundane and repetitive tasks such as clean up, follow up and reminder emails, resolving tickets, etc. As an example, you can set up a rule that will automatically send a feedback email to each customer 24 hours after you've resolved their query.
Action triggered rules execute predefined actions if their conditions are met. As an example, you can set up a rule that will automatically route all tickets with the words 'subscription', 'upgrade', and 'payment' to the sales department.
SLA rules work closely with the to solve button to ensure that tickets that are tied to service level agreements are answered in time.
Canned responses
Canned responses allow agents to create pre-defined responses to frequently asked questions. Once these responses are saved into the system, agents can use them to answer customer queries from live chat, email, and the customer portal. All it takes is one click!
Universal inbox
Our universal inbox makes it easy to multitask. Agents can focus on answering multiple tickets from different channels at the same time. For example, an agent can be answering multiple live chats, while also writing a lengthy email response. How? With our multiple ticket tabs feature.
Hybrid ticket stream
The hybrid ticket stream allows you to follow your customer's contact/problem resolution journey through different channels while staying in the same ticket thread. If the customer you're assisting is referring to a previous conversation they've had with a different agent, you can easily look it up in the hybrid ticket thread.
CRM
LiveAgent has a built-in CRM directly inside the universal inbox. While you're chatting with a customer in real-time you can view their information, past tickets, purchases, and any other additional information that you've collected. In addition, you can edit and update the CRM information in real-time.
Third-party integrations
LiveAgent integrates with over 40 third-party applications such as MailChimp, PipeDrive, Braintree, Shopify, GoDaddy, Nicereply, and more. By integrating the applications you use daily with LiveAgent, you can access each app's content and take actions without exiting your helpdesk.
For example, if you use PipeDrive and want to add a new deal into your pipeline, you can do so directly inside of LiveAgent. You simply have to open up the contact's contact card, or the ticket info field, and click on the PipeDrive icon.  Once you click the icon you will be able to add new deals or edit existing deal values.
Integrating the apps you use daily with LiveAgent will ultimately save you time — think less clicking, less logging in, and fewer tabs.
How to set up gamification
If you need help setting up gamification in your LiveAgent account, follow the steps outlined in this video, or the steps outlined below.
Click on Configuration > System > Gamification
Navigate to the badges tab to edit badges (name, image, description)
Click the level tab to edit levels, add new levels, and edit conditions
How can your business benefit from gamification features?
Higher productivity
Humans are naturally competitive, and gamification features in LiveAgent use this human trait to drive productivity in the workplace. As one agent starts excelling, others will strive to keep up. As a result, the whole team will keep motivating each other to work harder and smarter.
Better morale
High morale means an energized spirit. When customer service teams have high morale, they encourage each other, are happy, and willing to help each other. Gamification features can increase team morale because it provides satisfaction from completing "quests", leveling up, and earning badges/rewards.
Overall, having high morale is motivating because it gives customer support agents a sense that they're contributing to something greater, which gives their job more meaning.
Superior service
Using levels, badges, rewards, and leaderboards can help your agents provide better service for your customers. How? If agents know that they can level up faster by consistently receiving positive reviews and providing customers with knowledgeable and quick answers, they're more likely to provide that type of service. They're also more likely to keep improving and ultimately get better at their jobs while acquiring unique skills.
More innovation 
When you set up weekly team challenges, agents are more likely to work together on solving complex problems. Different points of view, skills, and backgrounds can bring new solutions to existing problems.  
Happier customers
The more efficient your agents are at solving problems, the happier customers are. If you think about it, the customer's end goal is to always resolve problems as quickly and efficiently as possible. When they're assigned a customer support representative that provides knowledgeable, quick, and personalized service, they're bound to be pleasantly surprised and hold your business in high regard.
Ready to make customer support a game?
Try LiveAgent today. Our free 30-day trial allows you to unleash LiveAgent's full potential -- gamification included. Create your own badges, levels, and benchmarks today!