To make it easier for new Agents to determine the skill of other Agents and also to have a fun title, we added "levels" to Agent names. Now you can easily spot the achieved Dragon Slayer of customer support!
Levels are a part of the Gamification functionality and can motivate your Agents to go the extra mile and compete with each other.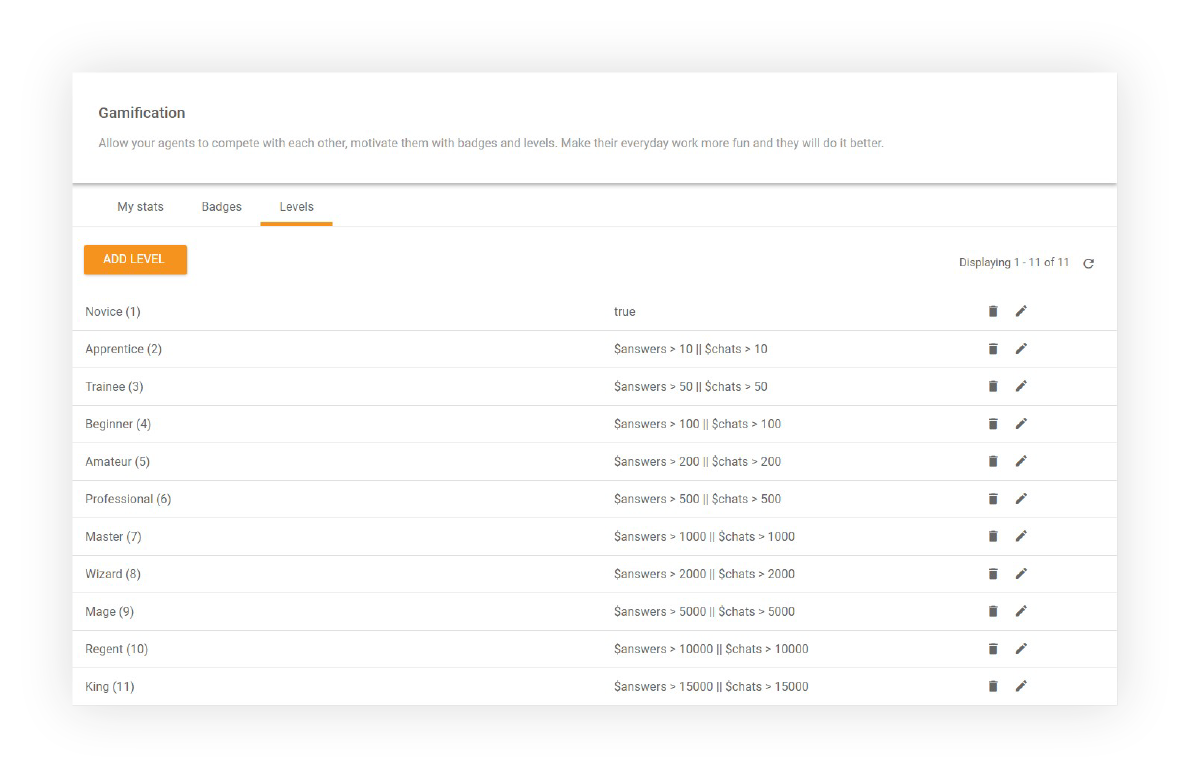 There are 12 predefined levels, running from Novice through Apprentice to Professional and Wizard, up to the King of Customer support. Levels are earned and permanent, you cannot lose them for inactivity.
Example
If agents answer more than 500 Tickets, they achieve the Professional Level (shown in their status) with a motivation message: "You are a Pro now. Your answers are precise and to the point. Customers shiver with expectation waiting for your answers. Answer 500 tickets or make 500 chats to reach this level."
Levels can be modified by the Administrator, who can set their parameters.
List of possible Level conditions (you can use)
mathematical operators (+,-,/,* )
logical operators (||,&&)
parenthesis
and following variables:
$worktime (Work Time)
$answers (Answers)
$answers_ph (Answers per hour)
$chats (Chats)
$chats_ph (Chats per hour)
$missed_chats (Missed chats)
$chat_answers (Messages)
$chat_answers_ph (Messages per hour)
$calls (Calls)
$calls_ph (Calls per hour)
$call_seconds (Call minutes)
$call_seconds_ph (Call minutes per hour)
$missed_calls (Missed calls)
$rewards (Rewards)
$rewards_p (Rewards %)
$punishments (Rebukes)
$punishments_p (Rebukes %)
$not_ranked (Not ranked)
$not_ranked_p (Not ranked %)
Create healthy competitions amongst teams
Create company-wide competitions and get all departments involved! See who's the leader in the number of tickets resolved, and more. Try it today for free.
List of predefined Levels
Novice (1) – You are new to the system and ready to make your first steps.
Apprentice (2) – You already answered a couple of tickets, but your learning has just begun.
Trainee (3) – You are learning well. Keep up the good work and you will be great one day.
Beginner (4) – You have finished your learning phase. Now it is time to show what you can do.
Amateur (5) – It seems that you know your work. Keep improving.
Professional (6) – You are a Pro now. Your answers are precise and to the point. Customers shiver with expectation waiting for your answers.
Master (7) – You have earned respect. Your colleagues look up to you. Help them become as good as you are.
Wizard (8) – Your skills are slowly getting beyond this world. Some of your answers are magical.
Mage (9) – You answer Tickets by the touch of your mind. Your magic has grown to the highest level possible.
White Mage (10) – You have proved your magic skills. Now you are allowed to wear the white hat.
Regent (11) – You rule this system. Tickets come and go under your command.
King (12) – You are the King. Now it is time to hold this position and protect it so that no one can dethrone you.
Levels leaderboard
Agents can see each other's Levels and compete against each other.