How does help desk software work?
If you've ever reached out to a company, it's likely that you have already interacted with help desk software.
But how exactly does it work?
Although the intricate processes that go on behind the scenes may differ for various help desk software providers, their core remains the same.
When a customer contacts a business via email, live chat, social media message, or other communication channels, a help desk ticket is created. The ticket often includes information like the channel the interaction comes from, a message from the customer, SLA, customer information, and others, depending on the service desk software you are using and how you configure it.
Once the ticket is created, it is delivered to an inbox. From there, it is assigned to an agent that handles further communication with the customer and tries to resolve the issue to the best of their ability.
In case the first customer service rep can't solve the problem at hand, the ticket can be escalated to another representative, department, or level that is better equipped to handle more complex issues. This process is referred to as an escalation path.
Challenges associated with help desk software
Although help desk management software is an amazing tool that allows you to support many customers all over the world, it also comes with some challenges. Let's have a look at some of them and discuss possible solutions.
Although it may seem like a simple performance metric, that is not the case. In contact centers, first contact resolution is an important indicator of customer satisfaction and whether their expectations are being fulfilled. You may encounter this challenge due to insufficient agent training or an overwhelming number of help desk requests, among other factors.
Solution: Prepare your staff for handling even more complex customer issues, analyzing reports and data to determine the best course of action, and developing an efficient escalation procedure.
Lack of self-service options
Even contact centers with a large number of agents who are properly trained can get overwhelmed by the number of preventable questions they receive.
Solution: Develop and then point customers to a reliable and informative self-service portal with a knowledge base. Be sure that your inbox isn't flooded with questions that customers can easily answer themselves. Research shows that as much as 91% of responders would use a knowledge base if it was available and tailored to their needs.
All businesses are different. Therefore, they need different help desk software solutions encompassing different features.
Solution: Thoroughly research the software you want to use and make sure that it provides everything your company needs to succeed. Study all the reports and analytics you can get your hands on. It is said that knowledge is power, so be sure to understand all the ins and outs of your help desk software's operations.
Outdated systems
Did you know that as much as 42% of agents can't resolve customer inquiries due to outdated or disconnected systems?
Solution: Always stay on top of your game when it comes to patches, updates, and innovations.
Time-consuming repetitive tasks
Many problems can stem from this challenge alone. If your agents spend hours doing repetitive tasks, they are less engaged and less productive, and there is a higher chance that your contact center will experience a high agent turnover rate.
Solution: Use AI and automation features. Having said that, be careful with its implementation. You don't want to lose that "human touch" that makes customer support a friendly and pleasant experience.
Types of help desk software
Service desk application solutions encompass varying features and functionalities tailored for a wide variety of clients.
The following are the most common types of help desk software solutions.
Internal help desk software – Allows internal users to quickly and efficiently track and resolve internal tickets and issues.
External help desk software – A paying customer is supported by the vendor's customer service teams.
Web help desk software – With cloud-based help desk software, all the information is stored on the host's servers. It is usually paid via a subscription and the host usually provides tech support.
On-premise help desk software – All the hardware is located on-premise and the customer is responsible for its smooth operation.
Open-source software – This is a type of software where anybody can access and alter its code without the need for permission from its producer. Usually, open-source solutions are either free of charge or funded by donations.
Closed-source – This is the opposite of an open-source model. It is protected by intellectual property and isn't available to the public.
Features of help desk software
When you're searching for the best helpdesk software for your company, you will come across many popular features, options, and integrations various solutions have to offer. However, these are the 10 most important ones that you should first check off of any feature list.
Contact channels – This is the way your customers contact you. These points of contact may include email support, live chat, call center, social media, community forums, and more.
Ticket management – It is the core system that organizes customer support interactions and records them as tickets. Not only that but it also allows for further ticket tracking which can help investigate, resolve, and prevent any bottlenecks.
Self-service portal – A self-service portal allows your customers to be independent. Did you know that as much as 66% of customers try to resolve their issues on their own before contacting customer support teams?
Knowledge base – No efficient contact center exists without a knowledge base. This feature allows your customers to resolve their problems 24/7 without the need to have an agent present. Furthermore, an internal knowledge base is a crucial part of your agents' day-to-day activities because it stores all the customer information, ticketing history, and much more.
Intuitive user interface – Even the most robust and feature-rich help desk software will not do you any good if it's difficult to use. An intuitive user interface is the bread-and-butter of smooth contact center operations.
Reporting and analytics – Studying reports and analytics provide you with deeper insight into the operation of your contact center, and the business as a whole. Make sure that your help desk tool can provide you with sufficient information.
SLA management – A smart help desk solution allows you to manage and uphold multiple service-level agreements at a time.
Automation – Automating daily tasks is a must, mostly at large-scale companies with many clients.
Dashboards – This feature allows agents to get a quick overview of the most important data upon logging in to the system. Contact center managers also use dashboards to monitor key metrics.
Tags – Tagging your tickets and customer interactions is imperative if you want your contact center to run smoothly and efficiently. Tags not only help to categorize customer support tickets but also allow agents to quickly pull up customer information and better navigate large ticket volumes.
How to choose the best help desk software
First and foremost, we recommend writing a list of all the requirements you have for your new online help desk software.
If you can't come up with all the needs of your contact center yourself, talk to your staff. They have insights into the daily operations of the contact center, so they're the best source of information you can get when picking out the software they will ultimately end up working with.
To help you and your staff pick the best business software, below are some strategies to include in the decision-making.
Support
While nobody likes to think that something might go wrong, it's important to keep in mind that having support readily available is crucial if you want everything to run smoothly. Nobody likes to wait for hours, or even days, for a reply from customer service teams, so make sure you research the quality of the vendor's customer support before you make any final decisions.
Ability to scale up/down
Most business owners have their company growth at the top of their priority lists. Don't forget, though, that your contact center must keep up as well. Likewise, the help desk software that you use can also be scaled up or down. When picking a help desk software solution you want to purchase, always check how easy it is to scale both ways.
Software limitations
No matter how amazing the software you use is, there are always some hiccups and limitations along the way. Take your time to study the capabilities of the software you're considering getting and decide which features you can and can't live without.
Collaboration options
In a contact center environment, teamwork is the name of the game. Handling multiple issues at once, providing chat support while being on a call, and getting a social media mention is not a job for a lone wolf. Choose help desk software that allows your team to collaborate seamlessly. It will make their jobs easier as well as improve the overall business productivity.
Integrations
Ensure that your help desk software can connect with different sites and applications. It not only makes your products and services more accessible but also provides an excellent unified customer experience across the board.
Top 15 providers of help desk software
LiveAgent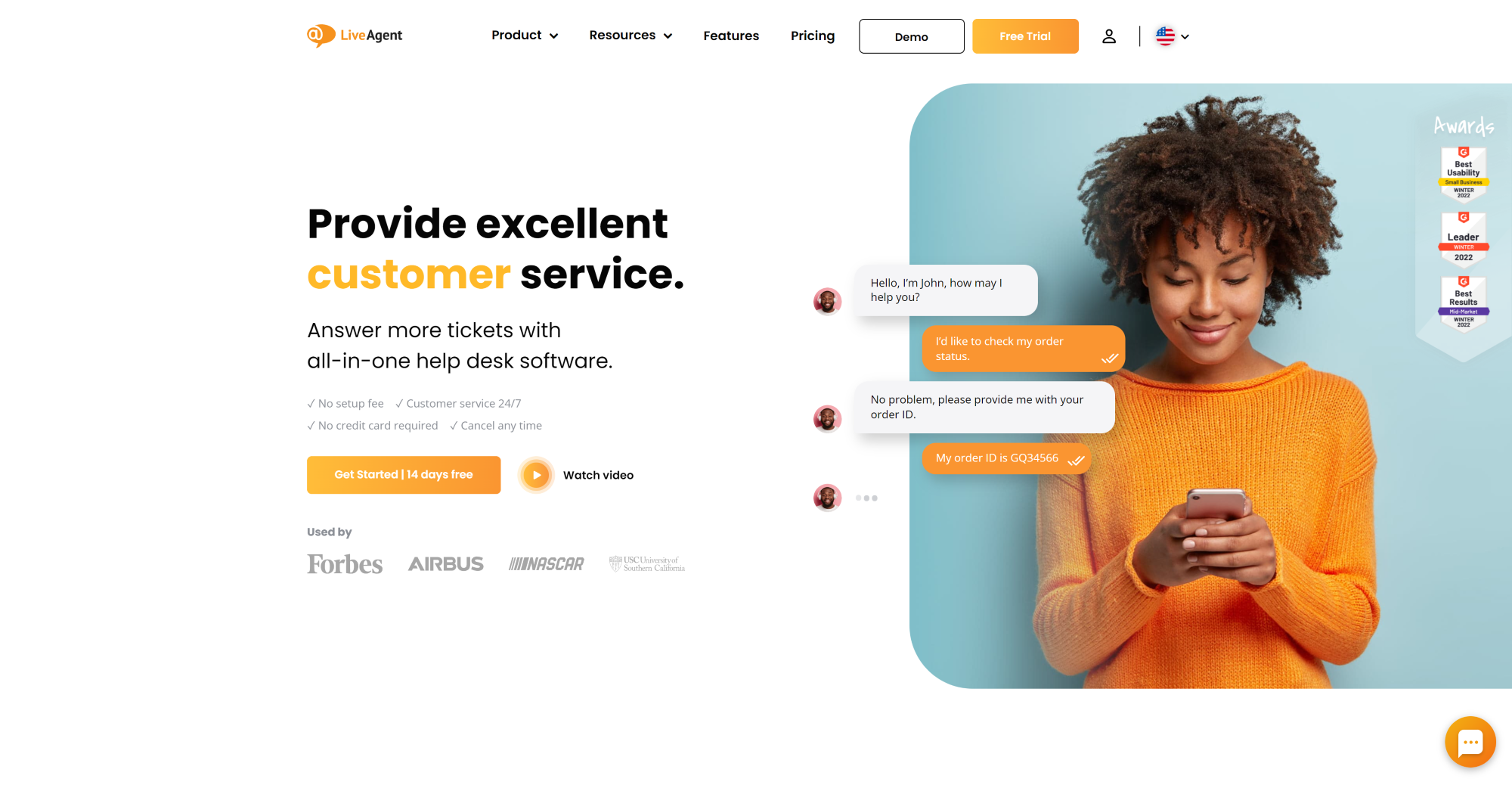 Best help desk software for small and mid-sized businesses that are looking to provide the best customer support to clients across the world.
LiveAgent is a help desk software solution with over 150 integrations and many advanced features. More than 40 000 customers rely on this software to provide excellent customer service to their clients.
Key features:
CRM integration
Self-service portal and knowledge base
Analytics and reporting
Omnichannel communication
Automation options