Forums are as old as the internet itself. However, there's one thing that has changed. You no longer need to build them from scratch. Instead, you can use web portal software, including forum software, to create a forum quickly and without the need for specialized assistance or programming skills. 
However, there are over a hundred different forum tools that you can use. Forum software solutions are not exactly the same across the board. 
Some focus only on forum-oriented features, while others offer help desk functionalities. Furthermore, some are free, and others will cost you some money. Knowing key differences can help you choose the best forum software for your company. To help you out, we have tested and compared over 20 forum software solutions. 
Before we get into the list of 20 best software solutions to build a forum, let's dig deeper into what precisely makes these systems reliable for you and your customers.
What is forum software?   
The most common definition of forum software is as follows:
"Forum software is a solution that enables you to create online messaging platforms and enable users to interact and share information."
However, software developers are continuously working on improving their solutions. The same applies to the internet forum software industry. Therefore, the more appropriate definition of modern forum software would be:
"An online forum solution is built to help businesses create and support big communities behind their brands while facilitating communication both between business and customers and among customers."
Still, reading a definition is undoubtedly not going to clarify everything these software solutions can do. Every popular forum software has unique features that set it apart from the competition. 
The most powerful forum software will enable you to do so much more than create and manage an online forum. You can also create private forums, discussion forums, message boards, and community forums. LiveAgent, for instance, has every feature you expect to get from this kind of software but also offers customer support-focused features.
The reason why portal forums work well for customer support is the fact that they create a space where customers can talk about issues at length. They are also a great way to build a community and promote customer-to-customer problem-solving, which takes a load off your customer support agents. Finally, forums are places where no issue is too small to be discussed, and there is no rush on finding a resolution. 
This has value for your entire business, not just customers. New ideas and improvements can sprout from community discussions without the brand having to expend resources or effort to acquire feedback.
Why use forum software in your business
Adding new software to your workflow can be challenging, no matter the size of your running business. Regardless of how easy deployment is, organizations still have to devote some time to onboarding to prepare their employees. To properly weigh the pros and cons of using forum software in your business, you need to know all about its benefits. 
Improve customer engagement and attract new customers
Businesses are going out on a limb to attract new customers due to volatile and oversaturated markets. But, in the end, it all boils down to improving customer engagement and providing exceptional customer support. 
Forums help businesses shift their focus on user experience. Since all forum users have unique user profiles, the modern forum software can pull user data directly into the company's CRM software and enable support agents to see the user's activity on the forum, past interactions with the company, and history of purchases.
A forum can be an excellent resource for information to potential customers. They can find important information regarding your company's services and products; they can interact with and follow other consumers and drive customer engagement.
Build an online community
With a multi-purpose forum platform, you can engage customers, resolve issues, and address their concerns in time. In addition, having a community platform enables companies to build an online community that isn't only loyal to the brand and actively helps resolve issues for them. 
As the community establishes consistent interactions and starts addressing concerns, a company can expect several benefits from their brand's forum:
It helps the user community see that your brand cares about its customers
Helps new members become a part of the community
Facilities establishing a self-sustainable helpful community in the long term 
Attract potential customers
Furthermore, modern forums come with many features that help brands interact with thousands of users without needing a big team to do it, making the benefits mentioned above even easier to reach. For example, you can reward users with new roles with advanced user options through an implemented ranking system and give high ranks to the most active and helpful users. 
Consistent branding message
When choosing online software solutions, most companies are concerned about whether they are able to customize them. The best forum solutions offer a variety of customization options. This is essential as it enables companies to deliver consistent visual branding messages. 
One of the best solutions on the market, LiveAgent, offers ready-made themes that are also customizable. With customizable themes, mobile device optimization, and profile customization options, you can create a forum that 100% reflects your visual branding strategy.
You will be able to customize the look and feel of your forum, even if you decide to use a robust plugin for WordPress. It leaves more than enough room for companies to customize their online visual presence and remain recognizable even in the niche as specific as an online forum. 
Track, record, store and share various types of content
The modern forum software doesn't only come with user moderation features. It also enables companies to track, record, store, and share various types of content. More importantly, companies can sort the content based on multiple factors.
The option to do so is beneficial for internal teams, such as customer service and support departments, and consumers. In addition, you can put content in various categories. For instance, you can have user-generated content and technical knowledge content categories. 
With this functionality, you'll be able to discover relevant content quickly, and so will your consumers. 
Great scalability thanks to a variety of features
The forum software companies often equip their solutions with an array of features. These features include quality of life improvements, like in-depth user profiles, avatars, email notifications, and other user-oriented things. They also have in-depth forum settings, plugins, and other user management features to make the admin team's lives easier.
One other important thing to consider is the option to upgrade or downgrade the forum software plan at will. For instance, essential or default features are often a part of the most affordable plan. Additional features, such as SEO features and advanced moderation tools, are usually found in the advanced packages. 
A long list of features often means that the forum software offers excellent scalability. You will be able to move from one package to another, depending on your current business needs and goals.
Extend your reach to social media platforms
Social media networks provide many opportunities for businesses due to their immense popularity. There are billions of people using social media platforms on a day-to-day basis. By using forum software with the right capabilities, you will be able to tap into this potential.
The best forum software tools can enable you to leverage social media to improve the functionality of your forum. For example, you can allow the consumers to seamlessly log in with their social media accounts, monitor social media for mentions, and enable users to import information from their social media profiles.
Delight consumers with a great customer support portal
The latest forum software can help you build a self-service platform for your customers. With advanced integrations, topic filtering, and content type tags, they can use your forum as a part of your knowledge base and a place for users to ask questions without contacting your support.
Your forum can be an entry point of a comprehensive self-service portal that delivers 24/7 customer support. When customers have access to a self-service option, you can expect a decreased volume of inquiries. Your support agents will have more time to focus on more complicated cases. 
Best forum software features to look for
As we've already discussed, not all forum software solutions offer the same set of features. If you haven't used such software before, it will be difficult for you to tell which are the essential features and which are used when you have a specific goal in mind. Therefore, we're going to outline those that are currently considered to be an industry standard.
Knowledge base
A knowledge base serves as a central repository of helpful information. Therefore, knowledge base management is an essential feature to look for in a forum software solution. It can help you consolidate articles and put them into logical categories. For instance, content management enables you to sort articles by the product or service they cover.
Furthermore, you can create an internal knowledge base and an external knowledge base.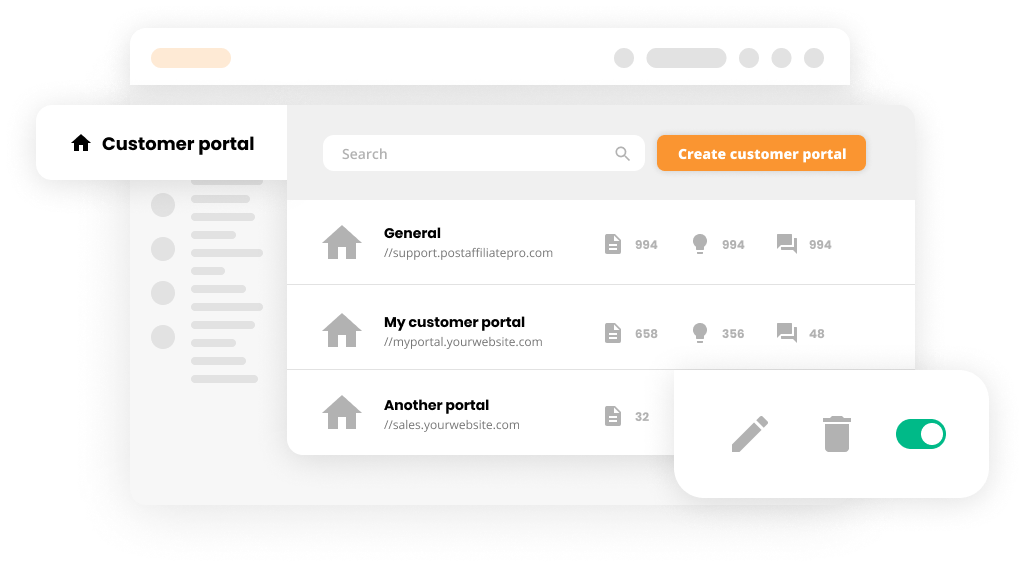 An internal knowledge base can help your service and support staff share information. They also help them keep up with best practices in terms of support since they are constantly being updated. It can also expedite the process of new agents' onboarding. 
You can publish an external database and make it accessible to your existing and potential customers.
With a multiple-knowledge base solution and WYSIWYG editor, you will be able to create great-looking help articles and share them with a simple click of a button. At last, it should have support for full-text search.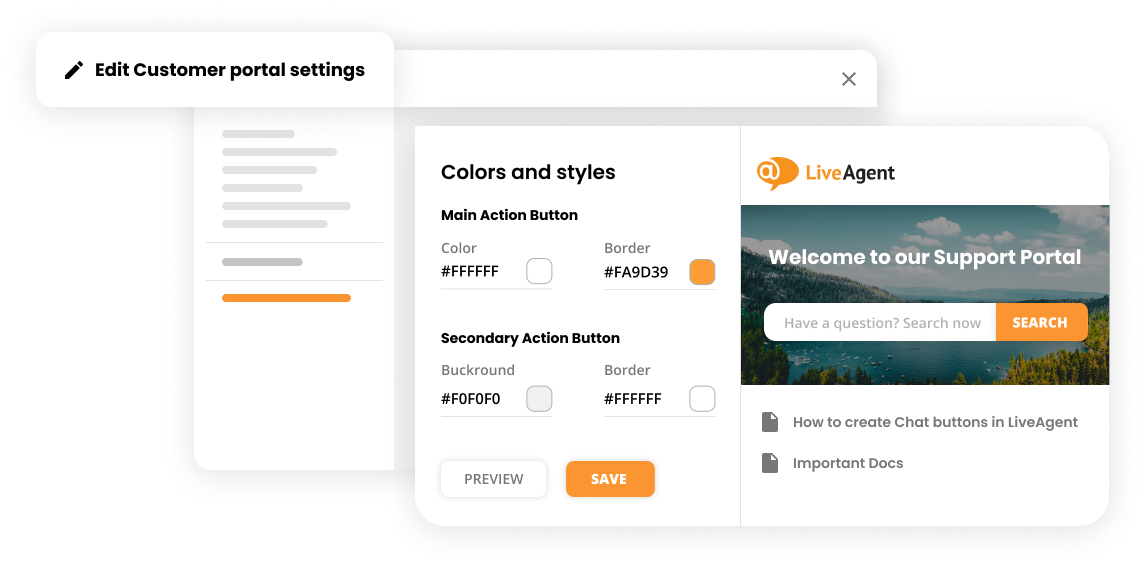 Feedback and suggestions
Good forum software should also have a feedback and suggestions feature. These features help you collect valuable data from your employees and customers, which can be used to improve your products, services, and support.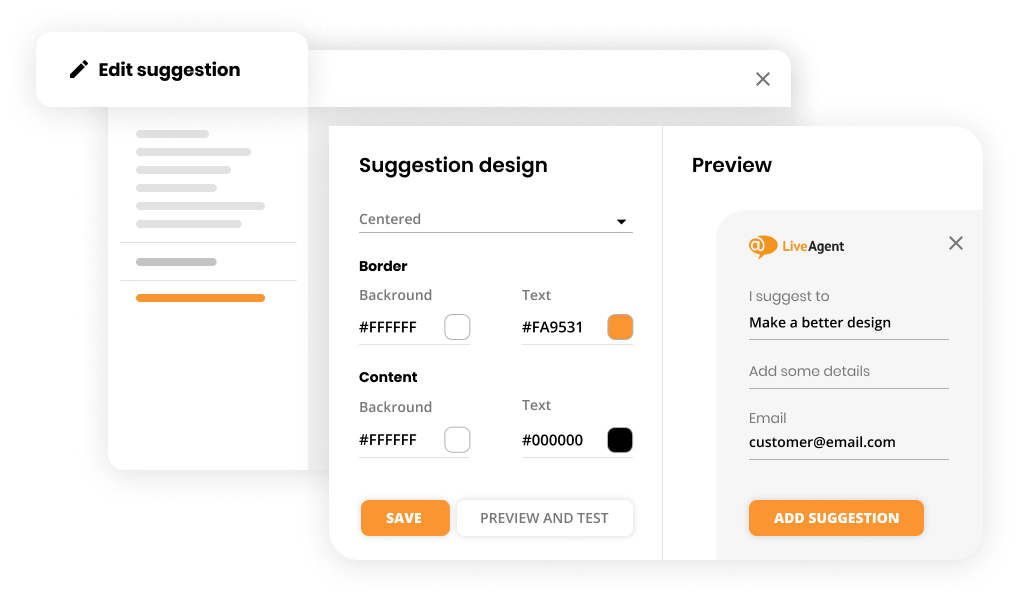 The feedback and suggestions feature often has a voting system and search widgets. These features, in particular, help streamline the above-mentioned processes, promote ease of use, and serve as a content filter. For instance, thanks to the voting system, users will see the most useful posts first. 
Ticketing management system
One of the best things a forum software can do for your support team is to convert any new forum or discussion board post into a ticket and import it into your centralized ticket solution. By establishing this hybrid ticket stream, you'll have all your tickets in a universal inbox.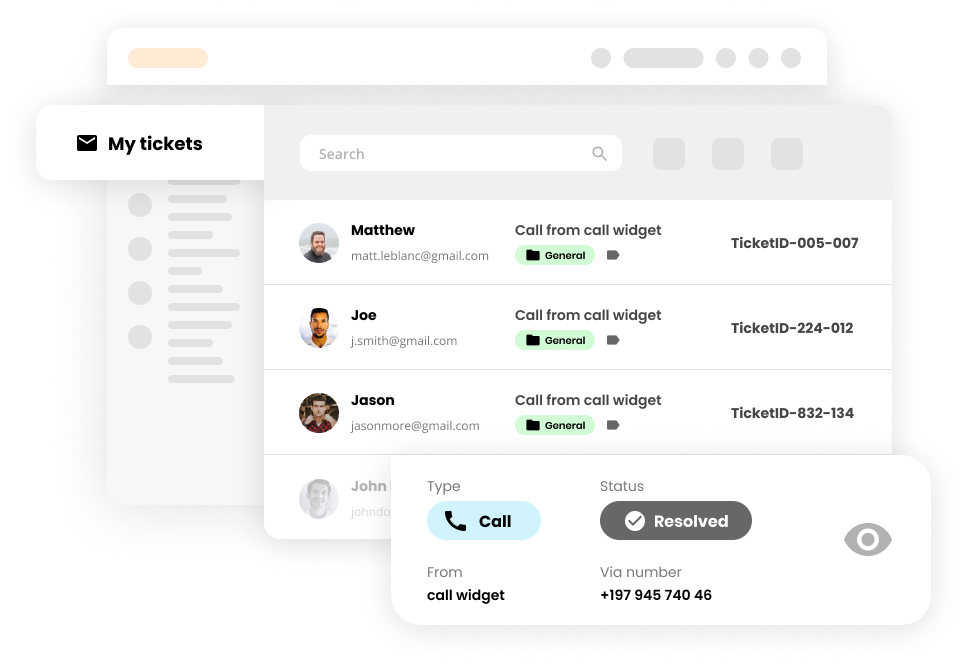 Additional features that make the forum software a complete package are ticket history and ticket tracking. Your support agents will be able to stay on top of their tasks at all times while supervisors still have the option to track their performance. 
You can also set up custom rules for ticketing management, such as time rules, action rules, and SLA. You can easily set different rules for your departments and set individual responsibility rules for your agents.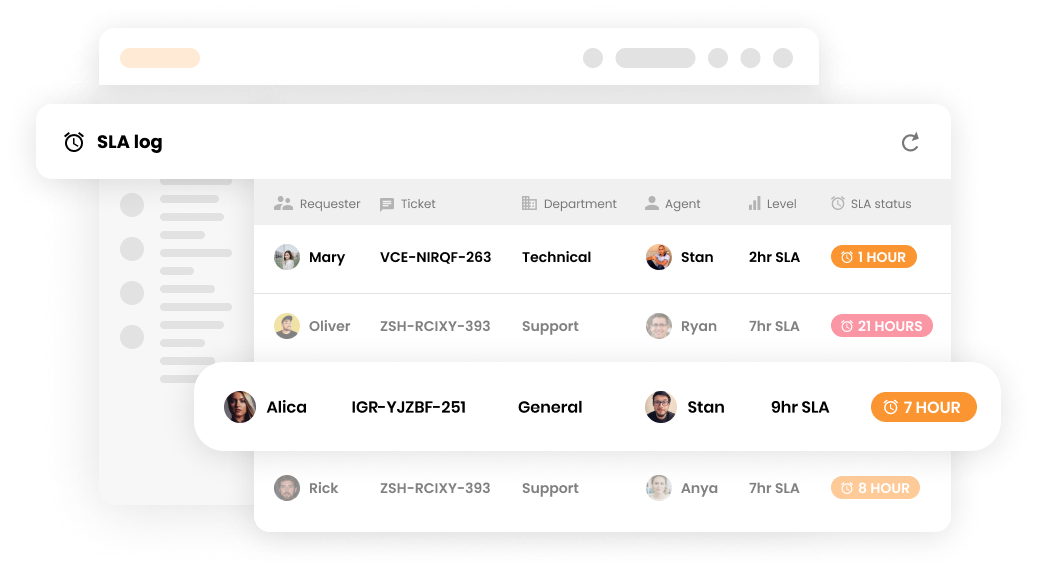 Finally, automated ticket distribution enables you to change ticket priority, transfer, postpone, resolve, or delete tickets on autopilot. 
Live chat
Live chat is an essential feature for any customer support team, and fortunately, cutting-edge forum software tools usually have them. An excellent live chat feature will come with customizable chat functions, but you'll also be able to customize the buttons, window, and style.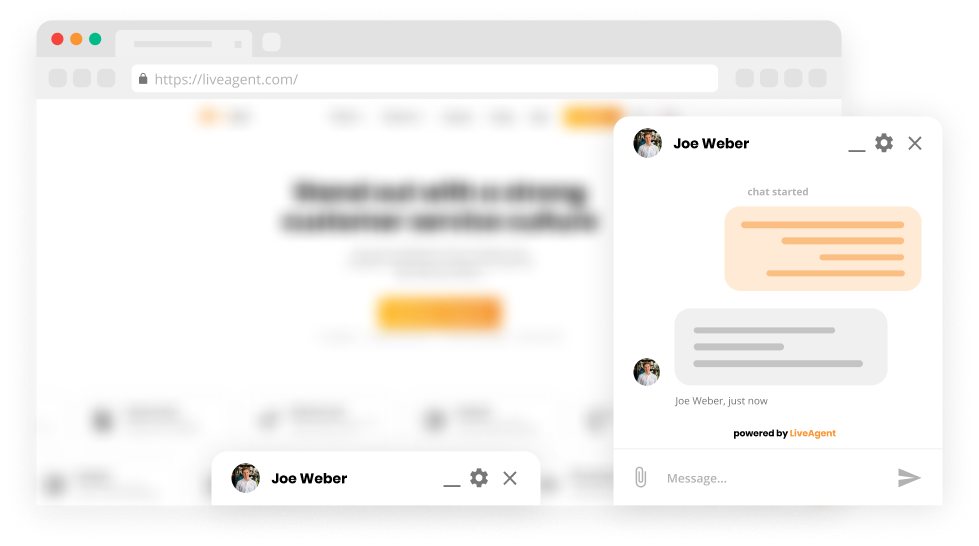 Additional live chat capabilities should include offline messaging, post-chat surveys, and pre-chat forms. 
Finally, you should also have access to response templates. That makes the resolution of simple problems so much easier and, most importantly, automated. You can have canned messages ready for all of the commonly asked questions.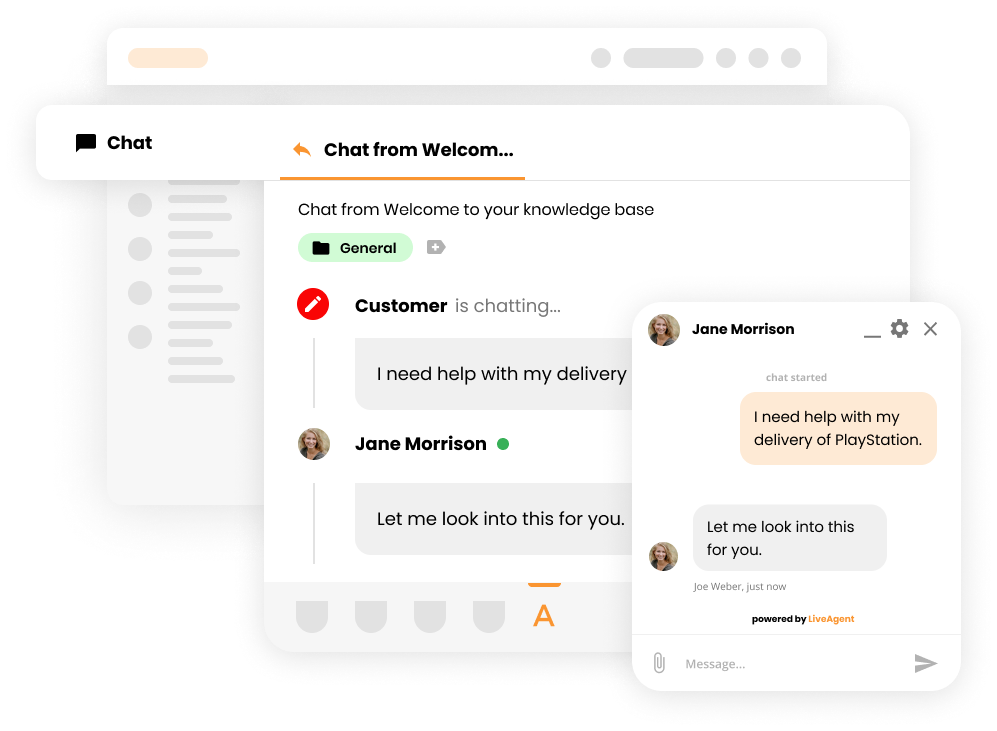 With predefined answers, you will experience high ticket deflection rates. A contact form feature is an additional option you should consider including for customers who prefer email for communication. Some of the best forum software tools ship out with other features similar to live chat, such as a call center and social media integration.
Live chat is there to make communication with your customers easier and make the experience more enjoyable for them and your agents.
CRM
CRM stands for customer relationship management, a software tool popular among companies across industries. Forum software tools with CRM capabilities offer way more opportunities than those without them. With CRM, you'll be able to store actionable information on your forum users. You can import them as contacts and make relevant contacts groups to qualify your leads better.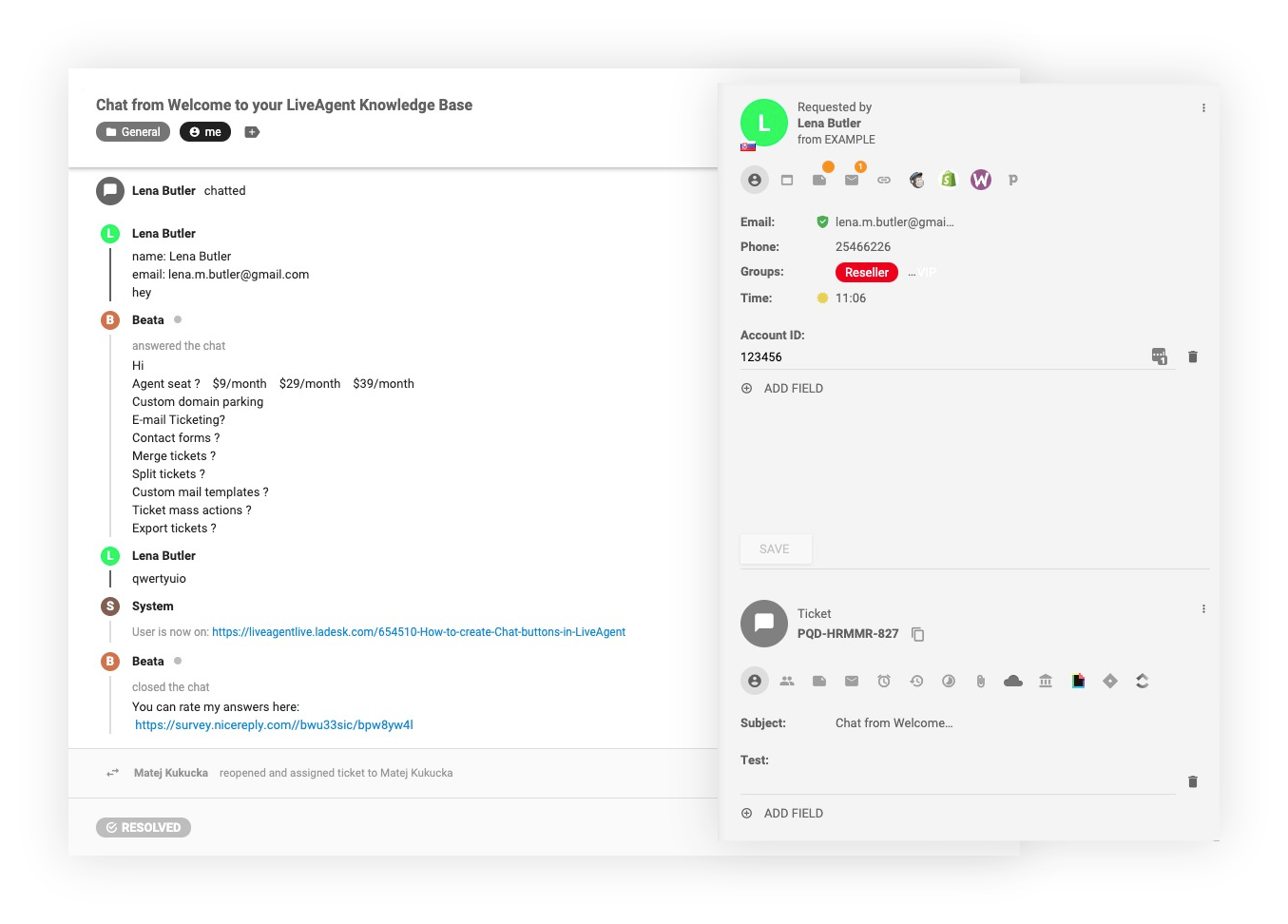 The best forum software will feature CRM that can automatically pull data from forum user-profiles and fill all contact fields. CRM also enables your agents to access online ticket history quickly and have a better insight into customers' unique needs and preferences while facilitating collaboration.
Reporting
Reporting also falls into the category of best forum software feathers. It's because it offers valuable and actionable insights regarding the service that support agents performed. The complete analytics overview includes: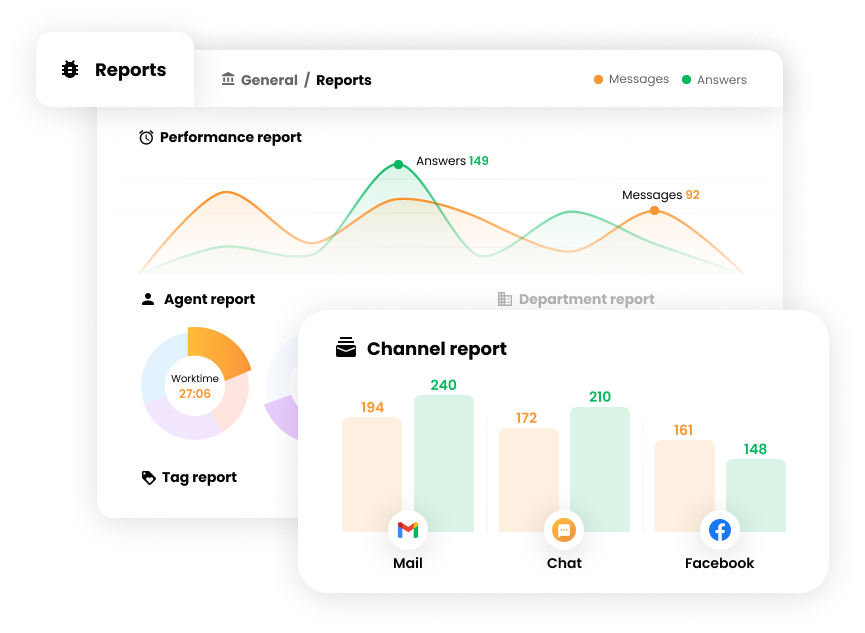 With this data at your disposal, you will be able to optimize workflow in your service and support departments, improve the quality of service, and identify bottlenecks in your operations. 
It doesn't end there
Discover all help-desk features that LiveAgent has to offer.
How much does forum software cost?
Forum software companies have different pricing models for their solutions. Most often, you'll see several pricing plans per user per month. The price per month per user is unique for every forum software solution out there. There are also tools with a custom pricing model only available when requested. 
The average cost of forum software is around $30 per user per month. The price can be a very important factor, especially if you decide to scale up at some point. Due to this, you should always consider the price tags of advanced plans when you are making a decision. 
Top 20 forum software solutions
1. LiveAgent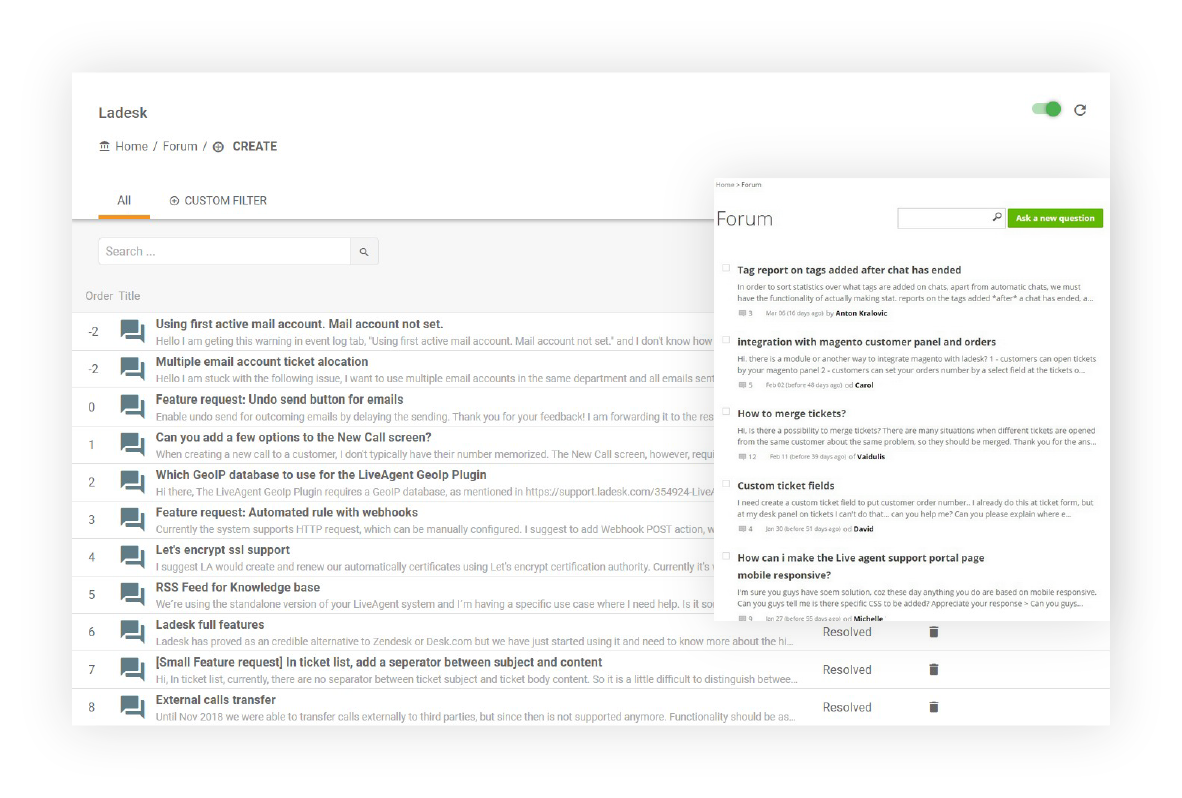 LiveAgent is a solution you can use as forum software to build an online community and provide exceptional customer support. LiveAgent is a comprehensive cloud-based forum software solution with dozens of features. It enables you to automatically transform forum entries, be they posts or replies, into a ticket. Your agents will have access to these tickets from one central inbox. 
Knowledge Base / Customer Portal Demo | LiveAgent | Live Agent05:07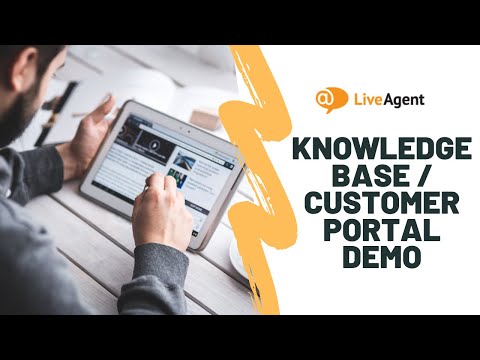 Live Agent
Creating either an internal or a public customer forum in LiveAgent is straightforward. Once logged in, the function can be found in the customer portal section of your LiveAgent user interface. Before setting on the title and activating the forum, you can customize the style, keyword, and SEO to optimize the content or select the designated department for managing inquiries
Key features
Create public and internal forums
Internal and external knowledge base
Streamlined user registration
Forums can be assigned to specific departments
Reports and forum monitoring via real-time notifications
Automatic ticket transformation for forum post and replies;
Complete forum design customization (colors in themes, header, footer, logo, and title)
Pros
Works out-of-the-box (no coding required)
Can integrate other channels to provide support (Twitter, Facebook, Slack, Viber, email, live chat, calls, contact forms, video calls, and feedbacks)
Great value for money
Cons
It takes time to take hold of all the settings and features
It can be too much if you only need forum features
Price
Pricing starts at $9 per user per month.
Build a community
Try LiveAgent and enjoy the benefits of a comprehensive forum software.
2. WordPress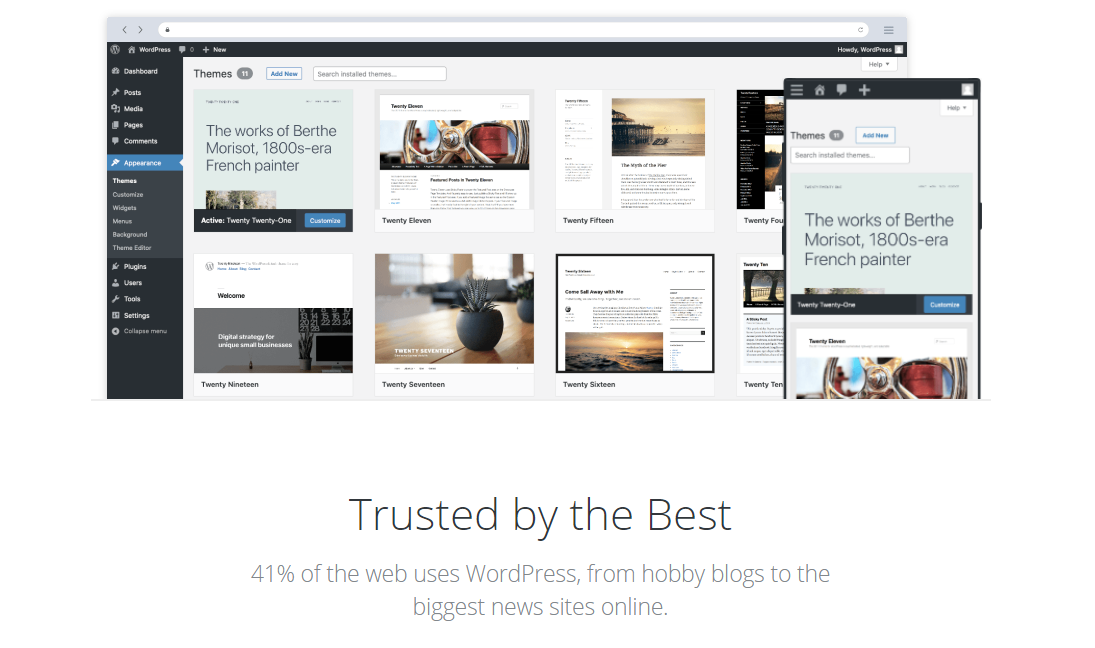 WordPress is a free content management system (CMS). Yes, it can help you create and launch beautiful sites in no time, but it can also serve as forum software. Thanks to community forum plugins, you can extend the functionality of your website. There are plenty of options ranging from free to paid plugins. 
Key features
Easy publishing
Simple to get used to and use
Great built-in user management
Media management
Deep customizations
Optimized for search engines
Improved flexibility
Pros
Big and supportive community
Mobile friendly from the start
Access to hundreds of professionally designed themes
Cons
Navigating through WordPress settings is challenging for beginners
Users need to pay for domain and hosting
Some updates may require a professional to see them through
Price
WordPress is free, but you need to consider the cost of the domain name, hosting, and a premium community forum plugin.
3. Joomla!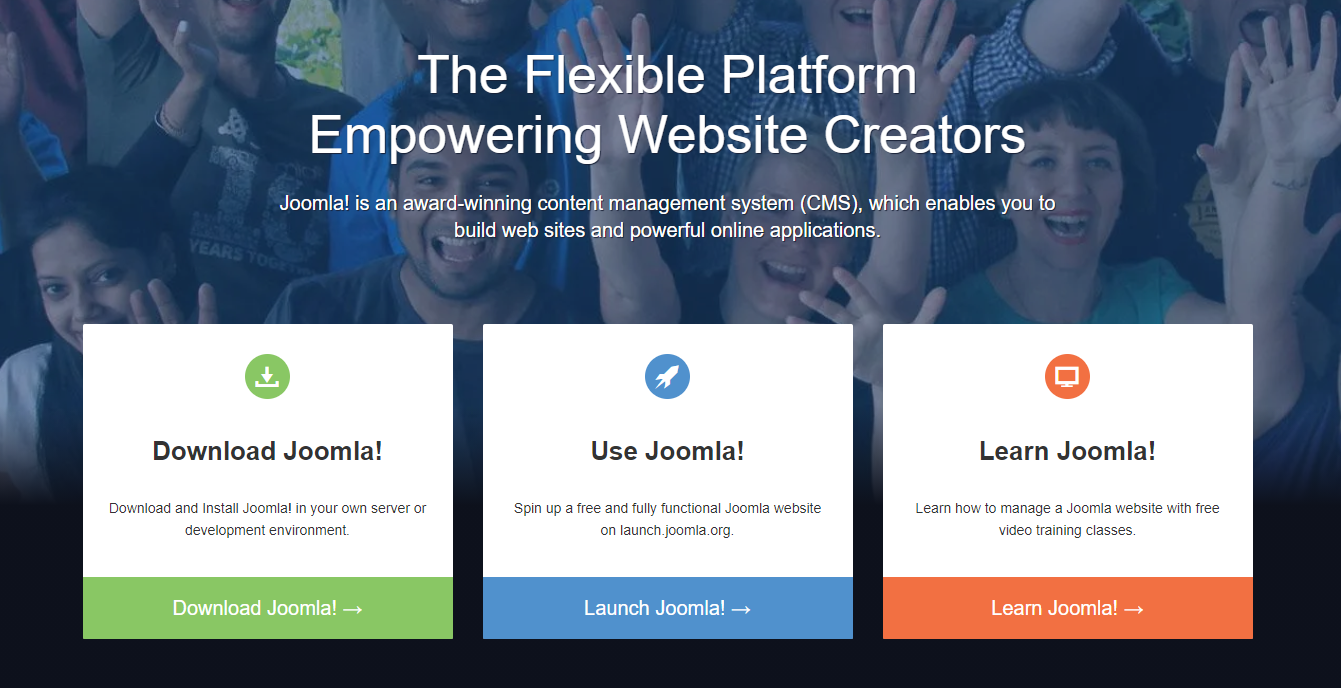 Joomla! is a CMS platform that resembles WordPress. However, it's much more robust and requires significantly more technical knowledge than WordPress. There are various free and paid forum plugins for Joomla! to help you create and launch a forum. Unlike WordPress, Joomla! might put you in a position to have to hire a developer who has experience with the platform.
Key features
Great multilingual support
Built-in updater for easy core platform updates
In-app contextual help system
User management with user privilege access rights
Content management
Support for various extensions
Complete forum customizations
Pros
Complete control over the forum
Fine-tuning forum is easy from the frontend
Powerful extensibility
Cons
Requires substantial technical knowledge
Offers fewer extensions than other CMSs
Premium forum plugins are very expensive
Price
Joomla! is free, but you need to consider the cost of the domain name, hosting, and a premium forum plugin, much like with WordPress. Furthermore, you will most likely need to hire a Joomla developer, and they are not cheap.
4. phpBB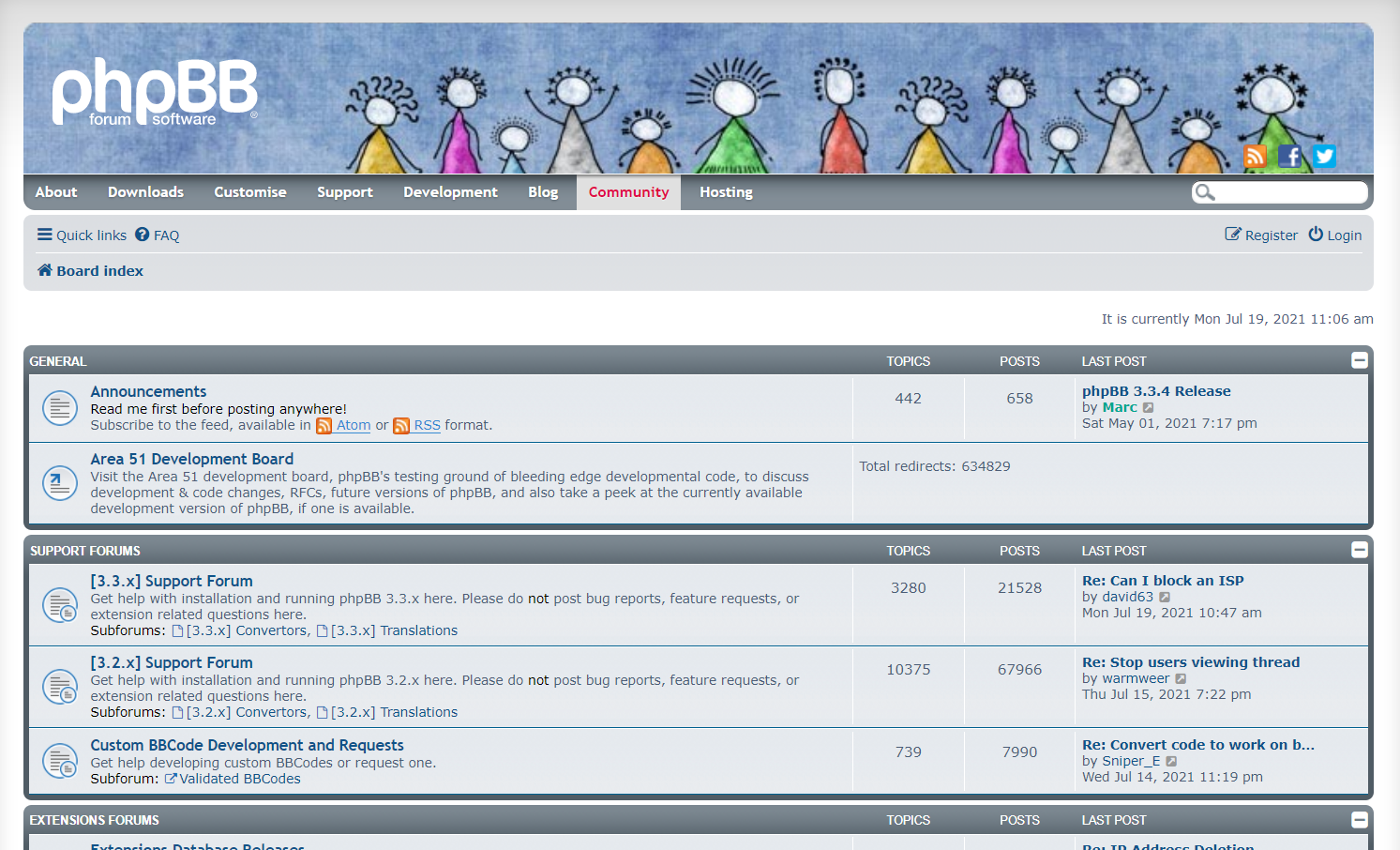 phpBB is a free bulletin board software and one of the pioneers in this software category. It enables you to create forums where users can log in and post messages. With the phpBB extensions, you can expand your forum's functionality. For instance, you can add internal messaging, customize the look and feel of forums, and enable users to customize their profiles how they see fit. 
Key features
Unread message tracking
User preferences
Private message board system
Forum moderation tools
Fully customizable registration forms
Topic structure standardization
Forum pruning
Pros
Easily modify forum functionality with phpBB MOD
Comprehensive forum hierarchy capabilities
Customize templates and styles with ease
Cons
It doesn't offer anything beyond a forum
It features an outdated look
It has a steep learning curve
Price
phpBB is free to use.
5. Drupal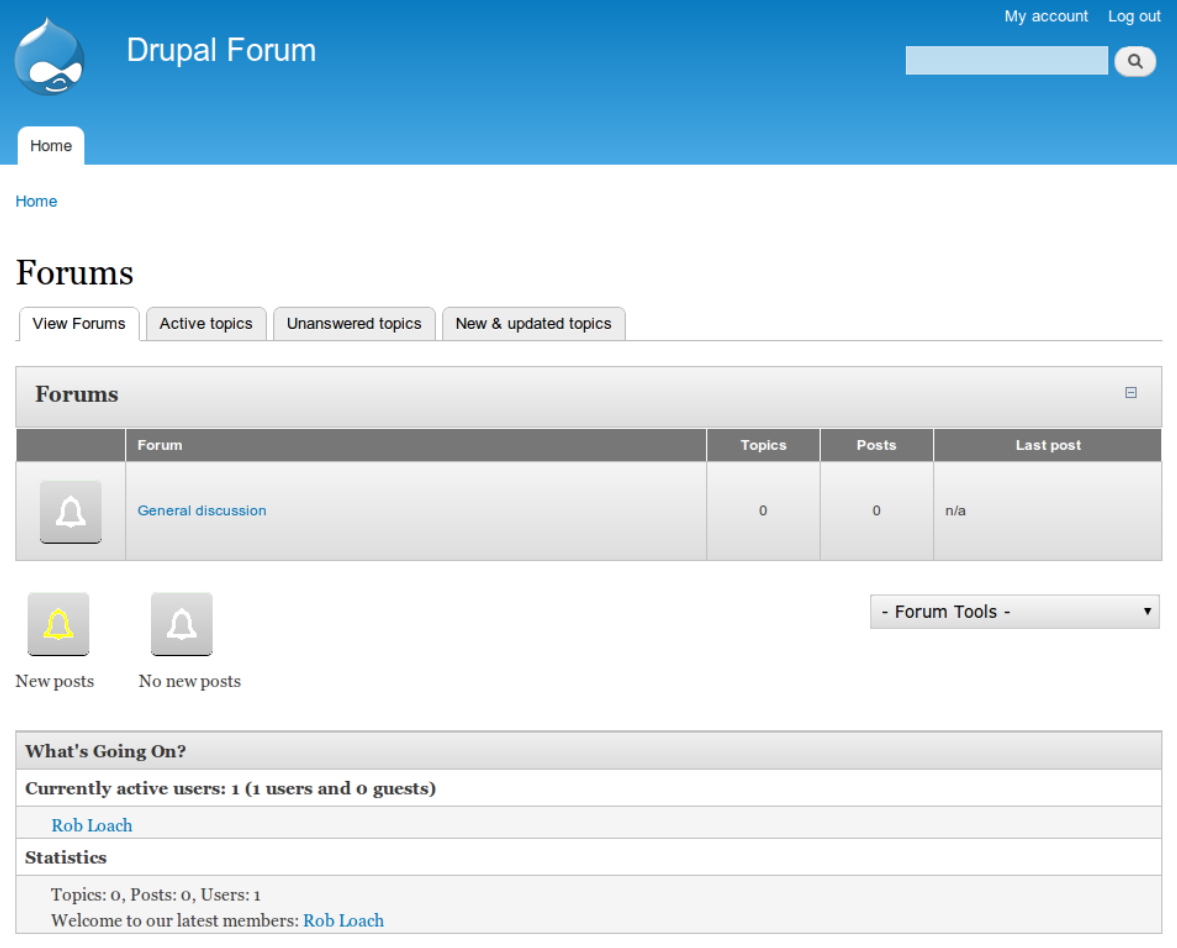 Drupal is another CMS on our list which offers excellent functionality and features when it comes to forums. You can create and launch forums quickly, but more importantly, you'll be able to streamline user and forum moderation. With Drupal themes and modules, you can add functionalities to your forum and website and offer your forum users a better visual experience. Unlike WordPress and Joomla!, Drupal has built-in forum capabilities. 
Key features
Built-in support for threaded discussion boards
Unique URL for every forum topic
User permissions
Hot topic threshold
Topics per page
Default topic order
Flexible and new theme engine – Twig
Pros
Offers forum features right out of the box
Lots of modules and themes to improve forum functionality and looks
Completely customizable
Cons
Steep learning curve
Fewer modules than WordPress
Drupal management requires technical knowledge and expertise
Price
Drupal is free, but most of the modules are premium and costly. You also need to take into account the cost of the domain name and hosting.
6. MyBB

MyBB is very similar to phpBB in terms of features it offers. It's also an open-source forum software and is free to use. It allows you to create a forum, set up message boards, have easy moderation, and streamlined user registration. MyBB has a comprehensive control panel that can be used to moderate the forum on the go and check usage statistics updated in real-time.
Key features
Wide selection of MyBB forum themes;
Plugins specifically tailored to boost user engagement;
Built-in templates and a theme editor
User reputation system;
Calendars for events scheduling;
Templates for user registration;
Forum moderation toolbox;
Reporting.
Pros
Easy to use even for beginners;
Great gamification features to engage forum users;
Forum moderation from one screen.
Cons
Fewer features than other forum software tools on our list;
Security issues;
Lack of mobile-friendly themes.
Price
MyBB is free to use, but you will need to spend money on a domain name and hosting plan.
7. Vanilla Forums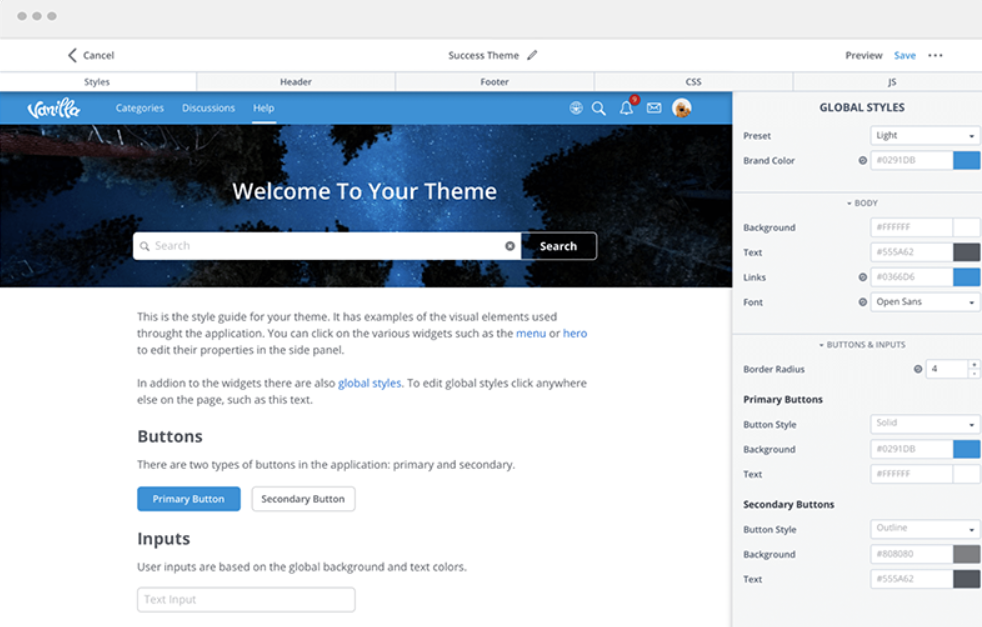 Vanilla Forums is one of the best forum software solutions out there. It offers both a free and a premium version. The free version aims to meet the needs of small and medium-sized businesses. The premium version, on the other hand, caters to the needs of enterprise-level businesses. The add-on and theme systems allow you to customize the look and feel of the forum while extending its functionality.
Key features
Support for various discussion types (e.g., standard discussions, polls, questions)
Rich content
User mentioning
Avatars and user profiles
Private messaging
Knowledge base
Forum groups
Pros
Modern looking themes
Many add-ons for forum functionality extension
Knowledge base support for better customer experience
Cons
Not that many add-ons and themes to choose from
It takes time to learn how to use it properly
The price of the premium version is significantly above the industry average
Price
Vanilla Forums' open-source edition is completely free. However, the premium version starts at $689 per month.
8. Flarum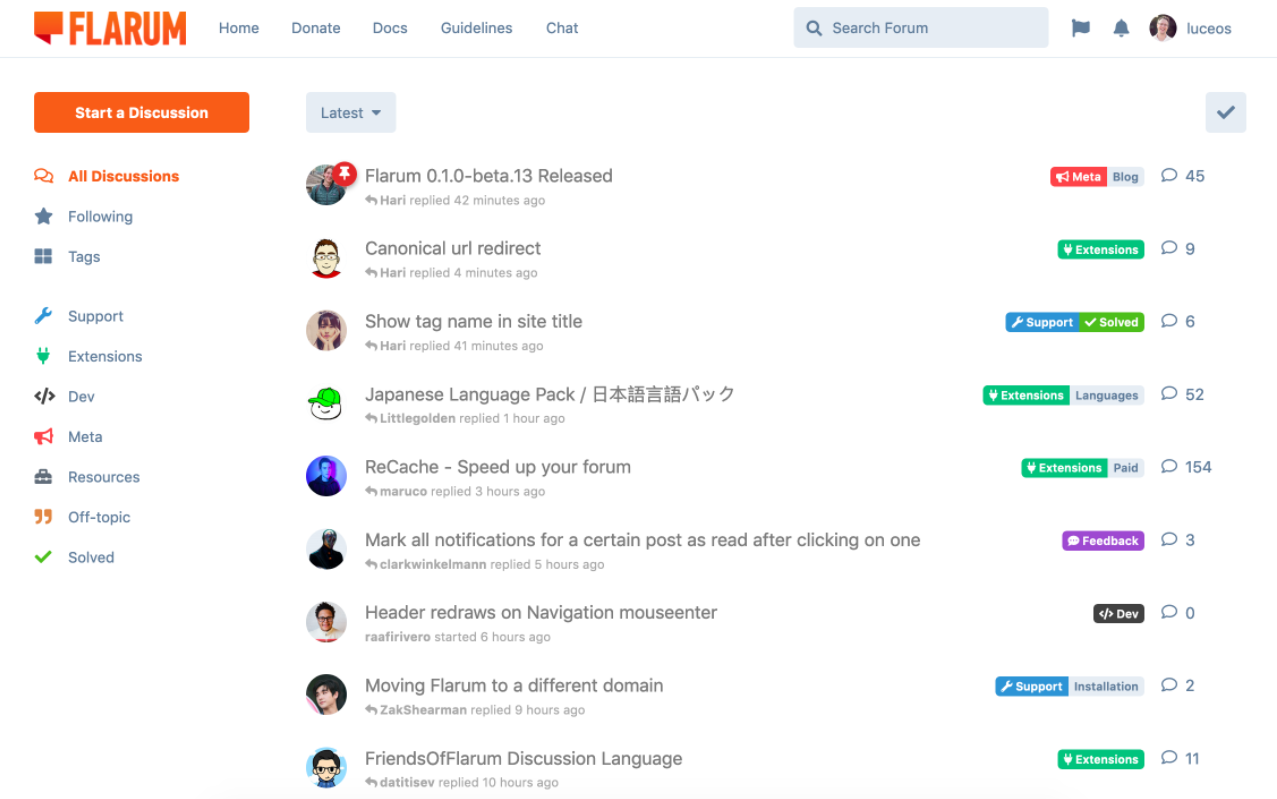 Flarum is one of the new players on the forum software scene. The good news is that it is entirely free. The platform is designed for all screen sizes and is optimized to deliver outstanding performance even on low bandwidth connections. Flarum has both essential and advanced features, but it requires substantial technical knowledge to install, update, and maintain it. 
Key features
Multi-language support (16 translation packs currently available)
Intuitive UI
User progression system
Last time online
User mentions
Scrollable threads
One time sign-on
A control panel with advanced forum moderation
Pros
Has live chat support thanks to Pusher integration
Extensions enable users to customize the forum
Beautiful user interface
Cons
It's still under development
Requires the latest Apache/Nginx, PHP, and MySQL to work correctly
Installation and updating have to be handled by a professional
Price
Flarum is completely free forum software.
9. Simple Machines Forum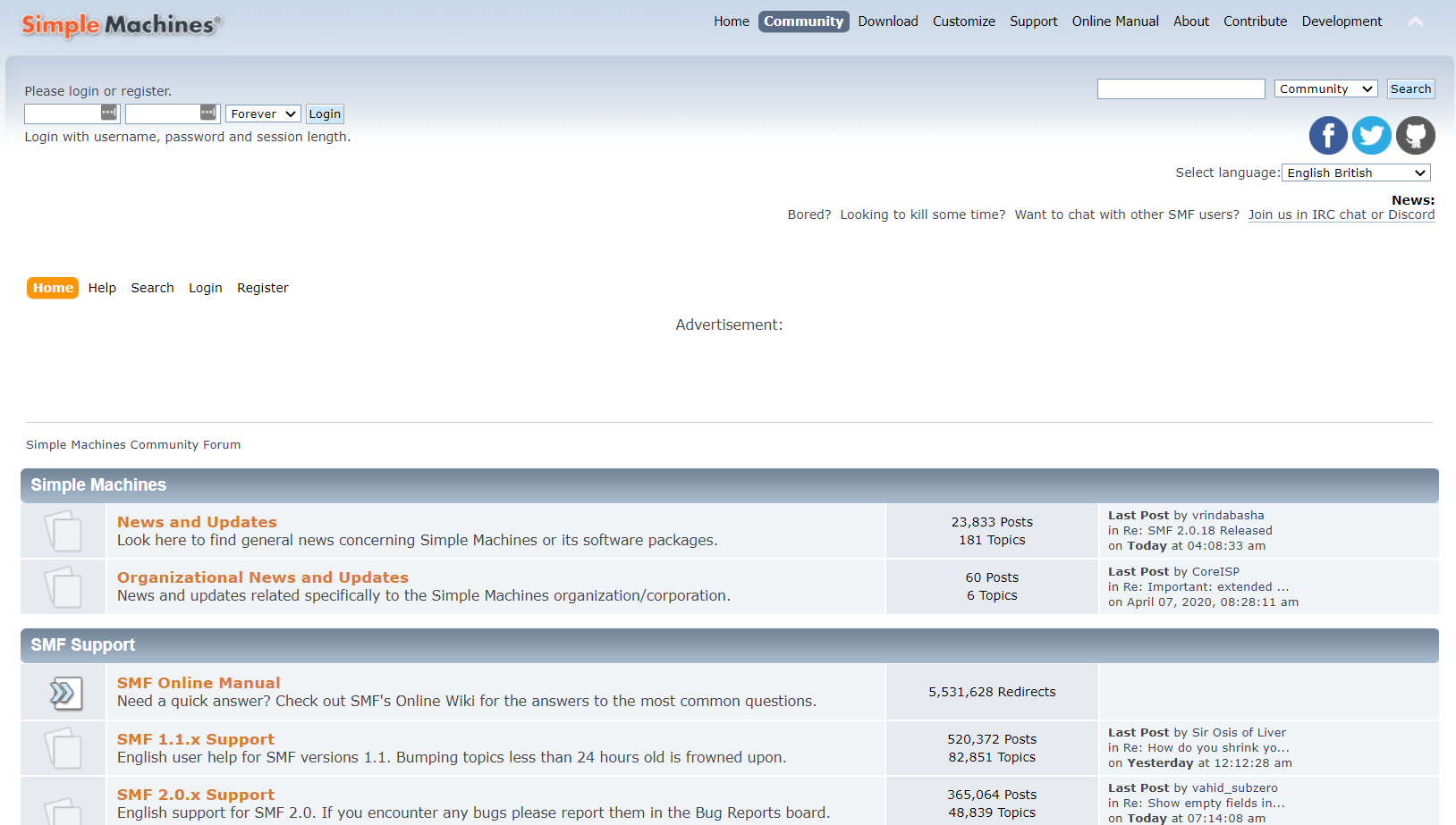 Simple Machines Forum is an excellent software for building, publishing, and managing online forums. It offers a similar set of features found in phpBB. Still, there are a couple of things that set it apart – the theme and module systems. With these two systems, Simple Machines Forum offers excellent flexibility. Given that it is an open-source solution, you can tweak it to meet your specific needs if you have the know-how.
Key features
Easy customizations thanks to new template system
Advanced user management and permissions
SEO ready
Easy-to-use package manager
Reporting and analytics
Member tracking and tracing
Streamlined forum management
Pros
Premium-grade themes and modules
Great multi-language support
Support for the premium subscription
Cons
Themes look outdated
It doesn't support user profile customization
The number of settings can be overwhelming for absolute beginners
Price
Simple Machines Forum is a free and open-source forum solution.
10. Discourse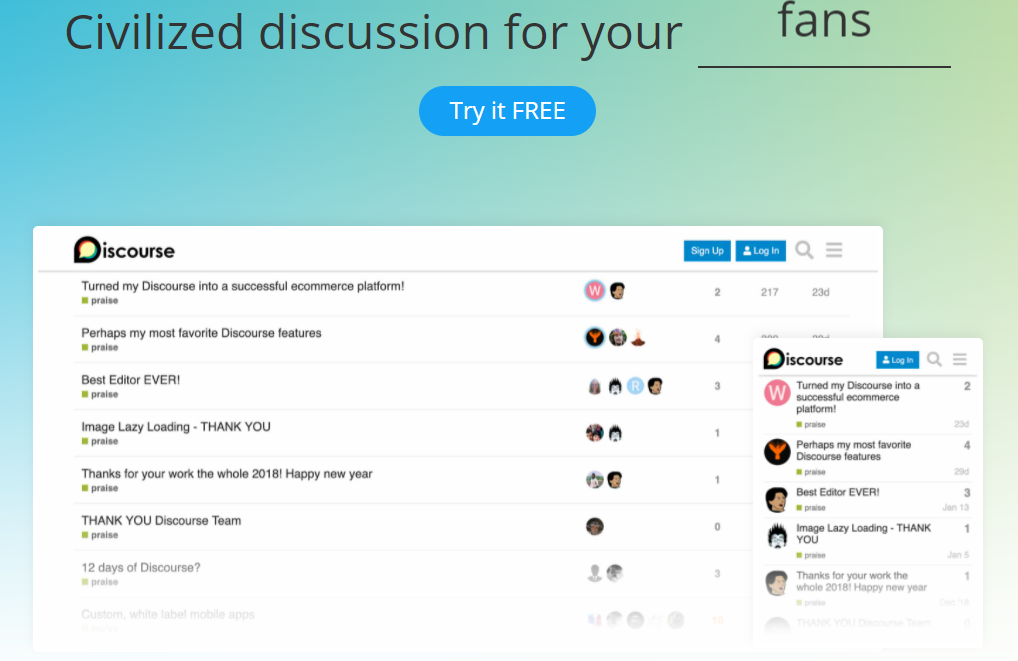 If you want to create and publish forums fast without breaking your bank, Discourse might be a good solution for you. The software doesn't offer anything besides forum features, but in return, it does provide a modern user interface and mobile optimization. It also supports login integration for a great user experience. The users can log in using their Twitter, Instagram, and Facebook accounts. 
Key features
Conversations are moved from single pages into scrollable pages
Instant notifications
Automatic link expansion
Designed for screens of all sizes
User trust system
Support for community moderation
Single sign-in
Reporting and analytics
Pros
Real-time notifications help users stay on top of all crucial mentions;
Mailing list mode allows users to track their favorite threads;
Great scalability.
Cons
It's costlier than other premium solutions;
Absolute beginners will need to spend time to learn how to use advanced features;
The scrolling system decreases readability once there are dozens of replies.
Price
Discourse pricing plans start at $100 per 5 staff users per month. 
11. Codoforum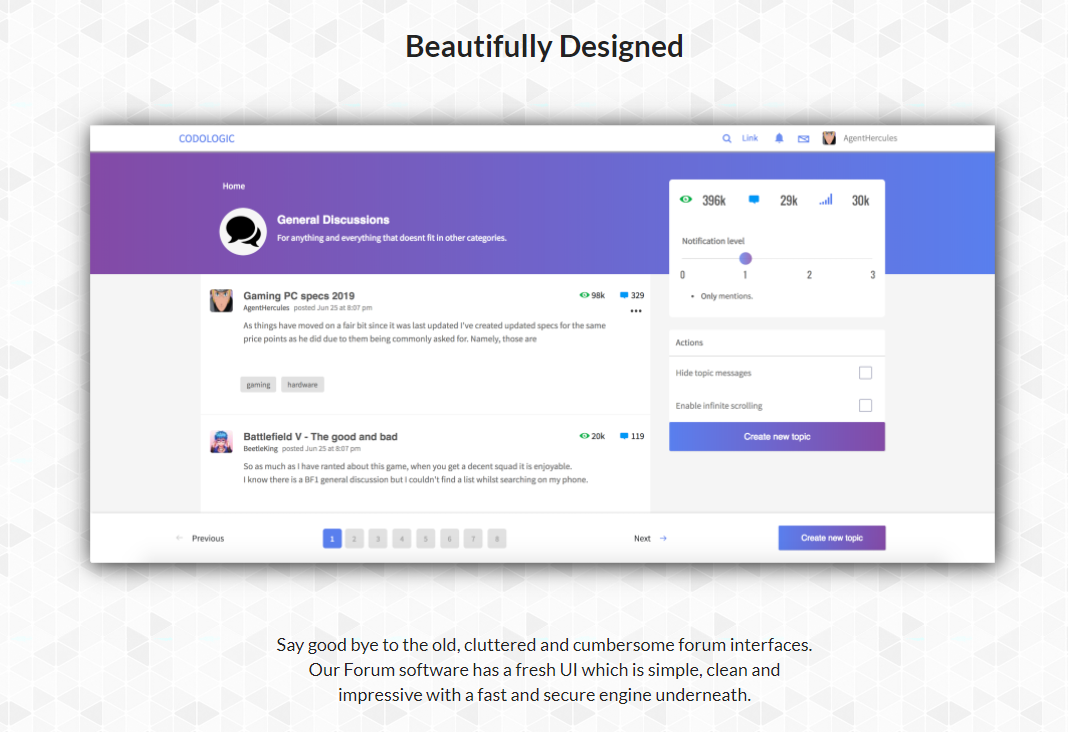 Codoforum is a freemium community forum software. Although it is a free solution, it offers all the features you expect to find in a forum software toolkit. Codoforum is perhaps the best forum software in the clean user interface category. It's mobile-friendly right out-of-the-box which is great if many of your users are constantly on the go.
Key features
Daily and weekly digest (send the recent updates to your users via email)
Fresh, minimalistic user interface
Support for all mobile devices
WYSIWYG editor
Support for existing website integration
User mentions and tagging
Notifications and subscriptions
Pros
Notification system supports notification level settings
Tagging system delivers excellent user experience
Extensive guides and documentation
Cons
Only premium versions support automatic upgrading and security patches
Freemium version has a watermark you can't remove
Updates are few and far between
Price
The Codoforum free version has the Powered by Codoforum watermark. The white-label premium pricing plans start at $49 (one-time purchase).
Still with us?
Forum is an effective platform for encouraging self-service resolution and customer-to-customer cooperation. With LiveAgent you can delight and nurture your relationship with customers.
12. FluxBB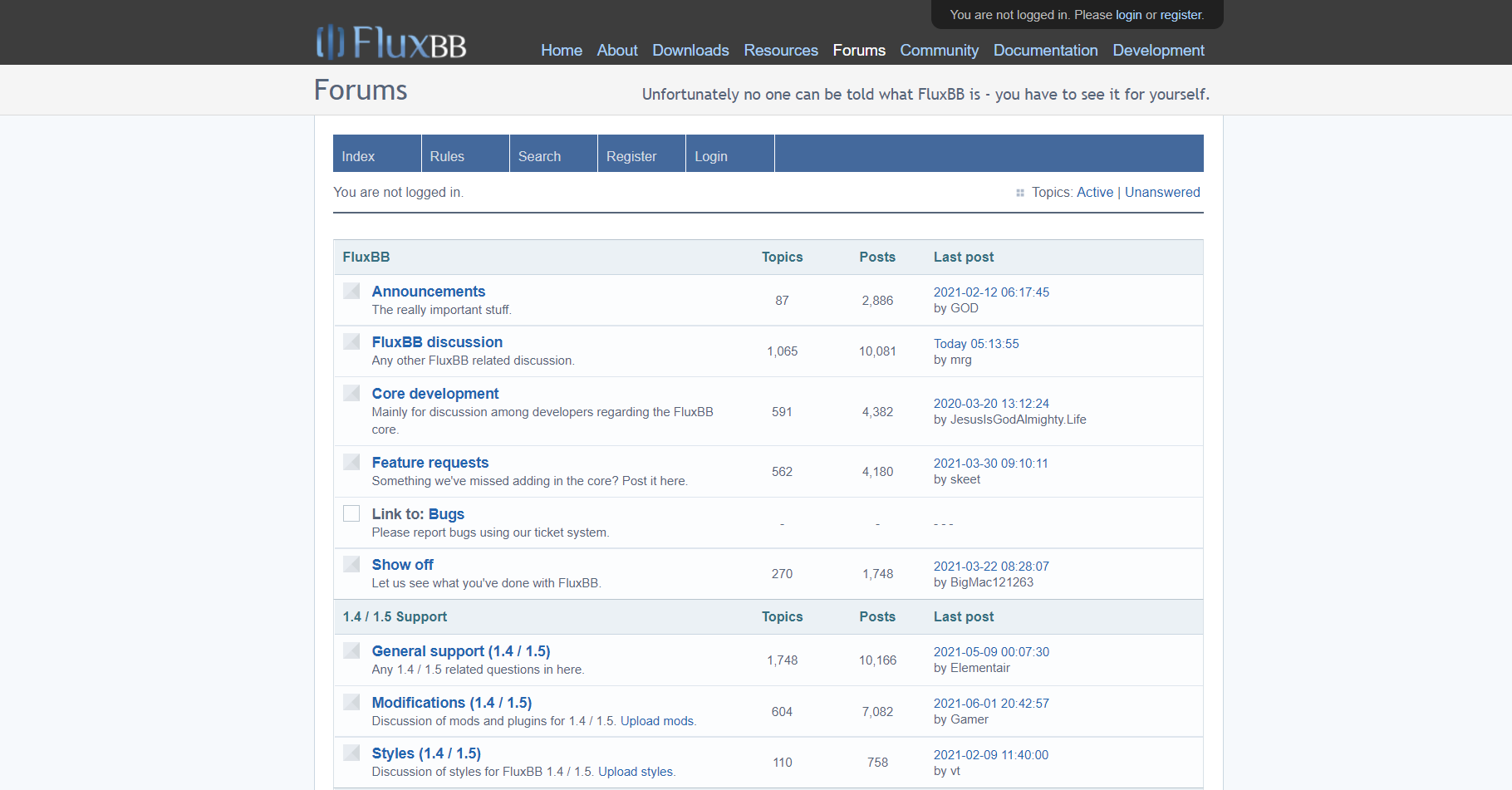 Although it is a significantly simpler forum solution than any other software on our list, FluxBB made it to the list thanks to its performance. It is a lightweight community forum solution that has all the essential features. You will have access to key forum moderation options, themes, and plugins. With FluxBB, you can set up and launch your forums very quickly and with few complications.
Key features
Topic ranking
Forum and topic subscription
Move, split & merge topics
Forum pruning
Support for RSS feed
Disable/enable user registration
User permissions
Pros
Built with high performance in mind
Has a user ranking system
Support for advanced profile customizations
Cons
The lack of plugins
The themes look outdated
Price
FluxBB is completely free to use.
13. Invision Community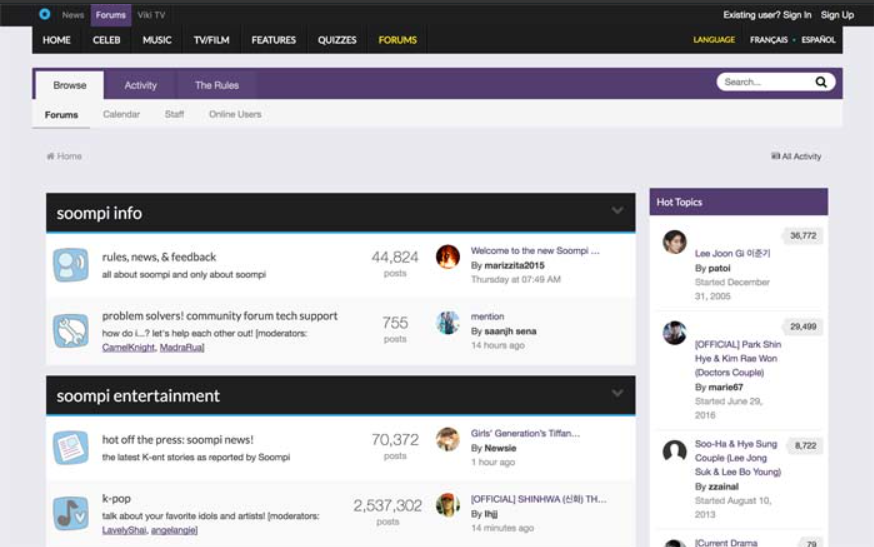 Invision Community is the heir of the IP board, which was one of the most popular forum software solutions back in the day. The platform offers many features and makes forum moderation easy. It even enables your users to create their own groups called "Clubs" within the forum. The platform's pricing is unique given that both data storage and the number of online visitors are locked behind different paywalls. 
Key features
Community clubs
Automatically publish forum posts on your social media accounts
User reputation and leaderboards
Group promotions
Paid subscription
Advanced moderation tools
Mobile support
Remote commenting application for easy news and article distribution
Pros
Easily engage users with attractive features
Great user interface
Engage your social media following with attractive forum posts
Cons
Lack of SEO features
Needs more gamification options
Price can spike with increasing forum data needs
Price
Invision Community starts at $45 per month, capped at 65 online visitors.
14. XenForo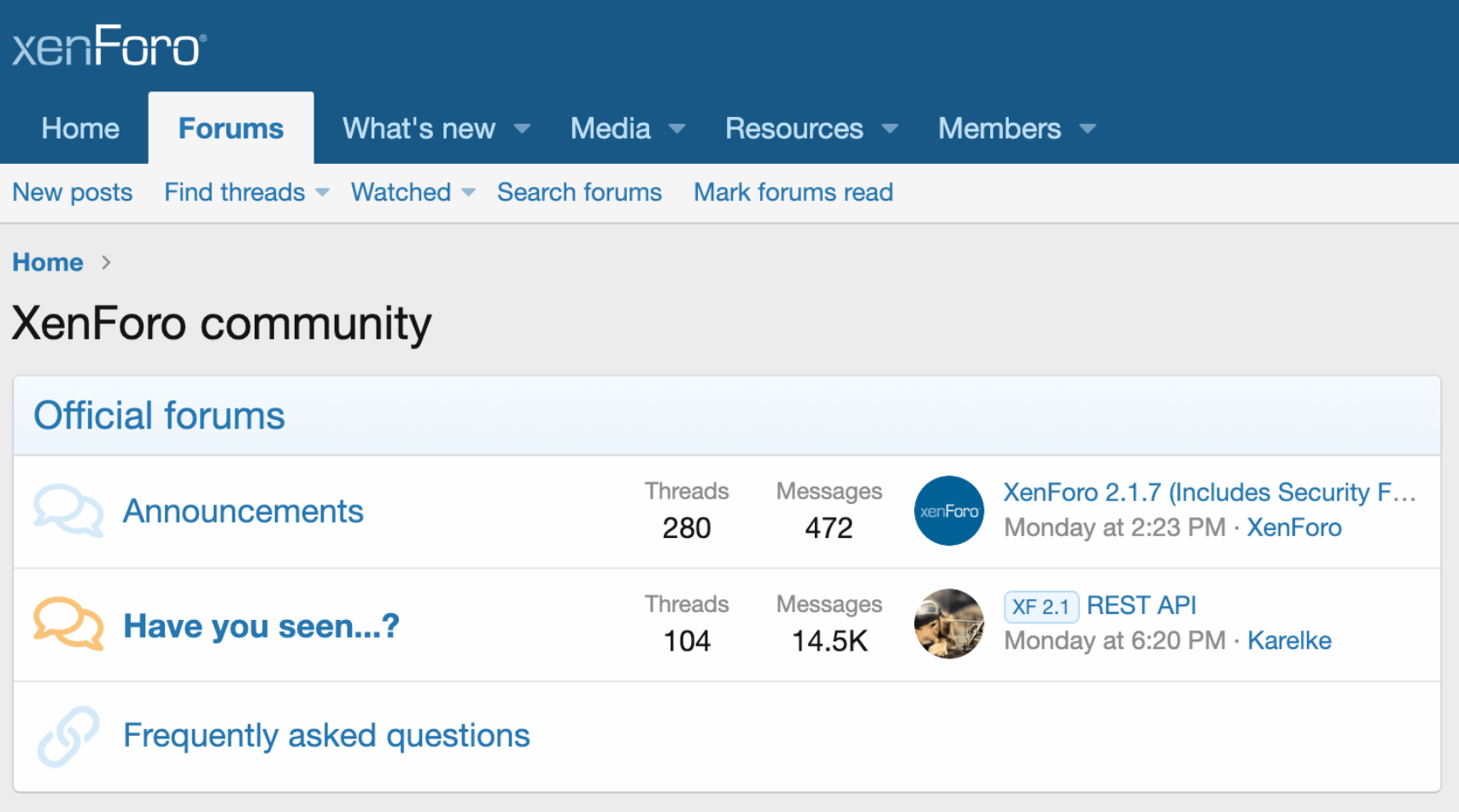 XenForo is a cutting-edge community platform and a premium forum software solution built for companies interested in using self-hosted solutions. XenForo has an impressive list of features and excellent social media integration. With over 2,000 add-ons at your disposal, you can create a custom forum with unique functions based on the user activity feed. In addition, the platform is optimized for search engines.
Key features
Support for structured questions and answer threads
Rich article authoring system
Built-in search functionality
Staff privileges
Inline moderation support
User achievement system
Dedicated mobile app
Reports and analytics
Pros
Completely SEO optimized online forum
Easy to use forum moderation tools
XenForo mobile app
Cons
The on-premise installation has to be performed by experienced staff
Requires several PHP extensions and the current version of PHP and MySQL
Removing the XenForo copyright notice costs $300 extra
Price
The XenForo license starts at $160.
15. Wix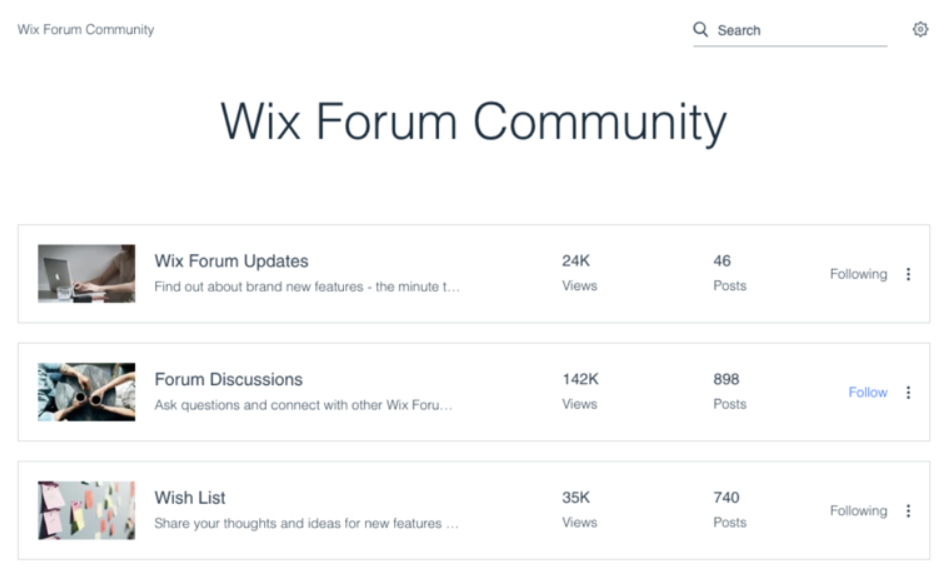 Wix is an online website builder, and as a part of their package, they offer the Wix Forum software. It's one of the easiest community forum tools to use since it features a drag-and-drop editor. This means that you will be able to build and launch your forum without writing a single line of code. You can build a standalone forum or integrate it with a website. When it comes to the features, Wix Forum doesn't fall behind the competition.
Key features
Support for classic and cards forum layouts
Built-in SEO tool
Mobile-friendly forum
Forum moderation tools
Forum users permissions
Member's page
Profile page
Forum templates
Real-time notifications
Pros
Extremely easy to use
Cloud-based forum software
Beautiful templates
Cons
With a free plan, you get Wix branding
You need a paid plan to access tracking and analytics
Most of the valuable add-ons are premium
Price
Wix starts at $8.50 per month.
16. vBulletin
vBulletin is a very powerful forum software. It's a popular solution used by some big organizations like Sony Pictures and NASA, and it ships out with every feature you'll need to create stunning forums in no time at all. vBulletin is also built with mobile users in mind and has SEO support. You can set forums to be private or public, edit hierarchy, enable private messaging, and much more.
Key features
Unlimited hierarchy on forums
Private/Public forums
Forum moderation tools
Thread and forum subscription
Unlimited moderators
Customizable permission system
Private messaging
Templates, add-ons, and skins
Pros
Create, publish, and moderate an online community via one platform
An abundance of options
Both self-hosted and cloud versions
Cons
The self-hosted solution requires technical knowledge
Plans are bandwidth limited
Support for the self-hosted version is limited
Price
vBulletin 5 Connect, built for self-hosting, starts at $249.00. vBulletin Cloud starts at $19.95 per month.
17. inSided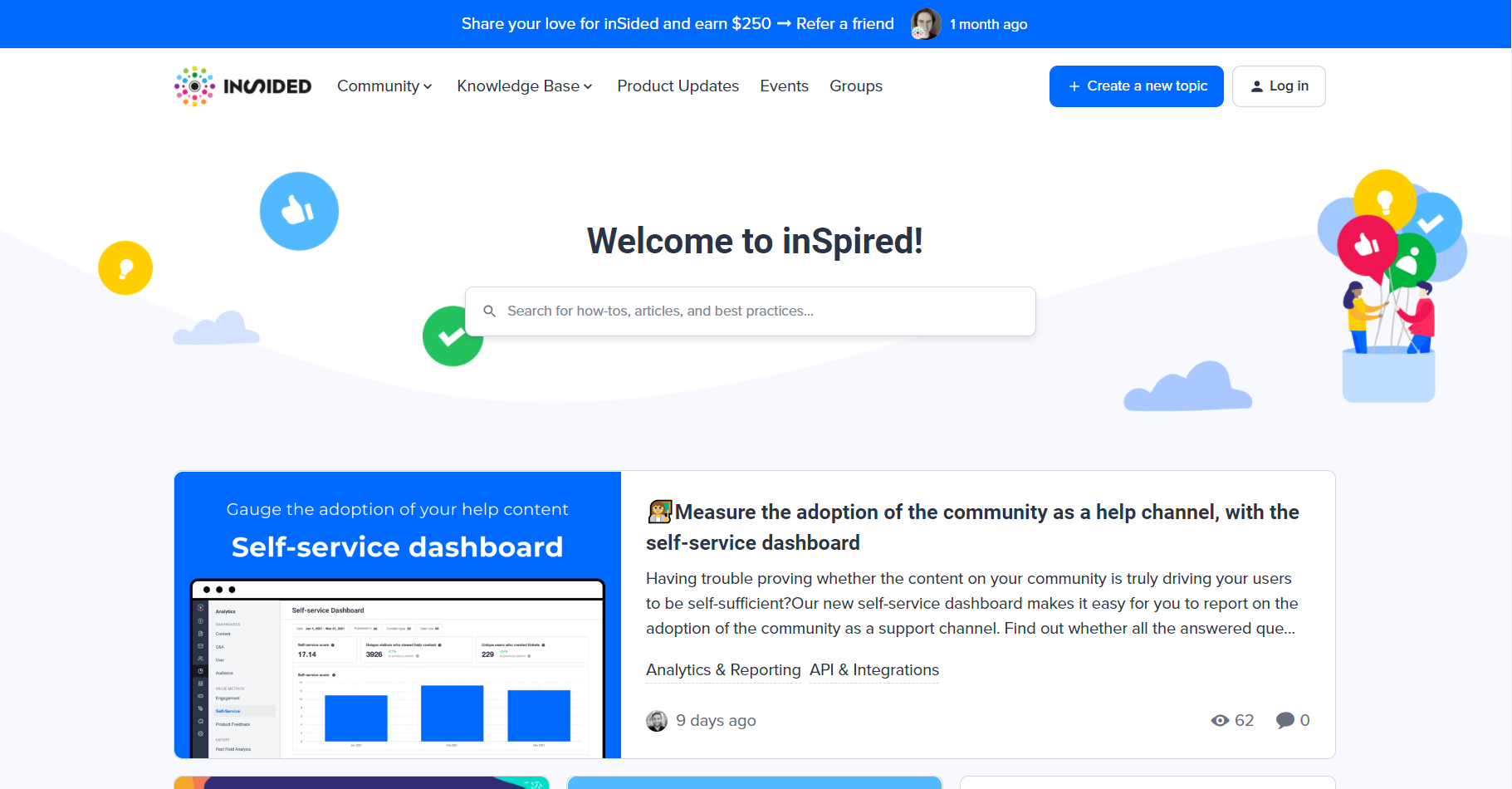 inSided is a complete forum software solution. You can use it to create an online community and facilitate communication between your brand and your customers. It really doesn't stand out with any unique angles compared to other options, but it is a solid option.
Key features
Knowledge base
Support for questions and answers style boards
Search engine optimized content
Content prioritization
Built-in smart content search
Intelligent and context-specific content
Advanced reports
Update users based on their interests
Pros
Great flexibility thanks to many features
Easy to use even without previous experience
New features are regularly released
Cons
Price slightly above the industry average
Lack of customization options
Reporting and analytics are not in-depth as in some other solutions
Price
inSided price is available only at a request.
18. NodeBB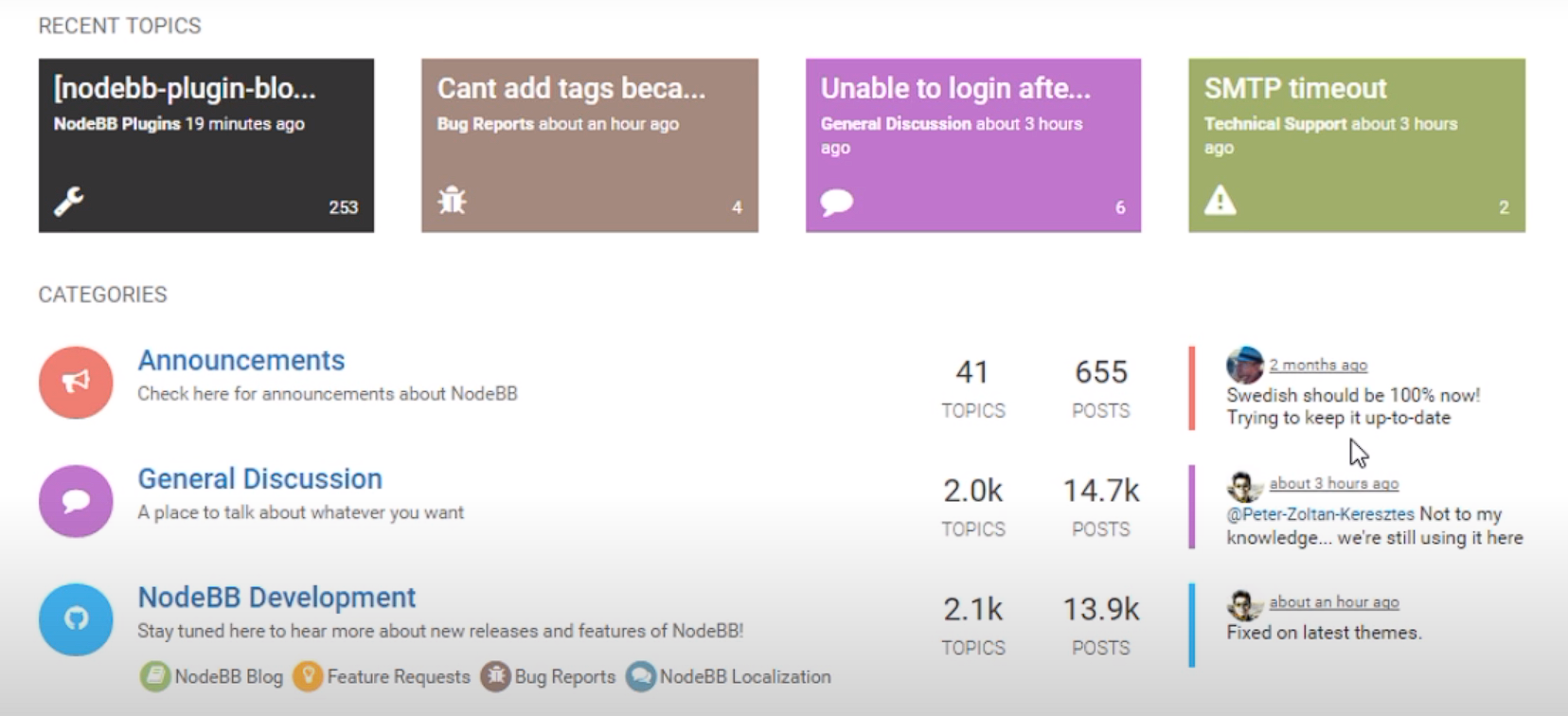 NodeBB is one of the latest additions to the forum software family. It's popular thanks to its flexibility and intuitive user interface design – forum moderators have access to all moderation tools on one screen. It also shines in the integration department enabling users to integrate various platforms, ranging from social media to project management software. Users can also extend its default functionality with plugins.
Key features
Mobile-ready
Localization support
Instant notifications
Analytics and reporting
SEO ready
Social media sharing
Support for self-hosted and cloud-based solutions
Built-in instant messaging
Pros
Seamlessly integrates with popular cloud-based services
Easy to set up and use
Modern and fresh look
Cons
More expensive than other forum software
Plugins and widgets often break basic functionality
The lack of themes for the forums
Price
NodeBB price starts at $250 per month.
19. Forem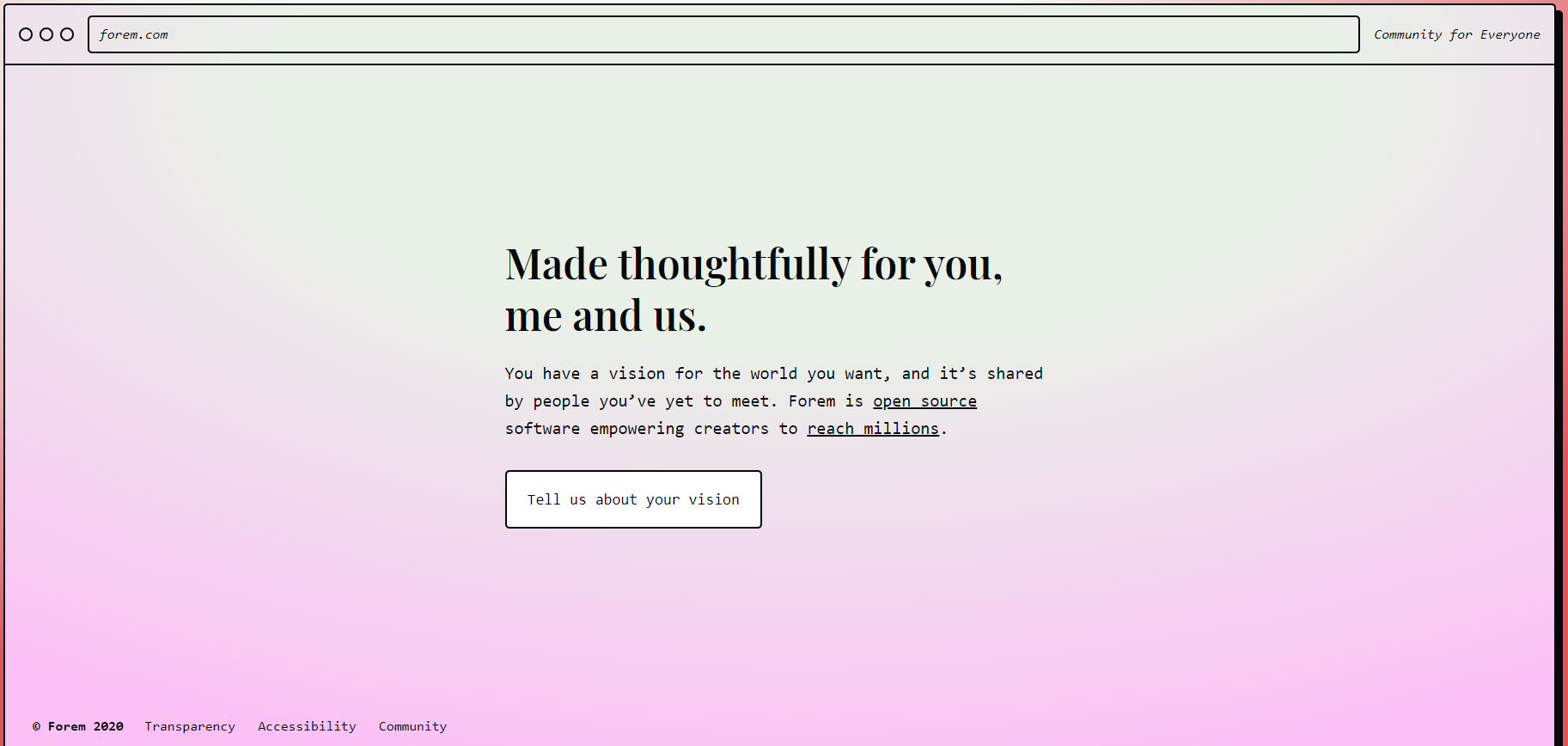 Forem is soon to be released, but given that it comes out of the Dev.to kitchen, it's bound to be great. It features a new modern look, an intuitive user interface, and easy deployment. It's an open-source software solution that enables you to build communities with ease, and you'll be able to use it to allow visitors to create profiles, read/write posts, follow specific tags, or search the content. 
Key features
Support for RSS feed
Moderation tools
Follow other users
Follow post tags
Direct messaging
Group chats
Integration with other apps
Achievement badges
Pros
Great flexibility
Easy to use moderation tools
Both group chat and direct messaging
Cons
Open-source means limited support
Requires substantial knowledge to self-host
Use case strictly reserved to the forum
Price
Forem is a completely free solution.
20. bbPress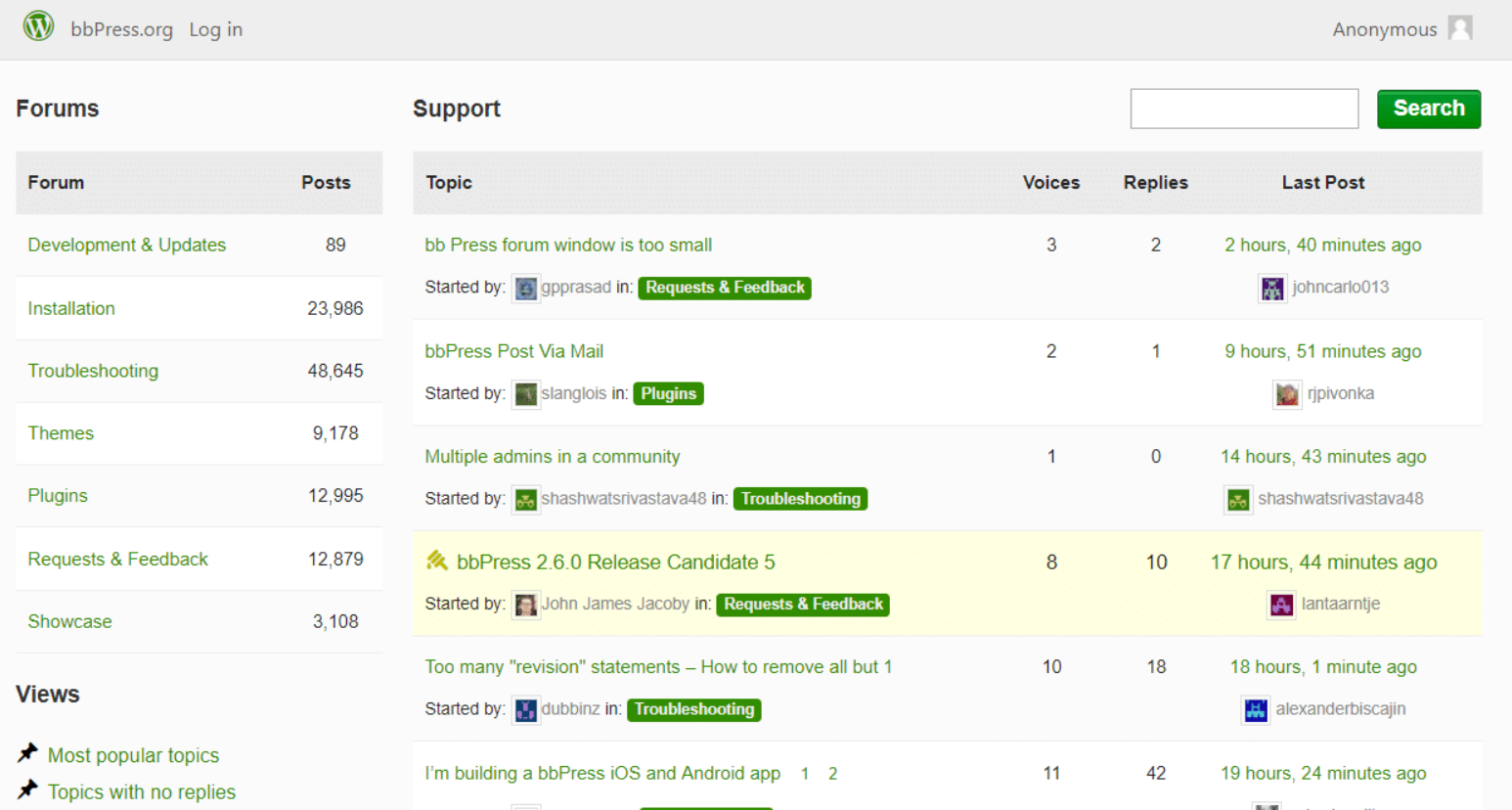 bbPress is a forum software released by the same team that worked on WordPress, and it definitely shows in the platform, especially in the ease-of-use department. The design might look outdated, but all the best features are there. Being a WordPress plugin itself, it allows you to extend its functionality with other plugins and build the forum you want. Finally, it's an open-source project, so it's free to use. 
Key features
One-click install
Support for themes
Forum templates
User permissions
Activity logging
Notifications
Support for various extensions
Private groups
Pros
Easy to install and setup
Functionality can be improved via plugins
Compatible with modern WordPress themes
Cons
The default theme looks outdated
Advanced features are plugin dependant
Too much time goes by between new releases
Price
bbPress is completely free.
Top 5 forum software compared
Let's make a quick comparison of the top 5 forum software options.
1. LiveAgent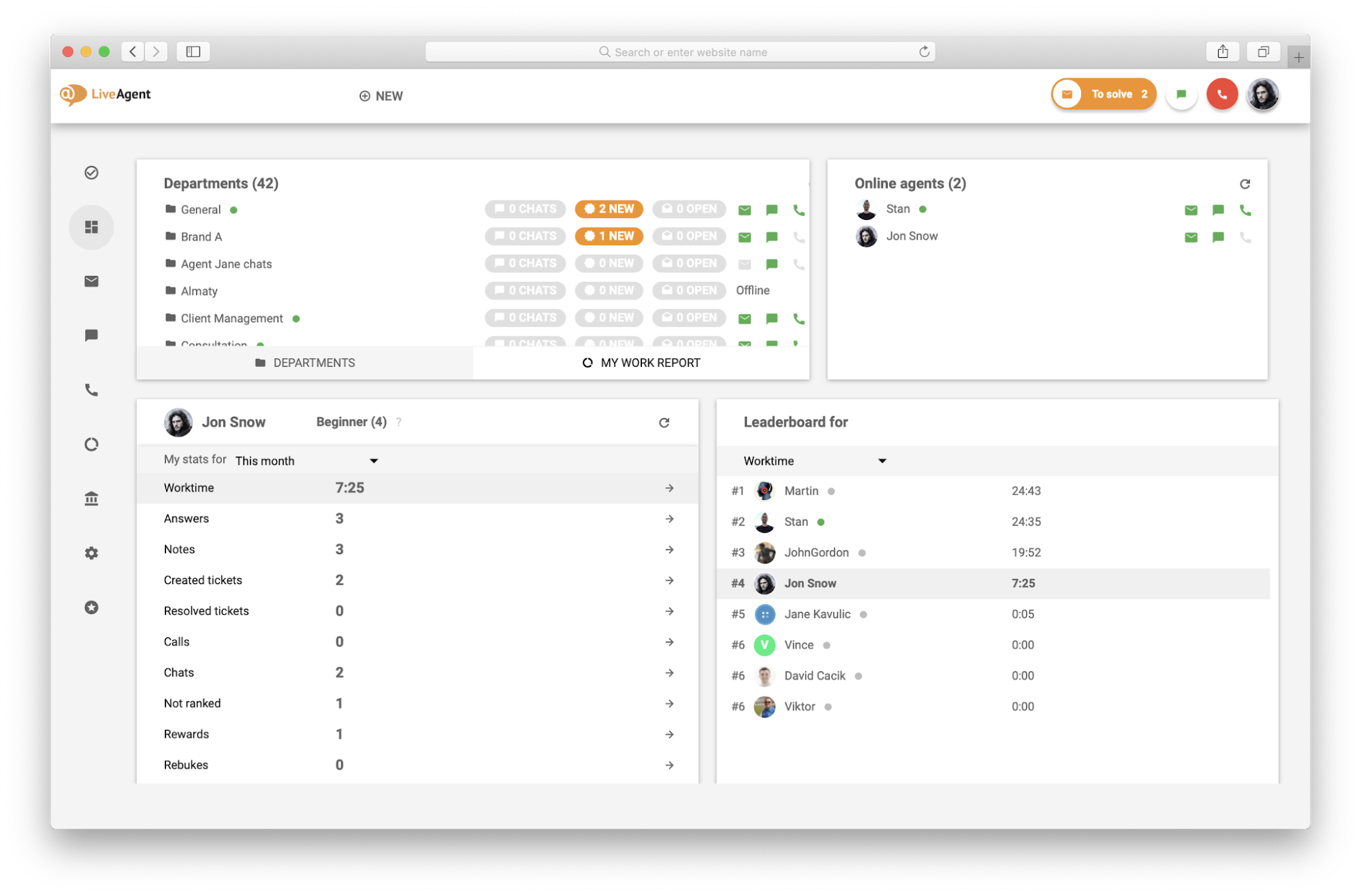 LiveAgent is our number one choice for cloud-based forum software solutions for businesses. Not only does it come with a lot of features, but it also enables you to leverage the forum to improve services, products and make customers happy.
Additionally, LiveAgent enables businesses to make informed decisions and include the most relevant forum content to the internal or external knowledge base. The convenience comes from being able to do it all from one screen.
Post and share useful content
With LiveAgent you can allow customers to access knowledge base articles, ticket status, interaction history or in-depth product and service information.
2. vBulletin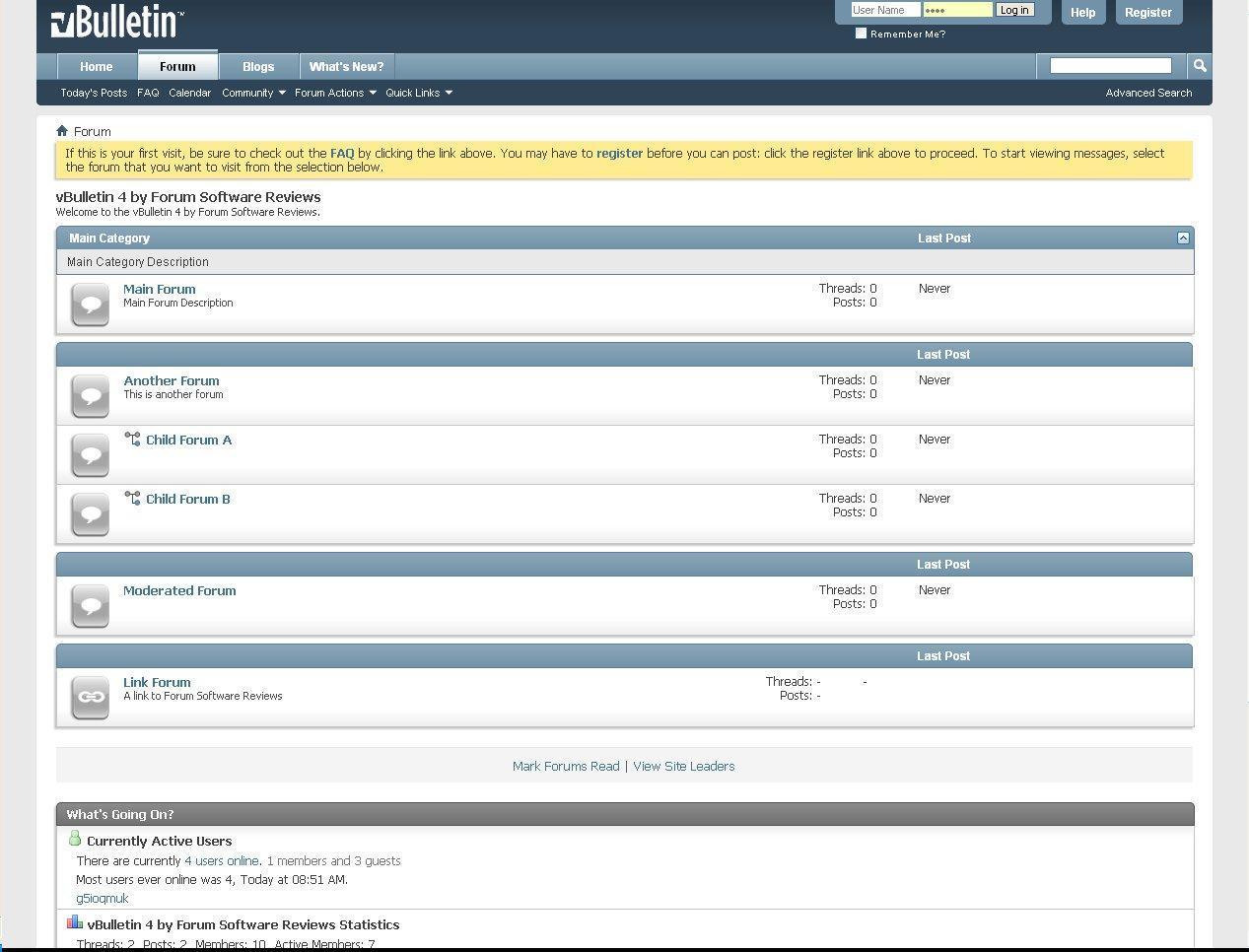 vBulletin lacks the help desk functionality and automatic forum post and reply to ticket transformation features. However, if you want to run and moderate a forum on a proven and secure platform, vBulletin is your second best option, and it ships out with all the features you need.
vBulletin is easy to use, which is important to note if you don't have any previous experience in creating or moderating forums.
3. Discourse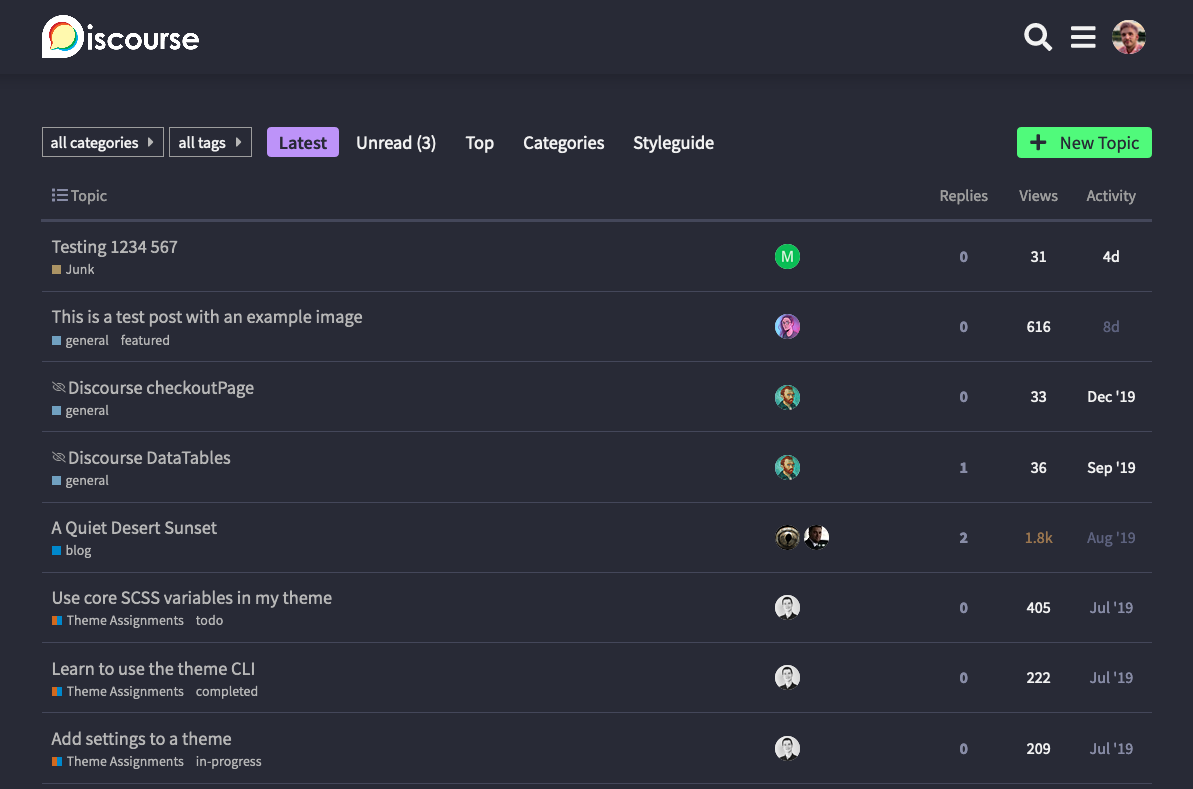 Discourse is a premium forum software solution just like LiveAgent and vBulletin. It's similar to LiveAgent when it comes to integrations, and you can use it with social media or integrate it with help desk tools.
It offers support for WordPress, but it doesn't go beyond the basic forum features and is a bit pricey. Discourse hosting plans start at $100.
4. phpBB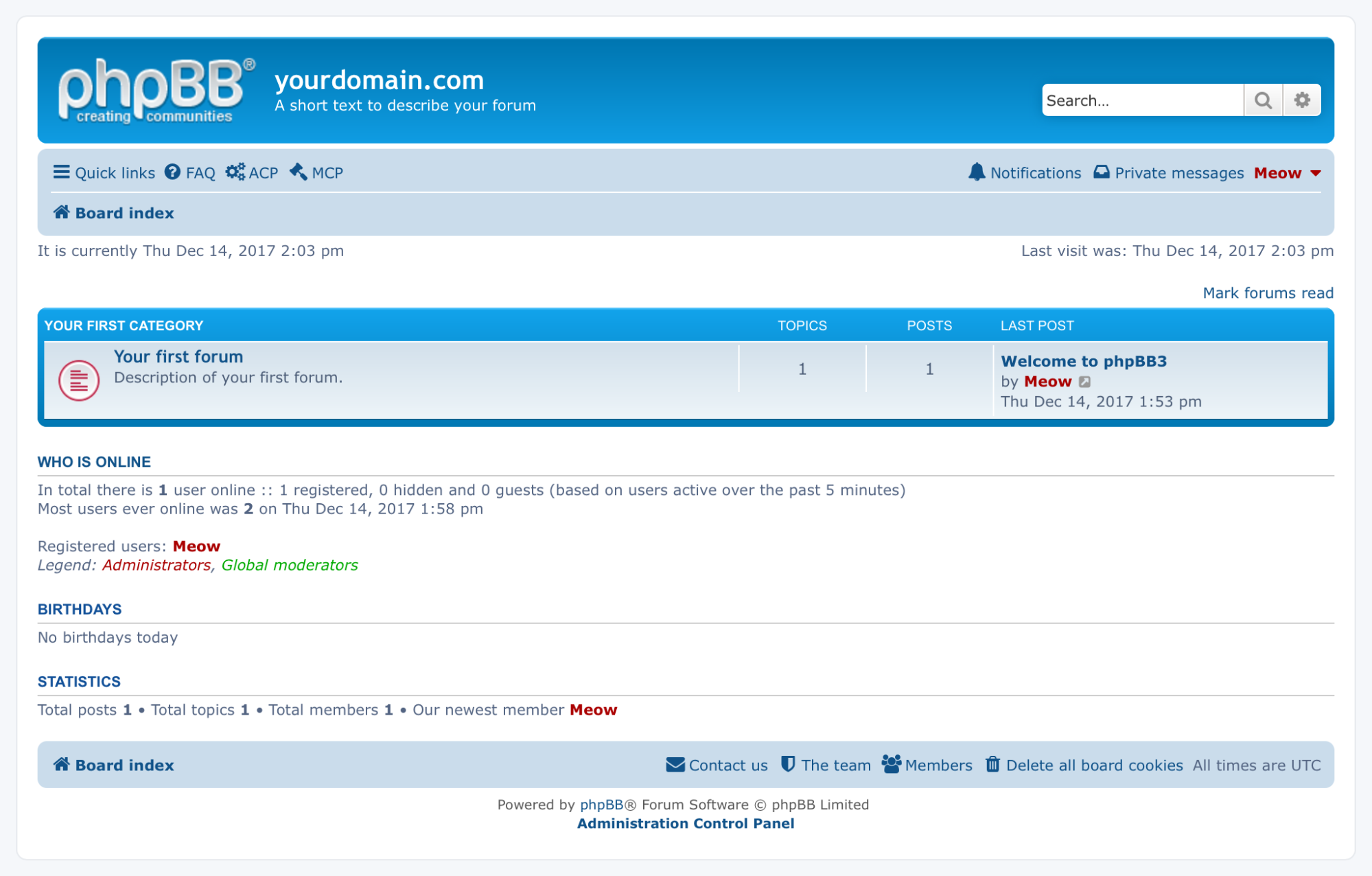 If you want to build and moderate a forum and are on a budget, phpBB might be the best solution. It's a free forum software platform. It has both basic and advanced forum features. 
On the other hand, phpBB looks a bit outdated, which can hurt your forum users' perception of it. It's also a self-hosted solution only, so you'll have to find a hosting provider, generating more expenses.
5. Simple Machines Forum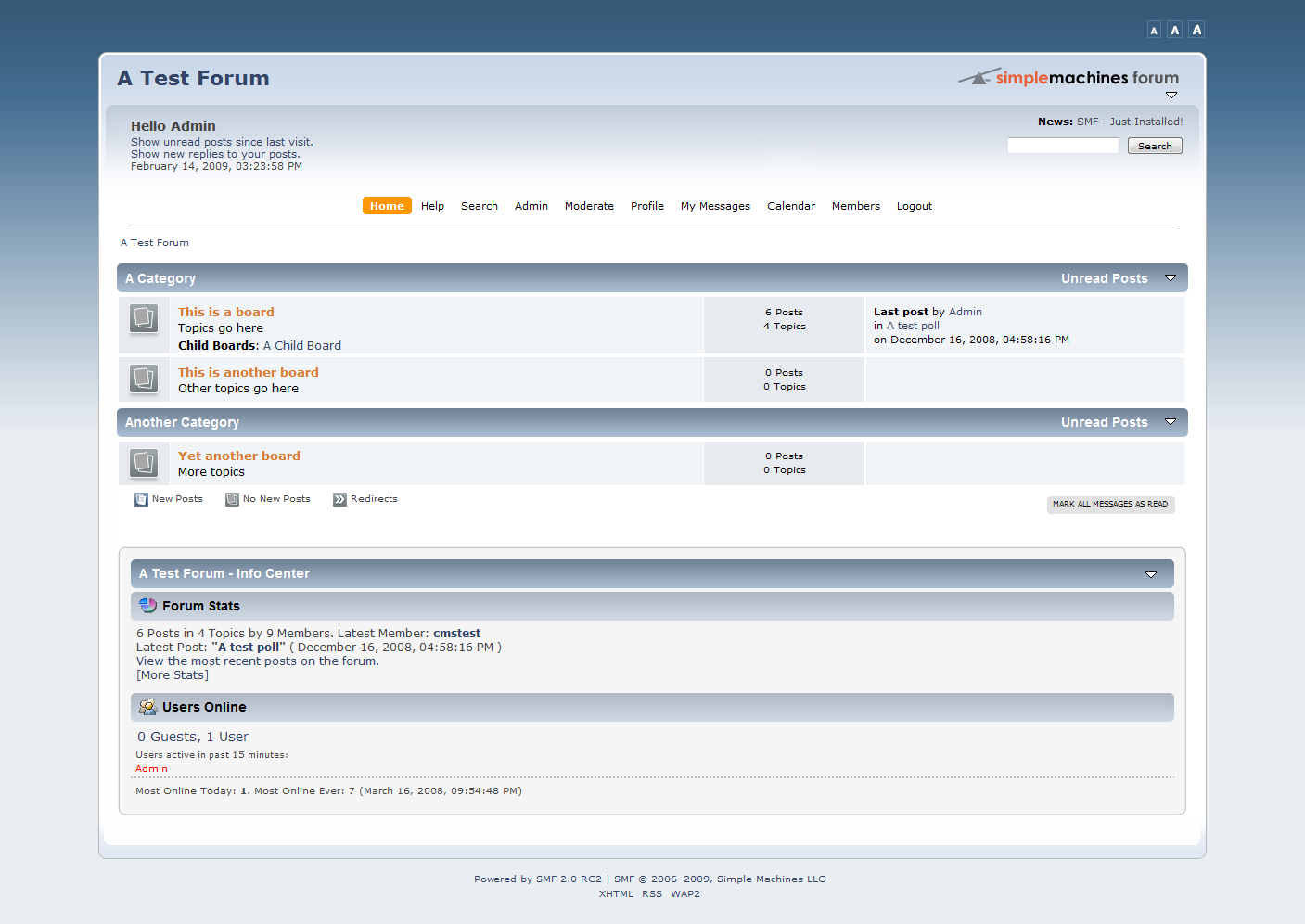 Finally, we have another open-source solution – Simple Machines Forum. It looks outdated and features only forum-specific tools, but unlike phpBB, it offers many more customization options thanks to the advanced package manager.
You can use it to install additional modules that improve your forum's looks and capabilities. It's better suited for larger communities, though. 
Top 5 forum software systems compared
| | | | | |
| --- | --- | --- | --- | --- |
| Email support system | Capterra Rating | Free version  | Free trial | Starting price  |
| LiveAgent | 4.7/5 (approx. 1K reviews) | YES | YES | $9 per agent/mo |
| vBulletin | 4.0/5 (13 reviews) | NO | YES | $249 per month |
| Discourse | N/A | YES | YES | $100 per user/mo |
| phpBB | N/A | YES | YES | Free to use |
| Simple Machines Forum | N/A | YES | YES | Free to use |
Dated as of July 19th
Conclusion
Choosing the right forum software solution for your business is crucial for its long-term success. It will help you streamline the implementation and onboarding but also help you achieve your specific goals. To help you make an informed decision, we've put together a short list of Q&As. Spoiler alert – LiveAgent is the absolute champion in all six categories.
Editor's note: If any of the information in the review article is inaccurate, please feel free to contact us and we'll revise it accordingly
The best all-in-one forum software solution
LiveAgent is the best all-in-one forum software solution. It offers the functionality of a complete helpdesk with seamless forum integration, enabling companies to take full advantage of maintaining an online forum. 
With post and reply to ticket conversion, companies can stay on top of the recent developments and help their customers resolve issues efficiently. On top of that, LiveAgent enables companies to create useful internal and external knowledge bases and share the most important content hassle-free.
The best forum software with built-in live chat, call center, social media, and customer portal 
LiveAgent is the best forum software with built-in live chat, call center, social media, and customer portal. It's simply because the platform offers all these features from one centralized solution. The agents and service providers don't have to switch tools. It's an entire tech stack available via just one user interface.
The best feature-rich online forum software 
When it comes to features, nothing comes even close to LiveAgent. The platform has almost 200 features to offer to its users, and the company is continuously working on improving the existing features and introducing new ones. 
The best value for the price forum software
With the price of $15.00 per staff user per month, an abundance of features, and ease of use, LiveAgent is the best forum software when it comes to value for money. 
The highest-rated forum software
According to the most trustworthy software review platform online, Capterra, LiveAgent is the highest-rated forum software with an average rating of 4.7 and over 1,000 unique reviews.
The easiest forum software to setup & use, and integrate
While it has almost 200 features, LiveAgent is the most accessible forum software on this list to integrate. The features and user interface are also intuitive, which makes the setup and use extremely easy.
A satisfied customer is a happy customer
Take our product tour and explore LiveAgent, the omnichannel help desk solution, today.
LiveAgent Product Tour | Live Agent02:25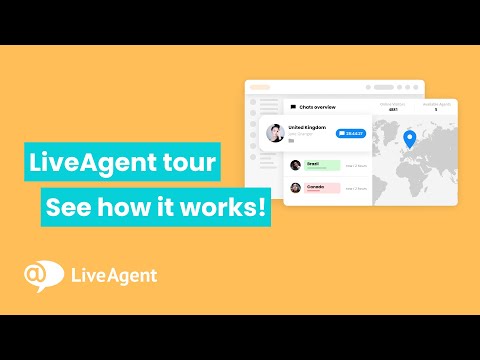 Live Agent
Frequently Asked Questions
What is the objective of a community forum?

The objective of a community forum is to provide a platform for members to share knowledge, discuss concerns, and collaboratively address specific issues, in this case, land grabbing and the unequal distribution of natural resources. By fostering open dialogue, the forum aims to raise awareness, promote inclusivity, and devise actionable solutions to counteract land appropriation by private entities and states. The overarching goal is to empower communities and ensure equitable resource distribution.