Social media customer service is customer service adjusted to the specificities of social channels. Social channels were invented and designed to share content and to network. Therefore, unlike other customer service channels (email, live chat, or call centers), social media platforms require a specific customer service approach.
What is social media customer service?
Social media customer service is different from customer service via other communication channels because social media are readily public, and their primary purpose is sharing and networking. Also, social media are more emotionally charged since they often involve personal information for either self-promotion or enhancing visibility.
Social media platforms are fast-paced, and making anything publicly available and widely shared is just one click away.
Thus, both positive and negative experiences regarding customer service issues can be shared in an instant, boosting reputations to new heights or possibly ravaging brands, companies, or actual individuals in the process.
While the thrill of instancy can be exciting for the user it adds pressure on the customer service teams. Since the readily available option of sharing requires even closer attention than other customer service channels, the effective use of help desk software can elevate the extra stress on your customer service team.
Social (media) platforms are utilized for providing customer service to existing and potential customers. They are used for responding to inquiries, general questions, or specific direct issues from existing customers. They can inform, engage with customers, and guide them throughout the entire customer journey.
And since every journey is unique, some customers may need less and some more attention from the customer service team. The point is that your business can be reached by the average person hanging out on a social network, whether by sending a direct message on Facebook messenger or just mentioning your brand somewhere. So, apart from being a channel for providing service, social media has informative value for you because it sheds light on customer concerns.
Offering prompt and relevant customer service is highly desirable for any business, even more so on social media platforms.
Social media channels are not the first to come to mind for customer service. Live chat and call centers are much more common for this purpose. Nevertheless, billions of people use social media day by day for hours on end. It would be a waste not to use social networks somewhere along the customer journey and engage with customers or potential customers where they hang out, on social media.
Why is social media customer service so important?
It is very influential. Because the line between private and public is thinnest on social media, the impact of the customer service can rapidly ripple out and escalate into a roaring success or the much-feared opposite. Cancel-culture and viral trends can be mentioned as intense examples of the influence social media platforms can have.
It is very popular. Social media is a channel that never sleeps. With billions of users, a global penetration rate of 54%, and 147 minutes use per day on average (Statista, August 22, 2022) social networks are clearly a place for offering customer service.
It is very emotive. It blends the private and public spheres while also being expressive. The self-reflective element of social media makes interactions personal and vivid.
It is very fast. Customers expect replies to their social media queries much sooner than on traditional channels because social media are fast paced. On the average, a reply to queries is expected within an hour.

And, it is harsh. Customers can understand that businesses are swamped with tickets. However, when they see a business actively posting on social media platforms while ignoring a direct social media message, customers get frustrated. As a result of their frustration, they can lash out and 'air your dirty laundry out in public.' On the other hand, a positive customer service experience can create waves of adoration for a brand.
Turn it all to your advantage
Acknowledge social messages. Reacting to your customers and their problems by responding to a comment or direct message on social media platforms minimizes the chances of escalation to frustration.
Race against time. Make sure you respond asap because emotions flare fast. The sooner you respond the more benefits you can reap.
Popularize your brand. Responding to customer questions and engaging with your audience can give you positive traction, boost your social media presence, affirm brand awareness and even lead to sales.
Measure the influence. Tracking your social media presence deepens your insight. Look at the number of comments, likes, and shares your posts get, and learn from them.
How does social media customer service work?
Customer service on social media platforms operates on a wider scale than classic customer service. More all-encompassing and more personal, it has many far-reaching business development possibilities. However, to work properly and reach its potential, it needs a social media management platform.
It is not enough to create social media posts. Unless they are followed up on, an opportunity to build relationships is missed. Relationships are the glue of communities, and on social media platforms, they translate to digital communities that interact and exchange opinions via private messages or public posts.
Community management requires a comprehensive and coordinated approach. When members of a community are fans or adherents of a brand, product, or service, they tend to have emotional attachments to their favorite platforms and take pride in receiving direct messages from the company.
Technically, the connection of social networks with social customer service works through the application programming interface (API).
An API key defines interactions between multiple software. In essence, an API key defines how data is transferred, shown, and what actions can be taken. For example, LiveAgent uses native integration via Facebook webhooks to fetch data from Facebook to LiveAgent. As a result, LiveAgent users can reply to Facebook posts from their LiveAgent dashboard.
🔶 Facebook and Facebook Messenger
LiveAgent's Facebook integration allows users to:
Monitor multiple Facebook pages
View and reply to direct messages sent through Facebook Messenger
View and reply to comments on your posts
Like comments or send likes in Messenger
View and reply to mentions on your page, in the comments, and on posts
Create Facebook posts
Facebook Integration Demo: How It Works | Live Agent03:02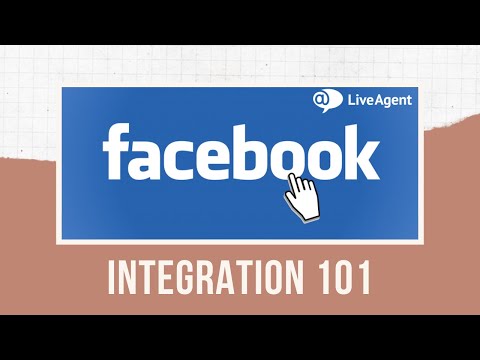 Live Agent
Learn more about our Facebook integration.
A typical day in the office looks a little like this: a member of your customer service team, who is busy attending to customers concerns on chat or is on a call, receives a direct message from Facebook Messenger. It lands on the dashboard in the form of a ticket. The agent can see it and respond to the social media account user, who has used Facebook Messenger to get in touch with a request or concern.
The direct response to the customer's concern is on its way from the customer service team within minutes, all without having to log on to the social media account separately or otherwise be distracted from the customer service work.
A customer service strategy, which is set up well, can smoothly integrate social media customer service and proudly offer it as an option for getting in touch with the brand. With the help of the right tools, the average response time can be maintained and perhaps even shortened, much to the delight of the social users.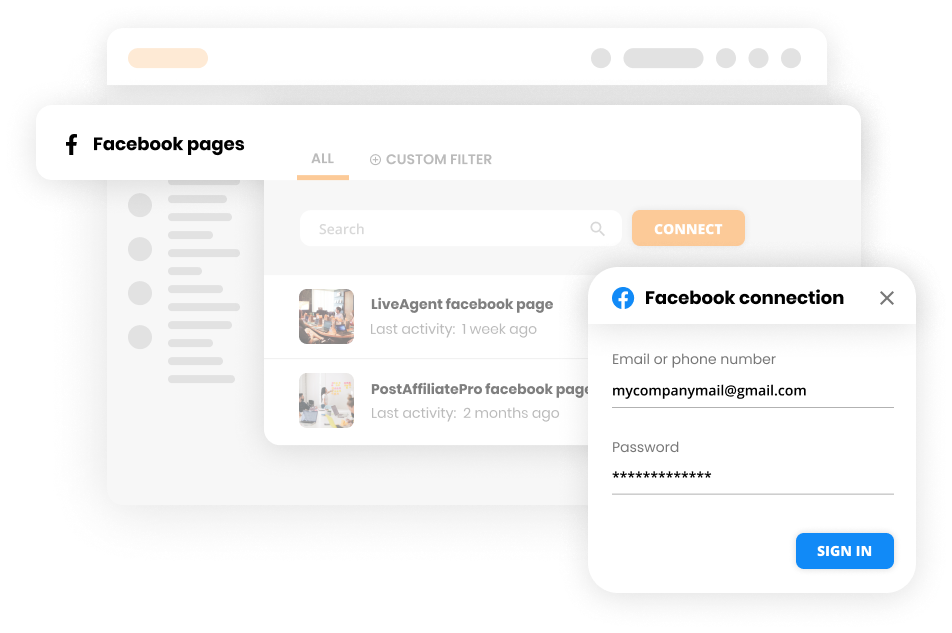 🔷 Twitter
LiveAgent's Twitter integration allows users to:
Connect and monitor multiple Twitter accounts from one dashboard
Track unique keywords and capture them as tickets (even without direct mentions)
Respond to Tweets and comments from one place
Retweet
Tweet
How to Monitor Twitter with LiveAgent | Live Agent06:38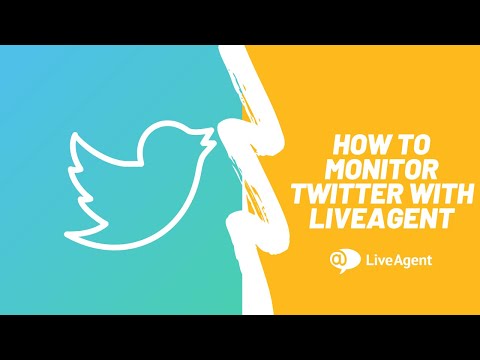 Live Agent
Learn more about our Twitter integration.
🔶 Instagram
LiveAgent's Instagram integration allows users to:
Connect and monitor multiple Instagram accounts from one dashboard
Respond to comments on your posts
Respond to comments your account is mentioned in
How to Activate Your Instagram Plugin in LiveAgent | Live Agent01:18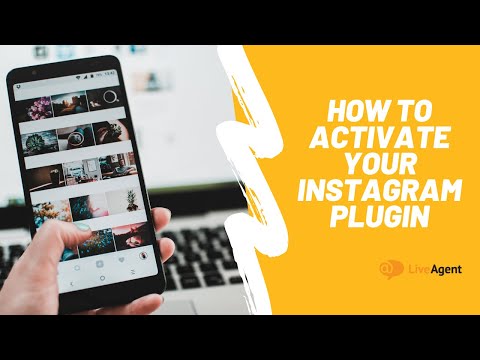 Live Agent
Learn more about our Instagram integration.
🔷 Viber
LiveAgent's Viber integration allows users to:
Connect and monitor a Viber business account
Receive and respond to Viber text messages
Viber Integration Demo | LiveAgent | Live Agent01:55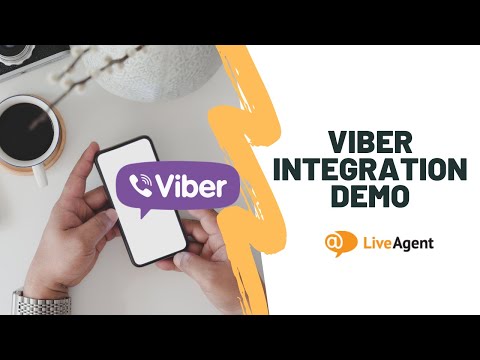 Live Agent
Learn more about our Viber integration.
Components of social media customer service
Here is a list of components and their role in customer service.
Ticketing system for customer service requests, direct messages, comments, and mentions which are converted to tickets so they can be systematically attended to
Live chat instant written communication, direct message exchange – option for direct instant written communication with a customer service rep, which is more specific and personal
Call center spoken communication, live talking to an agent where the tone of voice is an added dimension to the customer service experience, irreplaceable by written text
Social media management control over monitoring and coordinating social media interactions
Customer portal gateway for customers to access information concerning their inquiry, allows for information sharing
Knowledge base static source of information about products, services, and features, a repository of useful information on product use and features accessible via the customer portal
Benefits of providing social media customer service
Attention
The most obvious benefit for business owners, marketing, and customer service departments is that both their potential and existing customers are on social media sites. Why not address them where they already are.
Care
Company values – and lack of them – seep through visuals, text, and the quality of community engagement. Customers appreciate it when they have the option to interact with a real live person, as it makes them feel valued and part of a lively community. The customer service team member has a feeling of a job well done when the customer concern is resolved.
Growth
Since customer service on social media platforms is a relatively unexplored territory, there is ample room for innovation and business growth.
Satisfaction
Consumer expectations on social media are high in regard to response time. The average response time measuring as little as a few hours is a real challenge for any customer service team. But hugely beneficial if managed well, and with the right tools it is feasable. It has a direct positive impact on customer service performance.
Focus
Customer service representatives will be able to streamline all customer queries into a single dashboard, lowering the chance of losing track of a comment, direct message, or mention. A customer service tool like LiveAgent will store all social media tickets and mark them as unread until the ticket is manually marked as answered.
Security
Because all tickets are fetched into a single dashboard, your support agents won't need to share login credentials for different social media accounts with each other.
How to establish social media customer service
Start with a review of your existing customer service strategy and integrate social media platforms into it. Bear in mind the capabilities and capacity of your customer service team and the concerns of your customers who are probably social media account owners too.
Choose your platform

There are plenty of social media platforms for your brand to have profiles in. Focus your endeavors on your main one, for example, Facebook. Check where your platform is mentioned the most.
Take a look at your target audience, create buyer personas, and see which platform is frequented by your ideal customer, it is very likely their favourite platform.
Have a customer service team member dedicated to the social media account.
Create a separate social media account for customer queries if needed, but don't confuse your prospects with a lot of different accounts.
Keep up with your queries

Make sure to leave no question unanswered and no mention untapped and if at all possible, speedily. Aim for shrotening the average response time. React to comments and mentions as soon as possible, especially to negative comments.
Help your prospects make sure that your customer service team is a group of dedicated agents and not a group of robots.
First of all, prospects and customers need concerns to be resolved quickly and efficiently, but not in a faceless manner. So, the least a brand can do is acknowledge the prospects' social media query within the average response time.
Use integration tools that will help you keep up with everything you need to track.
Determine KPIs and guidelines for your team

Key performance indicators (KPIs) are essentially what pinpoint the real meaning of success in your business and the goals of your team.
You'll need to determine your KPIs before setting up your guidelines for your customer service team, as they'll be the ones to make or break any strategy you may have in mind.
In social media customer service, one of the main key performance indicators is whether the average response time is kept. Calculate the time it would take for you to respond. A realistic estimate is necessary for the social media customer service strategy.
The style of your brand is reflected not only in the visuals of the social media platform but also in the tone of voice of a direct message. Are you a brand that's fun and youthful or serious? Decide on the level of formality in your direct messages and talk to your customer support team about you expectations. Give them an idea of what type of language style they can use in their interactions. This can include variation such as "Good afternoon/Thank you" or more informal "Hi/Thanks" or even "Cool/ Way to go" in your Facebook messenger.
Set up volume goals

Determine whether or not you can take the time and the resources to acknowledge each mention on every social media platform.
For small and medium businesses answering all mentions – positive or negative – leads to increased engagement rates.
With the increased volume, however, queries may go unnoticed. So constantly work on improvements of your customer service performance. Although an FAQ page linked to your homepage would help ease the load, it will not replace a customer service rep.
Use bots wisely

If you need to use bots, program them to be able to answer simple questions and give them the option of informing your community that an agent will get back to them.
Make sure that your customer service team or social community management team periodically checks those queries.
Bot replies cannot be considered community engagement because they are impersonal. Not replying to direct messages is not good, but having a robot reply automatically can be even worse.
Use your data wisely

Social media interactions are valuable data. You should be able and prepared to use that data to improve your customer service strategy.
Be systematic in data evaluation and turn the results into practical action. For example, when you detect an increase in incoming messages from Facebook Messenger, actively seek the causes for it on this social media platform. Learn from positive and negative reactions. One negative comment is not necessarily reason for alarm, but make sure you follow up carefully when negative comments increase before it all escalates.
Always follow up

This mantra can not be repeated enough in the social media context. Use available customer service tools. Review your customer service strategy frequently and adjust to changes asap.
Whether you resolve the problem or not, you should always follow up with your prospects' queries, not only with negative comments. Prevention is always better. The scale of customer concern, and whether it leads to negative comments, can be kept under control to some degree by customer service.
Make sure that the problem has been resolved and that your prospect or customer doesn't need anything else. If your customer support team can give them all the answers they were looking for, then they're bound to become loyal customers.
Building a strong social media community takes time but it can be done.
What are the most common social media related questions to customer service?
At LiveAgent we provide an omnichannel SaaS customer platform, so the most common questions our customer service team gets correspond to the type of our services.
How do I install/set up/ integrate something?
How does the XY feature work?
Do you have this XY feature/functionality?
Further common questions include those concerning billing, and other specific questions that start with:
I have an issue with…
Technical support questions are usually not asked on social media. Live chat is more commonly used for customer service requests, especially in B2B.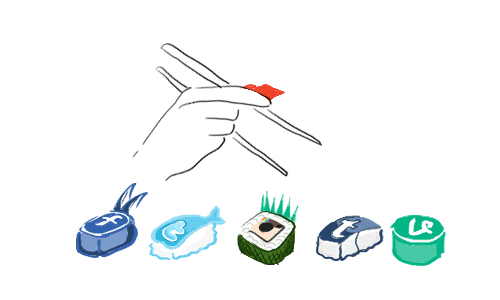 Common responses to messages include:
Thanks for reaching out.
Thanks for asking.
Yes, good point.
Thank you for your feedback.
Thank you for noticing and telling us.
We appreciate your honest feedback.
Thank you for contacting us.
Thank you for your interest.
You are right, it does not work now. Let me check.
Thank you for pointing that out.
Yes, that is a valid question.
We are glad to help you do your job well.
We are delighted that it works for you.
Just drop a DM if you need further help.
Let us know how it works for you.
Let us know how it went.
Examples of great social media support and customer service
Example 1
Domino's Pizza is a well-known American multinational pizza restaurant chain. In this example, the customer's expectation was not fulfilled and the bad experience was posted as a negative review on a social media platform. Dominos did not receive a direct message but the customer concern is clear. The damage to the company's Florida restaurant caused by the customer's complaint was not particularly huge (notice the number of reactions), but certainly in need of a response.
The social media monitoring tool of Dominos picked it up and a customer service agent reacted. Notice the friendly but professional tone of voice in the message, immediately admitting the letdown and acknowledging the disappointment the customer must have felt when opening the lid of the box. Apart from the unhesitant acknowledgment, the reaction offers a clear and specific solution to repair the damage, and the customer is offered a chance to get the issue addressed. The response is straight to the point and redirects the solution away from this channel to a private domain. This social media customer service solution helped maintain the positive image of the company, even boosting it, by signaling fairness.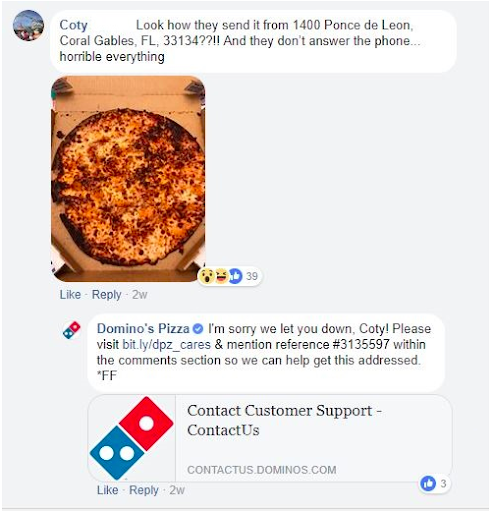 Example 2
KLM Airlines, the Royal Dutch Airlines, is the flag carrier airline of the Netherlands. It knows its clientele, many of whom are professionals using LinkedIn. So, the airline launched a special LinkedIn group that offers 24/7 customer support to KLM passengers. Here is an example of how a customer concern is handled professionally and efficiently utilizing a social media channel.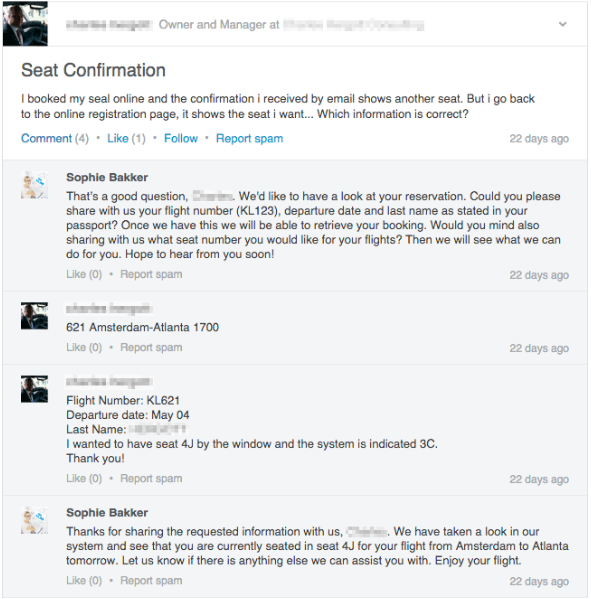 Example 3
JetBlue Airways, an American low-cost airline, is another example of an enterprise company that knows how to use social media platforms for customer service. Check out their tone of voice and natural communication with social media users, who are also their customers. The subtle balance of humor remains polite and works well on Twitter.

Example 4
Whole Foods also knows how to delight its customers, and uses social media platforms well to do so. Here is a personalized response that satisfies the customer's concern and sends a positive message about the brand.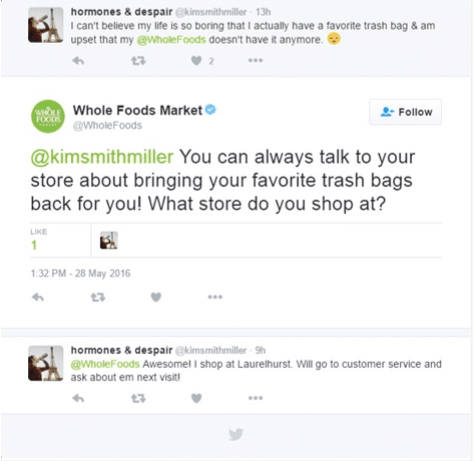 Conclusion
Due to the specific characteristics of social media channels, customer service through social media takes on a slightly different format as compared to other forms of customer service. It requires thorough monitoring and speedy responses. Social platforms, apart from being yet another channel for reaching out to potential and existing customers, are spaces for interaction, direct messaging, posting, and reacting. Social media customer service also has great potential to build and maintain a community around brands, products, or services. The billions of social users are the main argument for including social media in customer service strategies.
Manage your social media conversations with LiveAgent
LiveAgent can integrate your Facebook, Messenger, Instagram, Twitter, and Viber and organize them for you in one convenient place. Get started with our free trial today!
Frequently Asked Questions
What is social media customer service?

Social media customer service is customer service provided via social media channels. It includes replies by customer service reps to posts, mentions, and direct messages as well as responses to specific inquiries

What tools matter most for social media customer service and care?

An omnichannel customer service platform that includes ticketing, live chat, call center, social media management, knowledge base, and customer portal.

How should customer service be done on social media?

Thoroughly and speedily. Social media users expect a quick response to queries and they also expect reactions to posts or messages. Social media customer service can be used at various stages of the customer journey, especially for community engagement.

How to increase customer service efficiency on social media?

Use available tools for collecting comments, mentions, and messages. When converted to tickets your customer service team is less likely to overlook them. Customer service reps stay focused if they can work from one dashboard.

What steps should you take to create a social media customer service strategy?

Assess resources, set realistic goals, acquire the necessary tools and technological equipment, determine time frames, set guidelines and find the most suitable workflow for your specific brand and your customer service team.