Key takeaways
Pros
Well balanced ticketing system
Good looking and easy-to-navigate interface
Almost perfect in every regard
Great all rounder with plenty of multi-channel capabilities
Cons
You might encounter the occasional bug
Pricing can get steep
Getting started with Freshdesk ticketing
Freshdesk has a very easy registration process that takes just a few minutes to complete. The process will also help you with some basic setup and allow you to integrate your email inboxes with the Freshdesk ticketing system. You can also invite your colleagues, customize your Freshdesk app URL, and a few more. Some of these options are also skippable so you don't have to go through all of them and you can perform these actions later. It's a pretty good option and makes the experience very easy.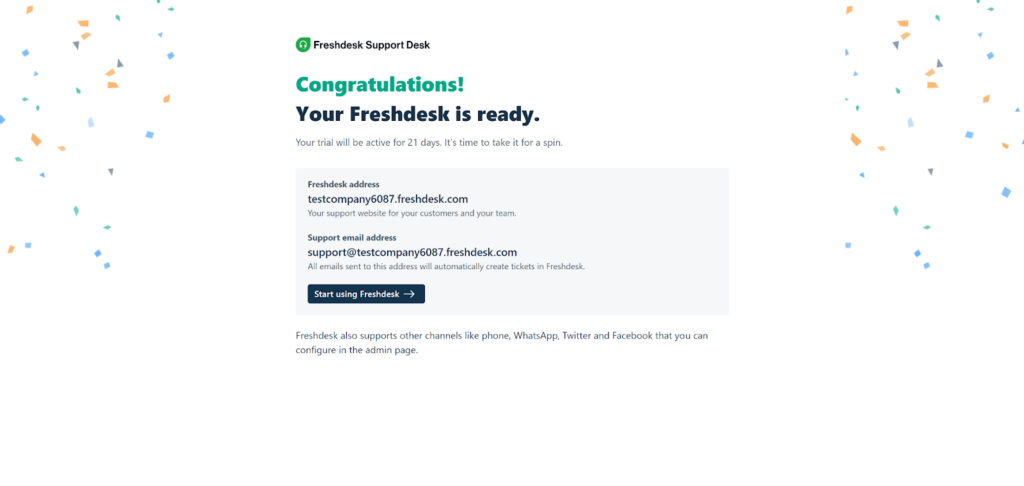 Afterwards, you will be taken straight to your new ticketing system and you can start getting familiar. There are even some sample conversations in the trial to help you get an idea of how the system works. It also gives you a good look at the interface, which is simple to use and well designed with obvious menu selections and options. This is practical and should make everyone's workflow easy at all times.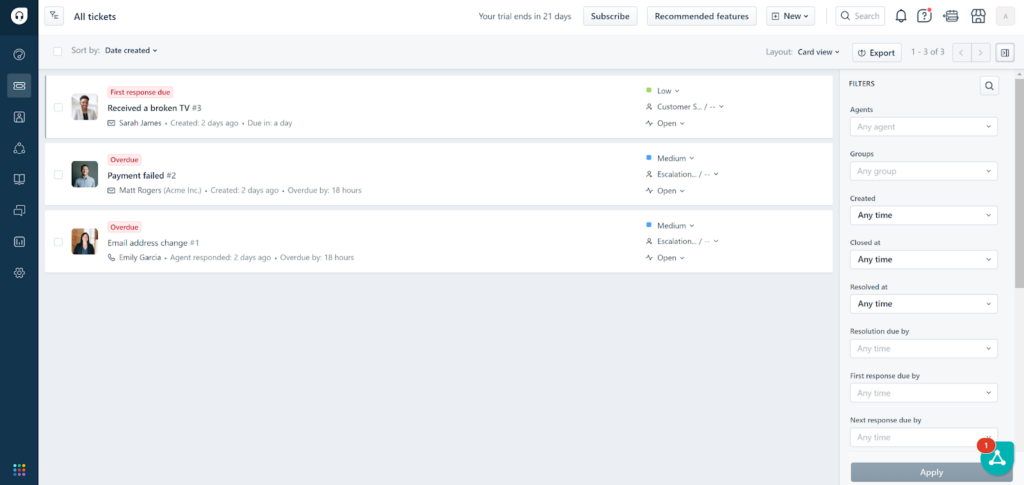 You have the main menu in the left panel which is where you can get access to the most important tools available in Freshdesk. Other options can be found in other parts of the interface and they are usually easily noticeable thanks to visible buttons with descriptions. Before we get to the testing part of this review, let's take a look at the overview of features that Freshdesk offers in their ticketing system.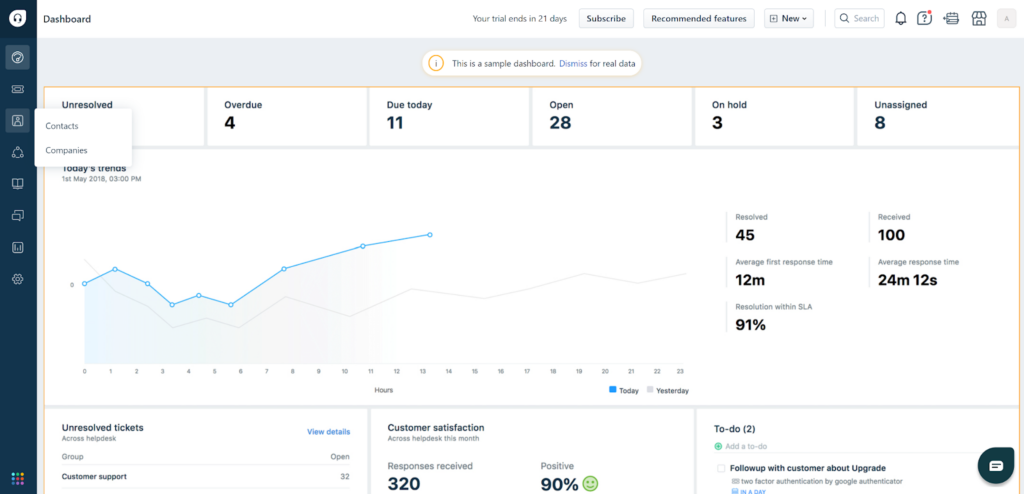 Freshdesk ticketing system features
Freshdesk offers the full feature set that you would expect from a high class ticketing software. The first major feature is the Team Inbox which houses all other features and offers multi-channel capabilities – meaning you can reply to multiple channels from one place. This is a standard feature in all ticketing solutions. It offers collision detection, canned responses, smart notifications, custom ticket views, ticket merging, and an activity log.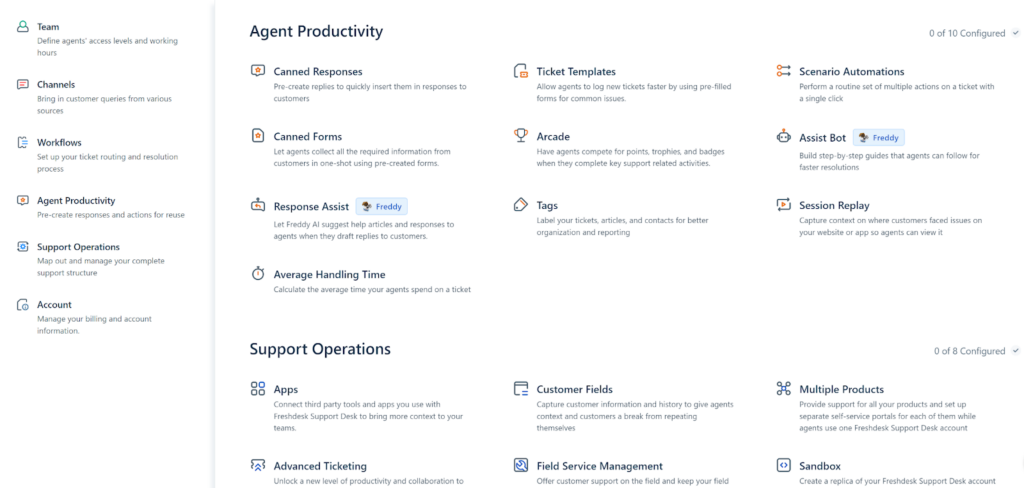 You can enjoy some collaboration features, SLA management, AI-powered ticketing, field service ticketing, and contextual ticketing with custom objects. The selection doesn't seem to be the widest among ticketing software, but each of these features are built with sub-features that ensure solid productivity and workflow. Freshdesk ticketing can help you handle emails, calls, live chats, Twitter, Facebook, customer portal, and e-commerce.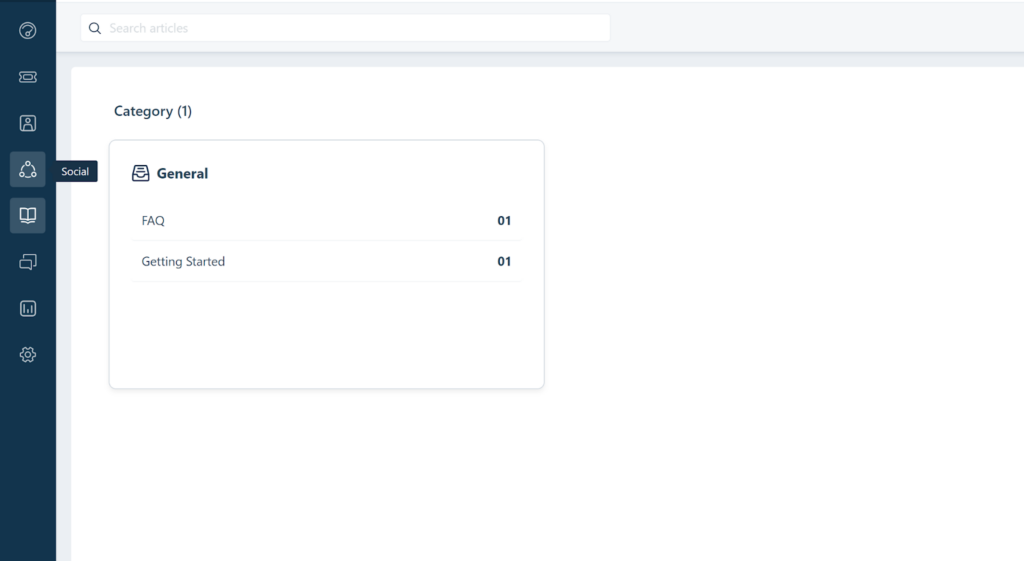 Freshdesk ticketing system performance and user experience
Now comes the testing part of the review. I tested the Freshdesk ticketing system mainly from the agent's point of view to get the proper agent experience and see how the system works in action. I did my best to test out most features that were available to me to show you if Freshdesk is the right choice for your business. Let's get to it.
I sent myself a test ticket and was disappointed to find out that Freshdesk didn't send me any notification about this. I wouldn't have found out about the new ticket if I hadn't clicked on the Tickets menu in Freshdesk. I'm not sure if this is an occasional bug or a preset, but I didn't receive any notifications even with the second email I sent to myself. No visual or sound notifications were present at all. This is not great, as agents who are busy with other tasks have no idea of knowing if they received a new email and they'll need to stay alert.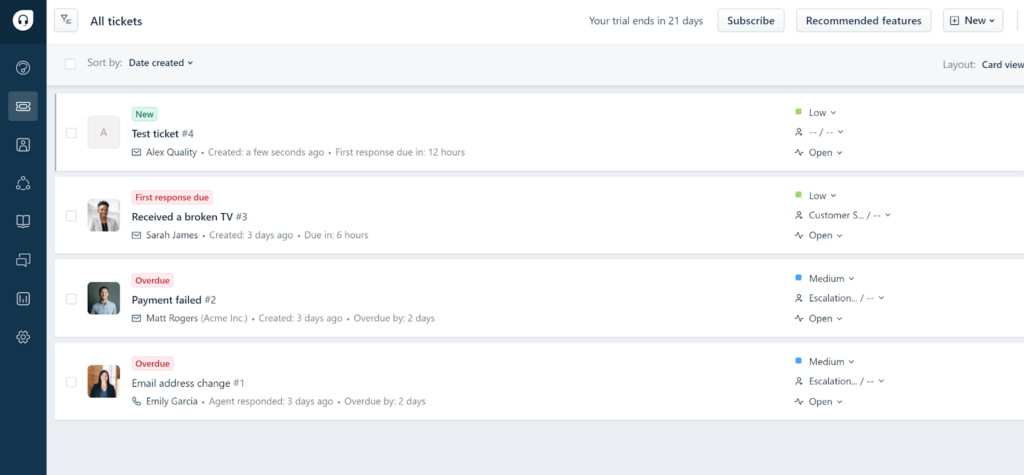 The ticket view after opening is great and simple to understand. You have the usual reply and forward buttons at the bottom, and some additional options at the top. The right side shows you information about your customer contact and ticket status options which you can customize accordingly. It's pretty simple to use and you shouldn't have any problems getting used to the interface and experience.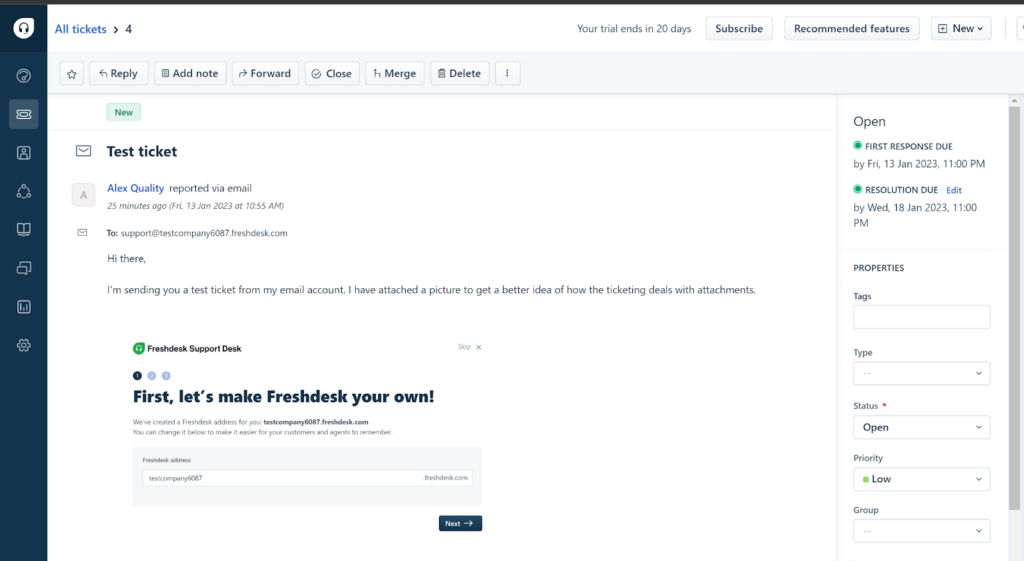 Once you hit reply, Freshdesk will reveal formatting features which give you capabilities for writing elaborate ticket replies and allow you to customize your text. You can also add pictures, links, tables, code, and other attachments. The canned responses feature is also available, but I would appreciate it if it was a bit more visible as it tends to get drowned out of view between other options. Other than this minor detail, the feature selection is great and using all features in replies is a piece of cake.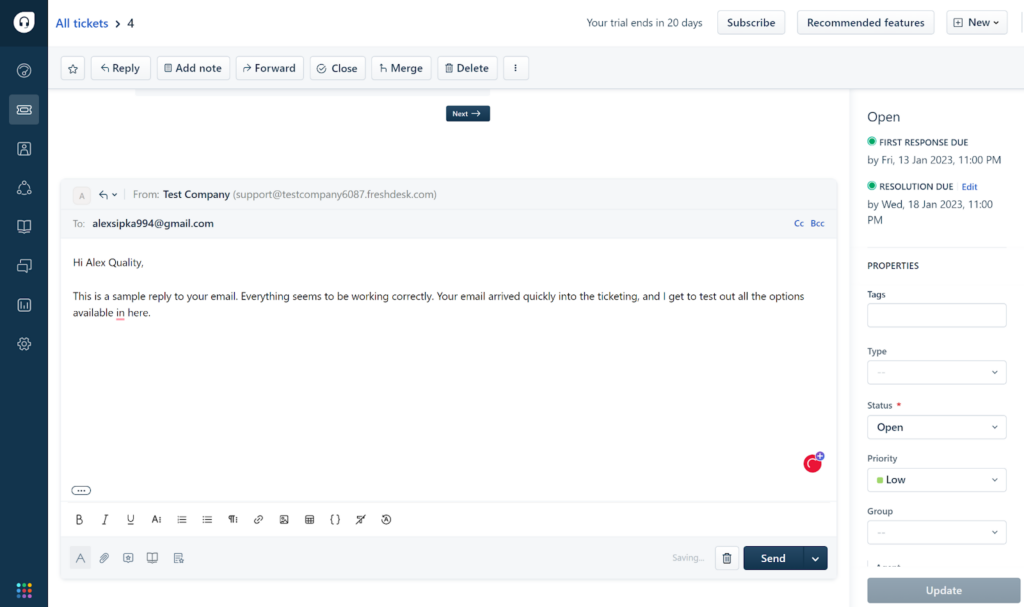 The tag feature works very well. You can start typing the name of the tag and choose from the selection available. Alternatively, you can create a new tag right there if the system can't find any suitable ones. You can also further define what type of a ticket you're dealing with and you can select from multiple options such as question, incident, problem, refund, or a feature request. Other options include ticket groups, status, priority, and agent assignment.
Overall, Freshdesk ticketing works very well with little to no hiccups. The notifications didn't seem to be working even when I tried different email addresses, even though all settings were set to notify me when a new ticket arrives. Despite this minor issue, I have to say that Freshdesk has a very well designed ticketing software that will be user friendly for any type of user.
Freshdesk pricing
Freshdesk offers varied pricing plans with one free ticketing tool plan and three paid plans available. Each differs in the selections of features and upscales from one another. Let's take a look at what you get with each plan and what Freshdesk features will be available to you.
Free
The Free plan costs you nothing and allows you to have up to 10 agents. It offers ticketing with emails and social media, knowledge base, ticket trend report, analytics and reporting, team collaboration features, and 24/7 email support, among others.
Growth
The Growth plan costs $18 per month per agent with monthly billing, or $15 with annual billing. You get everything from the previous plan, and more. This includes automation, collision detection, marketplace apps, SLA management, business hours, custom SSL, and time tracking.
Pro
The Pro plan costs $59 per month per agent with monthly billing, or $49 with annual billing. You get everything from the Growth plan, and additionally custom roles, custom reports, canned forms, knowledge base versions management, community forum, CSAT surveys, SLA reminders, and more.
Enterprise
The Enterprise plan costs $95 per month per agent with monthly billing, or $79 with annual billing. You get everything from all previous plans and plus sandbox, unlimited products, agent shift management across time zones, bots for emails and assistance, audit log, skill-based routing, article suggestions, knowledge base hierarchy, canned response suggestions, and more.
Conclusion
Freshdesk delivers exactly what you would expect from a brand-name ticketing software. However, it's not perfect even though it's very close to it. It won't disappoint any type of user and it will provide a generally great ticketing experience for every help desk, regardless of the plan you decide to choose. The pricing can get expensive with higher plans, but it's only up to you to decide if it's worth it to upgrade in the first place.
Frequently Asked Questions
Slow loading times in Freshdesk accounts

Some users reported experiencing very long loading times and timeouts before performing some tasks. You can try logging in through an Incognito Window in your browser and see if the issue persists there. If the problem doesn't disappear, you can access a HAR file in your browser and send it over to Freshdesk support to help you with the issue. A HAR file is an archive format that tracks all interactions between your browser and your Freshdesk site. You can find guides on how to access HAR files for different browsers online.

Problems with Freshdesk ticketing automations

Some users might experience trouble with ticketing automations. They might not perform. The most common solution is to check the validity of these automation rules and adjust them accordingly. You can check the "Show Activities" section of tickets that have issues with automations, and double-check the order of execution of certain rules. You should also make sure that there weren't any changes made in the rules, so check for invalid ticket properties. If you cannot solve the issue on your own, make sure to contact the Freshdesk support team to get help.