Key takeaways
Pros
Free and/or cheap
Lots of different functions in one app
Cons
Poor feature selection
Difficult VoIP integration
Outdated interface design
Getting started with the Odoo call center software
Odoo allows you to get started for free if you choose only one application package at the beginning of your registration. If you choose more than one, you can opt for a free trial period where you can try out multiple Odoo functionalities. According to the website, the call center features are under the Sales option, but I'm pretty sure you can access them with any other option as well. The registration is pretty fast and easy. You will be taken to the interface right away, but you should confirm your email address first, as Odoo has a time limit for this action.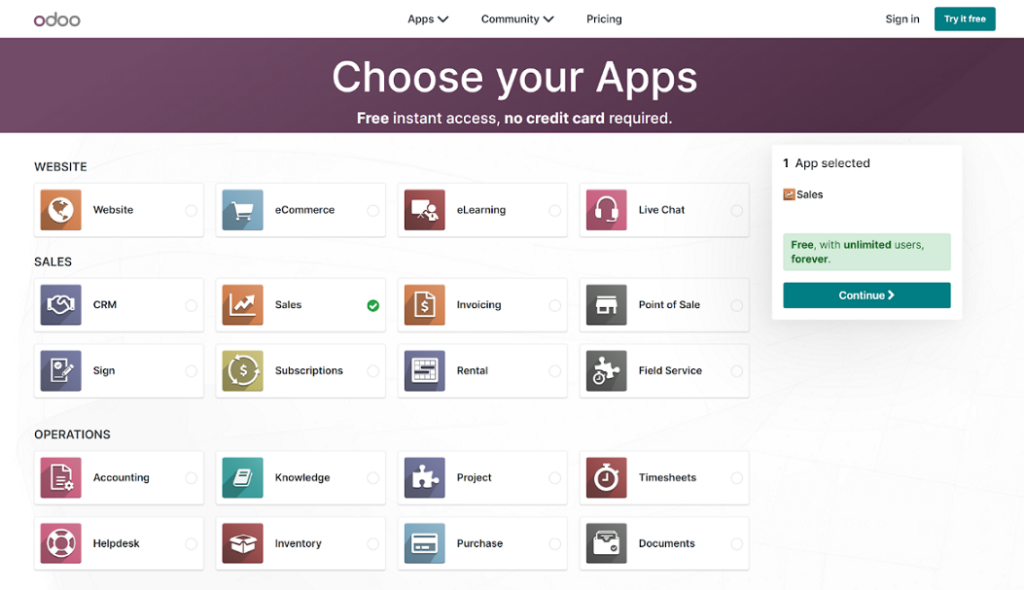 After you access the interface, you should head straight for the Apps sections if you want the VoIP functionality in your Odoo account. I found out this application is not under the Sales option but rather under Productivity, so I advise you to choose this option during the registration to avoid the free trial option. The installation of this module is very simple, you only need to click on the install button and the application will be added to your Odoo functionality.

After you do, you can find the phone icon in the top right corner. When you click on it, Odoo will open up a separate dial pad widget with options to see previous calls, access contacts, and an option called "next activities". However, this Odoo functionality doesn't come with a phone number, so you need to integrate your own via a VoIP service, which will definitely cost you something. You can access the settings for Odoo VoIP via the general settings option, and set up your call functionality. Odoo also offers a couple of online guides which can explain the process to you.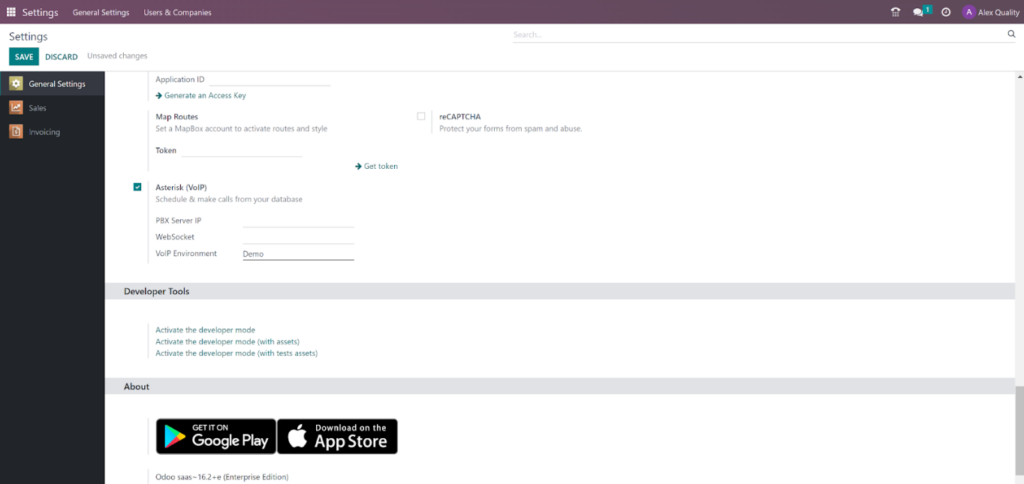 Once this is all completed, you're good to go and can start making calls. Before we take a look at the testing part, let's review what types of call center features you can expect from Odoo.
Odoo call center features
Odoo is an incredibly varied solution because it offers a variety of applications for a large number of use cases. The software can become basically anything you need, as you can handpick various functionalities and combine them to create your ideal solution for your business' needs. One of these applications is the VoIP functionality in the extensive Odoo application store. You can get started with it for free with the free trial.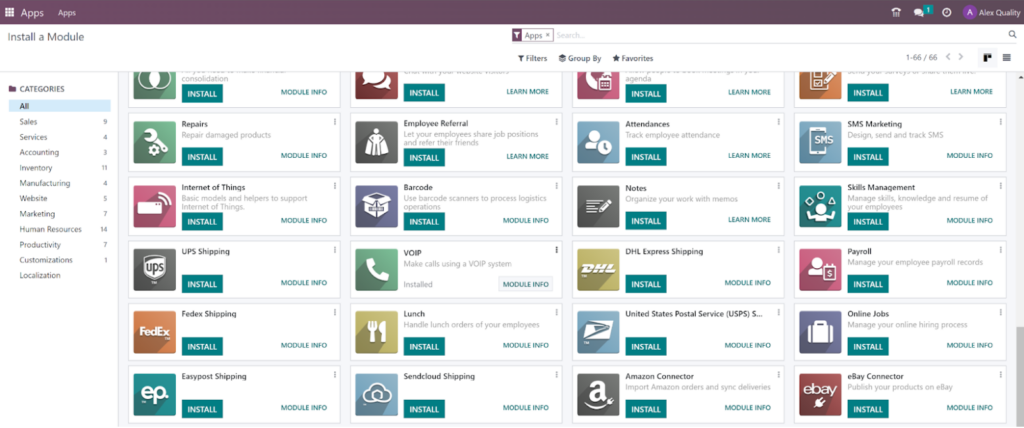 Even though Odoo is not a dedicated call center software, it offers a good set of features for certain use cases. Odoo offers a good contact list feature which is directly integrated with the call widget for easy access to contacts. You can also try to schedule calls through action scheduling, or create call queues through the CRM application. Odoo also offers reporting features which can help you track all call activities with search, filters, and export features available as well.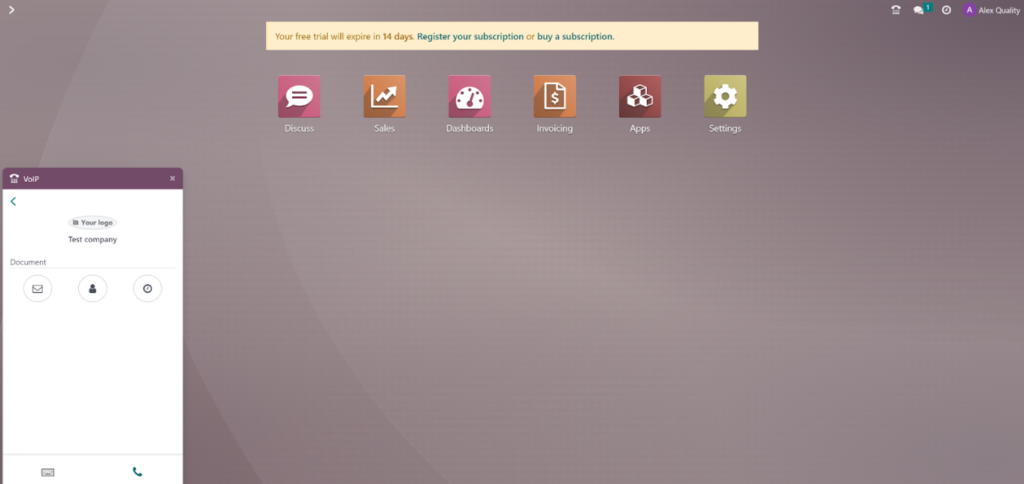 Performance and usefulness of Odoo call center software
Odoo makes it quite easy for anyone to access the call functionality, because the function is available in the top right corner regardless of where you are within the user interface. The settings for the VoIP add-on are available under the general settings, and some of them are under user preferences. These options are quite easy to find, as the interface is designed pretty well. Its design is not the most modern, but is functional nevertheless.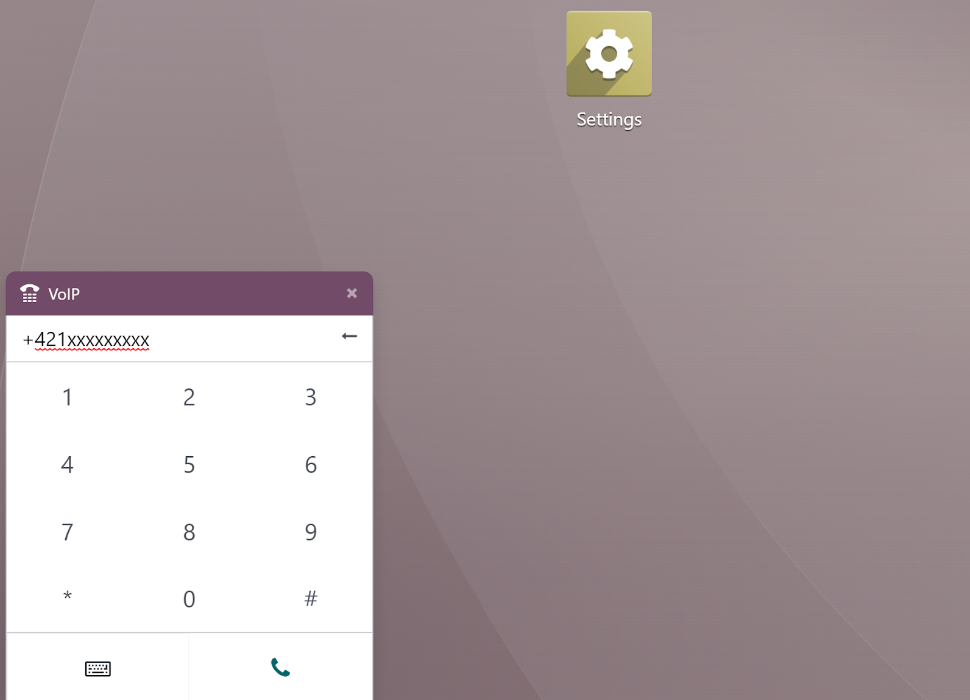 While the Odoo setup of the VoIP application can be pretty difficult for most people, it's significantly easier if you choose one of the two supported VoIP providers – OnSIP, or Axivox. It's a pity that there aren't more options available for connecting the call functionality but nevertheless, the calls are functional and the performance is quite alright. I haven't experienced any issues during my test calls, but I imagine this can be different for each user based on connection strength and the decision of the VoIP provider.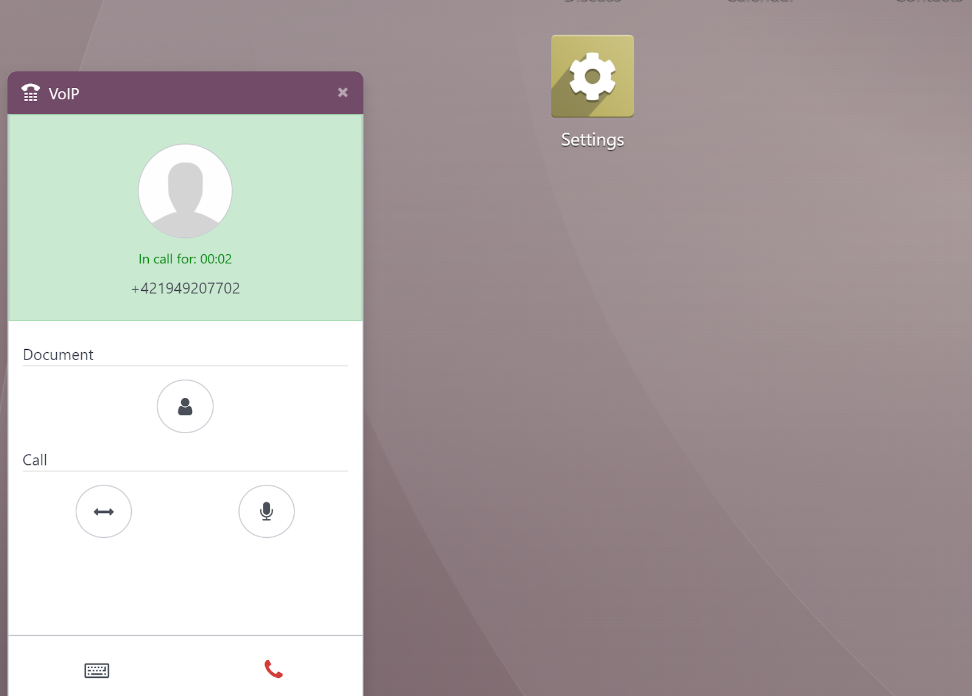 The call interface has a couple of options. You can create a new contact when you dial a number to immediately add it to your list. The other two options are for muting calls, and for transferring calls to a different Odoo user. As you can see, the options are modest but definitely useful in most scenarios. Other options outside of the calls include "next activities" and the contacts menu.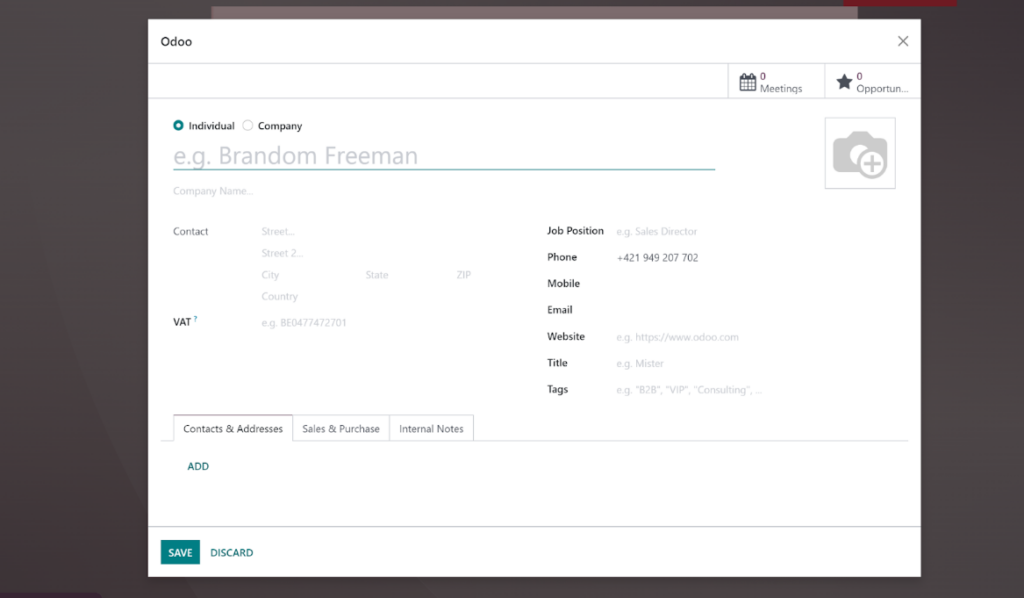 Overall, Odoo doesn't offer the widest nor the flashiest set of call center features, but they can be useful for certain scenarios. I wouldn't call them useful in a true call center environment, but I'm not saying Odoo cannot be usable in this regard either. It all depends on what you as a user expect. If you need a solution that can handle a lot more than just calls, Odoo just might be the one you're looking for.
Odoo call center software pricing
Odoo offers three pricing options, including a free plan. It might be difficult to get the VoIP functionality with the free version, as none of the application packages offer the VoIP application out of the box. Nevertheless, you can always opt for a free trial to get a chance to try it out first. Let's go ahead and take a look at the pricing options.
Free
The Free plan gives you access to one of the many applications that Odoo offers, free of charge. If you decide to get another application, Odoo will offer you a free trial for the selected apps.
Standard
The Standard plan costs $11.90 per month with the annual billing, or $14.80 with the monthly billing option. The pricing is per user per month, and it gives you access to all applications that Odoo offers with no limits.
Custom
The Custom plan will cost you $17.90 per month with the annual billing, or $22.40 per month with the monthly billing. All costs are per user per month. The plan gives you access to all of the Odoo applications, and adds Odoo Studio, Multi-Company, and External API.
Conclusion
Odoo might not be the ideal first choice for businesses that are looking for a proper, dedicated call center software. It doesn't offer nearly enough functionality for effective call management. However, its cheap pricing and a large variety of different types of functionality can prove beneficial for many businesses that don't need to focus on calls as much, but it's important to approach it with realistic expectations.