Getting started with the LiveAgent call center feature
Having a simple registration process is the first green-flag for any company to have, and fortunately LiveAgent offered exactly that. By clicking the "Free Trial" button on the top right of the homepage, I just had to input a couple details to move forward. After inputting my name, email address, and company name, my account was created along with a link directly to my knowledge base.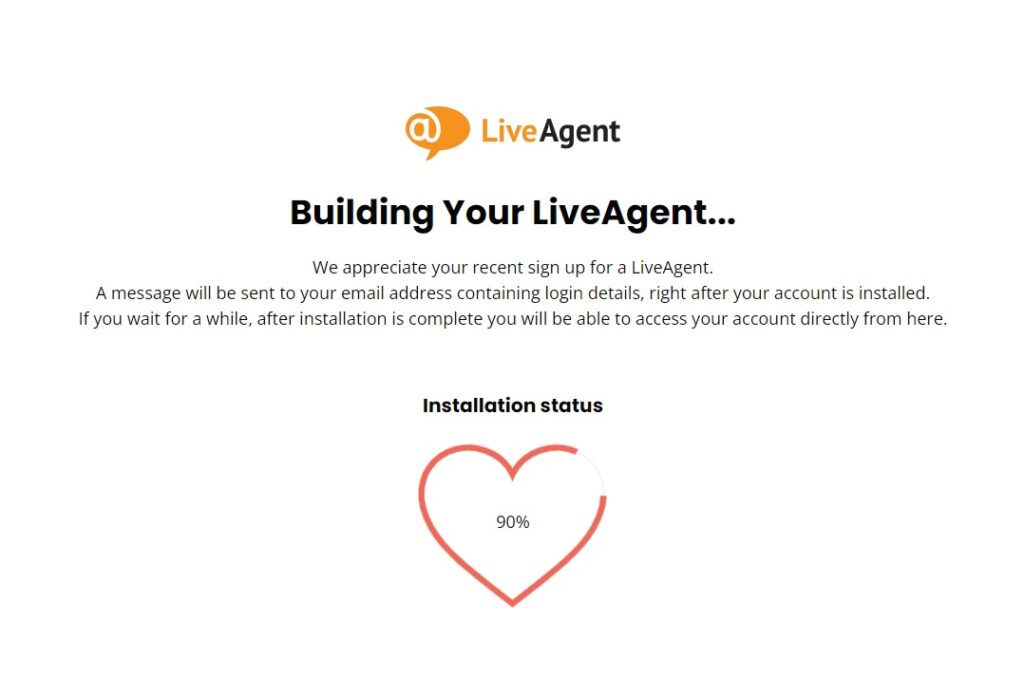 I was immediately taken to the Getting Started dashboard which allowed me to fill in some of the company details, including adding a logo, voice support, and a chat button. There was even a "learn the basics" and "discover LiveAgent" button for the newer users who want more information, but they can be skipped if needed. I looked around a bit and found my knowledge base could be set up using the button right above the Settings icon on the left. I made a small testing article to have handy in case I needed it.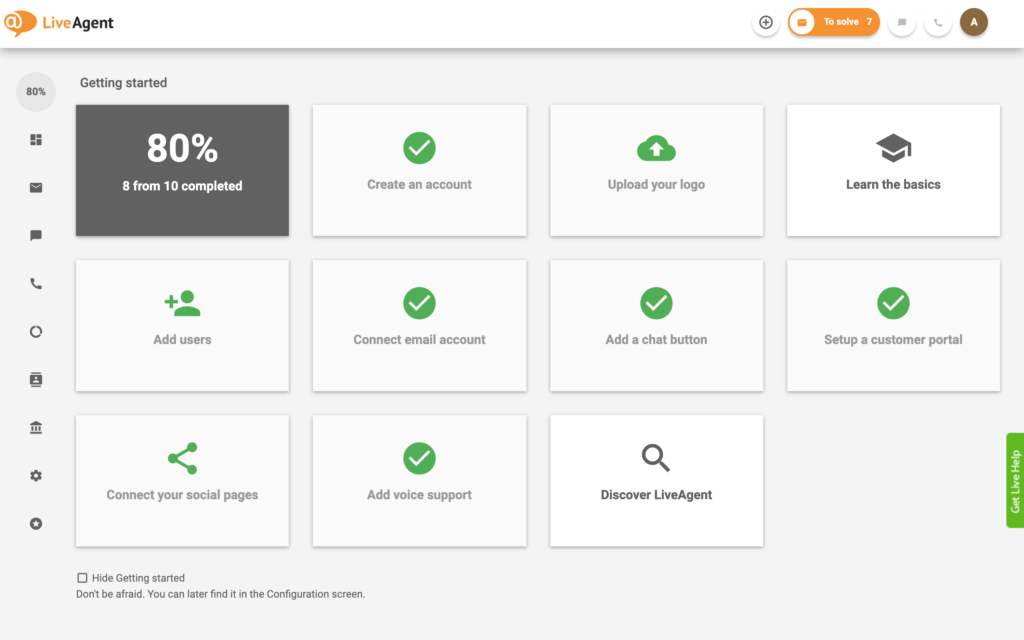 When I finished and returned to the dashboard, I went ahead and added a company logo for sprinkles, and voice support since this review will be circling around the call center features. When setting up voice support, you have the option to connect either a video call or an audio call. I chose the classic phone icon to see how I could add my number.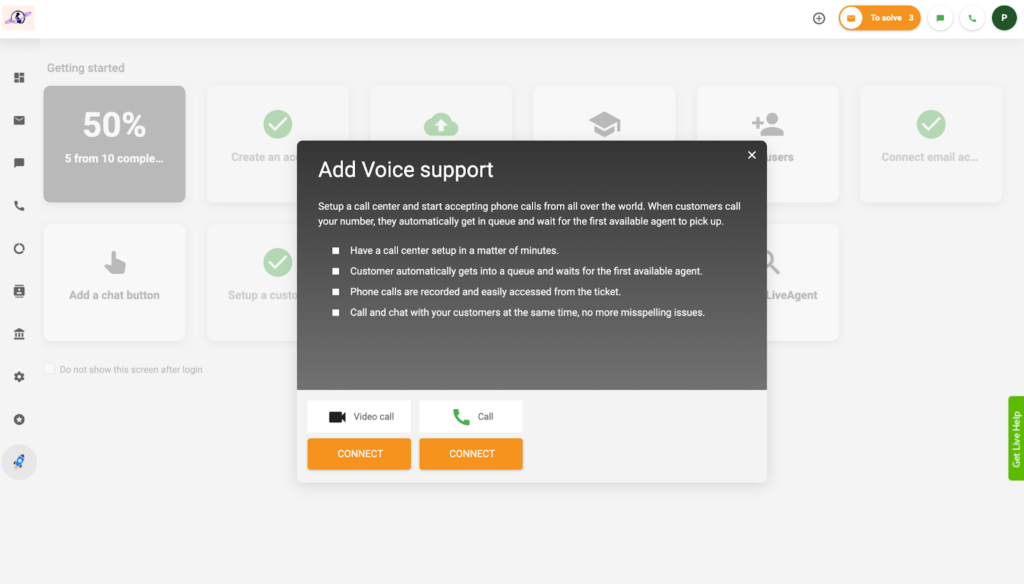 Fortunately, this took me straight to the call configurations so I could easily add a number. On the left of the screen, all the buttons to navigate around the software are placed in a really neat and organized list.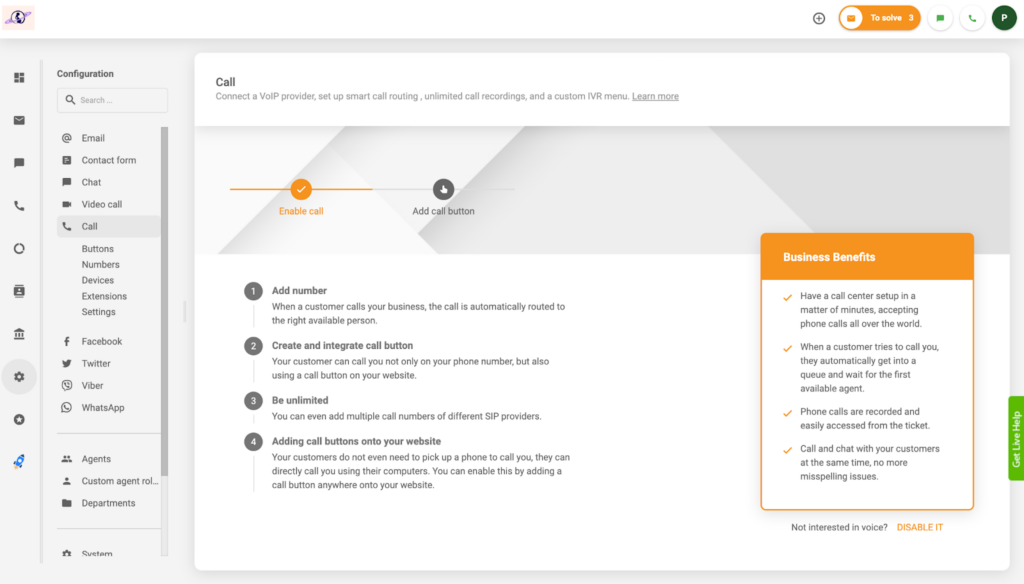 Naturally, I went to Call > Numbers, and there clicked on the orange "Create" button and added a number from the Zadarma VoiP service. There are many phone number service providers, so you can go ahead and search up the one you use, or simply put a general VoIP phone number if you don't see your VoIP provider in the list. Once I input the appropriate information, I just clicked "Add" on the bottom and my connected number showed up with a green dot next to it. Looks like a green light to me, so I think it's good to go!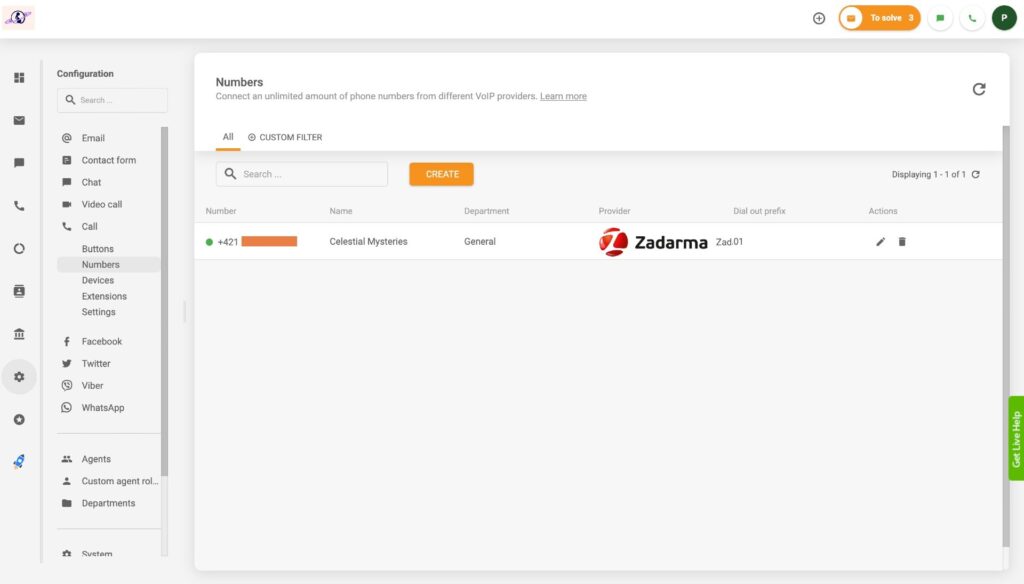 Next, I went to the "Buttons" section and clicked "Create" so I could get something to put on my page. I got a pretty long list of differently shaped and colored button designs that I could choose from, as well as the option to make a custom-made one, but I went for the most simple choice: the all-black "Call Us" button. Once chosen, I got to edit the settings in the overview. This includes where it routes to, call recording, and the language settings.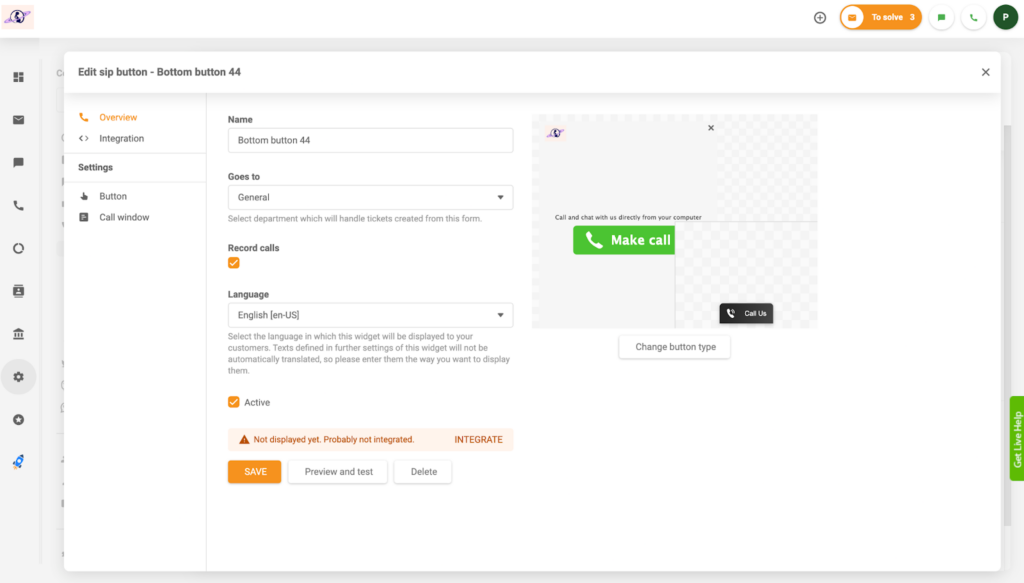 When I selected "Integrate" in the red words, I was taken straight to copy the html code. I hopped over to the knowledge base using the dashboard (right above the settings button on the left tabs), since that's where I decided to test my button. I went to the Knowledge base settings > General configuration > Tracking codes, and pasted my html code into the section. This code can also be easily copied and pasted onto any website just as well.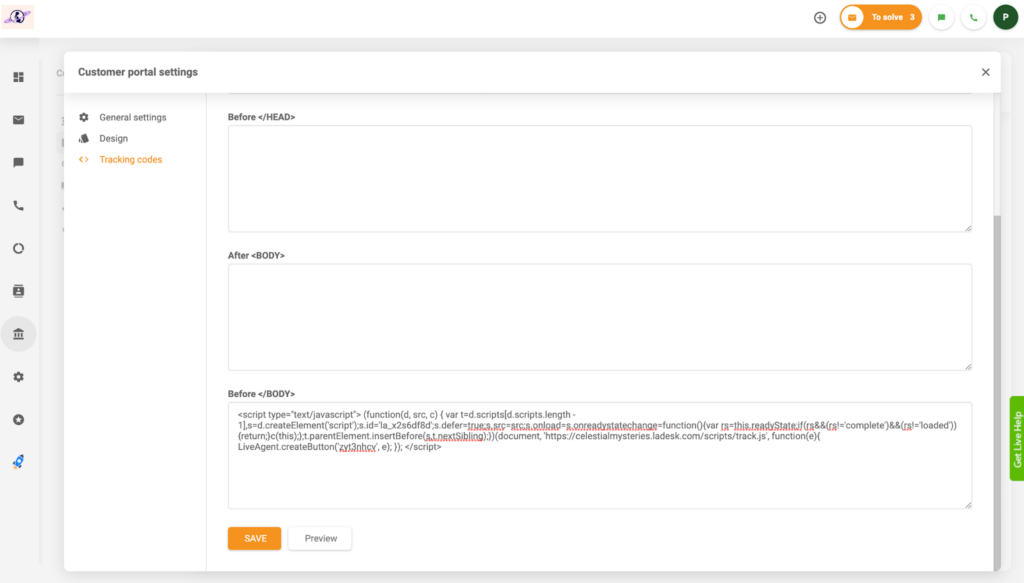 Seems simple enough, right? Actually, it really was. I saved my code and went to check the live version of my page. There it was on the bottom of my page, inviting and mono-chrome as ever. I probably should have used some colors, but fortunately there's a message when copying your code that you can change it anytime.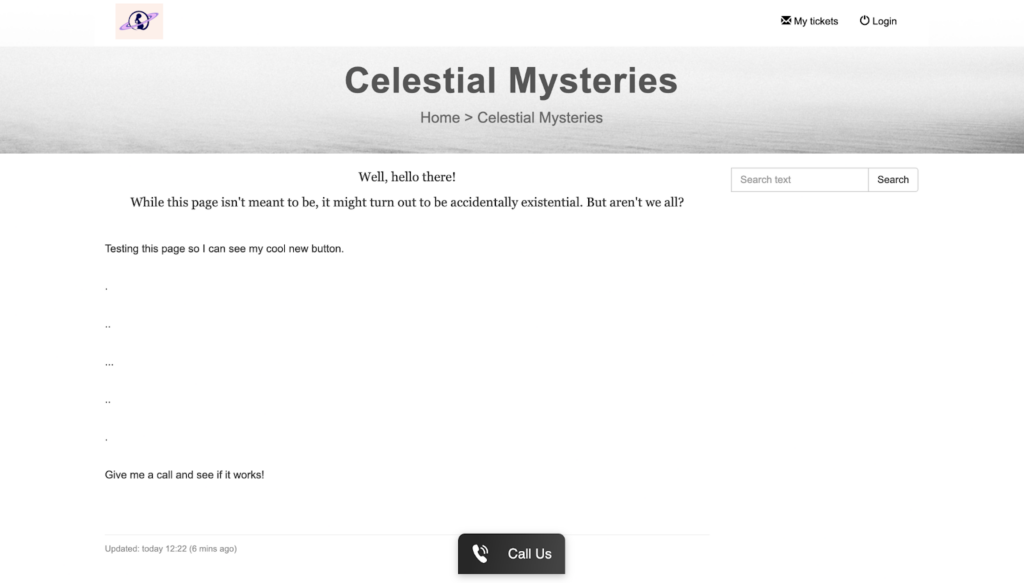 LiveAgent Call Center Features and Implementation
Right off the bat, the interface is really clean and neat, with the majority of screen colors staying in a lighter spectrum and leaving the important text and buttons in color. All of the buttons on the left tab are spaciously listed as icons, and after clicking them, they reveal more information with text titles. The top right-hand corner drew my attention with stronger colors for notifications and issues I have to deal with.
When it came to adding my number, I was given the option to route the call to certain departments. For this review, I am my only department, so the single option was that calls would go to "General". For businesses with more departments, it seems to be really easy to organize call routing just by using the drop down menu and link numbers to departments. There is also an option to record both inbound and outbound calling automatically.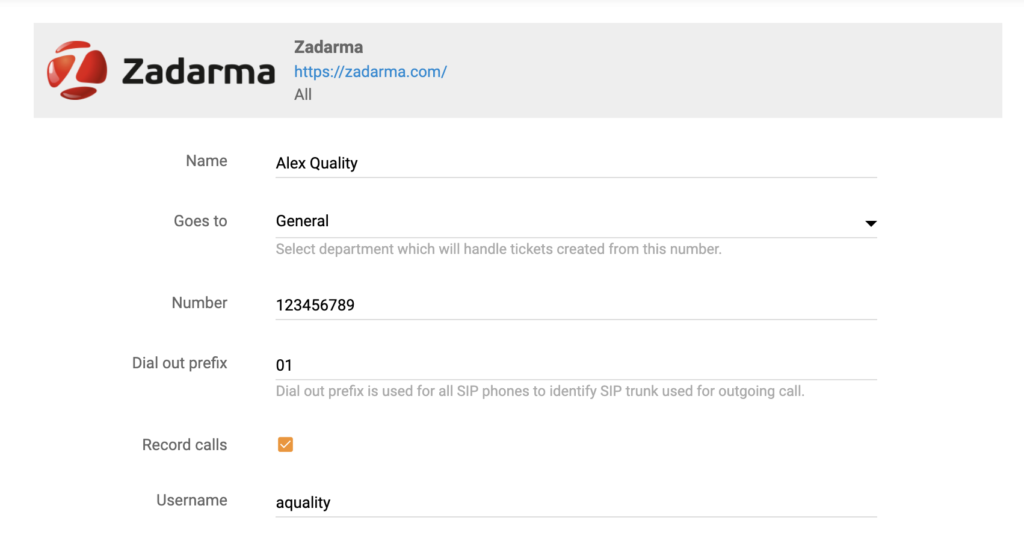 For the button, I was pretty impressed with the variety of options that I was presented with. Right away, LiveAgent showed me the most popular choices which included buttons in all formats and colors. I was also able to choose by button location, depending on whether I wanted it placed on the sides, corners, or have it inline on my page.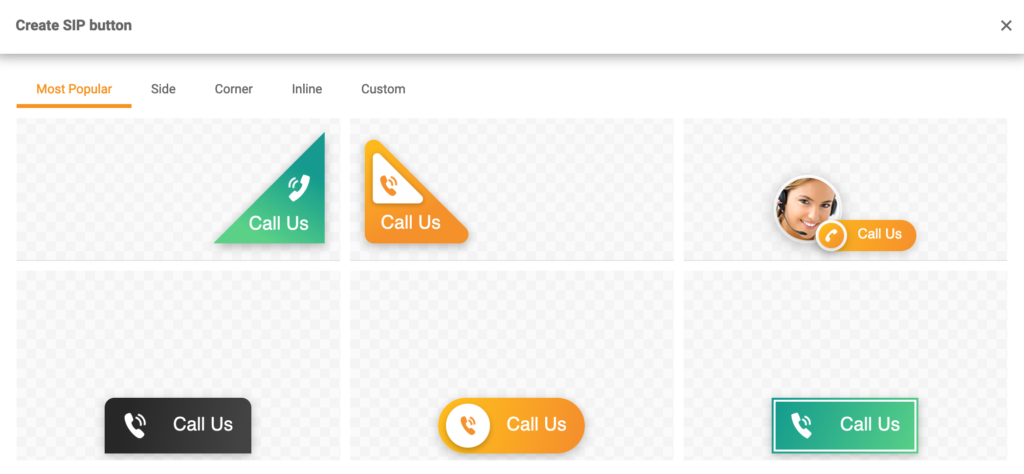 What I appreciated the most was that there is a custom button option, which I think is perfect for businesses who have a specific brand design and prefer everything to match. While premade buttons are fantastic for those who don't mind as much, having the ability to design it custom using an image or HTML really leaves no one behind.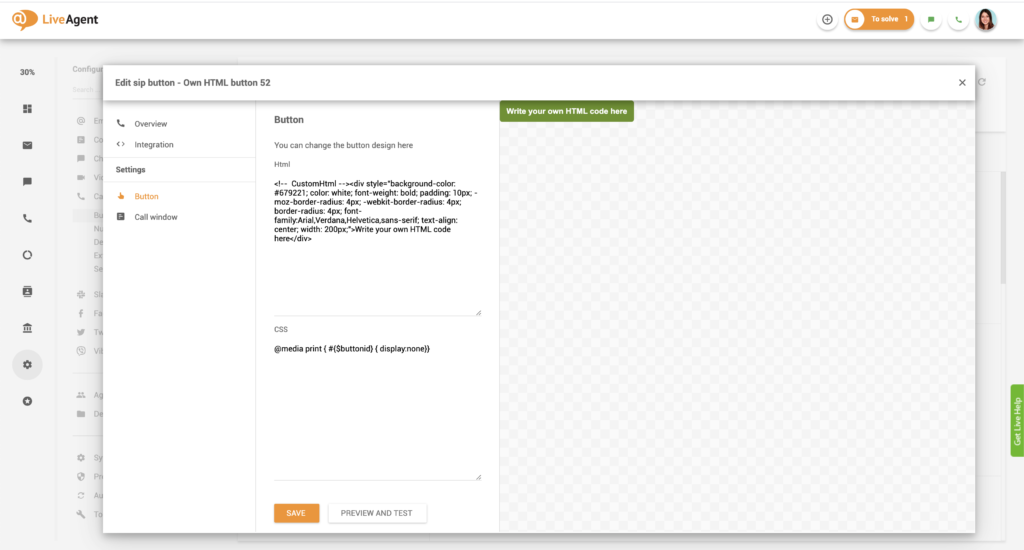 Later, as I went through the options under the call configurations, I found more features that I didn't expect to be able to tweak for my call center. The first one that stood out to me was "Breathing time", since that's not something I had linked with any settings before. I read the small description below it and saw that it allows me to set the time between calls that an agent could have- a kind of wind-down period. Amazing. Honestly, I have no doubt that anyone working in a call center would appreciate this specific feature setup. The possibility to have a small cool down after calls is invaluable, especially for reflection and maybe even a drink of water. Props to LiveAgent for allowing businesses the option to move into more mindful work practices.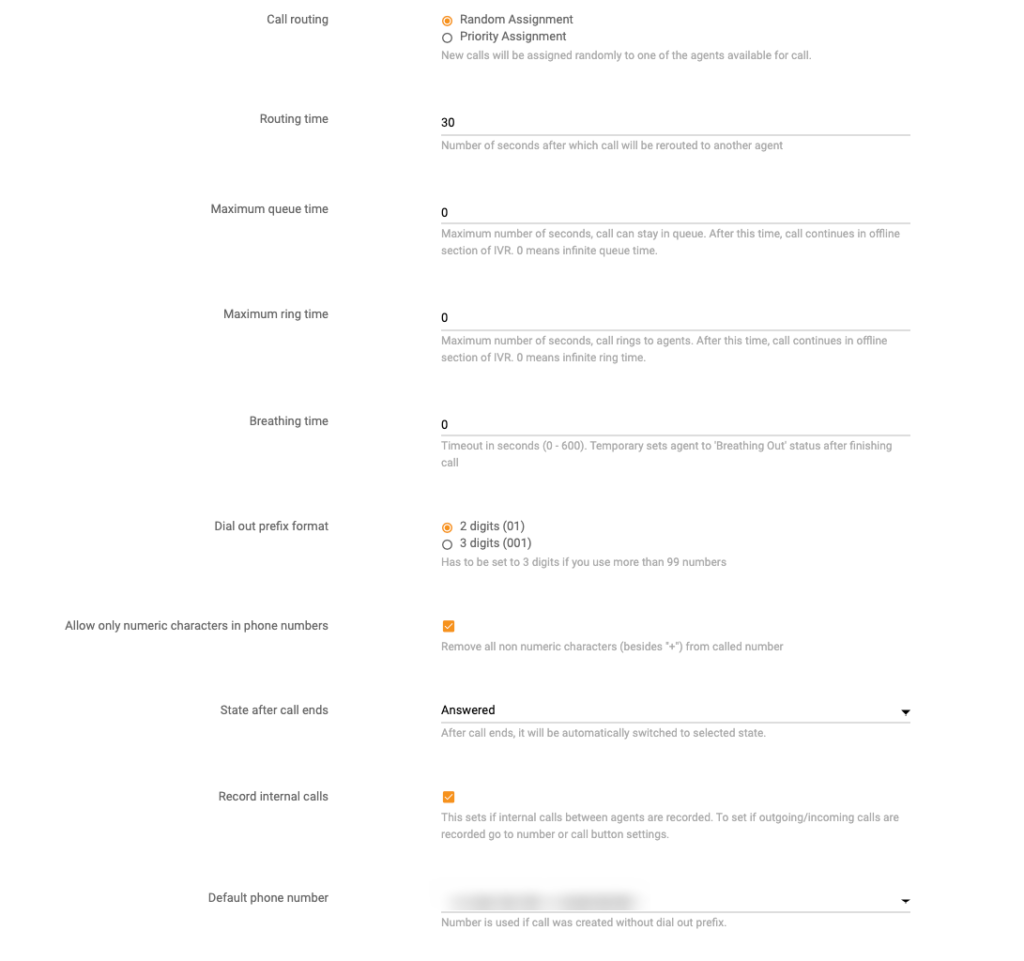 Apart from that, there seem to be all the other settings related to queue time, priority or random assignment, and ring time that really help organize the call center as I'd like it to be. I'm actually unable to think of something I'm missing here; on the contrary, I was presented with features that I hadn't even thought of prior to this.
Performance and usefulness
Time for testing! I had two tabs open, the first one being my customer agent dashboard, and the second one being my knowledge base with my "Call Us" button on it. Everything is in order, so I decided to just do both via the same browser and see if there would be any issues or not.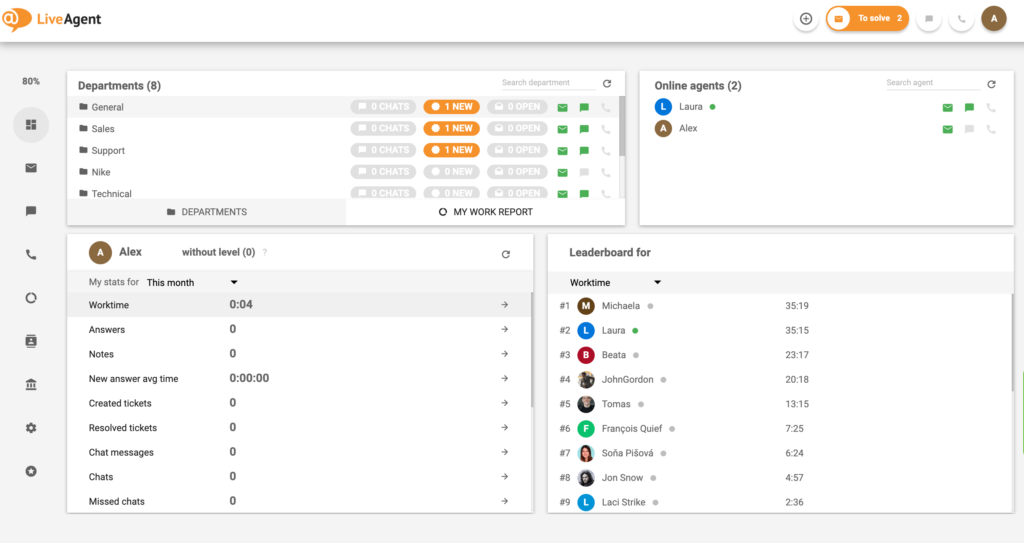 When I clicked on the button, a little window popped up and explained that I could call directly from my computer. Nice, I suppose it would look a bit different on my mobile device, but so far so good. I went through and made the call.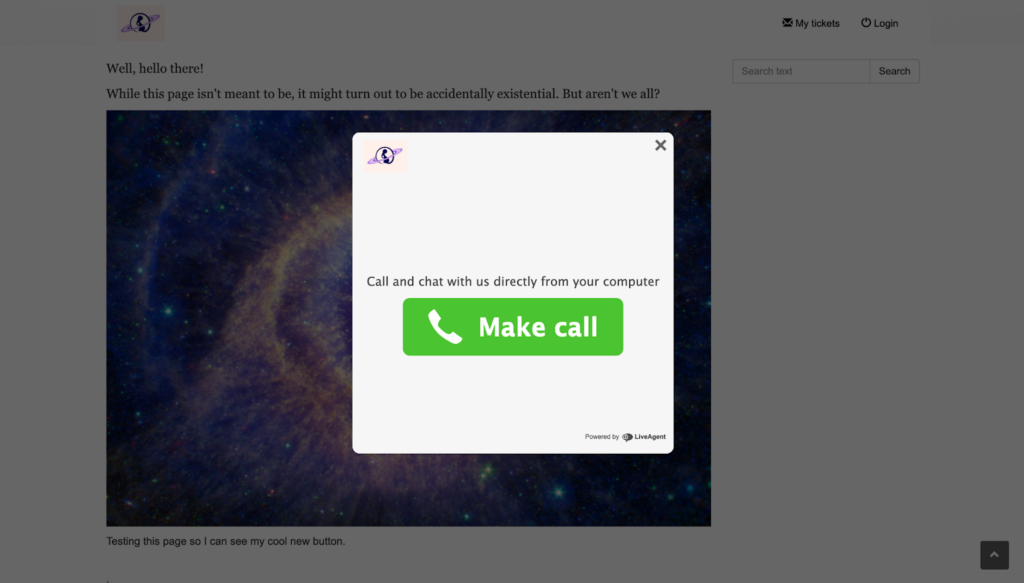 It changed to an interactive dialing screen, and boy, did I jump from the ring tone. Pretty much immediately my room was met with a retro-sounding telephone ring, and being in my startled-cat state, it took me a second to get to my other tab.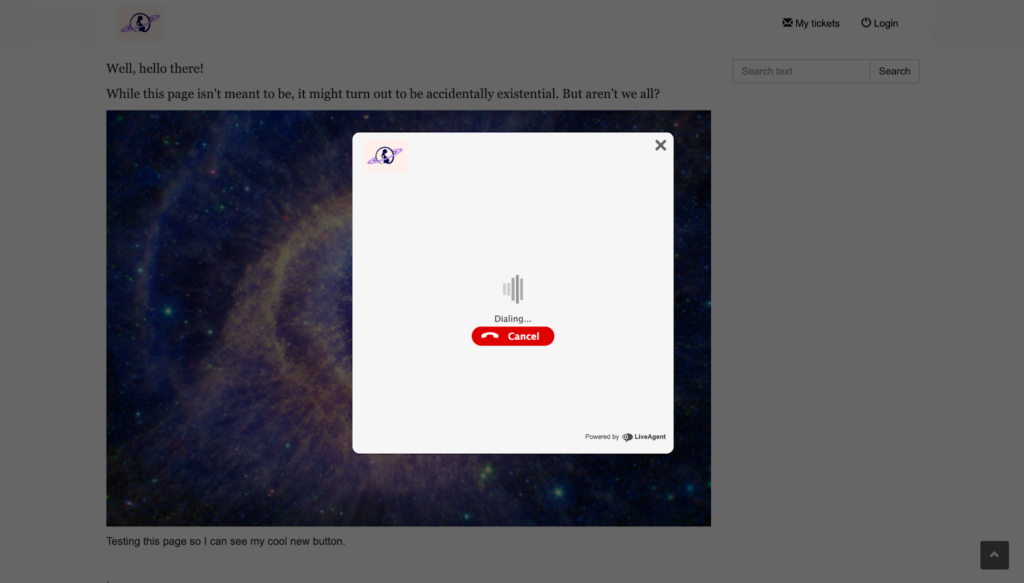 Yep, there it is on the bottom right, a green square-shaped notification that allows me to pick up the call. I did so, and everything went successfully without any issues besides some echoing of speaking and receiving on the same device. Not shocked there.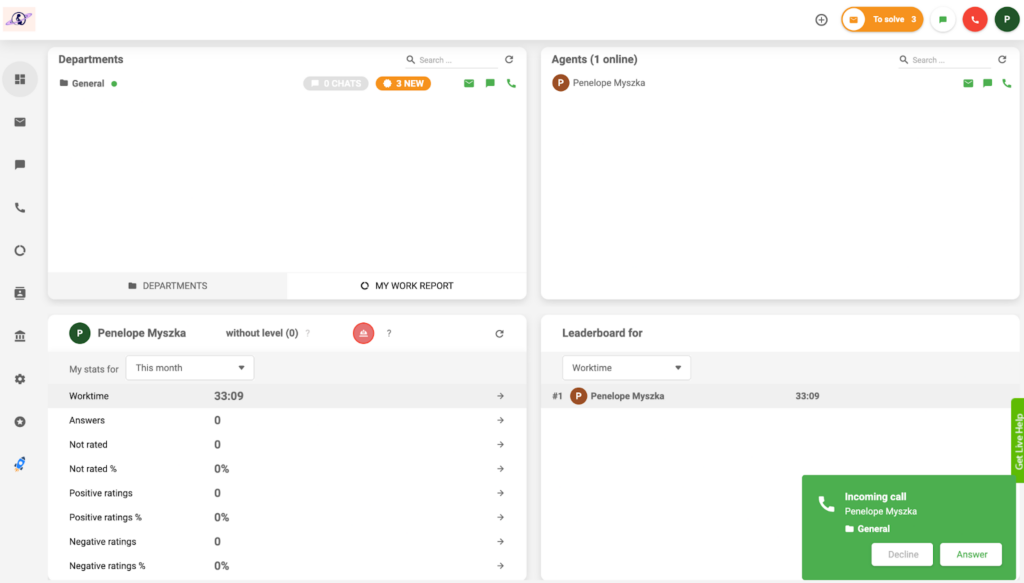 Despite the success, I went around searching for the settings to change the ringtone. I admit, there's no way I could miss a call with that siren, but I suppose it would be nice to change it to something different if we please. I looked for a place to change it to something more mellow, but I wasn't able to find anything unfortunately. Now, I appreciate that Breathing Time feature even more.
After further searching in the LiveAgent support portal, I did find that sound configuration does exist, and simply needs to be activated in the Configuration>System>Plugins under the "Sounds" button. Once activated, you can just go to Configuration>System>Sounds, and change everything there.
Apart from that, the whole interface was straightforward and worked flawlessly. I didn't have even a second between making the call and receiving the call, which means the action time is immediate. That's some quantum speed right there, which is something I would never complain about. It really puts customers one step closer to the customer agents.
LiveAgent pricing
LiveAgent offers a variety of pricing plans, including a free version. All of them have built-in call center capabilities, so determining which plan is best for you really depends on the limitations or expansions of some features. Let's take a look at LiveAgent's offers below.
Free
LiveAgent offers a free tier with limited features, including a 7-day ticket history, 1 live chat button, basic reporting, and more.
Small
For $9 per agent per month, the Small package provides all the features of the free version with extended capabilities, such as unlimited ticket history, customer service, API integrations, and reporting.
Medium
The Medium package, priced at $29 per agent per month, includes all the features of the Small package along with additional advanced functionalities, including unlimited chat buttons, proactive chat invitations, advanced feedback management, real-time visitor monitoring, and social media integrations.
Large
At $49 per agent per month, LiveAgent's Large package encompasses all the features of lower tiers and allows you to operate a feature-packed call center with features like IVR, video calls, unlimited call recording, call routing, transfers, and more.
Enterprise
At $69 per agent per month, LiveAgent's most comprehensive package, the Enterprise tier, offers everything from the Large package, and includes additional features such as a dedicated key account manager, a multilevel knowledge base, the removal of LiveAgent branding, and SSO (single sign-on) for agents.
Conclusion
All in all, LiveAgent proved to be a really seamless call center software, with most of my needs being met. I didn't have any issues that I encountered, and was able to get the feel of the software really quickly. The ability to customize buttons and place them anywhere on my page gave me the impression that LiveAgent is really malleable for businesses of all types. Apart from the minor issue of not being able to find the ringtone configuration easily, I don't have much to complain about. LiveAgent is definitely a software that can benefit businesses of all shapes and sizes.