Despite the economic hardships that many businesses face due to the ongoing global health crisis, several new companies decided to start using LiveAgent to provide their customer support.
Their decision proves that the need for the right help desk software is essential in this digital age as more and more companies shift their business practices online. Establishing a strong online presence has been a mission for numerous companies as we said goodbye to the old year of 2020 and welcomed the new year 2021.
Many of these businesses have tried, tested, and reviewed LiveAgent on the most prominent software review platforms, which has resulted in LiveAgent receiving an outstanding 19 awards in Q1.
LiveAgent has received award badges from the leading B2B, B2C, and SaaS related companies and review portals GetApp, G2, SaaSWorthy, SourceForge, Digital.com, AppVizer, Crozdesk. These awards were determined per each review site's scoring methodology.
Let's look at the summary of awards and the scoring methodology of each review platform.
The summary of awards
GetApp
GetApp is a well-known and established business app review and discovery platform. They employ an elaborate ranking methodology to determine the category leader award periodically.
The scores are decided by five key areas based entirely on data from technology vendors and independent end-user reviews. The category leader is chosen from vendors that provide the best customer service tools in the North American market. Each software is scored according to a 100-point system, with each key area worth 20 points.
LiveAgent was a success in all five areas: ease of use, value for money, likelihood to recommend, customer support, and functionality.
The award is one of the highest honors that LiveAgent has achieved:
Leader in customer service in 2021
If you would like to know more about how the leaders are determined, check out this GetApp page.
G2
G2 is one of the largest and most popular portals for technology reviews. Every buyer or seller around the world is guaranteed to reach their goal when they visit G2.
Their ranking methodology is complex. The reason behind it is that G2 is determined to ensure that the reviews shown on the product pages are relevant and valuable to its users.
G2 has awarded LiveAgent in several categories:
Leader in help desk software
European leader in help desk and live chat software
Leader in live chat software
The best usability in help desk and customer self-service software
Leader in social customer service and self-service software
High performer in help desk and live chat software in the UK
A truly astonishing achievement. Being recognized as a leader and a high performer in help desk and live chat software for Europe and UK are proof of LiveAgent being an ideal software solution for the global market.
Click here if you want to find out more about G2 scoring methodologies.
SaaSWorthy
SaaSworthy scores are determined by the product's category and a relative scoring system. Each product's features have to meet specific expectations to achieve the top ranking.
SaaSWorthy presents its awards in four categories, and LiveAgent won the top spot in each one:
The most popular help desk software
The most worthy help desk software
The highly-rated help desk software
The fastest-growing help desk software
Head over to the SaaSWorthy page to learn more.
SourceForge
SourceForge is the largest and most trusted open-source application and software directory. They're dedicated to building an open-source software community where its users can collaborate and create successful projects.
Due to the interconnectivity of their users, the internal ranking system exposes notable projects through the SourceForge directory.
LiveAgent was recognized in two categories:
The best partner
Leader in help desk and live chat software
Digital.com
Digital.com aims to guide small businesses and startups to the best software suitable for their needs. It applies sentiment analysis to provide the most honest and unbiased reviews of products and services.
Each product is evaluated by the features, integrations, and offers.
On those grounds, LiveAgent received awards in the following categories:
The best service desk software of 2021
The best portal software of 2021
The best inbound call tracking software of 2021
AppVizer
AppVizer is a free online software comparison portal where each subscriber can create their own software comparison. The algorithm determines the software's ranking by the click-through rate.
LiveAgent has been recognized as the user choice in the live chat category:
User choice in chat and chatbot
Crozdesk
Crozdesk is a business software discovery platform where buyers can compare thousands of products across 300+ categories.
Crozscore is a custom, automated, and predictive scoring algorithm that analyzes large amounts of data based on various metrics from different software solutions. The results are then compared with selected competitors. Crozscore is powered by artificial intelligence and machine learning techniques.
LiveAgent scored high in two categories:
Top customer chat software
Customer service software
As you can see, achieving the winning position in the awards circuit is no small feat.
However, we believe that with the right product and approach to customers, we can continue to earn our customers' trust and gather many more positive reviews.
But don't take our word for it. We have selected a few reviews from GetApp and G2 to show you some authentic feedback from verified customers.
"Multiple chat buttons and teams agent can read message even before customer press "enter" Google Maps API integration is good and helps visualize where my customers are (geographically). Team transfer is good, specially the ability to note information for agents only. Chat with one customer and 2+ agents are great !"
Francisco K
"Live Agent automatically tags all tickets that already exceeded the time and needs to be solved ASAP. The overall process of managing the tickets is simple and clear. I also like that multiple tickets from the same users can be merged together into one conversation."
Anna K
"The customer support is great. Faster to solve all the situations."
Helio M
"If you are in need of a help desk and live chat for a multi-brand company, this provider is great! We have 5 different brands and we can offer full support with live chat and help desk to our customer with LiveAgent!"
Foxlie A
"The overview and simplicity to answer all your mails at the same place"
Clémentine O
To see the full list of awards that LiveAgent has received so far, please head over to our awards page.
What have we improved in Q1?
In the first quarter, we added new customer support features and integrations and continued upgrading our existing features.
Additional security fixes were introduced that improve performance and enhance the user interface.
We have obtained new VoIP providers – Avelia, VoIPstudio, TelefonBG, and integrations – Zoho Mail, vCita, Delighted.
Our web pages have gone through re-design as we have implemented new graphic elements, a table of contents, and engaging CTAs.
Not only that, but one of the main projects has been to introduce LiveAgent to a global audience. Therefore, most of our online content was translated into multiple languages to truly accommodate and promote LiveAgent to users on a worldwide scale.
We aim to keep LiveAgent as a truly versatile, flexible, and affordable customer service software solution for businesses and industries of any size that want to provide an excellent customer experience.
If you want to keep up with all the news and updates, click here or follow us on our social media.
What are the business benefits of LiveAgent customer service software?
Streamlined communication with customers
Improved efficiency
Increased productivity
Customer satisfaction
Customer loyalty
Cost-effective
High ROI
Let's dive into each product and its features for which we have been so graciously recognized.
Help desk software
LiveAgent is an omnichannel help desk software that combines — ticketing, live chat, call center, social media, knowledge base, and customer portal capabilities into one complete customer support package.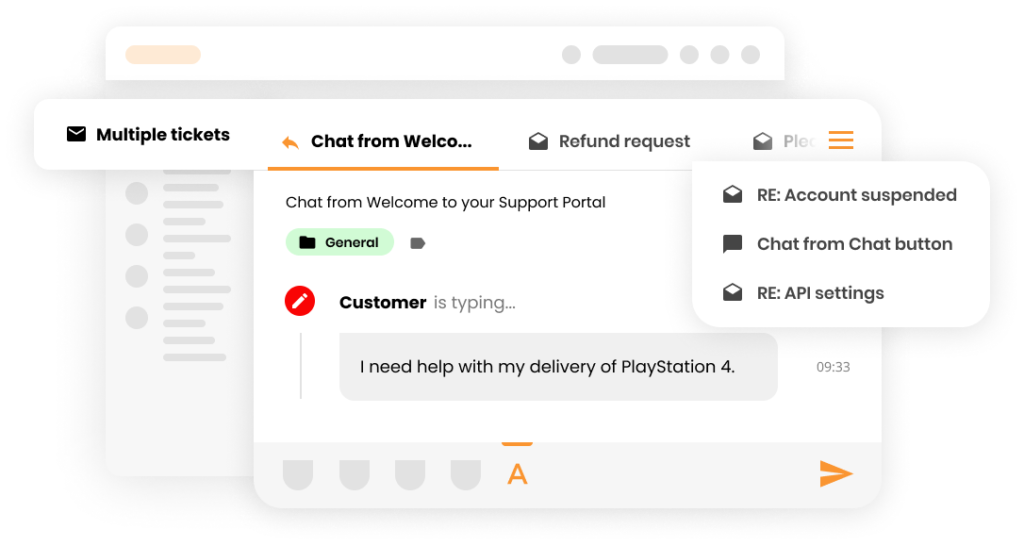 LiveAgent offers 180 user-friendly features that allow businesses to provide customer support on all communication channels without switching between them.
Help desk features:
Click over here to see all LiveAgent's features.
Live chat software
Live chat software is a must-have tool for any modern business. The need for instant messaging and quick resolution has increased in the last few years, and with live chat, you can provide real-time support. LiveAgent has the fastest live chat widget on the market that you can directly embed onto your website. The best part? You don't need any additional software or coding experience.
You can also integrate our live chat button into your WordPress website with a live chat plugin.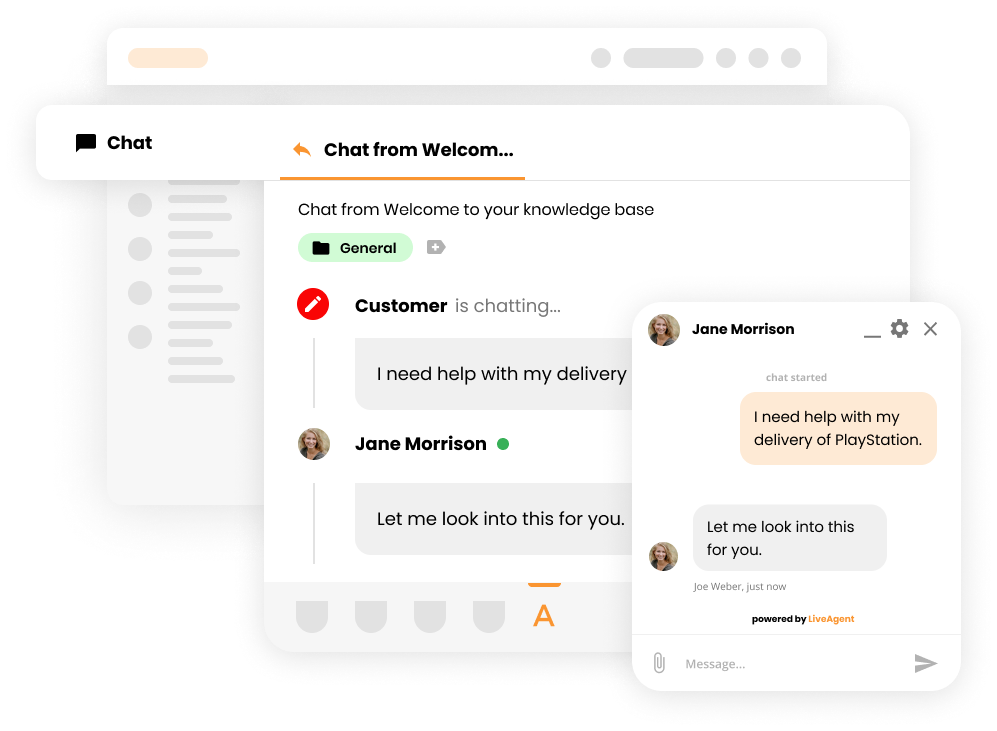 Live chat features:
Want to know more? Click here to find out.
Call center software
LiveAgent has an easy-to-set-up, built-in call center for inbound and outbound calls. It is a cloud-based call center — meaning that it is completely browser-based. The integration takes mere minutes, and it can be connected with existing devices and equipment. If you wish to call from your computer directly, you can choose your VoIP provider from our partner's list.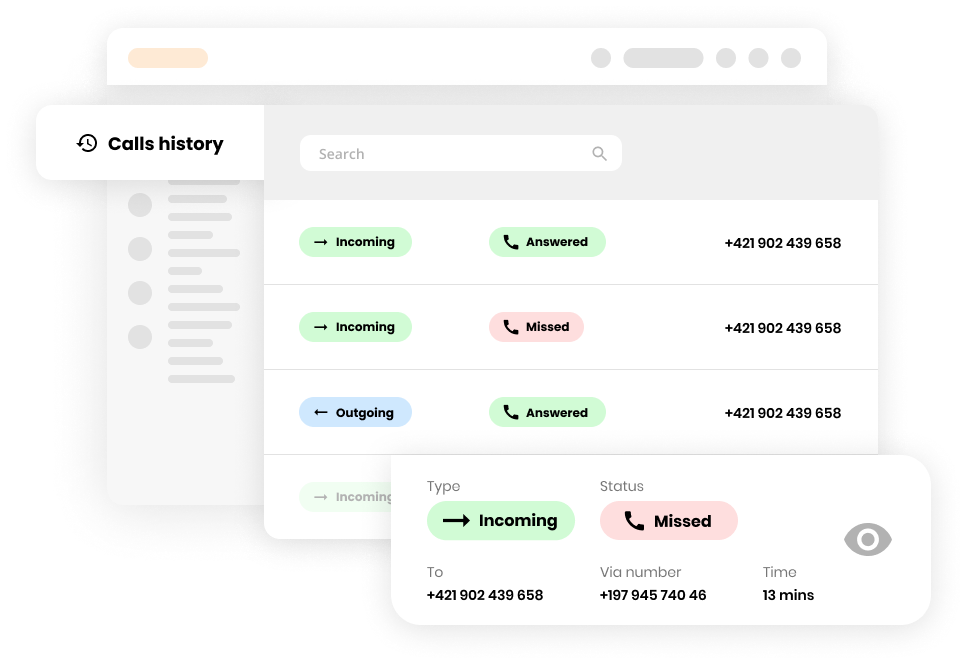 Call center features:
It doesn't end here. There are more features to discover.
Customer portal software
Customer service has many forms. Some customers prefer to call, some like to chat, and others like to find the answers to their questions on their own.
The demand for 24/7/365 support is on the rise, but it can be an issue if your business doesn't operate 24/7.
The customer portal allows you to be there for your customers at any time of the day or night. Create multiple-knowledge bases for your most visited pages, fill them with articles, videos, how-to guides and edit them with the WYSIWYG (What You See Is What You Get) editor.
Customer portal features:
A complete list of customer portal features can be found here.
Our thoughts
We are humbled but also proud of this remarkable achievement. We want to thank each platform for recognizing our efforts, but most importantly, we wouldn't have done it without you — our customers.
These awards are proof that you continue to be satisfied with the products and services we provide, and for that, we are most grateful and honored.