Chats overview is one of many great features of LiveAgent. It provides important information about your website visitors and at the same time allows you to take an action.
For instance, you can view the visitor's country, the URL he/she is browsing at the moment as well as how much time they've spent there. After that, you can proactively invite them to chat.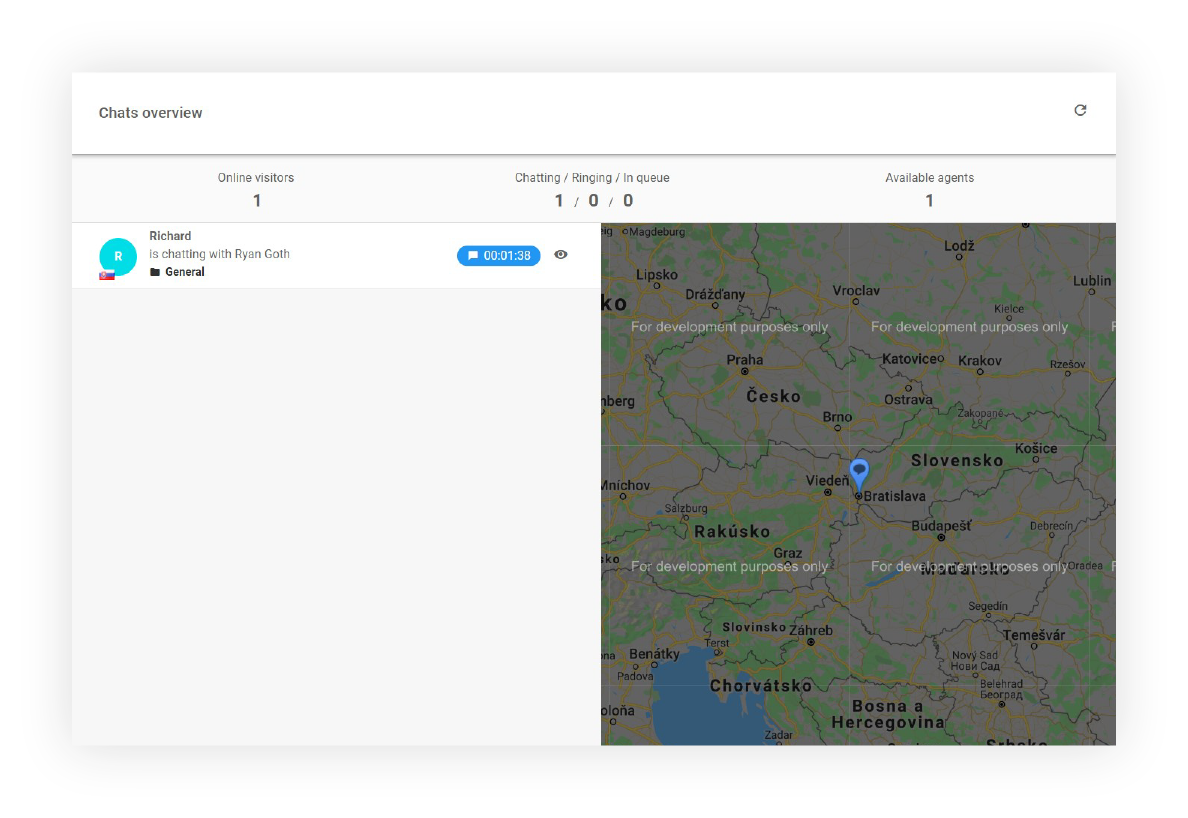 What information can you see in Chats overview?
Online visitors
Online visitors represent the number of visitors that are currently browsing your website. With this feature, you can easily reach out and let them know that you are ready to help them out if needed. Moreover, you can specifically alter your message. The online visitors' section in LiveAgent offers some important, general information that can help you before reaching out.
Let's take a look at an example:
Sarah is currently on your pricing page for a while going over the same information. This is a great opportunity to reach out to let them know you're there if they need further information. Proactive but not annoying approach.
Visitors in a queue
Chats overview also gives you the number of visitors waiting to chat with your customer service agents. As a result, you can easily detect if your support has enough agents to deal with the number of visitors in the queue.
Chatting visitors
Another great feature of Chats overview is that you are able to see the number of chatting visitors.
Available agents
See how many agents are available to chat and quickly detect if they're enough employees on the shift. This feature closely ties to the visitors in a queue. These two can give your manager an overview to promptly analyze a situation and then act accordingly.
Actual webpage (URL) the visitor is browsing
Find out quickly and easily what URLs your visitors are currently browsing and how much time they've spent there. The more information your agents have, the better service/support they can provide. For example, you might discover that some URLs need improvement to provide better customer experience.
Example:
If a potential customer/visitor is at the checkout page for a long time, the proactive chat invitation can help your sales team to close the deal. On the other hand, your team can discover a reoccurring issue the customers experience throughout the customer journey. You can analyze these situations simply by navigating to Chats overview in LiveAgent.
Referrer
Would you like to find out if the visitors are coming from a referrer? Chats overview can tell you just that. For instance, if you have many visitors from a referrer where you provided a discount, you can proactively reach out and ask if they need more information about the offer.
Visitor's country
Learn where your visitors are coming from. The more you know about your customers/visitors, the better your customer service can be.
Map of visitors
View online visitors browsing a website on the map (red mark) and visitors chatting with Agents (blue mark).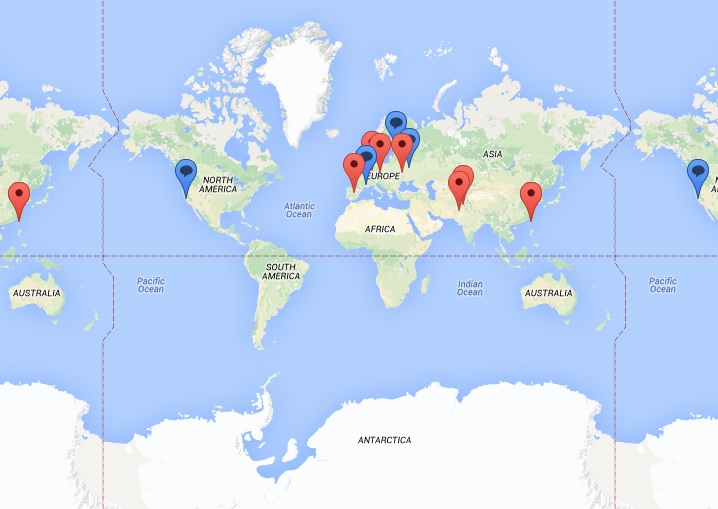 Note: *Google started billing the usage of Maps Embedded API. Therefore in order to have a properly displayed map of visitors, you will need to create a billing account on Google Maps Platform.
What are the Chats overview functions?
See a current chat conversation between an agent and a visitor
Proactively invite a visitor to chat (chat invitation will be shown on the page visitor is browsing through)
Accept and start chatting with a visitor waiting in the queue
Business benefits:
Customer service workflow efficiency
Customer satisfaction
Saves time 
Customer experience
Are you ready to improve your customer service?
Try out LiveAgent for 30-days free and be one step ahead of your competition.
Real-life example
In the picture below you can see there are 3089 online visitors. There are a couple of agents chatting with visitors. For instance, agent Dmytro is chatting with a customer from France and Germany at the same time.
We can also see what the agents are chatting about with the visitors by clicking on the eye button. Moreover, we can also click on the hand button to invite visitors to chat with you.
You can also see a visitor from Spain that is browsing the webpage:
"https://support.ladesk.com/". Under this information, there is a prior webpage from which the customer accessed your website. In this case, it is: "https://google.es/". However, if you take a look at the customer called Amelia, you can see that there is no such information. As a result, it will be displayed as NO REFERRER.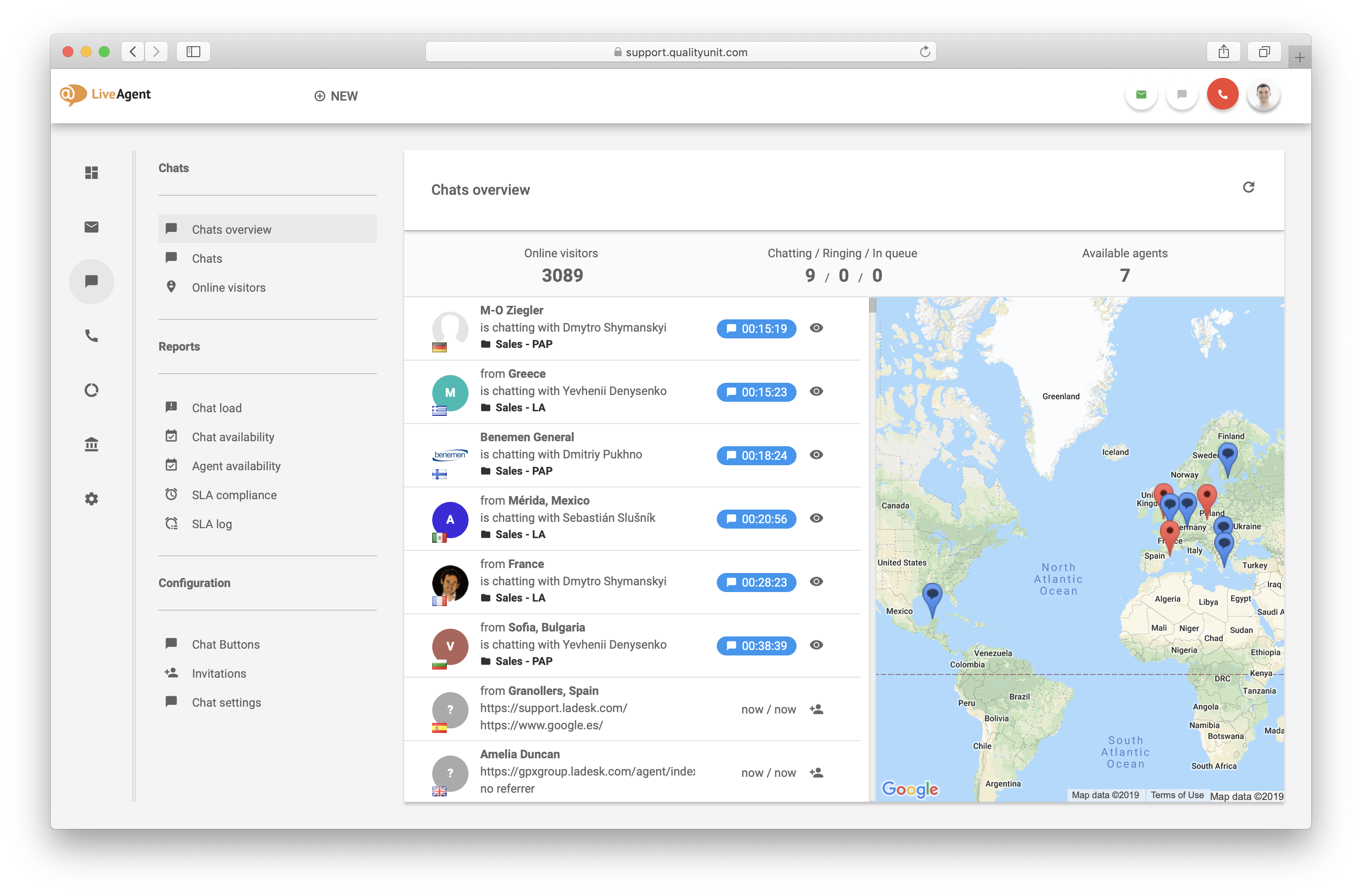 Knowledge base resources
To find out more, read How to create a live chat button – LiveAgent.