Key takeaways
Pros
Efficient ticketing despite not being the primary focus
Sufficient features
Great design
Cons
Price if you choose a paid plan
Lack of advanced features
Getting started with Tidio ticketing
Registration in Tidio is one of the fastest ones available. You only need your email address and a website to finish it and once you do, you will be taken to the application almost immediately. Since Tidio is primarily focused on live chat and chat bots, part of the process is the creation and implementation of your chat widget. You can skip this step and return to it later if you want to focus on the ticketing functionality of Tidio.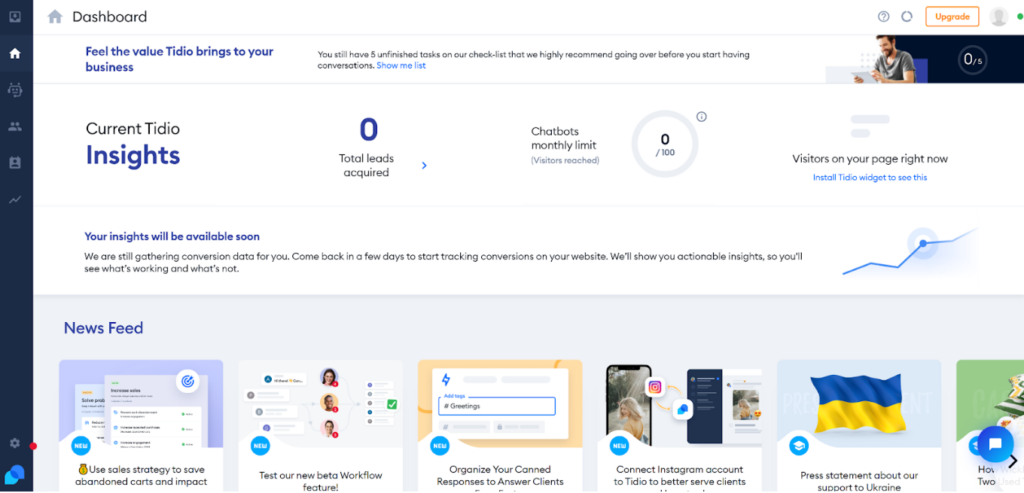 When you finish with the registration, you will be taken directly to the application. The main dashboard shares some insights about your Tidio accounts, as well as recent news and updates about Tidio. You can find the main menu options on the left side of the application, in the contrasting bar. In general, the application is very well designed so no users should feel lost when trying to find functionalities in Tidio. You can access the ticketing under the Inbox menu item, which is the first one in the selection.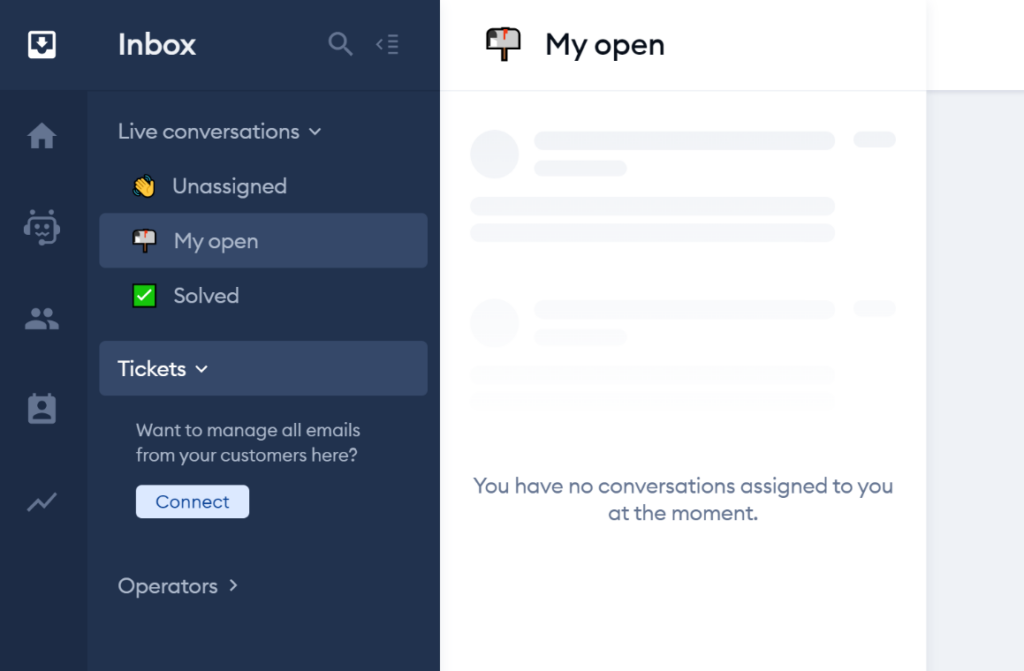 Tidio provides some handy information about managing email accounts. It will give you the option to connect them with your ticketing directly in this menu section, so you don't have to go rummaging through the settings to find it yourself. Once you click on Connect, the button will take you to the settings. You can easily connect your email here or choose to create a dedicated Tidio email account.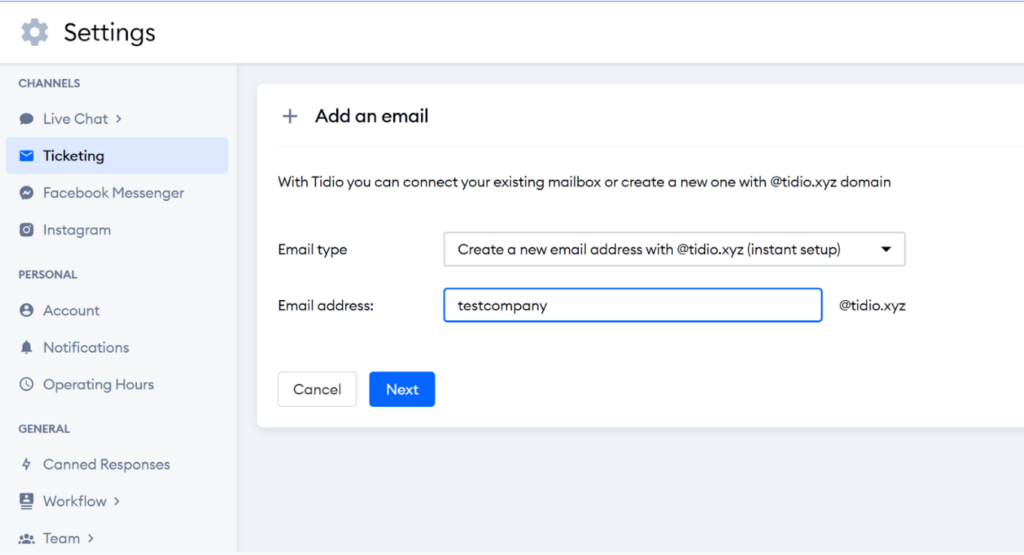 I chose to create a new dedicated email account for the purposes of this review. Tidio sent me a notification email to let me know that the integration has been completed successfully. You can access every email you receive in the inbox section of the app. Before we get to the testing part of the review, let's take a look at a couple of notable ticketing features that Tidio offers as a part of their deals.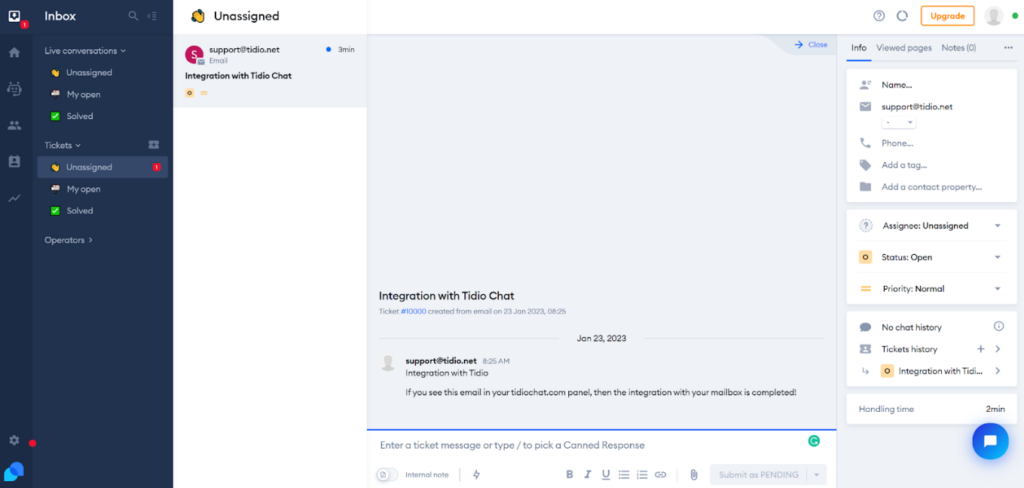 Tidio ticketing system features
Tidio's ticketing system is not the richest among ticketing software but nevertheless it offers a good selection of features that won't let you down in any situation. The ticketing system gathers communication from emails and your chats, so you can have one universal inbox that can help you handle all communication from one place.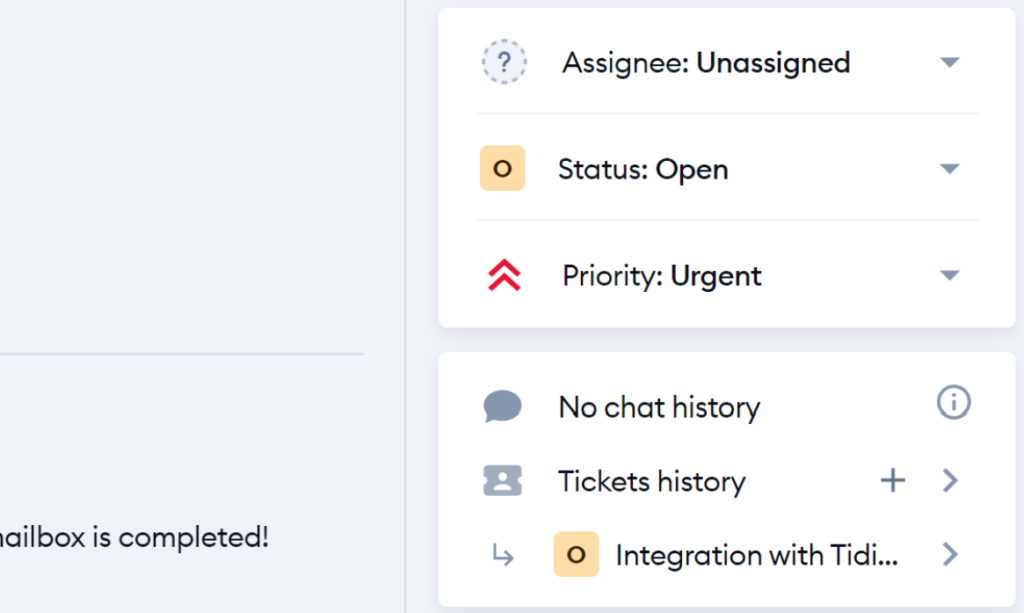 The ticketing system supports tags to help users better organize their tickets according to criteria selected by themselves. Tidio also offers a feature called Priorities which helps users sort tickets based on their urgency. You can switch between ticket owners, and transfer tickets from one agent to another. Last but not least, there's the complete ticket history which is self explanatory.
Tidio ticketing system performance and user experience
I tested the Tidio ticketing system from the agent's perspective to show you how it works and give you an idea about the usefulness of the entire system with features. Once I sent myself a test email, it took a couple of seconds to show up in my Tidio inbox. However, the waiting time wasn't unexpectedly long. Tidio shows a handy time notification with each ticket, it informs each agent how long ago the ticket was received.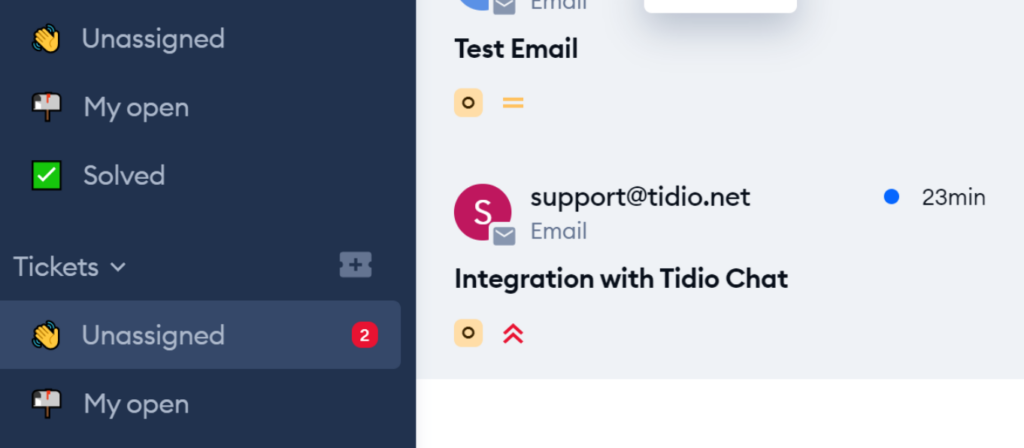 Once you click on a ticket to open it, you can get the first look at the ticketing interface. It's very well designed, with a major focus on the message and reply parts of this section. You can find most actions in the right panel, while the left panel gives you an overview of your inbox sections. The left panel also serves for easy identification of unassigned tickets and unread messages.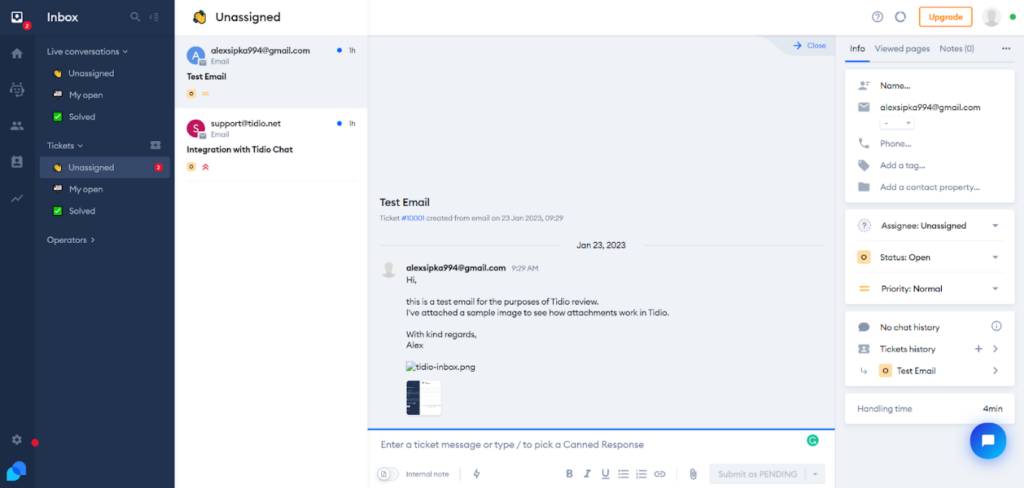 The ticket reply field is very small at the beginning, but it stretches out as your reply gets longer. This is a good design solution that aims to save screen space when necessary. Tidio offers some basic text editing and formatting options. You can find the option to add an internal note to tickets, which is very useful for sharing information about certain customer tickets to your colleagues without letting the customer know about it.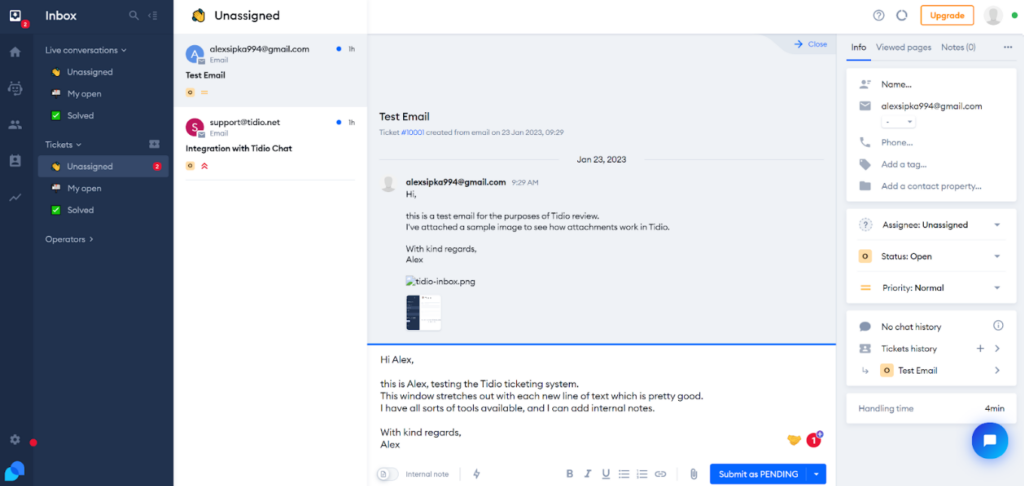 Tidio also offers you multiple send options. You can send the ticket and change the status into Open, Pending, or Solved, depending on if your reply was successful in solving the customer's problem. The right panel includes ticket history, priority settings, status settings, assignment information, as well as customer information which you can fill out directly within the ticket.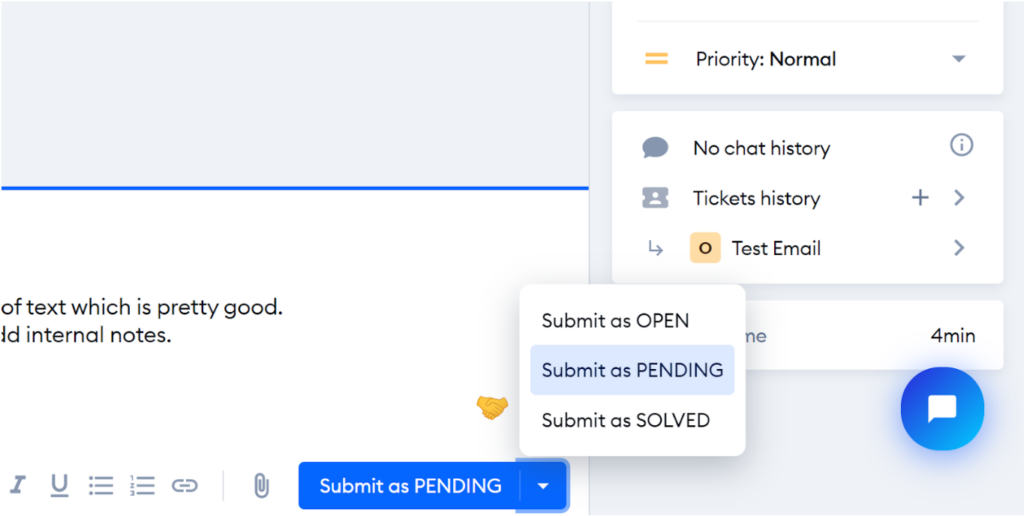 Overall, the performance of Tidio's ticketing is pretty good; there are no bugs or problems present and everything works as intended. The feature set is not the richest, but that doesn't mean it's useless. In fact, it's quite the opposite and would even say it's more than satisfactory. The feature set simply offers everything that's necessary for effective and efficient ticketing.
Pricing
Tidio offers pricing plans in four variations. Each more expensive plan offers additional features and removes certain use case limitations for a higher price. Tido also offers a free plan that offers basic chat and ticketing system capabilities without any credit card information required. Note that since ticketing tools are available even in the free plan, you don't really need to consider any other option unless you need advanced live chat and chatbots. Let's take a look at each plan.
Free
The Free plan includes 50 conversations per month, 100 chatbot conversations, support via email, desktop and smartphone applications, integrations, JavaScript API access and information about website visitors.
Communicator
The Communication plan will cost you $15.66 per month per user. You get access to an unlimited number of live chat conversations, and up to 5 agents. This plan also gives you 24/5 support via live chat, permission management tools, real time typing view, analytics and reports, department features, a visitor list, page statistics, and more.
Chatbots
The Chatbots plan costs $31.74 monthly per user. It gives you all previously mentioned features, 40,000 chatbot conversations per month, a chatbot editor, integrations via Zapier service, and much more.
Tidio+
Tidio+ is the complete plan with every feature and without limits. It will cost you $235.16 monthly and offers a custom number of agents, unlimited live chat conversations, custom number of chatbot engagements, and every feature available. You also get a dedicated customer success manager.
Conclusion
While Tidio is not primarily a ticketing software, it can provide you with a great ticketing system for free, or for a fair price if you choose a more advanced plan. The feature set is essential and sufficient enough to handle most ticketing tasks, while providing steady performance without any issues. It's a great option for most businesses that require basic ticketing, however, those who require more advanced ticketing features should consider some of the competitors.