Key takeaways
Pros
Reasonable pricing in the cheaper plans
A lot of additional functionality in one package
Good ticketing system with no major issues
Cons
The occasional bug or two
Ticketing is not the primary focus of EngageBay
Clunky attachments functionality
Getting started with EngageBay ticketing
EngageBay lets you get started for free with an easy registration available directly through their website. You only need to provide essential information, as well as your phone number and a link to your website. After you get access to your new system, you can opt to receive a free onboarding session right away.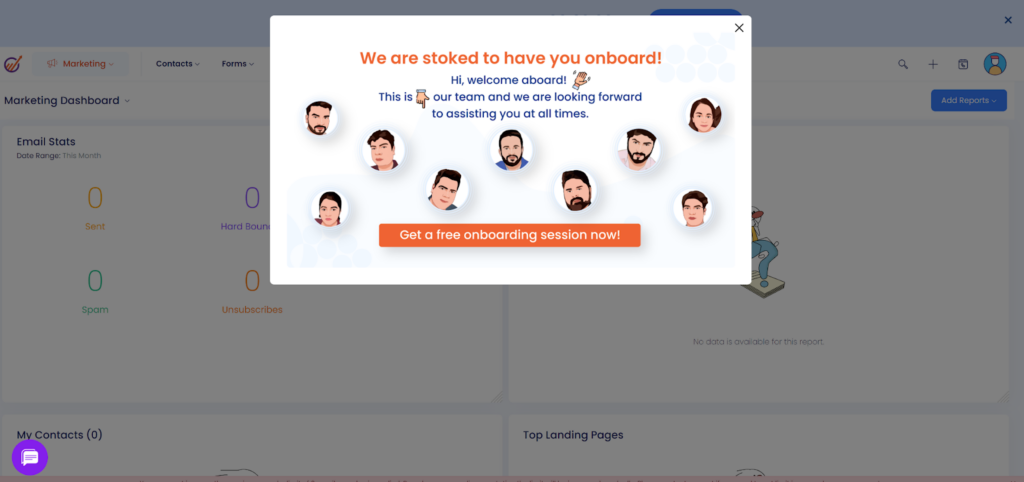 To access the Service part of the EngageBay toolset, you can click on the marketing button at the top left and go to the Service section. EngageBay will prompt you to create a dedicated customer service domain for receiving tickets. After you do, you can start getting familiar with the ticketing interface of EngageBay.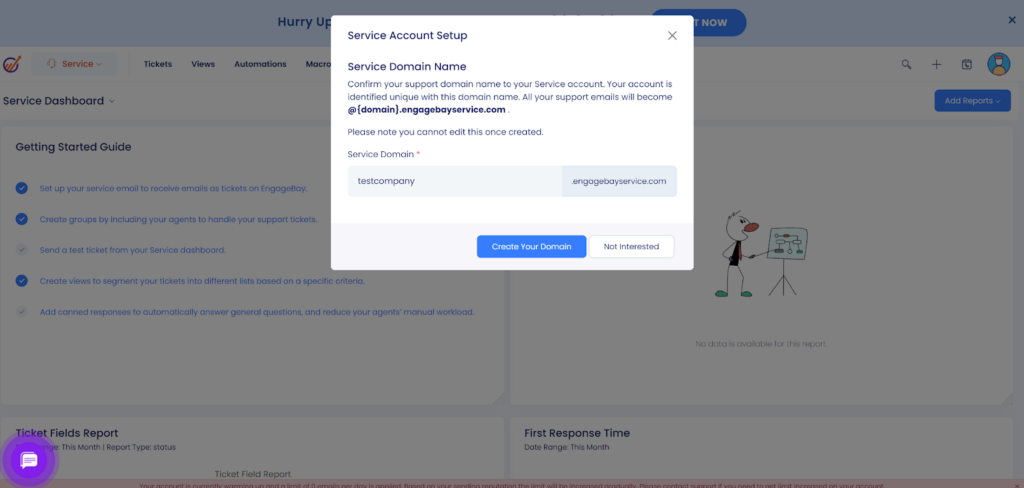 EngageBay's interface can be pretty helpful for new users. It provides explanations and short guides for almost everything you try to do for the first time, which makes it a lot easier to help you get used to the workflow. The design of the interface looks pretty modern, and you shouldn't have any trouble with navigation even if you decide to ignore the guides.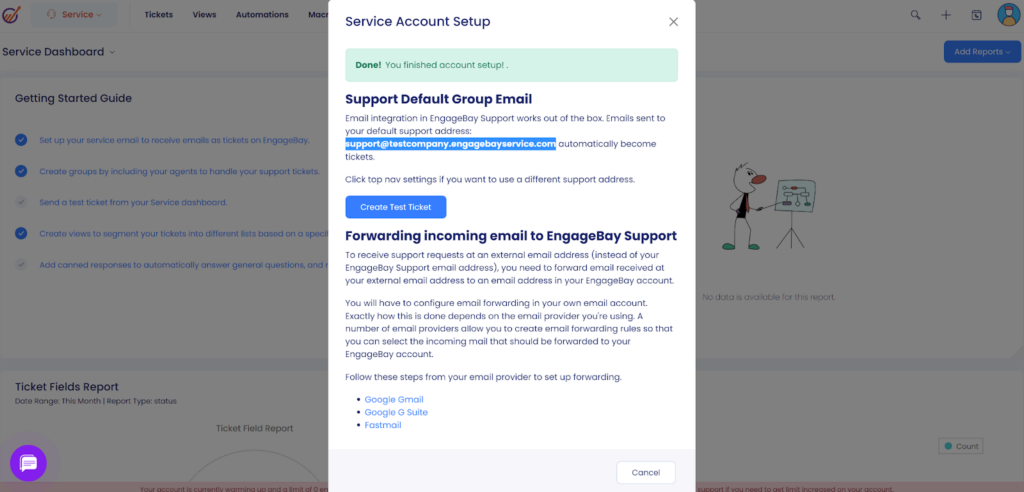 With your Service functionality activated, you can take the first look at the ticketing interface. You will be presented with a handy dashboard that provides you with valuable information. The Getting started guide takes a major part of the screen on the upper left, while the remaining windows give you insight via essential analytics and reports. You can see numbers of tickets, first response times, closed time, and other important information.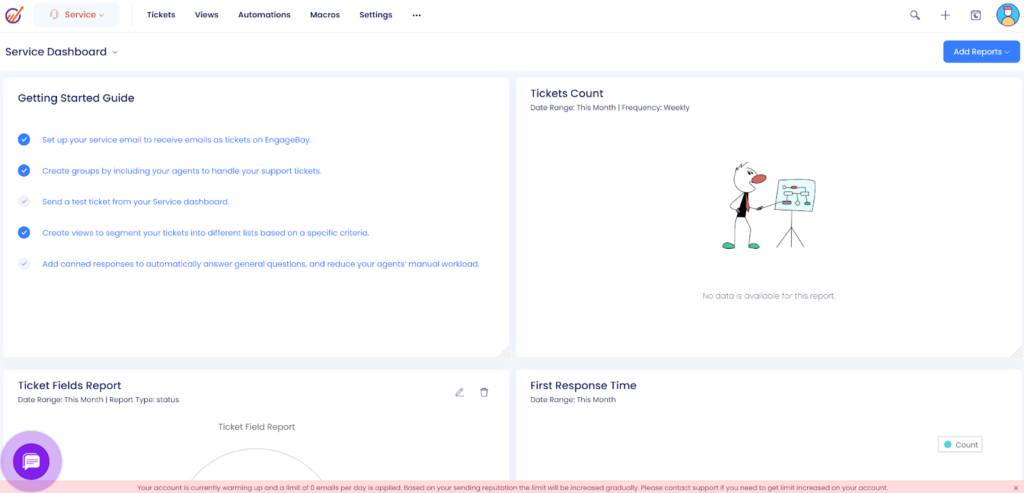 EngageBay ticketing system features
While EngageBay offers much wider functionality, we'll take a look only at the ServiceBay features that are related to ticketing. ServiceBay is the name of the service and ticketing feature set, and offers pretty standard functionality. You get access to macros, SLAs, ticketing reports, automations, canned responses, support groups, and custom ticket views. These features are listed on the official EngageBay website, however, the ticketing system itself provides a larger variety of features. You can discover them once you start exploring the web application.
Ticketing system performance and user experience
Now it's time to take a look at the tests and see how the EngageBay ticketing system performs in a standard scenario. I sent myself a couple of emails to see how quickly they appear in the ticketing system. I'm glad to say that there were no long waiting periods and everything seemed to work very smoothly.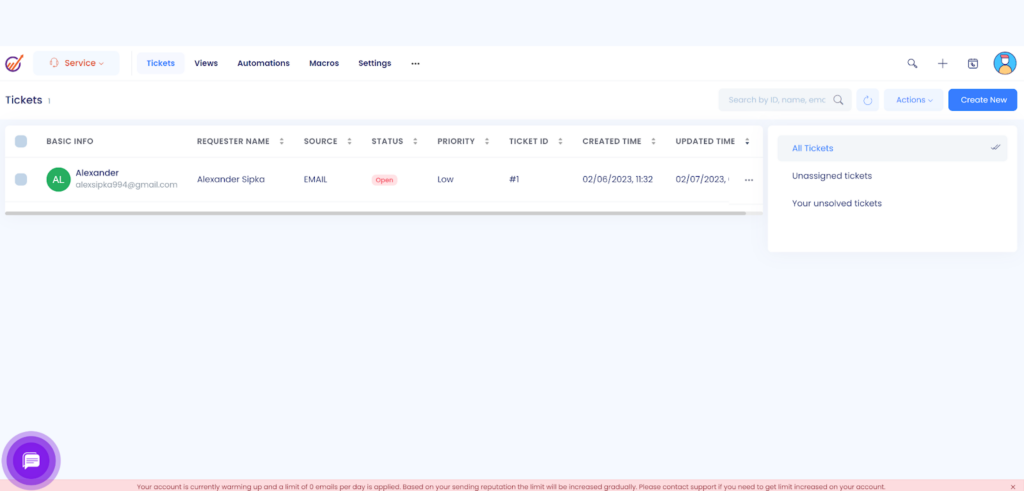 After you open a ticket, EngageBay reveals more features that are not necessarily mentioned on their pricing page. These include a very well designed text editor with all necessary editing and formatting options. You can also access internal notes and engage with ticket information in the left panel. It includes all necessary fields for filling up vital data regarding any open ticket. EngageBay's send button serves as a status changer, you can use close, pending, open, solved, and other status options.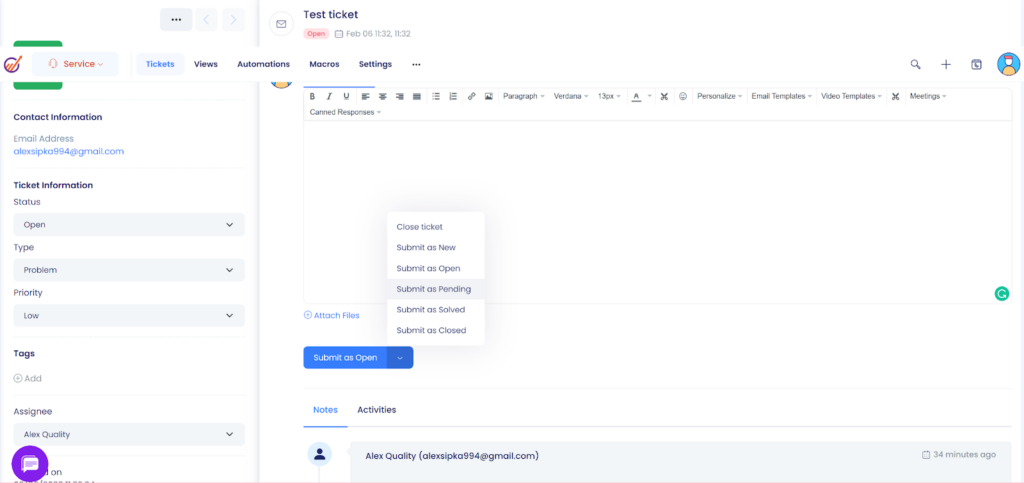 The ticket view reveals a small design issue with the main toolbar at the top. It slides down as you scroll down the page, often covering up important tool and feature buttons. While this issue isn't major, it definitely is worth mentioning. Besides that, the ticketing system functions very well and without any major trouble. The reply field is large enough, and you get access to all tools without any difficult navigation.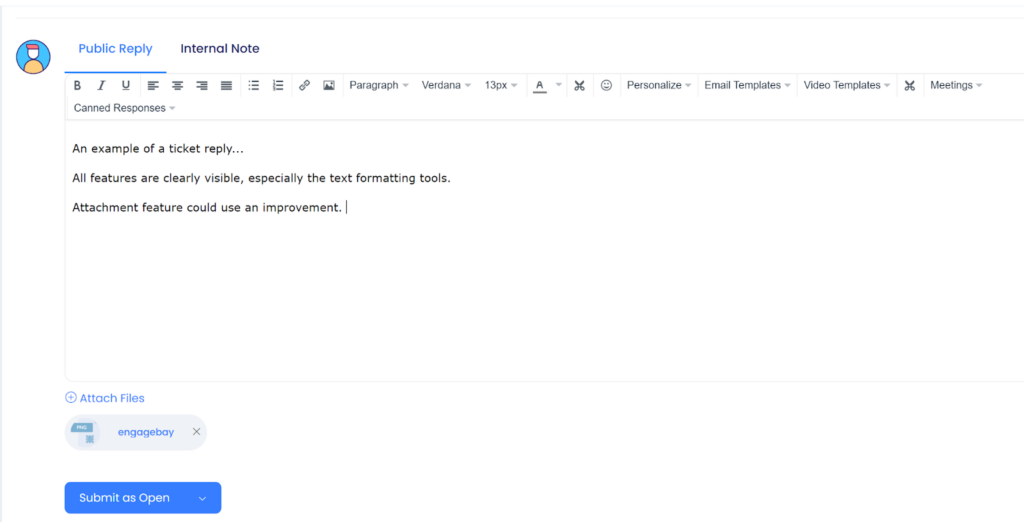 Using certain features can be a bit clunky. For example, you can't copy and paste images directly to the tickets, you have to use the attachments feature. For some reason, it doesn't automatically let you browse for attachments in your computer, but rather the EngageBay app. If you exit tickets without sending your messages, they won't be saved as drafts either. Again, not a major issue, but it can definitely slightly complicate things. Besides that, EngageBay's ticketing tool works well and your workflow shouldn't be compromised even with a few minor issues.
EngageBay pricing
EngageBay offers four pricing plans with many different feature sets available. These features include not only the ServiceBay functionality, but also other vital parts of the entire EngageBay toolset. Keep that in mind when choosing your plan, you never know what additional functionality you might require from your solution. Let's take a look at the ticketing features available in each plan.
Free
The free ticketing tool plan doesn't cost you anything. You get access to basic contact management, ticketing management, and ticket views features.
Basic
The Basic plan costs $12.74 per user per month. You get access to features from the previous plan, and in addition ticket macros, groups, group management, canned responses, personal note, customer 360 degree view, and desktop notifications.
Growth
The Growth plan costs $42.49 per user per month. It gives you everything from the previous two plans and extra – push notifications, automation & workflows, and modes.
Pro
The Pro plan costs $84.99 per user per month. You get everything from the previous plans. You also get rule management as an additional service feature.
Conclusion
EngageBay offers good ticketing tools that complement the rest of the solution very well. The ticketing system definitely isn't the main focus of this software, but nevertheless it's sufficient for most tasks. While people looking for a more advanced ticketing system might go look somewhere else to get their needs met, most users will be more than satisfied with EngageBay's multifunctional solution.