Key takeaways
Pros
Great email management capabilities
Features for easier workflow
Good interface with okay navigation
Easy email integrations
Cons
Looks outdated at times
Can get expensive with higher plans
Installation and implementation of LiveAgent for email management
What does LiveAgent require to get started? It's fairly simple, I just needed to register and create a free trial account. I had the option to choose between a 7-day trial or a 30-day trial. The 7-day free trial is available for users with any email address, while the 30-day free trial is only available for those who register with a business email address. I simply provided the required contact information, and was able to access the new account in no time.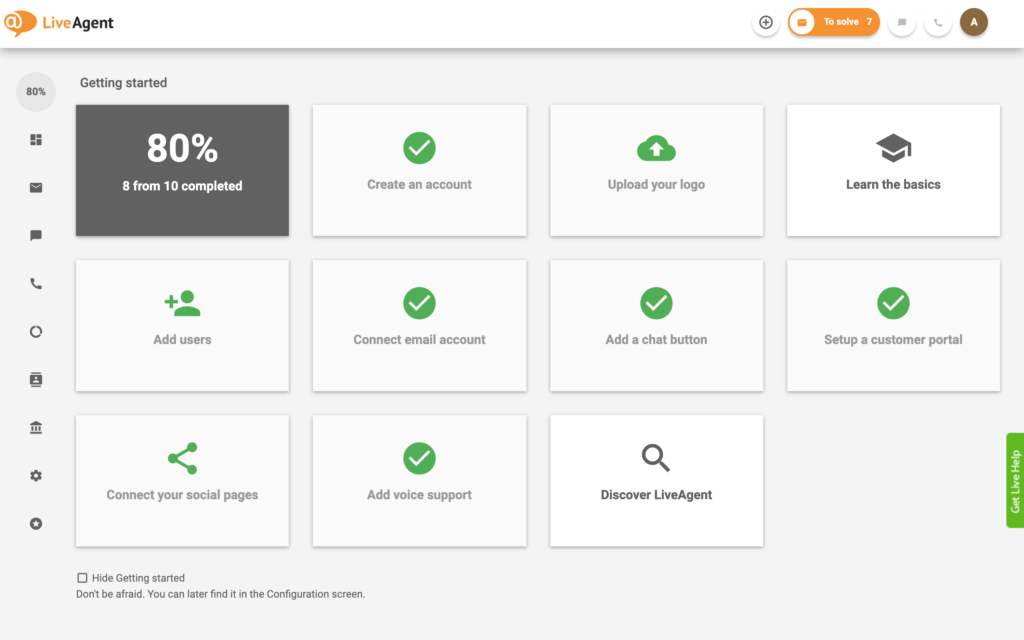 I was greeted by a setup guide that's not only easy to navigate, but really helpful to get started with virtually all of the LiveAgent functionality. I could set up all of my communication channels, including email, and much more. If you want to use LiveAgent primarily as an email management software, it's best to start with connecting your email accounts.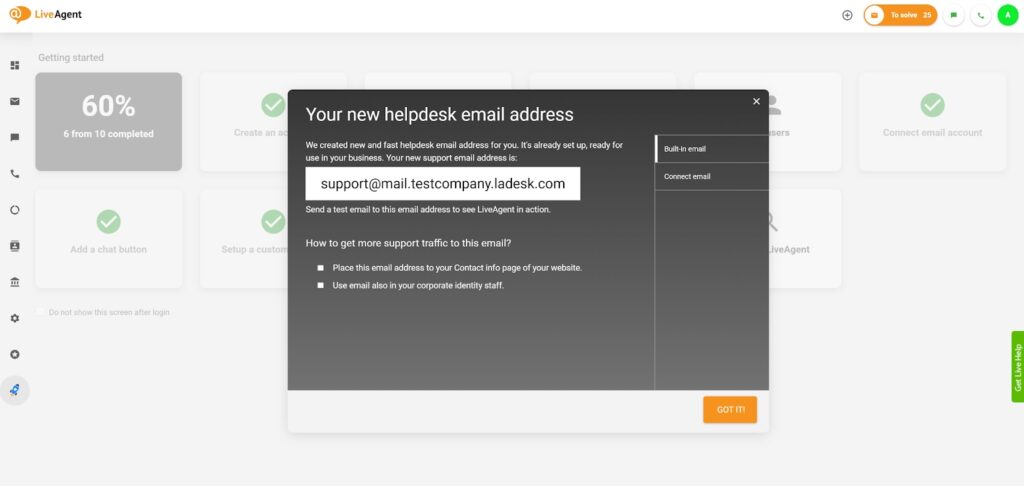 LiveAgent offers the option to add incoming email accounts and outgoing email accounts, giving me plenty of options when it comes to email management. I could also choose to use a default email address created by LiveAgent for my account. The most popular email integrations include Gmail and Outlook, but you can add any type of email account you want via IMAP/POP3.
Once you integrate your email accounts, or choose to keep the default one, you're good to go. The integration process is very easy to complete when choosing Google or Microsoft accounts. IMAP/POP3 integration works a bit differently but it's nevertheless still easy enough to finish, as it's very similar to connecting an email account with an email client. You can integrate a set number of email accounts depending on which LiveAgent plan you chose.
LiveAgent email management features
LiveAgent's email management software capabilities heavily rely on its ticketing system which offers a plethora of features focused on improving organization and efficiency. Emails, or tickets in this case, offer standard email features such as replies, forwarding, and sending attachments of almost any kind, but there's even more to take a look at. I'm able to split tickets and distribute them between different agents, as well as merge them in the case of receiving a similar request from two sources.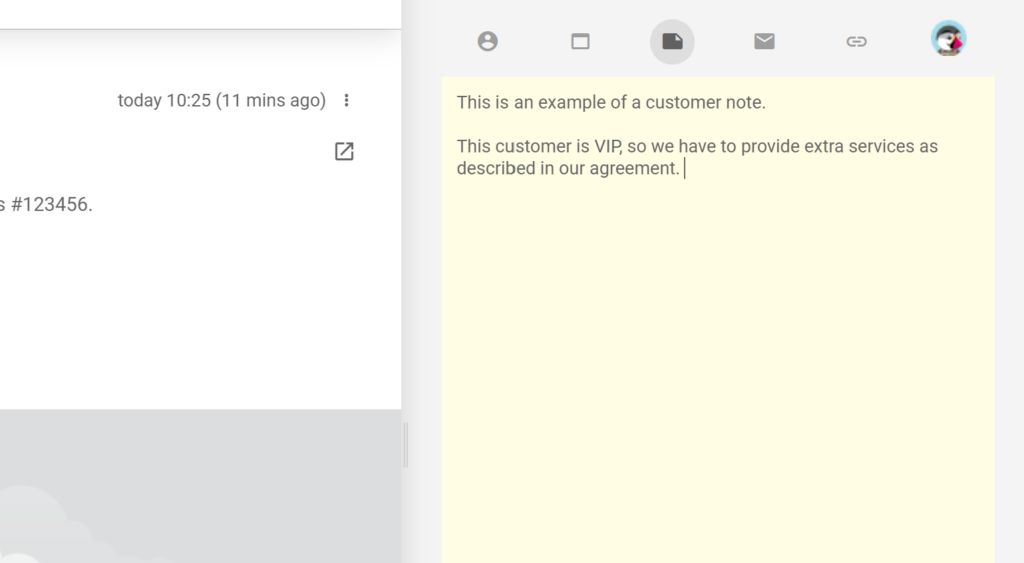 LiveAgent also offers great ticket filtering capabilities which can help you sort through the inbox. You can use tags to mark tickets by various conditions determined by yourself, or leave notes inside tickets to share vital information with other inbox users. I also noticed that LiveAgent can help with faster replies thanks to the predefined answers and canned messages (macros). Furthermore, inbox users can be divided into different departments and determine which departments will be responsible for specific types of email messages. Last but not least, LiveAgent offers simple but effective CRM features as well as contact features for individual people and businesses.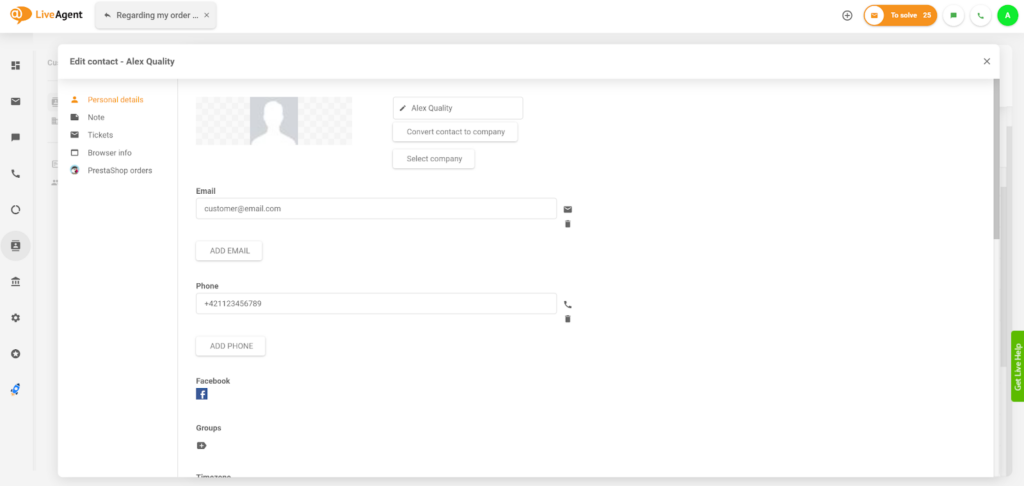 LiveAgent offers plenty more features regarding either ticketing and email management, as well as other communication channels. Make sure to check out the website and find out more about its email management features and functionality. Furthermore, LiveAgent also supports a large number of native and external integrations, which can enhance your functionality even further whenever you need it.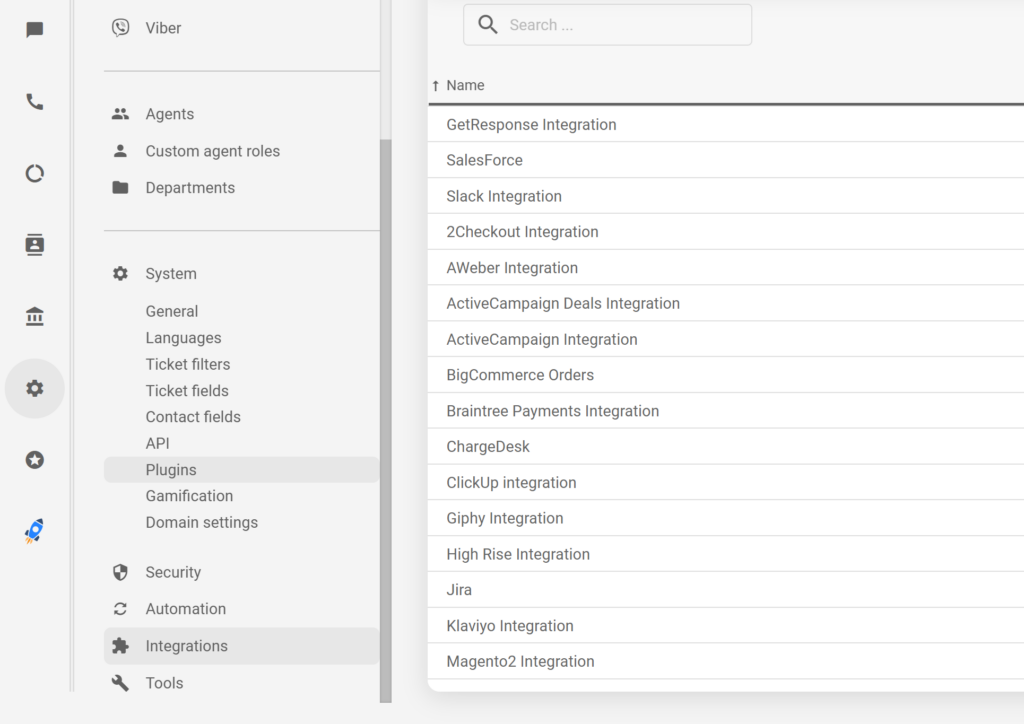 LiveAgent email management software in action
Let's take a look at how LiveAgent performs in a standard use case scenario. I sent myself a couple of email examples to test out how the ticketing system works and to see if it's fast and responsive enough. I'm pleased to say that it is very responsive, and quite easy to use. Once I selected my Tickets inbox, I was able to see a list of tickets ordered by default according to their importance, which means the older a ticket is, the more important it is to reply to it. It's also clear that the ticket orders can be switched as well if needed.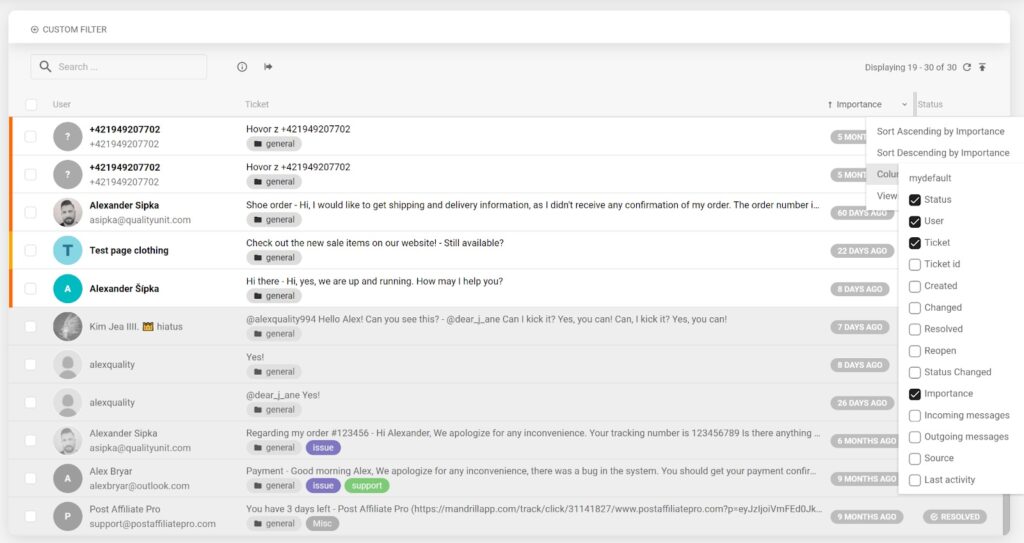 LiveAgent has a smart feature that lets you determine the status of unresolved tickets by looking at a color-coded tag located on the left side of the ticket. Depending on the color, I was able to differentiate between emails that were just delivered, or those that were already opened by someone, in addition to other status options. You can also see basic contact information, tags, dates when the emails or other tickets arrived, and more. It's pretty well thought out, but seeing a full inbox remains just as intimidating as in a regular mailbox. There are some actions and mass actions that can be performed in the inbox as well, such as adjusting filters, doing transfers, deleting messages, and more.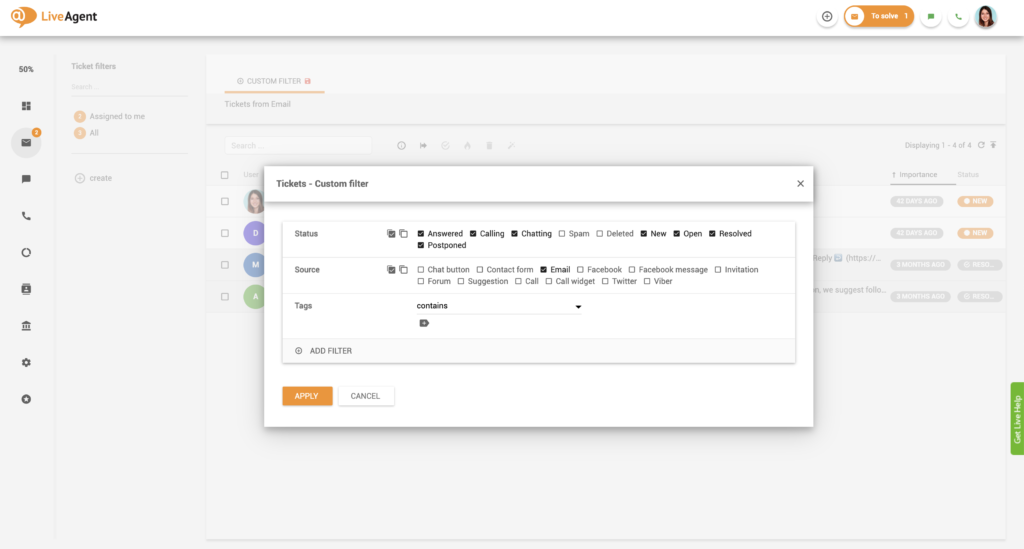 Once I open any ticket, the interface remains very functional, offering plenty of options and features for proceeding in multiple ways. I can access contact details, ticket notes, integrations and other features on the right side of the ticket view. The center of the screen offers a view of the message as well as rich space for replying. I can also access more functionality in this section and use canned messages or predefined answers as well.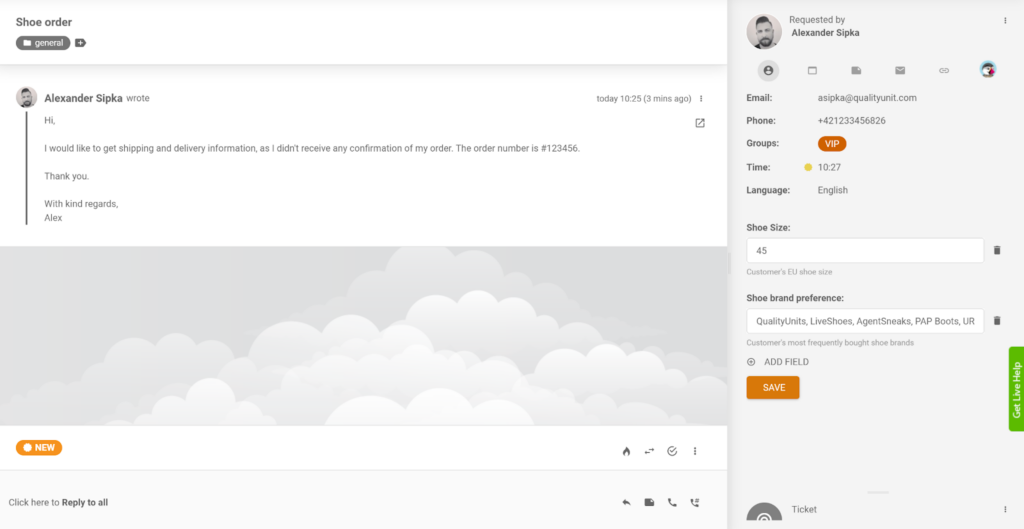 Once I hit the option to reply, LiveAgent automatically fills out a greeting and a valediction, and it even fills out the name of the person I'm replying to. This is a pretty useful feature, especially when you're dealing with dozens of emails daily. The system even adds a link which will take the addressee to a customer portal where they can give you feedback or see the history of their tickets. LiveAgent supports standard attachment types, and you can also copy and paste images directly into the message.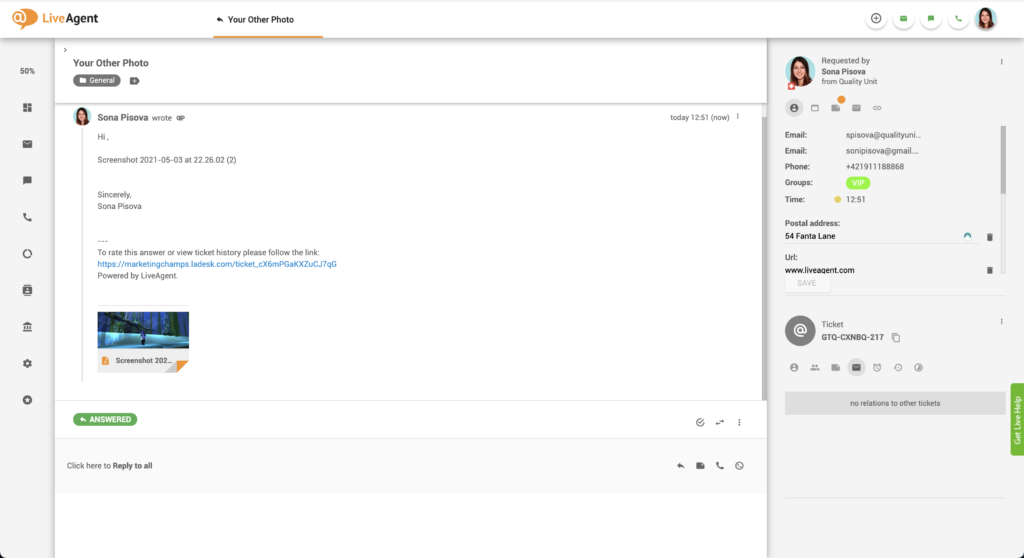 Overall, working with LiveAgent is a pleasurable experience that takes a lot of difficulties out the window when it comes to email management. Replying is smooth, and all additional features give you a better idea of who you're dealing with, as well as giving you plenty of options to increase your efficiency during your day-to-day work. While the ticketing system isn't necessarily a standard when it comes to email management, I found it to be very useful for identifying pressing issues and prioritizing emails that haven't been opened or answered.
LiveAgent email management software pricing
Since LiveAgent offers a much larger functionality besides email management, you can consider purchasing a plan which will give you more options. All LiveAgent plans, including the free one, offer email management capabilities, but you can get access to more email management and ticketing features if you upscale. Let's take a look at what each plan offers.
Free
The Free plan costs you nothing and you can keep it for as long as you like, but it does come with some limitations. You get 7 days ticket history, 1 incoming email account, 1 outgoing email account, and 3 departments. However, you also get access to 1 live chat button, 1 custom filter, a customer portal, a knowledge base, and white glove setup, among other things.
Small
The Small plan costs $9 per month per agent annually, or $12 per month per agent with monthly billing. You get access to 1 incoming email account, 3 outgoing email accounts, 10 departments, 1 live chat button, chat satisfaction surveys, 1 API key + integration, a knowledge base, customer service, white glove setups, as well as much more ticketing features which add a lot of great functionality to your email management.
Medium
The Medium plan goes for $29 per month per agent annually, or $35 per month per agent with monthly billing. It gives you access to everything from the Small plan, plus 10 incoming email accounts, 10 outgoing email accounts, call center support, 20 departments, IVR, product training, custom domain hosting, 20 event rules, 10 time rules, 5 SLA levels and many more great features.
Large
The Large plan costs $49 per month per agent annually, or $59 per month per agent with monthly billing. You get everything from the previous two plans, as well as 40 incoming email accounts, 40 outgoing email accounts, 3 WhatsApp accounts, 50 departments, Multi-knowledge base, senior account manager, 2 knowledge bases, 100 event rules, time reports, 10 SLA levels, audit log, and plenty more.
Enterprise
The Enterprise plan is $69 per month per agent annually, or $85 per month per agent with monthly billing. It offers all features from all previous plans, but adds a lot of extra services for clients who require them. You get a dedicated key account manager, priority support, assisted WhatsApp integration, custom billing setup, scheduled release management, service review call and reports, up to 40 custom roles, multileveled knowledge base, assisted channels integrations.
Conclusion
LiveAgent can serve you very well as an email management software, and it provides all important functionality that you might require from such a solution. Besides that, it's ideal for many other use cases and you can highly benefit from it if you require other communication means besides email. Either way, LiveAgent is a great solution for email management, and you won't go wrong with it, no matter which plan you choose in the end.
Frequently Asked Questions
How can I set up automated responses in LiveAgent?

You need to create a new Rule in LiveAgent to set up automatic responding. First go to Configuration > Automation and select Time rules or Event rules. Click on the Create button and set the correct conditions for automated responses. Choose the action Send message and choose which email template will be sent automatically. Make sure to save the rule. If you have trouble setting up automated responses, take a look at this knowledge base article about email automation.

How do I create email templates in LiveAgent?

Go to Configuration and select Email. You can choose between Agent templates and Customer templates. Agent templates are for internal messaging only, while Customer templates can be sent to email addresses outside of your LiveAgent account. LiveAgent offers various types of pre-made templates which you can easily edit here.