Email support is one of the most widely used and important channels of customer service. It's a flexible and fundamental medium familiar to both your customer service agents and customers. 
According to statistics, good customer service remains the most valuable asset for any company. Around 54% of consumers have higher expectations for customer service today, while 67% of consumers believe that, as a whole, customer service is improving.  
On the other hand, customers are willing to pay more for an exceptional customer experience. While chat and phone will provide your consumers with timely responses, email support allows people to think things over and communicate their issues more precisely. It also gives customer support more time to come up with an effective solution and structure their answers. 
The most effective email support systems have ticketing features that allow your customer service and support professionals to manage incoming queries, reduce stress on your email support queues, and distribute incoming cases more efficiently. 
Since there are so many email support systems to choose from, here are the 25 best email support system solutions to keep an eye on in 2022.
What is an email support system?   
Also called an email ticketing system, an email support system is an excellent business solution for managing your email traffic, as well as assigning, prioritizing, organizing, and tracking emails.
An email support system allows your customer service agents to filter out the most important customer emails and set the ticket status based on priority. As soon as a customer's email lands in an email support system, it becomes a ticket.
Agents track the status of each ticket via a business application and organize them further down the funnel. An effective email ticketing/support system allows a business to handle customer requests and issues and increases customer satisfaction. 
Aside from that, this system is also a single place for managing and tracking every existing customer inquiry. What makes it so valuable today is that it isn't confined to just email but also gives you access to messages from live chat, social media, phone calls, and your knowledge base.
Try out LiveAgent
Handle all email traffic from from a single interface with LiveAgent.
Why use an email support system in your business
Your business may be just fine with using email or any other customer support software solution to handle your service operations. However, if you want to take your customer service capabilities to the next level, you'll need a professional email support system. Here are some of the benefits of adopting such a system in your business.
A centralized system for organizing high volumes of customer inquiries
One of the most important reasons to use an email support solution is to control your incoming customer support queries. It allows you to fully catalog, organize, and prioritize all incoming customer requests. 
If you're dealing with high volumes of requests daily, such an advantage is critical for your business. Aside from improved customer support, this system makes sure that no customer inquiries go unanswered. 
Manage all interactions from a single place
Email support and ticketing systems function seamlessly in modern multi-channel environments. If you're trying to reach your consumers through various channels, a support system can help you consolidate all interactions and customer communications into one unified thread. 
In other words, you get to provide each customer with a personalized experience by allowing them to send their inquiries via their preferred channel of communication. That way, your customers get the highest level of personalized service, and you get a unified solution for managing all customer communications.
Seamless customer service experience for each customer
86% of customers expect customer service agents to know their previous purchases and have insights into past interactions. Businesses that don't invest in a suitable email support system fail to meet these expectations because their customer service staff seldom has the necessary context to handle the issue at hand efficiently. 
That can change with the use of email support and a ticketing system. This solution gives your agents insight into past interactions with every consumer.
Improved customer communication and satisfaction
Since an email support system puts all interactions into one shared location, it makes the entire communication between your customer service and consumers more manageable. Consumers can contact customer support from all standard channels, and agents can identify and respond with a tailored message based on the channel the customer used to send the inquiry. Such a level of personalization can do wonders for customer satisfaction.
Top 5 email support systems compared
| | | | | |
| --- | --- | --- | --- | --- |
| Email support system | Capterra Rating | Free version  | Free trial | Starting price  |
| LiveAgent | 4.7/5 (approx. 1K reviews) | YES | YES | $9 per agent/mo |
| ZenDesk | 4.3/5 (approx. 2.5K reviews) | NO | YES | $19 per agent/mo |
| Zoho Desk | 4.5/5 (approx. 1.6K reviews) | YES | YES | $14 per agent /mo |
| ProProfs Help Desk | 4.9/5 (8 reviews) | YES | YES | $15 per agent /mo |
| Freshdesk | 4.5/5 (approx. 2.3K reviews) | NO | YES | $19 per feature /mo |
Dated as of June 14th
Best email support system features
Since there are so many different email support systems out there, it can become quite challenging to find an option that suits your business needs. 
Fortunately, we have come up with a list of the best email support system features that you should look for when choosing an email support system for your company. Whether you'll go with a big industry name or a smaller alternative email provider, these features should be at the top of your list of priorities.
Automated ticket distribution
One of the crucial features your email support system should have is automated ticket distribution. This invaluable tool automatically assigns tickets to your customer service agents based on a set of rules. It can either assign tickets to agents based on their particular skills or route tickets to agents that are available at the moment.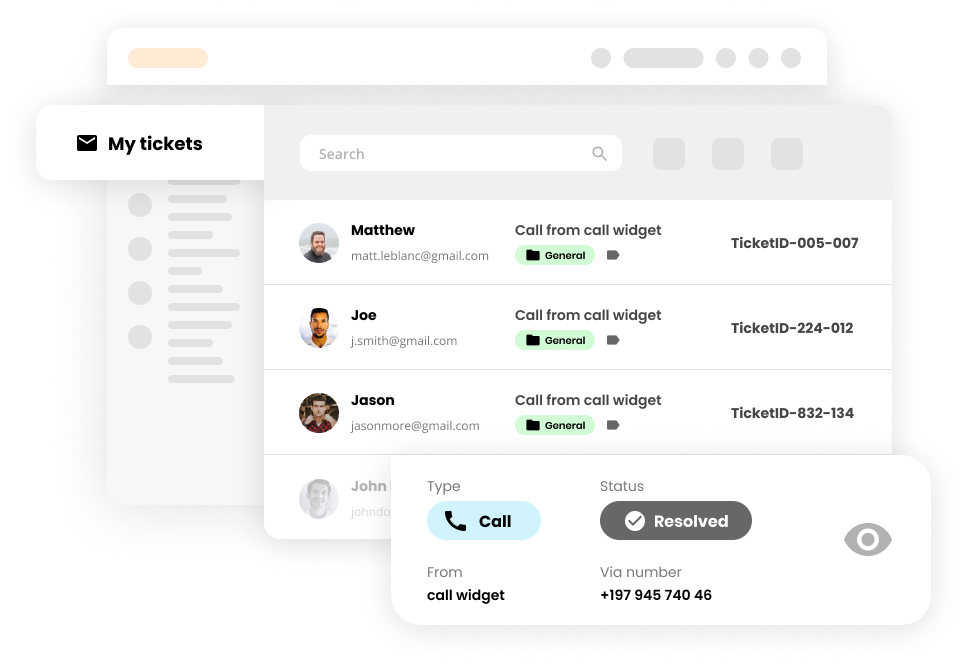 Self-service knowledge base
Your email ticketing solution should allow for proactive services through a help center or a customer-centric database. This database or customer portal allows your customers to find any information they need through an FAQ page, videos, or how-to articles.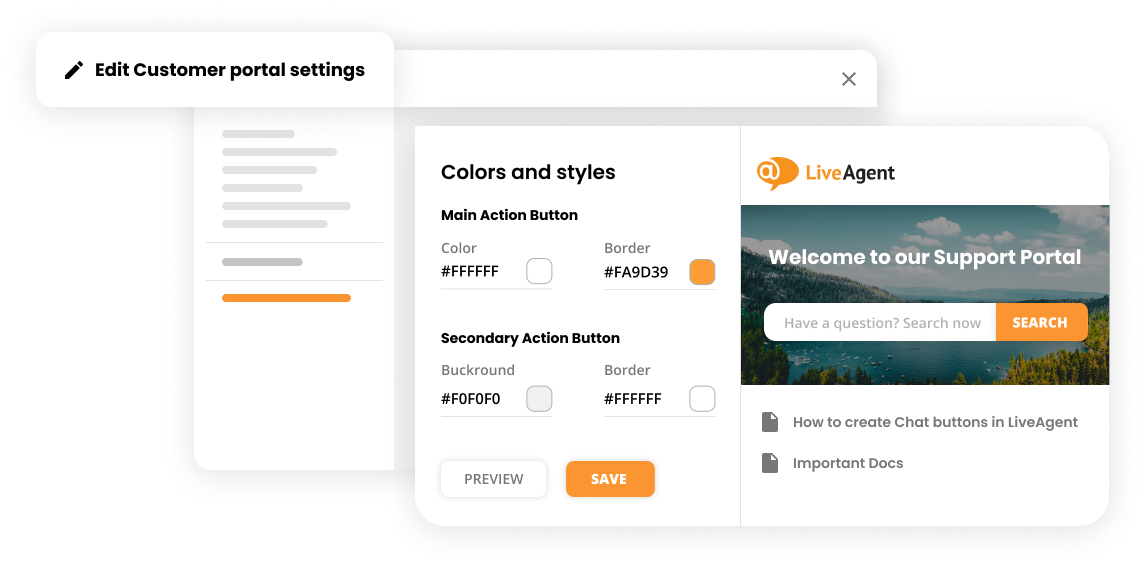 A ticket system is nothing without an advanced reporting feature. This feature allows you to track various customer service metrics and performance indicators. You can also identify weaknesses in your customer service by encouraging customers to leave their feedback and rate your service.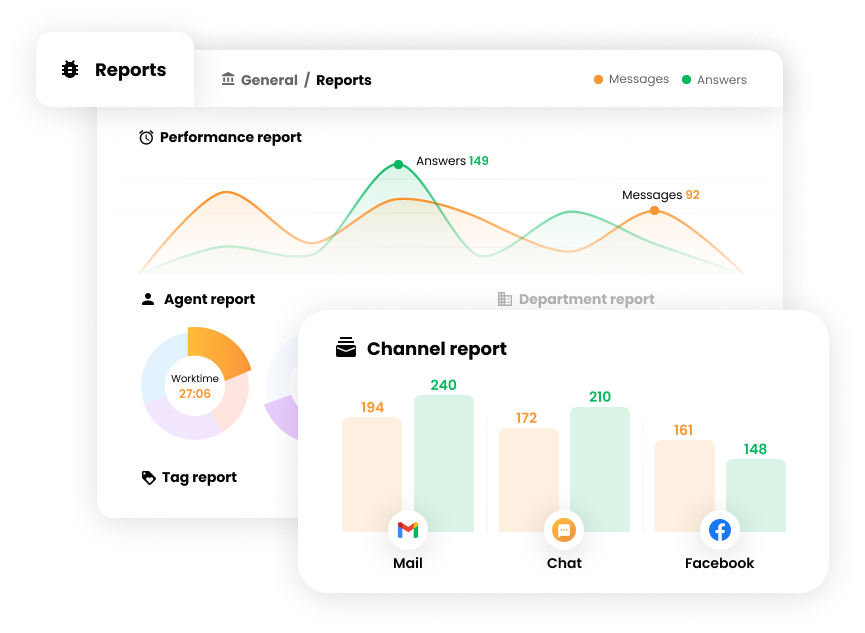 How much does an email support system cost?
Not all solutions come with the same pricing models and plans, and the price can vary dramatically based on the number of agents you employ. The price also determines the number of features you can access and use. 
The prices can vary from as low as $10 per month per user to ten times that number. If your business has specific needs, a solution with a custom pricing model might be the best option.
The 25 best email support systems of 2021
1. LiveAgent
LiveAgent is among the most trustworthy email support systems on the market. LiveAgent provides modern help desk features like ticketing, live chat, and CRM that allow businesses to enhance their customer service. In addition, it offers unlimited agent seats, migration services, and an option to connect with the most popular social media networks like Facebook, Instagram, and Viber.
LiveAgent: Ticketing Software Demo | Live Agent03:21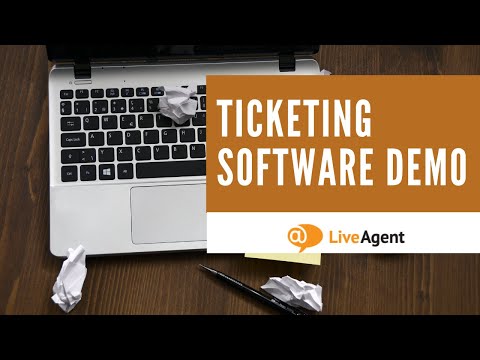 Live Agent
Along with a unified inbox, you get access to a knowledge base and a range of native, external, and Zapier integrations with third-party apps as well as mobile apps for both iOS and Android. 
LiveAgent boasts 26 industry awards in various categories, making it an ideal solution for your customer service needs.
Key features:
Ticketing system
Universal inbox
Live chat
Help desk
Knowledge base
Automated ticket distribution
Agent collision detection
Mobile apps for iOS and Android
Language adaptable widgets
Automatic callbacks
Video calls
Call routing
Hybrid ticket stream
Unlimited agent seats
Email templates
Pros and cons:
Pros:
Fantastic customer support
Integrations with Facebook, FB Messenger, Twitter, Instagram, WhatsApp and Viber
Gamification with rewards, badges, and levels
Real-time reporting
User-friendly email ticketing interface
Demo
Free 30-day trial (no credit card required)
Forever free plan 
Cons:
Price:
Forever free plan
Small – $9/month
Medium – $29/month
Large – $49/month
Discover all that LiveAgent has to offer
Try out all these features and more with LiveAgent .
2. ProProfs Help Desk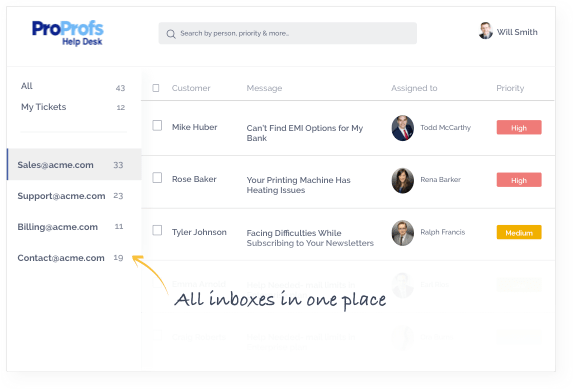 ProProfs offers unprecedented email support and a ticketing system that isn't only user-friendly but, also a multi-purpose solution for customer service. Aside from exceptional ease of use, ProProfs allows your agents to collaborate in real-time and assign different roles to each team member. 
The prioritization tool allows you to organize the incoming messages and ensure your agents never miss urgent tickets. However, the biggest strengths of this email support system are survey and knowledge base maker, live chat, and a range of other customer support tools that allow you to provide your customers with 24/7/365 customer service.
Key features:
User-friendly, multi-purpose interface
Real-time agent collaboration and collision detection
Simplified help desk workflow
Agent roles and permissions
Shareable customer feedback surveys, NPS, and CSAT
Knowledge base and FAQs to help reduce support ticket volume
Pros and cons:
Pros:
Ease of use
Real-time reporting
Free plan
Core help desk features
Cons:
No option to assign routed tickets to specialized agents
No option to personalize automatic responses to customers
Price:
Forever free plan
Essentials: $10/user/month
Premium: $15/user/month
3. Freshdesk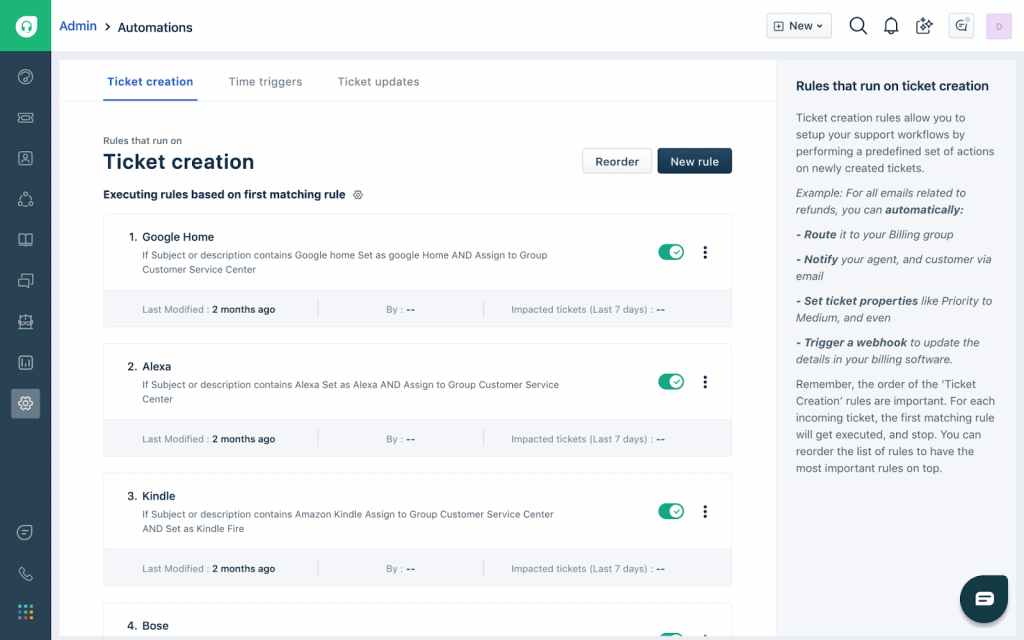 Freshdesk provides an intuitive interface and plenty of customization, which is why it is used by Fiverr, TeamViewer, and thousands of other businesses. 
The software is packed with excellent features for streamlining customer requests and handling issues. Your customer service agents can quickly gather data to analyze trends and customer feedback, manage conversations, and more.
Key features:
Facebook and Twitter conversation management 
Mobile application for customer support on the go
Access to the Freshdesk marketplace with more than 500 applications
Option to add a chatbot or a website widget to a self-service portal
Pros and cons:
Pros:
Variety of features like scenario automation, thank you detector, scheduling dashboard, and chatbot
Perfect for small and midsize companies
Contextual assistance
Cons:
Ticket assignment takes more time than with other tools
Troubles with email optimization on mobile apps
Price: 
Sprout: Free
Blossom: $15/user/month
Garden: $35/user/month
Estate: $49/user/month
Forest: $99/user/month
4. SysAid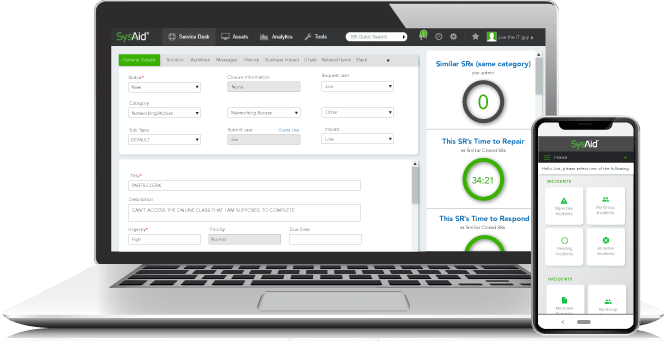 SysAid is powerful and convenient email support and management software that includes password reset functions, a self-service portal, live chat features, asset management, and more. SysAid is an excellent solution for improving decision-making and IT/email support performance for smaller and larger teams alike.
Key features:
Target relevant KPIs
Internal knowledge database
Live chat
IT support
Website chat icons embedding
View email and ticket history
Automated ticket routing
Domain password resetting
Personalized email support
Automated workflow
Pros and cons:
Pros:
Customizable ticket management
Accurate reporting
Asset management 
Live chat feature
Excellent customer support
Easy onboarding process
Cons:
Category management
The remote support feature could be better
Complicated configuration of the alerts module
Price
Price on request
5. SolarWinds Service Desk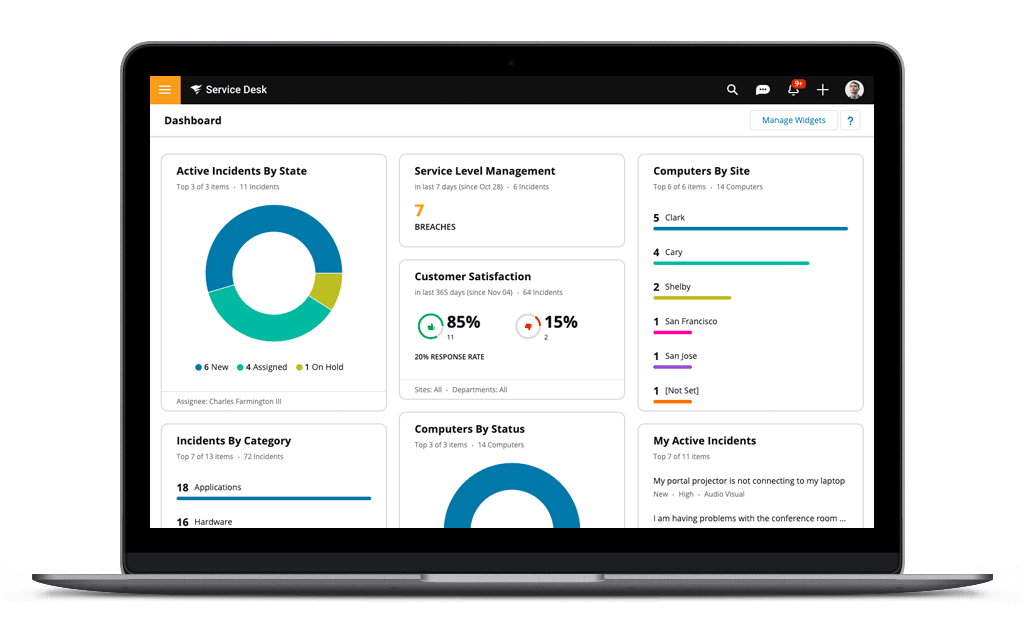 Many businesses need a centralized solution for managing multiple user requests across various channels, including self-service portals, walk-ups, phone calls, and email. That's where the SolarWinds service desk shines.
This tool allows you to easily customize the dashboard so that your customer support team can measure the industry-standard metrics. Your team can handle all ticket requests submitted through the help desk software and track the progress to improve your customer satisfaction score.
Key features:
Ticket prioritization and management
Various ticket management practices
Standardization of service fulfillment and request processes via a service catalog
A unified self-service portal for submitting requests and tickets
Real-time reporting on ticket resolution, ITIL processes, CSAT scores, SLA breaches.
Employee service portal
Pros and cons:
Pros:
Advanced ticket management 
24/7 access to service
Self-service portal
Service level management
Customizable dashboard
Remote management and login
Asset reporting
Ticket categorization
Excellent customization
Cons:
Poor integration with third-party software
Reporting templates need improvement
Poor technical support
Poor Mac OSX support
Price
Team: $15/agent/month
Business: $29/agent/month
Professional: $49/agent/month
Enterprise: $69/agent/month
6. Zoho Desk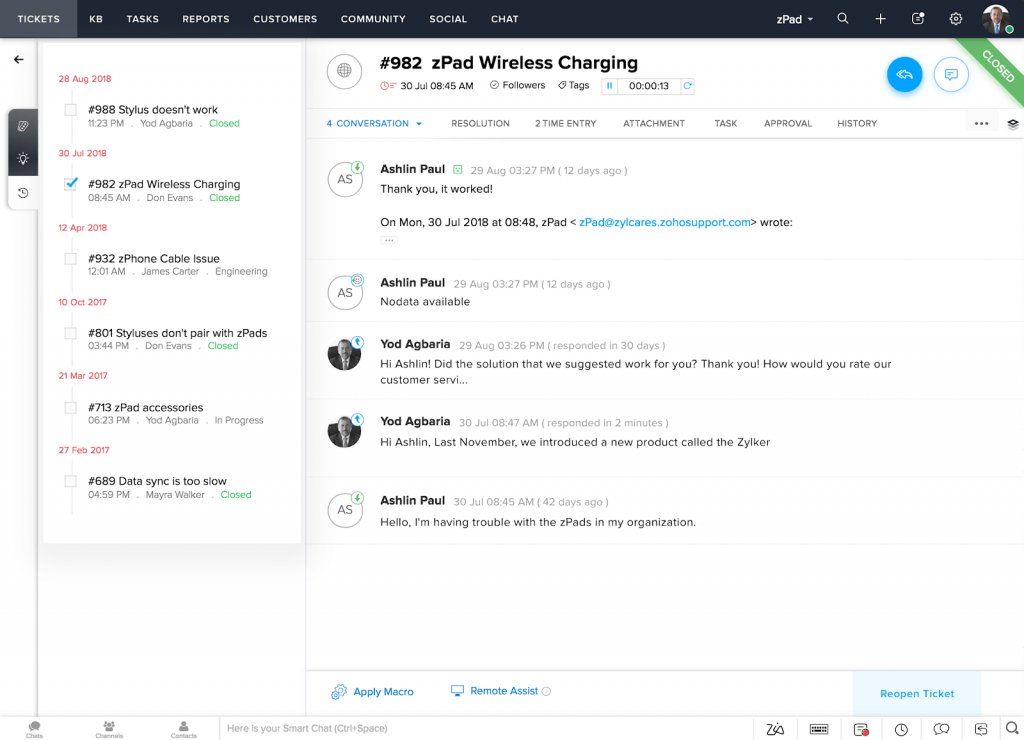 Zoho Desk is an excellent solution for companies that need a context-aware and intuitive email support and ticket management system with multi-channel options. Aside from fantastic email support in multiple languages, Zoho Desk also offers a function to automate answers to help your customer service staff stay on top of their daily workload. 
This software tracks multiple metrics and even helps you determine customers' preferences and common issues based on your previous interactions. It also has integrations with Zoho, MailChimp, Facebook Ads, Slack, G-Suite, and Microsoft Office 365. 
Key features:
Multi-channel support
Advanced ticket management
Customer context from past interactions
Updated templates
Mobile applications
Gather relevant performance metrics
Automated email answering
Customer feedback gathering
Pros and cons:
Pros:
Advanced ticket categorization
Advanced performance tracking
24/7 customer service
Compatible with popular platforms and mobile apps
Zoho integration
Time tracking
Ease of use
Easy tasks assignment
Message updates
Cons:
Zoho CRM integration could be better
The interface can be confusing and difficult to use
Complicated automation setup
Not enough customization options
Price
Free: up to 3 agents, limited features package
Standard: $12/agent/month
Professional: $20/agent/month
Enterprise: $35/agent/month
7. Intercom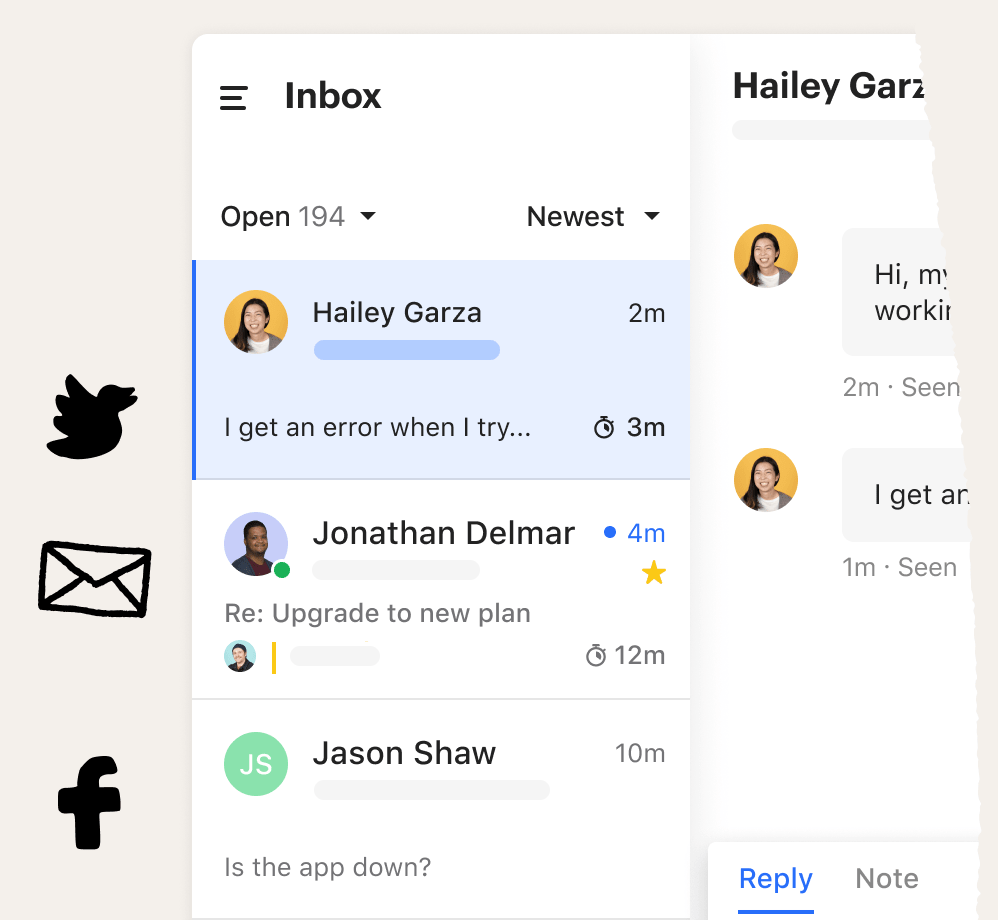 Intercom is an excellent solution for businesses that typically respond to customer interactions, requests, and inquiries via mobile apps and social media networks. 
If most of your customers prefer using mobile, Intercom has you covered. Its native Android and iOS apps allow your agents to keep track of all customer interactions in real-time. Intercom also includes an email support system that will enable you to divide your sales and customer support into two separate inboxes for easier management.
Key features:
Automate daily tasks
250+ additional tools
AI-powered bots
Advanced reporting
Conversation prioritization and routing
Live chat
Pros and cons:
Pros:
An excellent time-saving tool
Ease of use
Reduced manual work
250+ tools
Upfront information gathering
Social media integration with Facebook, FB Messenger, and Twitter
App integrations with Google Meet, Stripe, Aircall, Zendesk Support, and more
Share reports 
Advanced automation
Cons:
Troubles with Salesforce integration
The UI can be confusing
Slow user-initiated actions
Price
Start: $39/month 
Grow: $99/month
Accelerate: $499/month 
Scale: $999/month 
8. Zendesk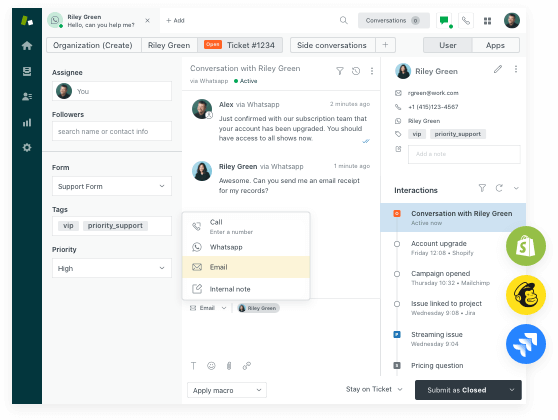 Zendesk is much more than just an email support system – it's a practical all-in-one solution. It's great for solving customer support tickets, prioritizing, and tracking all customer interactions. In addition, Zendesk allows you to manage all interactions from a single place to make your customer support more personalized and efficient. 
One of its biggest strengths is that it supports self-service. You can provide your target audience with a dedicated help desk and a community forum where they can find solutions to their problems without the need to contact your customer support team. That, in turn, reduces average waiting and resolution time and improves your customer satisfaction score.
Key features:
Easy-to-analyze reports
Trend tracking and monitoring
Customer data integration via multiple options
Skill-based ticket assignment
Escalate customer support and service issues
Self-service portal and community forum
AI-powered bots
Pros and cons:
Pros:
Easy reporting
Multiple integration options
Customer service CRM
Dedicated help center
Cons:
Even when a specific trigger is deactivated, you can still apply other triggers to a ticket
You can only manage a limited number of tickets
Cluttered interface
Price
Suite Team: $49/agent/month
Suite Growth: $79/agent/month
Suite Professional: $99/agent/month
9. Hiver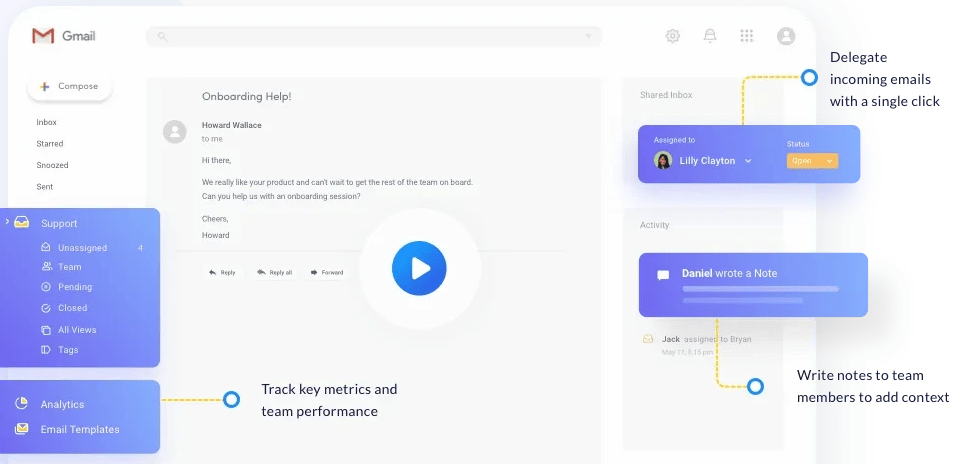 Hiver is a simple and effective solution that allows you to use your Gmail inbox. You can assign email tickets to your agents with a single click and keep all your customer conversations organized. Hiver also has advanced reporting and provides actionable insights into your overall performance, SLA violations, and workload distribution. All that, plus its integrations with Zapier and Slack, make it a simple yet highly effective tool. 
Key features:
Email tags for improved prioritization and categorization of customer issues
Collision alert feature for receiving notifications when responding to emails
Activity timeline for viewing all email actions
Seamless workload distribution and optimization
Additional communication channels and customer service contacts via Zapier and Slack
Gmail ticketing system
Pros and cons:
Pros:
Fast customer service
Zapier and Slack integration
Great user experience
Cons:
Automation rules need more optimization options
Features like a website chat widget and CRM integrations and not included
The system lacks bulk-adding email addresses
Price
Lite: $7/user/month
Grow: $22/user/month
Pro: $37/user/month
Elite: $57/user/month
10. Spiceworks help desk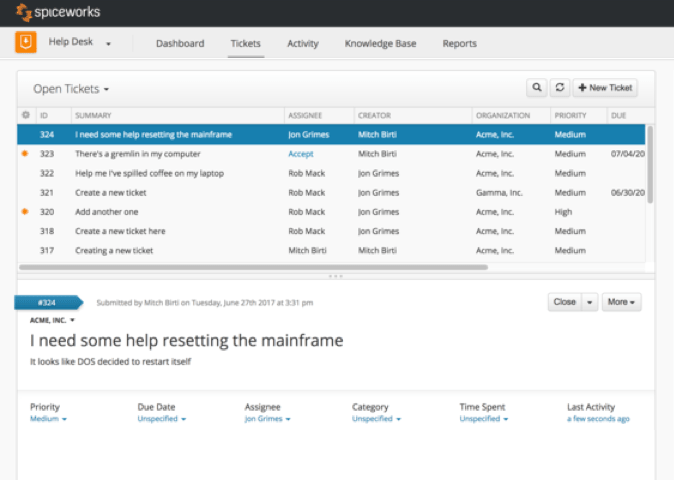 Spiceworks help desk is a perfect choice for those who want to empower their customers to submit new inquiries without getting in touch with customer service agents. Instead, your staff can use this help desk software to create a user portal through which customers can submit tickets and monitor the progress of their existing requests. 
It allows you to create a knowledge base where you can provide answers to the most frequently asked questions. Spiceworks also helps your customers educate themselves on how to get the best customer service. The mobile apps offered alongside this email ticketing system will ensure your team is always up-to-date with the latest tickets.
Key features:
Improved ticket organization
Custom fields
Agent collaboration
Customizable user self-service portal
Auto-assign tickets to multiple agents
Remote email support
Pros and cons:
Pros: 
Free software for enterprises and individual users
IT service management
Push notifications
Mobile apps
Compatible with mobile devices
Cons:
Limited cloud version
It doesn't support the ITIL framework
Price
11. HelpCrunch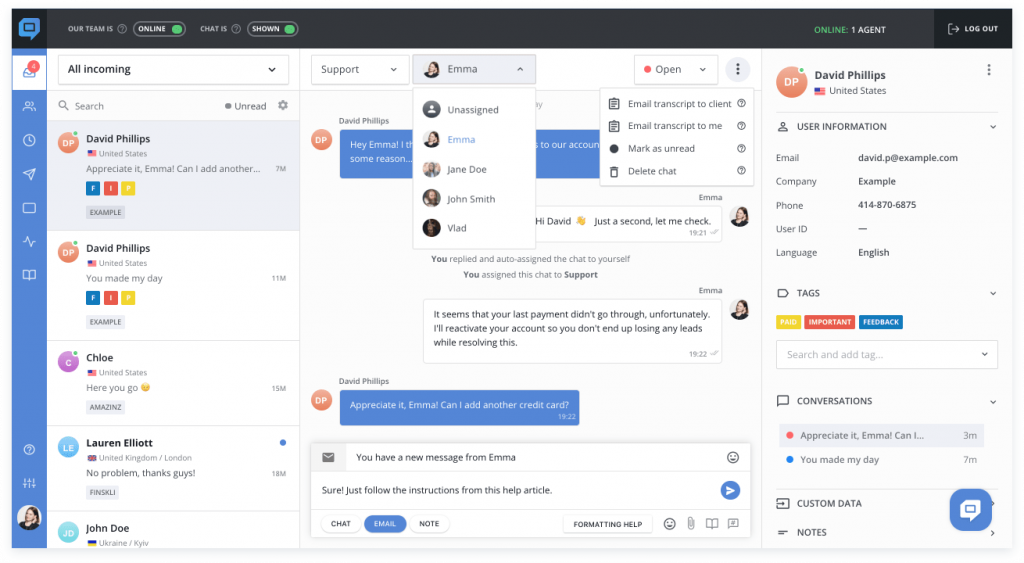 HelpCrunch provides several excellent features, including automated email follow-up sharing, timely messaging previews, and advanced chatting features. 
However, its main advantage is the option to perform multiple tasks simultaneously — merge, assign, and tag support conversations to increase your customer service team's productivity. A single agent can handle up to five customer interactions concurrently, reducing customers' average waiting time.
Key features:
Pre-made answers to customer FAQs
Slack, email, and browser notifications
Canned responses
Mobile and web live chat
Customer feedback gathering
Online status indicator
Customer rating
Pros and cons:
Pros:
Easy ticket management
User-friendly interface
Slack integration
Self-serving knowledge base and FAQs
Mobile app for both iOS and Android
Unified, shared HelpCrunch inbox
Automated email follow-ups
Cons:
More language translations are required
Facebook and Twitter integration still in the works
Chatbot customization options are lackluster
Price
Standard: $23/user/month
Premium: $39/user/month
Enterprise: On request
12. ConnectWise Control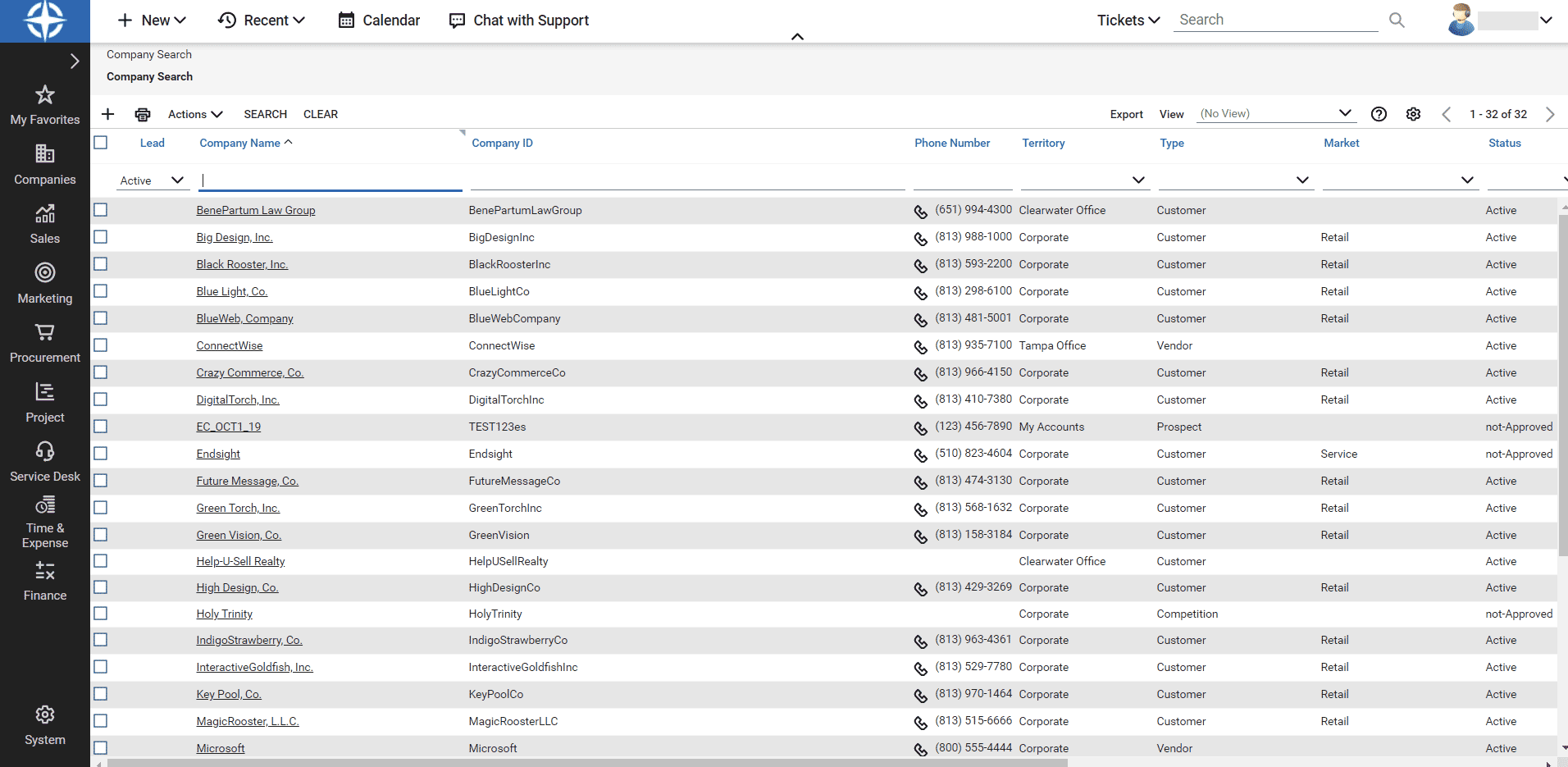 Initially designed for IT teams and departments, the worldwide recognized ConnectWise Control is an intuitive software that allows you to harness the power of automation. 
It can also be an excellent tool for improving customer experience. Its many features include asset, project, inventory management, help desk, and the advanced email support system for easier prioritization and email scheduling. 
The software also includes chat tools and can be tested for free. As a result, it's a complete solution for managing customer service team assignments and automating tickets.
Key features:
Real-time chat
Compatible integrations
Advanced reporting
Interaction tracking
Deployment to the cloud
Compatibility with Android, iOS, Windows, and Mac
Ticketing strategies
Automation of notifications and tickets
Team assignments
Time tracking
Account management
Cybersecurity assistance
Pros and cons:
Pros:
Free demo
High compatibility with digital software and operating systems
Third-party integrations
Additional options
Help desk
All-in-one software
Cons:
No document storage
Needs automated routing
Price
Single License Restriction: $19/month
Standard: $35/technician/month
Premium: $45/technician/month
13. Freshservice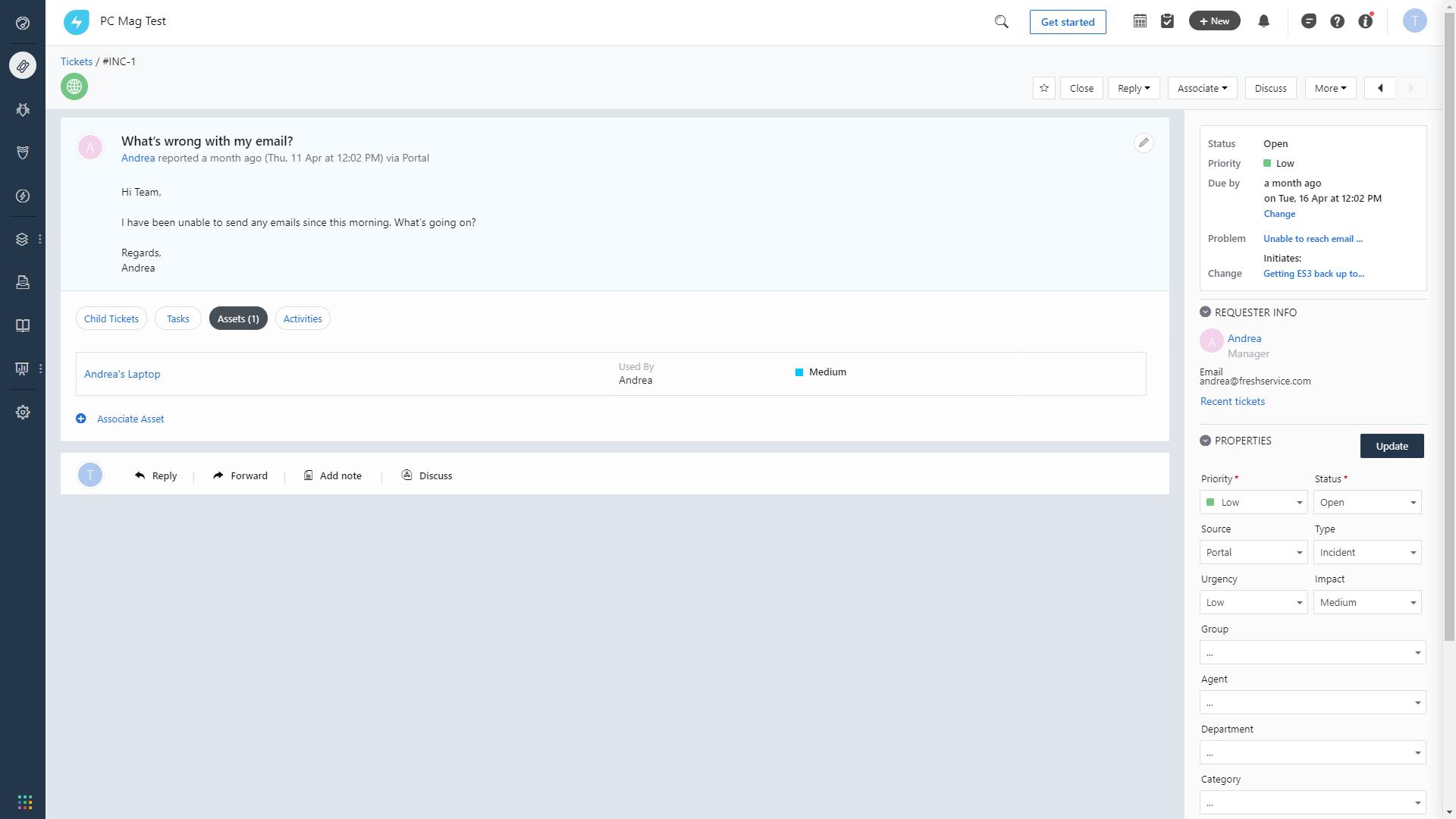 Freshservice isn't only an email support system and help desk software but also a cloud-based IT service management tool. This unified solution provides companies of all sizes with the most effective way to streamline both team and individual workflow.
Workflow optimization and automation are excellent system processes for assigning, categorizing, and prioritizing tickets based on preexisting rules. Your customer service agents can easily remove or edit ticket rules as they please. The software also includes additional options like IT asset management and project management.
Key features:
24/7 live customer support
Document storage
Automated routing
Gamification options
Ticket automation
Email management
Workflow automation
Mobile apps for Android and iOS
IT service management
Remote access to the email ticketing system
Pros and cons:
Pros:
21-day free trial
Multi-channel support
Cloud-based ITSM
Ease of use
Compatible with mobile devices
Data tracking
Cons:
Price
Starter: $19/agent/month
Growth: $49/agent/month
Pro: $89/agent/month
Enterprise: $109/agent/month
14. Front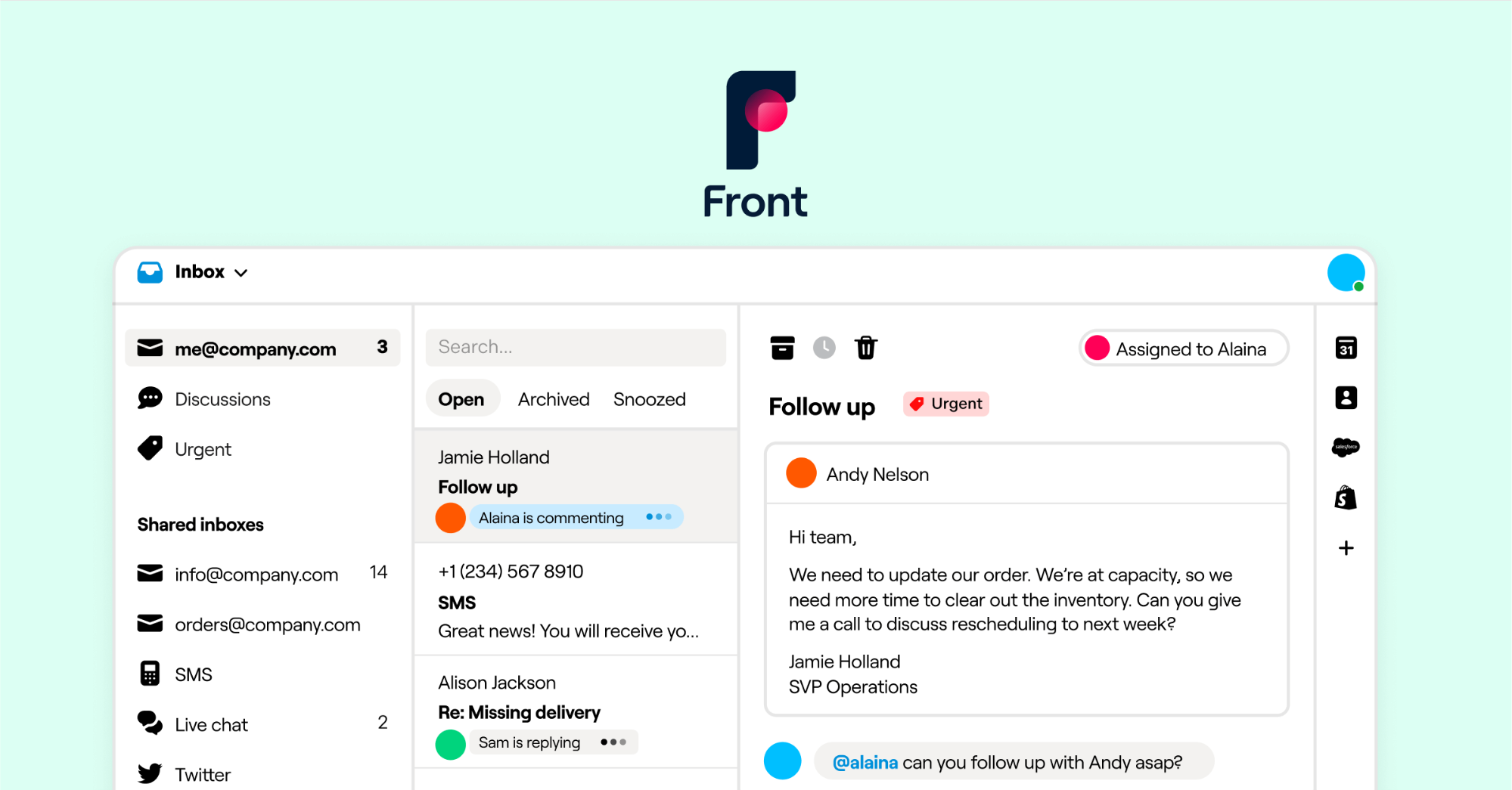 While designed as an inbox management solution, Front is an excellent email support system for small to midsize companies with many valuable features, including automatic ticket routing. 
Aside from all the usual goodies like canned responses and team performance tracking, Front supports third-party software integration. It allows your customer support agents to build automatic workflows, organize customer interactions, prioritize requests, and more. Front also offers numerous add-ons such as additional team channels, increased API limit, and a Twitter integration.
Key features:
Inbox management tool
Email ticketing system
Canned responses
Team performance tracking and analytics
Automatic workflows
Task prioritization
Twitter integration
Real-time reporting
Automated ticket routing
Pros and cons:
Pros:
Dedicated team inbox
7-day free trial
Additional add-ons
Additional team channels
Automated requests
Real-time chat
Iteration tracking
Cons:
No document storage support
Price
Starter: $19/person/month
Prime: $49/person/month
Enterprise: $99/person/month
15. HappyFox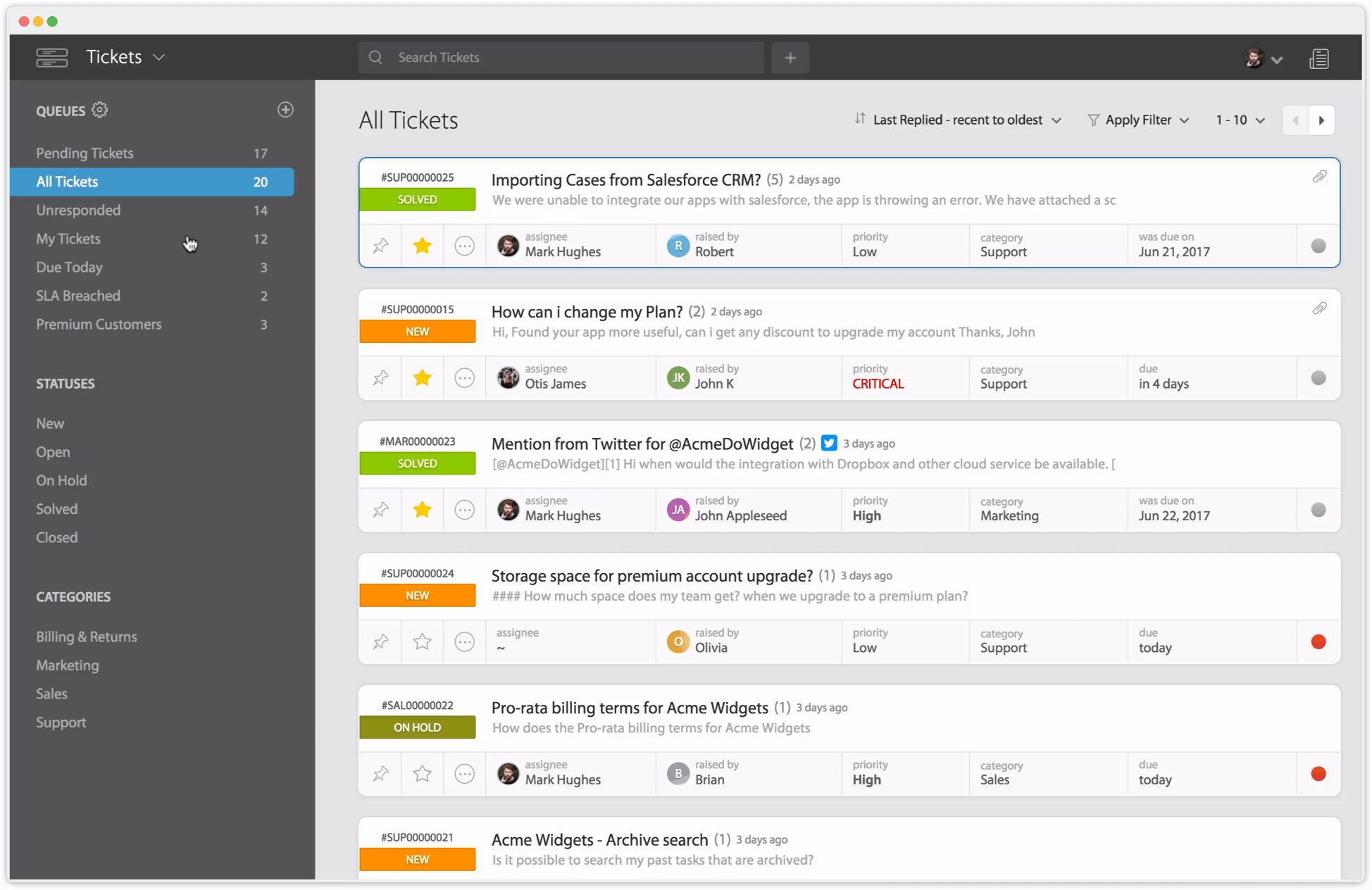 HappyFox provides a highly effective web-based email ticket support system and online help desk software. This software allows you to fully customize the customer service experience with personalized workflows and custom fields.
Help desk integrations are enough to match even the most demanding business needs, and you can also add a chatting option to your website. With HappyFox, you get an effective management system with additional options such as multi-channel ticketing and pinned tickets.
Key features:
Help desk integrations
Email ticketing 
Custom fields
Live chat
Multi-channel ticketing
Real-time reporting
Asset management
Alerts/escalation
Omnichannel support
Support ticket system
Self-service knowledge base
Pros and cons:
Pros:
User-friendly interface
Real-time chat
Ticket information modification
Daily to-do lists
Cons:
Price
Annual plan starts at $29/agent/month
The annual plan for enterprises goes up to $89/agent/month
16. Kayako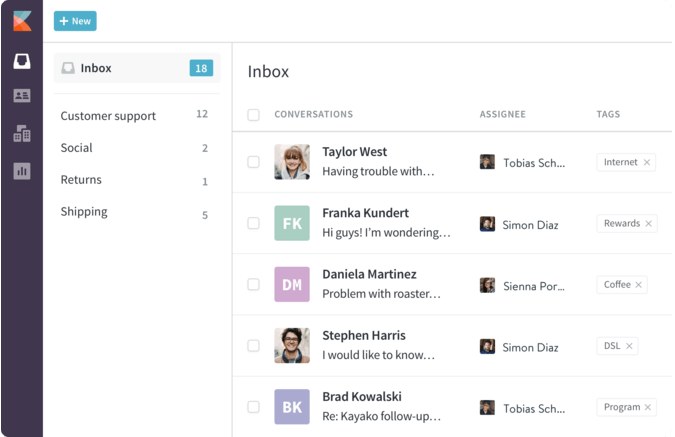 Kayako is a well-known customer service software for small businesses and startups, and government and charity organizations. While essentially a customer service support system, Kayako also offers well-rounded email ticketing support, including a live chat feature and an array of impressive features.
These features include team communication assistance and collaboration, canned responses, and CRM integrations. One of the advantages of using Kayako is that you can measure customer satisfaction through CSAT scores.
Key features:
24/7 live chat and customer support
SaaS, cloud, and web deployment
App and CRM integration
Canned responses
Team communication and collaboration
CSAT scores
Real-time reporting
Pros and cons:
Pros:
Ease of use
Easy integration
Collaborative solution
Live chat apps for iOS and Android
Cons:
No document storage
No interaction tracking
Price
Inbox: $15/agent/month
Growth: $30/agent/month
Scale: $60/agent/month
17. ManageEngine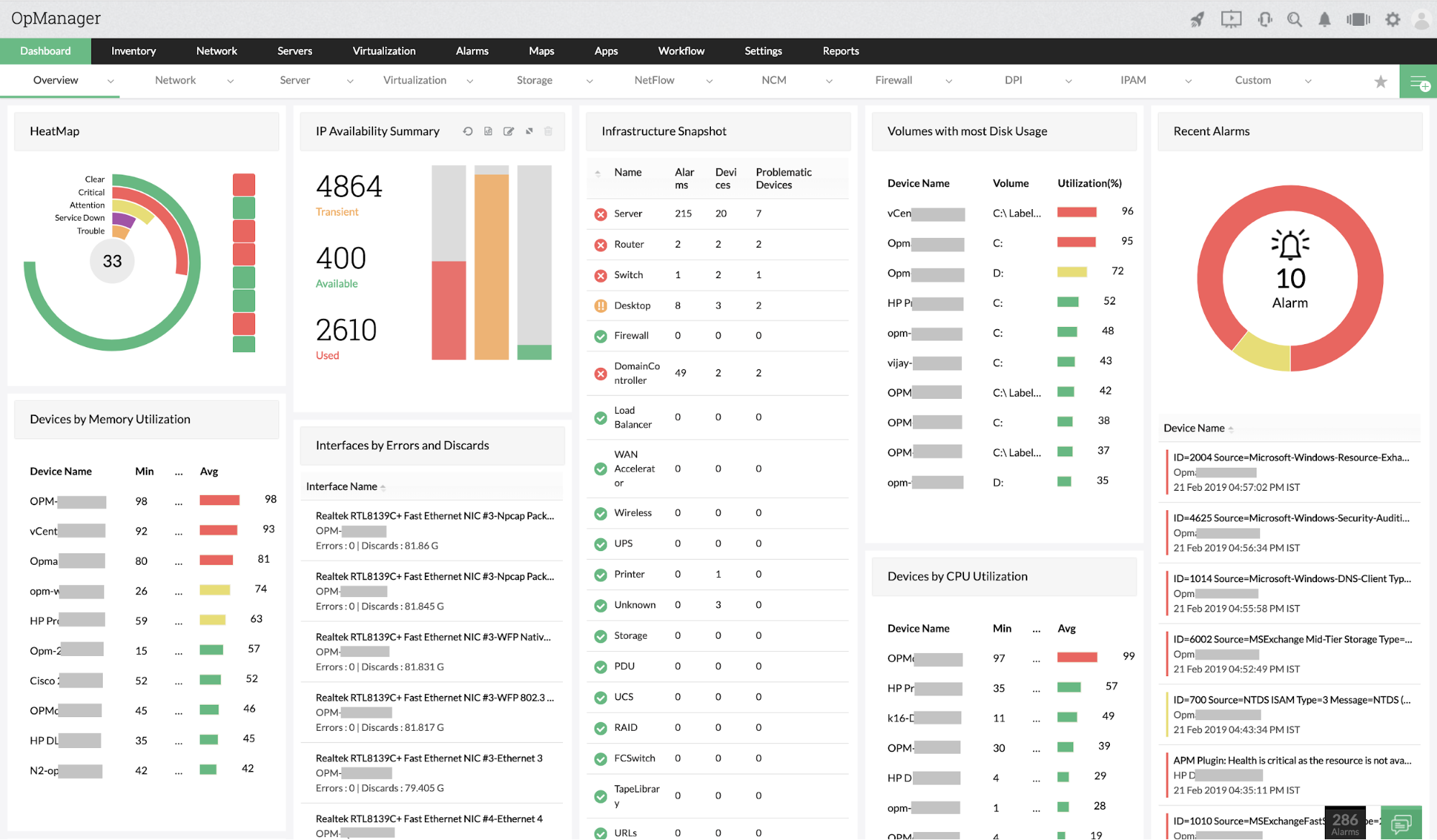 If you need a solution that unites IT management, email support, and ticketing, ManageEngine is the right software solution for you. It offers a broad suite of email support tools like a help desk, interaction tracking, and Disk Monitor.  
You can create an IT database, allow your customers to log their requests, and provide them with a self-service portal to keep them informed 24/7. You can also count on automated delivery, API integration, SLA management, and multi-site support.
Key features:
Internal and external database
Self-service portal
IT management
Automated delivery
API integration
24/7 live support
Document storage
Interaction tracking
Third-party app integration
Automated routing
Pros and cons:
Pros:
Real-time chat
Two-in-one solution
Free tools like PST Migration Tools, Script Zone, and Disk Monitor Lite
Native mobile apps for iOS and Android
Help desk system
Cons:
Difficult to find all devices seen on a server
The dashboard can be confusing and difficult to navigate
Price
Starter: starts at $10/technician/month
Prime: starts at $21/technician/month
Enterprise: starts at $50/technician/month
18. Salesforce Essentials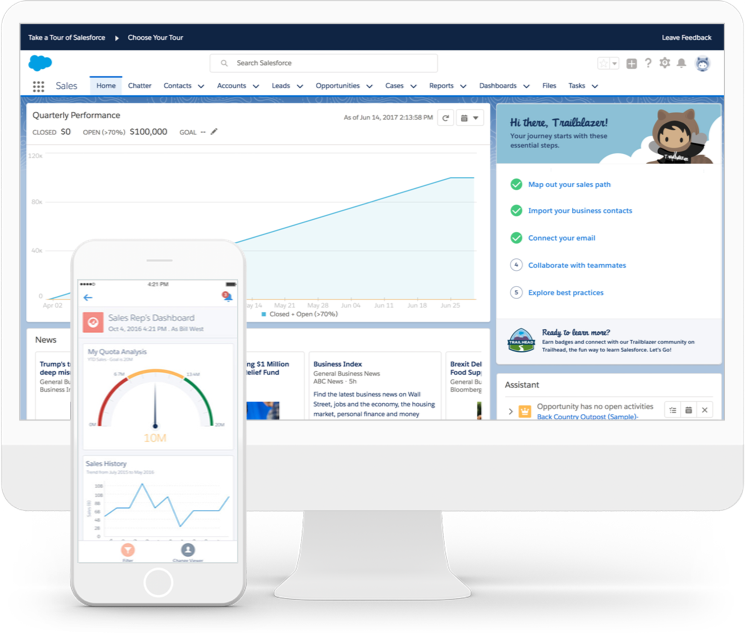 As stated by Forbes, Salesforce Essentials is one of the most innovative software solutions on the market. This cloud-based solution for small businesses provides companies with multi-channel email support. It also has a ticketing system optimized to support such organizations' customer support and service needs. 
The software helps you provide customers with self-service portals, store documents, automate routing, and track interactions. You can also tap into additional features like social media integrations, alerts/escalations, and ticket management. 
Key features:
Cloud-based email ticketing
Multi-channel support
Self-service portal
Document storage
Integrations with Facebook, Instagram, Twitter, Messenger, and YouTube
Alerts/escalation
Ticket management
CRM integration
Customer surveys and signatures
Pros and cons:
Pros:
30-day free trial
Android and iOS deployment
Document storage
Additional features
Guided onboarding
Easy setup
Help desk apps integration
Cons:
Limited customer support for email
Price
Prices range from $25-$300 per month.
19. Team Support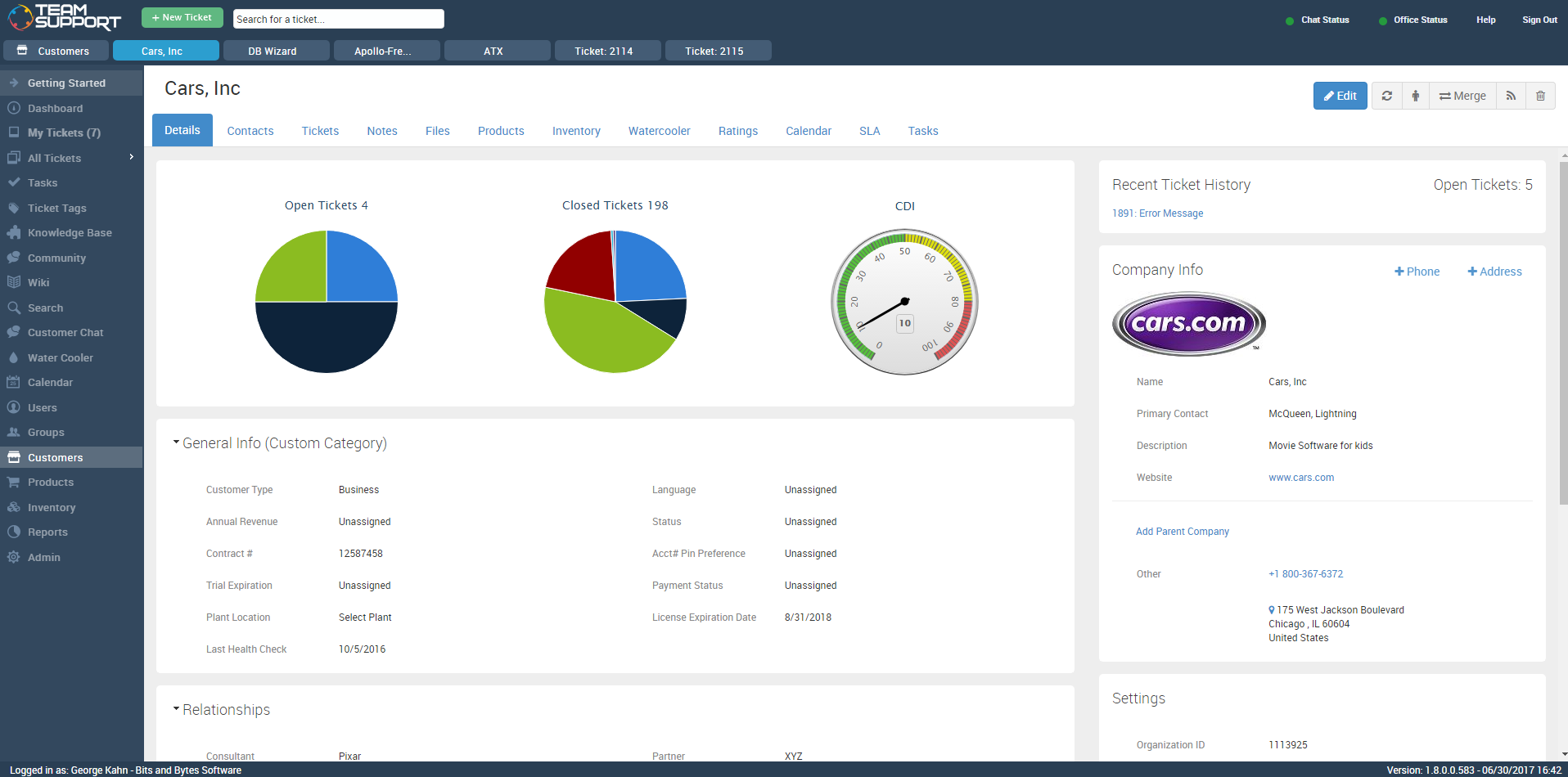 TeamSupport is a B2B-centered customer service software with the main focus on improving team collaboration. With this software, you can easily remove repetition from everyday tasks by using automation, escalating and handling tickets, setting up rules for ticket routing, and integrating support email. 
More importantly, this software is packed with additional features that provide your agents with the support and data they need, including suggested solutions.
Key features:
Automation
Email integration
Ticket management
Automated routing
IBM Watson technology
Remote customer support 
Pros and cons:
Pros:
Free demo
Accessible Android and iOS mobile app
Document storage
Sentiment analysis
Cons:
Price
Support Desk: $50/agent/month
Enterprise: $69/agent/month
20. Vivantio Pro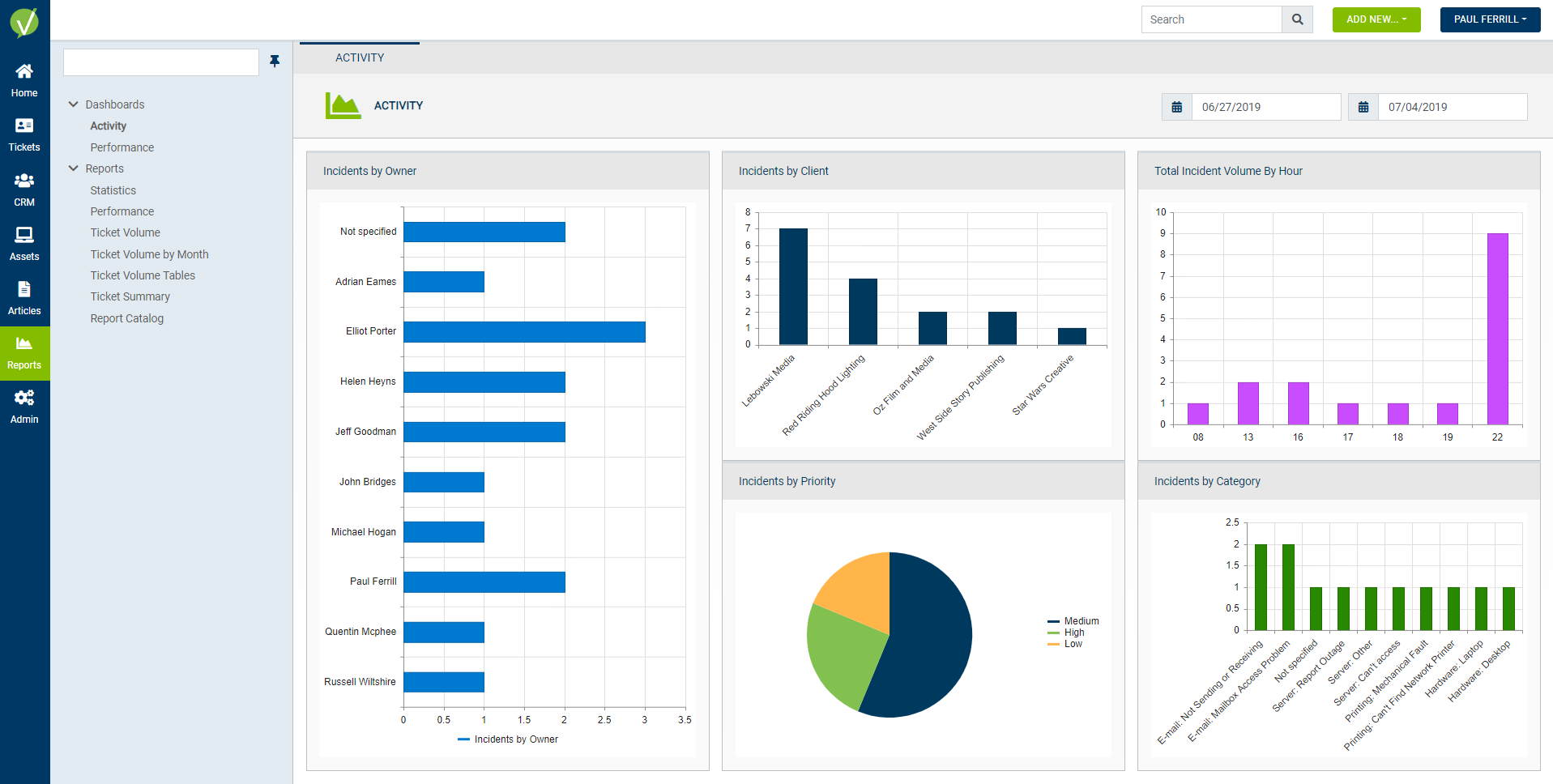 Vivantio Pro is considered to be the standard for ITIL-compliant and enterprise-focused user service and help desk offerings. Aside from its competitive price, Vivantio Pro comes with several advanced features that separate it from other email support and ticketing systems. 
You can make all your email ticketing operations more transparent, automate processes, create unlimited ticket types, and more.
Key features:
Self-service portals
Unified ticket inbox
Easy information distribution
Mobile edition
Manage multiple tickets
ITIL support
Multiple SLAs
KPIs monitoring and tracking
Custom fields
Create routing rules
Custom dashboard
Pros and cons:
Pros:
Easy configuration
Intuitive and user-friendly interface
Mobile app for Android
Database management
Global search ads
Cons:
Complete feature set requires the most expensive plan
Requires training for proper use
Price
Value: $42/user/month 
Vital: $52/user/month
Velocity: $82/user/month
Visionary: $142/user/month
21. Agiloft Service Desk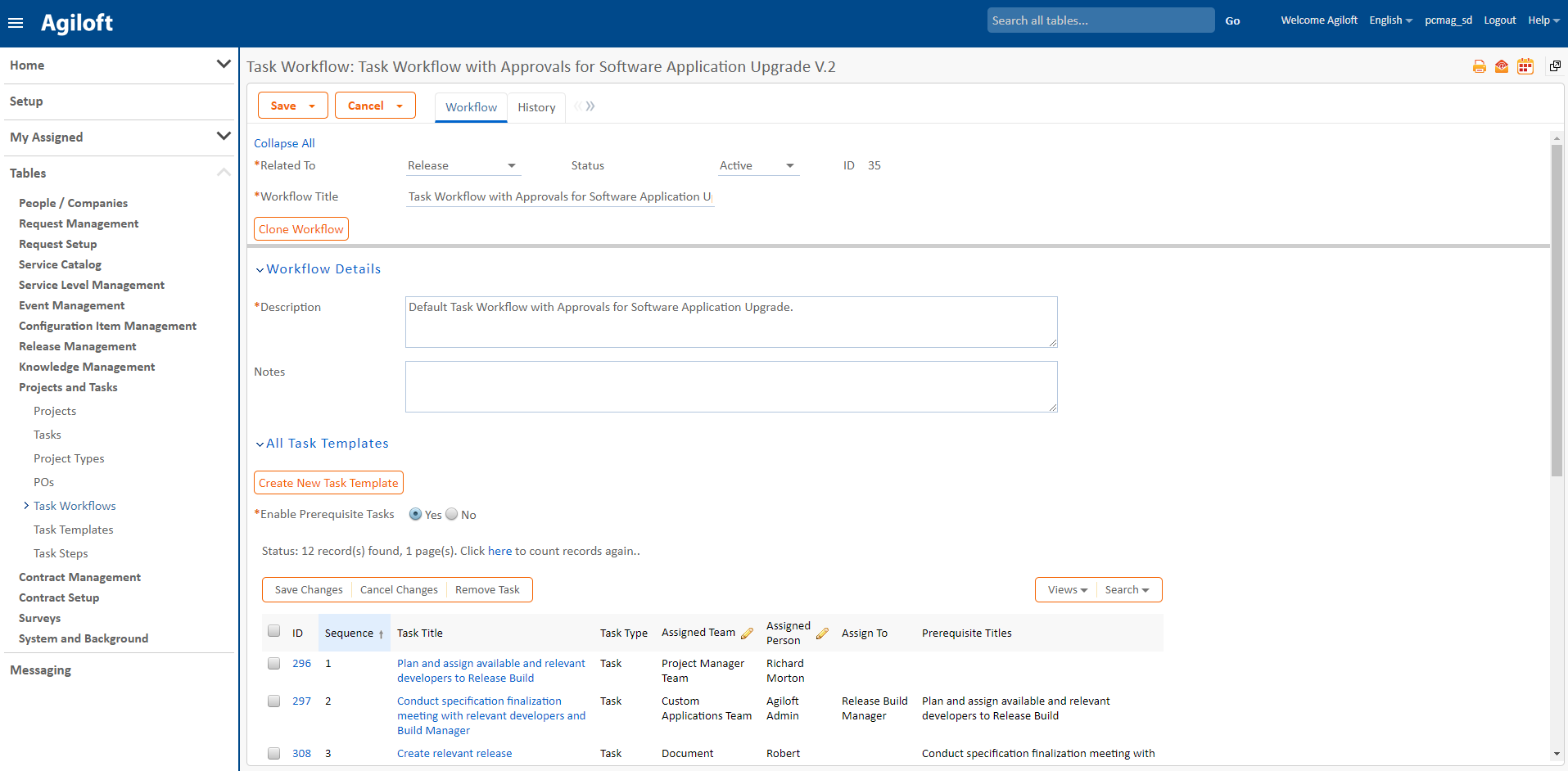 In the world of email ticketing and support, not all solutions are created equal. Large corporations need advanced customer support and service desk solutions that can scale up as the company grows.
Agiloft just so happens to be such a solution. This customer service and support system will help improve your consumer-facing and internal service desk scenarios. It's an entire platform with features that allow large companies and enterprises to utilize widgets to provide real-time agile service and support to their consumer base.
Key features:
Asset management
Social media tickets from Twitter and Facebook
Database
Self-service portal
Support widget
Custom reporting
Pros and cons:
Pros:
Great customization options
Predefined reports
Great integration
ITIL compliant
Better workflows
Cons:
No remote control
No 24/7 live chat support
No chatbot support
Price
Professional: $45
Professional Unlimited: $65
Enterprise: $75
22. Gorgias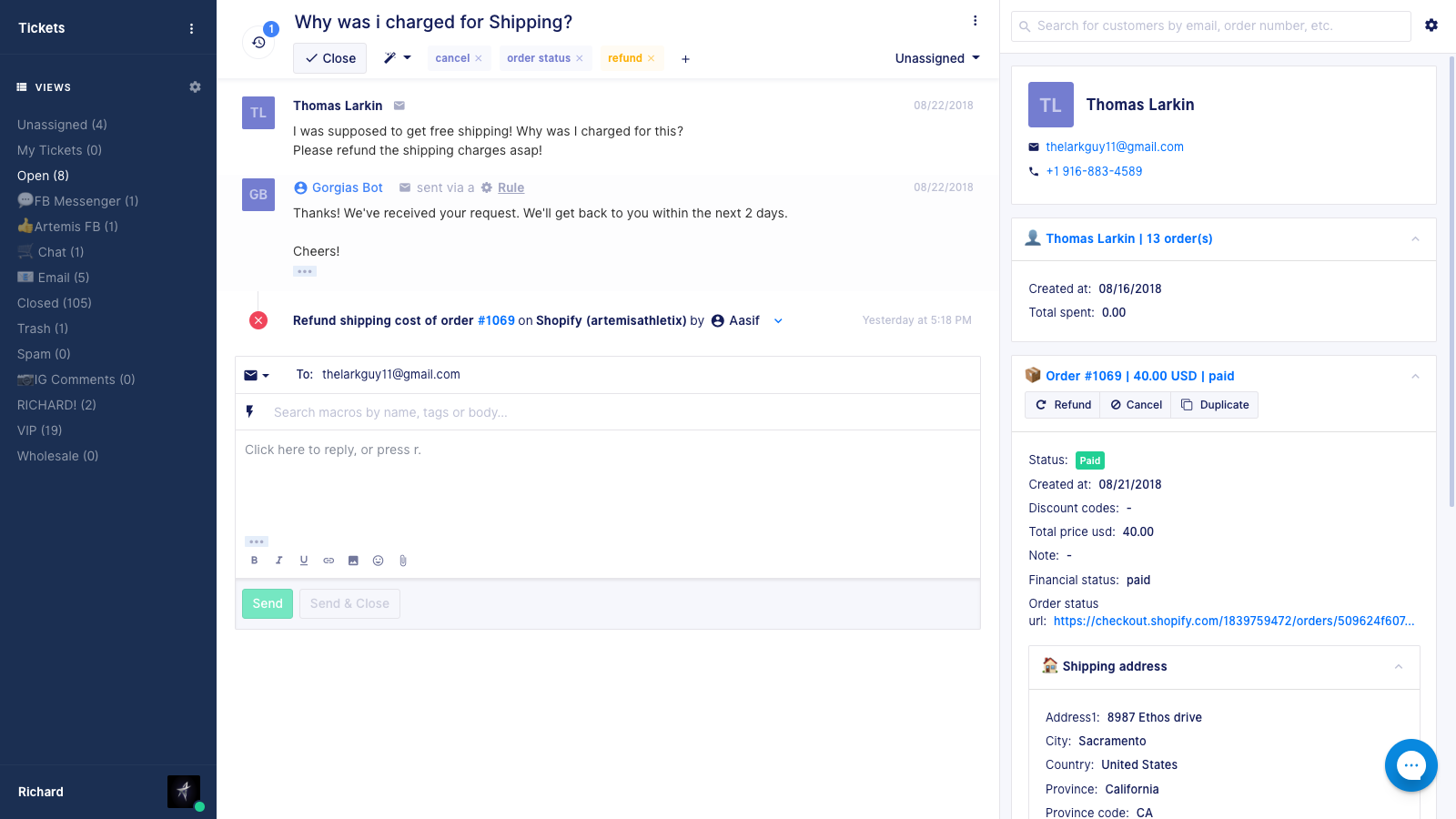 Gorgias allows you to bridge the gap between sales and customer service. This email support software offers a range of features and tools, like the onboarding assistant, customer surveys, and chat campaigns, to help you acquire new prospects and convert them into loyal consumers. 
The biggest strength of Gorgias is a simple integration with the top three most popular e-commerce platforms — BigCommerce, Magento, and Shopify. In addition, through its advanced email ticketing system, your customer service agents can also pull customer requests, interactions, data, and inquiries directly from the platform. 
Key features:
Ticket management
Unlimited users
Live chat
Third-party integration
Onboarding assistance
Chat campaigns
Customer surveys
Revenue metrics
Team management 
View sharing
Automation of routine customer service tasks
Social media integration with Facebook, FB Messenger, and Instagram
SMS ticketing
Pros and cons:
Pros:
7-day free trial
E-commerce tools
Ease of use
Clean interface
Omnichannel approach
Cons:
Needs spam control
It's hard to set up workflows
Price
Basic: $60/month
Pro: $300/month
Advanced: $750/month
23. Groove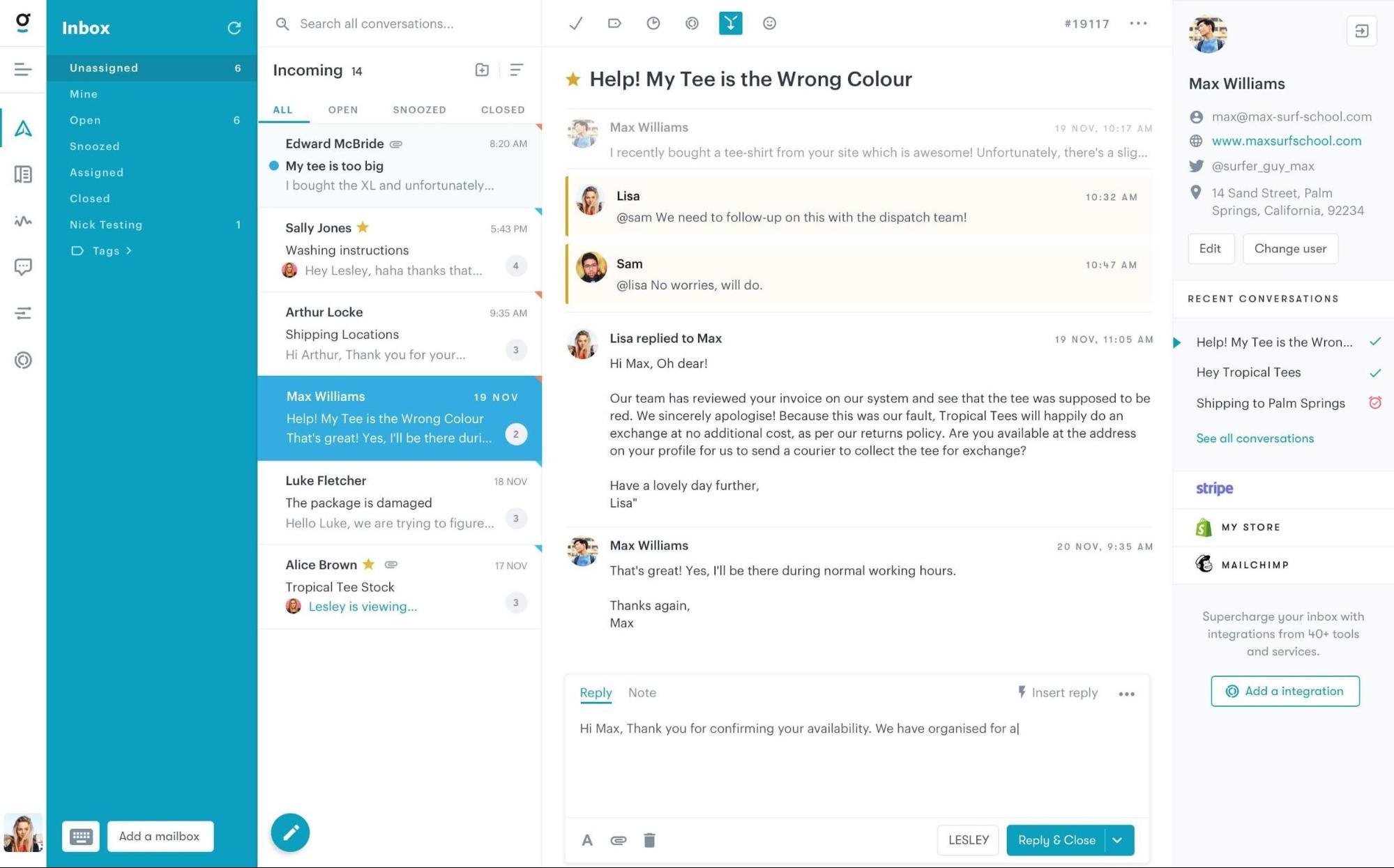 Groove is an excellent solution for businesses that have outgrown their email for customer service and need a scalable email ticketing solution. Groove can provide all the necessary and scalable service and support your team needs to handle inquiries on multiple channels. 
Thanks to its intuitive and effective team collaboration tools, you can organize your entire email traffic, assign specific requests based on skill, improve team cooperation, add internal private notes to private discussions, and more. 
Key features:
Unified inbox
Database
Live chat
Web widget
API access
Third-party integrations
Advanced reporting
SMS and WhatsApp ticketing
SSO/SAML
Team collaboration tool
Cybersecurity
Pros and cons:
Pros:
Exceptional automation features
Affordable monthly plans
Advanced tools
Customizable database
Customer self-service
Cons:
Lacks customizable web forms
Phone call logging needs improving
Price
Starter: $9/user/month
Plus: $19/user/month
Pro: $29/user/month
Company: Custom pricing
24. Userlike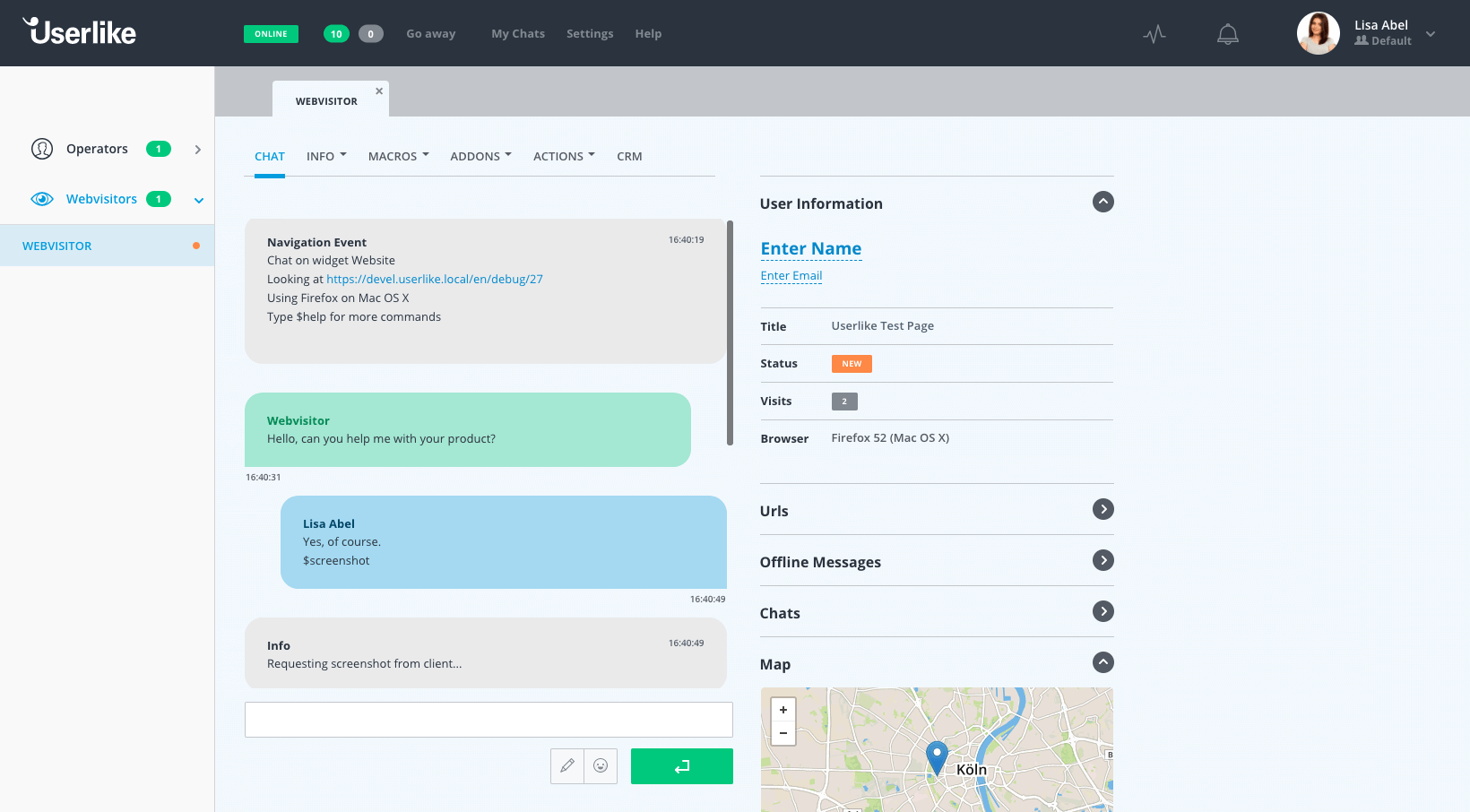 Userlike is the best solution for businesses that need a combination of mobile messaging and website chatting – the two most important channels of communication for consumers.
Userlike can help your sales managers and representatives, as well as your support agents and customers. You'll have the option to chat with customers via SMS, Telegram, WhatsApp, Facebook Messenger, or utilize a chatbot to automate conversations.
Key features:
Canned responses
Real-time chat and messaging
Chatbot
Ticket and communication management
Customer support and service analysis
Email management and distribution
Feedback collection
Geotargeting
Proactive chat and queue management
Customer surveying
Third-party integrations
SMS messaging
Integration with Facebook Messenger, Trello, Mailchimp, Slack, Hubspot, and more
Performance metrics and analytics
Advanced reporting 
Pros and cons:
Pros:
Multiple ways to connect with customers
Wide range of advanced features
Web-based, Saas, and cloud deployment
Mobile support
FAQs/forum
Free trial
Cons:
A faulty interface alerts system
Spam filter functionality could be better
Price
Free
Team: $90/month
Corporate: $290/month
25. HelpOnClick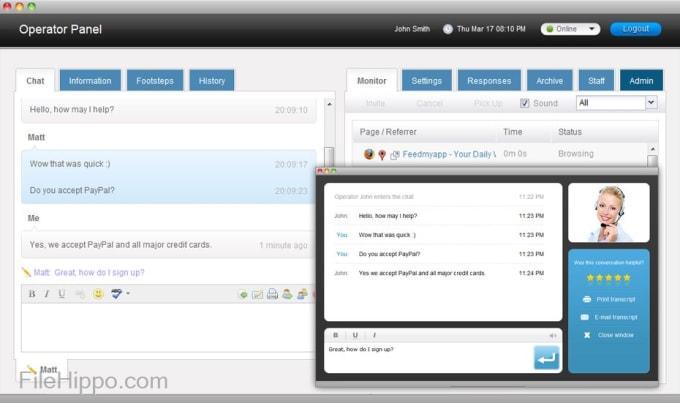 HelpOnClick is a comprehensive email support system for e-commerce businesses and merchants that need an easy way to get in touch with their customers. This software provides intuitive and straightforward help desk and live chat options. 
You can integrate your customer support operations with centralized help desk, CMS, and CRM systems, add customizable icons, chat agents, and real-time traffic monitoring to ensure top service and support for your target audience.
Key features:
Call center management
Canned responses
Email management
Live chat
Screen sharing
Surveys and feedback
Ticket management
Integration with Facebook and Twitter
SLA
Pros and cons:
Pros:
Free trial
Affordable plans
Mobile support
Supports 20 languages, including Japanese and Russian
Compatible with iOS and Android devices
Works on any website
Cons:
Trouble launching it in Google Chrome
Limited dashboard
Confusing setup
Price
Starter: $12/agent/month
Advanced: $19/agent/month
Top 5 email support systems compared
Since we already mentioned the top 5 email support systems previously, let's briefly compare the top five solutions by highlighting the features that make them stand out from the rest.
1. LiveAgent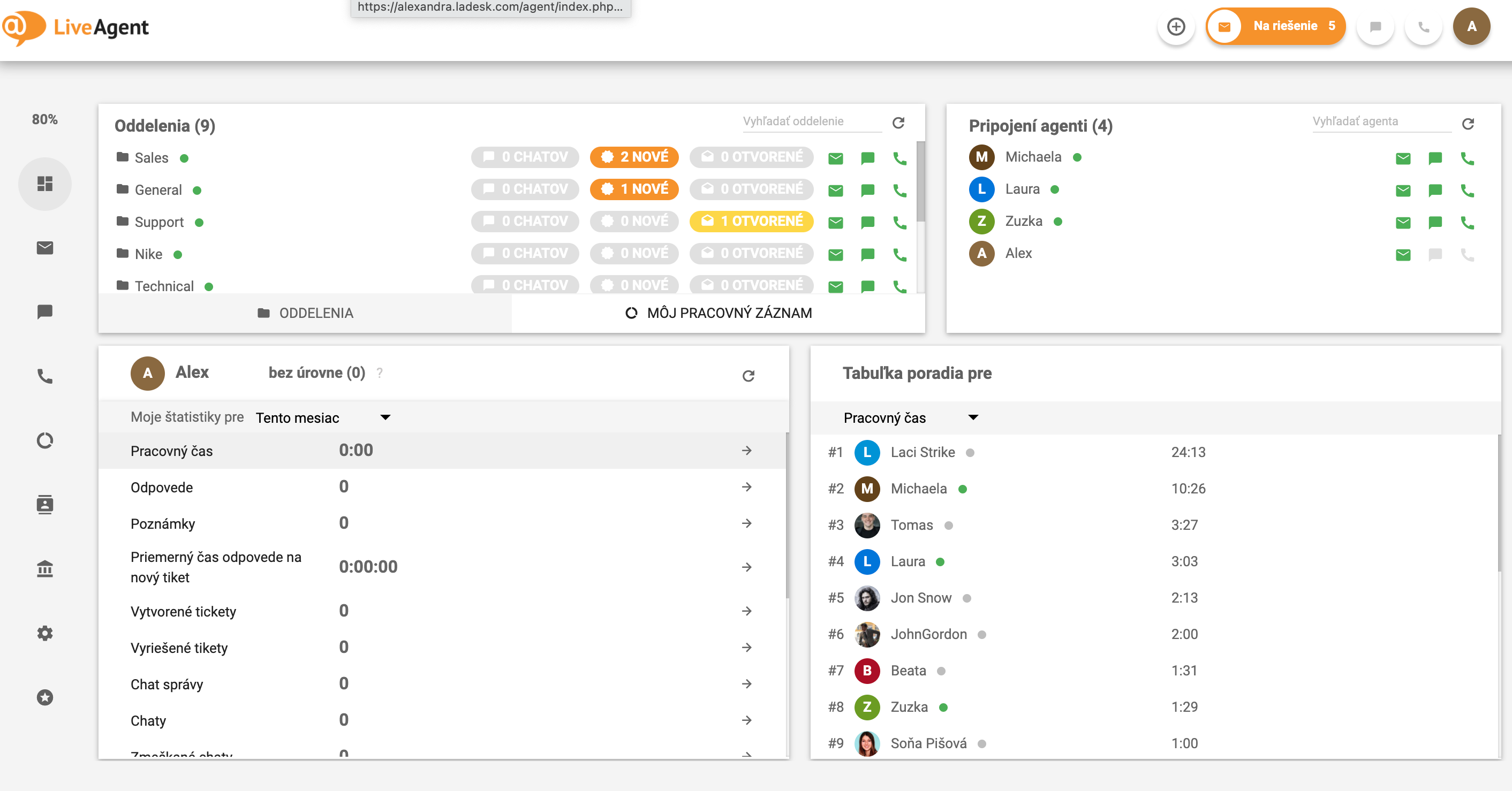 With a user-friendly interface, hybrid ticketing stream, excellent customer support, and added benefits of social media and a range of third-party app and software integrations with Facebook, Instagram, or WordPress, LiveAgent stands out. 
You get access to a help desk and knowledge base software, unique gamification features with badges and rewards, and even language adaptable widgets. The best thing is that you can get a taste of this powerful tool through a demo or the free version before spending a cent on it. You can even jump right in and experience its full potential with the 14-day free trial.  
Detailed Help Desk Feature Overview | Live Agent09:58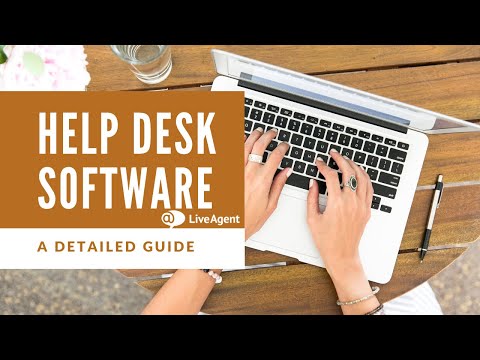 Live Agent
Since LiveAgent has 26 awards under its belt, it's safe to say that it is a secure and incredibly effective solution for businesses that need complete control over their email ticketing activities. 
It's a robust solution with several pricing options to fit any budget, earning LiveAgent the number one spot on our list. 
Too many options to choose from
LiveAgent is an all-in-one customer service solution that helps companies with customer support and reduce churn.
2. Zendesk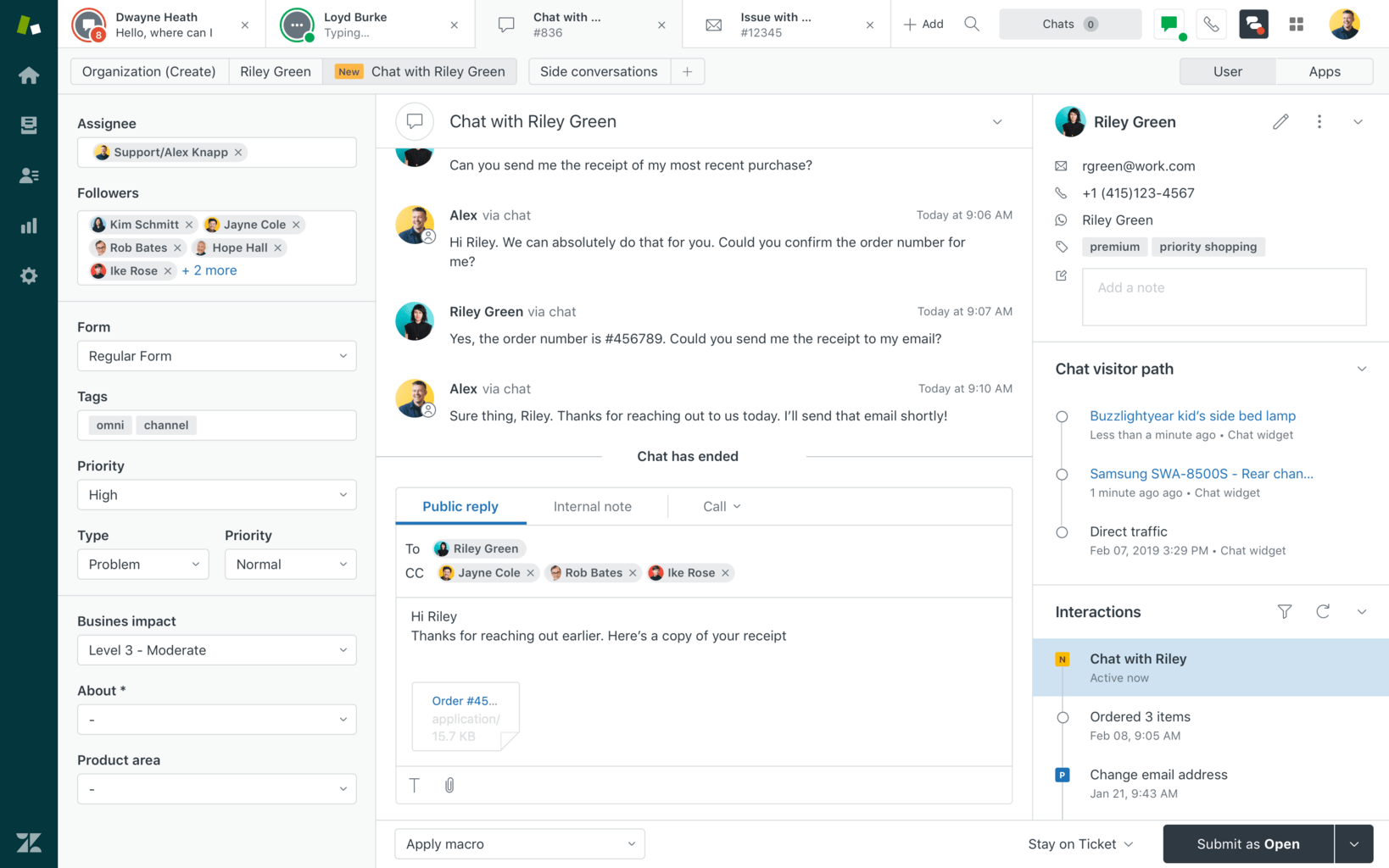 Zendesk isn't just a software solution for your email ticketing needs – it's a top email support system. It's easy to use and allows your customer service agents to streamline email ticketing processes and customer conversations. 
Even though it provides various useful features, some more affordable solutions offer more extensive support for handling scalable email ticket management.
3. Zoho Desk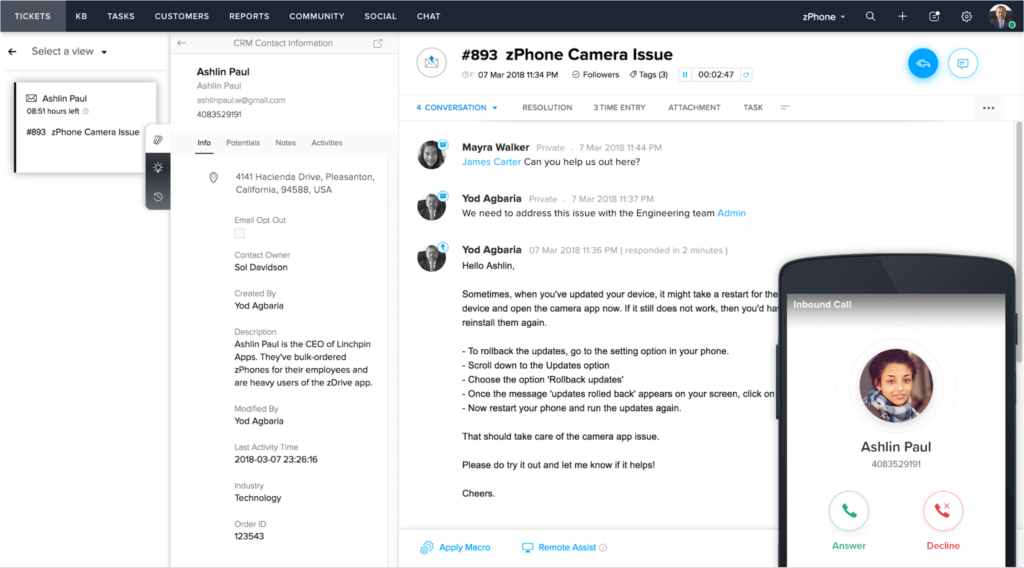 Zoho Desk is on our list of top five email ticketing solutions because it's also one of the leading contact center software. Besides providing all necessary features for email support, Zoho Desk is a unique solution for handling customer interactions as it comes with a chatbot – a feature that most modern companies prefer today. 
While more affordable than most similar solutions, Zoho Desk lacks certain features that would give it a higher position on our list. Still, Zoho Desk has Windows and Mac deployment capabilities, which is a big plus.
4. ProProfs Help Desk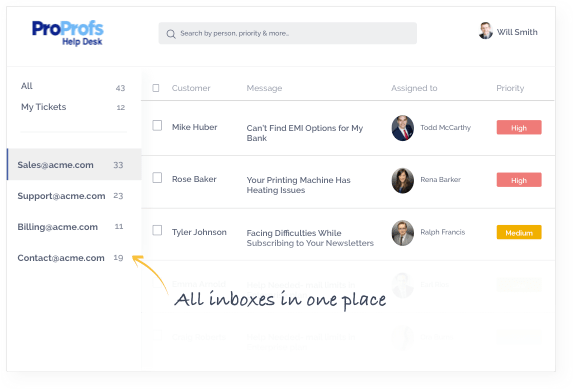 ProProfs Help Desk deserves a place on our list simply because of its excellent prioritization tool. Thanks to this feature, ProProfs becomes an omnichannel email help desk that helps your team organize and prioritize the most critical emails and conversations. 
More importantly, your agents will never miss urgent tickets with this software solution. That aside, this software also includes additional support features and a survey maker. It may boast an array of features as some other tools, but it will ensure the 24/7 service your customers deserve.
5. Freshdesk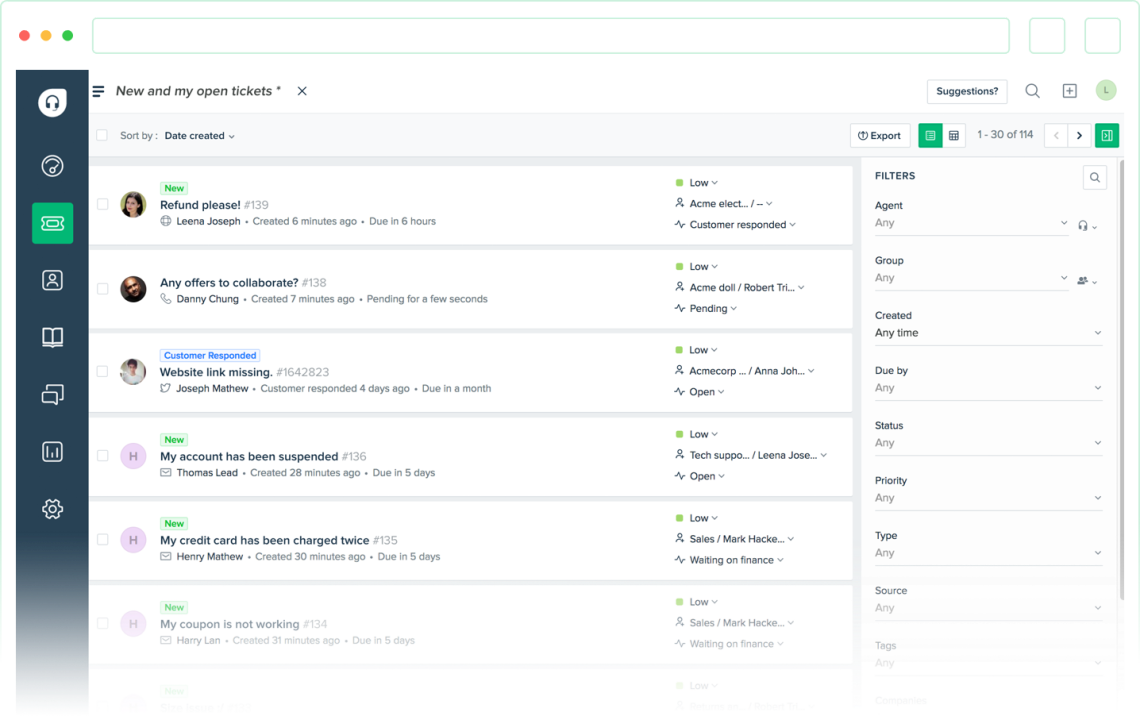 Besides being an excellent solution to upgrade your customer support, Freshdesk is an email management solution with a unified inbox and impressive integration capabilities. 
It has a marketplace with over 500 additional customer support apps and allows you to manage Facebook and Twitter conversations. While several other systems on our list pack a stronger punch in the customer service area, Freshdesk has one advantage – it can analyze the latest customer service trends.
| | | | | |
| --- | --- | --- | --- | --- |
| Email support system | Capterra Rating | Free version  | Free trial | Starting price  |
| LiveAgent | 4.7/5 (approx. 1K reviews) | YES | YES | $9 per agent/mo |
| ZenDesk | 4.3/5 (approx. 2.5K reviews) | NO | YES | $19 per agent/mo |
| Zoho Desk | 4.5/5 (approx. 1.6K reviews) | YES | YES | $14 per agent /mo |
| ProProfs Help Desk | 4.9/5 (8 reviews) | YES | YES | $15 per agent /mo |
| Freshdesk | 4.5/5 (approx. 2.3K reviews) | NO | YES | $19 per feature /mo |
Dated as of June 14th
Conclusion
There are many variables to consider when choosing the best email support system solution for your business. That's why we've created several Q&As to help you make the right choice.
Which email support system solution is right for your business?
Since every business has specific email support needs, it's hard to tell which system is the best for your company. However, you won't go wrong with any of the options on our list. We recommend that you give LiveAgent a try as it's easy to configure, deploy, and use daily.
The best all-in-one incident email support system solution
The best all-in-one email support system solution should contain all the features you need to manage your incoming and outgoing email traffic. That includes all the additional options to help upgrade your customer support according to the needs of your consumers. LiveAgent and Zendesk are among the best all-in-one solutions with the most features needed for proper email support.
The best email support system with built-in ticketing and live chat
LiveAgent is your best option when it comes to live chat and built-in ticketing capabilities. Aside from providing a full range of support features, it also allows you to personalize email traffic by reaching your customers across the communication channels they prefer.
The best email support system feature-wise
When it comes to the range of features, LiveAgent offers the most features (200+).
The best value for money email support system
Starting at only $15 per month, LiveAgent provides everything you need to ensure a fully operable email support system. It's the best solution considering the price to value ratio.
The top-rated email support system
According to Capterra, LiveAgent and ProProfs Help Desk are the highest rated software, with a respective rating of 4.7 (1k reviews) and 4.9 (8 reviews) out of 5 stars.
The easiest email support system to setup & use
If you're looking for an email support system that you can easily set up and start using, LiveAgent should be your top pick. You need almost no programming or technical knowledge to set it up.
Editor's note: If any of the information in the review article is inaccurate, please feel free to contact us and we'll revise it accordingly.
Still deciding?
Improve your customer service with the award-winning help desk software that combines ticketing, live chat, social media, knowledge base, and customer portal.
LiveAgent Product Tour | Live Agent02:25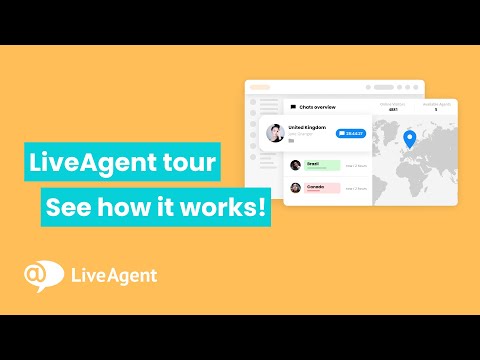 Live Agent
Frequently Asked Questions
What is the difference between an email support system and a support ticketing system?

Although an email support system and a support ticketing system software are almost the same, they differ slightly in how they allow your customer service teams to handle email traffic. Some companies prefer using email for support – others rely more on email support ticket systems. Support ticket systems are better in terms of team support and simplicity and offer a unified solution for handling all customer interactions simultaneously. Doing this over email only requires more time, staffing, and resources.

What are the benefits of using an email support system?

There are many benefits of using an email support system, but we're going to mention the key ones: a centralized system allows your customer support agents to organize a high volume of customer inquiries, create a single threat to consolidate all interactions, create customer service and support according to the latest industry standards, allow your agents to tap into previous communications context, improved email communication with your users leads to increased satisfaction, more efficient team collaboration and ticket management, automation of workloads and process management, increased productivity and efficiency of your service agents.

What is an email support system?

An email support system is one of the most important customer service channels and support for most businesses. Email is still one of the preferable ways for consumers to reach out to brands. An effective email management software allows a company to handle all email traffic while providing each user with an excellent experience.

What is an omnichannel email support system solution?

Omnichannel support is an advanced customer support model that empowers your customers to reach you via the communication channels of their choice. These channels include everything from modern live chat options and social media to traditional options such as email and phone.

What's the difference between cloud-based and on-premise email support systems?

Cloud-based email support differs from on-premises systems in one vital way – a cloud environment allows your company to focus on its core mission by hiring a third-party provider to host it for you. With on-premise systems, you need to take care of the hosting yourself. A cloud-based system relies on virtual technology to host your email ticketing needs offsite too.

How does the email support system work?

The email support system works by allowing for asynchronous communication with the customers. They can send their service requests and inquiries conveniently by using the communication channel they prefer, preferably email. The system ensures that the company's customer service provides a timely response accordingly. The customer doesn't have to wait to get their answer.

How to choose the best email support system?

Since there's no one-size-fits-all solution here, we recommend that you choose a system that provides top features that such a system should have: streamlined communication, automation capabilities, knowledge base, reporting tools. LiveAgent includes all this and more.

Why is quality assurance necessary for email support system solutions?

Quality assurance is essential because it helps improve your email support solution by removing any bugs or glitches and ensuring your system functions properly. QA also empowers your agents to handle complex tasks with success and improves overall team performance.

What equipment is needed for an email support system?

Email support systems don't require any special equipment. All it takes is an internet-enabled device, a fast internet connection, and a little bit of tech-savvy. In addition, top-rated systems like LiveAgent have pre-made templates that you can further customize and personalize to better suit your customer support needs.

How much does the email support system cost?

If we take all email support systems listed here, we can safely say that the cost of such a system ranges from $7 to $750, depending on the type of pricing plan.