Key takeaways
Pros
Quick to set up
Various guides and tutorials available
Multiple customization options to choose from
Cons
Expensive for small companies
Can be overwhelming due to the number of tools and features
Having to provide work email
Questionable quality of internal user support
Getting started with the Intercom chatbot feature
Intercom chatbot is a software solution that is designed for customer support and chatbot services. It allows businesses and organizations to interact with their customers in real-time through automated chat conversations. The chatbot can handle a range of customer inquiries, from answering simple questions to directing customers to relevant resources and support.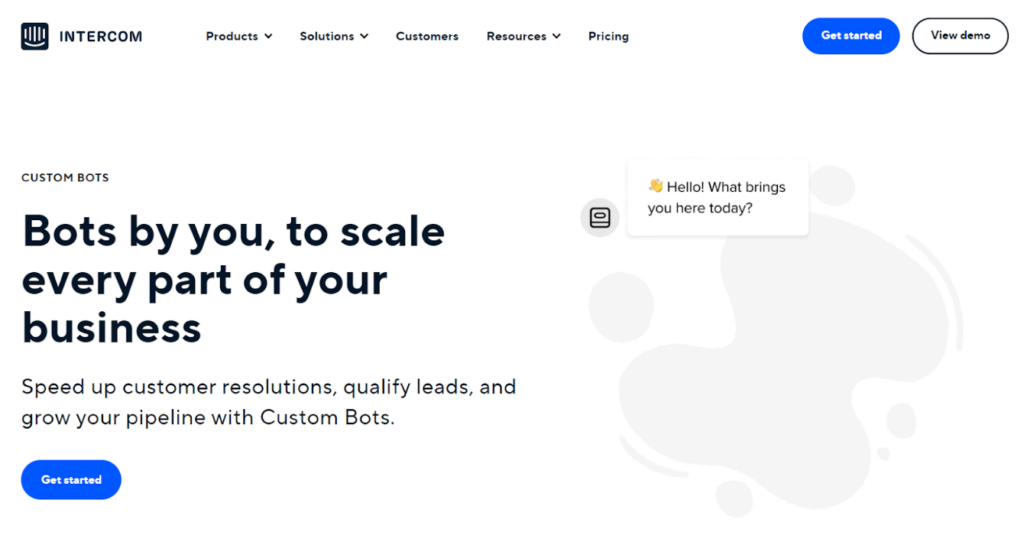 To get started with this chatbot, I headed to its website and found my way to the sign-up page. Upon clicking on the "get started" button, I was able to begin the registration process. Altogether, signing up for the Intercom chatbot took me less than 10 minutes. The registration form didn't ask me for any extraordinary details.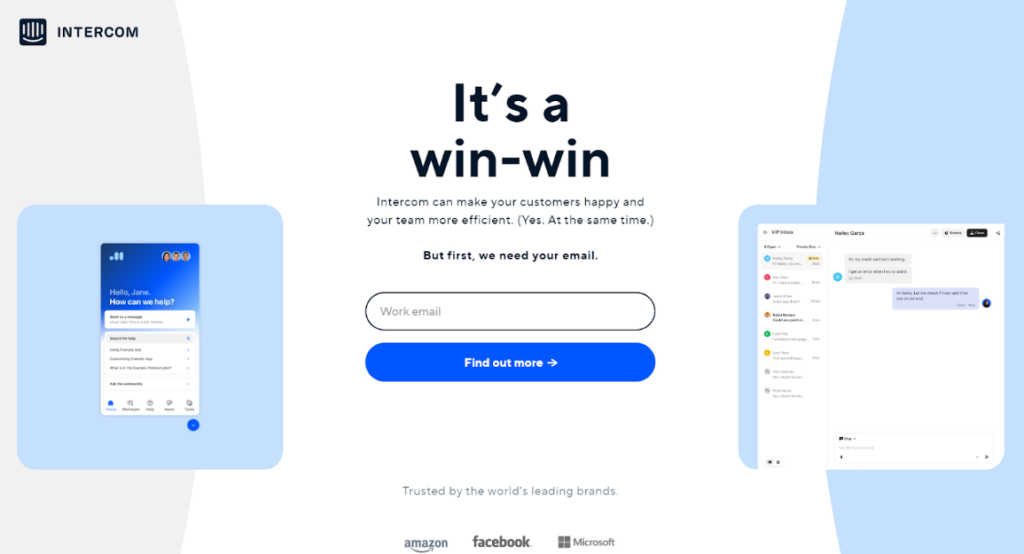 All I had to provide was:
first and last name
company name and size
work email
password
telephone number (optional)
However, while the process was rather straightforward, there were a few things that I liked a lot and others that I disliked a lot.
First of all, I wasn't a fan of having to provide my work email specifically. The sign-up form wouldn't let me go further if I didn't use a work email. On the other hand, I was really glad to see that signing up using Google was possible, and that there was no credit card requirement. So once I was done filling all the details, I was asked to check my email for a verification link. The email arrived almost instantly, and with that I was able to proceed further quickly.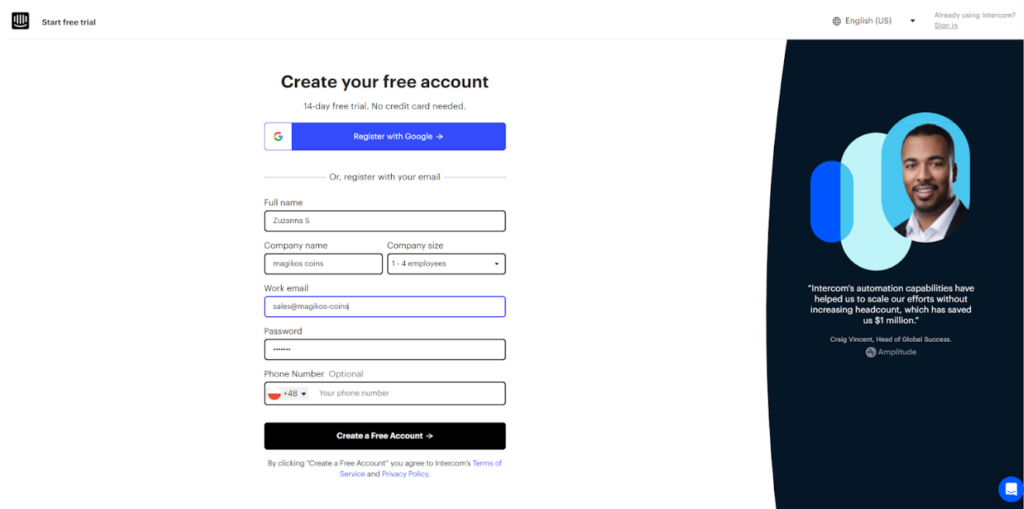 All in all, the whole process is very newbie friendly. Nothing is confusing about it, and I don't think you're going to have any issues with it.
Intercom chatbot features and implementation
After finishing the registration, I went ahead to the tool's website. There was a pleasant surprise waiting for me there: a set of questions aimed at personalizing my experience using the software:
What's your experience with setting up a customer support solution?
What do you primarily use Intercom for?
What department are you in?
What describes your current role the best?
It was good to answer these questions to improve my user experience right from the start.
Looking at the overall visual design of the tool, I must admit I liked it from the first second. It's easy to read and use. Navigating through the app wasn't challenging even one bit.
To add onto this, I even received an email from Intercom with a few useful tips on things like:
demo mode
installing the Intercom Messenger
inviting teammates to Intercom
consolidating support conversations, 
providing support fast using Macros.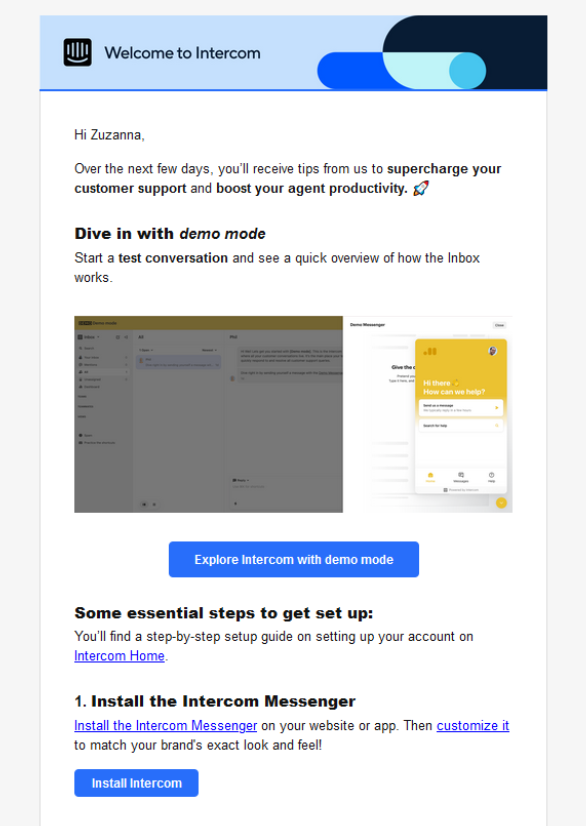 There is a plethora of features to choose from, you can read more about all of them on Intercom's website. It's quite a long list, but there's nothing to worry about. That's because Intercom provides useful guides to help you through all the processes. What's more, you can even see how long each feature will take you to implement. So you're not alone with all this and shouldn't get discouraged by the complexity!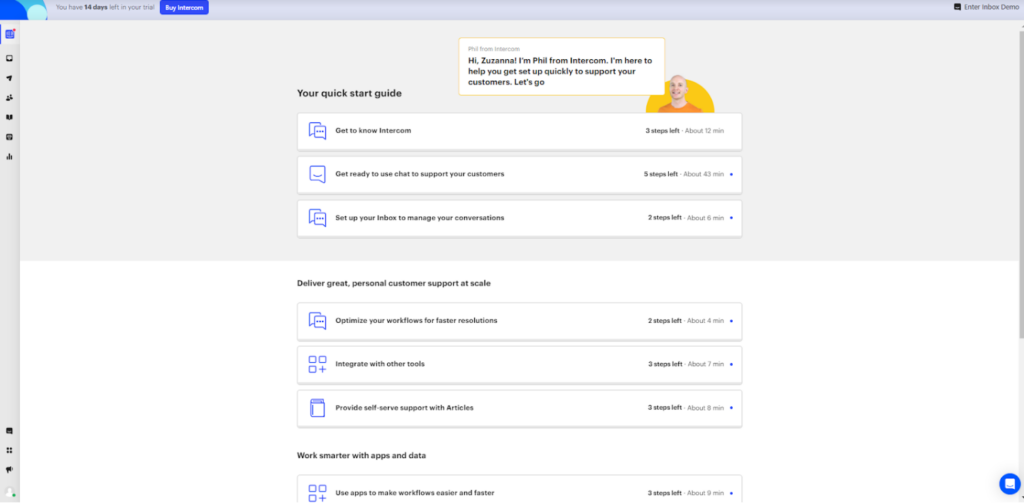 My favorite features are definitely the customizable, conversational bots used to qualify leads, solve support inquiries and more. This is why I signed up for the software in the first place. So in the next section, I'm going to talk more about the chatbot's performance and usefulness.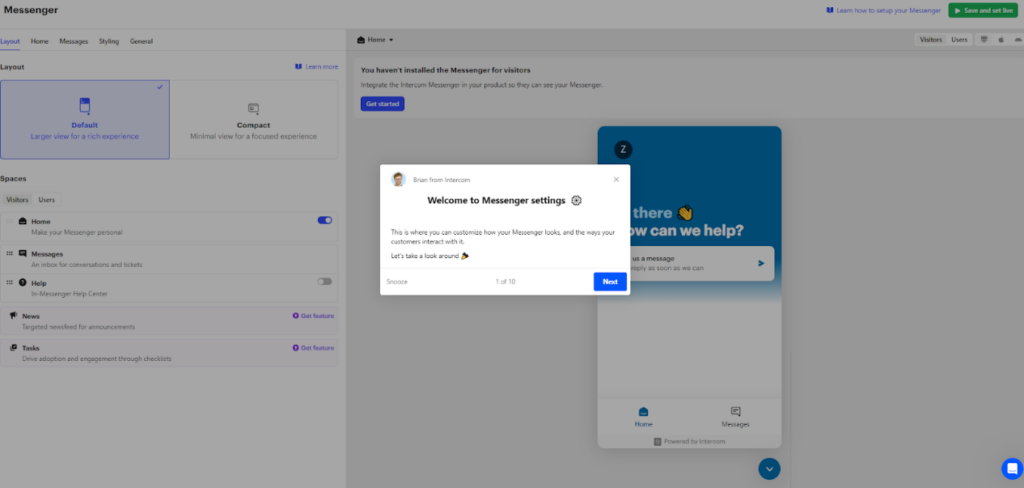 Performance and usefulness
After familiarizing myself with most of the Intercom features, I decided to test the chatbot thoroughly. I did this by running it on my test website. In my opinion, one of the key benefits of using the Intercom chatbot is its ability to interact with users in a conversational manner, as well as the range of customization options available. I really enjoyed the way I was able to customize pretty much everything. Starting from the visual side of the chatbot, all the way up to settings like who can start a conversation first and more. Additionally, the Intercom chatbot's high level of customization allowed me to personalize the bot's behavior and responses to suit the specific needs of my potential website users/customers.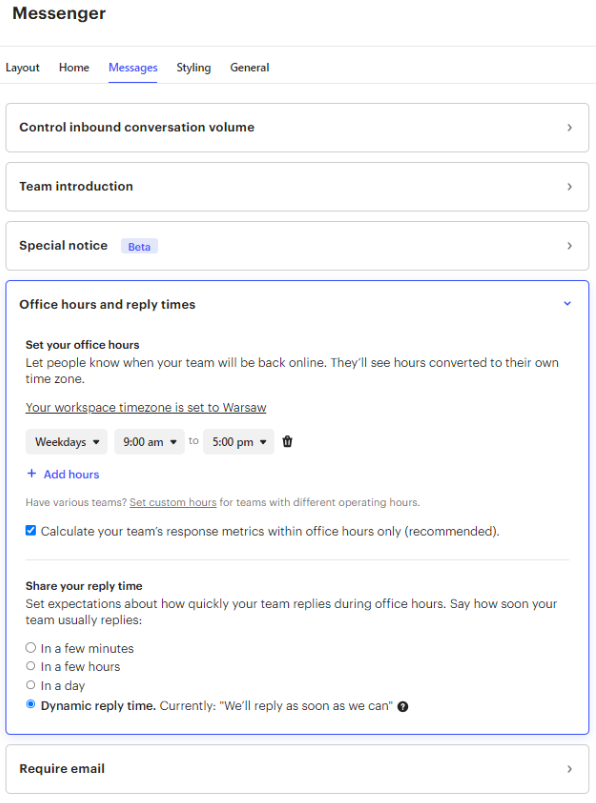 Intercom chatbot pricing
Intercom offers a number of different pricing plans, with both subscription plans and additional add-ons that are paid. Keep reading to find more details on the plans below.
For very small businesses
If you're a small business with rather small needs, Intercom has a Starter plan for you. This plan costs $74 per month. Within it, you can expect to have access to features like: chat and email support, targeted outbound email, in-product messages, shared Inbox, help center and more.
For most businesses
This category of subscription plans includes 3 different options to choose from: Support, Engage and Convert plans. To find out the pricing of these plans, it's necessary to request a demo.
For early stage companies
Finally, if you feel like none of the solutions would cater to your needs, there is also the possibility to use Intercom as an early stage company. You can use it from $65 per month. To be eligible, you need to apply to Intercom and be accepted. A 95% discount is available to startups that are eligible for advanced Intercom features and Early Stage Academy.
Conclusion
The Intercom chatbot is a reliable solution. Looking at its strengths, this software definitely has many of them. Examples include easy sign up and implementation process, lots of features to choose from and a user-friendly interface. If I had to mention any drawbacks, it would be high pricing, given the fact there are cheaper solutions out there. What's more, I have a feeling that this tool could turn out to be a bit overwhelming for inexperienced users. All in all, the Intercom chatbot tool is free of bugs, responsive and easy to navigate through. You should definitely consider giving it a try if you feel like it would benefit your business.