What is a ticket management system?
A ticket management system, also known as a ticketing software, is software that customer support representatives use to manage and store inbound customer queries from multiple channels. Ticketing software streamlines all customer messages from social media, live chat, email, phone, and customer portals.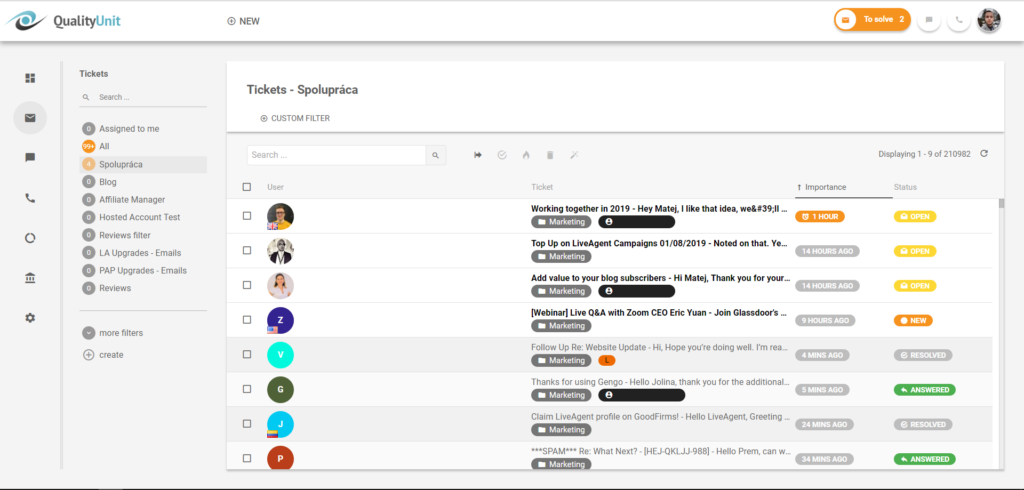 In addition to ticket storage and management, ticketing tools provides customer support agents with a number of functionalities that help them organize and respond to customer queries efficiently. Implementing customer success tools, such as advanced ticket management systems and IT ticket software, enables companies to further enhance their support services and achieve higher levels of customer satisfaction.
What features should a ticket management system have?
The following features are essential when it comes to ticketing software: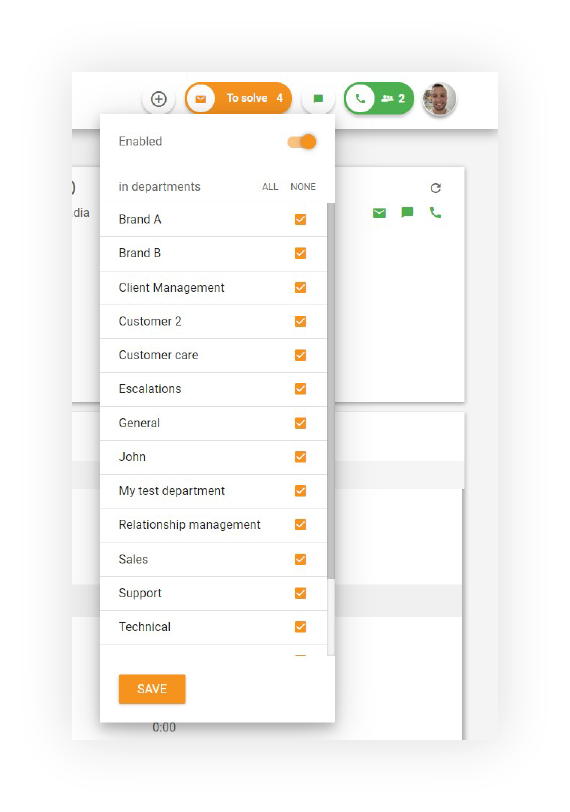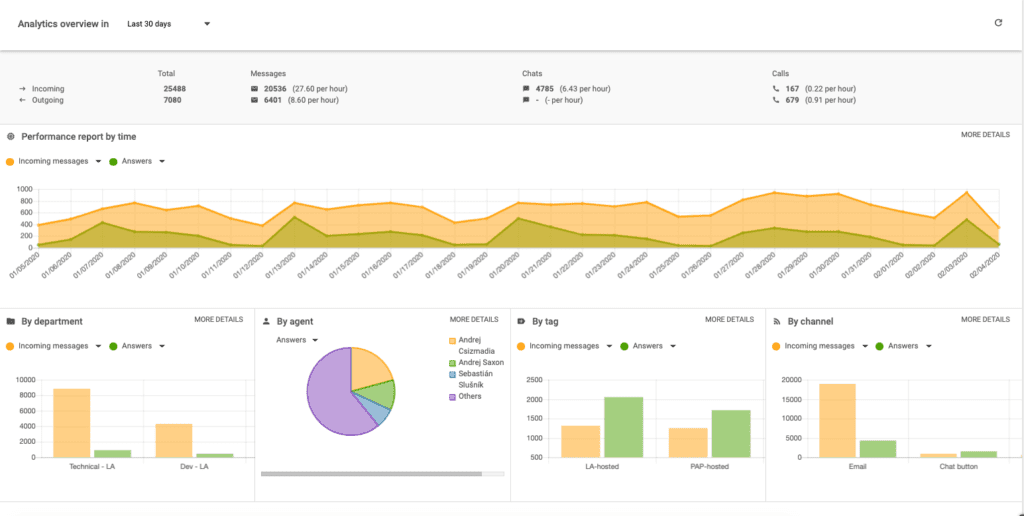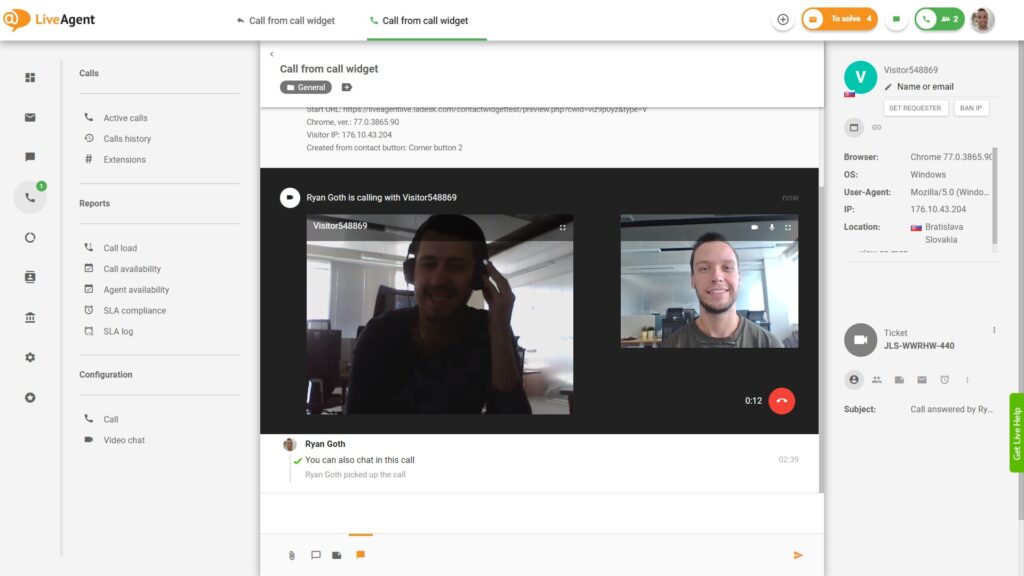 Who uses ticket management systems?
Ticket management systems are used by multiple departments within one organization.
Customer support agents
Customer support agents use ticketing systems to respond to tickets on social media, live chat, email, knowledge base, and the phone.
IT staff
IT staff use ticketing systems to answer more complex customer requests regarding advanced software bugs or hardware malfunctions.
Marketers
Marketers use ticketing systems to engage with potential and existing customers. The system can be used for lead generation, customer retention, and engagement monitoring.
Sales representatives
Sales representatives can use ticketing systems for outbound sales calls and demos.
What are the main problems with using Gmail or Outlook for ticket management?
Utilizing a Gmail alternative or Outlook alternative for ticket management is the new norm, as these platforms are no longer efficient when it comes to organization and collaboration among multiple users. As such, millions of companies have made the switch and started using ticketing systems for customer service.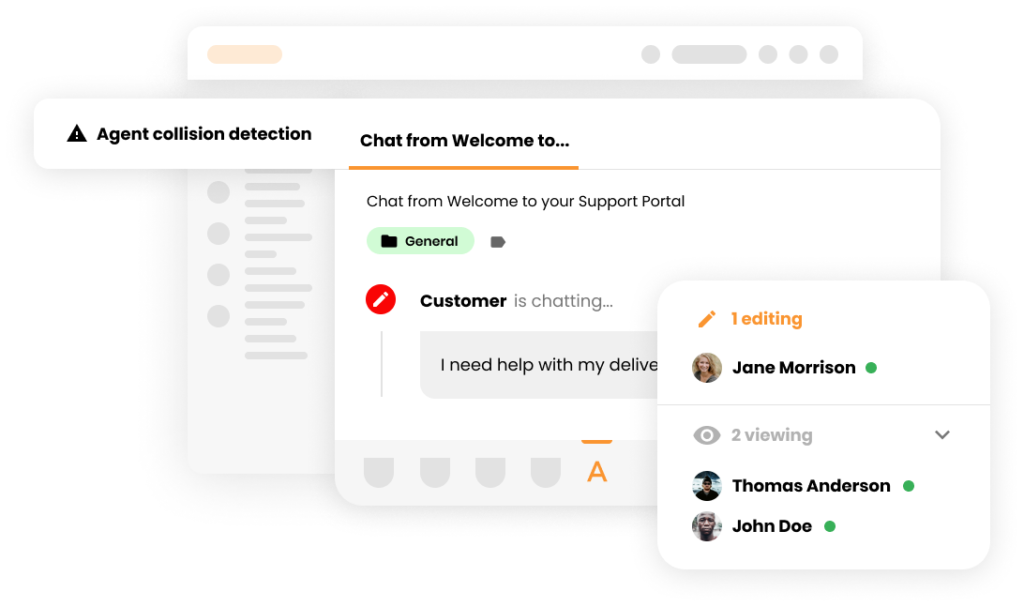 What problems do ticket management systems solve?
Ticket management systems can be used to solve many problems when it comes to improving customer service. 
Using a software for ticketing system like this, makes it easy to stay on top of all queries, without having to monitor additional accounts and devices.
The system won't mark the ticket as answered until a reply has been made from a customer service representative. This means that no agent can open a ticket by accident and leave it unanswered.
Advanced ticket management systems use hybrid ticket streams to ensure agents can follow the customer's contact/resolution journey in a single thread.
Benefits of using ticket management systems
Businesses that utilize ticketing software experience many benefits — from reduced churn to improved productivity and customer satisfaction.
Generally, customers churn from a business or product because they're unsatisfied with how they're being treated. Customers value speed, knowledgeability, and personalization when it comes to problem resolution. A ticketing system can provide all that.
How can a ticket management system help you?
Ticketing systems are a one-stop-shop for everything customer-related. The sevrice desk software can be used for marketing, sales, and customer service.
Ticket management software for marketing 
Get ahead of the game with ticket management software. Advanced systems like LiveAgent have built-in social listening tools that let you monitor what's being said about your business on Twitter even if your business isn't explicitly mentioned or tagged. 
How does it work? Choose a keyword to monitor and LiveAgent will notify you anytime that keyword is used in a Tweet by turning it into a ticket.
In this manner you can see what's being said about your business — both negative and positive, and react as necessary (engage with your audience, or put out fires!)
Ticket management software for sales 
Ticketing systems that have a built-in CRM, outbound and inbound call functionality, and proactive live chat invitations are great tools for sales. Engage with potential customers as soon as they enter your site by inviting them to chat with you in real-time, log their contact information into the built-in CRM, and follow up with a phone call directly from your ticketing dashboard.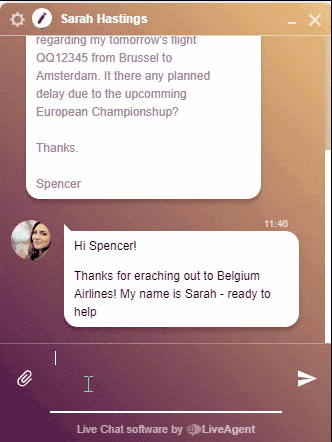 Ticket management software for support 
Ticketing software allows you to create multiple internal and external knowledge bases and customer portals. Empower your agents and customers with self-service solutions such as FAQs, forums, feedback and suggestion boxes, and how-to-articles and videos.
Your agents will be able to glide through the onboarding process, and your customers will be happy to get answers to their questions without having to contact customer service.
How to choose a ticket management system
Choosing the right software ticket system for your business can be a challenge. The software needs to be intuitive, user-friendly, affordable, and have all the essential features that will help your agents resolve tickets more efficiently. Prioritizing seamless integration with your existing customer interaction center software will help your agents provide exceptional customer support and achieve a high level of satisfaction.
Step #1: Write down your requirements
The first step is to write down your requirements. Ask yourself questions like this to determine what features you want your ticketing software to have, and what functions you want it to perform.
Do I want a ticketing software that offers live chat and inbound & outbound calls as a part of the solution?
Do I want to create knowledge bases and customer portals?
Do I want advanced features like automation and gamification?
Do I want to offer support in multiple languages?
Do I need a mobile application to answer tickets on the go?
How much am I willing to spend on ticketing software each month?
By thinking about these questions, you'll start to have a pretty good idea of what you want out of your solution. Once you know your requirements, you can start researching potential software.
Step #2: Research potential software
The next step is to research ticket management systems on the Internet. Take your time to look at software review portals, YouTube videos, and professional Facebook groups. Don't be afraid to ask for advice on Quora, LinkedIn, or Product Hunt.
Look at review portal comparisons and user testimonials
If you want to check a ticketing software comparison of different providers based on user-friendliness, price, features and ease of use, your best bet is to look at the following review portals:
Each review portal provides user testimonials. Check them out to get an idea of how existing customers are satisfied with the software and the service each vendor provides.
Watch YouTube videos
YouTube videos are a great way to see how each software works in real-time. Look at tutorials posted by official accounts associated with each software as well as reviews by independent YouTubers. This will give you an idea of what the UI looks like and if the software is easy to use.
Ask your peers on professional Facebook groups, LinkedIn, Quora, or Product Hunt
Asking others for their opinion about which ticketing software is best is a great way to find new suggestions. Other professional marketers, customer service representatives, and sales reps that have tried different software can help you eliminate the systems that seem promising but don't deliver.
Step #3: Request a free trial
After you've narrowed down your list of software, try them out by requesting a free trial.
Try all functionality
Once your free trial is up and running, test as many functions and integrations as possible to ensure the software works properly and is up to your standards. If you have any questions about how the software works, don't hesitate to reach out to customer support. 
When you do, make note of how they respond to you. It's important to know that the support you receive is up to par. Why? If the software you choose has a service outage or is buggy, you should be certain that the vendor will do everything in their power to bring the system back up online. If you can count on them, you won't have to worry about losing valuable leads, dropping calls, or losing customer tickets.
Request trial extension as needed
If the free trial period isn't long enough for you to test out all features and make up your mind about the software, request a free trial extension. Most software providers will be happy to extend your trial in hopes of converting you into a paying customer.
Step #4: Book a demo
Write down a list of questions
The last step is to book a demo. Before the demo, write down a list of questions that you want answered. They can be about the functionality of the software, pricing options, feature add-ons, and existing customers in the same industry as you.
Ask questions and take notes
Once the demo is in session, ask your prepared questions. Take notes and pay close attention to the use cases presented by the sales rep. If they don't align with your business goals, ask the rep how their software can help you with your current pain points.
If you're satisfied with the responses, the presentation, and the service, you can purchase the subscription to the software. If you're not satisfied, book a demo with another software provider until you find one you're satisfied with.
Step #5: Integrate the software with your existing tools
The next step is to integrate your software with the tools you use daily (payment processors, CRM, etc.) and connect your existing email accounts, social media profiles, and phone numbers. 
Once you've done that, you can set up your live chat, and build a knowledge base.
Step #6: Start using your ticketing system
The last step is to start using your software. Invite your customer service agents to join the software, assign responsibilities,  and start answering customer queries.