The future of the automotive industry is bright.
With technological developments of automobile manufacturing progressing rapidly, car dealerships focus on modernizing their customer service and online car sales.
A growing number of customers carry out their own research online before they enter a showroom in person.
A car dealership's website is no longer only a place to visit for contact information. It is now a refined digital showroom, with all the perks and choices as a physical one.
And just like in the physical showroom, your prospects and customers have to be welcomed and guided by approachable, friendly, and knowledgeable assistants. 
So how can you boost your online sales and increase your customer satisfaction score and response time? 
The solution you are looking for is live chat. 
Are you ready to put it in gear?
What is live chat? 
The entire customer journey is becoming digitized. Due to smartphones and other smart devices, people are "On" anywhere and at any time of the day, particularly the millennial generation. 
Buying a car is an emotional and personal event for many customers. From the first car to the latest model, customers take time and carefully consider all the options before deciding on the vehicle of their dreams. 
Modern-day consumers want intelligent online support and a personalized approach when considering purchasing a new car.
With live chat software, you can help them along the way and significantly influence their decision-making. 
LiveAgent Live Chat Demo | Live Agent02:16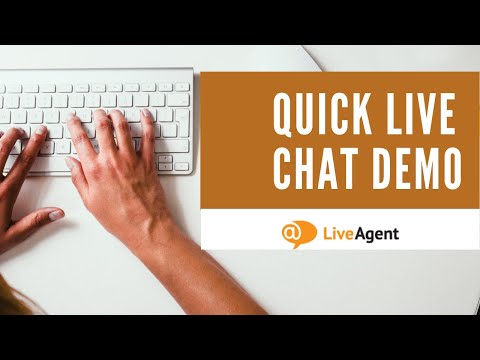 Live Agent
In the past, chat was quite basic. As the customer demands and the online buying habits changed, live chat support software has seen an increased development.
What used to be one of the options for communicating with a business is now an expectation and the most popular channel. 
Where do you start? 
Each conversation begins by simply clicking on the live chat button. Sometimes referred to as a live chat widget, it is a small bubble embedded on a website, usually in the lower right corner.
The most common placement is on the home page or the product pages, but we recommend placing it on the pages that bring the most traffic or have some strategic value.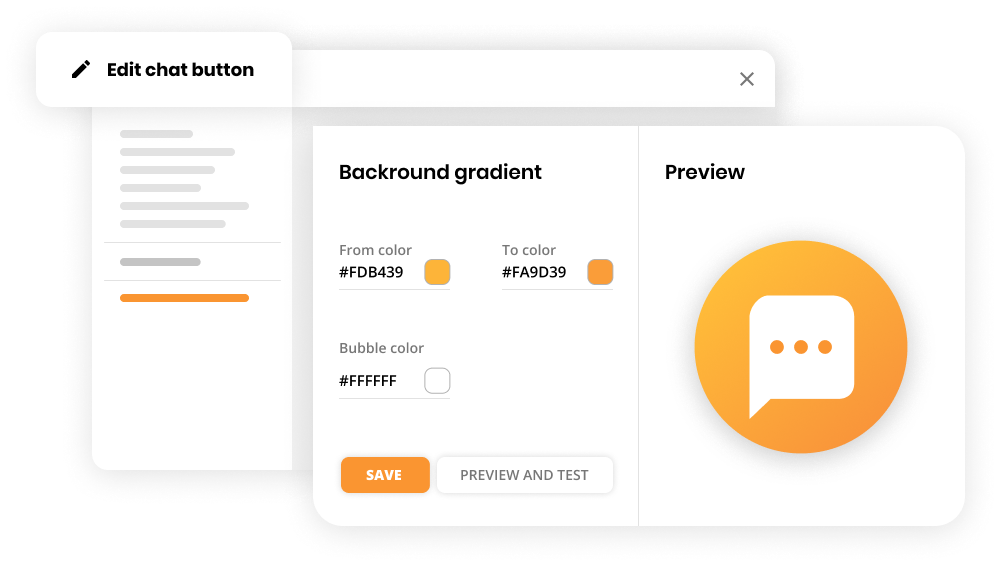 Instead of calling or visiting dealerships and making an appointment to talk to someone face-to-face, customers can chat with a live representative online. 
Dealerships can also provide customers with information that they might not know or expect (for example, a dealership might be able to tell you whether a manufacturer's warranty covers a specific vehicle or if you have a good chance of getting a loan for a car).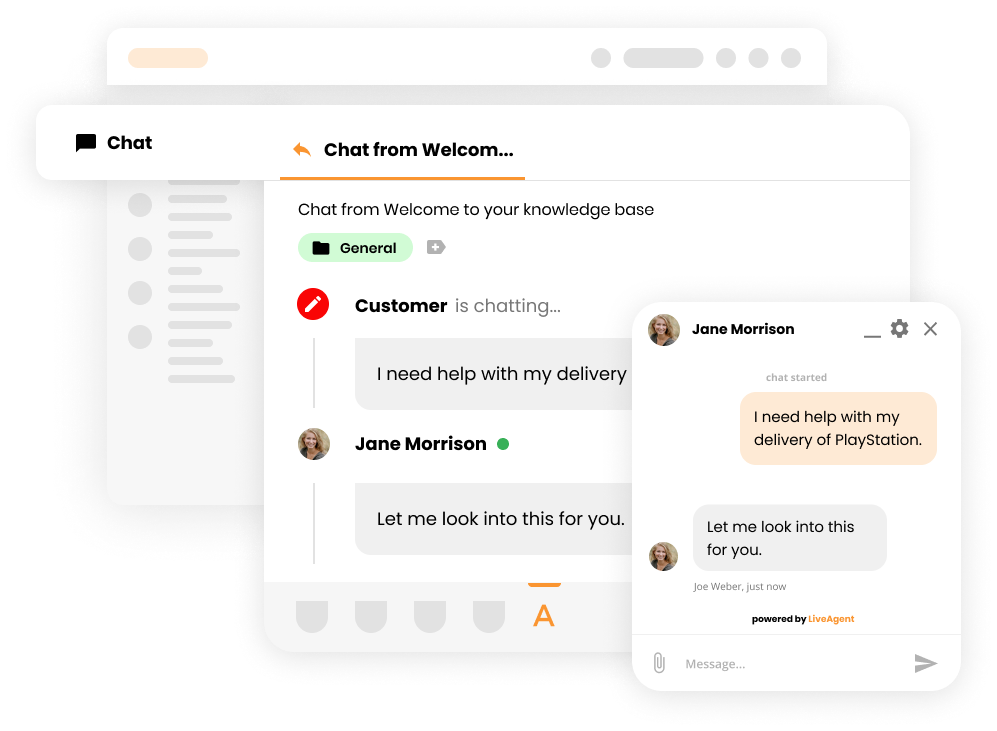 The feeling of going on the road in your new car brings out the emotions linked with freedom. 
To match that feeling, LiveAgent offers the freedom to customize a chat widget to match your brand image and style and make your website visually dynamic and vibrant.  
You can choose from the most popular pre-designed templates in the chat button gallery, or you can create a custom chat icon.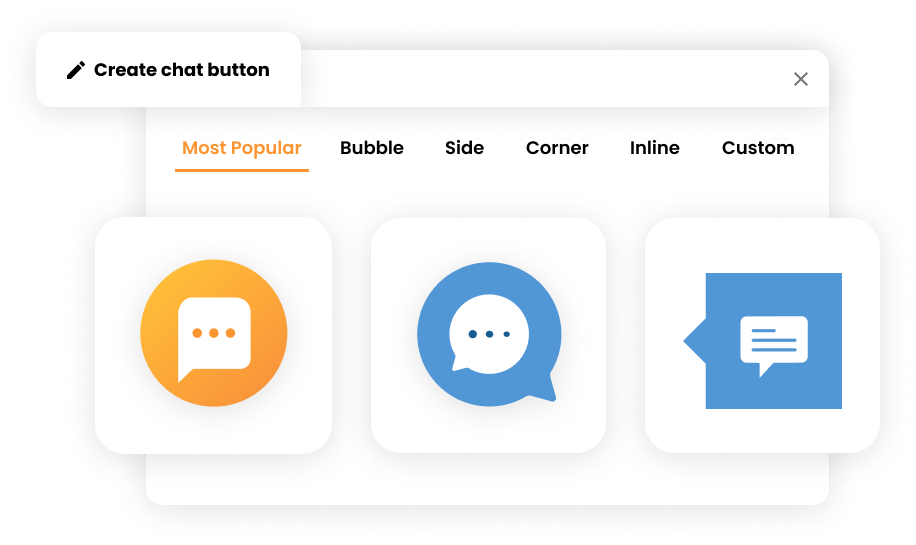 Each option is fully customizable for mobile appearances so that you can keep your design's consistency on any device.
It's a good idea to plan ahead and design a scripted response for your chat support team to follow when a customer asks for help via chat. 
We made it easier for you and prepared some templates here.
How live chat complements phone, email support, and sales? 
One of the most common customer complaints is that they cannot receive an answer immediately when contacting customer service via phone or email. 
Any delay can mean loss of customers and a dip in sales. 
The factors range from insufficient staff members to a lack of proper help desk software.
In comparison with phone and email, implementation of live chat can mitigate the customer's support challenges. 
Chat operatives can provide instant support to customers via live chat and in real-time. No more waiting for a response. 
Not only that, but the agents can handle multiple chats at the same time. In traditional call centers, support reps manage either phones or email, but rarely both. 
To prevent overworking your support team, you can set up chat distribution and select one of the three automatic route directions:
Random Assignment
Ring to all
Max utilization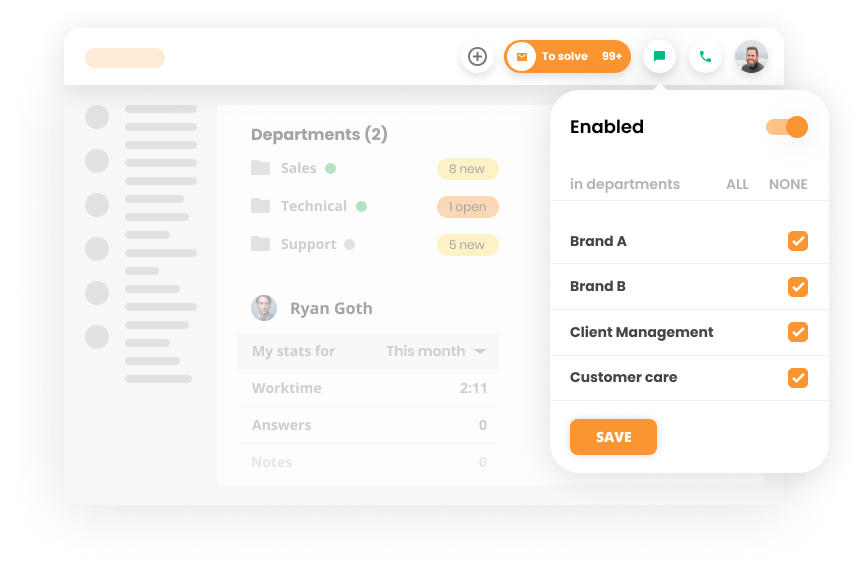 To ease the workload, you can set up a lower or higher priority for a specific agent, routing time, inactivity time, or even breathing time. 
In case the chat requests become too overwhelming, you can set up maximum queue length. When the queue limit is reached, the chat button automatically changes its availability to the offline mode or is completely hidden from your website. 
By clicking on the offline button, customers will activate and fill out the pre-chat form. Once your team is back at full force, they will have all the information necessary and can get in touch with the client.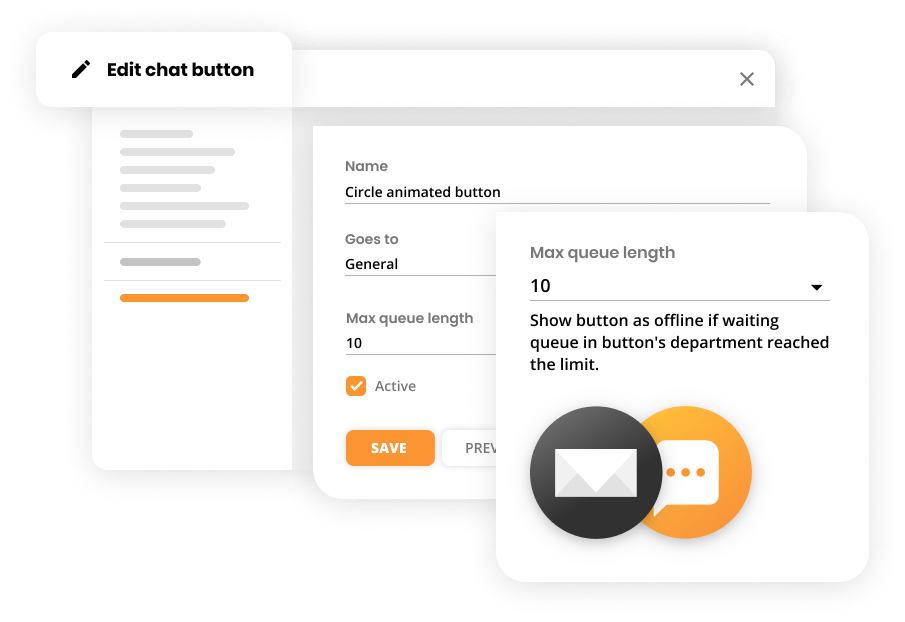 This way, you can improve your agents' efficiency and ensure that each inquiry will be answered. 
And to top it all off, by integrating with standard social media platforms, you can engage with customers and reduce the risk of having unanswered messages. 
To summarize, live chat is a more cost-effective method of communication than phone or email for these reasons: 
Reduced average waiting time
Lowest-customer effort
Decreased volume of incoming messages
Increased engagement 
Improved website design
Race ahead of your competition
Benefits of live chat for car dealers
The automotive industry is a highly competitive sector. Therefore, apart from the products and prices, you can show your customers value through your customer service. 
My definition of 'innovative' is providing value to the customer
The customer journey can be observed as five distinctive stages: 
Awareness 
Self-research  
Consultation 
Purchase  
Retention 
To get from stage 1 to stage 5, you have to offer your customers direct communication with your team, especially in the early stages of the sales cycle. 
Connecting with customers through live chat is a convenient solution to solve customers' pain points on their journey through the sales funnel.
By guiding your customers through stages, you will understand their needs and receive numerous benefits in return.
Benefits of Live Chat and How to Use It | Live Agent05:52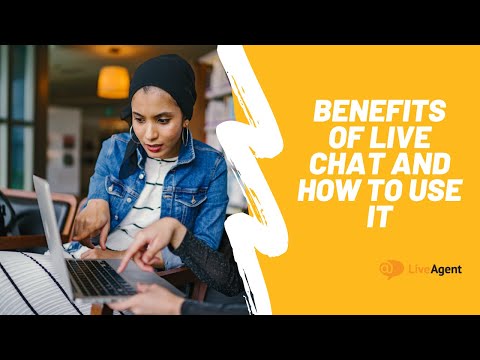 Live Agent
Let's look at the four leading benefits of using live chat for the automotive industry.
Collect the hottest leads
Your car dealership might not be open 24/7, but that doesn't mean that your customers will not visit your website. Even when you are offline, your customers should have an option to message you.
Add a contact form to your website and allow customers to choose the department they want to contact. This way, you can also collect valuable leads even if your business is closed and use them later in your email marketing strategy.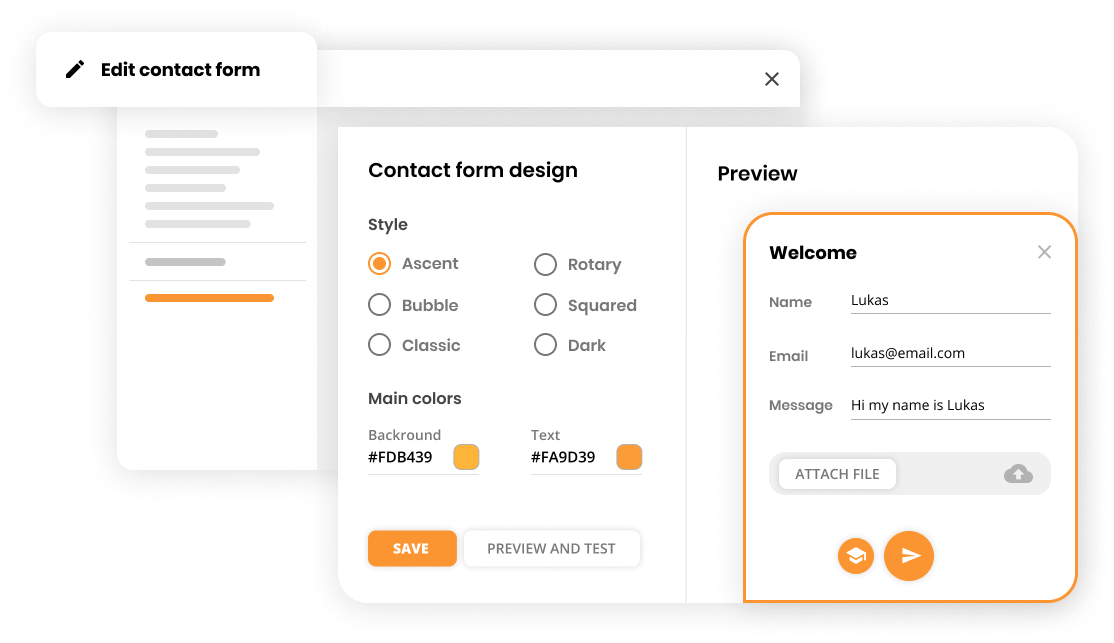 Decreased bounce rate
Set up proactive chat invitations on strategic pages, such as the checkout page or pricing page, to elicit engagement and increase your live chat conversions.
Proactive chat invitations are automated, pop-up messages that allow you to target specific kinds of customers, tailor your promotions or recommend similar products. Proactive chat invitations can do it all.
Multiple chat invitations can be created for various customer groups, for example, new and returning customers.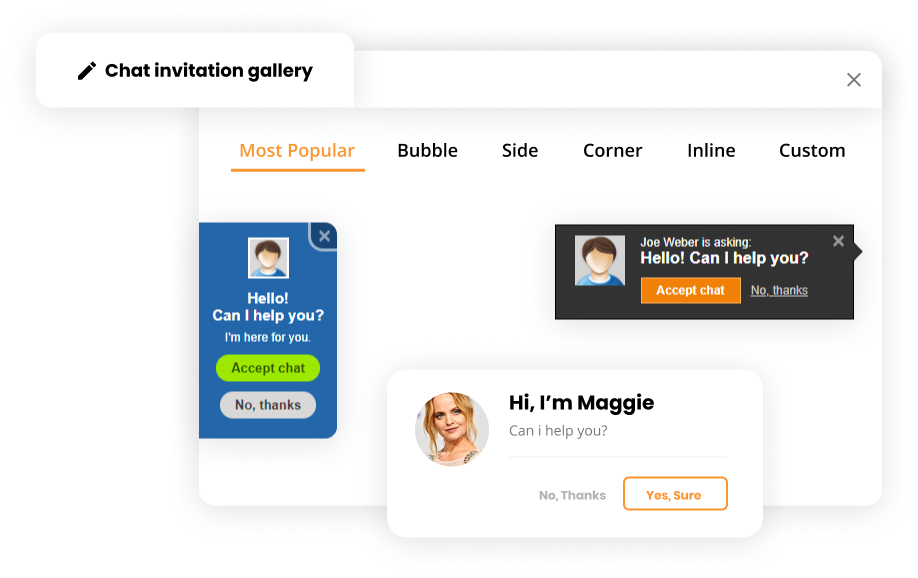 In combination with a chats overview, you can gain a comprehensive insight into the state of your chat platform, such as how many visitors are in a queue, available agents, or time customers spent browsing specific pages.
With the information collected, you can proactively reach out and invite customers to chat.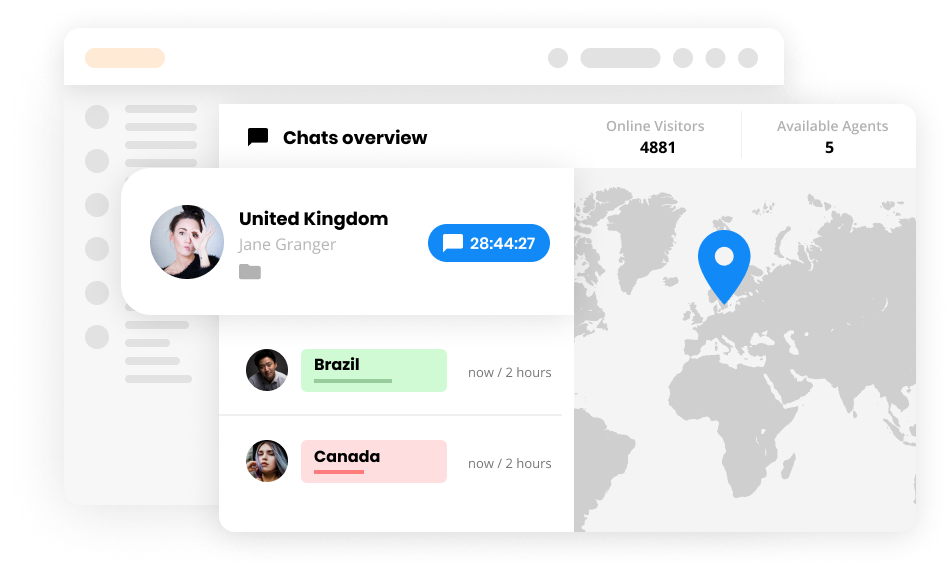 For instance, if you run a used car dealership, you know how time-consuming and tedious it is for potential buyers to find the right person on the right website. But with live chat, you can cut out the middleman, so to speak, and reach out directly to your prospects.
Incorporating multiple features into one strategy is a great way to reduce the cart abandonment rate and capture leads for your sales pipeline.
Improved conversion rate analytics
Let's say you want to know the actual conversion data from your live chat for WordPress. With LiveAgent, you can. Activating the chat embedded tracking plugin allows you to measure the overall impact of live chat on conversions. This way, you will have a better understanding of the revenue live chat generates.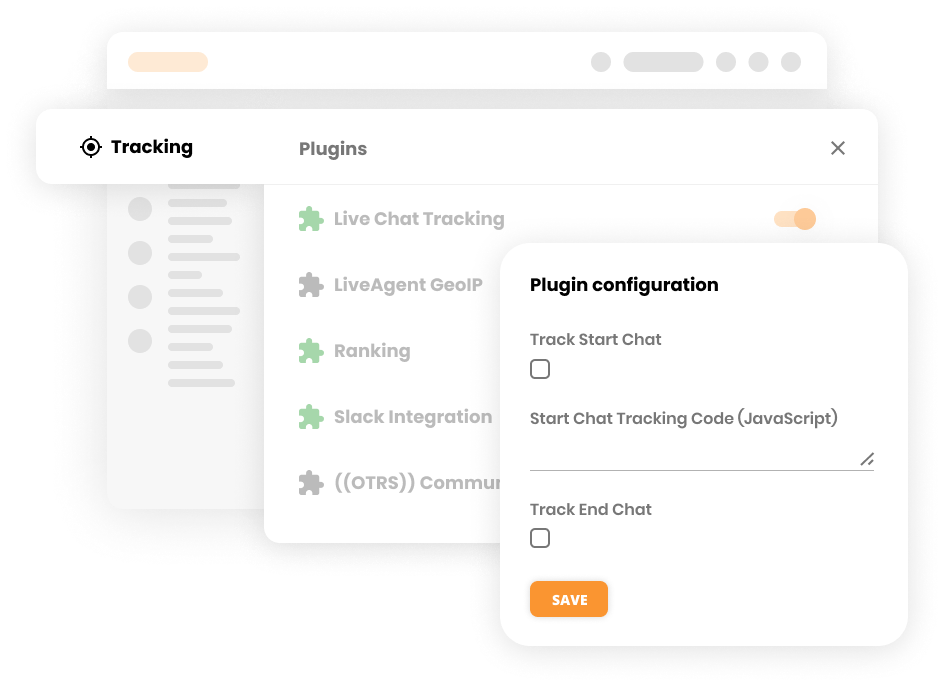 But that's not all. If you want to review the customer service efforts, you can generate up to 11 customer service reports. The results can reveal opportunities for improvement.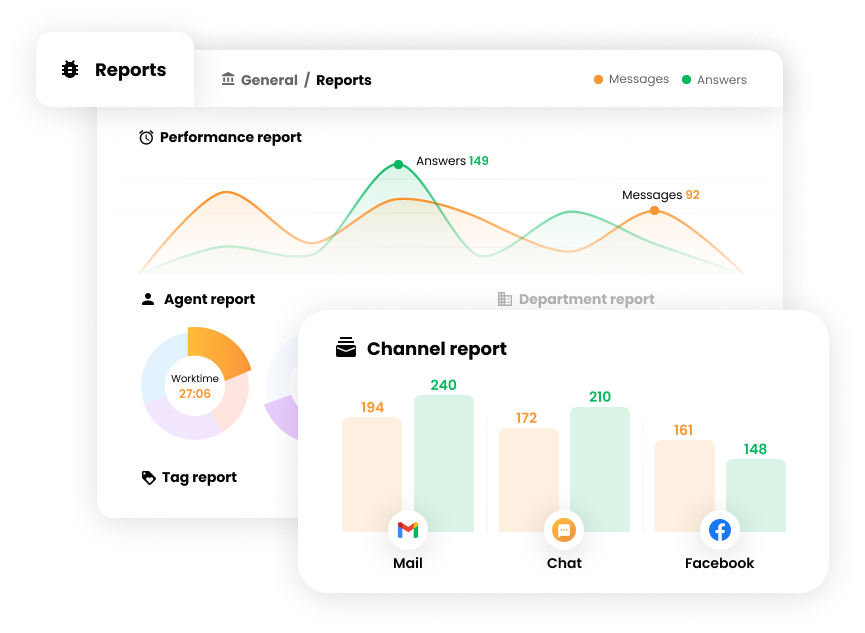 Cultivate long-lasting relationships
With LiveAgent, you can also build a community forum and knowledge base, where customers can access articles, comment, or even contribute themselves. This is a great way to provide support even for the customers who prefer self-service.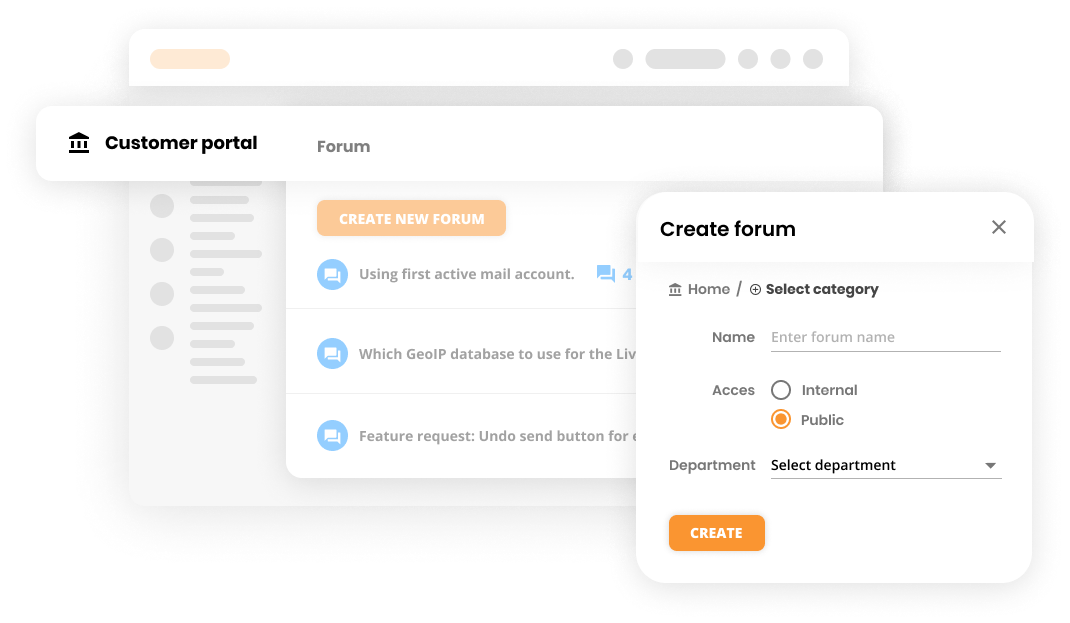 Not leveraging the power that social media can have on a business ROI is a mistake that many companies are still making. 
People use social media for everything these days, and it is only logical to have a chatting tool that they can use to connect with your dealership. 
Integrate the social media platforms into your LiveAgent dashboard and respond to each mention, post, or review.
Add new fuel to your customer service
Key live chat features for car dealerships  
Each chat operative plays an essential role in the customer experience. Their efforts, professional etiquette, and interactions are what ultimately lead to a positive outcome.
Etiquette in Live Customer Support | Live Agent01:13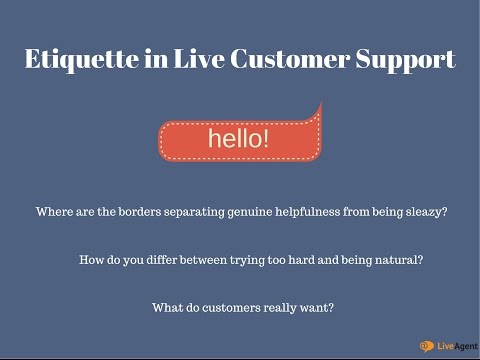 Live Agent
Although marketing might not be directly involved, a satisfactory consumer experience is beneficial for lead generation marketing. If customers receive excellent service, they are more willing to share their contact information.  
But even if your chat agents are strictly concentrated on the customer service side of the relationship, the training on how to use live chat and its features to create a memorable and personalized experience is vital. 
Due to the anonymous nature of the chat session, agents can sometimes become negligent and not pay attention to the fact that another human is on the other side. And it is that human interaction that differentiates live chat from a chatbot. 
So, which features are ideal for the personalized customer experience? 
Real-time typing-view
Delight customers with quick and accurate answers to their questions, even before they hit send. How? With a real-time typing view, agents can observe what the customer is writing in real-time and prepare their response.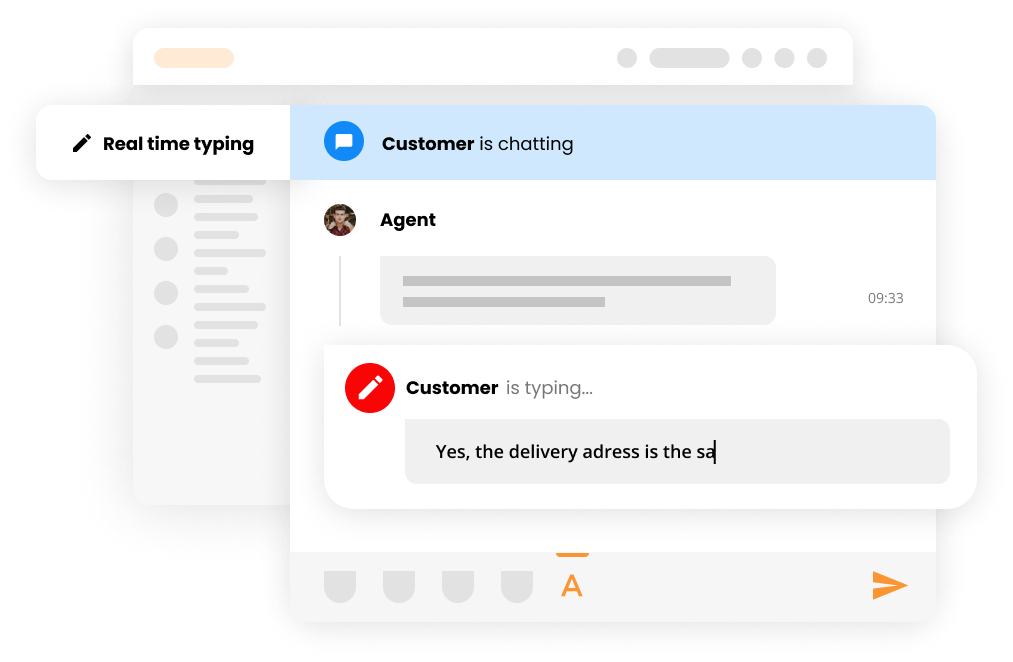 Online visitors
Being prepared in advance is always a good strategy. Monitor your online visitors' behavior, which country they're from, or what is their IP address and leverage the acquired information in a chat conversation.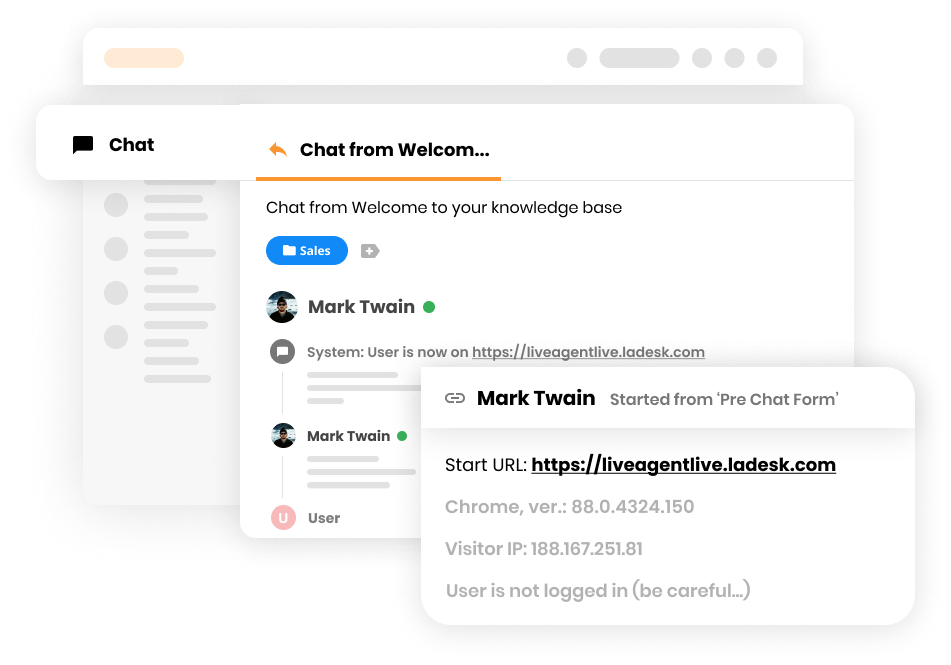 Video chat
A feature that truly embodies the philosophy of personal interaction. If you want to bring your customers an in-store experience online, look no further than video chat.
Place a live video chat button on your website and use it for co-browsing with your customers.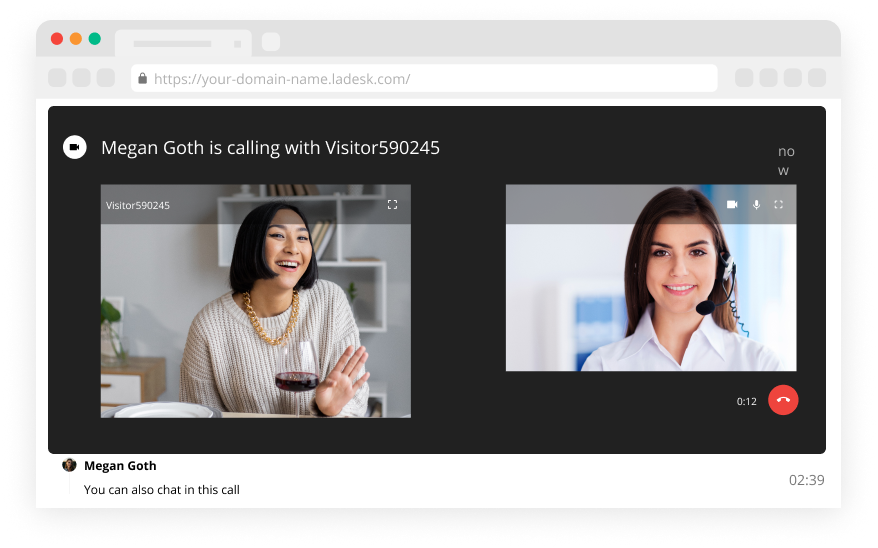 Predefined answers and canned responses
These replies save agents from potential grammatical errors and keep the style of conversation consistent. Predefined answers and canned responses to routine customer inquiries save time and the struggle of composing a new response to each question.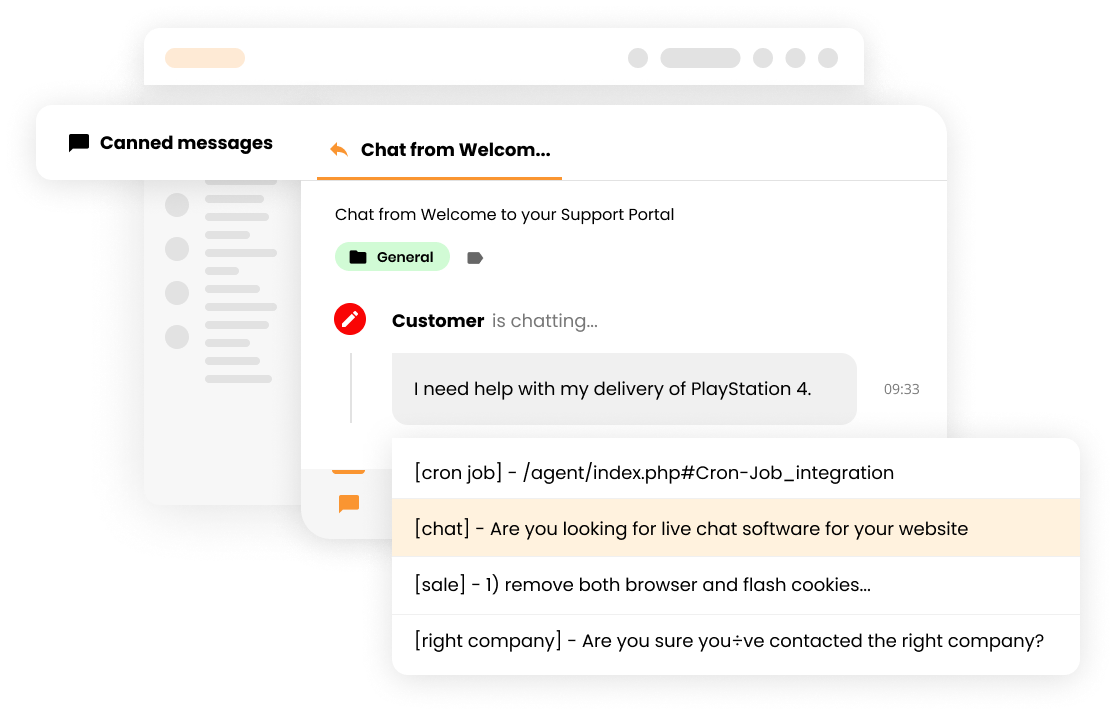 If you deal with an international clientele, you can provide multilingual support.
Configure the chat widget to your customer base preferred language and route a communication to a specific agent capable of speaking the language.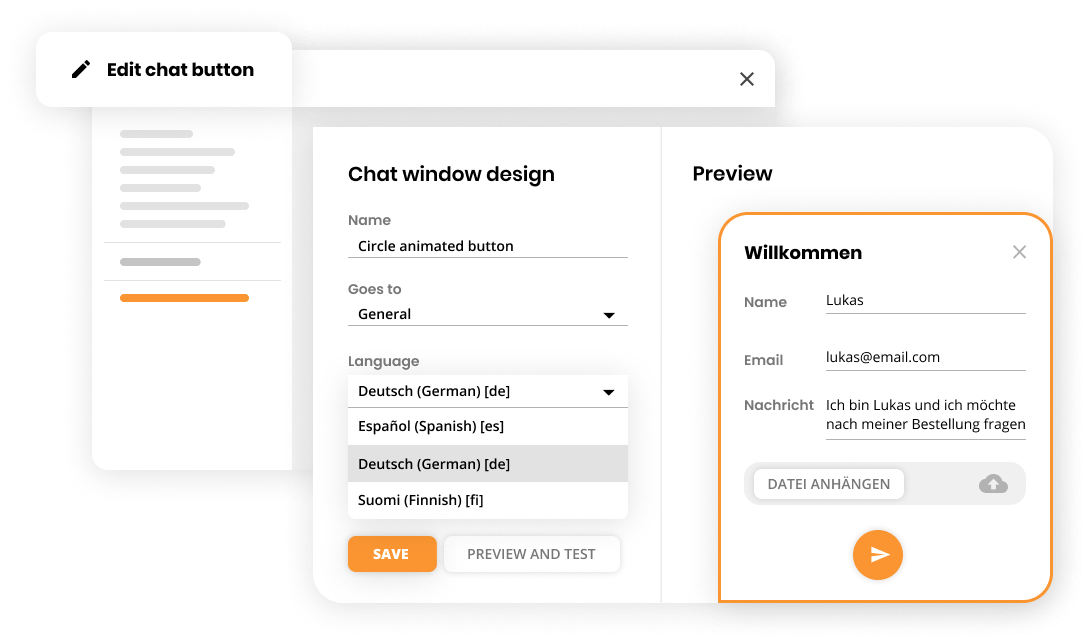 Pre-chat survey
Before starting a chat session, your agents can ask for the customer's contact information with the pre-chat survey.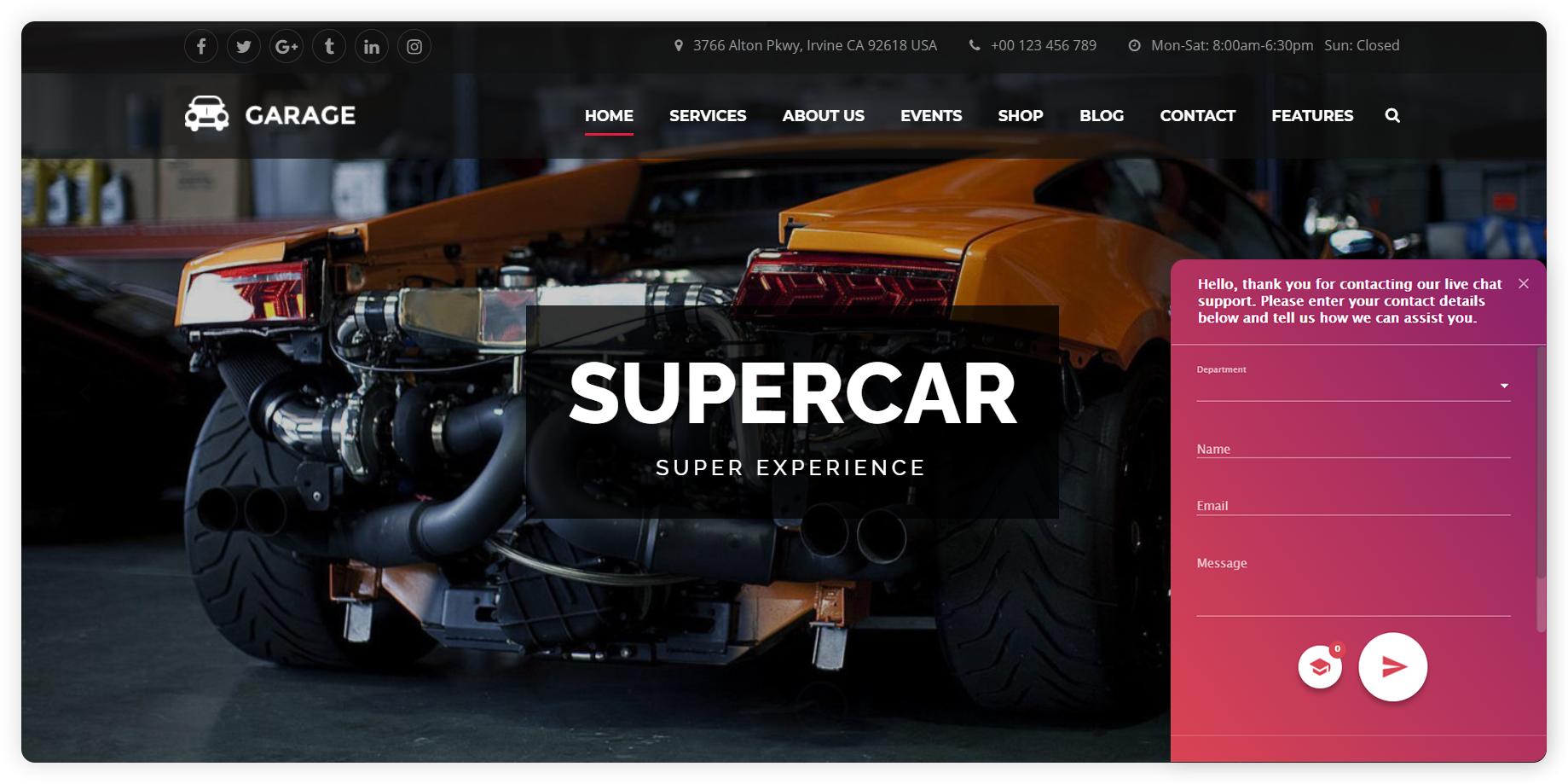 Post-chat survey 
There is always room for improvement. After each session, customers can rank the agent's performance, leave feedback, or request a transcript.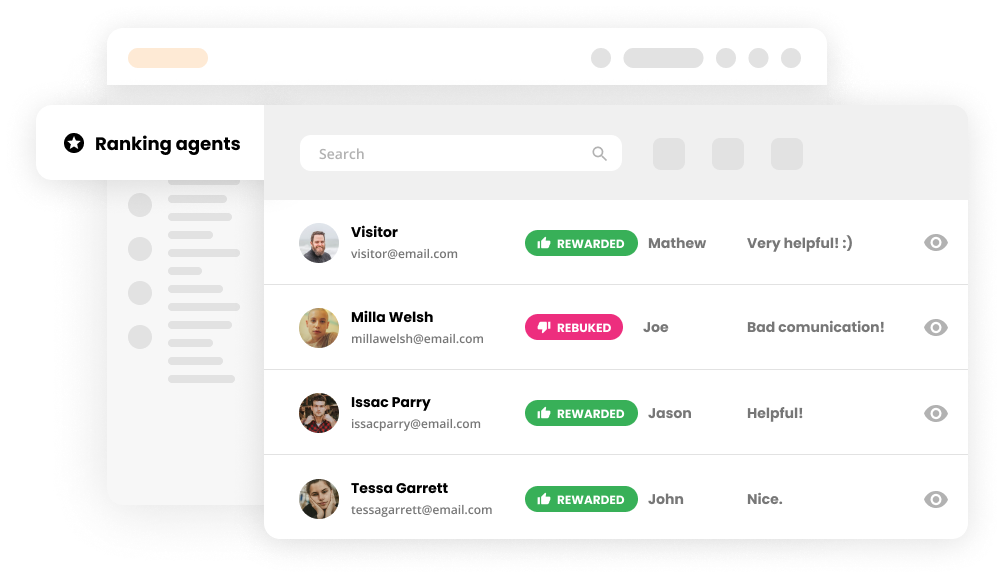 A post-chat survey conveys the message that your dealership values the opinions of your customer base.
Internal chat
Keep the communication open internally as well. Even agents require help sometimes, and with the internal chat, they can contact fellow agents by sending them a private message, all during an ongoing chat.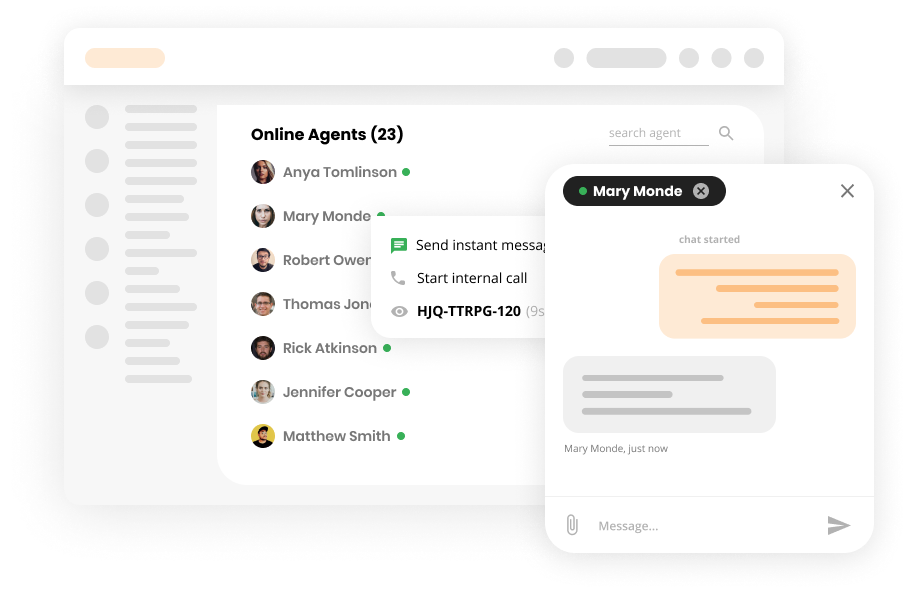 Accelerate your customer service
Should you outsource your live chat support? 
The internal employees will know the most about your products and services, but some dealerships may not have the budget or the internal customer department at all.
Preferably, you want your customers to be serviced by your direct employee, just like in your standard showroom. 
The essential ability of live chat is speed. Customers expect a quick response, and if that is not possible, it might be best to outsource.
Before outsourcing your live chat operatives to an outside customer service team, the critical part is to measure your customer service's efficiency. You can track these customer service metrics directly from your LiveAgent account. 
Even when you outsource to external live chat operatives, you still have easy access to your clients' files, thanks to the universal inbox.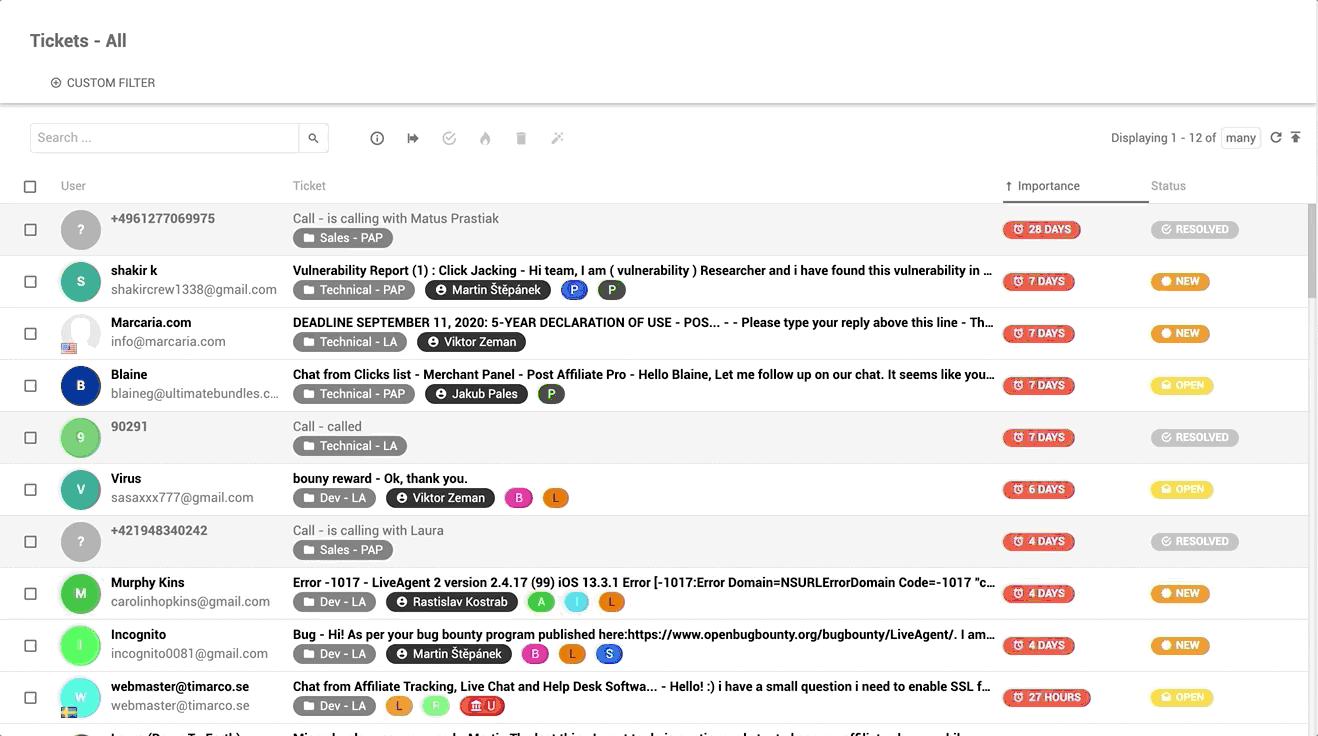 Powered by a built-in CRM, each chat session or message is converted into tickets and saved in one place.
Your outsourced team can still work as an extension of your car dealership without ever leaving your customers behind. That should include social media as well.
Many of the outsourced chat operatives are excellent customer service representatives and experts on the assigned subject. 
Summary
The main takeaway remains the same – there always has to be someone to answer customers' questions. If you can do it on multiple-platforms and at lightning speed, you will be rewarded with a loyal customer base and the best ROI of any communications channel.
How to integrate live chat to your automotive dealership website? 
The integration couldn't be easier. You don't have to have any coding experience or be a skilled programmer to integrate live chat onto your website.
When you sign up and receive a login for your LiveAgent account, all that has to be done is simply copying and pasting a short HTML code.

That's it—no need to download any additional software.
However, if you wish to integrate with third-party software to enhance your customer service experience, you can do that through our native or Zapier integrations.
Live chat security features 
No online website can be viewed as credible and trustworthy without appropriate security features. 
Data protection and cybersecurity are the number one priority for any enterprise that wants to be viewed as credible, trustworthy, and attract a loyal customer base.
LiveAgent's security features will provide an extra layer of cybersecurity and data protection for your business and clients. 
Here are the security features LiveAgent provides: 
Respond at a lighting speed
Knowledgeable resources
If you want to learn more about our live chat software, head over to the academy page for additional information or check out our customer support portal.
Live chat as a part of an omnichannel help desk system
Consumers are not bound to only one communications channel and frequently jump from one to the other.
Live chat is only one part of a complex help desk system that includes ticketing, call center, social media management, and much more.
Start a conversation through a phone call, continue with email and end up with a chat conversation—all within the single interface.
LiveAgent Product Tour | Live Agent02:25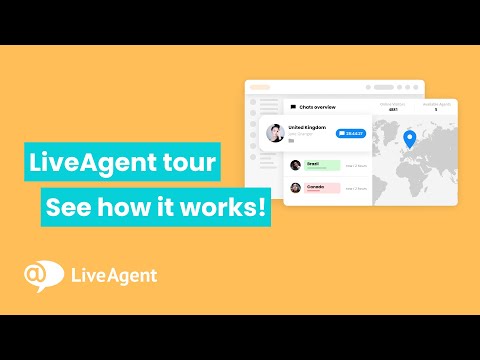 Live Agent
The complete help desk for car dealers and its features empower your customer support to achieve higher productivity and remarkable results.
Sign up today and see an increase in your revenue and satisfaction score.
Frequently

asked questions
What is live chat software?
Live chat software is a communication channel that the automotive industry can utilize and enhance its customer service efforts. It is a web-based instant messaging app in the form of a customizable chat button.
Live chat security features
LiveAgent´s free live chat software provides combined security features for the data protection and cybersecurity of its users: BAN IPs, 2-step verification, HTTPS Encryption, Multiple Data Centers, GDPR, API security.
How live chat complements phone, email support, and sales?
Phone and email are unable to match the speed of service that live chat can. Compared to the phone call and email support, chat agents can handle multiple chats simultaneously and set up automatic route distribution, all in real-time. This leads to – reduced average waiting time, lowest-customer effort, decreased volume of incoming messages, increased engagement, and improved website design.
Key live chat features for car dealerships
By following the rules of chat etiquette, agents can deliver a positive and personalized experience. Not only that, but they can generate hot leads with features like real-time typing-view, online visitors, video chat, predefined answers, canned responses, multi-language chat, pre-chat survey, internal chat, or agent ranking.
Benefits of live chat for car dealers
To show value to the customer during the five stages of the sales cycle, car dealerships can benefit from utilizing live chat. The four leading benefits: leads capture, decreasing bounce rate, improving conversion analytics, the formation of long-lasting relationships, enhanced social media presence.
How to integrate live chat to your automotive dealership website?
No additional software is required. Just sign up and login into your LiveAgent account. From there, you have to copy and paste an HTM code and integrate your live chat button on your website. If you want to enhance your customer service capabilities, you can integrate with other service systems.
Should you outsource your live chat support?
Track the customer service metrics before deciding to outsource your live chat operatives. If the results of the reports lead to outsourcing, you can still have access to your customers' profiles, all stored in the universal inbox.
Look under the hood and discover all that LiveAgent has to offer