Specify the visitor's IP addresses in LiveAgent that you wish to ban so annoying visitors won't be able to bother your agents anymore.
Ban is applied to:
More secure than ever
LiveAgent ensures your customer's data is always secure. Enjoy safe, carefree, communications starting today.
Chats: A visitor can see a chat button, but he can not start a chat session with an available agent. A banned visitor can just leave an offline message, which will be automatically marked as Spam.
Contact forms: A message added by a banned visitor through a contact form will be automatically marked as Spam.
Calls: Calls through the call contact widget (call button) will be redirected to a voicemail (and marked as Spam) or it'll just end the call – according to your IVR setup.
Suggestions/Forum posts: Banned users are not able to register and contribute to forum/add suggestions from banned IP address.
Ban history – Saved information
Date of the ban (Created)
Validity (Valid until)
Banned IP
Note with reason
Banned by (Agent name)
Ticket ID
How to add Ban
When chatting with an annoying visitor
Add ban in Settings/Protection section in LiveAgent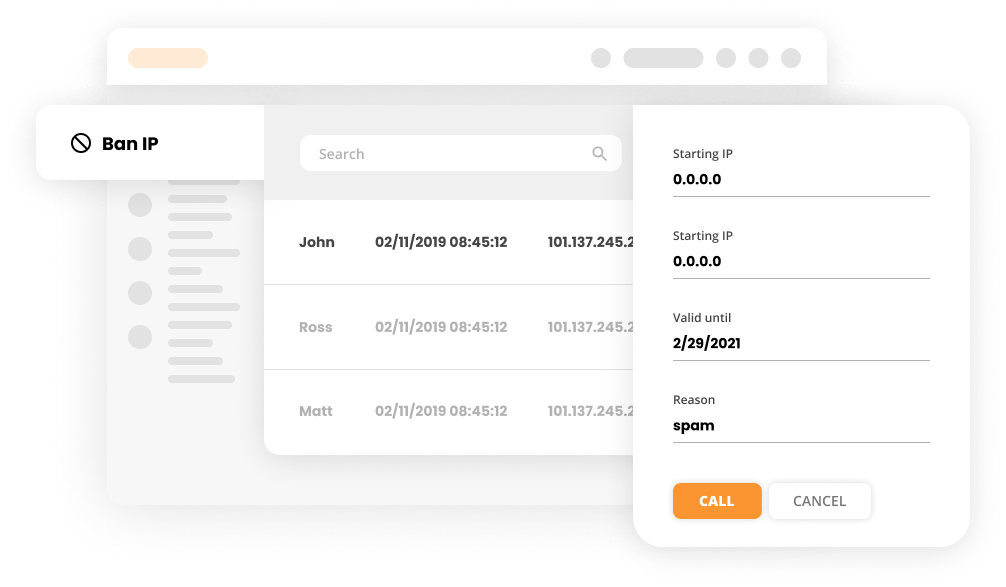 Knowledgebase resources