Do you often experience an overload of customer inquiries? Are your customers often dissatisfied with customer service because of the waiting time?
Customer satisfaction has never been more important. Satisfied customers can become loyal customers, which is the ultimate goal. Even a factor, such as live chat waiting time can contribute to the overall satisfaction. If you do not pay attention, you can easily lose customers to your competitors.
Let's face it. Nobody wants to wait in a line. Therefore, LiveAgent created a live chat feature called maximum queue length in order to improve customer satisfaction. Moreover, your company can easily manage agents' shifts as well as their daily workflow.
Business benefits:
How does it work?
You can easily define the max queue limit in the live chat button settings.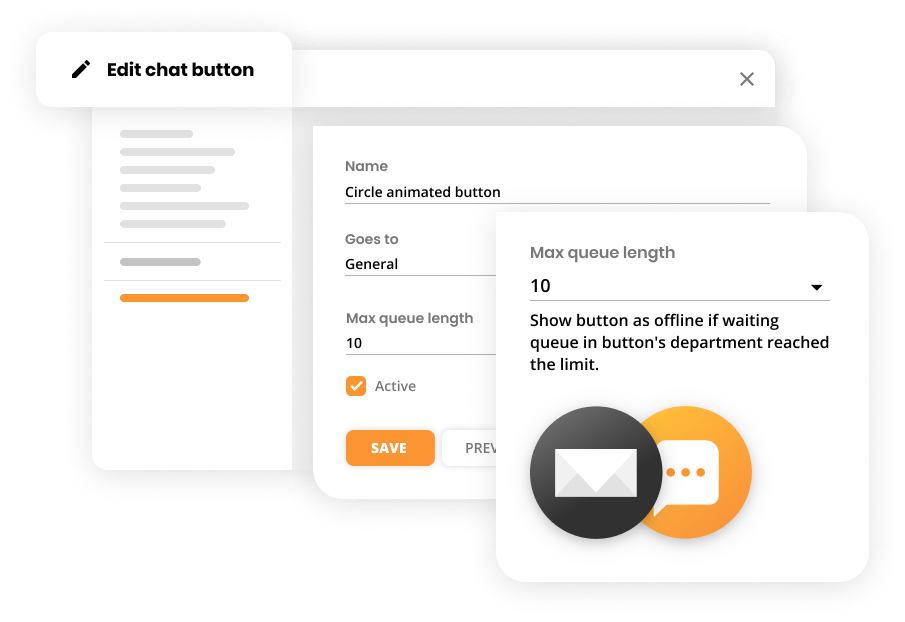 When the queue limit is reached, the chat button automatically changes its availability to offline or is completely hidden from your website.
Naturally, when the queue is back in the limit, the live chat button appears again with the online status.
As we mentioned, the live chat has the ability to act as an offline button if there are too many visitors/customers waiting in the chat queue. This helps eliminate customer's frustration when the chat queue is long.
If you set up an offline chat button, a pre-chat form is shown to the visitors. Therefore, they can still contact you by submitting their email address, which gives you the opportunity to contact them later. 
This creates appropriate expectations and saves time both for the company and the customers. 
Bonus tips:
Create multiple chat buttons
LiveAgent allows you to create online chat buttons for specific departments, such as your customer support and customer service. Moreover, you can set the online chat buttons for specific URLs. When creating them, you can define different max queue lengths for each button. Therefore, creating an effective workflow as well as providing a great customer experience.
If you would like to learn more, read LiveAgent – Live Chat.
Let the experienced agents handle the difficult chats
In order to save time and resources for your company and customer, you need to be efficient. Prevent customers from waiting too long in a queue. It is optimal to give some of your agents an option to transfer difficult chats to experienced agents. As a result, you can efficiently allocate the time of your agents and improve waiting time in a queue.
Use canned responses
If you decide to try LiveAgent, definitely utilize canned responses to improve the waiting time in a queue. It can save your agents a lot of time, especially with repetitive inquiries. However, use them wisely, do not abuse them. Try to personalize them. No one wants to talk to a robot.
If you would like to learn more, read LiveAgent – Canned responses.
Knowledgebase resources
Want to set up a waiting time in LiveAgent?
Here is a step-by-step guide to set up a max queue length in LiveAgent.

Ready to give it a go?
Start improving your customer service right away with a 30-day free trial and test all the available features of LiveAgent.