Customer touchpoints have the power to alter the way your audience feels about your product or service. Knowing what touchpoints are, how they work, and when a customer typically encounters them during their buyer journey is the key to improving your customers' experience.
What is a customer touchpoint?
Customer journey touchpoints cover all direct or indirect interactions customers have with your brand that shape their attitude towards it and ultimately their customer satisfaction. This can mean a visit to a physical store, a magazine mention, an advertisement, or a test sample. Digital transformation strengthens the value of digital customer touchpoints, which refer to interactions in digital space, including social media encounters, website visits, and virtual shopping through the entire customer journey.
Сustomer touchpoints can be within and outside of a brand's control. For instance, you can't control online reviews posted by customers, but you can maintain the quality of the service or product you sell. Each touchpoint poses opportunities for a brand to turn prospects into loyal customers. Thus, businesses need to know where and how these "touches" may occur.
Based on where the clients are in their customer journey maps, we can group touchpoints into three main types — those that happen before, during, and after a purchase.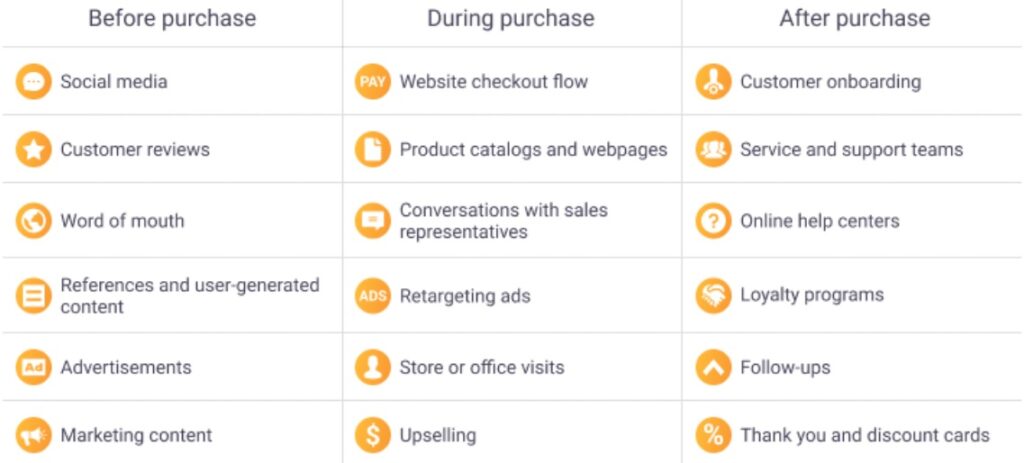 Fortunately, your brand can control most of these touchpoints. All you need to do is be sure to deliver them to please your customers. Read on to learn how.
What are the primary customer journey touchpoints?
The customer journey covers buyers' experiences when interacting with your brand — from awareness, engagement, evaluation, and purchase to post-purchase and loyalty. Knowing the paths your customers take can help you better understand their experiences and identify gaps where you may miss opportunities to interact or lose touch with your customers. This is a necessary part of your overall product development strategy.
Let's look at the touchpoint categories and customer touchpoint examples that may occur at different points in customer journey maps.
Before purchase
Awareness, engagement, and evaluation are the stages during which your prospects uncover the value of your brand and decide whether to go or not to go with it further. These are important parts of customer journey maps so make sure you catch their attention from the get-go.
Awareness
Refers to the time when your prospects first learn about your brand. The task of the brand at the awareness stage is to show how it can satisfy a prospect's needs and help them reach their goals while having an excellent customer experience.
The main touchpoints here are:
All these touchpoints are excellent ways to capture your prospects' attention. Once you've got their attention, you need to nurture and engage it by providing additional information about your products and services.
Engagement
If prospects find your brand interesting, they may follow it on social media, opt-in for a newsletter, read your blog, or try out promotional items. The task of the brand here is to guide prospects toward your offerings and show what makes them stand out from the crowd. Remember, excellent customer experience always goes hand-in-hand with great engagement and exceptional customer care.
Interactions with sales representatives. Your prospects will likely have questions regarding the services or products you sell. This touchpoint can occur in-store, via phone, or live chat. A tip here is to involve AI-powered chatbots who can answer questions 24/7. State of Conversational Marketing reported that 54.8% of businesses that used targeted messaging and intelligent chatbots increased the number of generated high-quality leads, compared to those who didn't. However, don't fully abandon meaningful interactions with your sales teams and the members of the customer support team.
Product catalogs. Online and offline catalogs give users detailed information about the product and services you provide (including samples, use cases, and testimonials).
Social media. This is a perfect medium for engaging with your customers and harnessing the power of content marketing. Use social media platforms to communicate with your prospects. Encourage them to "like" your posts and comments or repost your content. And make sure to repost user-generated content mentioning your brand.
Use these touchpoints to nurture your prospects by showing the value you bring to the table.
Evaluation
At this stage, your prospects compare your brand with others to decide whether yours is the best fit. They may also communicate with your sales reps, asking them to advise or consult on the products or services you sell. But sales reps are not the only touchpoint worth your attention.
Educational content. This helps engage your prospects from the awareness stage to the evaluation stage. It's a great tool to convince potential customers to choose you. So make it helpful, digestible, and easy to find. This touchpoint could be blog posts, podcasts, vlogs, and so on.
Demo products and promotional items. Trying your products or services without commitment is a powerful incentive to purchase. It can help showcase what you offer, win your prospects' loyalty, and encourage them to choose you over competitors.
Customer reviews and testimonials. Nearly nine out of ten consumers worldwide read reviews before buying products, so be sure your prospects can easily find them. You can post customer reviews on your website and highlight them on social media.
If you do your homework right, you create a high likelihood that your prospects will move on to the next set of touchpoints.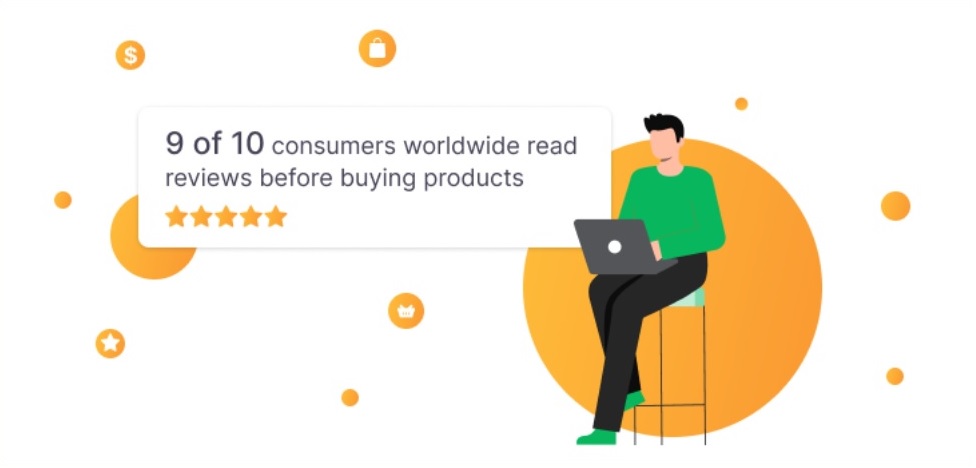 During purchase
This is where your prospects may turn into customers.
Purchase
They've chosen your brand and need an intuitive process and tools to make their purchase. Here's how you can guide them:
Chatbot assistants. Chatbots can help guide your users and eliminate the need to fill out long checkout forms.
Checkout process. Quick and intuitive checkout with diverse payment options is essential if you want your customers to complete their purchases.
Use instructions. Good visuals speak louder than words, so be sure to provide your users with easy step-by-step instructions on how to use your product.
The main mission of touchpoints in this phase is to provide a clear path to purchase.
After purchase
A purchase is not the end of customer journey maps, rather it can be a new start for building successful customer relations. These relations start with post-purchase experience and may result in loyalty or loss of it.
Post-purchase experience
According to a PricewaterhouseCoopers (PwC) survey, 65% of consumers are more influenced by a positive experience with a brand rather than by great advertising. So, in addition to selling exceptional products or services, you need to provide your customers with outstanding support. Here are several ways of doing this.
Customer feedback surveys. Compile a shortlist of specific questions to learn about your customers´ experience with your product. This type of feedback survey will help your business address problem areas that customers may run into.
Follow-ups. To motivate customers to return, you need to offer them additional support or services, like for example a discount on future purchases to prime them to buy again at some point.
Newsletter. Sending captivating content can also help maintain and grow your customers' interest in your brand. Weekly marketing newsletters update customers about industry news and trends and also showcase your special offers.
All of these touchpoints show that you care about your customers and inspire them to feel loyal to your brand.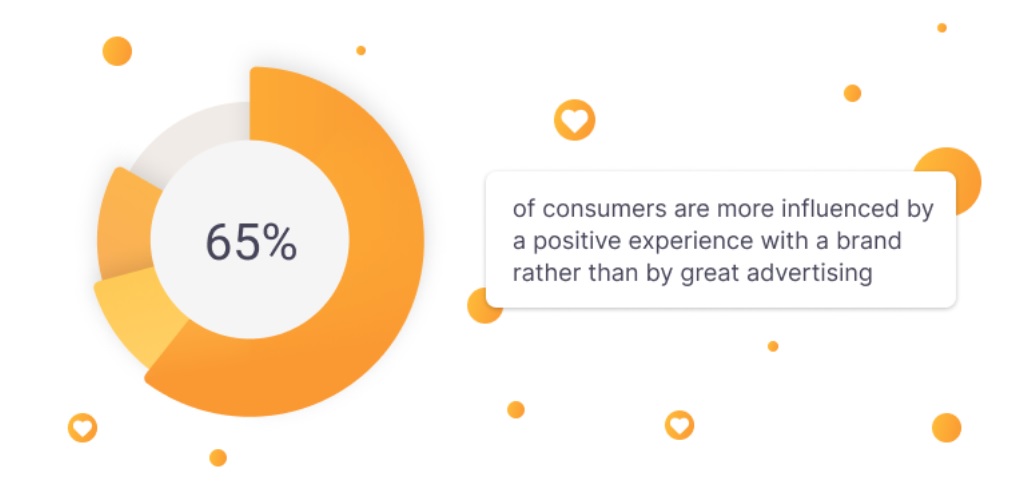 Loyalty
Sending newsletters and follow-ups isn't enough to keep your customers happy, connected, and eager to come back. You can build loyalty by having exceptional customer service touchpoints and customer retention marketing strategies in place.
Daily deals and coupons. Temporary offers create a sense of urgency, which fuels customers' impulse to return to your brand and make a purchase.
Loyalty programs. Rewarding your customers for shopping with you keeps your brand top of mind. For example, loyalty programs sometimes insert gamification elements and give customers a nudge to collect another star by shopping at your business.
Referral bonuses. This one is a good way to grow your customer base and make a word of mouth work for you.
Each touchpoint contributes to the overall customer experience and has an impact on customer satisfaction, so you need to make sure that together, they provide a seamless experience, making the whole customer journey pleasant and obstacle-free.
How to measure customer touchpoint effectiveness?
Once you know how touchpoints can help you grow customer retention and sales, you need to make sure your brand touchpoints work for you.
Here's how you can evaluate your customer touchpoints.
List your brand touchpoints
To measure how effective your touchpoints are, you first need to make a list of all touches your customers have at each specific stage of their buying journey.
Define your touchpoints' operational purpose
The goal of this step is to group all the touchpoints that occur at a specific phase in the customer lifecycle. For instance, a touchpoint may serve to identify a prospect, initiate a conversion, or support executing a transaction.
Think of the role touchpoints play in customer experiences
Look at your brand touchpoints from a user's perspective and define how your customers feel about them. For instance, how will a specific touchpoint build preference or create loyalty?
Identify touchpoint owners
Knowing who owns a touchpoint is key to understanding how to adapt it and quickly address issues (if there are any) for maximum impact. For instance, your marketing team is responsible for your social media accounts activity and your customer support team for replying to your customers' queries.
Measure the effectiveness of each touchpoint
Now it's time to see if your brand touchpoints worked as expected. Use the following techniques to help answer this question:
Secret shoppers. They can go through the same buying journey as regular customers and note any issues they encounter along the way. Their experience is quite helpful in measuring the effectiveness each touchpoint has on your sales process.
Focus groups. Managing a focus group helps you better understand the pain points your customers may face when conducting business with your brand.
Feedback. One of the easiest ways to find problematic touchpoints is to read the feedback your customers leave online. In most cases, customers comment about touchpoints on social media if they have an unpleasant experience, though they sometimes leave positive feedback as well.
Tracking tools. If your brand runs pay-per-click ads, use ad tracking tools to see how many prospects who click through make purchases and become customers.
An important note: Not all touchpoints contribute to your brand's reputation equally. For instance, an absence of daily activity on a social media platform isn't likely to make your customers abandon your brand, but a glitchy checkout or broken links is. Take this into account when measuring the effectiveness of each touchpoint.
Once you complete all these steps, you'll see all the gaps and downsides your touchpoints may have throughout the customer buying journey. But before you start working on improvements, you need to take your customers' expectations into account. Let's take a closer look at this aspect.
What do customers expect from touchpoints?
Today's customers expect brands to know what they want before they search for it. Personalization techniques increase the chance a customer will notice the brand and choose it over competitors. A study conducted by Kibo, Monetate, and Certona showed that 70% of brands using advanced personalization earned a 200% or higher ROI from their efforts.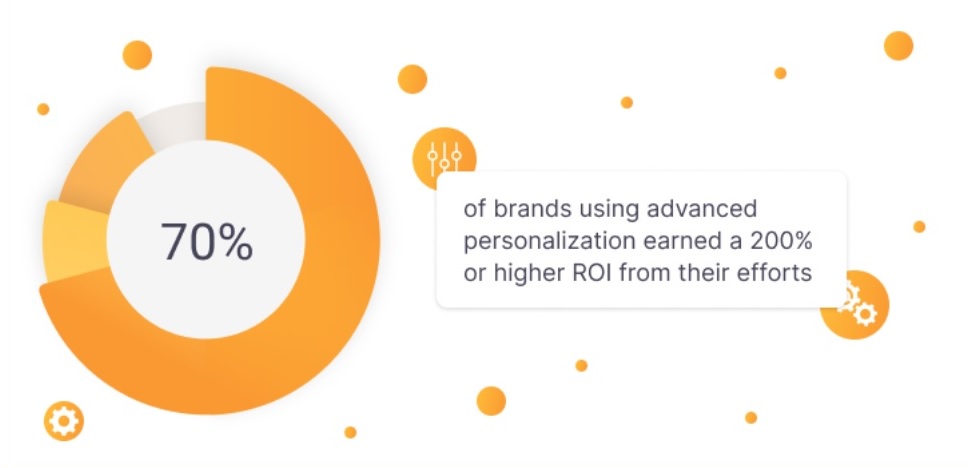 With that in mind, your customer journey touchpoints should be:
Appropriate. You need to carefully choose the context of the interaction (i.e., objects, words, emotions, and social cues) to fit the customer's demands and cultural background.
Relevant. Your brand touchpoints should speak to the customer's needs and desires.
Meaningful. Make sure your touchpoints bring value to your customer rather than distract them from the products or services you offer.
Endearing. The touchpoints should help you build trust and make your customers feel connected to your brand.
You need to plan your digital touchpoint strategy carefully so that your brand's touches delight your potential and existing customers throughout the entire buying journey.
Digital touchpoints: Can you control them?
When it comes to digital touchpoints, the answer is more yes than no. Touchpoints within your brand's control include ads, sales and support assistance, loyalty programs, content, and the lion's share of your online presence. Improving touchpoints within your control also helps improve the ones outside of it (e.g., word-of-mouth marketing and reviews).
You can boost your reputation by encouraging satisfied customers to leave feedback and rewarding them for it right at the end of their customer journey maps. As for negative reviews, you can use online reputation tracking tools to find and respond to them, which raises the chances of enhancing customers´ experiences and avoiding harming your brand´s reputation. Perhaps with an appropriate response, you can even convert them into happy customers.
Increase your sales with customer journey mapping
In LiveAgent, you can evaluate all customer touchpoints that are related to communication channels.