B2B SaaS sales can be at times challenging process for sales teams. Prospecting for qualified leads, engaging with them, and closing sales can take a significant amount of time.
Sales enablement brings both sales and marketing teams together to build a selling strategy that guarantees excellent conversions. It helps your SaaS business to shorten the time between product discovery and successful lead conversion, boosting sales and ensuring business growth. Nowadays, many tools are designed to provide sales leaders and teams with the necessary information, tools, and content that helps them do their job more efficiently.
This post will cover the top 10 sales enablement platforms for B2B SaaS companies that can streamline your sales efforts and help you achieve your sales goals.
How to choose the right sales enablement tools for your SaaS business?
Did you know that organizations that leverage sales enablement achieve a 6.5% increase in win rate on forecasted deals compared to organizations that do not?
Sales enablement tools have become an essential part of the technology stack for many Software as a Service (SaaS) organizations. These tools empower sales teams to work more efficiently and effectively, helping to increase revenue growth and streamline processes.
However, with a wide range of sales enablement tools available in the market today, it is crucial to consider the following criteria:
Ease of use
The first factor to consider is the ease of use. Choosing a user-friendly tool is like choosing a car that is easy to drive. This will ensure your sales team can access the features they need at once and complete their tasks on time.
Your sales team must also be able to use the tool with minimal training, as a complicated tool will require additional training and could lead to confusion and mistakes. The longer you get started, the more time you waste on streamlining your sales efforts. However, you must also ensure that your chosen tool is powerful enough.
Customer engagement
When choosing a sales enablement tool based on customer engagement standards, look for one that offers personalized content and messaging options to help your sales team connect with customers.
A sales engagement tool with these features allows your sales team to tailor their message to the customer's needs and interests, which enables them to engage with the customer and build a stronger relationship more effectively.
Sales CRM integration
Choosing a tool that seamlessly integrates with customer relationship management (CRM) software or any other system you already use is best for optimum sales enablement. Ensure this integration does not compromise your data security, storage, and other critical functions.
Inter-team access and collaboration
Efficient collaboration among sales, marketing, and customer support departments is vital for a SaaS business. Therefore, the tool you choose must offer features that ensure a harmonious working relationship between these departments.
Every team member should have access to crucial sales-related information through these tools without any hassle. For example, the tool should enable sales reps to share customer-specific notes and feedback from marketing to customer support.
Data and analytics
Effective monitoring of your SaaS business's growth and customer success requires a tool that offers excellent data analytics, including customer insights and team performance metrics, to identify what works and what doesn't.
For example, real-time insights into how prospects or customers engage with your sales materials help you understand how your existing sales content is performing and whether it needs to be changed to suit the customers' interests. It also provides an opportunity to understand your customers better by monitoring their behavior and actions to devise a more personalized sales strategy.
Training facility for the sales team
Opt for a sales enablement tool that provides up-to-date training materials, such as videos and eBooks, or has an internal knowledge base to educate your sales team on tool usage and FAQs. A dedicated support team should also be available to assist your representatives with any queries or issues.
Pricing
While considering sales tools, remember to factor in pricing. First, list essential features and set a budget for the sales enablement tool. Then, research software with similar standout features in your price range and enroll in their free trial.
By considering these criteria, you can make an informed decision on the right sales enablement tool for your company. In addition, careful evaluation of the various software available and how they align with your sales strategy can significantly boost your sales performance and achieve your sales target.
10 best sales enablement tools every SaaS business must invest in
Now that we've discussed the key criteria to consider when choosing a sales enablement tool, let's look at some top-performing ones. These ten best sales enablement tools can help your SaaS business streamline its selling process and achieve better results.
1. LiveAgent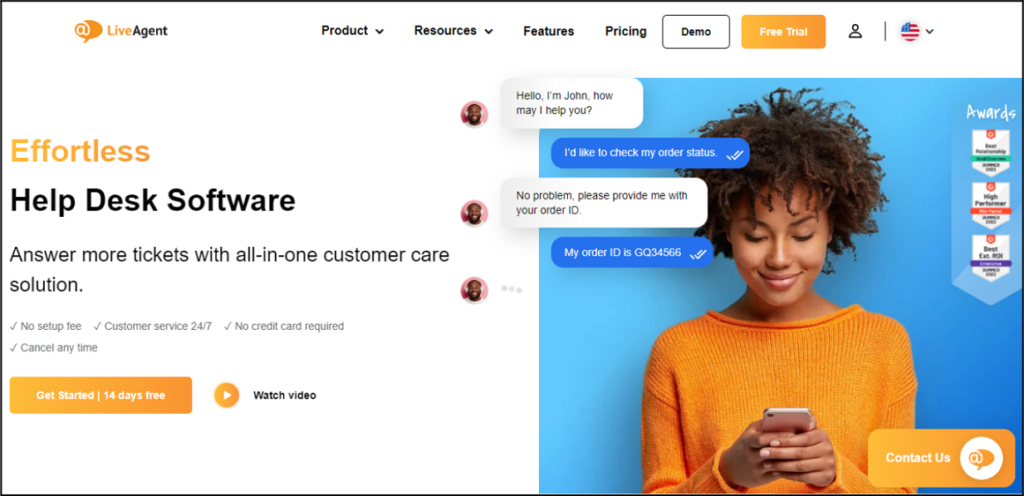 LiveAgent is a help desk software that helps businesses to provide customers with outstanding omnichannel customer support and service in every regard. This software helps to streamline the process, from the initial contact to the final sale. With it, you can add personalization to your customer interactions and streamlines your customer support operations.
For example, SaaS sales teams use live chat software to connect with customers and resolve their queries or to search and share relevant content with prospects and customers without any hassles.
Key features
Universal inbox to receive and manage all customer requests
Targeted messaging for delivering personalized messages to different audiences
Knowledge base software to create a self-service knowledge base that includes articles, how-to guides
Call center software with advanced features, such as IVR, call back requests, call transfers
Increase your deal conversions with LiveAgent
Empower your sales team with intuitive tools designed to provide the best customer experiences. Close deals faster with our all-in-one customer support solution. Start your free trial today!
2. DealHub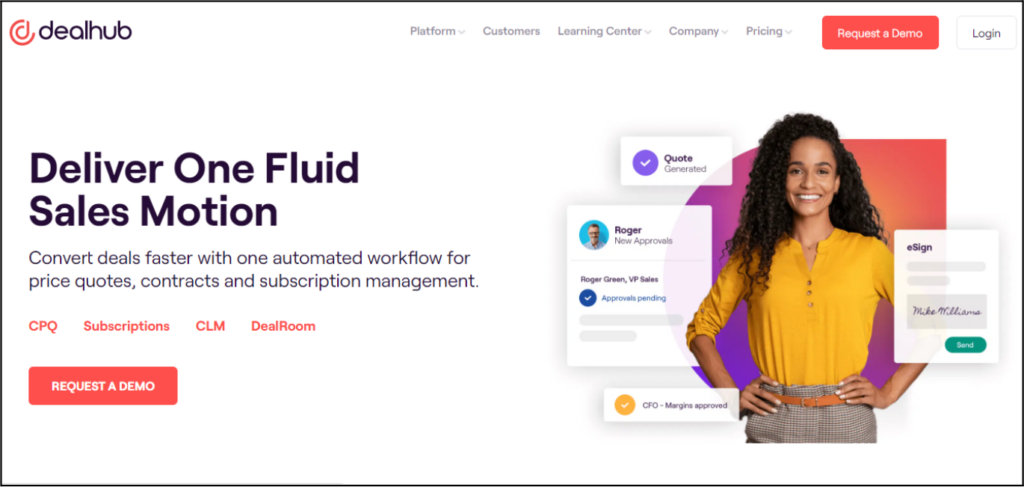 DealHub is a CPQ and Revenue platform that provides intuitive tools needed to close sales deals by automating the time-consuming manual processes and speeding up the sales cycle.
By managing every sales engagement touchpoint, DealHub helps sales teams generate multiple types of documents, such as sales quotes, proposals, contracts, order forms, and more, and shorten the quote-to-cash sales process flow. In addition, it simplifies tracking sales performance for B2B SaaS sales teams and helps deliver better sales experiences.
Key features
Contract management
Subscription management
Document generation
eSign
Revenue amplification
3. Salesforce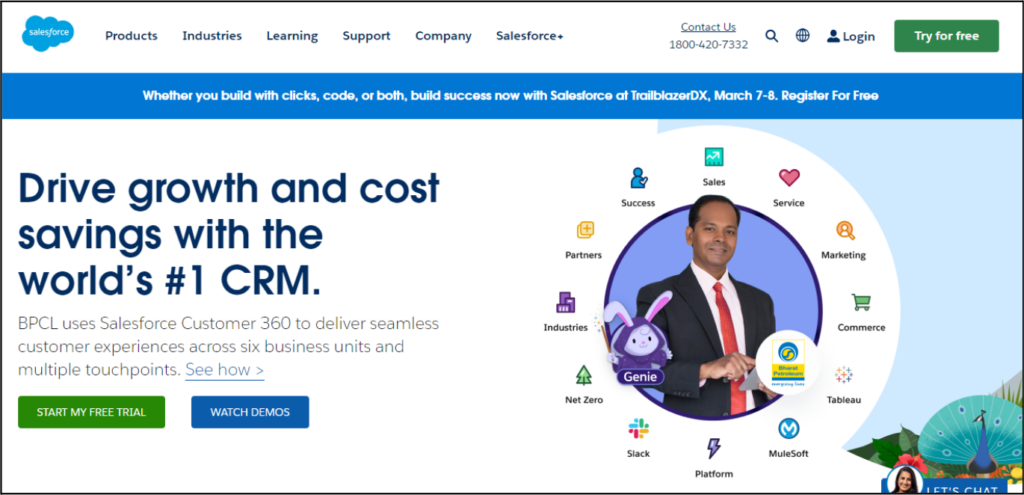 Salesforce is a customer relationship management system that brings sales and marketing teams together to woo your customers and keep them happy. Through a suite of connected apps, you can get a 360-degree view of customer information, identify selling opportunities, and close deals faster.
Its customer-focused tools enable you to build lasting relationships with your customers by identifying their needs and addressing their queries, boosting your sales.
Key features
Account management
Sales collaboration
Sales workflows and approvals
Customer engagement
4. Zoom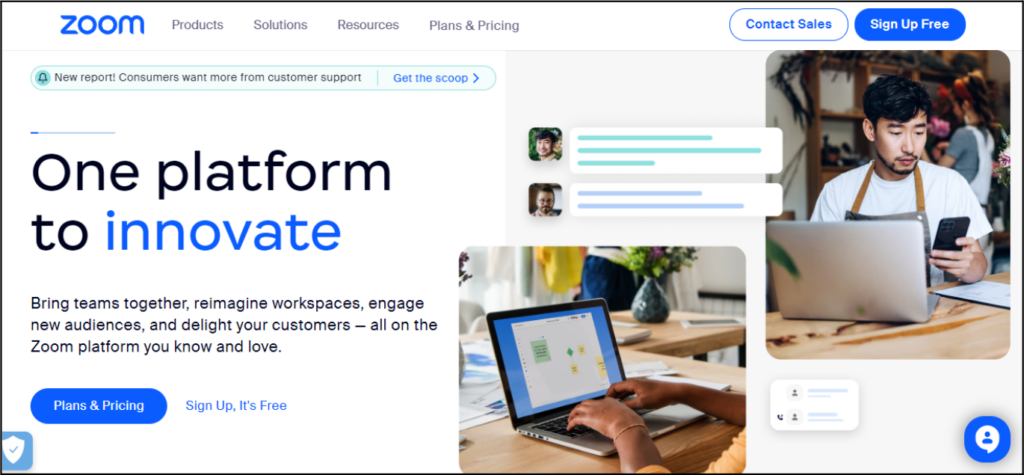 Zoom is a leading video conferencing tool that lets you connect virtually with your customers via video or audio calls while conducting live chats.
You can host unlimited one-on-one meetings and group video conferences with the flexibility to share screens. Zoom also allows you to record these sessions to view them later. It is an ideal tool for hosting product demos, training sessions, webinars, and more for your customers.
Their latest Zoom IQ for Sales allows sales professionals to identify opportunities, assess business risks, and ultimately enable and improve their performance. The feature uses natural language processing (NLP) models to process post-meeting transcripts and deal with progress data. This generates actionable insights for sales reps and sales managers.
Further, the after-the-meeting metrics allow them to understand whether they've spoken too quickly or used filler words. It also tracks competitor names that come up during the call.
Zoom is also planning to launch the Zoom whiteboard, branding for webinars, and reactions to webinars to help sales teams better analyze every interaction with a customer.
Key features
HD video and audio quality
Excellent collaboration features
Maximum participant capacity
End-to-end encryption to facilitate increased privacy and security
5. ProfitWell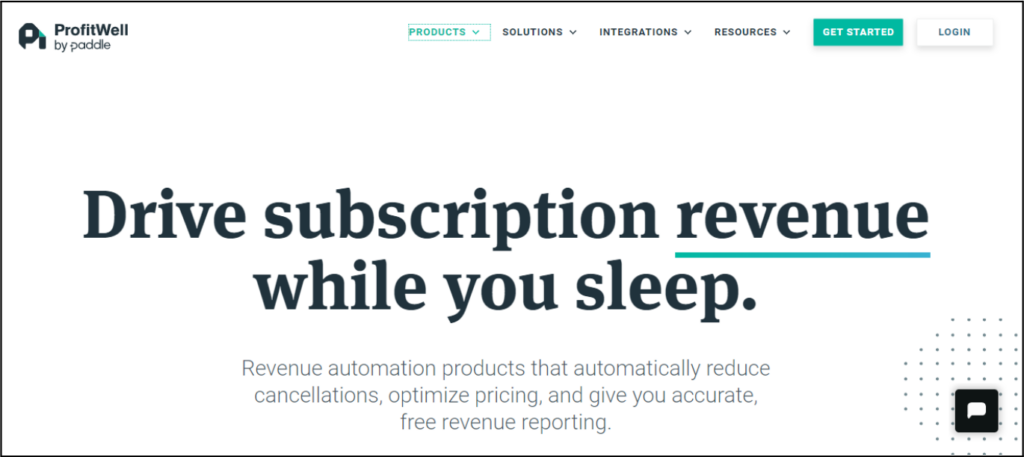 ProfitWell is an excellent tool for monitoring the recurring revenue growth of your SaaS offering. It provides accurate financial metrics for your subscriptions and helps you understand your business growth.
You can optimize your monetization strategies, reduce churn rates, and improve customer retention through accurate subscription analytics and reporting.
Key features
Intelligent subscription-related metrics in user-friendly dashboards
Insights into customer churn and retention trends
Integration with multiple payment gateways
6. Outreach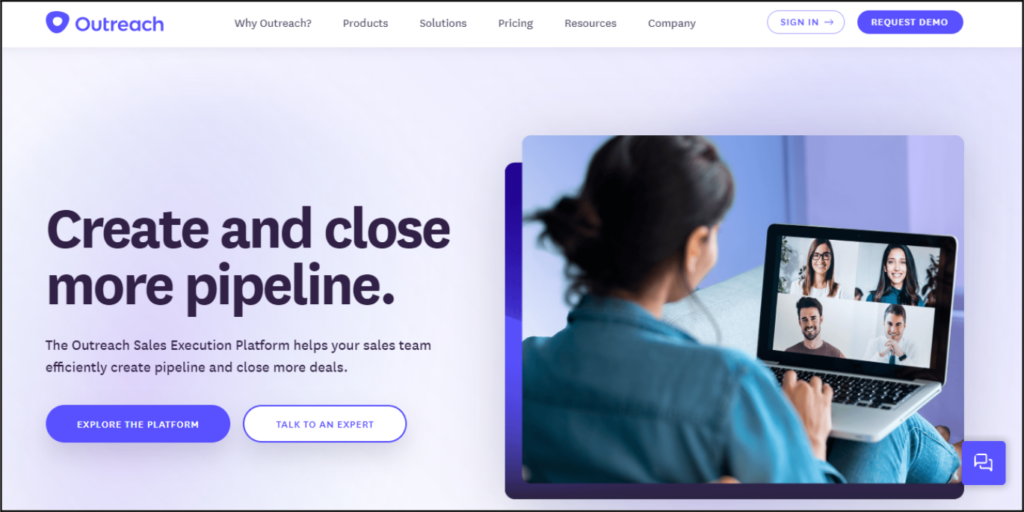 Outreach is a sales engagement platform that offers excellent tools to engage potential customers across every stage of the buyer's journey. It leverages AI-powered algorithms to discover valuable insights and identify the touchpoints of buyer interactions, thereby notifying the sales team to engage them and close deals faster.
Key features
Sales enablement solution to maximize productivity
Revenue intelligence to help win more deals
Revenue operations for better sales forecasting
7. Highspot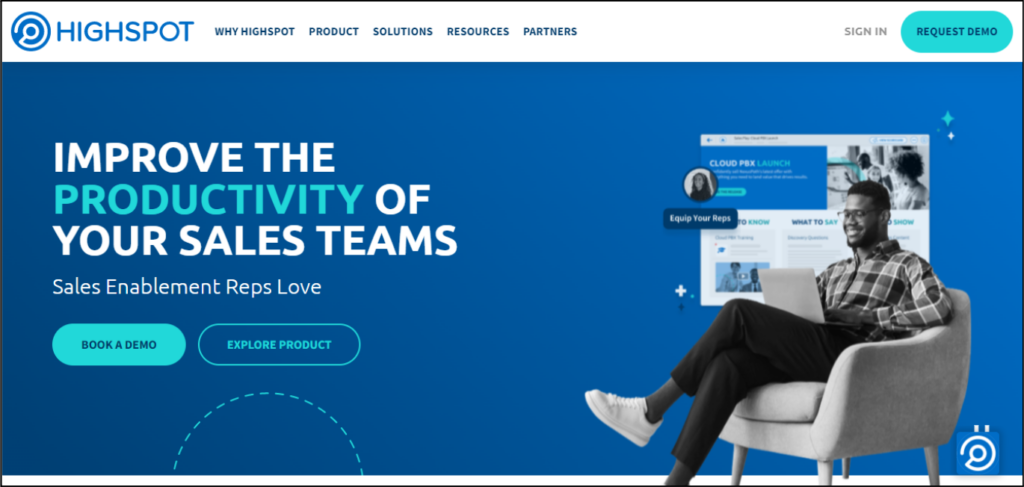 Highspot is an AI-powered tool that offers intuitive sales content management to create and share content with the segments of the buyer personas according to their unique needs. It helps sales teams deliver unified purchasing experiences to customers by finding desired content at a click of a button, boosting customer satisfaction and retention.
Key features
Sales content publishing and management
AI-based content recommendations
Sales team coaching
8. LinkedIn Sales Navigator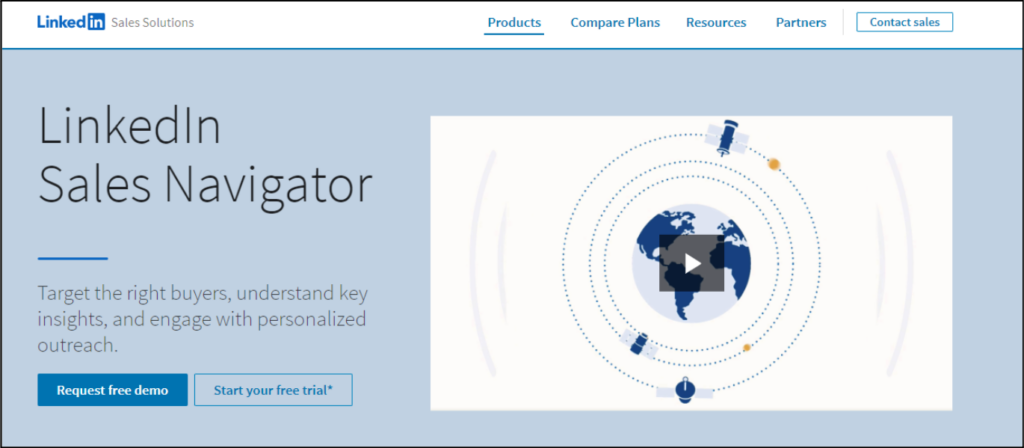 LinkedIn Sales Navigator is a relationship-based sales and lead generation platform that helps you connect with relevant leads and build relationships with them to land more deals. It offers powerful tools with outstanding search capabilities and improved visibility to help you discover leads and connect with the right decision-makers.
Key features
Access to LinkedIn's extensive network of various industry professionals
Advanced lead and company search
Lead management with custom lists and pipelines
Seamless CRM integration
9. Demandbase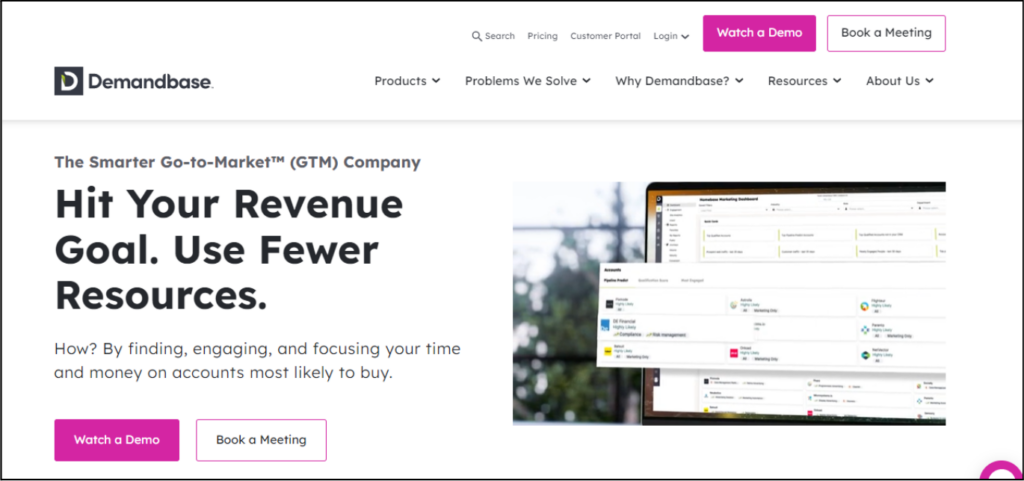 Demandbase is an account-based marketing tool that boosts your sales and marketing team's efforts through improved targeting across the entire sales funnel.
It provides you with the right customer insights, such as whether a customer is likely to purchase your product or upgrade the subscription plan. You can leverage these insights to build personalized experiences for every prospect and customer and boost conversions.
Key features
Intent monitoring and target account identification using AI and machine learning
Personalization to boost customer engagement
Marketing campaign and automation management
10. Ambition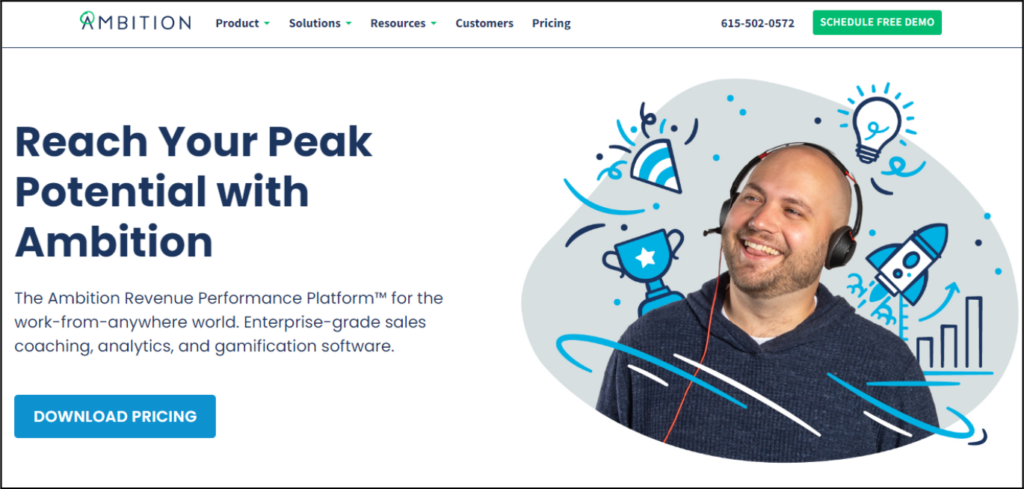 Ambition is a sales coaching tool that leverages gamification to track entire team performance and build personalized training programs for individual sales representatives. It offers you comprehensive tools to implement a sales coaching activity, motivate employees to perform their best, and monitor the effectiveness of your coaching efforts with advanced analytics.
It integrates with CRM, team communication, and other tools to track individual performance and drive sales productivity.
Key features
Performance intelligence
Training and coaching orchestration
Sales gamification
Wrapping up
Empowering sales representatives with the necessary resources to achieve customer success is at the heart of sales enablement. With these B2B sales enablement tools, companies can efficiently track leads, personalize outreach, analyze data, and increase revenue streams.
For better sales performance, you don't need to invest in all of these tools at once. Instead, prioritize your sales goals and determine which tools will help you reach them by signing up for a free demo.
Frequently Asked Questions
Do these tools offer a free trial before buying?

Yes, most of the tools we mentioned in this post offer a free trial of the software to help you understand and try out how it can complement your sales processes and boost your SaaS sales.

Will these tools offer software training to my sales representatives?

Yes, you can request the respective sales team to organize a training session to guide your sales representatives in using the SaaS tool.

What kind of support do these tools offer their customers?

Phone, email, and live chat are some of the support mediums these tools use to provide outstanding customer experiences to their customers.