Running an online eCommerce store comes with a unique set of challenges you must overcome if you want to become successful. More than 2 out of 3 online shoppers abandon their carts before checking out because they didn't get the information they needed to make the right decision.
That's where using a live chat widget can help you tremendously. It allows you to answer all user questions quickly and boost your conversion rates multiple times. Keep reading, and we will give you a detailed overview of 20 of the best live chat support software widget for websites.
What is a chat widget?
Do you know that small chat-box that appears in the bottom left corner of a website when you load the page? Yep, that's a website widget. 
It's a little box visitors can use to get the information they need from your customer support team quickly. It's a vital part of any eCommerce website and an excellent solution for communicating with your customers and understanding them better.
Today, most chat widget solutions offer fully automated features that answer most questions. Most eCommerce websites use some kind of chat plugin to provide constant support to their customers.
How does live chat work?
The live chat feature allows potential clients to contact your customer support team in real-time. Anyone arriving on the website can simply use the chat-box to ask questions that will help them make a better choice when purchasing a product.
The live chat support feature makes a considerable difference in sales, revenue, and customer loyalty. Websites using this feature can help customers by providing the information they need to make a purchase. It shows that you care about your customers and that you'll go the extra mile to help them any way you can. 
Most live chat widgets have advanced automated features; however, the more complicated questions are still answered by real customer support team members.
The benefits of using chat widget for customer support
Most successful businesses use every possible resource they can to get an edge over their competition and improve their conversion rates. The live chat widget provides a few crucial benefits you can use to boost sales, improve brand awareness, and grow your website's revenue. Here's a quick overview of the top 5 benefits you get from using a chat service.
1. Higher customer satisfaction 
Using a live chat widget increases customer satisfaction. Websites that use it have the highest customer satisfaction rating because their support teams can address the customer's needs right away.
2. Boost conversions
Showing your customers that you're always available for them has a positive effect on the overall conversion rate. Websites that use some type of chat app see a 20% boost in conversions after implementing the feature. Moreover, if a customer has a positive experience with your chat support team, they are much more likely to make another purchase in the future.
3. An improved customer experience
The customer experience is one of the most important factors that determine the success of any website. If you succeed in meeting client expectations and helping them make the best choice through the chat widget, their customer experience will be positive. 
4. Cheaper than other customer support methods
Compared to other popular customer support methods like answering questions through emails, phone calls, and social media, live chat support is much cheaper and more effective. The customer support representatives can handle multiple chats at the same time, which increases efficiency and resource allocation. 
5. Better SEO rankings
Live chat can also help you improve your SEO and reduce bounce rate. Whenever a visitor opens the chat widget and asks for help, the chances are that they will stay on your website longer. That means that they will be recognized as quality traffic, which will boost your website's ranking.
20 Top chat widgets 
Even though there are hundreds of live chat support options on the market you can try and test, we are going to take a quick look at the 20 best choices that are available right now. Here is a list of all the chat services we covered:
LiveAgent
Acquire.io
Bold360
Chaport
ChatBot
ClickDesk
Drift
Freshchat
HubSpot Live Chat
iAdvize
Intercom
LiveChat
LiveHelpNow
Nextiva
Olark
Podium Webchat
Pure Chat
Sendinblue
Userlike
Zendesk Chat
---
1. LiveAgent
Those who need a complete customer support solution should consider getting LiveAgent, as it offers everything you need in one well-designed package. LiveAgent offers real-time live chat, a fully-featured ticketing system, a built-in call center, a knowledge base builder, a customer portal, and state-of-the-art security.
The software was designed with efficiency and productivity in mind. The helpdesk software enables you to answer customer queries quickly. The chat looks great, but the beauty of it is that you can integrate it into many different platforms such as Zoho, WooCommerce, HubSpot, Salesflare, and many others, and address all customers from the same helpdesk. It works in a way that's similar to Zendesk and other all-in-one solutions.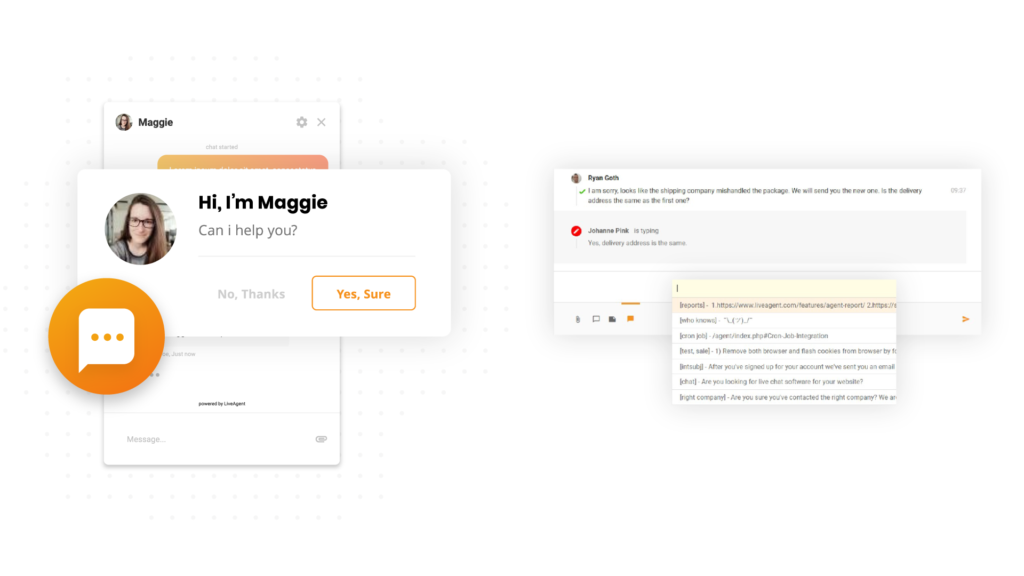 Once you sign up for the monthly subscription, your helpdesk will be equipped with a set of automation tools that assign tickets to available customer support team members, segment your audience according to their inquiries, and pre-designed rules that improve your team's workflow and overall efficiency. 
The best thing about LiveAgent's live chat widget is its speed. It's the fastest chat widget on the market, and it allows you to provide support the moment an inquiry is made.
Some of the most useful features you get with LiveAgent are:
The fastest live chat
Mass actions and automation
Fully customizable chat buttons and windows
Live chat visitor tracking
Integration with over 60 other tools
Email ticketing
LiveAgent is available in multiple plans, depending on what you need, the prices vary from $9 per agent per month for tickets to an all-inclusive version priced $49 per agent per month.
Connect with your customers today
Try LiveAgent and test all of its available live chat features. Stay closer to your customers and improve your relations with them.
2. Acquire.io
Growing businesses often find themselves in a tight spot when it comes to answering the needs of every specific customer. Acquire.io is designed to help growing enterprises address all inquiries quickly by using the multi-channel communication tool as well as by using bots. 
The automatic messaging system can take care of basic and frequently asked questions, while the more advanced inquiries are being handled on the live chat platform, where your team members can provide personalized support.
It's apparent right away that Acquire is different than most chat services. It comes with a screen share option and a co-browsing feature that improves conversions and makes the entire experience feel smoother.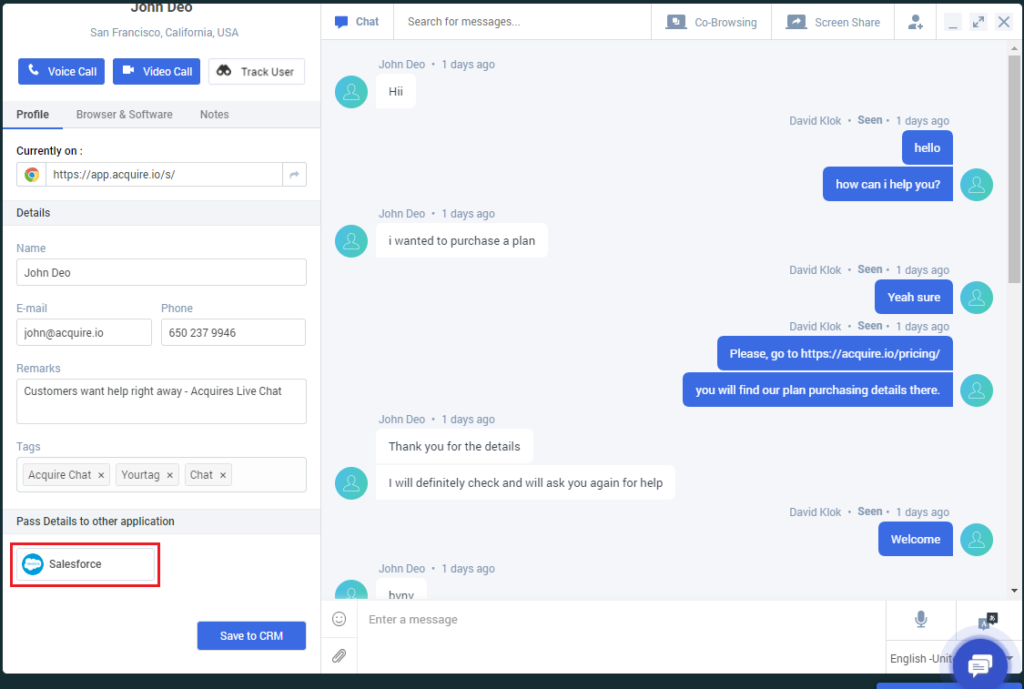 The answers to the commonly asked questions can be set up to cover the frequent issues in order to save time and resources. The built-in AI reads each message and provides answers based on specific words. Only the customers that have very specific questions are routed to your support team. 
It's important to say that Acquire comes with an automatic translation feature that recognizes any language and provides answers automatically. 
With the use of notes, you can give other customer support team members more details and useful information about previous conversations, thus allowing them to provide the best user experience. The basic pricing plan will set you back  $300 per month, while the Pro plan costs $950 per month.
3. Bold360
Bold360 is a chat plugin that's equipped with AI integration and advanced self-service options. It's ideal for increasing sales and building strong relationships through personalized messaging. 
The software takes a somewhat different approach to customer support. It provides a mix of AI features and real-time live chat to ensure that all customers get the information they need to make the best purchasing decision. Bold360 uses AI to extract critical information from each customer and provides the answers to your team's members, who can then answer all questions correctly and efficiently.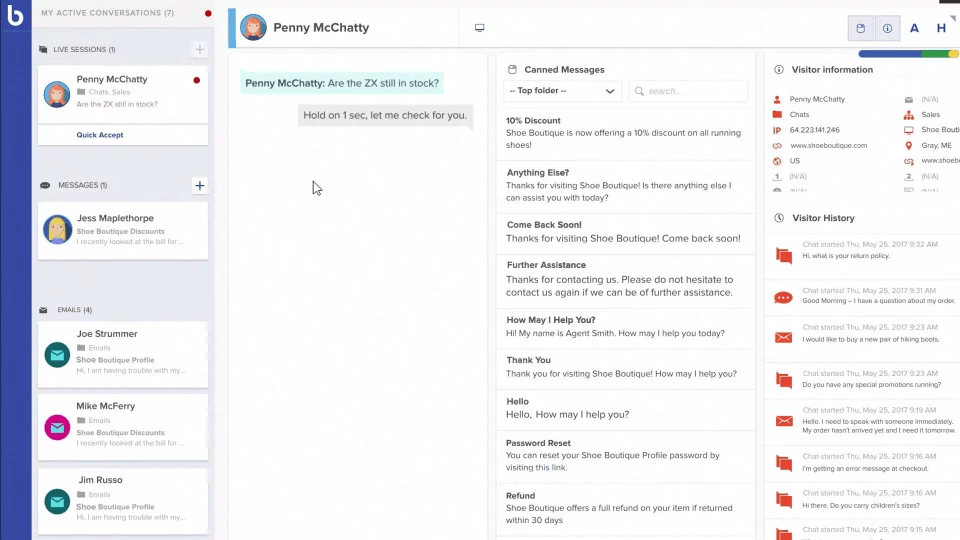 The best thing about this chat solution is that you get to set up multiple types of communication options. You can combine AI with live chat, provide only live chat support, or set up an omnichannel method. You can also set up self-service chatbots with answers to the most frequently asked questions allowing your customers to find the information they need without contacting your support team.
Bold360 will also help you improve the entire user experience by identifying errors and presenting solutions you can use to get better results. The software offers four different pricing plans, but to get more information about them you have to contact Bold360 directly.
4. Chaport
Chaport is a fantastic tool for generating leads, but it also provides real-time support features that can help you reduce cart abandonment and build trust with your customers. It's known as the best live chat software for startups because it's super-versatile, making it an ideal choice for growing businesses and startup companies.
The software provides a few useful features at a very affordable price, which is why it's one of the most popular choices today. You can start using Chaport for free and upgrade to a paid plan once your business starts to grow. The free plan includes the following features:
Unlimited use of chats on an unlimited amount of websites
Custom widgets to match your brand
Basic reports and analytics
30-day chat history
Web, mobile, and desktop apps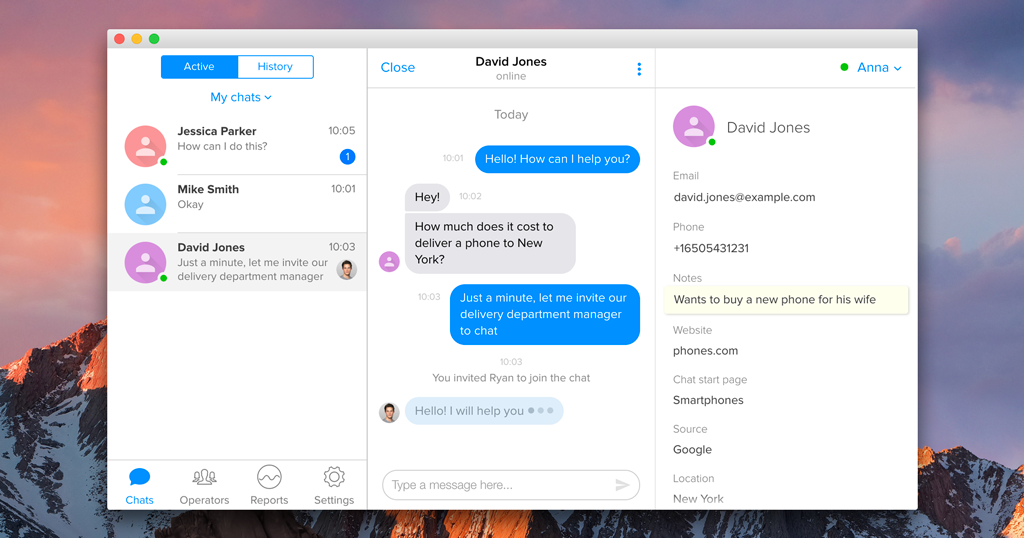 The paid version will get you a few other features such as group chats, search, automatic chat invitations, advanced reports, unlimited chat history, and more. 
You can use the software on the go as it provides an exceptional experience from all devices, including Android, iOS, Windows, and Mac. The instant synchronization feature allows you to switch between devices without losing any content. 
Chaport is an ideal choice for beginners as well as advanced users. The Pro plan is available for $14 per month (per operator). It's not a huge investment, but the features you get should be more than suitable to cover the needs of beginners.
5. ChatBot
The use of chatbots has become more widespread in the past few years. It turned out to be an advantageous method for engaging customers with little effort. ChatBot is an excellent choice for small and medium-sized businesses that don't have the budget to employ a regular customer support team.
The first thing most people like about ChatBot is its drag-and-drop interface that allows them to create their own chatbots quickly. The software offers many different pre-designed templates spread across many different industries, allowing you to set up an entire conversation scenario in a matter of minutes.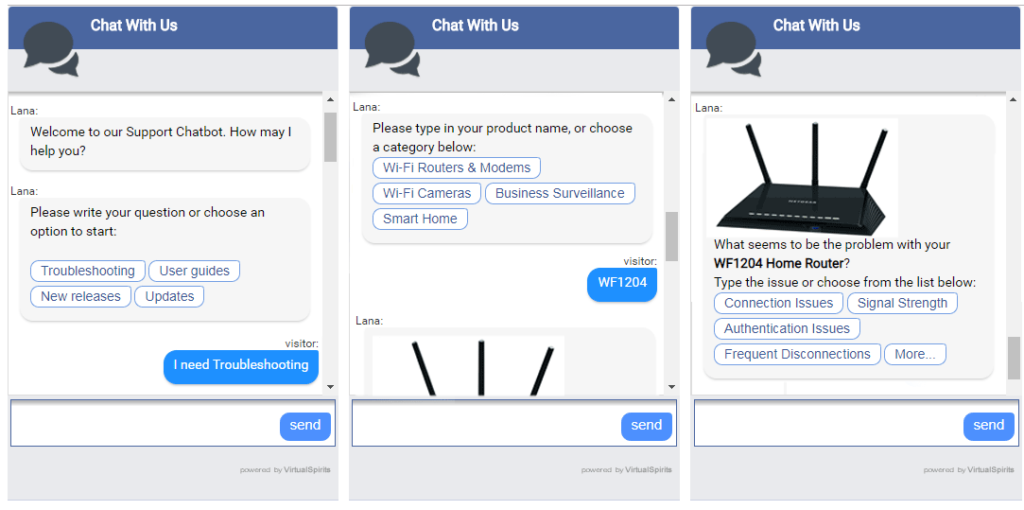 Your chatbot can help guide your customers through the entire checkout process automatically. By using another bot designed for lead generation, you can boost your sales and generate new leads without further investments. One of Chatbot's best features is the ability to sell products directly in the chat-box, which is especially helpful for boosting social media sales. 
With ChatBot, you can boost sales, provide a better customer experience, and even add a virtual assistant to all of your websites and social network pages. 
ChatBot currently offers the following plans:
Starter plan – $50 per month
Team plan – $149 per month
Business plan – $499 per month
Enterprise plan – Custom-tailored
6. ClickDesk
You can use plenty of chat tools to provide customer support, but ClickDesk takes a different approach. Apart from offering a standard live chat feature, you can also use it for direct audio calls as well as video chat. ClickDesk makes it easy to take care of your customer's needs because it allows you to include pre-chat surveys that help you get a better understanding of what they want before the chat starts.
ClickDesk is very useful for increasing conversions because of the video and voice chat features. Your sales reps can directly contact your customers and give them more information about a product with a quick live video demo. Your support team can answer multiple chats at the same time, making sure that all customer inquiries are dealt with in a timely manner.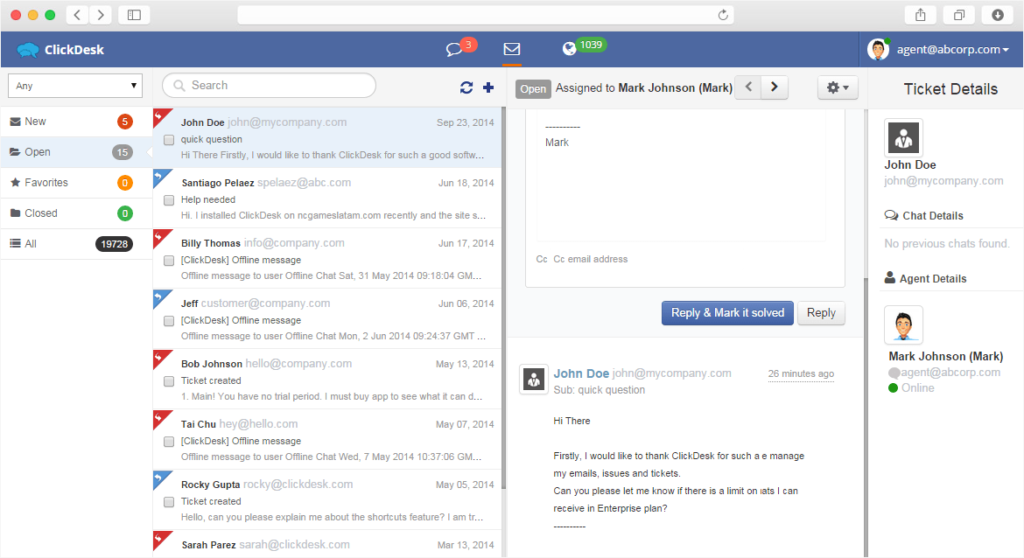 The software also allows team members to transfer chats to other representatives from different departments. With detailed reports, you will be able to see the effectiveness of your support team over time. The reports include details about the number of missed chats, the average duration of chats, and so on. 
ClickDesk offers multiple plans with prices ranging from $14.99 to $39.99 per month. Each plan supports multiple users and has many other useful features.
7. Drift
Drift offers a few beneficial features that are designed to help you create a stronger bond with your customers. It allows you to automate some parts of the chat process and use LeadBot to pinpoint high-quality leads, book meetings, and improve your website's overall conversion rates.
What sets Drift apart from other similar software is the ability to create personalized messages for targeting specific customers. Using this feature leads to better engagement and more responses, and ultimately more sales. For example, whenever a VIP customer visits your website, your sales reps will get a notification.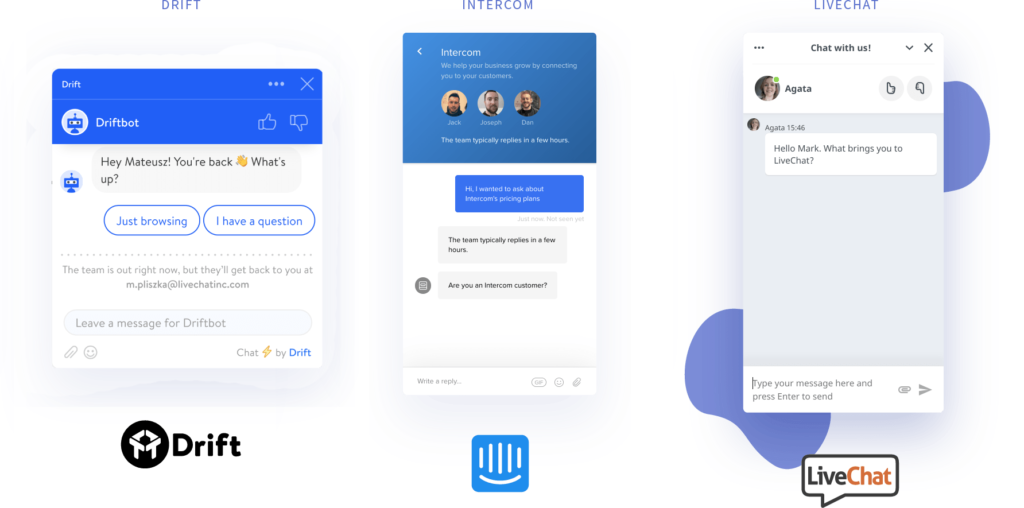 The VIPs will then receive a highly personalized greeting message from your team members, thus providing a unique user experience. Drift offers direct integrations with popular tools such as SalesForce, HubSpot, and Marketo. With these integrations, you will be able to create a list of VIP customers and monitor their actions whenever they visit your website.
Your sales reps can even book meetings with the quality leads, and the routing features will make sure that each future customer talks to the right member of your team. The free version of Drift gives users access to the live chat feature only, while the Premium version has more features and costs $500 per month. 
Lost in live chat software?
The decision to select the best live chat software might be hard and exhausting. Try LiveAgent, the award-winning software today and put all the troubles behind.
8. Freshchat
If you're looking for a powerful chat app that can help you engage customers and increase conversions, Freshchat is an excellent option. It's a complete customer support solution that can easily integrate with other tools to provide a better user experience.
But, even if you don't have any other tools in your arsenal, Freshchat offers all the live chat support features you could ever need. You can use it to improve the efficiency of your team by implementing the automation features designed to make managing your customer service much more comfortable. Some of the features you get are:
Seamless integrations with other tools
Advanced chat routing
AI automation
Live translations
High-end security
Intelligent agent chat load balance
Even though the software offers an excellent set of features on all fronts, it's wildly popular because of the high-end security features. All of your chats and information will be protected by the latest security measures. This chat tool focuses on conversions and meeting customer's expectations.
The reports are very detailed and provide useful insight into your customer's behavior. You can track each visitor and engage them in their own language due to the live translate feature. Freshchat is available in four paid plans with prices ranging from $15 to $69 per month.
9. HubSpot Live Chat
HubSpot Live Chat is one of the most popular options because it's free, and anyone can implement it on their eCommerce platform without any complications. It's an excellent choice for all companies working with a tight budget.
The live chat solution includes features like custom branding, automatic bots, customized targeted welcome messages, and real-time live chat support. It also offers a free integration with HubSpot's CRM tool. HubSpot users can fully customize the chat support window so that it matches their brand.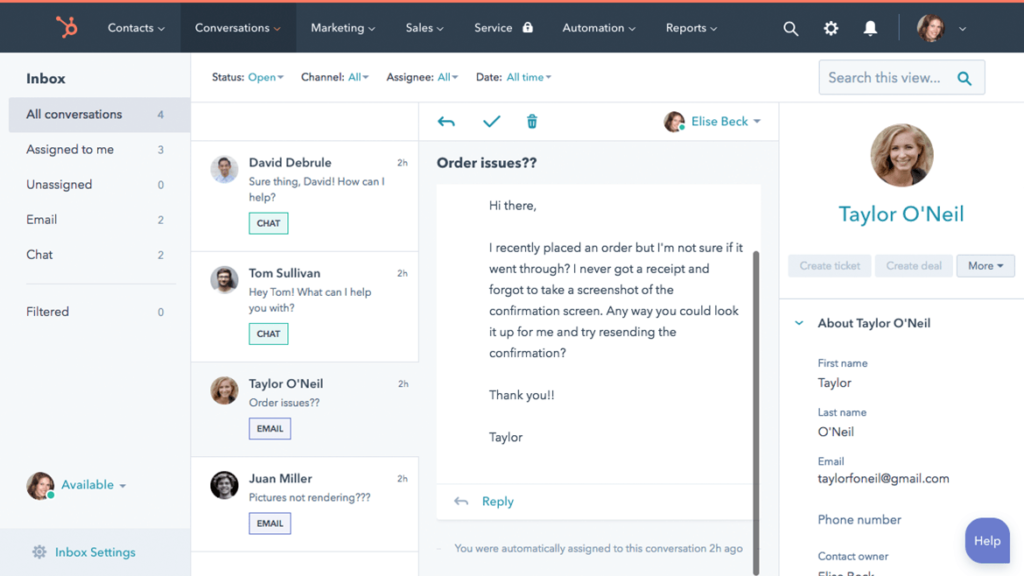 HubSpot offers a few other handy features, including an inbox management option that your team members can use to store and organize past chats. Thanks to this feature, your customer support team can go over every message one by one and ensure that every customer received the information that they needed. 
HubSpot also supports chat routing and allows agents to work on tickets together through The Conversations tab. All chat transcripts are stored in the CRM, so you can go back and review each chat at any time. HubSpot Live Chat will set you back from $16 to $50 per month, depending on the plan you choose.
10. iAdvize
iAdvize is a unique solution designed to help businesses improve conversions and set up new strategies that provide better results. It focuses on marketing, sales, and support teams, and gives users the freedom to choose the features that they want manually. The software offers dozens of useful features such as chatbots, and advanced targeting engines that can help you reach out to high-quality leads.
The messaging system provides a seamless experience and allows your sales reps and support team members to answer all queries quickly through video calls, phone calls, and live chat all from the same interface. Whenever a customer asks something on your website, app, and social media, your customer support team will get notified.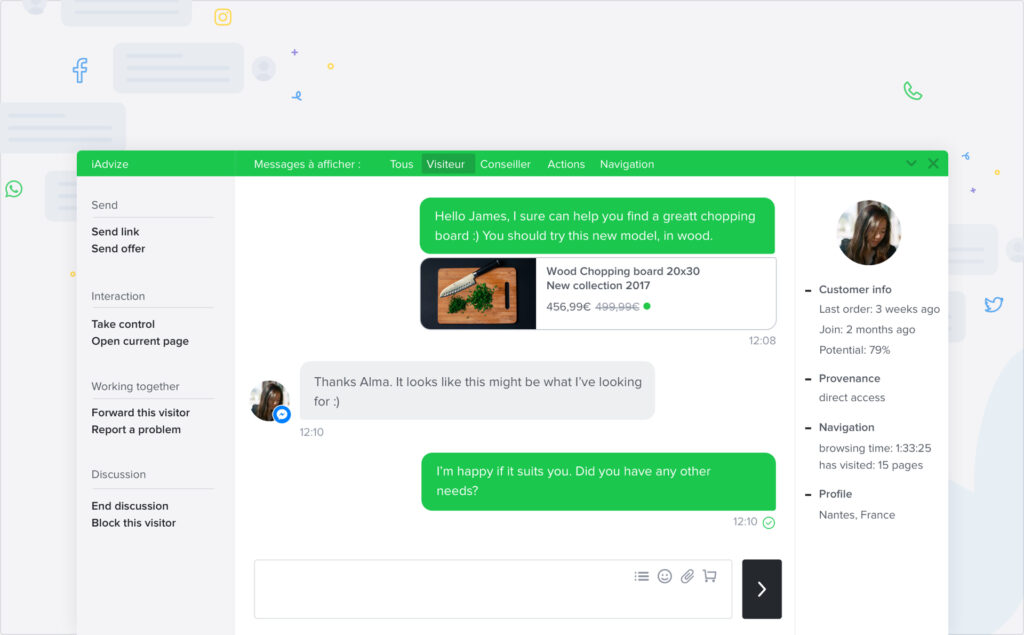 iAdvize integrates with most CRMs and APIs, allowing support teams to provide a personalized experience for each customer. Lastly, with advanced tracking and monitoring, you can make sure that each customer gets the best possible experience. iAdvize offers three different paid plans:
Small Business plan – $24.90 per month
Standard plan – $78.90 per month
Enterprise plan – Custom plan
11. Intercom
Intercom is a sales-oriented chat software.  It's key features focus on smart routing and lead qualification. The software allows you to route leads to specific sales reps and target users based on their website behavior. It is one of the more complex chat apps that provides a fully customizable experience and integration with popular software such as HubSpot, Zoom, Slack, and many others.
The software allows your customer service reps to engage customers and help them find the answers they need, all while building stronger relationships and generating leads. 
The built-in smart routing and lead qualification feature uses chatbots to qualify leads around the clock. The bots route each lead to your sales representatives, allowing them to close the deal and improve the user's experience.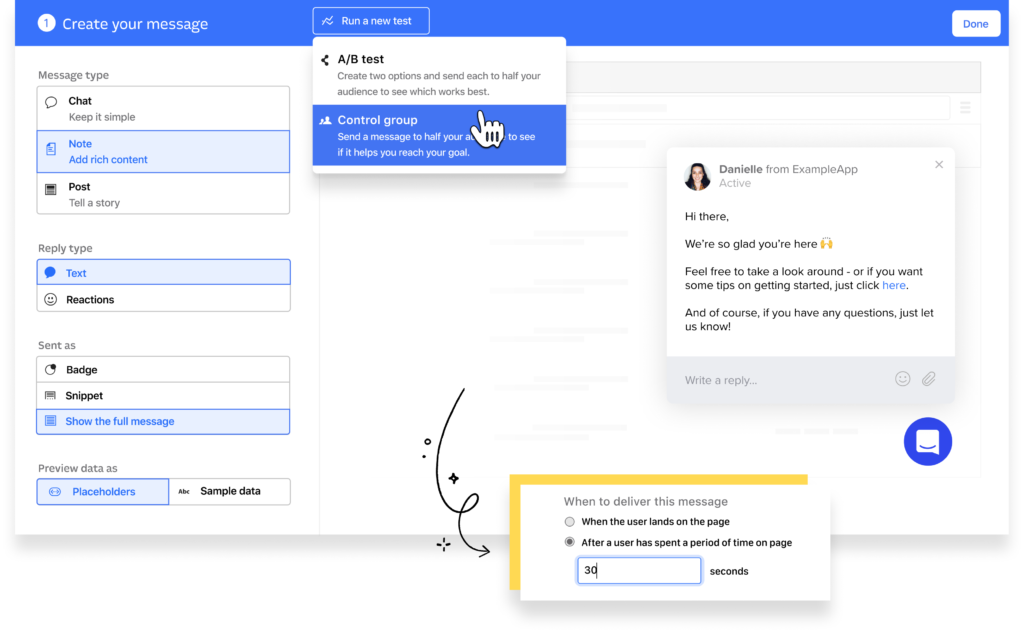 Naturally, everything is fully customizable. You can personalize the content for each visitor, use the chat-box to introduce products, and set up triggers that send out emails to specific visitors. With plenty of automation features, the software can help you answer all your customer's needs quickly and efficiently. 
You can also set up the "Help Center" feature and fill it with articles and answers to the most frequently asked questions, allowing customers to find the answers they need without contacting your support team. The software offers multiple pricing plans starting from $39 per month.
12. LiveChat
LiveChat is a popular option used by thousands of businesses all over the globe. It's well known by many businesses because it's incredibly easy to set up (through a simple WordPress plugin). 
Everything about LiveChat looks and feels easy. The chat widget is designed according to the best practices, and it simply looks superb. LiveChat offers excellent support across all devices, allowing your team to address issues using PCs, laptops, mobile devices, and tablets. This ensures that your customers get the help they need on the go.
LiveChat is also an all-in-one customer service solution used by some of the world's biggest companies. All customer questions and inquiries are organized into a single inbox, where your team can quickly address every customer and provide high-end support. The platform offers seamless integrations with more than 170+ tools, and it's primarily designed to improve conversions.
With features like custom forms, surveys, product cards, and many different automation options, it's just what you need to build up trust with your customers. LiveChat features a built-in ticketing system, automatic welcome messages, and around the clock customer support. The software is available in four different plans:
Starter plan – $16 per agent per month
Team plan – $33 per agent per month
Business plan – $50 per agent per month
Enterprise plan – Tailored for specific needs
13. LiveHelpNow
If you're looking for a chat tool with smart automation and social integrations, LiveHelpNow is one of the best options on the market. It's a live chat solution that takes only a few minutes to set up and offers all kinds of customizations and advanced features that allow you to adjust the experience for your team and your customers fully.
With a wide selection of features, you can expand your customer support options from the standard live chat, to call centers, text messages, and more. The number of canned messages is unlimited, allowing you to answer every inquiry and respond to each customer's needs.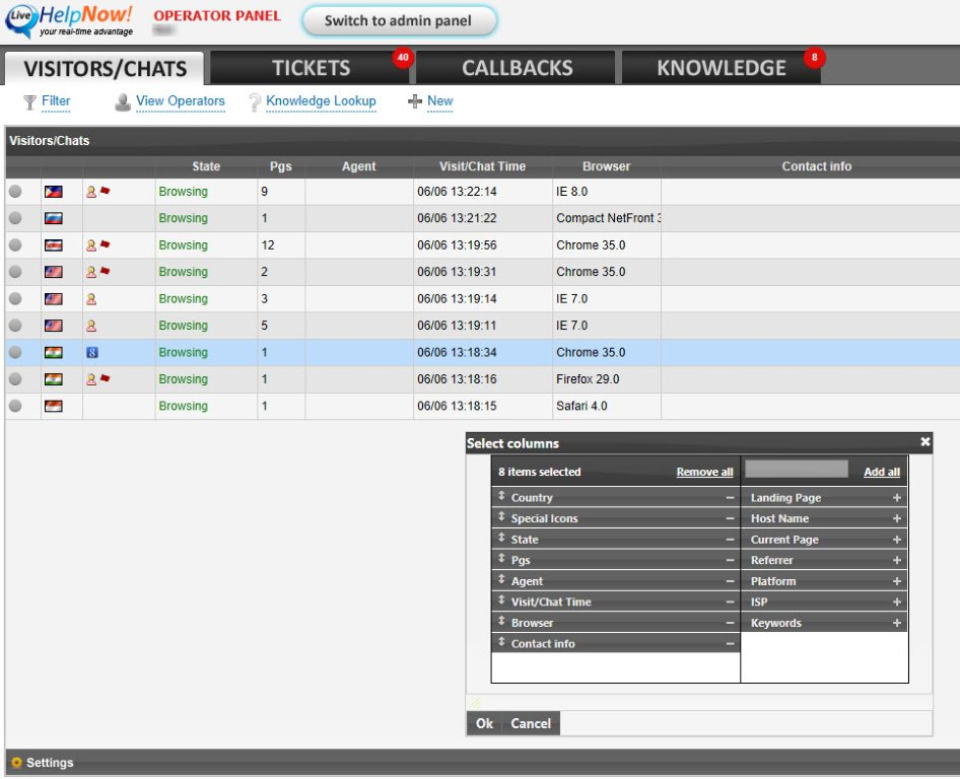 LiveHelpNow can also help your company with management issues as it offers a wide range of different monitoring features. With automatic routing options, the software will assign inquiries immediately, allowing your support team to address every issue right away. You can then use the monitoring features to see how your agents are doing and check their progress in real-time.
Other features include SMS messaging, advanced self-service features, support tickets, call management software, and more. With integration with HubSpot and Salesforce, LiveHelpNow is an excellent choice. The pricing depends on the features you want, and depending on your choice, the monthly subscription will cost you between $21 and $51 per month.
14. Nextiva
Nextiva is a simple cloud-based software with a real-time chat solution. Apart from designing a chat widget, the software can be used to set up a call center as well. 
The key features are designed to help you provide excellent customer support according to your needs, capabilities, and resources. You can set up shortcuts, business hours, and review every past conversation thanks to the unlimited chat history feature.
The internal chat feature routes existing chats to your support reps and empowers them to transfer the chats to other agents as needed. Thanks to this, all of your customers will get the help they need, and you will be able to improve their overall user experience.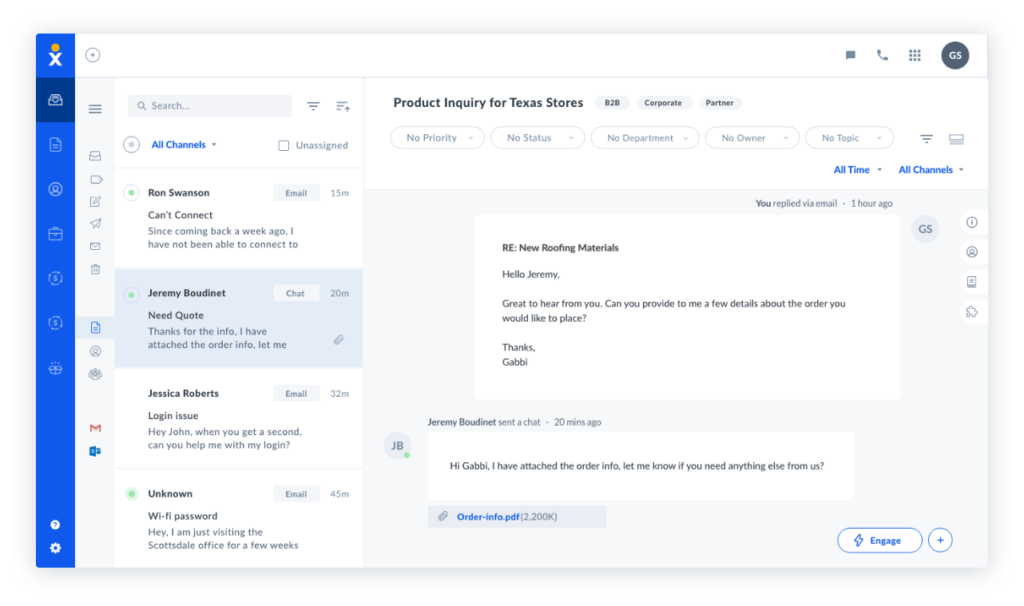 Your customer support team can also share essential details about each customer, giving each agent a better idea of what the customer needs and expects. This collaborative technology makes this software solution unique and very effective.
If what you read above is still not enough, Nextiva also offers detailed reports that allow your managers to review individual transcripts, monitor each member of your team, and track the behavior of every individual visitor. Nextiva is available in three different pricing plans:
Essential plan – $19.95 per month per user
Professional plan – $20.95 per month per user
Enterprise plan – $27.95 per month per user
15. Olark
If you're looking for a simpler chat solution ideal for small businesses, Olark is an excellent choice. It offers a few useful live chat tools that allow you to answer your customer's questions and get some valuable feedback that you can use to improve your service.
Naturally, it's a real-time chat that comes with a built-in CRM, so you will be able to save all conversations and keep them organized in many different ways.
While Olark has many features that other chat solutions do, it comes with a few unique features as well. These unique features include a search bar that allows you to search through all chat transcripts to find customer opinions that will help you generate valuable insights that you can use to improve your marketing strategies in the future.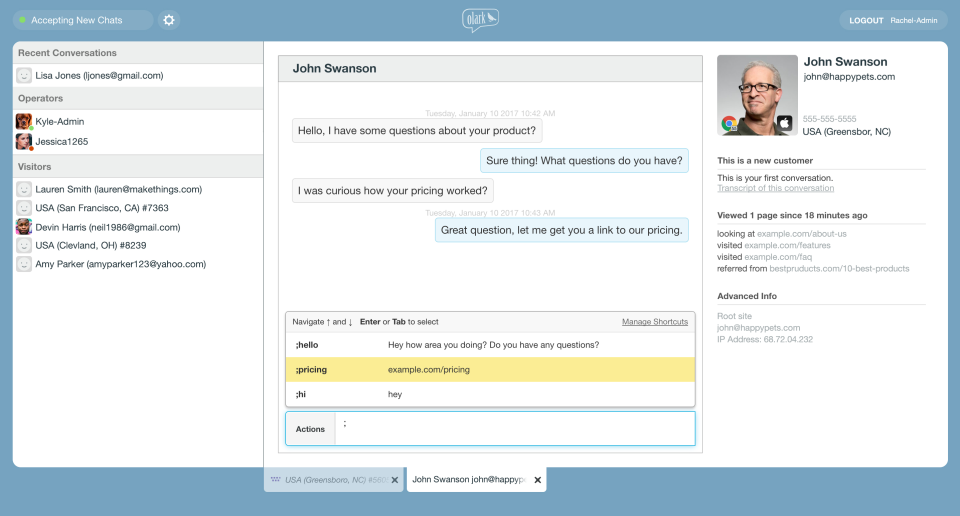 Another area in which Olark truly shines is its integration with the most popular software such as HubSpot, HelpScout, WordPress, Google Analytics, MailChimp, SalesForce, and many others. In other words, if you already use some tools on your website, you can easily add Olark to the mix without any complications.
It's evident that Olark is designed to help boost sales and improve marketing campaigns, but it also works great as a customer support option. The entire platform is straightforward to use, even if you're a beginner. However, it is lacking advanced features such as chatbots, iOS and Android mobile apps, and the support of multiple languages, but when you consider that Olark costs only $15 per month in an annual subscription and $19 for monthly billing, what more could you expect?
Tick-tock. Your customers are waiting
Don't let your customers wait for answers they look for. Create instant connections with them by implementing LiveAgent, multi-channel help desk software.
16. Podium Webchat
If you're in a hurry and don't have the time to invest in detailed live chat solutions, Podium Webchat could be the best choice. It's one of the easiest chat support apps to use, and it allows you to contact your visitors the very moment they land on your website.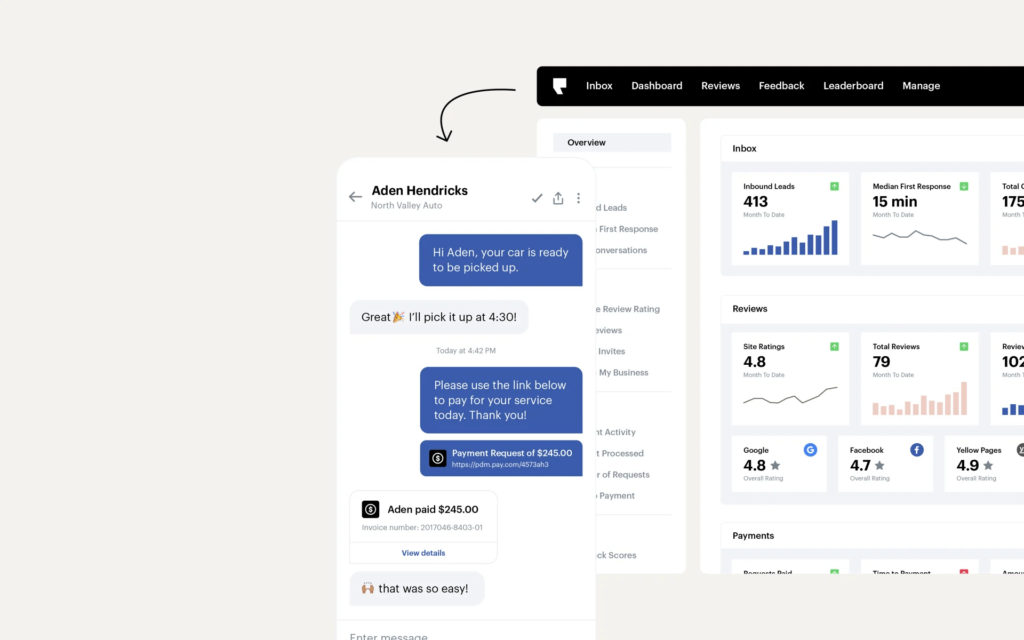 All you have to do is install a small code on your website, and every chat will be turned into a text message. The chat widget itself allows you to customize every detail so it matches your brand's identity. The real value of Podium Webchat is in the features you can't see on the site. For example, every chat widget includes a window that allows visitors to enter their phone number, so that your customer support team can contact them via phone or text messages. In other words, it can help you generate leads that you can contact in the future with information about new offers, updates, and so on. The best thing is that the software is entirely free.
The software is convenient to use and helps improve the overall customer experience with a few useful features such as:
Saving leads to your CRM automatically
Automatic responder
Daily emails with performance stats
The ability to transfer conversations at will
17. Pure Chat
Unlike other popular all-in-one live chat support apps, Pure Chat doesn't provide any advanced features other than an excellent live chat. There are no help desks, detailed analytics, and similar advanced features – only a simple real-time live chat that offers integrations with over 1,000 apps.
The live chat app is exceptional, and it offers multiple features designed to help you boost sales and answer your customer's questions quickly and efficiently. The features include:
Responsive design
Unlimited chats
File transfers
Triggers
Real-time analytics
Customer tracking
Unlimited history and transcripts
Fully customizable chat widgets
If you're unsure which chat plugin to use, Pure Chat provides a free plan that allows you to add three agents with unlimited chat. That's why it's a popular choice for many small, local businesses.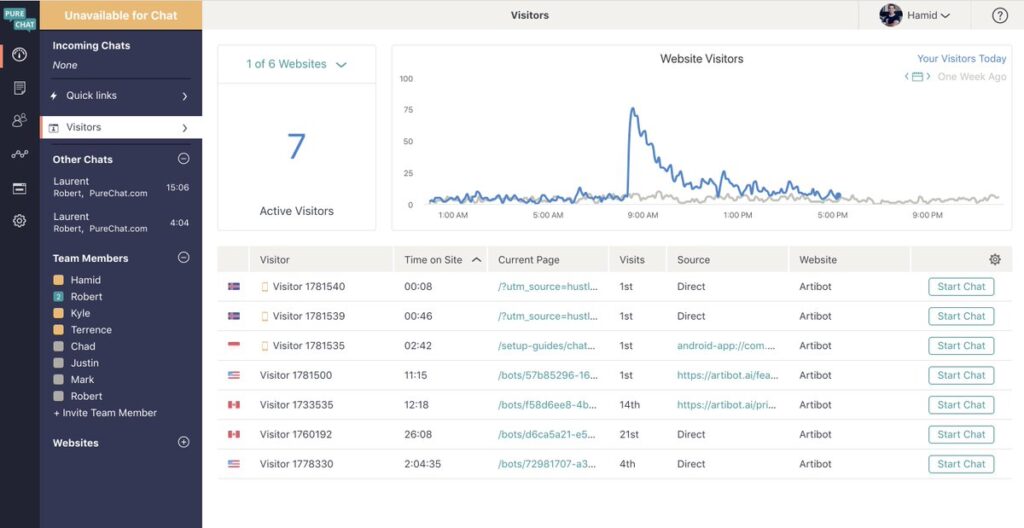 However, if you're looking for a platform for your entire support team, Pure Chat is available in two different plans – Growth and Pro. The first option will set you back for $39 per month, while the Pro version costs $79 per month. If you want to add more users, you can do so at $15 per extra user.
The more affordable Growth plan allows you to add four team members, while the Pro version has a limit of ten agents. Both plans include the same features.
18. Sendinblue
For those who need a customer support tool that can also help them with future marketing campaigns, Sendinblue is the go-to choice. Apart from providing the standard built-in live chat features, the app includes a few extra handy features such as text messaging, a set of useful email marketing tools, or the ability to create landing pages.
It offers a user-friendly chat feature that allows you to improve relations with customers. It's a simple tool ideal for smaller businesses and solopreneurs. After you set up your chat-box design, you can implement it on your website by using a dedicated WordPress plugin.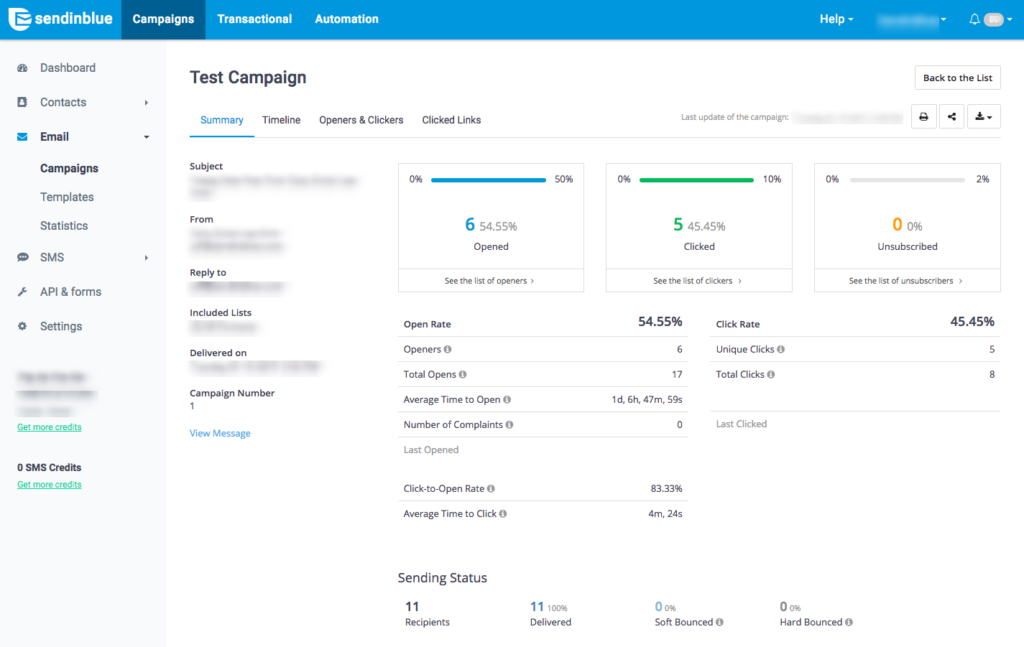 The software is useful for increasing conversion rates because it allows you to answer your customer's questions during the checkout process. The chat service is fully integrated with the native marketing automation features that act as powerful lead generation tools. If that's not enough, you can also use the email marketing integration feature for customer segmentation and improved targeting.
Sendinblue offers multiple plans. The free plan provides features like unlimited email contacts, sending 300 emails per day, audience segmentation, etc. Otherwise, the software will cost you:
Lite plan – $25 per month
Premium plan – $65 per month
Enterprise – Custom plan
19. Userlike
Userlike is an excellent WordPress plugin that you can use to reach out to customers directly from your website, but it can also help you contact people through popular apps such as Facebook Messenger, WhatsApp, SMS, and more. 
Whenever a customer wants to ask you a question, they can do so, even if your customer support team is offline. The team members can respond to all messages when they come back online.
The setup takes only a few minutes to complete, and you can create a Userlike account without paying a single penny. The free account provides an unlimited number of conversations, and you can use a few basic features that should be enough for small teams. The software does a great job when it comes to routing options and scalability.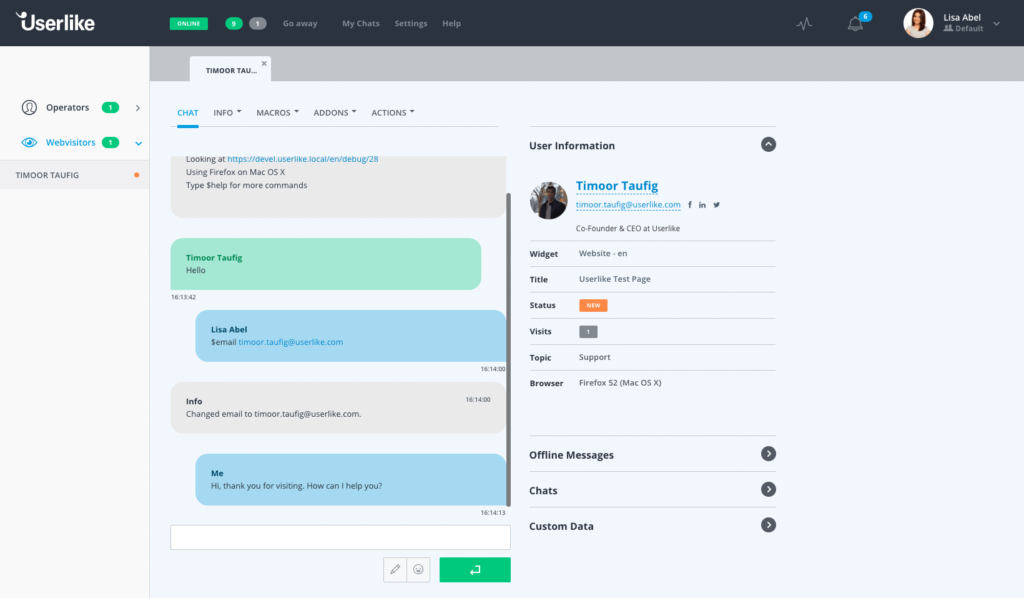 However, if you want to use everything Userlike has to offer, you have to get the paid version. The paid version will give you access to advanced features like integrations with multiple business tools, detailed reports, chat analytics, and chat widget customization options.
You can also set up the chat to automatically send out messages to users who spend a certain amount of time on your website. Userlike supports seven languages, allowing you to provide support to people all over the globe. The free version allows only one team member, while the paid versions provide access to advanced features, and the prices vary from €90 to €720 per month.
20. Zendesk Chat
Zendesk Chat is another excellent chat tool that allows you to communicate with your customers in real-time while they're making a purchase. It features a well-designed dashboard that allows your customer support team to address multiple customers at the same time and monitor each visitor's behavior. 
The software is available in 40 different languages, allowing you to close deals with people across the globe. It works with all popular browsers, and it's fully optimized for mobile devices. Once you install the plugin, you have to create a Chat Account, and all features become available. That includes creating a custom widget and access to all features.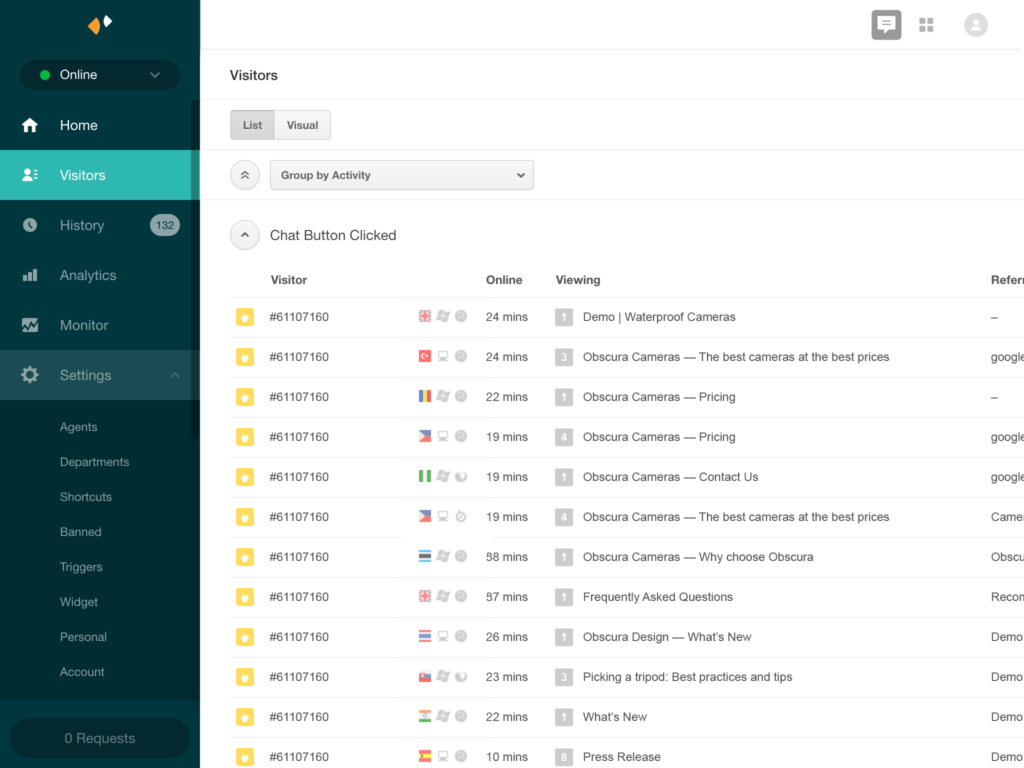 If you use the free version, you will get access to a 14-day chat history, while the premium plan provides unlimited access to all information. It also unlocks a few advanced features, including chat transfers, a centralized dashboard, chat-box triggers, and so on. 
Zendesk Chat also enables you to track conversions and empowers users with specific roles and permissions. The software offers multiple premium plans:
Support only – pricing varies from $5 to $199 per agent per month
Support Suite – from $89 to $149 per agent per month
Custom-built plan
---
Top 5 chat widget solutions
We took our time to showcase as many chat widget solutions as possible. All 20 plugins on our list offer exceptional features that are designed to help you increase conversions and build trust with your customers. Some of them are more advanced than others, but all of them are very effective when it comes to running a successful customer support operation
However, we have to pick the best live chat software to make your decision making even easier. After all, a list of 20 different plugins is still not specific enough, especially if you want to make sure that your final choice is as good as it gets.
Here's a quick overview of our top 5 choices:
Acquire.io
ClickDesk
HubSpot Live Chat
LiveAgent
LiveChat
These five chat plugins offer unique key features designed to help you reach out to customers and answer their questions in real-time. They all provide exceptional user dashboards, they are easy to set up, and they offer sets of features designed to help you improve the overall user experience based on real feedback.
All of the tools can work with the most popular software solutions, and they can help you understand your target audience better. By getting to know what your customers want, you will be able to fine-tune your offerings according to their needs, which will result in more sales and higher conversion rates.
But before you pick one plugin, make sure you compare their features. The final choice is up to you and your budget. Take your time, we are sure that you will make the right choice.
Still not sure which one is the right one?
Embark on a journey towards better customer service by choosing LiveAgent and deploying the fastest live chat software on the market today. Let's go!
Conclusion
Running any type of online store or business in 2020 requires you to use everything you can to get a competitive edge. However, the success of an online store depends on many different factors, and customer satisfaction is perhaps the most important factor of all.
Most successful online stores and businesses offer some kind of chat support to ensure that their customers always get the help they need while making a purchase. By showing your potential customers that you care about them, you will seem professional and helpful, and let's face it, everyone likes that.
Installing a live chat widget allows you to guide your customers towards the right decision before the checkout process, minimizing cart abandonment and maximizing conversion rates. In short, customer support can help you grow your business and brand at a steady rate.
Are you searching for the best WordPress chat plugin?
Check out our extensive research, where we gathered important information and compared only WordPress chat plugins.
Frequently Asked Questions
What is a website live chat widget?

A website live chat widget is a type of software that you can install on your website to provide support to your customers. It's an effective tool for increasing conversions, getting a better understanding of what your target audience wants and building your brand's identity. It allows your customers to contact your support team directly and ask for more information about your offers. You will be able to address their needs immediately and ensure that they get the best user experience possible.

Can I use this live chat service on any type of website?

You can use a live chat service for any type of website that sells products or services. You can even use it for informative websites if you want to provide your users with a better understanding of the content you offer. In short, live chat services allow websites to contact their customers directly and help guide them to the answers they need. Over time, after thousands of conversations, you can use the information you learned to improve your website's user experience and build trust with your customers.

What are the benefits of using live chat support?

Live chat support provides an entire list of benefits for your business, as well as your customers. It allows you to generate leads, fix possible issues immediately, or help guide your customers through the checkout process. Furthermore, live chat support also helps you create strong bonds with customers, improve trust, and increase overall sales by addressing specific customer needs.

How to install live chat software on your website?

Anyone can install a live chat plugin onto their website in a matter of minutes. Most customer support solutions require you to create an account. Once registered, you will get a piece of the code you have to paste into your website's footer or header. After that, your live chat solution will be implemented and you can start enjoying all its features through your account dashboard.

What is the best live chat software?

We can't tell you which live chat solution is the best because many of them offer features that improve conversion rates and have a positive impact on the user experience. There are dozens of live chat options on the market; the best option largely depends on the size of your business, your budget, and your business goals. The "best" live chat software is the one that provides a complete solution for all your needs. The fewer tools you'll need, the better.