In the dynamic world of Software as a Service (SaaS), exceptional customer support is a game-changer. This article will guide you through the labyrinth of best SaaS support practices, helping you navigate and overcome the inherent challenges. We'll also introduce you to indispensable tools that can streamline and optimize your SaaS support.
Remember, a positive customer experience is a powerful marketing tool – with a whopping 77% of satisfied customers willing to recommend a company to a friend. So, buckle up, and let's explore how to elevate your SaaS support to new heights.
What is SaaS customer support?
To kick things off, let's first define what SaaS customer service is. SaaS customer support refers to the assistance provided to customers who use a software application hosted on a cloud. This support can include troubleshooting, answering queries, providing guidance on how to use the software, and resolving any issues that may arise during the use of the software. Typically, you can provide SaaS support through various channels such as email, live chat, phone calls, or a help desk.
For example, consider a cloud-based project management software. If a user encounters a problem while using this software, such as difficulty in setting up, they would reach out to the SaaS customer support team. The support team would then assist the user in resolving their issue, either by guiding them through the process, providing a solution, or fixing a bug in the software.
It's important to understand the difference between SaaS customer support and customer support for traditional online businesses like an e-shop. The biggest contrast is in the nature of the product and the type of support required.
In SaaS customer support, the product is a software application and the support often involves technical assistance related to the software's functionality, usage, or potential bugs. The support team needs to have a deep understanding of the software and its workings.
On the other hand, customer support for an e-shop would typically involve customer issues or queries related to the products being sold (like clothing, electronics, etc.), payment issues, shipping, returns, and refunds. The support team for an e-shop doesn't necessarily need to have technical software knowledge but needs to be well-versed with the e-shop's policies and product offerings.
Why is customer support important for SaaS companies?
Undeniably, customer support is one of the core pillars of business success. Even more so, when it comes to SaaS clients. The SaaS customer support model plays a pivotal role in determining the success and growth of these businesses. This is because, in today's competitive market, the quality of customer service can significantly influence a customer's perception of a brand. In fact, it's been found that nearly 40% of consumers will discourage others from using a business if they experience poor customer service.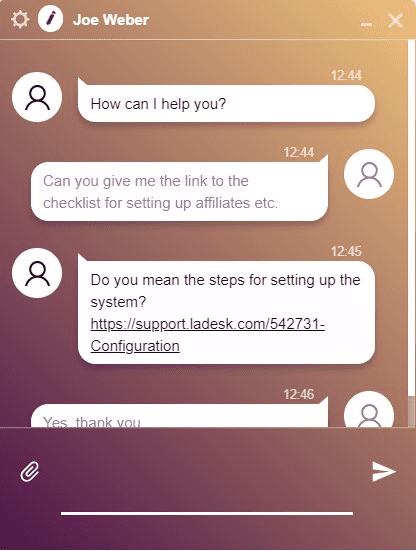 This statistic further highlights the importance of maintaining high-quality customer support and fulfillment of customer expectations. It's not just about retaining existing customers, but also about attracting new ones. Word of mouth is a powerful tool, and negative experiences can quickly spread, damaging a company's reputation.
For instance, let's consider a hypothetical situation where a SaaS company fails to resolve a customer's technical issue promptly. This could lead to the SaaS customer being unable to use the service for an extended period, causing significant disruption to their business operations. The customer might then share their negative experience with others, possibly deterring potential customers and damaging the company's reputation.
To avoid such scenarios, SaaS companies need to ensure they provide exceptional customer service. One way to achieve this is by offering round-the-clock customer service. For example, LiveAgent provides customer support 24/7, ensuring that customers' issues are addressed promptly, no matter when they arise. This kind of dedicated customer support can significantly enhance customer satisfaction and loyalty, ultimately contributing to the company's success.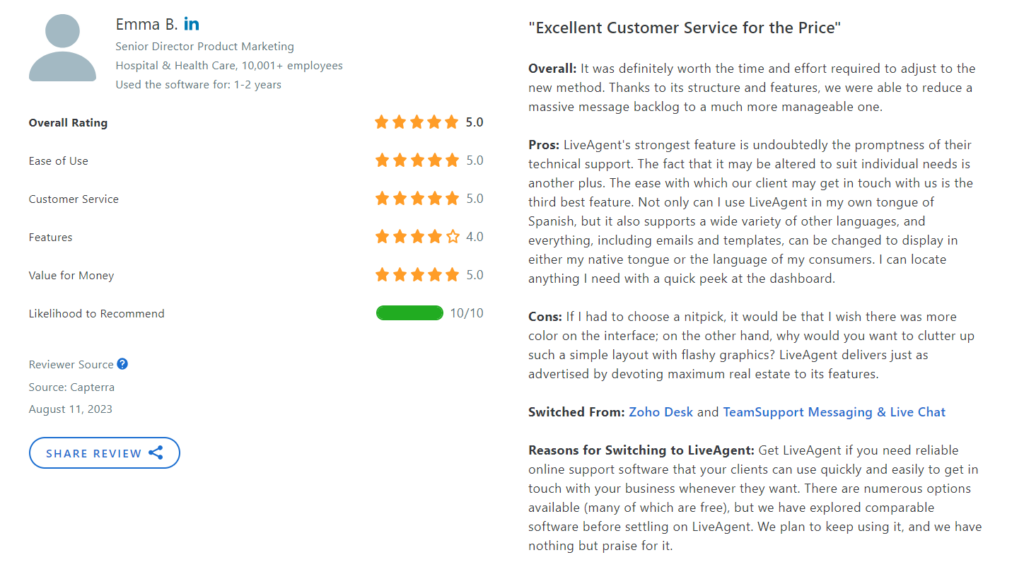 Critical components of a great SaaS support strategy
At this point, you might be wondering, what are the most significant components your 5-star SaaS customer support model cannot lack. Developing a customer support strategy for your SaaS company can be a difficult task if you don't know where to start. To help you out, we have compiled a short list of the most critical components of a successful SaaS support strategy, plus a few customer support metrics you should monitor.
Customer support team
A well-trained, empathetic, and responsive team of customer service agents is crucial. Armed with soft skills, as well as technical knowledge, they should be able to handle all types of customer complaints, queries, and issues effectively and efficiently.
Multichannel support
Utilizing multiple communication channels is an absolute necessity these days. Customers expect the ability to reach out to companies using various popular communication channels, such as email, phone calls, live chat, social media, and more. This ensures convenience and accessibility for all customers.
Knowledge base
A knowledge base is a centralized repository for information: a public library of information about a product, service, department, or topic. It's an essential component of a SaaS customer support strategy, as it provides a wealth of important information for your customers at any time of day.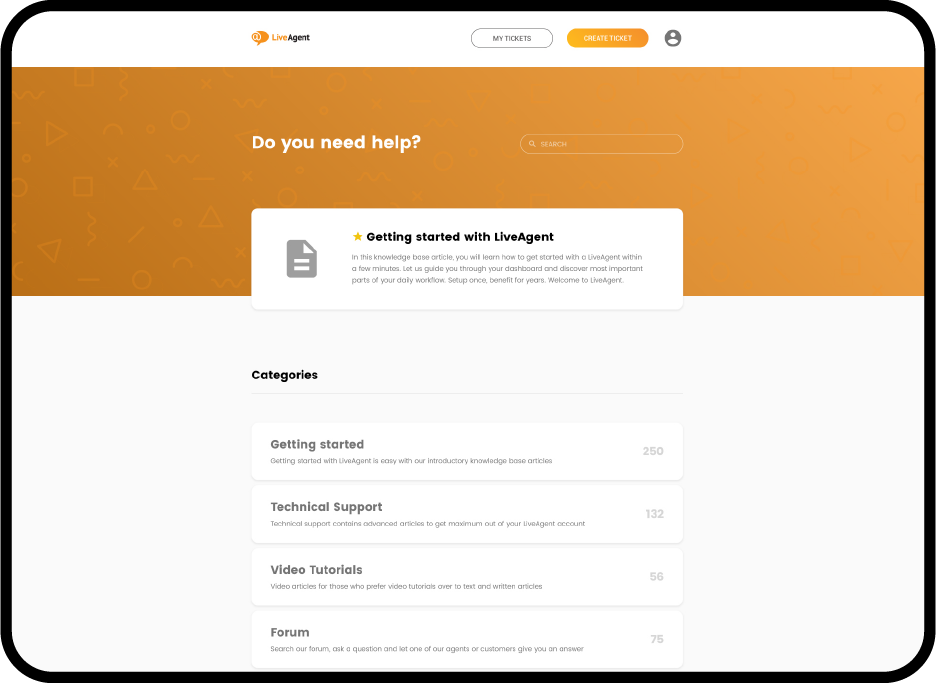 Proactive support
Instead of waiting for problems to occur, proactive support involves identifying potential issues and addressing them before they affect the customer. This way, you can mitigate possible roadblocks for potential customers, leading to positive SaaS customer experiences and increased retention.
Feedback mechanism
It's crucial you allow your customers to provide constructive feedback. As such, implementing a system for collecting, analyzing, and acting on customer feedback is crucial for continuous improvement and ensuring customer satisfaction.
Self-service options
Providing customers with self-service options like FAQs, tutorials, and forums allows them to find answers to their questions without having to contact customer support. This not only saves time for both the customer and the support team but also allows customers to solve their problems. You can also include contact forms on your self-service page in case customers can't troubleshoot their issues on their own.
Now, let's look at some of the crucial metrics for customer support:
Customer effort score (CES): Using this metric, you can measure how much effort a customer has to put in to get their issue resolved. A lower score indicates better customer service.
Customer satisfaction score (CSAT): This metric allows you to measure how satisfied customers are with the service they receive. A high CSAT score indicates high customer satisfaction.
Net promoter score (NPS): Using this metric, you can determine the likelihood of a customer recommending your product or service to others. A high NPS indicates that customers are happy with your product and service and are likely to recommend it to others.
First response time: This important benchmark measures how long a customer has to wait before they receive the first response to their query or issue. A shorter first response time indicates efficient customer service.
Resolution time: By monitoring this metric, you can determine how long it takes to resolve a customer's issue. A shorter resolution time implies efficient and effective customer service.
Ticket volume: This measures the number of support requests received within a certain period. A high ticket volume may indicate a problem with the product or service.
Tracking these metrics will help your SaaS company continually improve its customer support strategy and ensure high customer satisfaction.
8 SaaS customer support best practices
Now is the time to dive into the 8 time-tested strategies that have been a staple for successful SaaS companies. Brace yourself, because implementing these could skyrocket your business to new heights.
Prioritize customer experience
The customer experience should be at the forefront of your SaaS support strategy. This means ensuring that your support team is responsive, knowledgeable, and friendly. For example, a company could prioritize customer experience by offering multiple channels of communication with 24/7 availability. Besides phone, live chat, and email, social media sites have been especially popular among customers.
Use a ticketing system
Using effective and efficient ticketing software is a must when it comes to providing outstanding customer service. A reliable ticketing system can help manage customer inquiries and ensure that no request goes unanswered. For instance, LiveAgent offers a ticketing system that allows support teams to track, prioritize, and solve customer support tickets efficiently.
Provide self-service options
We have already mentioned the importance of incorporating self-service support into your strategy. Providing a comprehensive knowledge base or FAQ section empowers customers to tackle issues on their own without the need for a customer service agent's intervention. This approach leads to increased customer confidence and satisfaction while lowering support ticket volumes. For example, a company could have a detailed help center with self-service content providing plenty of knowledge customers can use to troubleshoot issues.
Offer multichannel support
You should enable your customers to reach you through their preferred channel, whether it's email, phone, live chat, or social media. Especially nowadays, there is a huge emphasis on providing seamless multichannel support, as many customers contact businesses on the go, often from different devices and through different communication channels. For instance, a company could offer support through all these channels, ensuring that customers can always reach them in a way that's convenient.
Use customer feedback
Regularly ask for and use feedback from customers to improve your support services. This could be through surveys or direct feedback. As an example, a company could include a short customer satisfaction survey at the end of each live chat conversation to collect customer feedback and analyze it for insights.
Train your support team
Your support team should be well-trained and knowledgeable about your product. Regular training sessions can ensure that they're up-to-date with the latest features and can provide accurate information to customers. For example, a SaaS company may conduct training sessions every few months to ensure all the support agents are familiar with new updates and additional features.
Personalize customer interactions
Personalization can make customers feel valued and understood. This could be as simple as using the customer's name in communications, or as complex as using customer data to provide personalized support. For instance, a company could study its customer base's behavioral patterns to provide personalized recommendations and support.
Use automation where possible
In this day and age, AI and automation in general have been significant components of SaaS customer success efforts. Automation can help streamline support processes and free up time for your team to focus on more complex issues. For example, using chatbots for initial customer inquiries can help handle common questions and direct customers to the right resources.
Overcoming SaaS support challenges
Providing support for SaaS customers isn't always easy. Let's look at the 5 most common SaaS support challenges and how you can overcome them.
Insider threats
One of the common problems with SaaS support encounters is insider threats. These threats often come from former employees who still have access to the organization's SaaS applications, accounting for 22% of security incidents. This can lead to data breaches, unauthorized access, and misuse of sensitive information.
To solve this, companies should implement strict offboarding procedures to ensure that access rights are revoked as soon as an employee leaves the organization. Additionally, regular audits of user access rights can help identify any potential risks.
Encryption concerns
Research shows that among SaaS-related security concerns, encryption is the biggest issue. Customers often worry about the security of their data while it's being transferred or stored. This can lead to a lack of trust in the SaaS provider and can affect the customer's overall experience.
To address this, outstanding customer support should be well-versed in the company's encryption practices and be able to explain them clearly to customers. They should also reassure customers about the measures taken to protect their data, such as using advanced encryption standards and secure sockets layer (SSL) for data transmission.
Poor customer service experience
Sometimes, SaaS customer service teams may not be adequately trained or equipped to handle complex customer queries. This can lead to dissatisfaction and customer churn.
To solve this, companies should invest in regular training and development programs for their customer support teams. They should also consider implementing automation like canned responses and chatbots to handle basic queries, freeing up agents to handle more complex issues.
Lack of personalization
Customers often complain about generic responses from SaaS customer support.
To avoid this complaint, customer support teams should strive to provide personalized support by understanding the customer's unique needs and preferences. This can be achieved by using CRM systems that provide detailed customer profiles and history.
Slow response times
Slow response times can frustrate customers and lead to a poor customer experience.
To solve this, SaaS companies should implement service level agreements (SLAs) that specify response times. They should also use help desk software that allows for efficient ticket management and prioritization. Customer success teams should be adequately staffed to handle peak times and ensure that all customer queries are addressed promptly.
How can LiveAgent help with SaaS customer support?
One of the most popular help desk solutions for SaaS businesses is LiveAgent. This powerful software offers many advanced features from the unified convenient inbox to AI-powered functionalities. Let's take a look at some of LiveAgent's features that SaaS businesses find most useful.
Multichannel support
LiveAgent consolidates customer conversations from various channels like email, social media, live chat, and phone into a single, easy-to-use interface. This ensures that no customer query goes unanswered.
Ticketing system
The ticketing system LiveAgent offers helps manage and track customer queries efficiently. It ensures that every customer issue is assigned a unique ticket, making it easier to track the progress and resolution of each issue. Furthermore, you can configure SLA, route incoming tickets, add custom roles, and much more.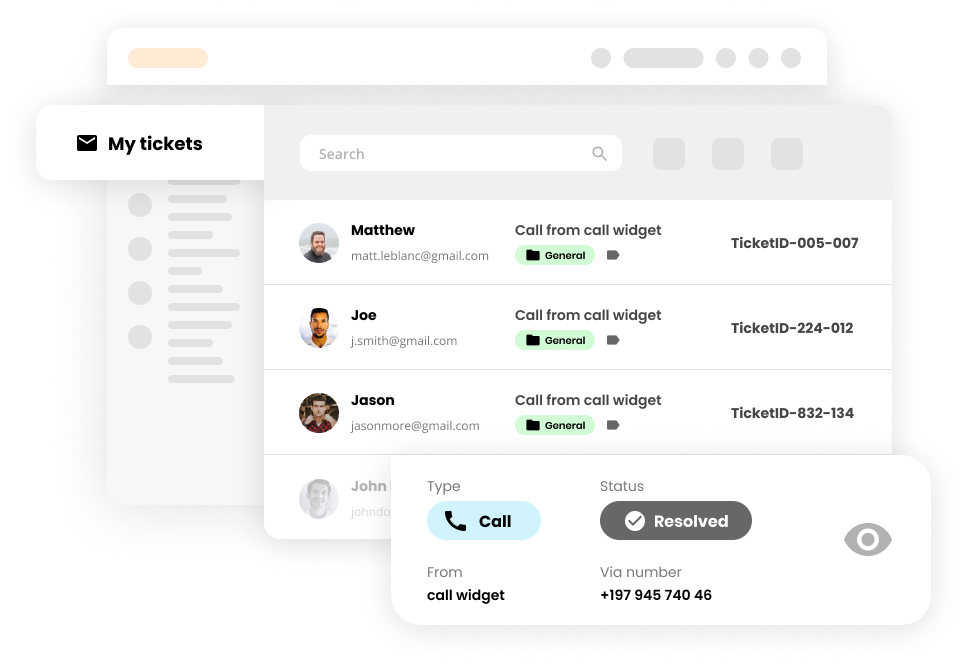 Live chat
One of the top-rated SaaS live chat features allows real-time customer conversations. This can significantly reduce the average response time and improve customer satisfaction. You can customize the live chat widget to perfectly suit your brand aesthetic and enjoy functionalities such as proactive chat invitations, canned responses, and more.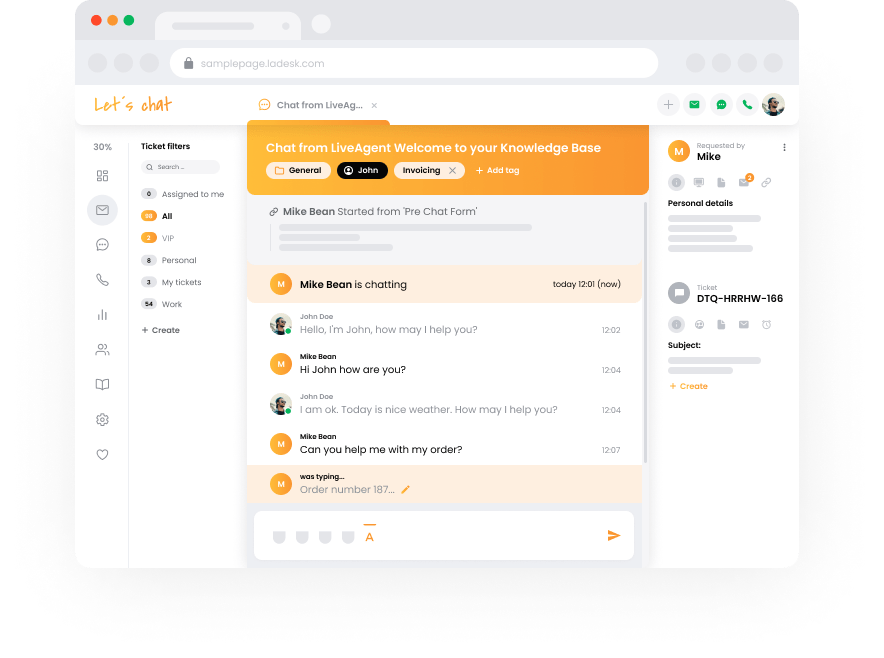 Knowledge base
With LiveAgent, you can create comprehensive knowledge bases where customers can find answers to common questions. This reduces the load on your support team and empowers customers to solve their own issues.
Automation and rules
LiveAgent allows you to automate routine tasks and set rules for ticket distribution, ensuring that customer queries are handled more efficiently.
Reporting and analytics
Detailed reports and analytics are another important tool under LiveAgent's tool belt. Detailed reports and analytics can help you understand your customer support performance and identify areas for improvement. On top of that, LiveAgent provides a convenient analytics overview, so you have all the data you need available.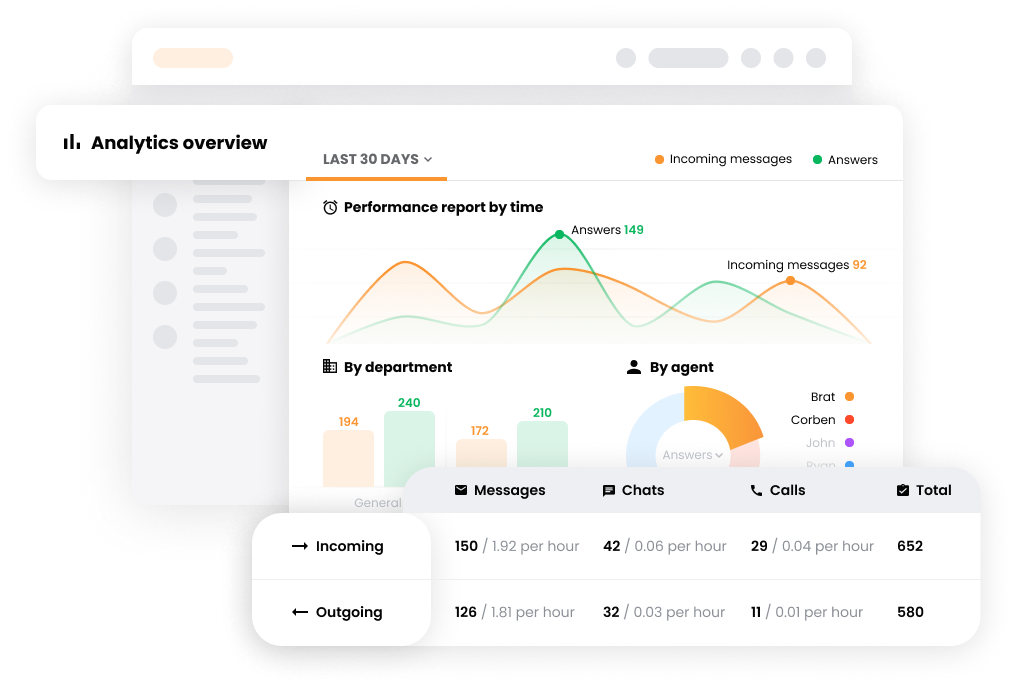 Integrations
Pairing your customer service software with third-party applications is a great way to further extend its capabilities. LiveAgent can be integrated with 220+ applications, making it easier to manage customer data and interactions.
24/7 support
LiveAgent prides itself on reliable round-the-clock support, ensuring that your customers can get help whenever they need it.
Call center
Call center capabilities with IVR, customer calls using video, and much more are other useful tricks up LiveAgent's sleeve. These features allow for more efficient and personalized communication, regardless of the complexity of the issue.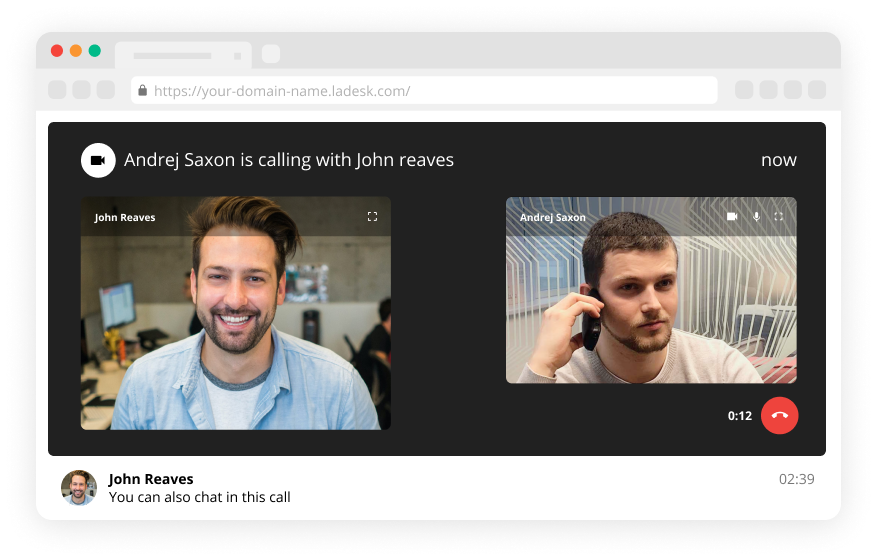 Customization
LiveAgent allows you to customize your customer support portal to match your brand's look and feel.
Best of all, LiveAgent offers a 30-day free trial, allowing you to test out these features and see how they can enhance your SaaS customer support.
Real-life SaaS customer support examples
LiveAgent's knowledge base
This is a great example of self-service in SaaS customer support. LiveAgent's external and internal knowledge base is a comprehensive library of articles, guides, and tutorials that help customers find solutions to their problems without having to contact customer support. This not only saves time for the customer but also reduces the workload for the support team. This LiveAgent feature demonstrates how a well-organized and thorough knowledge base can significantly improve customer satisfaction and efficiency.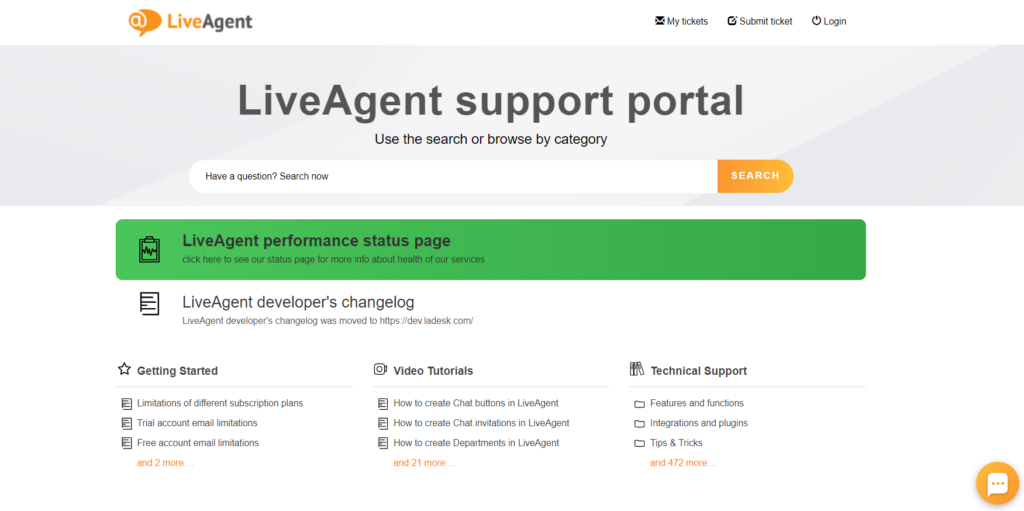 Slack's multichannel support
Slack, a popular team collaboration tool, provides a great example of multichannel support. They offer support via email, live chat, and social media. This ensures that customers can reach out to them through their preferred channel, improving the overall customer experience. This example illustrates the importance of being available on multiple platforms to cater to the diverse preferences of customers.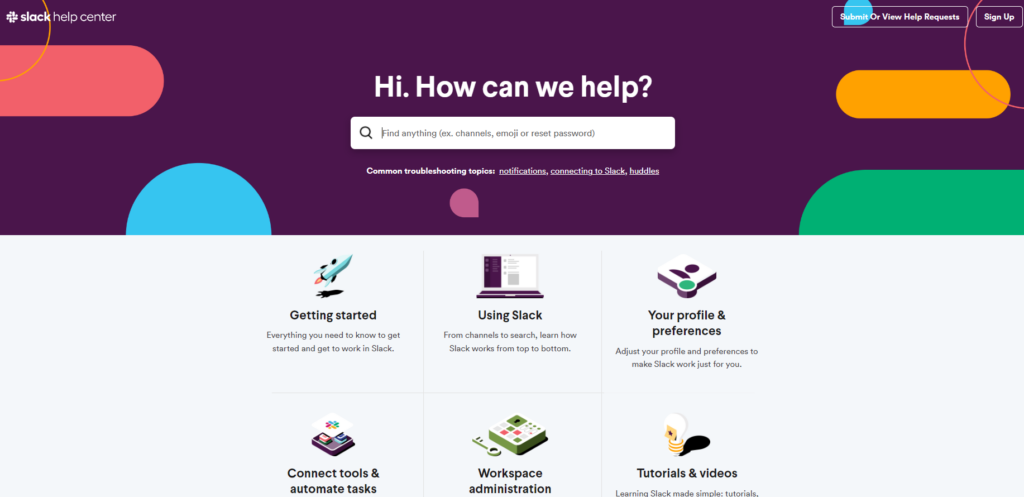 Adobe Education Exchange
This platform provides educators with free access to peer-reviewed teaching resources, professional development, and collaborative opportunities to help them improve their teaching skills with Adobe products. This example illustrates the provision of educational resources and a community for users to learn and grow. Furthermore, it shows how SaaS companies can provide value beyond their software, fostering a community of users who can help each other, thus reducing the burden on their customer support team.
Netflix's help center
Netflix, the streaming giant, has a well-organized help center that categorizes issues by topic and device. This makes it easy for customers to find solutions to their specific problems. This example demonstrates the importance of having a well-structured support center that allows customers to find solutions quickly and easily.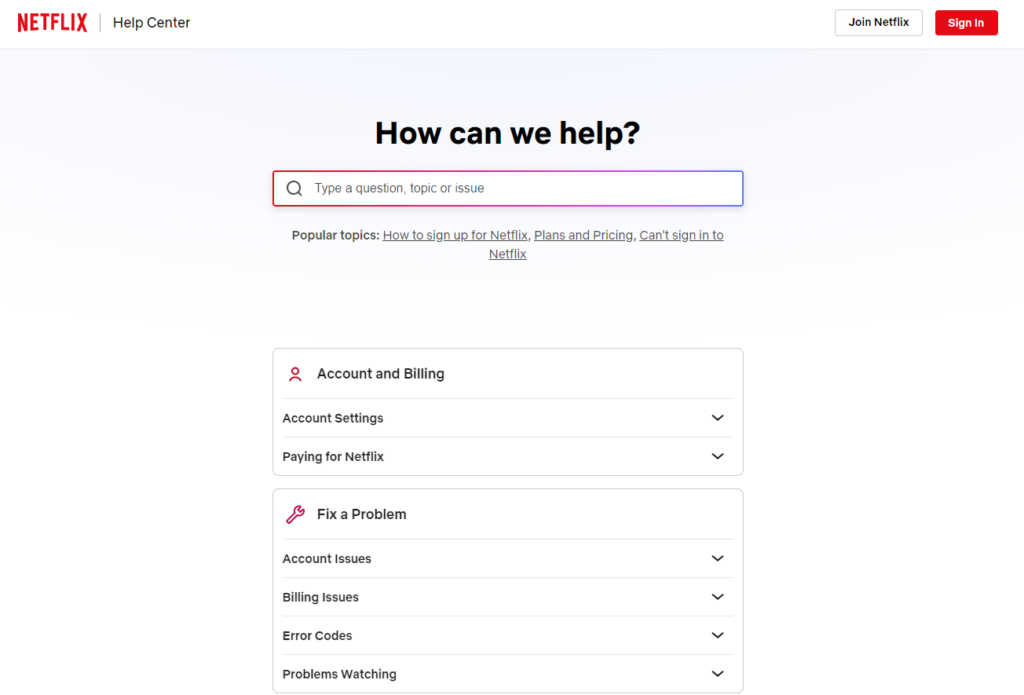 Tech tools or team expansion: How to optimize SaaS customer support
Implementing new technology or hiring more customer support agents are two strategies your SaaS business can use to improve customer service. Some of the most important factors you should consider before choosing one over the other are:
Cost: Implementing new technology, such as AI or automated customer service systems, can be expensive initially. However, in the long run, it may be more cost-effective than hiring more agents, considering salaries, benefits, and training costs. On the other hand, if the technology requires frequent updates or maintenance, the cost advantage might diminish.
Efficiency: Technology can handle multiple tasks simultaneously, reducing wait times and potentially increasing customer satisfaction. However, complex issues may still require human intervention. Therefore, the decision might depend on whether the company receives more simple or complex queries.
Customer preference: Some customers prefer human interaction, while others are more comfortable with technology. Understanding the customer base and their preferences can significantly impact this decision.
Scalability: If a business is rapidly growing, it might be more feasible to implement technology that can easily scale up to handle increased demand, rather than continually hiring and training new staff.
Quality of service: While technology can provide quick responses, human agents can provide personalized service and handle complex issues better. If quality and personalization of service are a priority, hiring more agents might be the better option.
Business model: Depending on the business model and industry, one option might be more suitable than the other. For instance, a tech company might prefer implementing new technology, while a luxury brand might prefer offering personalized service through human agents.
Long-term strategy: The company's long-term strategy also plays a role. If the company plans to digitize its operations, it might prefer implementing new technology. If it aims to provide excellent customer service with high-touch, personalized support, it might choose to hire more agents.
Now, let's look at the advantages and disadvantages of both strategies and illustrate a scenario in which each strategy is appropriate.
Implementing new technology
When a business needs to be more effective, implementing a new technology, such as help desk software, into its SaaS support strategy can be a good option. This involves using cloud-based software to manage customer support services.
Pros
Scalability: SaaS solutions can easily be scaled up or down depending on the business needs.
Cost-effective: It eliminates the need for purchasing, maintaining, and upgrading expensive hardware.
Accessibility: SaaS solutions can be accessed from anywhere, providing flexibility for remote work.
Automation: It can automate repetitive tasks, freeing up time for agents to handle more complex issues.
Cons
Dependency on the Internet: SaaS solutions require a reliable internet connection. Any downtime can disrupt customer service.
Data security: Since data is stored in the cloud, there may be concerns about data security and privacy.
Customization limitations: SaaS solutions may not be as customizable as in-house solutions.
Example:
A growing SaaS company is receiving an increasing volume of customer inquiries. Instead of hiring more agents, they decided to implement a new solution that includes a chatbot to handle common inquiries and a ticketing system to manage more complex issues. This allows them to handle more inquiries without increasing their headcount.
Hiring more customer support agents
When a business needs a more personalized touch or when customer issues are complex and require human intervention, hiring more customer support agents can be a better option.
Pros
Personalized service: Agents can provide a more personalized service, building stronger relationships with customers.
Better problem-solving: Agents can handle complex issues that automated systems may not be able to resolve.
Immediate feedback: Agents can provide immediate feedback to the company about customer concerns and suggestions.
Cons
Higher costs: Hiring more agents increases costs, including salaries, benefits, and training.
Scalability: It's harder to scale up or down quickly, as it involves recruitment and training processes.
Quality control: Ensuring consistent quality of service can be challenging with a larger team.
Example:
A large SaaS business delivering tech software is dealing with complex customer inquiries that require expert knowledge. They decided to hire more specialized customer support agents to ensure that customer issues are resolved effectively and efficiently. This ultimately leads to higher customer satisfaction and loyalty.
How SaaS support teams should work with other departments
SaaS support team roles are not limited to just troubleshooting and resolving issues. They need to work closely with other departments such as marketing, sales, and product teams to improve customer relationships, products, and more. Here's how you can achieve this in your SaaS business and why you should strive for it.
Sharing knowledge
SaaS support teams have a deep understanding of the product, its features, and its potential issues. They are often the biggest contributors to an organization's knowledge base that doesn't only help customers, but also the internal teams who can use this information to better understand the product. As such, this knowledge is invaluable to the marketing and sales teams, who need to understand the product to effectively sell it and market it. The support team can provide this information and also help train the sales and marketing teams.
Gathering customer feedback
SaaS support teams are often the first point of contact for customers. They can gather valuable feedback about the product, its features, and what customers like or dislike. This information can be shared with the marketing and sales teams to help them tailor their strategies.
Improving customer experience
By working together, the support, sales, and marketing teams can provide a seamless customer experience. For example, the support team can inform the sales team about a customer's issue, who can then follow up with the customer to ensure their issue has been resolved. This makes the customer feel heard, taken care of, and valued.
Product development
The support team's knowledge about customer issues and feedback can be invaluable for the product development team. They can provide insights into what features need to be improved or added, helping to shape the future of the product.
Cross-department collaboration
SaaS support teams can also work with other departments to create a more cohesive and efficient workflow. For example, they can work with the IT department to ensure the software is running smoothly, or with the HR department to help train new employees.
Future trends in SaaS support
You don't need to look into a crystal ball to see which trends are going to shape the future of SaaS support models. Let's look at some of the most prevalent ones.
The rise of mobile SaaS
Mobile SaaS refers to the delivery of SaaS applications to mobile devices. This trend is shaping the future of SaaS support by making it more accessible and convenient for users. With the rise of mobile SaaS, customers can access their software applications anytime, anywhere, which enhances their experience. It also means that SaaS support must be optimized for mobile platforms, ensuring users can receive help and troubleshoot issues directly from their mobile devices.
Optimizing platforms for mobile also ensures accessibility for a wider user base, such as elderly, visually impaired, and neurodiverse customers. This trend also necessitates the development of mobile-friendly interfaces and features.
SaaS BI powered by AI and machine learning
The SaaS-based Business Analytics market is projected to grow to approximately USD 35 billion by 2030. This growth is largely driven by the integration of AI and machine learning into SaaS business intelligence (BI) tools. These technologies enable more advanced data analysis, predictive modeling, and automated decision-making, which can significantly enhance the effectiveness of SaaS applications. For SaaS support, this means that customer issues can be predicted and resolved more quickly and accurately, improving the overall customer experience.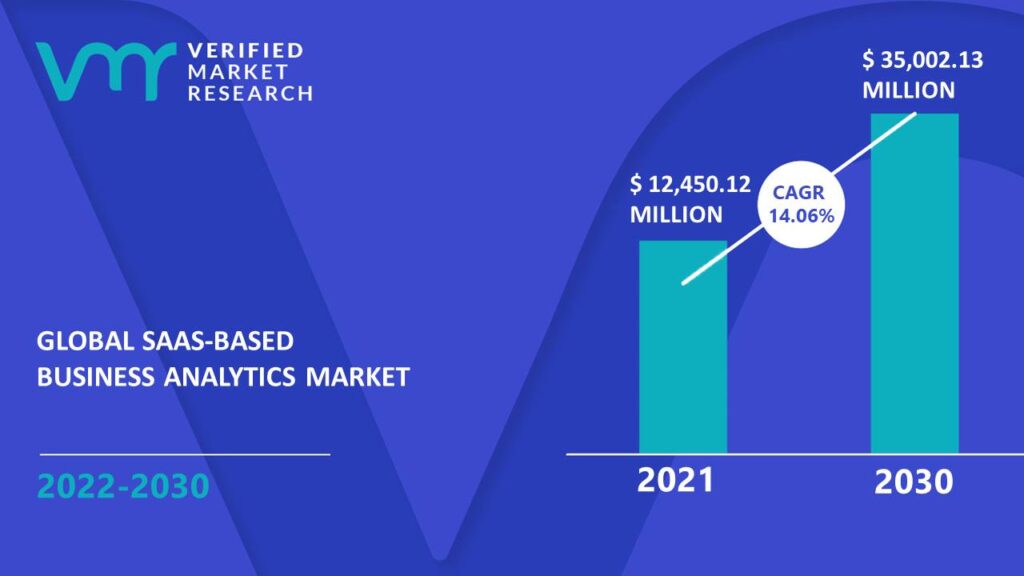 Low-code and no-code SaaS platforms
Low-code and no-code platforms are changing the SaaS landscape by making it easier for non-technical users to create and customize their own software applications. This democratization of software development can lead to a more diverse range of SaaS applications, tailored to specific business needs. However, it also presents new challenges for SaaS support, as users with little to no coding experience may require more guidance and assistance. This trend emphasizes the need for intuitive, user-friendly support resources and services.
Vertical SaaS over horizontal SaaS
Vertical SaaS refers to software solutions designed for specific industries, while horizontal SaaS is designed for broad, cross-industry use. The growing preference for vertical SaaS reflects a demand for more specialized, industry-specific software solutions. This trend is shaping the future of SaaS support by requiring more specialized knowledge and expertise. SaaS support teams must understand the unique needs and challenges of different industries to provide effective support. This can lead to a more personalized, relevant customer experience.
Increasing number of integrations
As businesses use a growing number of SaaS applications, the need for these applications to integrate with each other is also increasing. This trend is shaping the future of SaaS support by requiring a more holistic, system-wide approach to troubleshooting and problem-solving. SaaS support teams must understand how different applications interact and impact each other. This can lead to a more seamless, integrated customer experience, as users can move smoothly between different applications without encountering compatibility issues.
Conclusion
SaaS customer support is a critical component of any successful SaaS business. It's not just about resolving issues, but also about enhancing the customer experience, building relationships, and driving business growth.
Remember, the key to exceptional SaaS support lies in prioritizing customer experience, leveraging technology, and fostering cross-department collaboration. It's also about staying ahead of the curve by embracing future trends like mobile SaaS, AI-powered business intelligence, and vertical SaaS solutions.
As you navigate the world of SaaS support, consider how customer support tools like LiveAgent can streamline and optimize your processes. With features like multichannel support, a comprehensive ticketing system, and a robust knowledge base, it's designed to elevate your SaaS support to new heights. Don't just take our word for it, though. Experience it for yourself with LiveAgent's 30-day free trial. It's a step towards providing the kind of SaaS support that not only satisfies customers but also turns them into advocates for your brand.
Ready to elevate your SaaS support to cloud nine?
Sign up for LiveAgent's 30-day free trial and watch your customer satisfaction soar!
Frequently Asked Questions
How do you train your agents for the best SaaS support team?

Firstly, provide comprehensive training on the specific SaaS product or service, ensuring your support team understands its workings, benefits, and potential issues. Next, equip them with problem-solving skills, customer service etiquette, and techniques for handling different personalities and scenarios. Lastly, implement continuous learning and regular upskilling sessions to keep the team updated with the latest trends, features, or changes in the SaaS product or industry.

How do you structure a SaaS support team?

A SaaS support team is generally structured based on customer needs, the size of the organization, and the product complexity. It starts with a tiered support model, typically consisting of tier 1 (frontline support dealing with basic issues), tier 2 (more experienced staff handling complex issues), and possibly tier 3 (engineering or development team handling highly technical or product issues). Additionally, it might include specialists for customer training and a dedicated team for handling major incidents or crisis management.

What are the best ways to reduce churn in a SaaS business?

You can reduce the churn rate in your SaaS business by adopting a customer-centric approach, where efforts are concentrated on constantly delivering value and enhancing the user experience. You should conduct regular customer feedback surveys to understand what customers want and address their needs promptly. Additionally, investing in a proactive customer support system that identifies and resolves issues before they cause customers to churn is crucial.

What are the different types of support in SaaS?

The three primary types of SaaS support encompass technical, customer, and training support. Technical support involves addressing any software or functionality issues the users might encounter. Customer support aims to answer user queries regarding software usage, while training support equips users with knowledge and skills to effectively operate the SaaS product.

What is the ROI of SaaS customer support?

The ROI for SaaS customer support isn't fixed as it depends on factors like system efficiency, customer retention, and satisfaction. However, investing in it can boost customer retention, relationships, and revenue. So, despite no set ROI, the benefits usually surpass the costs.