Key takeaways
Pros
Well-performing IVR
Comprehensive user interface
Cons
IVR planning and creation can be confusing
Pricing can get expensive
Zendesk's IVR feature is not the easiest to set up, but it's not the most difficult either. It performs well without any hiccups, but the IVR setup requires some pre-planning to avoid confusion during the creation process. Zendesk is a great all-rounder software, and even if the IVR configuration has plenty of room for improvement, you still can't go wrong with it. Zendesk's strengths lie elsewhere, and if you're willing to pay a steeper price for its features, you probably won't be disappointed.
Getting started with Zendesk IVR feature
The IVR feature in Zendesk is easily accessible, thanks to the well designed and simple-to-use interface. You get access to the interface right after you complete your free trial registration, which can be completed in just a couple of minutes tops. The IVR is present under the Talk options in the Zendesk admin center, which can be found in the left menu panel.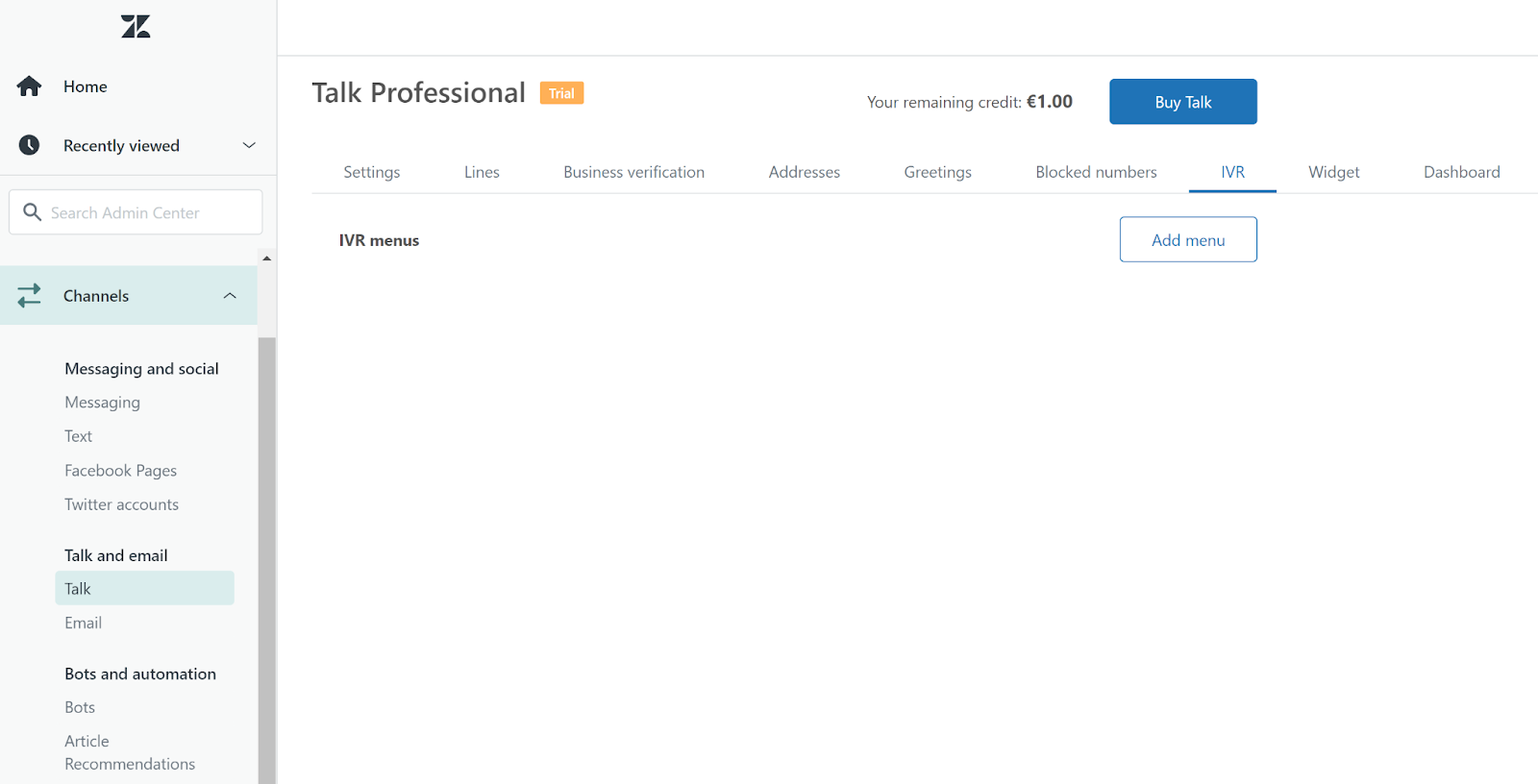 The process of creating your IVR is not optimal, nor as straightforward as it could be. There is no visual planning assistance, you just get to select IVR options and actions. While the process itself is easy to do, you don't have a good overview of the entire IVR. Each IVR level is a separate tab that doesn't show where it leads to in a clear and comprehensive way when compared to some of the other IVR solutions. This can lead to some confusion and problems during the creation of more elaborate IVR setups. I recommend planning out the IVR levels visually beforehand.
Each IVR level lets you select actions for each button on the caller's keypad. There is no apparent limit to how many levels you can have, so you can plan and build more elaborate IVRs if necessary. There is also the option to select a greeting, but it didn't seem to work during my tests. The only option was "No greeting". However, I later found the option for adding greetings in a different section of the Talk setup. Each IVR level can be renamed to allow for better planning during creation.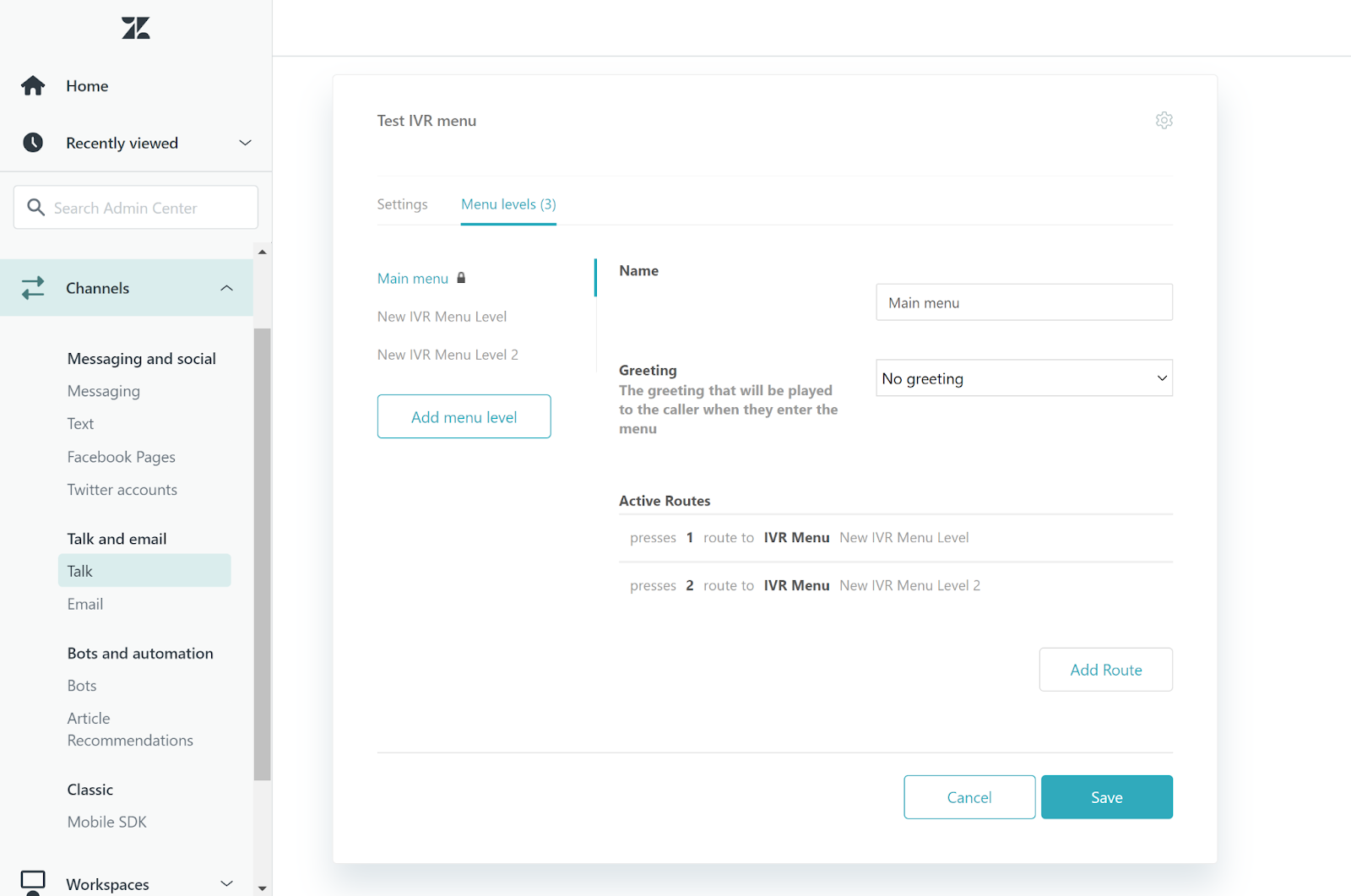 You can enable the IVR for your phone lines under the configuration of each phone line. This menu can be easily accessed from the Talk configuration in the left panel. You can attach different IVR setups to different phone numbers.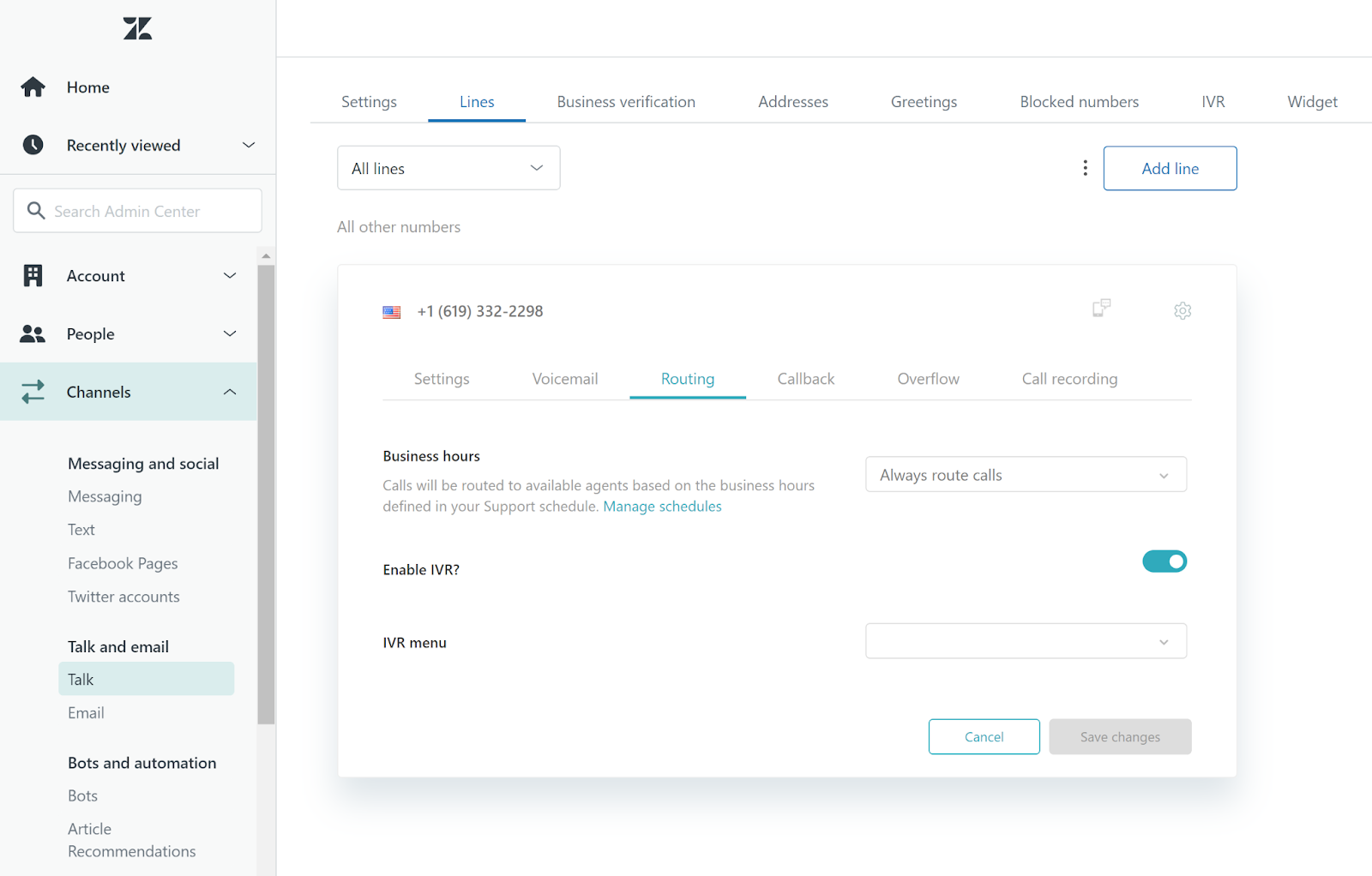 How does the IVR perform?
Besides the less user-friendly creation process, Zendesk's IVR performs generally very well. I didn't experience any issues caused by system bugs during the testing; however, I did create a non-functional IVR during the first few tries. Make sure to plan out your IVR levels before you attempt to create them, I found it to be immensely helpful. Overall, the performance was great and all IVRs worked as intended after correct planning.
Pricing
While Zendesk offers multiple pricing plans, only two of them give users access to IVR features. IVR is included in the Suite Professional and Suite Enterprise plans, which are the two most expensive Zendesk plans available. Both plans are subscription based, and the final price depends on the number of agent accounts you need.
Suite Professional
This suite starts at $99 per month per agent and focuses mostly on the addition of call center functionality and features to the Zendesk feature set.
Suite Enterprise
Suite Enterprise starts at $150 per month per agent. It adds a lot of features that aim at enterprise level tasks and communication management.
Conclusion
While Zendesk is one of the most popular help desk solutions out there, its IVR feature could definitely be improved. The functionality is perfect and there are no issues regarding it, but the setup and implementation can get fairly confusing, especially for new users. The second major problem is the price, as it is quite steep compared to other software that offers IVR. If you're looking for a software with a wide feature set that has IVR but you don't need it to be perfect, the price can be justified. Otherwise, I recommend you to consider another Zendesk alternative that may offer more value for your money and open up a world of possibilities, allowing you to find a suitable IVR solution that aligns with your specific needs and budget.