Key takeaways
Pros
Good reporting features
Wide range of integrations
Easy to implement
Chatbot for article recommendations
Cons
High, competitive pricing
Takes time to learn all the features properly
Blunt, unattractive user design
Getting started with the Zendesk chatbot feature
To get started with Zendesk's chatbots, I headed to their website and clicked on the "Free Trial" button. This is when I was able to start the registration process. In total, everything took me about 20 minutes. It was longer compared to registering with others solutions, some of which just took a few minutes. Still, I found it to be alright. It's worth noting that I had to wait for about 18 minutes to get my confirmation email. This is what made the sign up process this long. When you're creating your account to take advantage of a trial, you are asked to provide the following details:
work email
first name
last name
phone number
company name
number of employees
desired use case
language
password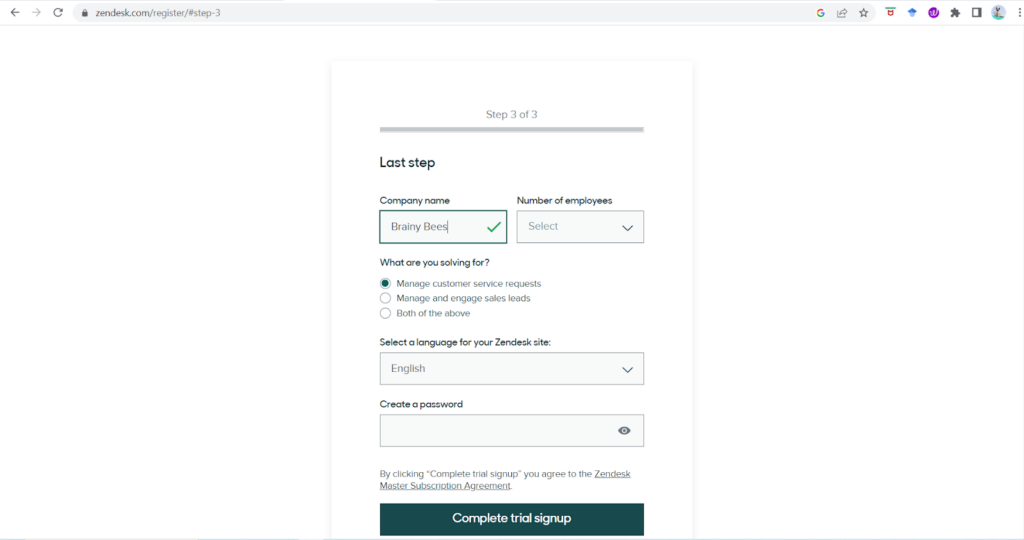 In general, I didn't encounter any issues during the sign up process except for the moments when I thought my confirmation email wouldn't arrive. I would say the process is definitely easy for newbies, so you shouldn't find it too difficult.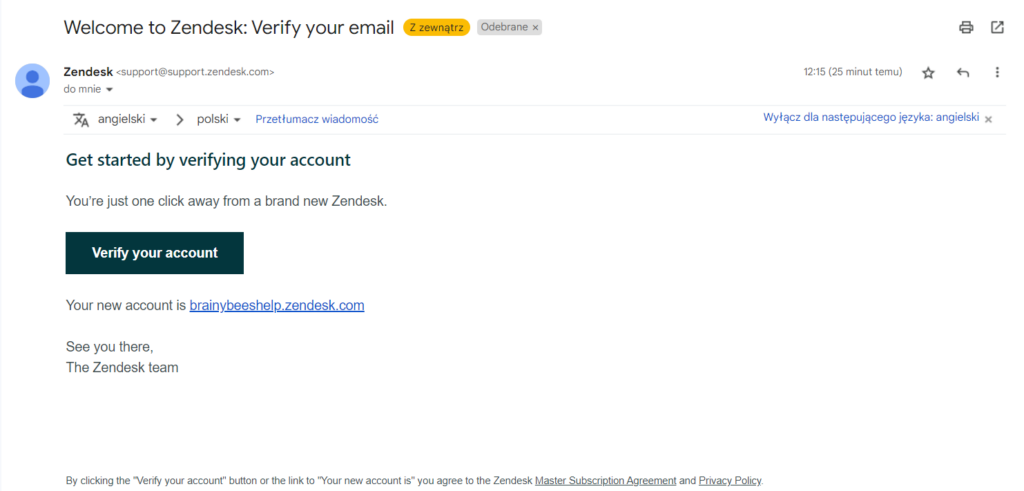 Right after registration, I was met with some ways to improve the experience of my trial. By answering 4 simple questions from Zendesk, I was able to make some positive changes to my trial that would make me enjoy it more.
The questions were:
Have you ever set up a customer support solution?
When do you plan to launch?
How many agents will use Zendesk?
How do customers contact you?
I found it useful that Zendesk asks these questions to help me take advantage of the trial in the best way possible.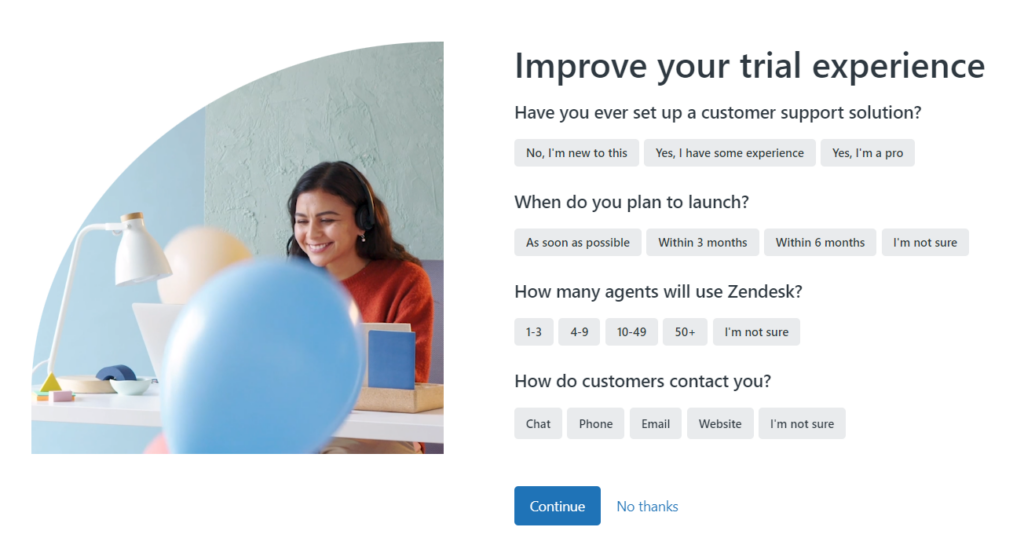 Zendesk chatbot features and implementation
Finally after getting through the registration process, I was able to dive deep into Zendesk's features and everything implementation-related.
First of all, I must admit I'm not the biggest fan of Zendesk's visual design. It's pretty blunt and unattractive. It takes time to learn where all the features are, even despite the little, short tutorials in the form of pop-ups and videos. The fact that everything is almost the same color makes the different options mix together, creating a sense of overwhelm and being lost.
As for the available features, I was positively surprised by a few. Firstly, you can set up an answer bot with article recommendations for your customers, which I think is awesome. Secondly, it's possible to integrate Zendesk with a nice range of tools many people use every day, like Slack or Shopify.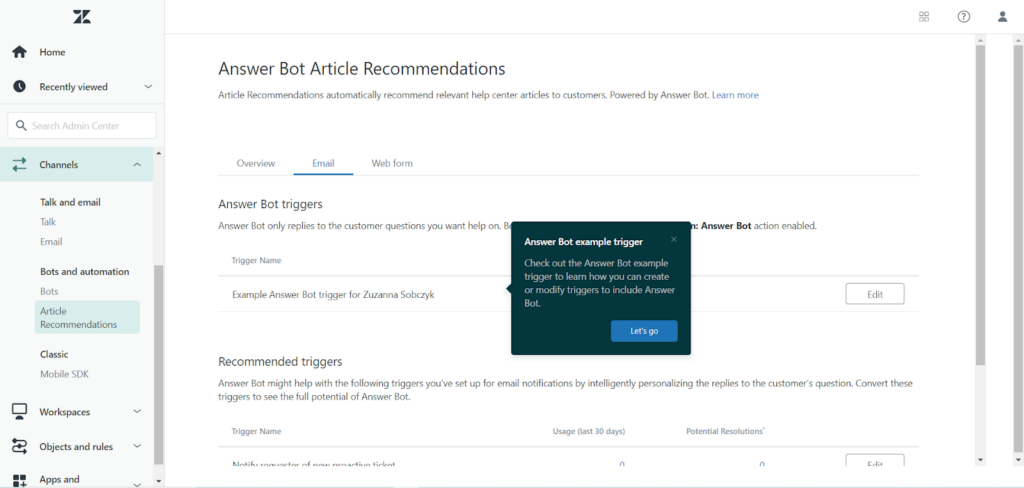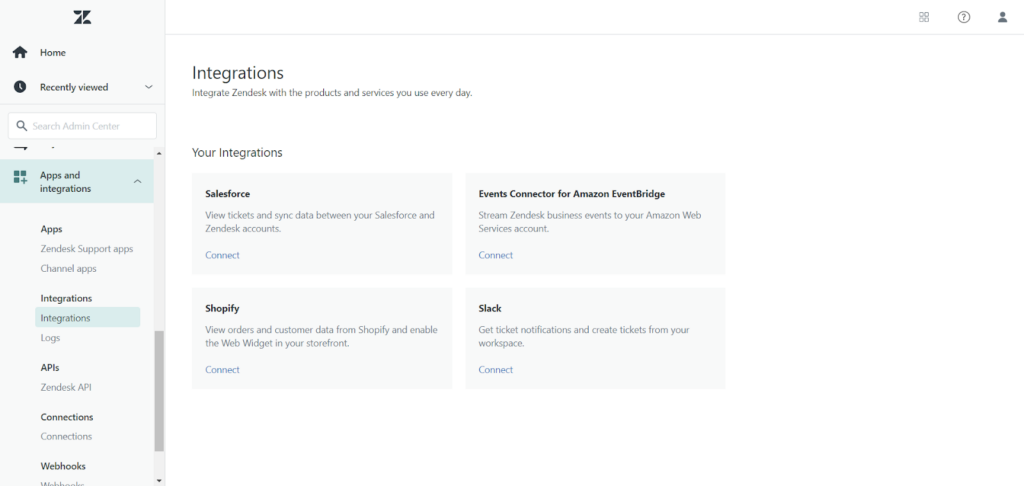 When it comes to implementing the chatbot, I didn't find anything I could complain about here. By following the instructions provided by Zendesk, I was able to navigate through the whole process pretty easily and without any bigger efforts.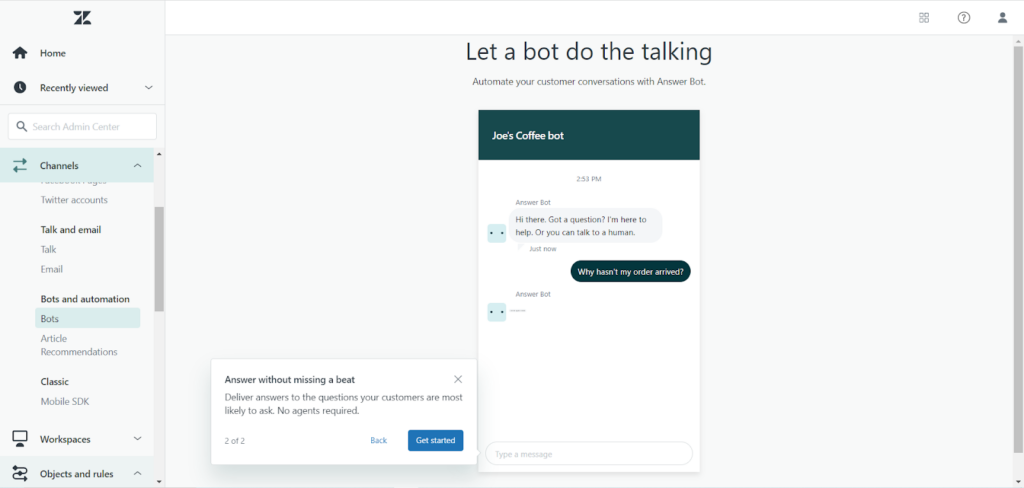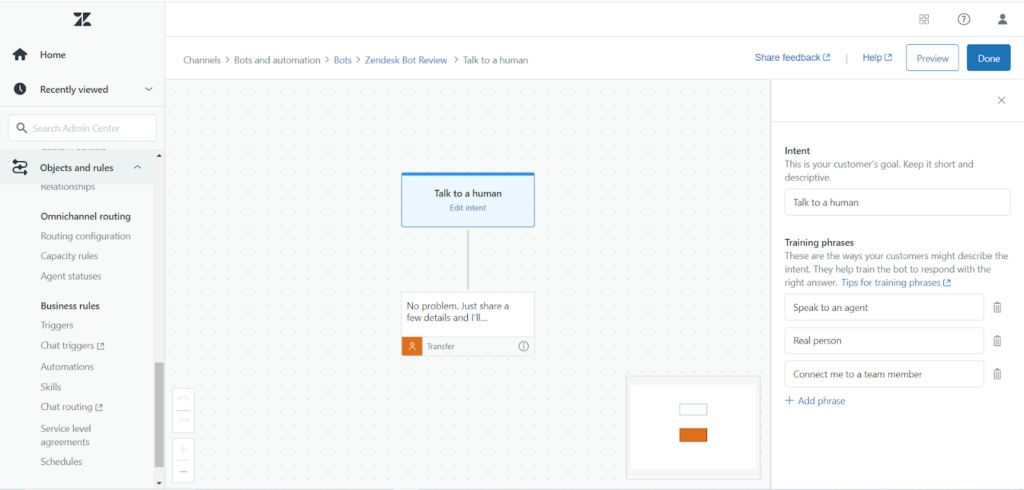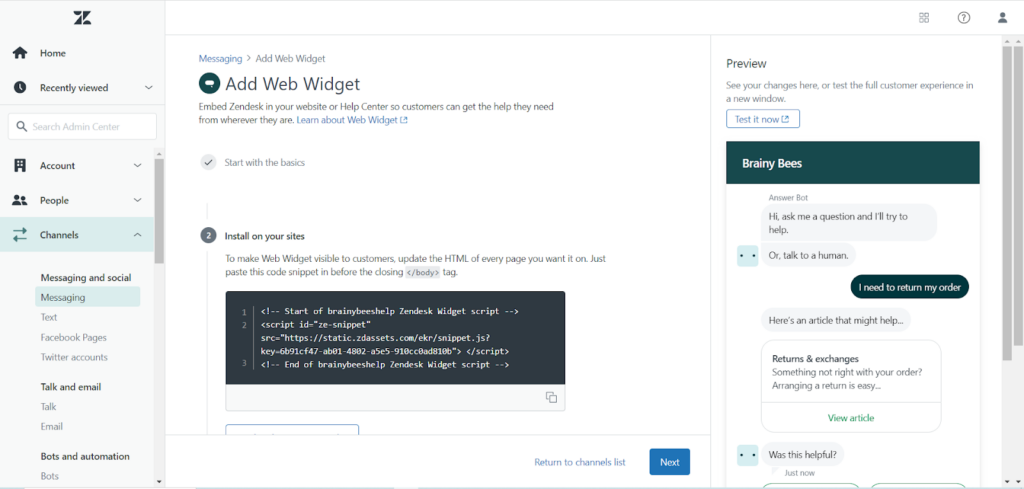 Performance and usefulness
Zendesk chatbots use artificial intelligence and machine learning to handle customer inquiries automatically. They can answer a wide range of questions, allowing human agents to focus on more complex tasks. As the chatbot is trained with more examples of questions and answers, its performance can be improved over time in my opinion.
Overall, as a user of the Zendesk chatbot, I can report to have had rather positive than negative experiences with the tool looking at its performance and usefulness. I found it helpful and effective for handling customer inquiries, as well as easy to use.
While the chatbot may occasionally struggle with understanding more complex or unique inquiries, it performs well in general. Overall, I can see the chatbot as a valuable addition to customer support teams. I also think it can help companies improve their efficiency and provide better service to their customers, should they have the budget to use this tool.
Zendesk bot pricing
First of all, Zendesk doesn't offer any free plans, which is a little bit of a shame. On the other hand though, you might be pleased to learn that there is a 14-day free trial available for all types of plans except the most expensive one. More details about the particular pricing plans can be found below.
Suite Team ($49/agent/ month)
Suite Team is the cheapest plan offered by Zendesk. Inside of it, you can find features like email, voice and SMS support, messaging across web, mobile and social platforms, as well as a single help center. You can also set up to 50 AI-powered automated answers.
Suite Growth ($79/agent/ month)
Next, there is the Suite Growth plan for $30 more, at $79 per agent per month. With this price increase comes additional features. For example, there are up to 100 AI-powered automated answers and multiple help centers to create self-service articles for your customers.
Suite Professional ($99/agent/ month)
Moving forward, Zendesk also offers a Suite Professional plan for $99 per user monthly. There is a bigger difference in the range of features between this and the Suite Growth plan, compared to Suite Growth and Suite Team plans.
Suite Enterprise ($150/agent/ month)
Suite Enterprise is a subscription plan dedicated for enterprises. Some of the features available in this one are robust APIs, live agent activity dashboards, live data sharing, customizable branding, and more.
It gets even more powerful ($215/agent/ month)
Last but not least, for over $200 per user every month you can enjoy even more features than with any other plan. If the previous plans don't tickle your fancy, this one might.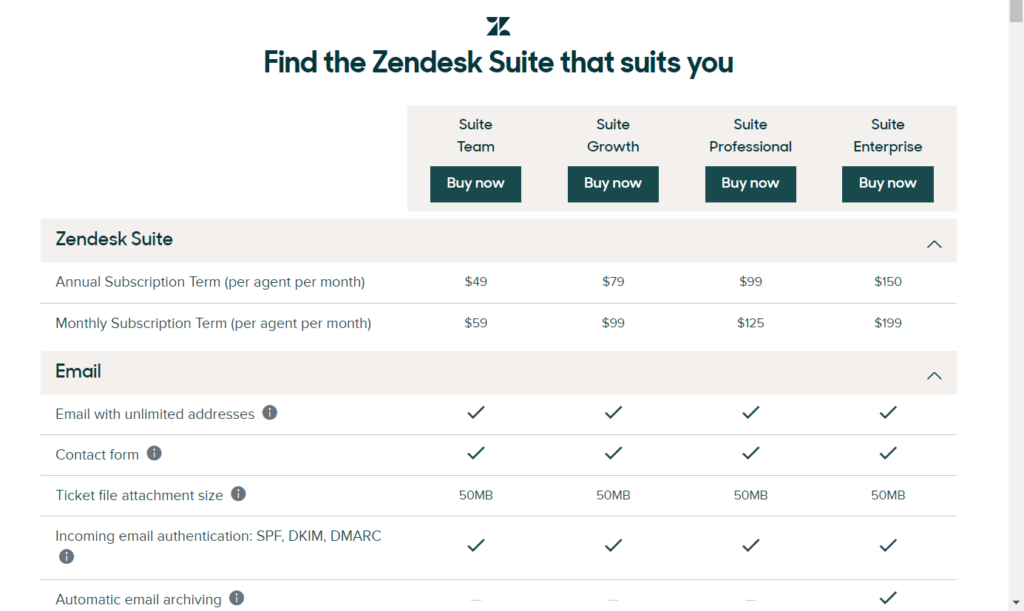 Conclusion
Overall, using Zendesk chatbot software has been a positive experience for me. The chatbot has been able to handle a large volume of inquiries, freeing me up to focus on more complex tasks. The machine learning capabilities of the chatbot have also allowed it to improve its performance over time, leading to a better experience. What I dislike about it though is the high pricing, which may put many, especially small businesses, off. Therefore, it's important to consider looking into another Zendesk alternative available on the market that may be more cost-effective, especially for smaller businesses with a tighter budget. All in all, the chatbot has been interesting to try out and review. You may like it if you don't have a very small budget and you're willing to dedicate some time to learn all the features.