Key takeaways
Pros
Easy setup and implementation
Free phone number with trial
Good call quality and features
Cons
The interface can be confusing
Very high price tag
Getting started with the Zendesk call center feature
I got started with Zendesk thanks to a free trial available on their website. The process was pretty quick, except for the part where I had to wait for the confirmation email. It was a pretty long period of time, and it surprised me that the email didn't arrive sooner. I had to reapply for the trial a second time and only then the email arrived. Nevertheless, the registration process is still quite fast and simple.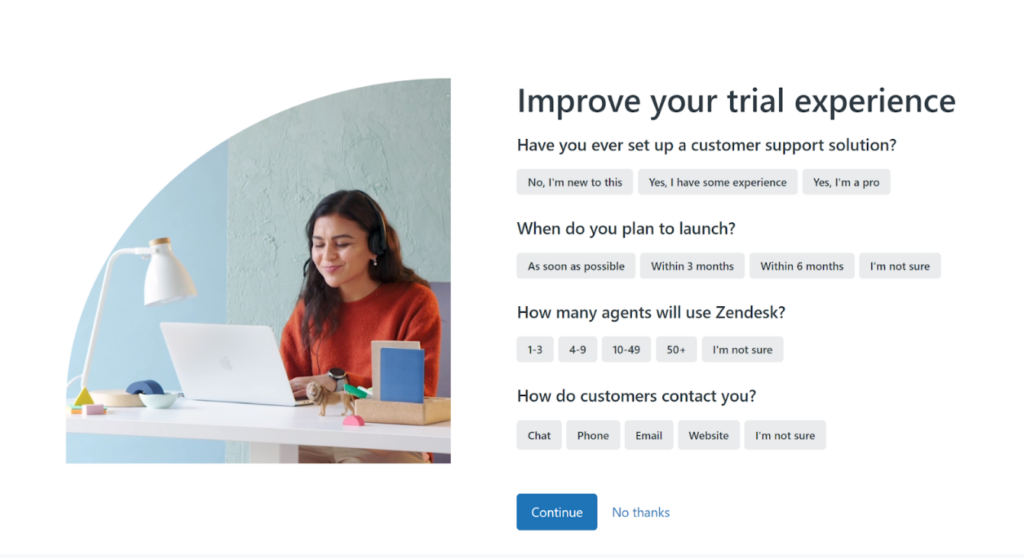 Zendesk offers a pretty good option at the beginning of the trial. You can specify how you want to use this application and get a slightly improved, tailored user experience for your use case. You can skip this step if you want to, but I highly recommend you to complete it. When you finish it or skip it, you will be taken straight to the Zendesk interface. The interface offers some handy tooltips which will guide you through and help you get started with Zendesk.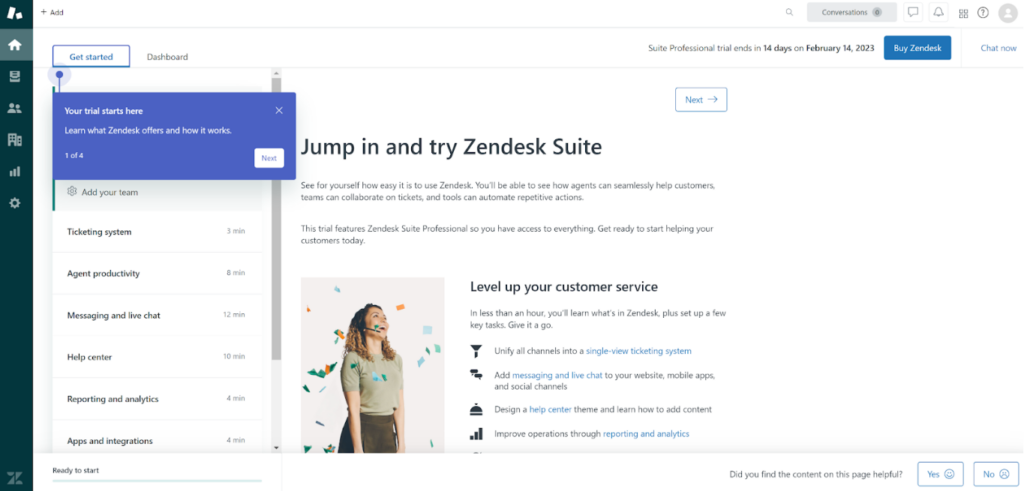 One of the coolest things about Zendesk trial is that they give you a free phone number to try out the call center feature. I didn't even have to integrate or go through complicated setups to get started, and I was able to basically start calling right away. Zendesk also offers the option to add your own phone number. You can find this option in the Admin Center under the Talk settings. This option also includes various adjustments and customization options for your phone lines, so you can specify their use cases a bit more.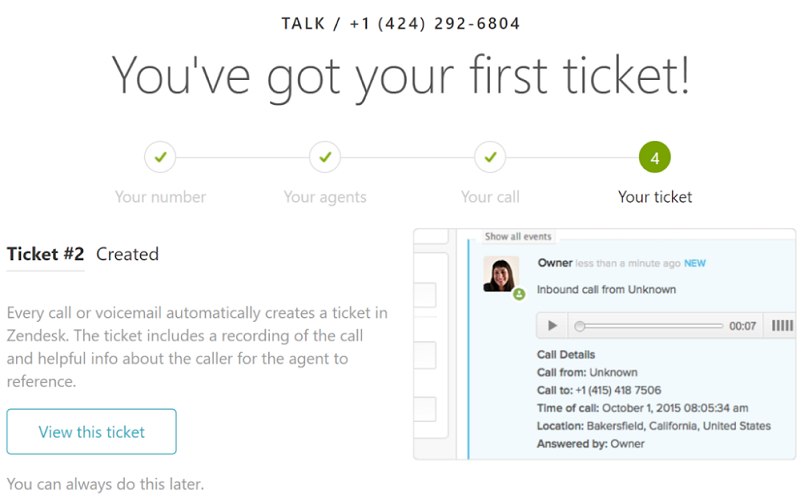 Zendesk call center software offers both inbound and outbound calling capabilities, making it a complete call center solution for any type of business. The implementation is fairly easy, and it shouldn't be a trouble for anyone, although I have to say that the menu options could be a bit clearer, as they get confusing sometimes. Finding the admin panel was a task for me, and certain options should be more visible, at least in my opinion. Before we get to the testing part of the review, let's go through a list of Zendesk call center features and see what you can expect.
Zendesk call center features
Zendesk's call center functionality includes inbound and outbound call center capabilities and a call center integration with the Zendesk ticketing system. Each inbound and outbound call creates a ticket in the system. The call center tickets can also provide a recording of the entire call if you activate this option for any of your phone numbers. You can access the entire call recording history this way. Zendesk has intelligent call routing which automatically routes calls to available agents based on various criteria. Interactive Voice Response is also available.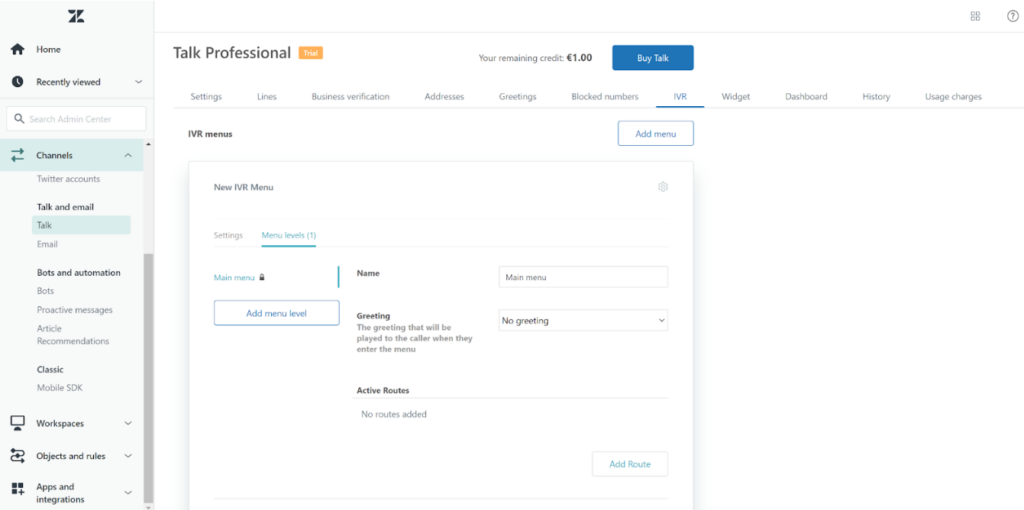 Zendesk also offers call monitoring and call whispering, the latter one being useful especially for new call center agents in the training. I found call whispering quite interesting, as it's not something I come across often. This is when a senior colleague can connect to a call and give advice to the agent without the customer hearing it. Pretty neat! You can also access call center analytics which provide a deep insight into your activities. Zendesk offers a call scripting feature where you can plan out the course of your phone conversations and deliver a better experience. You can access the full call history and replay call recordings whenever necessary. Zendesk also has certain automation features which can help you get rid of tedious or repetitive call center tasks.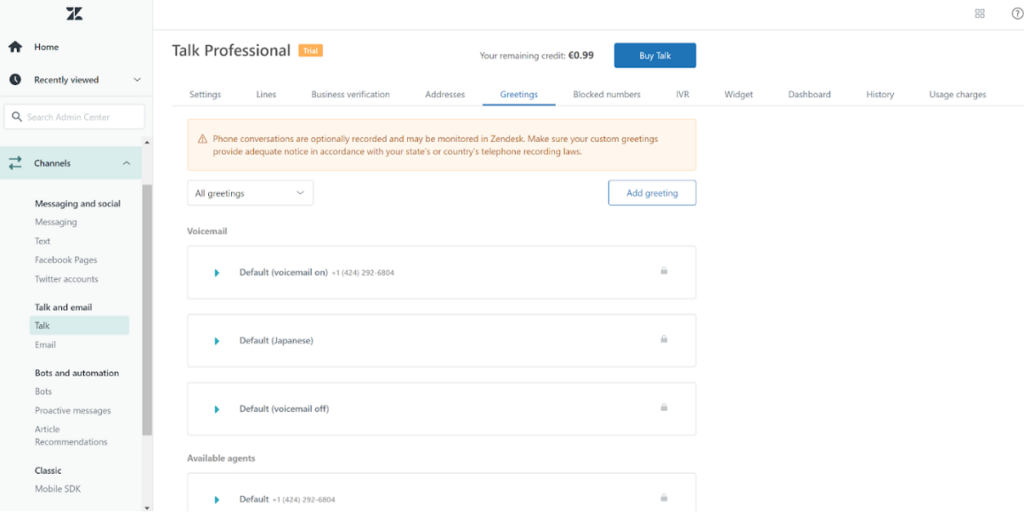 Performance and usefulness of Zendesk call center software
Since you get a test number with your free trial out of the box, there are no complicated setups to finish, unless you really want to connect your own phone number. If you do, you can find the option in the settings, and it takes just a couple of minutes to finish it. The user experience and the interface are designed quite well, and even though some functionality might be harder to access if you don't know where it is, Zendesk still does a pretty good job with the application design. To access the call functionality, I only needed to look up and to the right in the interface, where I was able to find the phone icon.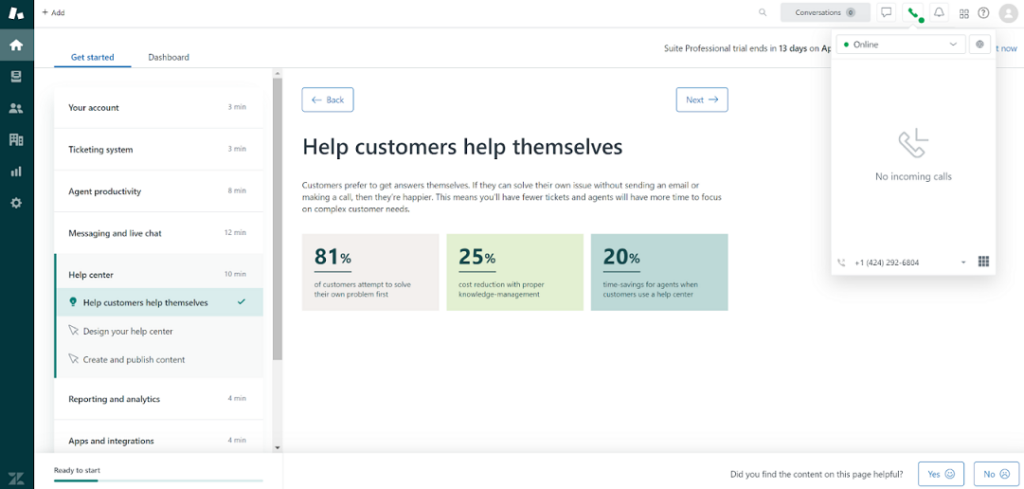 It's important to note that you can only call numbers within the United States with the free trial, but you can answer incoming calls from any country. When you call your Zendesk number, the system plays a message with "Thanks for trying Zendesk" and informs you that you need a paid plan to remove the message. After the message plays, you will be connected to the number and you can answer it in the Zendesk application. The app shows a visual notification when you have an incoming call, and you will hear a ringtone as well.
The Zendesk application has a handy dialer, but it doesn't offer a contact list within the calling window. I was surprised to find out that my first call wasn't recorded anywhere in the ticketing system. I'm not sure if it's supposed to work that way, or if Zendesk bugged out on me. However, the call quality is great and I didn't experience any trouble with any of the calls. The experience can be improved even further if you decide to use IVR, set different greetings, or customize the call center functionality in the settings.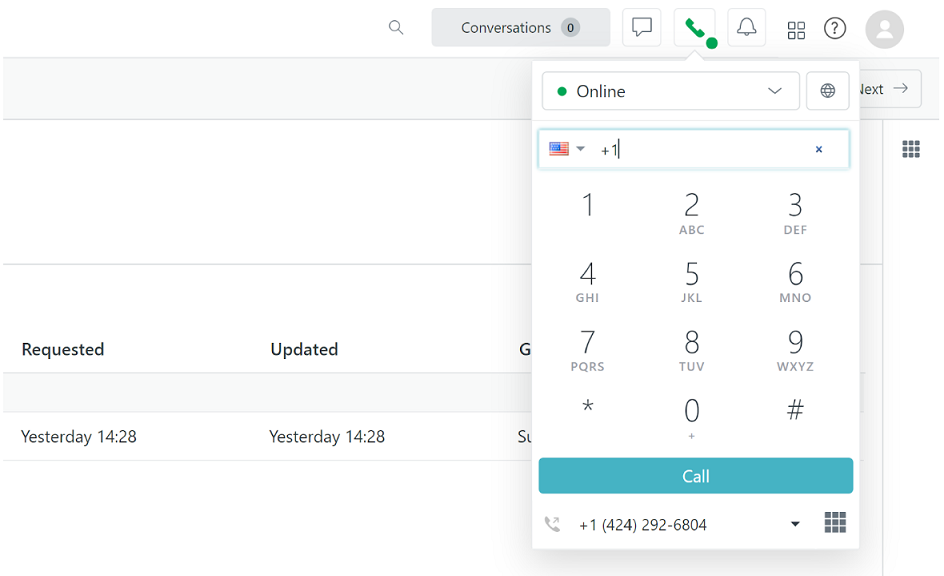 Overall, the calling experience with Zendesk Talk functionality is pretty great and I have no complaints. The calls work as they should, and the calling widget is easily accessible regardless of where you are in the interface. Once you learn where to access the Admin Center, you shouldn't have trouble remembering where the settings are, and you can freely adjust them as you deem necessary.
Zendesk pricing
Zendesk has a large variety of pricing plans for various use cases, however, only the Zendesk Suite pricing plans offer the call center functionality. The remaining plans focus on Sales teams and foundational customer support. We'll go through each plan to show you what you can get with each of them. All of the plans provide the call center functionality, so your choice is most likely going to revolve around other functionality included in each plan.
Suite Team
The Suite Team plan starts at $49 per month per user with annual billing. It gives you access to a ticketing system, messaging with web, mobile, and social, as well as email, voice, SMS and live chat support. Additionally you get access to a single help center, automations, workflows, automated answers, routing, analytics, file storage, APIs, online support, and more.
Suite Growth
The Suite Growth plan starts at $79 per month per user with annual billing. It offers all features from the Suite Team plan and adds self service customer portal, AI-powered knowledge management, customizable ticket layouts, light access licenses with up to 50 available, SLAs, multilingual support and content, and more.
Suite Professional
The Suite Professional plan is the most expensive one, with a price tag at $99 per month per user with annual billing. It combines features from both previous plans, and adds new ones – live agent activity dashboard, integrated community forums, private conversation threads, customizable and shareable dashboards, advanced voice capabilities, data location options, HIPAA compliance, and events connector for amazon web services.
Conclusion
Zendesk offers pretty good call center functionality, with a mostly intuitive interface that's generally easy to use. The fact that you don't have to integrate or set up your call center in a complicated way is a huge plus. However, Zendesk plans don't come cheap and they can make a serious dent in your budget. You get huge amounts of functionality and great value for the price, but it would be a good idea to explore a cheaper Zendesk alternative that can offer comparable call center functionality at a more budget-friendly price. These alternatives can also provide intuitive interfaces and easy setup, and come with more flexible pricing plans that cater to businesses of all sizes.