In today's business world, a good customer support tool is essential for managing customer interactions across several communication channels – social media, website, mobile apps. Zendesk is a top-performing solution in this space, dominating the help desk software market for the past decade.
In other words, it is an all-in-one solution, with a built-in help center and a community forum where customers can search for answers to common questions or interact with other users. As a result, agents' can dedicate more time to complex inquiries.
However, like all other software solutions in pretty much any industry, Zendesk was not designed to serve every type of business – it might not be as adaptable and scalable. Some companies may discover that it is not accessible at the price range or lacks some of the key functionalities and integrations that their business requires.
In this guide, we've compiled some of the best Zendesk competitors and compared them based on the following factors:
Pricing: There's no getting around it – the budget you invest in your customer service software matters. It can make a massive difference in your bottom line and ROI in the long run. This article will compare different pricing plans and their associated key features to determine which one provides the most value for money.
Basic features: Customer support software should make the job easier for your entire support team with basic functionalities like an intuitive dashboard, chatbots, a ticket management system, etc. It's something that any help desk solution needs to offer in a reliable, affordable way.
Advanced features: Automated workflows, FAQ building to store the most frequent customer questions, and other advanced features can help you impress users and cut down on your response times.
Reporting: You want to have a good overview of how your customer inquiries are being handled and identify potential opportunities for improvement. This is done through thorough analytics and other reporting features. Therefore, any tool aiming to become your go-to choice needs to have an elaborate reporting suite that provides an in-depth look into your results.
Integrations: Integrations with other tools can be very important, especially when it comes to eCommerce platforms. For example, an integration with Shopify might allow you to initiate refunds, see customers' history, and do other things. The article will assess which tools integrate with which other software, focusing on eCommerce platforms.
LiveAgent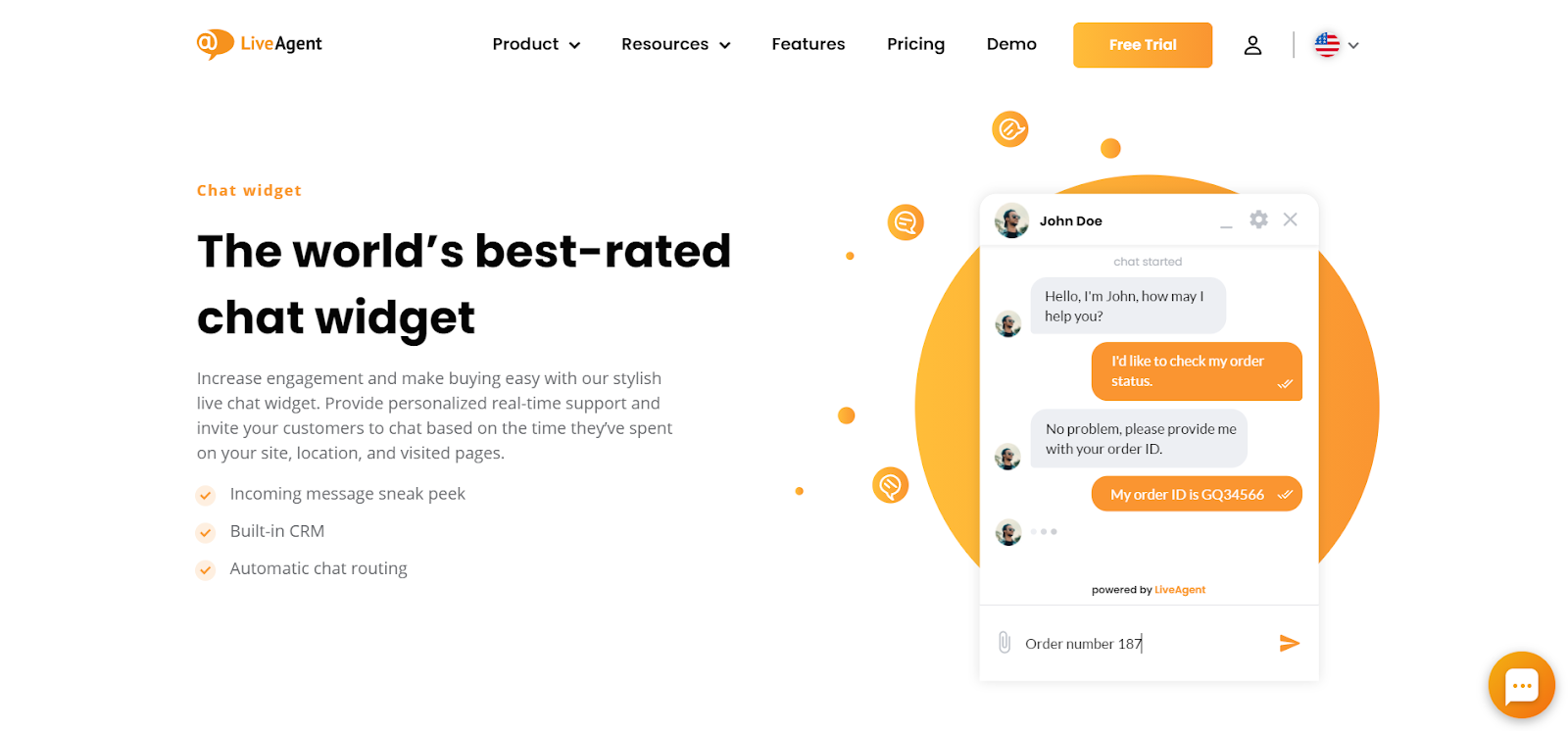 LiveAgent is a sound Zendesk alternative on the market.
At LiveAgent, we combine simplicity and ease of use with elaborate features that can help you improve your customer support in a number of ways. It all starts with our intuitive ticketing system, which is one of the essential tools for effective customer service. The system automatically creates tickets for each customer request and assigns them to the appropriate agent and department.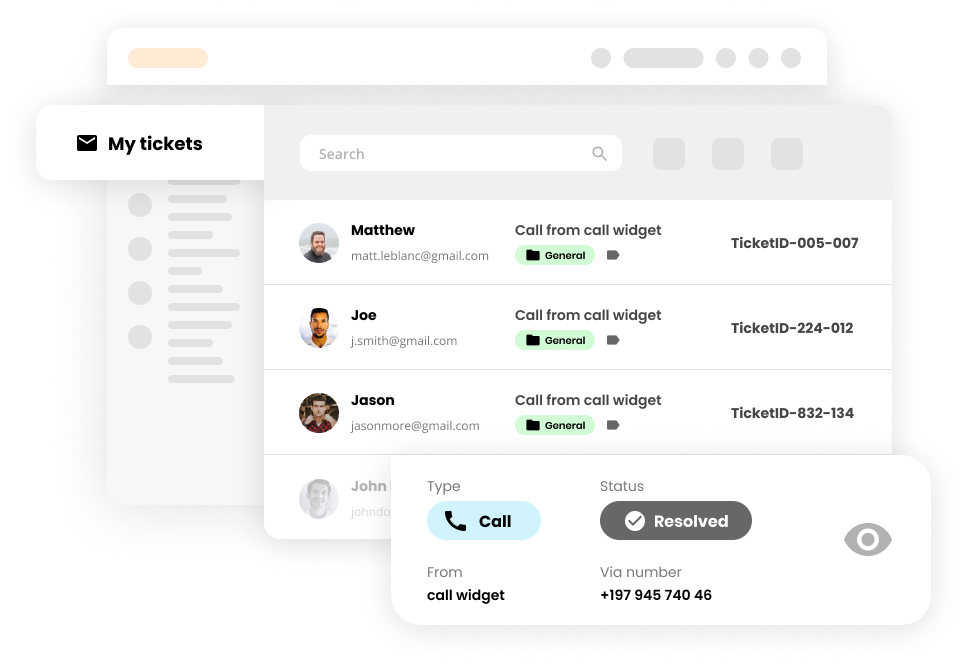 LiveAgent is also a comprehensive help desk tool that offers a universal inbox that enables you to access all your messages from one place. This will streamline your tickets, emails, social media messages, emails, phone calls – essentially everything your customers might use to contact you.
Our live chat widget provides personalized real-time support along with a built-in CRM and automatic chat routing to reduce response times. You can personalize your support based on your customers' visited pages, location, and the time spent on your site.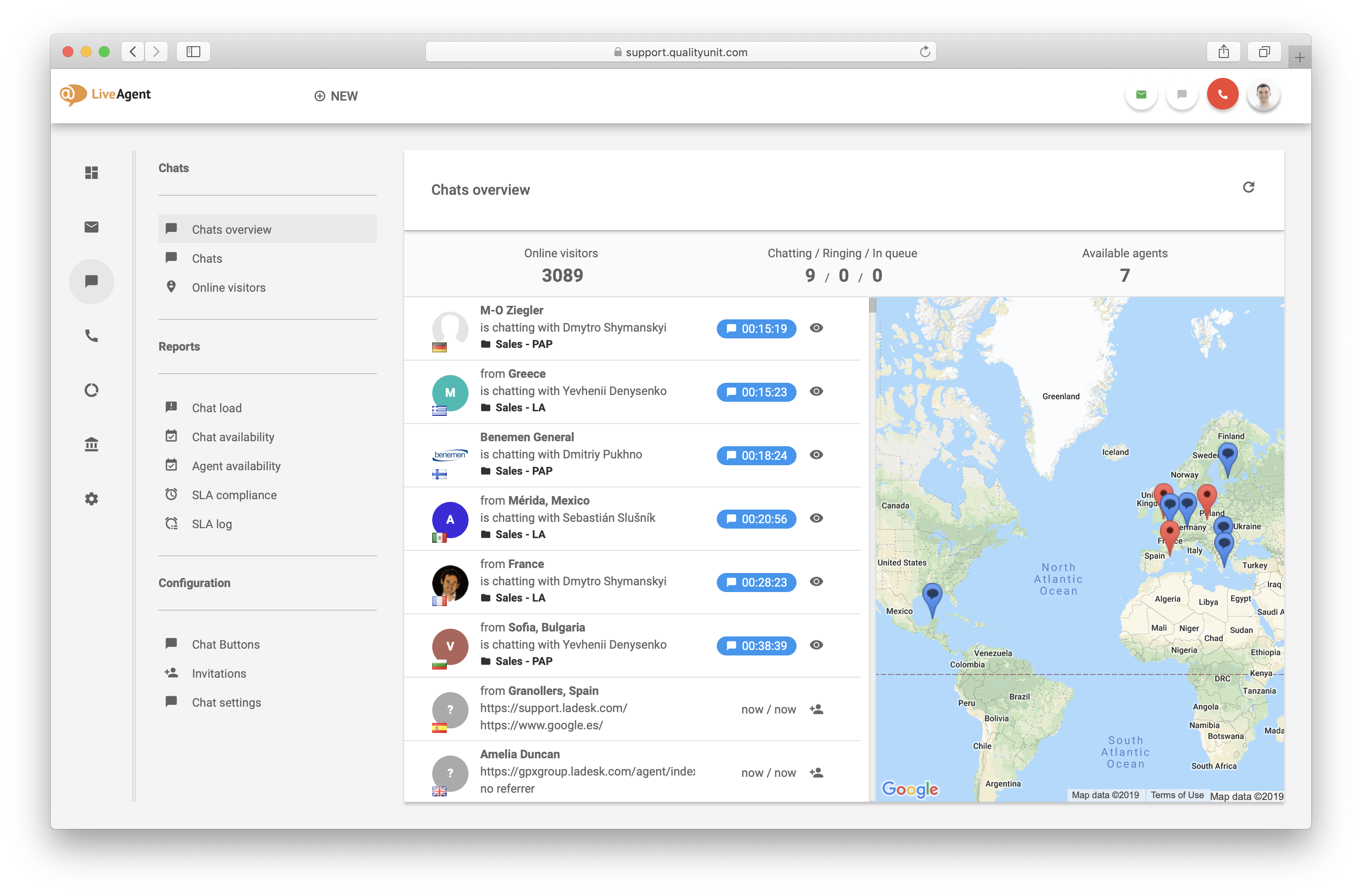 What makes it different from Zendesk?
If you value speed, LiveAgent is one of the best options on the market: it's the fastest chat widget, fully loaded in just 2.5 seconds!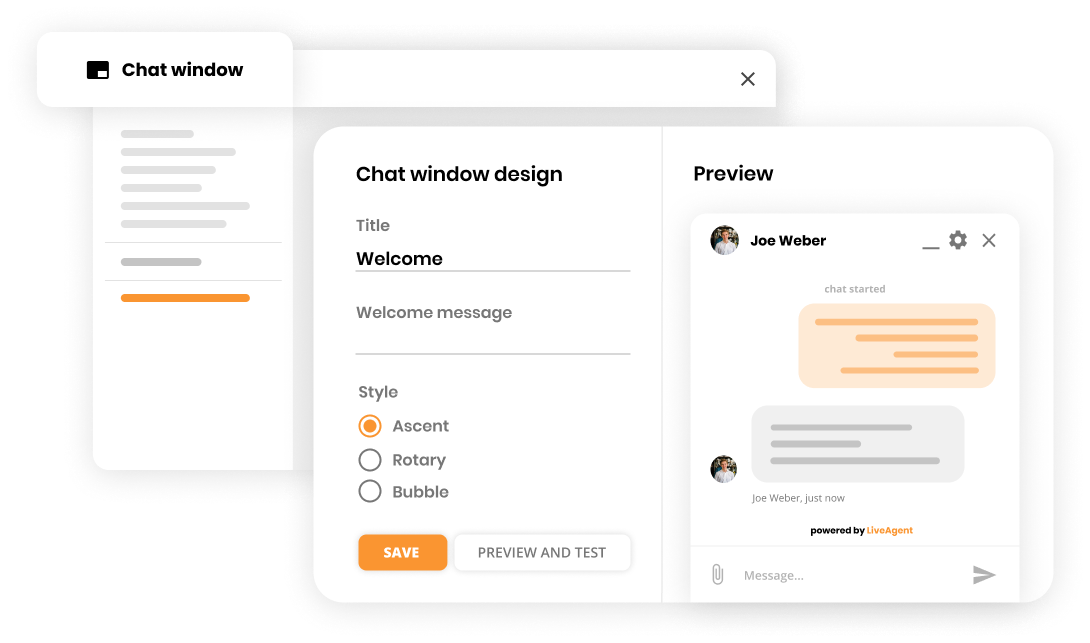 LiveAgent also matches Zendesk in almost all features, including a self-service customer portal, knowledge bases, automation rules, advanced chat features, unlimited chat history, and unlimited 24/7 customer support. More importantly, switching to LiveAgent will save up to 73% of your budget. We also offer free migration from other services – you can transfer all the data from your current provider either using a plugin or with the help of our tech support specialists.
LiveAgent has a Free 30-day trial with an All-Inclusive Plan that can later be transferred into one of the paid plans (starting from $9/agent/month) or downgraded to the Free Basic Plan.
Zendesk offers three plans: Support Team ($19/agent/month), Support Professional ($49/agent/month), and Support Enterprise ($99/agent/month). Furthermore, to truly unlock Zendesk's capabilities, you will have to explore their Support Professional or Support Enterprise plan, which can get much more expensive than LiveAgent, especially for large support teams.
Tired of searching?
Are you still looking for software that will help you improve your customer service? LiveAgent may be the solution for you!
Freshdesk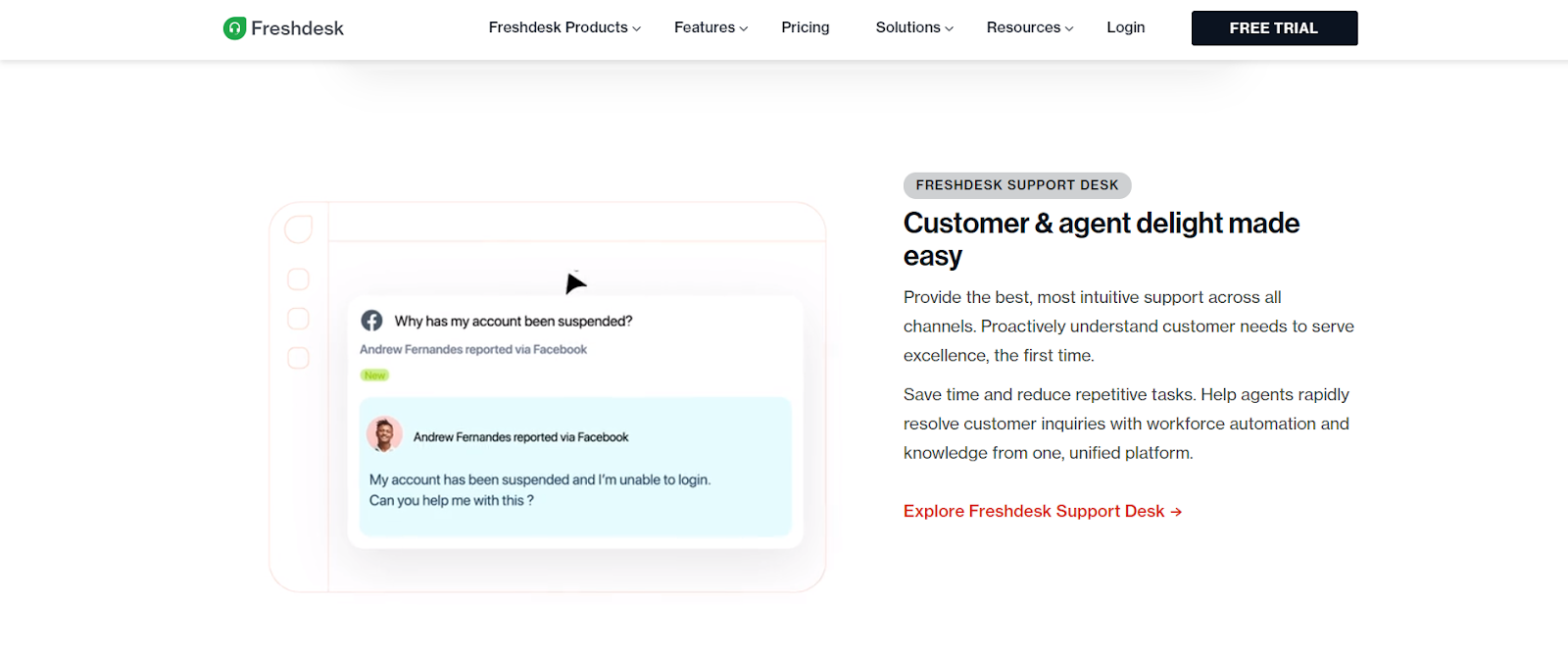 As soon as you log into Freshdesk, you'll see that ticketing is at the heart of the tool. Your main window is a reporting dashboard that shows overdue tickets, unresolved tickets, total open tickets, and other metrics. The dashboard can be customized to add widgets like customer satisfaction stats and score cards.
Features like canned messages, scenario automation, and custom ticketing tools help increase agent productivity because they liberate from repetitive tasks.
Freshdesk's standout feature is the Freshdesk Arcade – a gamification feature that creates a leaderboard for ticket resolution and awards badges for your top performers. What you may find particularly cool about Arcade is that it's customizable: you can decide which events give what point values and create custom quests.
Collaboration capabilities like linking similar support tickets, situational solution delivery and more complicated ticketing systems are also useful features to have.
What makes it different from Zendesk?
In addition to the gamification feature, one significant advantage Freshdesk has over Zendesk is its ease of use – not just for your support team but for the customers as well.
Thanks to the integration with the Enterprise Bot, the Artificial Intelligence -powered email responses your customers receive seem natural and spontaneous, just like if a human had sent them. The chatting experience is also intuitive; it's even reminiscent of Whatsapp or a similar messaging service. Zendesk makes these processes a little more cumbersome with robotic emails and placing customers in a queue, after which they need to fill in a form before their ticket is assigned.
Freshdesk is also cheaper, especially in the upper tier – their Enterprise plan is $79/agent/month while Zendesk's is $99/user/month.
Looking for great ticketing software for reasonable price?​
Help Scout
Help Scout looks was developed to resemble a personal email inbox – there are no tickets, cases or similar support channels to keep track of. If you're looking for a tool that's simple to use and doesn't feature a complex dashboard that requires some time to master, Help Scout will be one of your best options. Users find it quite intuitive and easy to navigate, although it might be a little too simplified if you're running a large support team.
Users can set up several mailboxes for each shared email address, allowing them to collaborate across departments or manage different brands using a single account. This is tailored to marketing and customer support agencies that handle multiple accounts at the same time.
One of Help Scout's standout features is the Help Scout Beacon which allows your users to get the help they need without leaving the page they're currently browsing on your website. It's a simple search bar that displays on every page of your website, allowing the visitors to search your knowledge base without having to find the "help" page.
What makes it different from Zendesk?
The first big difference you'll notice is that Help Scout is much easier and quicker to set up. It takes only a few minutes to get it up and running and start facilitating your multi-channel communication with users.
If you want to switch from Zendesk to Help Scout, you can use their Zendesk import tool to migrate all of your customer profiles, ticket history, and Help Center articles into Help Scout from Zendesk. All of this can be done automatically in a few moments, with no help from your IT desk.
Like many other Zendesk competitors on this list, Help Scout is also cheaper, offering two plans: Standard ($20/agent/month) and Plus ($35/agent/month).
Zoho Desk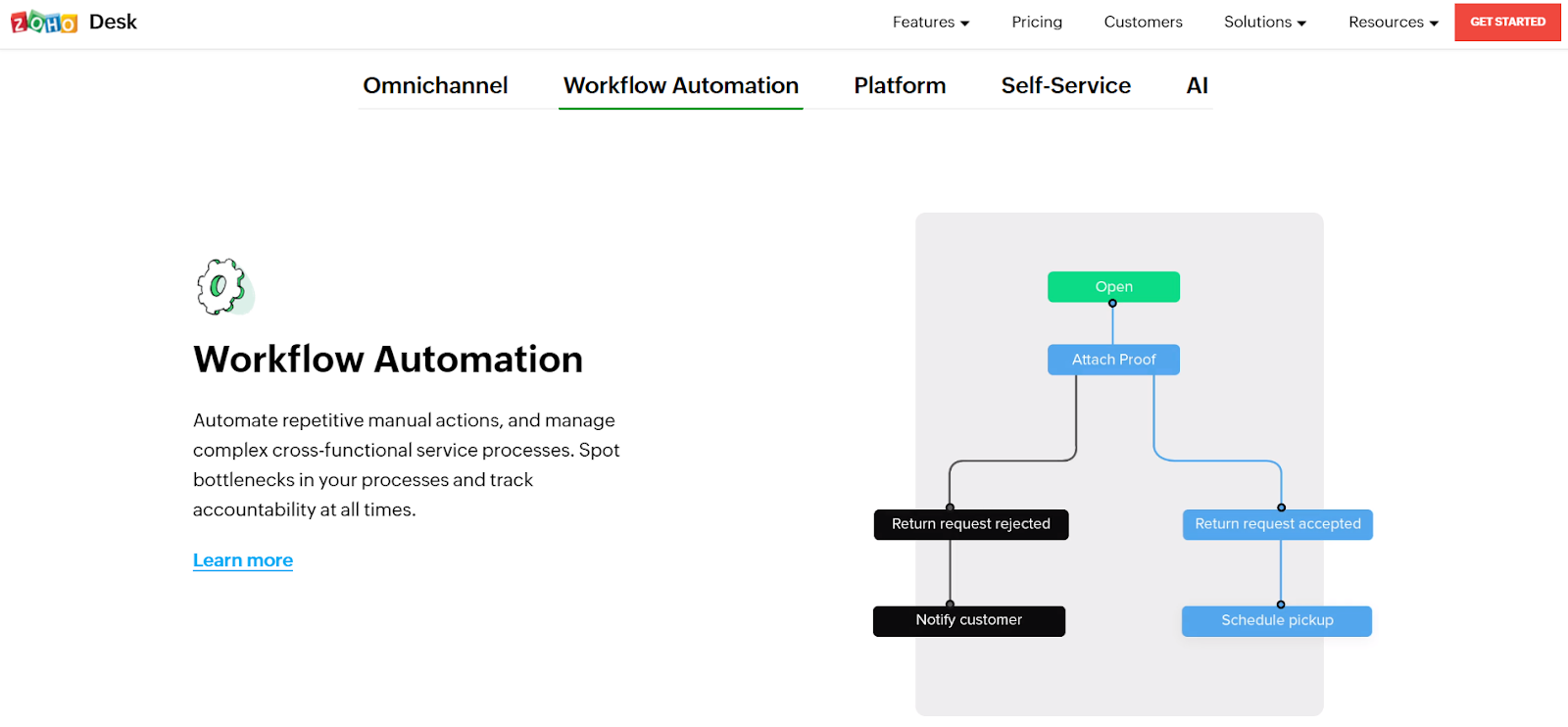 One of Zoho Desk's most interesting features is the great number of customization options that you get in almost any pricing plan. You can rearrange everything in the top menu, rename components, and set up individual views. This way, you can create a 100% personalized experience that you find the easiest to navigate.
On the other hand, one major knock users have against Zoho Desk is its outdated interface. It's safe to say that Zoho Desk hasn't kept up with the competition here – text dominates a lot of the interface and it's not easy to master if you're not tech-savvy. Fortunately, like many help desk platforms, Zoho uses color-coding to help you prioritize tickets, which definitely helps navigation.
Zoho is proud of their workflow designer called Zoho Blueprint – a visual tool that helps you create workflows using drag-and-drop objects and connectors. Apart from the Blueprint, you also get access to many pre-built automations that can be pretty useful.
Zoho Desk also offers social support integration so clients may ask questions and even submit support requests via major social media platforms like Facebook and Twitter.
What makes it different from Zendesk?
One of the key reasons you'd consider Zoho Desk is that Zoho Desk has a two-way integration with Zoho CRM. If you're already a fan of this ecosystem, Zoho Desk should be your top choice.
Also, if you provide various services or manage many brands under one roof, you'll need a help desk to handle all these variables. You may add several departments to Zoho Desk and customize each department's experience with a specialized customer support team, self-service portals, SLAs, etc.
Zia, the Zoho Desk AI Assistant, can converse with your clients and comprehend their context and emotion. This allows the AI to pull up appropriate support articles and helps your customer support operations resolve issues.
Stand out from your competitors with a strong
customer service culture​
Intercom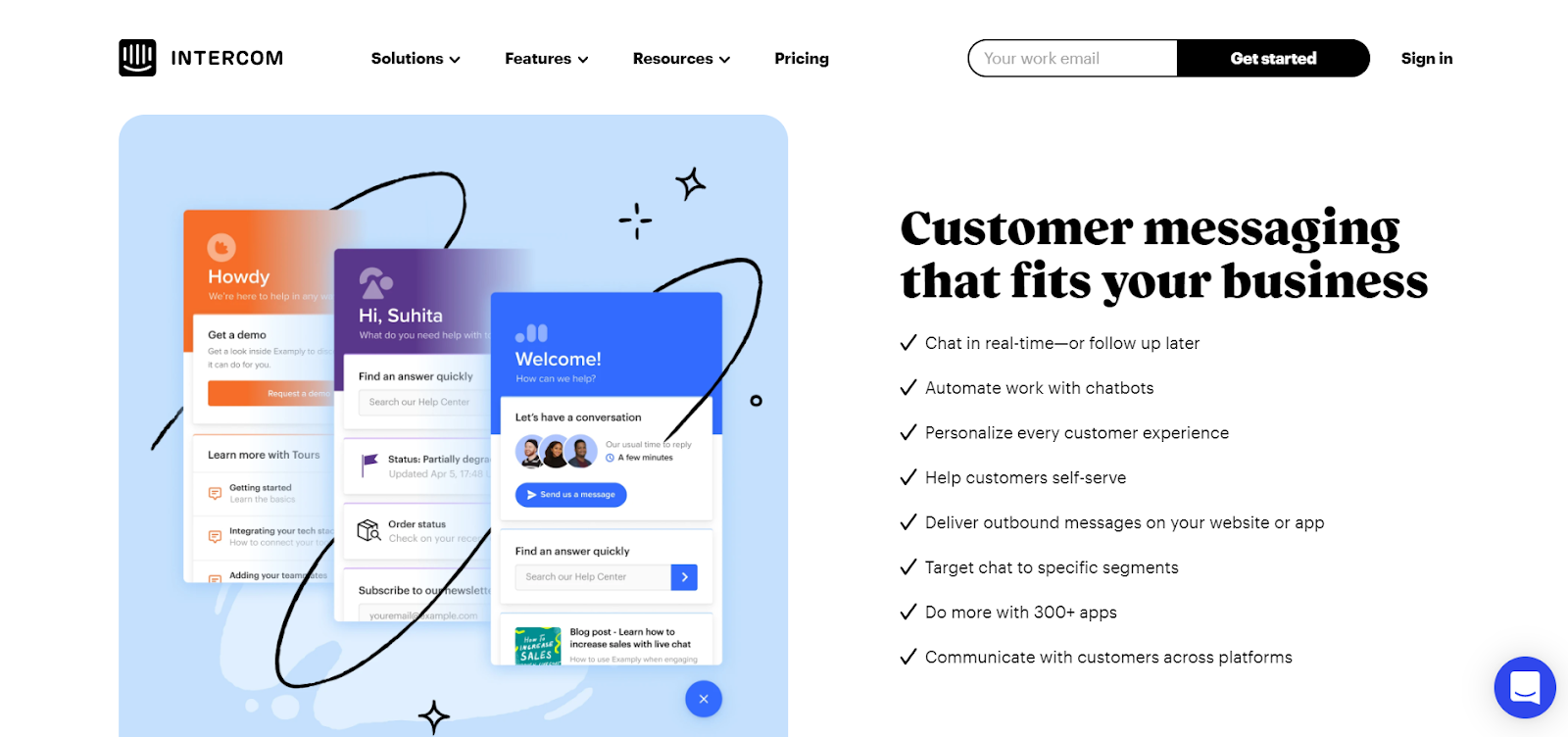 Intercom is a customer messaging platform used for marketing, sales, and support. It relies on a bot-based algorithm, targeted emails, and an integrated help desk to facilitate client connections and turn leads into customers.
The tool is branded as a Conversational Relationship Platform, a play on CRM (Customer Relationship Management) that highlights Intercom's focus on communication.
The cool thing about Intercom is that it also provides many marketing functionalities that are specifically geared towards warming up your leads, not only solving common customer questions.
These tools include:
Website widgets
Banners
Chats
Posts
Mobile Push
Product Tours
So, if you're looking for a support tool that offers a more marketing-focused angle, Intercom is a great choice. A lot of users find its automation capabilities inspiring and its chat widget well-designed.
One of the most interesting features here is the Intercom Series: a visual builder that enables you to create an entire campaign for each of your new customers. You can map out their whole customer journey and decide what kind of content they receive when they meet specific criteria.
What makes it different from Zendesk?
Intercom's chatbots and product tours are what instantly sets it apart from Zendesk. The platform is evolving from a desk tool to a more complex software solution that helps you automate pretty much every part of your daily routine when it comes to support and lead generation.
Intercom is also easier to use and their modern UI design is almost unmatched. However, Intercom also fails where almost all Zendesk alternatives on this list succeed – it's pricey and, what's even worse, their pricing plans are pretty confusing. The small business Starter pack Plan is $79/month for the first user and $19/month for each additional seat with only 1,000 people reached/month included. All the add-ons require additional payments. And all the enterprise plans are custom, based on the number of seats and number of people reached.
Re:amaze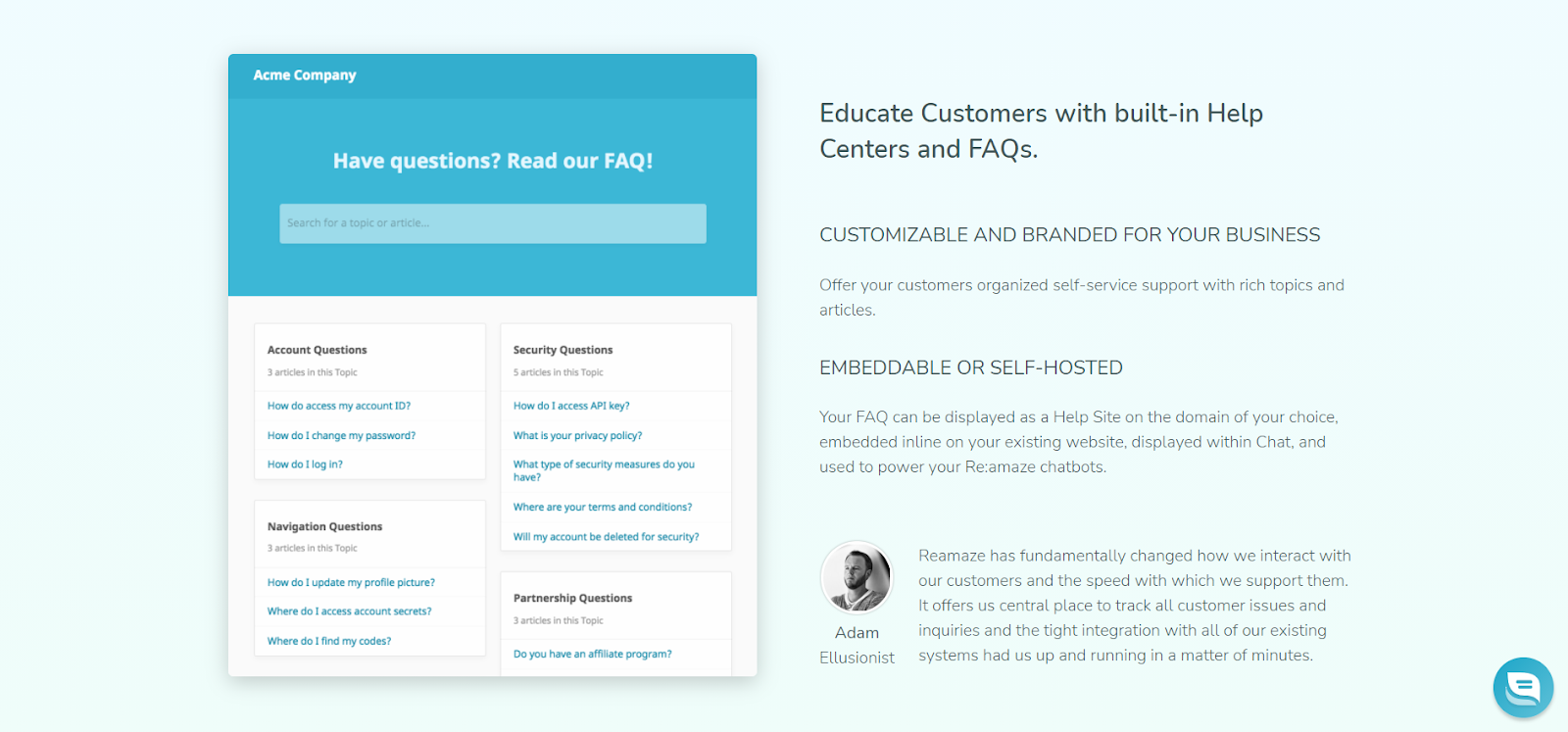 Re:amaze is a helpdesk and live chat platform that's all about customer engagement. Using Re:amaze, you can create chatbots for your social media, website, and SMS.
Re:amaze offers three default bots to help you get started: Hello Bot, Order Bot, and FAQ Bot. The first and the last ones are quite self-explanatory: the Hello Bot is used for greetings, while the FAQ Bot finds the best FAQ page for each customer query. Along with the Order Bot that replies to order questions, these three default bots can be used to address many customer issues and reduce response times.
The one thing lacking with these bots is customization – they are pre-built and pretty much all you can do is install them. There are no changes you can make and the bots don't even support languages other than English, which can be a big problem for international businesses.
There are, however, bots that you can tweak. They're called Custom Workflow Bots and they respond to a workflow, which is a predefined trigger that you can create based on the common actions your customer takes. It's a standard If-Then flow to visualize and customize your answers based on typical customer queries.
What makes it different from Zendesk?
Re:amaze is less expensive (especially in the higher tiers) and it includes everything you might need from a multi-channel support platform. Ticketing, live chat, helpdesk, automation – everything is included in this tool and you don't need to pay separately for different programs or add-ons.
Re:amaze is also much easier to set up: the whole process is quite streamlined and you don't need to be too tech-savvy to get the tool up and running.
Moreover, Re:amaze integrates with the major e-commerce platforms – like Shopify and Woocommerce. This allows customer support agents to work with the orders right from the Re:amaze Dashboard without keeping the e-commerce Dashboard open on the same screen.
Save more with LiveAgent
Compare various combinations of most used customer support software tools and find out what suits you best.
Final word
All of these Zendesk competitors are viable alternatives that have been developed for years by skilled dev teams in the industry.
But, while they're certainly all quality tools, some of them might suit your needs better than others. Take a close look at their pricing plans and unique features that differentiate them from Zendesk – they all offer limited free trials so make the most out of this period to learn more about each tool.
However, you can't go wrong with LiveAgent: it's fast, intuitive, easy to set up, and offers 24/7 support.
Thinking about switching?
If LiveAgent sounds like the right alternative for you, check it out!
Frequently Asked Questions
What is similar to Zendesk?

LiveAgent is a sophisticated IT help desk software with plenty of features, but it can be costly. If you're looking for an alternative that comes as close as possible to Zendesk, Zoho Desk and Freshdesk are probably your best options. But if you're looking for a faster and easier-to-use alternative, we suggest LiveAgent. You'll get all the helpdesk features you're looking for – including social media monitoring – at a fraction of the cost.

What big companies use Zendesk?

Because of its elaborate features and great enterprise support, Zendesk is particularly popular among larger companies. Some of the biggest names include Siemens, Tesco, Uber, Mailchimp, Polaris, and others. However, Zendesk's focus on enterprises and complex features leaves many small businesses overwhelmed and paying more than they can afford.

What is Zendesk's competitive advantage?

The main reason why you would choose Zendesk over its competitors is the magnitude of its services and features. At its core, Zendesk is a help desk software solution – but it also offers much more than this if you're willing to pay extra. The tool also provides powerful analytics that help you make smart decisions using customer data.