Key takeaways
Pros
Real-time typing preview
Affordable
Customizable live chat button
Very responsive
Cons
Can be challenging to set up for first-time users
Getting started with LiveAgent
Signing up for LiveAgent's trial is incredibly easy. Once you fill out the sign-up form and confirm your email, you're good to go. You can explore the Getting Started page, but I went ahead and started setting up my live chat right away.
From the Dashboard, click on Chats in the left-side panel. From there, click on Chat buttons and you're ready to start setting up your live chat solution.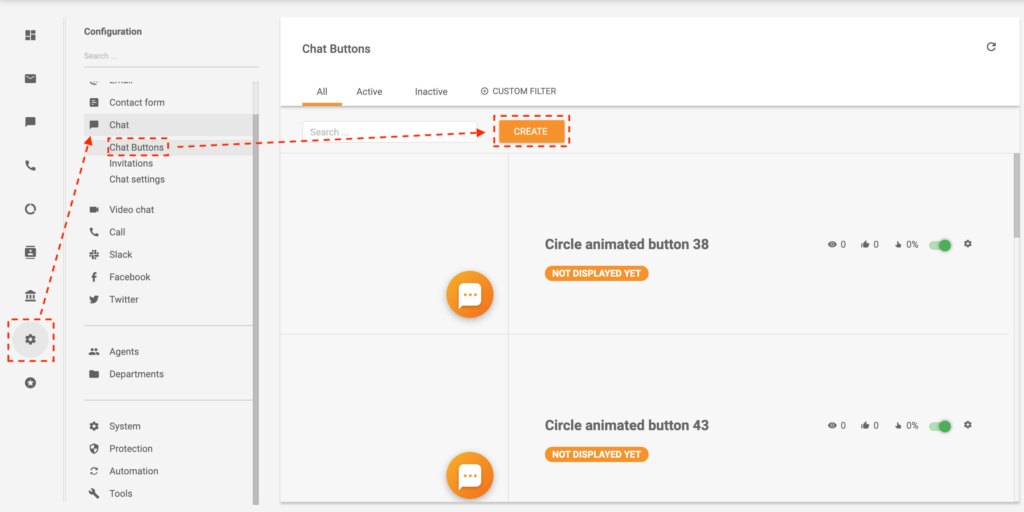 LiveAgent lets you do a lot when it comes to the configuration and customization of your live chat. After you hit the big orange Create button, you can set up virtually everything, so the live chat button looks on brand with your site, and the chatting experience is pleasant for visitors and agents alike.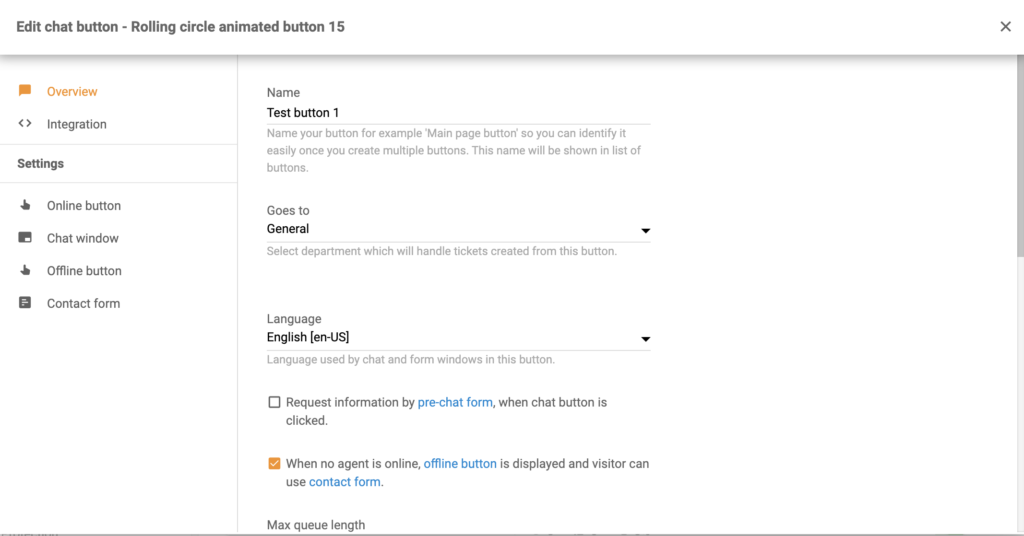 You can separately set up an online and offline chat button, customize your chat window, and even use a contact form for your clients to fill out in case you are not online.
I was pleasantly surprised by how much you can adjust and customize it. Everything from the button's position on a website to its animation (I, of course, went for the bounce) can be customized, so you're 100% satisfied with not only the look but also the button's functionality.
I had a bit of fun trying out different color combinations and setting up welcome messages.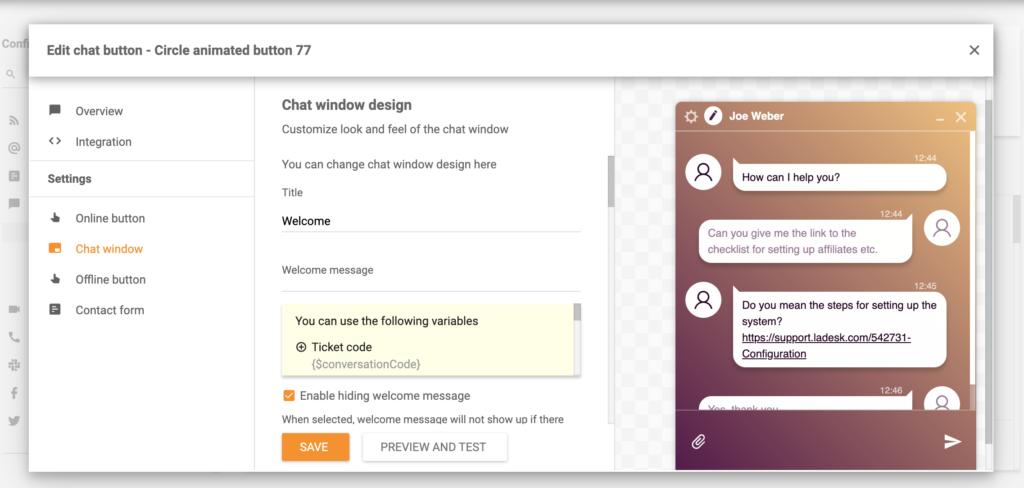 After I was happy with how everything looked, I moved on to the Integration tab. Here, LiveAgent generated a code for me to paste to the before section of my website, and everything was ready.
LiveAgent features and user interface
LiveAgent runs in your browser, so it doesn't matter which OS you're using. LiveAgent's web app is compatible with Chrome, Edge, Safari, Firefox, and Opera.
LiveAgent's live chat software leaves little to be desired regarding customization. You have plenty of configuration options right in the initial setup.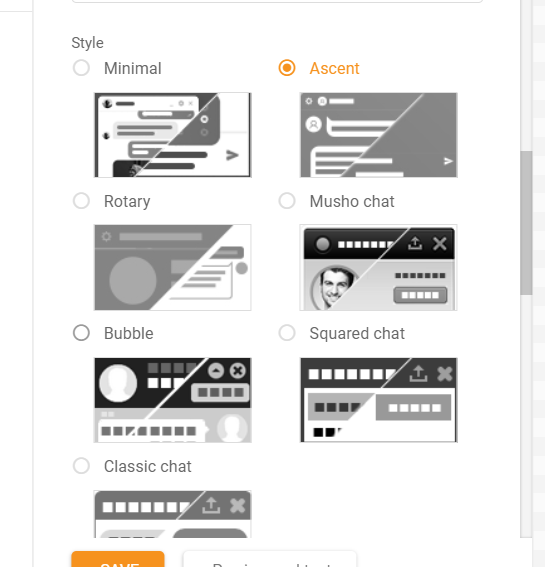 What I found really convenient is that you can write your automatic welcome message in one of the first steps of the chat button setup. In my opinion, this functionality makes automation seem more approachable right from the get-go. LiveAgent does an amazing job empowering its users to tackle more advanced functionalities they may otherwise overlook or 'leave for later'.
Another helpful feature is the pre-set canned messages. When chatting with a website visitor, LiveAgent gives you a wide selection of canned messages and even lets you write your own. The search bar also allows agents to browse canned responses in case you've set up multiple and there is no time for scrolling.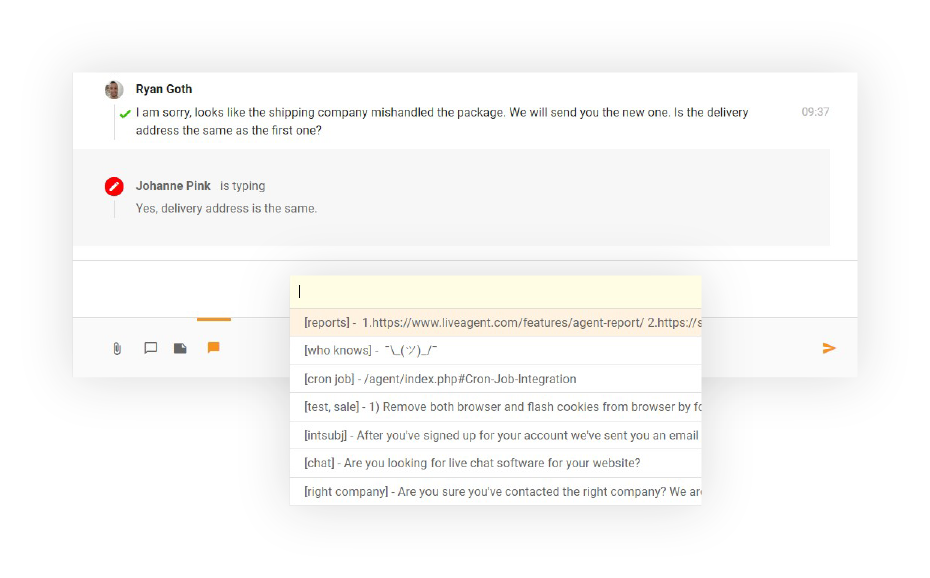 Of course, we have to talk about the live typing preview. This feature may not seem that important, but once you start using it, you will never look back. Although helpful for agents, the power of typing preview is in the client experience. When an agent sees what the visitor wants to ask before they hit send, they can answer seemingly with lightning speed.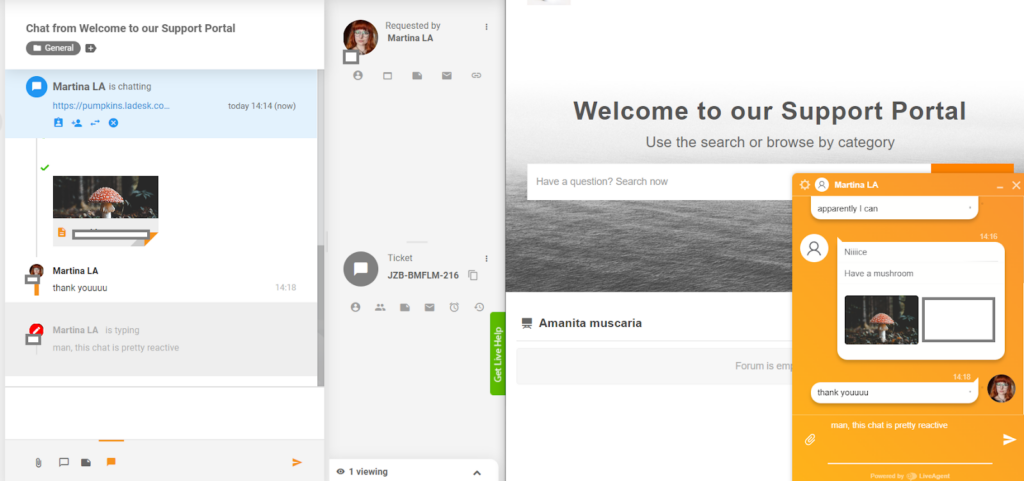 Other significant features include adding notes to the chat, so an agent can write down additional details and come back to them later. They can also add these notes to the visitor's info which is available on the left side of the screen during the whole chatting session and later can be stored in LiveAgent's CRM.
Last, but not least, I was pleasantly surprised by a satisfaction survey that LiveAgent's software offers automatically after closing the chat. This is an amazing option for visitors as they don't have to return to it later, receive emails, or sign in just to send feedback. All they have to do is choose their satisfaction level and be done with it in a matter of seconds.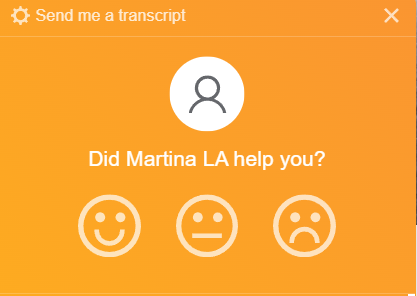 Right after they do this, the agent can see their rating.

LiveAgent live chat performance and user experience
LiveAgent's live chat is fast, responsive, and incredibly easy to use both for agents and website visitors. Everything is laid out clearly and conveniently, so you can use it even if you're not particularly tech-savvy.
When you initiate a conversation, LiveAgent's ticketing software automatically creates a ticket. The agent receives a notification that takes them right to a new chat. There, they can see all the visitor's basic information, including their IP address, browser, and whether they've logged in. Attaching files also works without issues on both agents' and visitors' sides.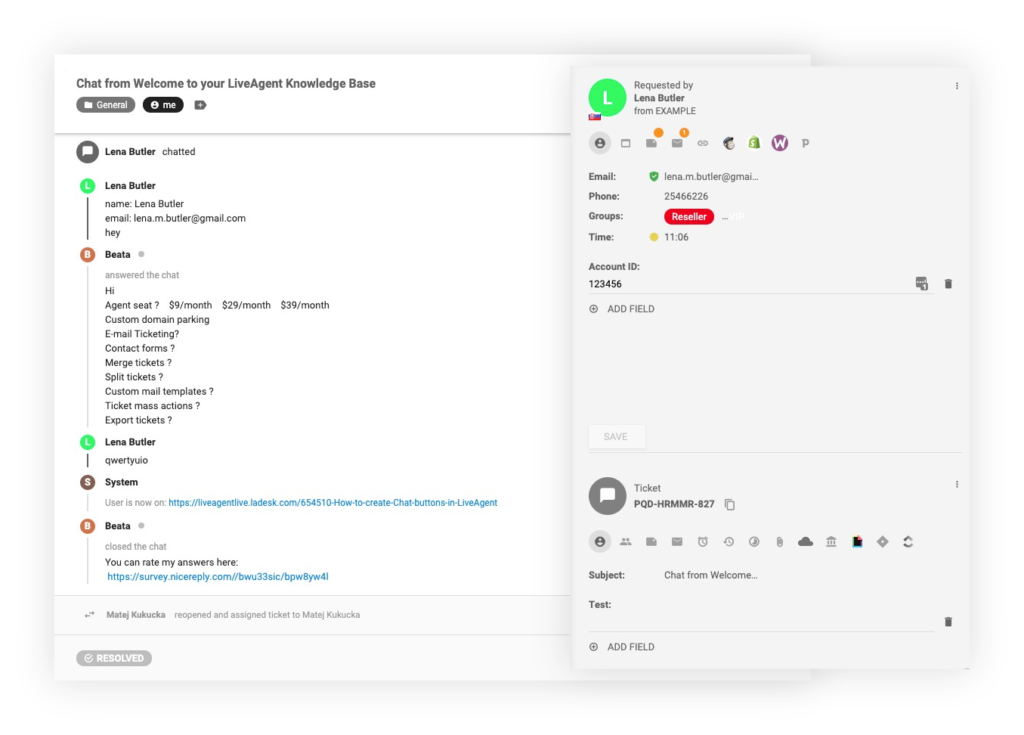 The UI is very clean and easy to navigate, so agents shouldn't have issues tackling multiple chats at once. To help productivity and efficiency, this live chat solution lets you transfer the chat to other agents right from the chat window.
The only thing that could improve the user experience even further is adding a quick tutorial in the beginning, so even if someone isn't familiar with such software they can find everything they need right away. However, a good substitute is LiveAgent's support portal, where you can find tutorials, guides, and troubleshooting tips in case you run into any issues.
Pricing
Free
You can use LiveAgent's limited features for free. This pricing tier includes features like a 7-day ticket history, 1 live chat button, basic reporting, and a few more.
Small
This $9 per agent/month package includes extended versions of all the features you can find in the free version. Some of the extended features include unlimited ticket history, customer service, integrations using API, reporting, and others.
Medium
This pricing package costs $29 per agent/month, and you can use all the features from previous packages, plus more powerful additions. Some of the functionalities you can enjoy are unlimited chat buttons, proactive chat invitations, advanced feedback management, real-time visitor monitoring, and even social media integrations.
Large
This is LiveAgent's most extensive tier which costs $49 per agent/month. Besides all the features from lower tiers, you can run a call center packed with features like IVR, video calls, unlimited call recording, call routing, transfers, and much more.
Conclusion
If I were to label working with LiveAgent's live chat software, I'd have to say it was simply enjoyable. There is not much to criticize from an implementor's standpoint but also from a website visitor's one.
Although a few short interactive tutorials along the way could have proven to be useful, as a not particularly tech-savvy person, I didn't have any issues getting everything up and running. The setup is super simple, the customization seems limitless, and the overall functionality of the chat button is, from my experience, outstanding.
What makes LiveAgent's live chat stand out is the real-time typing preview. I can see it bringing many benefits to small-scale customer service teams, as well as large ones. The ability to "read a customer's mind" can be invaluable when it comes to providing quick and personalized support.
To sum up the whole experience, I'd gladly use LiveAgent's chat widget as an instant messaging solution for my own website any day. Based on which pricing plan you choose, it seems like a great option for teams with large message volumes, as well as small businesses that just want to stay in touch.
Frequently Asked Questions
The live chat button on my site appears offline even when I'm logged in

There are many reasons why this may occur. The first thing you can try is refreshing your website. If that doesn't help, you can check which Departments can use the live chat button and adjust the settings. You can also look at whether the code is correct. If you've reinstalled your app, the new button ID may be different from the old one, which can cause the issue.

My customer support agents don't have the time to answer all incoming chats

LiveAgent's live chat software lets you set up ticket routing, so agents don't get overwhelmed with too many chats and your contact center keeps its productivity up. To set this up, go to Configuration > Chat > Settings. Here, you can even configure the Breathing time your agents may need between answering messages.