Key takeaways
Pros
Well balanced live chat solution
Extremely fast implementation
Sufficient features in the free plan
Cons
Steep pricing for what you get in the plans
Basic settings and customization
Branding in chat widget cannot be removed easily
Getting started with Chatra live chat
Chatra is a live chat software that aims to provide small business owners and e-commerce retailers with an affordable live chat solution. You can get started with it completely free of charge thanks to its free plan. It offers a couple of paid plans that can bring you some new interesting features if you need them. Let's take a look at Chatra and see how it performs.
After you complete your registration, you will be instantly taken to the Chatra dashboard. This is without a doubt the fastest registration process I have ever seen in a live chat software. You can start getting familiar with the interface, and even though there isn't any get started tutorial, it should be pretty easy to navigate for most types of users. It doesn't feel too complicated or cluttered with unnecessary buttons and tools.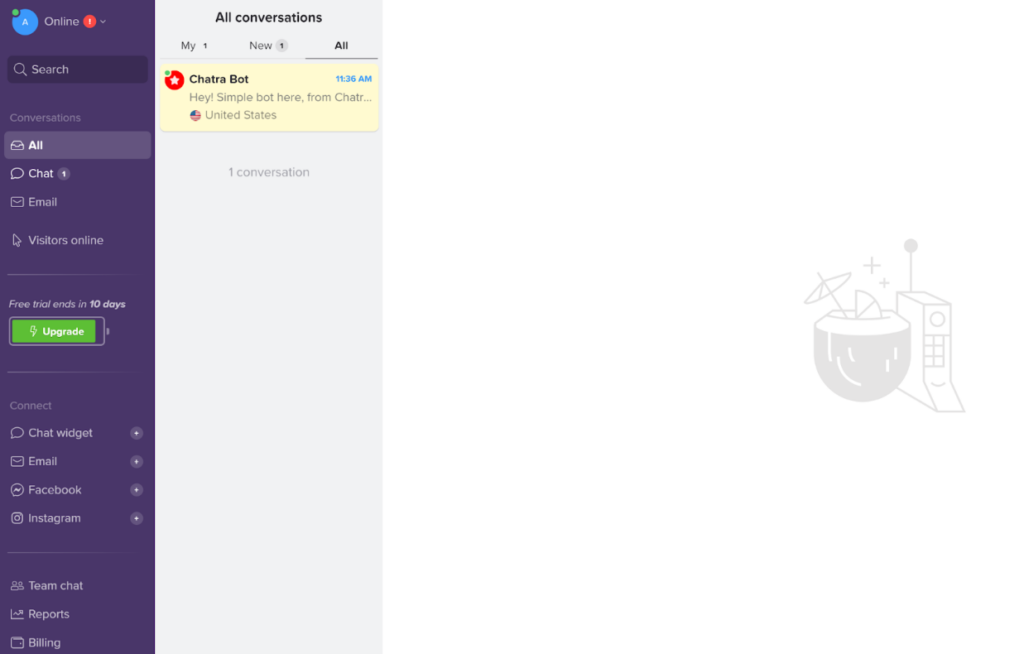 You can find the live chat options on the left menu panel. The first thing you need is to integrate the live chat. Once you click on the Chat widget option, you will get straight access to the live chat code, which can be implemented on your website. If you want to customize the chat, you simply have to scroll down on the page and set it up in any way you want. You can change your design and colors, customize the welcome and other messages, or select from other options.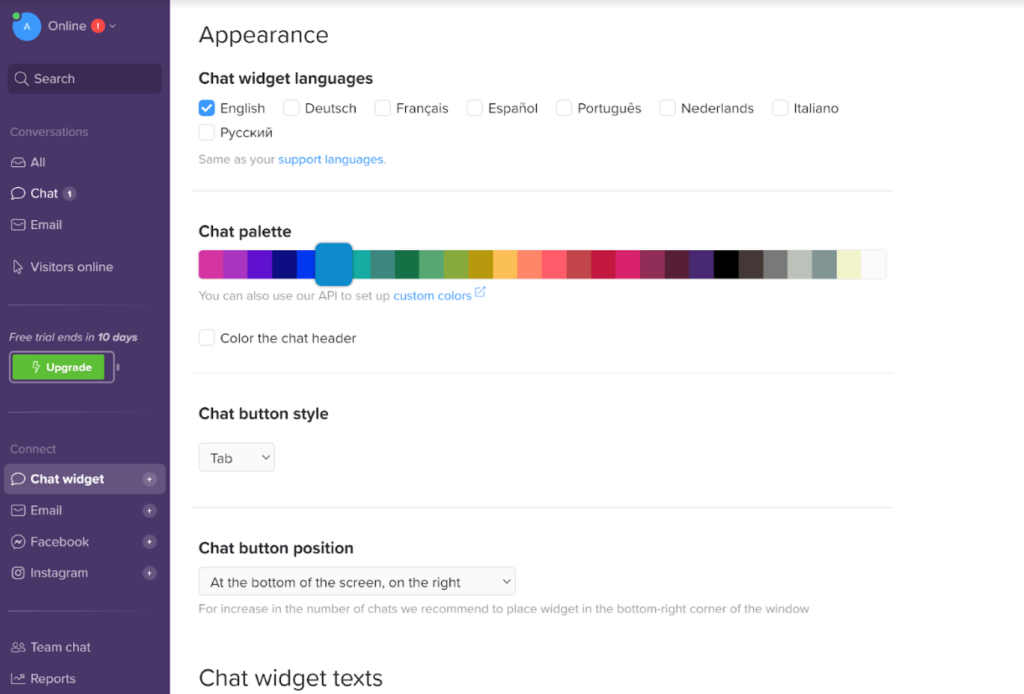 Chatra also supports a large variety of integrations with popular website building and other services such as Google Tag Manager, Shopify, WordPress, Wix, WooCommerce, SquareSpace and plenty more. You can choose any of these options if you use one of the services or simply don't want to play around with website codes. I haven't tested either of these integrations, but they usually work really well and I expect it to be that way with Chatra.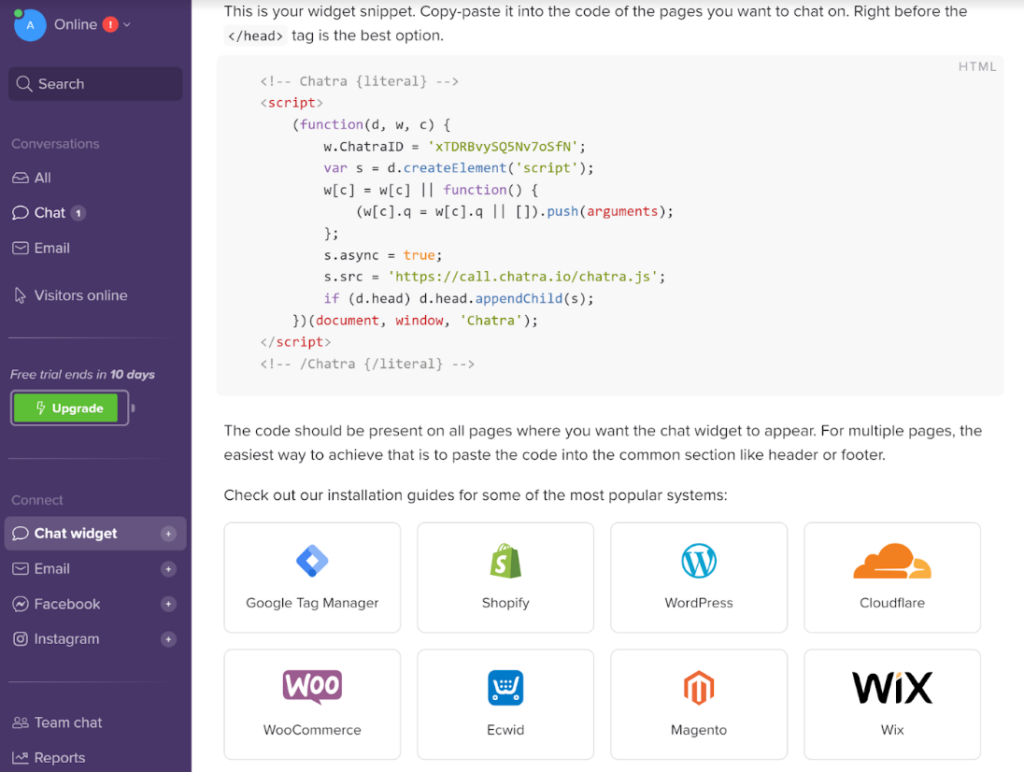 I chose the classic integration by copy and pasting a code onto my test website. It was exactly the way I usually do it, and I didn't experience any issues. I left the settings mostly intact to get the experience of a predefined Chatra live chat. It has all features available from the start. Before we get into the testing, let's have a look at the feature set and what you can expect from Chatra.
Features and user interface
The Chatra interface is well designed and simple in a very good way. You don't have to guide yourself through any unnecessary functions and you can get straight to whatever action you're planning to do. It makes implementation extremely easy even for completely new users, and it can help you save a lot of time in the long run. All the tools are available in the left menu bar so the navigation is straightforward.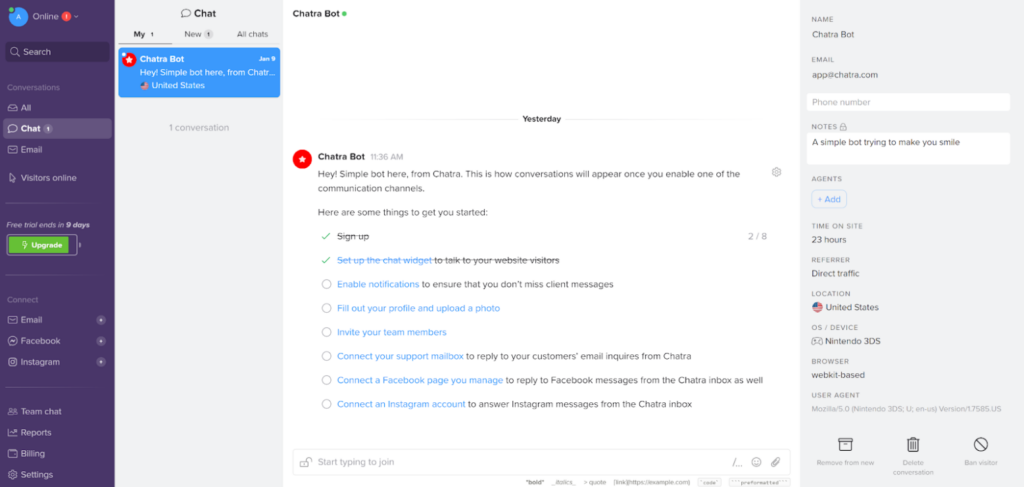 The feature set is pretty standard, but some features' availability depends on the type of plan you choose. Chatra offers bots and automation features if you prefer handing the communication over to the system. You can get basic and detailed information about your customers, as well as real-time visitor tracking and shopping cart content preview. The standard agent productivity features include notifications, notes, saved replies, team chats, invisible mode, business hours, and agent groups.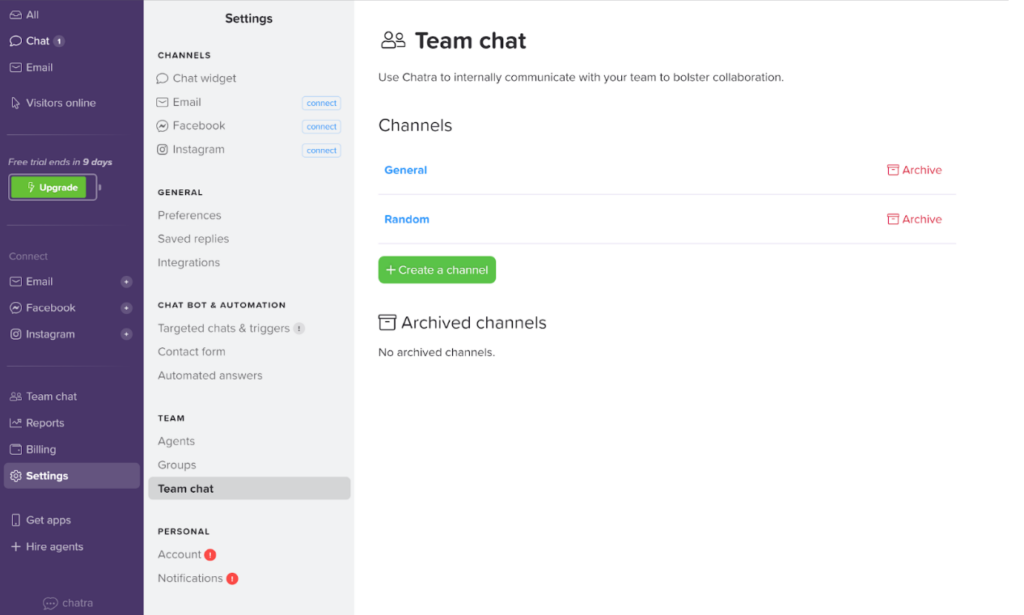 Chat functions are sufficient enough even in the free plan. You get complete conversation history, chat transcripts, read receipts, agent names, and typing indicators. Quite frankly, that's a good selection for a free solution. If you want to upgrade, you can get access to group chats, typing insights, file transfer, visitor banning, chat rating and more. Chatra also offers advanced reporting features which is always useful in any scenario.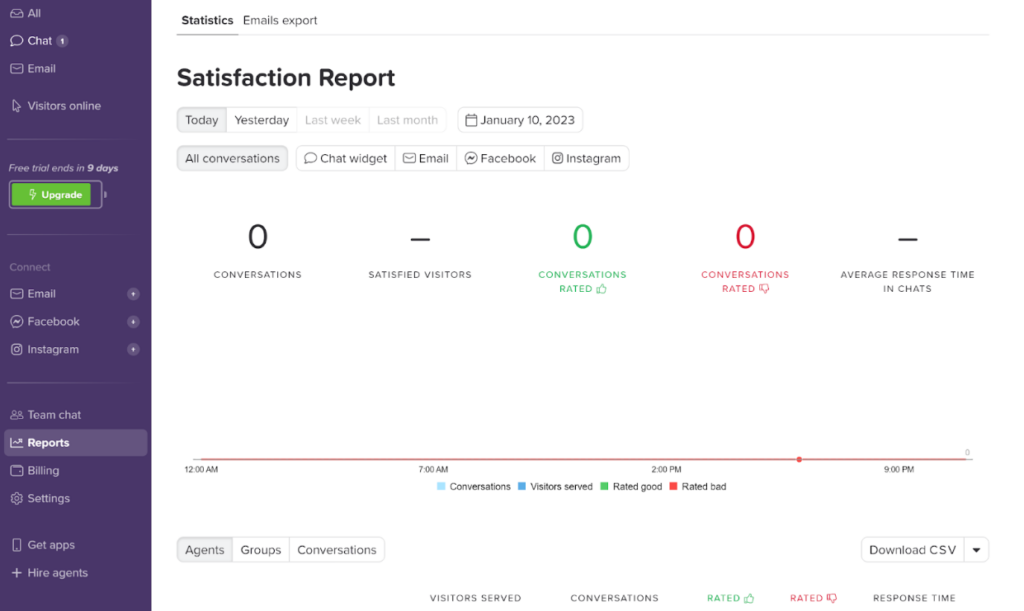 Live chat performance and user experience
I chose the classic integration for Chatra and can say that I didn't encounter any problems. The test itself shows the agent and customer experience at the same time. Once I opened the live chat, I immediately got an automated welcome message. I wrote a message, sent it, and the chat gave me another automated message to sit tight and wait until someone (myself) picks up the chat. The notification in the agent dashboard arrived immediately.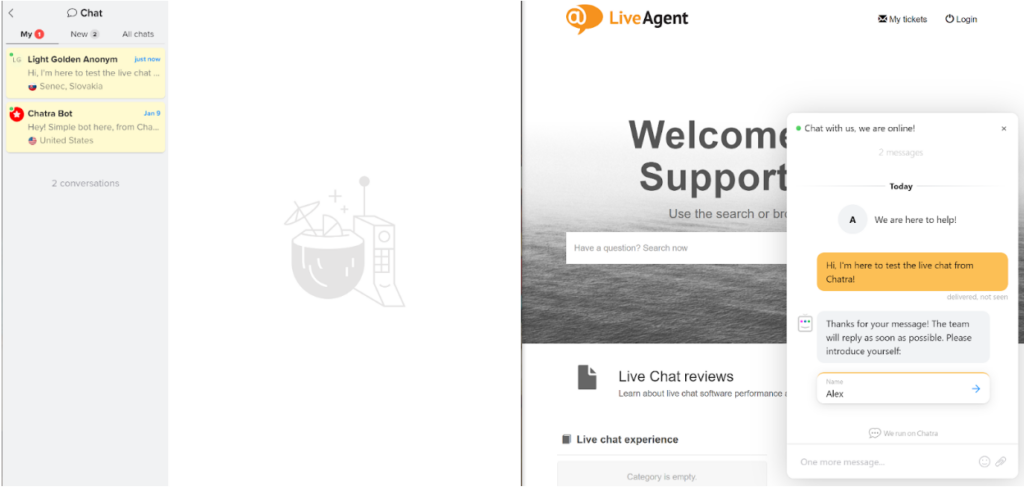 The chat speeds are pretty fast so you shouldn't experience any trouble with slow replies at any point. The chat features on customers' side are sufficient – you can rate the chat, use emojis, or share various files. There isn't anything else at this point, but that's not necessarily a bad thing. Less is more, and it allows customers to have better clarity of the widget interface.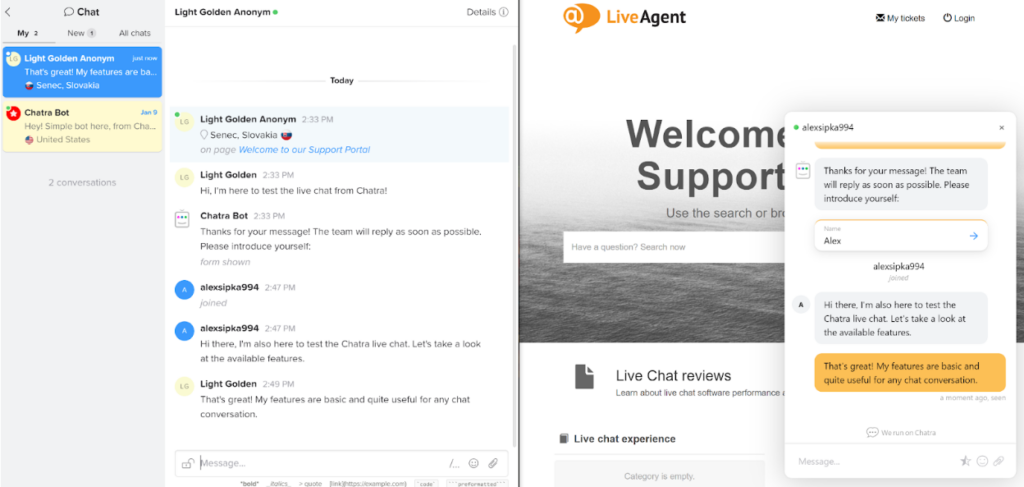 Chat features on the agent side are not much richer though, which is a little disappointing, but it also isn't a reason for alarm. I'm using the free plan which offers only essential features. They are still sufficient enough for effective communication, and agents rarely need anything else to get the job done correctly. The feature set is ideal for smaller businesses, while larger ones would probably need to upgrade sooner or later.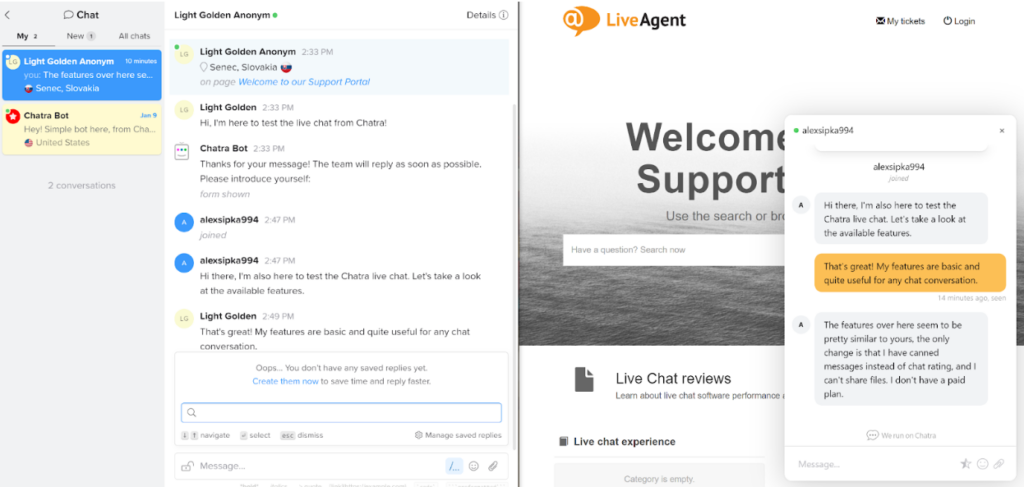 Overall, the Chatra live chat is good enough. It's not the biggest star in the live chat game, but it's sufficient and reliable, which is good news. You can't go wrong with it unless you need some extra features, but even the free plan offers great functionality with minor limitations that most businesses won't find necessary in the beginning.
Pricing
Chatra offers a free plan and an additional two paid plans that offer advanced features which might be necessary for larger teams or businesses. Let's have a look at each plan.
Free
The free plan is for one agent only and is completely free, no strings attached. It offers only the essentials, such as basic visitor information, desktop and phone apps, conversation history, read receipts, Google Analytics reports, and integrations with popular website builders.
Essential
The Essential plan costs $21 per month per agent with the monthly subscription, or $17 per agent per month with the annual subscription. You get everything from the Free plan, as well as detailed visitor information, email, Messenger and Instagram as additional channels, real time visitor list, chat notes, saved replies, invisible mode, team chats, typing indicators and much more.
Pro
The Pro plan costs $29 per month per agent with the monthly subscription, or $23 per agent per month with the annual subscription. You get everything from the previous two plans, as well as access to chat ratings, advanced chat reports and data export, agent groups, operating hours, more integrations and a few more.
Conclusion
Chatra is a well performing live chat software that offers good, standard features. Don't expect any miracles or extreme differences from any other live chat software. What you should expect is an extremely fast implementation process, one of the easiest interfaces to navigate, and reliability. Chatra is a well balanced solution that won't disappoint, however, the price can get steeper than you might expect for just a live chat.