Live chat is one of the fastest and most reliable support services that agencies can offer to their clients. In today's technologically advanced world, it is merely not an option to sit and wait for the clients to reach out. Our present is the age of self-research, and many users will explore each site in detail before signing up. This makes tools like live chat or customer portal software a necessity.
However, even the most proficient technical users require help from time to time. And the expectation is that businesses should provide assistance instantly when necessary, preferably in real-time. And that is precisely what live chat can deliver.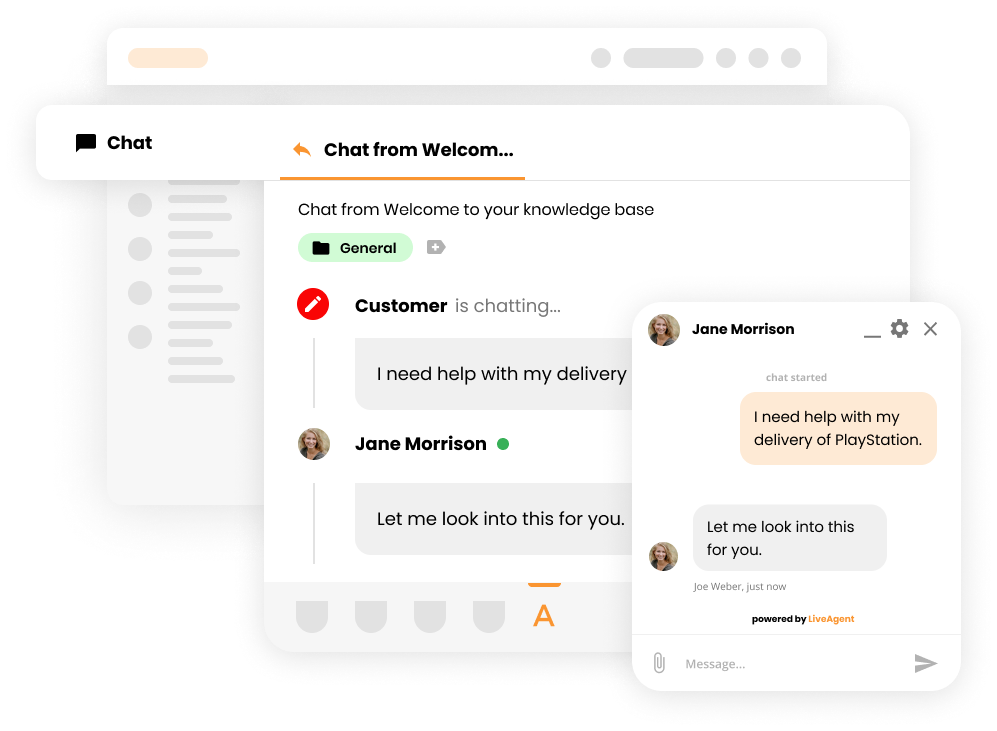 Why should your agency offer live chat?
Agencies and their aspirations are diverse – advertising, marketing, human resources, etc. The one thing they have in common is a dynamic clientele desperately in need of a quick and direct answer.
Modern users are impatient. One survey claims that the window of opportunity to engage is around 10 minutes. This 10 minute time frame is all it takes to lose potential customers. Here's where live chat comes in.
The reason for using live chat is unmistakable. It provides the best ROI than any other communication channel and the highest consumer satisfaction rate of 92 %.
The number one request of clients is the choice to speak with an actual person online while simultaneously browsing the site or completing a task.
Browsing on a website can be overwhelming. Live chat provides assistance in both active and proactive solutions. With proactive invitations, you can bypass the client's reluctance to speak to the support team. Phone and email are still valuable communication options, but you will be able to lessen the need for their use with live chat. This results in a decreased volume of incoming inquiries, as agents can resolve them during the active chat session.
LiveAgent's universal inbox permits access to all communication questions and requests, notwithstanding the platform they have been sent from.
Live chat has been misinterpreted in the past as just a simple widget somewhere on a website for customers to use if they so wish. However, in recent years, its functionality as a marketing and conversion tool started to be recognized by numerous businesses.
Become the best agent with LiveAgent
Cater to all of your clients with one of the fastest live chat widgets on the market. Give it a try and see what makes it great.
How is live chat more beneficial in comparison to phone and email?
Efficiently supporting customers has many challenges. For example, for a phone, it can be a long waiting time in a queue. For email, it is a pain of writing, sending, and then ultimately waiting for the response.
What live chat improves on?
Average waiting time
Reduced email volume
Higher conversion rate
Decreased bounce rate
Convenient communication
Increased engagement
Higher customer satisfaction score
How to make sure that the agents are prepared for live chat?
The support agent's life cycle has three phases:
New Starter
Skilled worker
Master professional
In customer service, support agents in general start with answering phone inquiries to gain experience. Only agents with excellent writing skills should handle live chat inquiries if possible. The writing for live chat differs significantly from email. When composing an email, agents are ordinarily not constrained by time. On the other hand, that is precisely what differentiates live chat from email. Writing is done right on the spot. If possible, it is always a good idea to have a proofread script available for use.
What features can you expect from live chat?
The number of available features is nearing the impressive mark of 200.
All types of correspondence between your agencies and clients are stored in a primary, shared inbox in the form of tickets. The chat agent can bring up any previous conversation with a few clicks in a hybrid ticket system. Each client's profile and history are immediately accessible.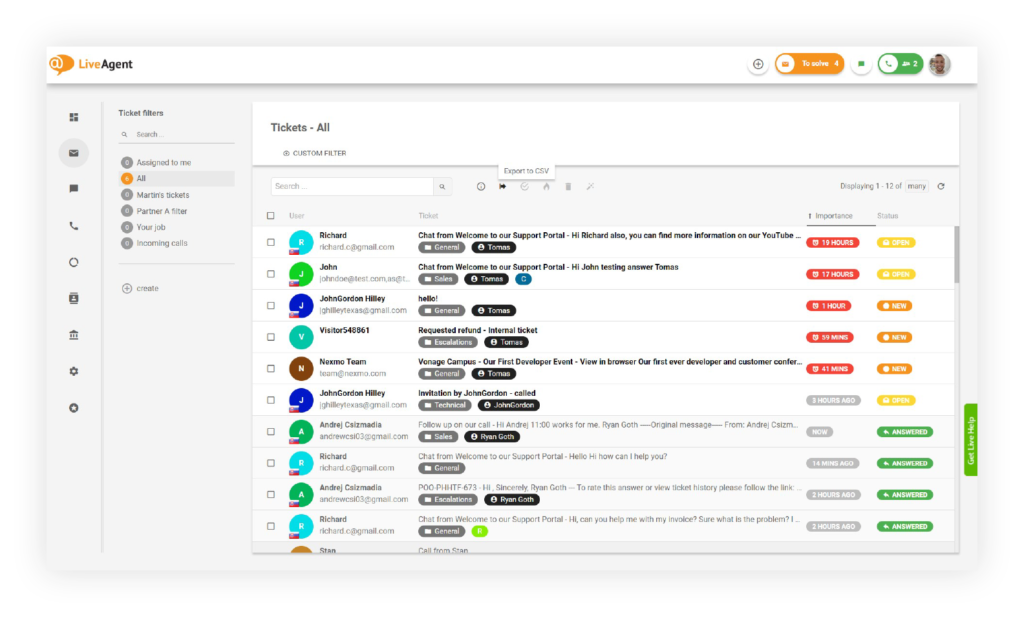 Multiple choice of design of both the chat widget and docking window to either create or choose a predefined template from the gallery.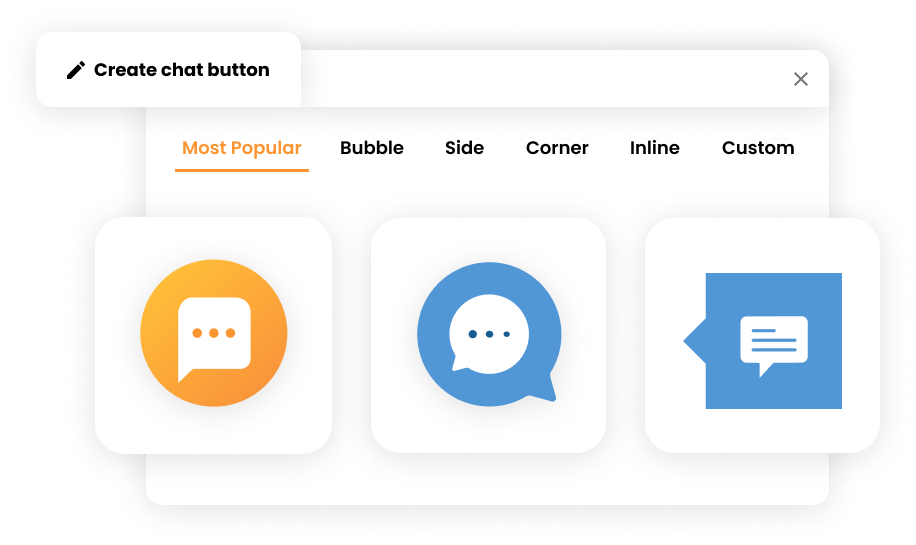 Clients seem to require help but are too shy to ask? No need to wait for them to start the chat. Live chat reduces the waiting time and actively offers a helping hand in the form of a proactive chat invitation.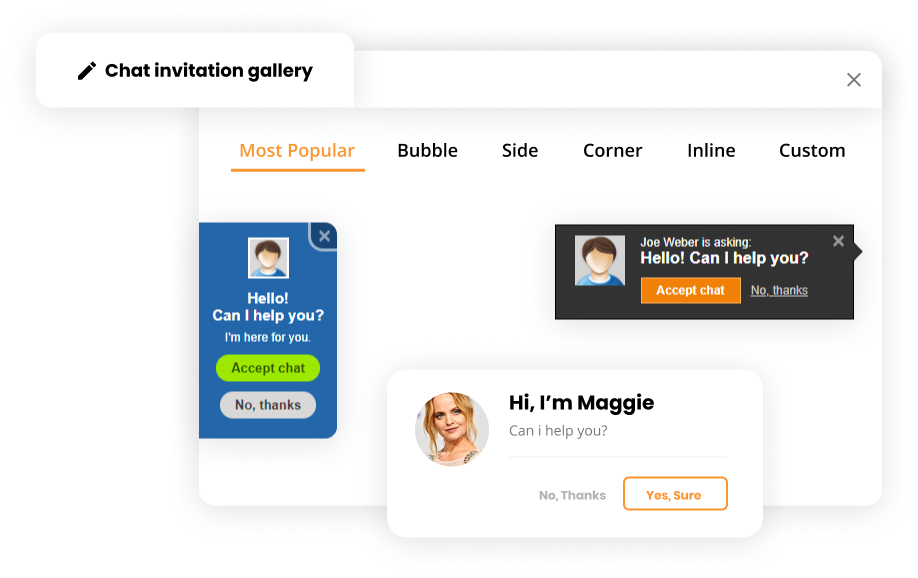 Pre-set replies to frequently asked questions or for use during a run of a promotional campaign.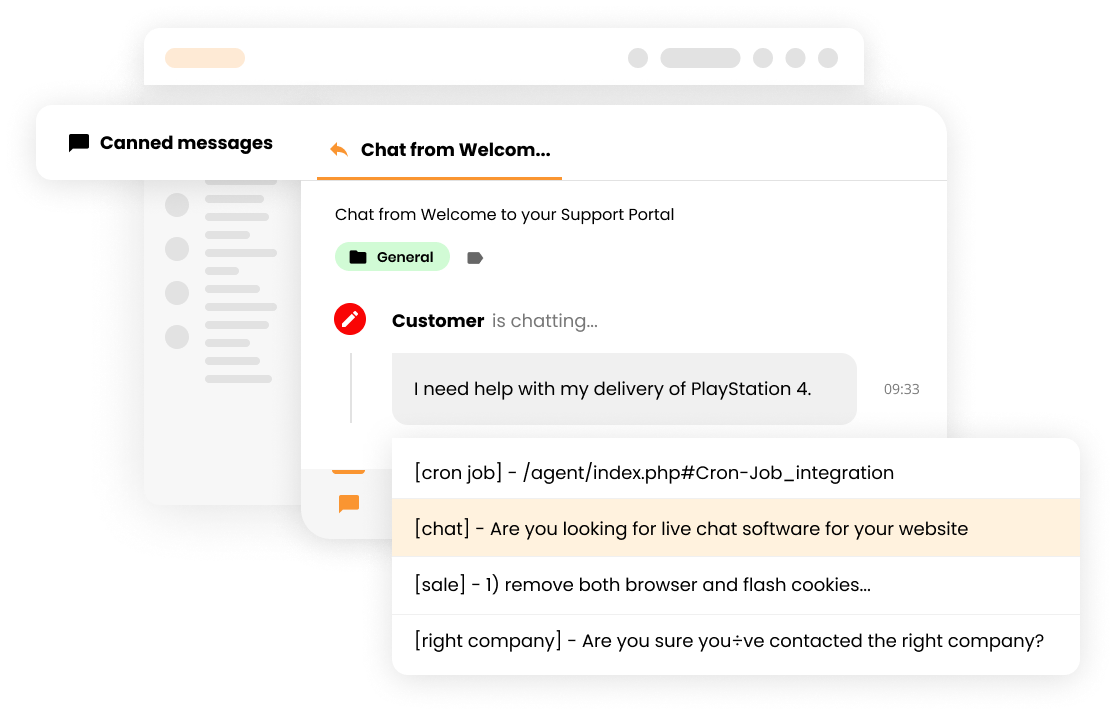 Transfer of chats to available agents or automatic routing of chats by choosing from three predefined route options: random assignment, ring to all, max utilization.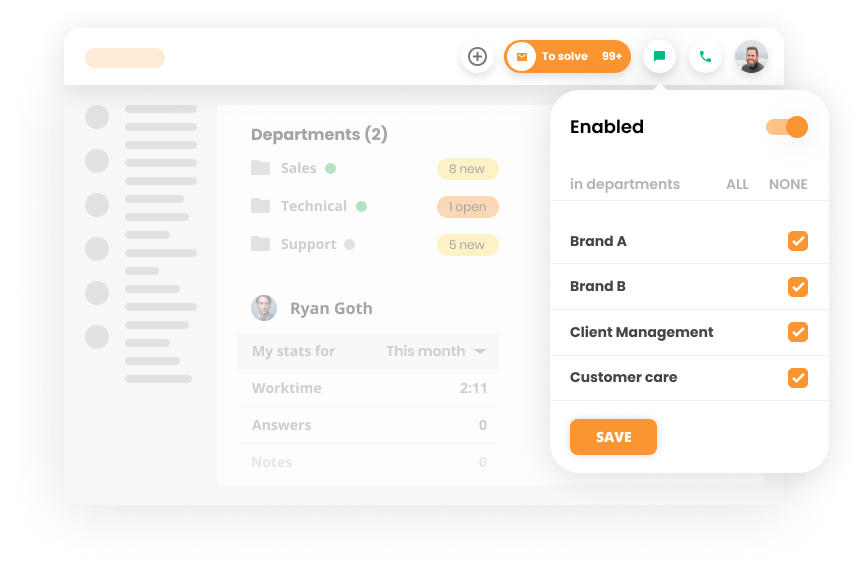 Reporting and monitoring contribute to establishing a clear picture of your clients' base type of behavior, needs, and requirements or how much they spend browsing your site.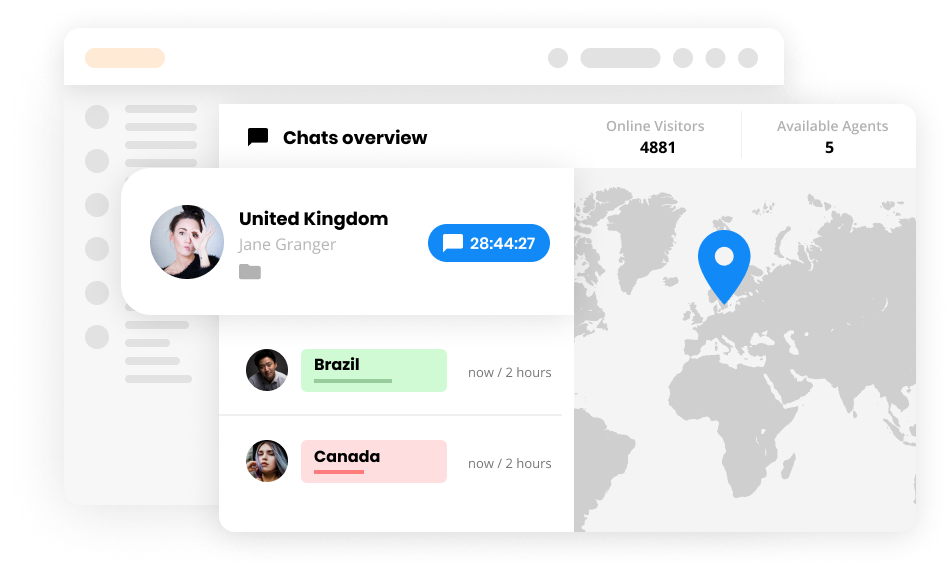 As the world is getting smaller when it comes to communication limitations, you can utilize the live chat multilanguage option. Currently, 45 languages are supported, and more translations are being regularly added.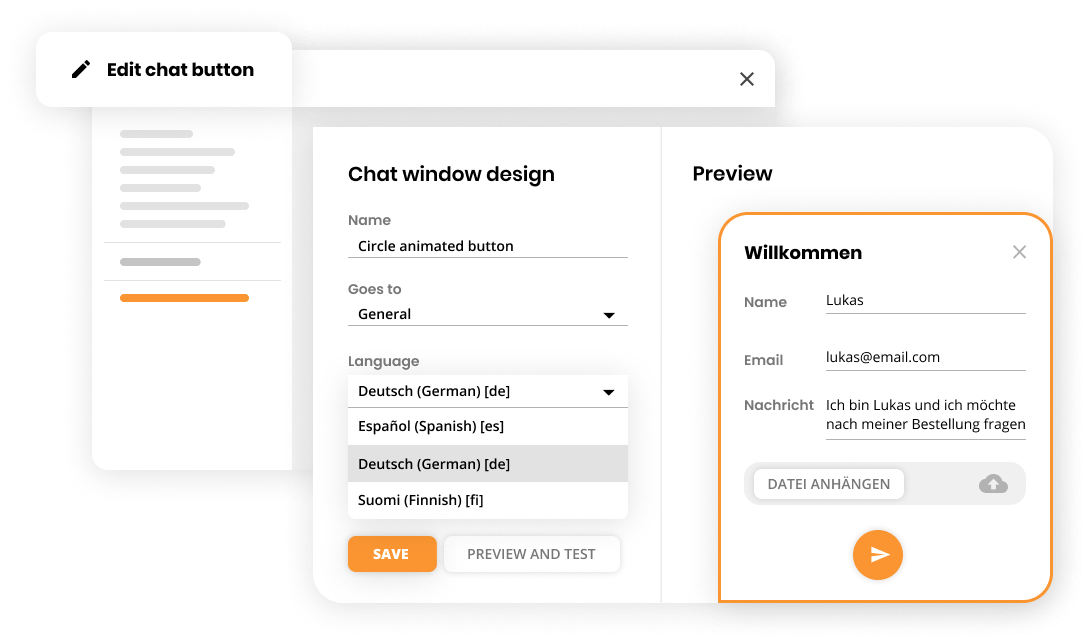 Enables clients to send messages through a contact form outside of business hours or when a specific agent is offline.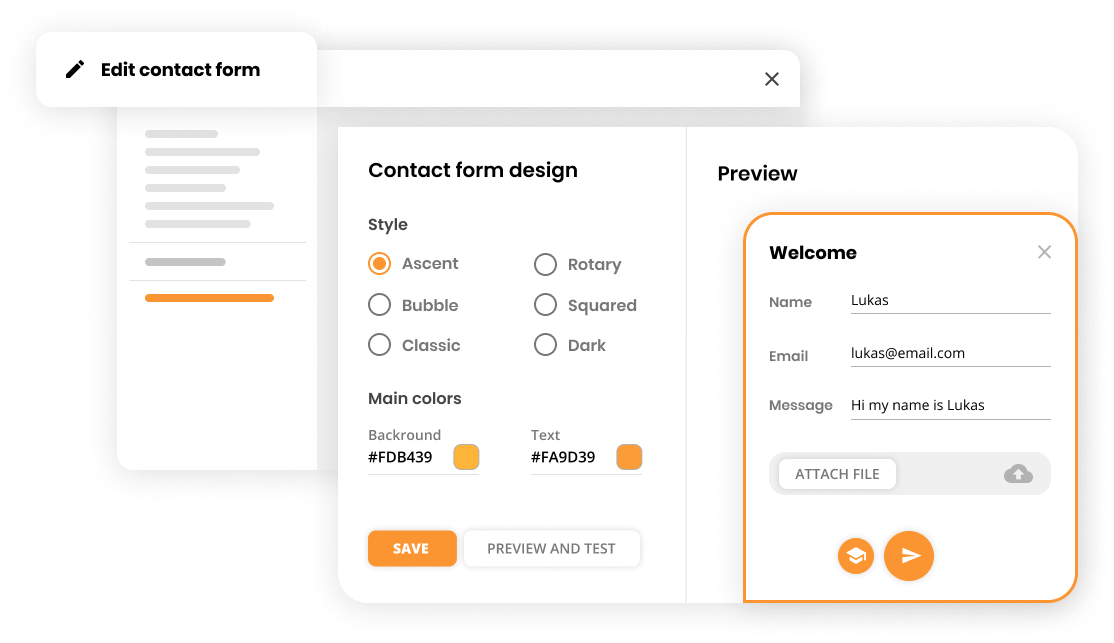 Permits input and feedback from clients and ranking of chat's or agent's efficiency.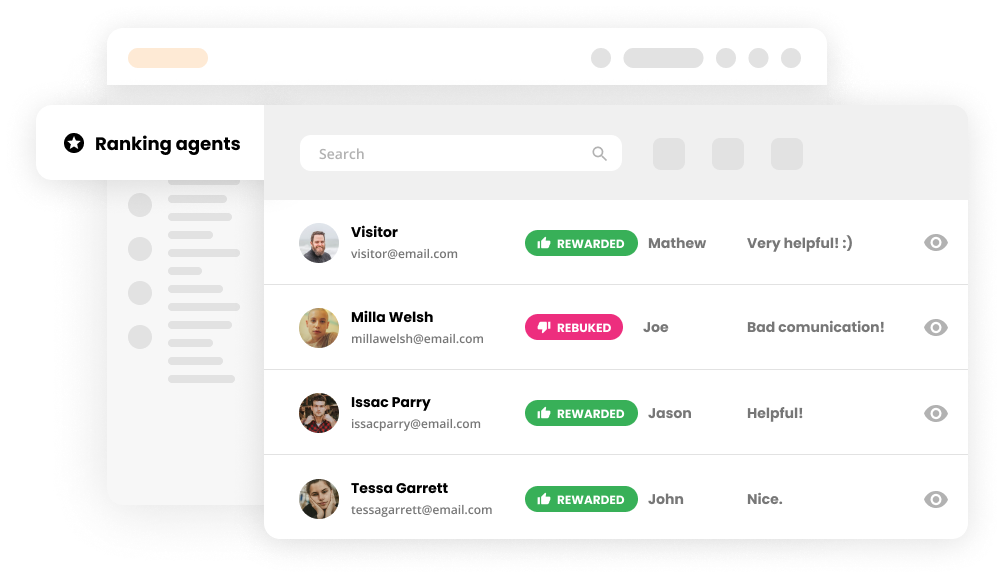 Create instant connections
Handle all customer inquiries and discover all that LiveAgent has to offer
Benefits of live chat software for specific agencies
Agencies networks are usually quite extensive, and the frequency of incoming inquiries is considerable. Live chat benefits differ for various agencies, but the outcome is always the same – happy and satisfied clients.
Customer service is a voluntary act that demonstrates a genuine desire to satisfy, if not delight, a customer.
Advertising agencies
Picture a scenario: You spend a lot of time and resources on a campaign, only for the people to click on a site and then leave. Reasons can be many. Maybe they cannot find instructions on how to apply a discount code, or the call to action is not clearly defined. With live chat, you can proactively offer a helping hand, which means a higher conversion rate.
Marketing is not only backed by email or phone calls. Live chat provides advertisers a chance to promote or inform clients at the first click of a button. You can also attach images for a more personalized approach. The monitoring feature enables you to target each website visitor and engage with them based on their behavior or location. Reporting allows for a chat conversion report to see how many chats converted.
Digital agencies
In combination with proactive live chat software, lead generation marketing results in a valuable cross-channel marketing platform. In a digital world, customers can encounter faceless and automatic chatbots. By putting an agent's picture on your customized chat button, you will ensure that who your customer is chatting with is a real human.
Live chat is cost-effective, which makes it the ideal communication tool for a promotional campaign. Agents can offer discount coupons, excite their audience with new products during or post their chat conversation in the feedback request part of a chat. This method of promotion is highly productive for small businesses when growing their contact list.
Social media have emerged as not only a fun past-time activity but also as a valuable marketing tool. Implementing live chat on a social media page enables the agency to manage its clients' online presence better and actively reach out and connect with prospects. You can acquire an email address from chat to use for marketing purposes, transforming followers into paying subscribers. LiveAgent offers integration with all standard social media platforms such as Facebook or Twitter.
Account-based Marketing agencies (ABM)
Account-based marketing is focused on targeting specific accounts or brands and B2B marketing. Therefore, with modified live chat's proactive invitations, your agency can reach out to key accounts with relevant messaging and significantly increase your ROI. Another benefit is to use the live chat in your account-based marketing strategy to form a close relationship with sales to identify the targeted accounts and build a more concrete prospects database and opportunities.
Public Relations (PR) agencies
Building a business takes a lot of effort. But the foundation of any successful business is based on trust. To solidify trust between a company and its customers, public relations step into the picture. Communication with the market and its users is none more evident than in the public relations sector. The outreach is deliberate and vast, intending to reach as many clients as possible. Live chat in tangent with a PR agency is a fantastic tool for business expansion.
Travel and Tourism agencies
Stick the landing and guide your clients stress-free anywhere in the world. Travel the web and the world with live chat customer support. Opened live chat lines for travel arrangements are a solution to advise customers on all the necessary information about their trip. If the questions become similar or identical, live chat provides an option to set up predefined answers and canned messages.
The multilanguage feature of live chat enables you to engage with anyone in the world in the language of their choice and adapt your chat widget for a specific market language. LiveAgent currently supports 45 languages, and new translations are added regularly. If you cannot find a particular language, reach out to us with a suggestion, and we'll reward you with a credit for your LiveAgent's account in return. 
Freelancers
The number of freelancers has grown significantly over the last decade or so, as the options to work remotely from home has become more common. Whether you work independently or as part of a temporary agency, live chat can help expand your network. Professional freelancers set in a creative field will appreciate the high level of customization available.
Other Agencies
No worries if your agency is not listed. Live chat is a versatile tool suitable for a wide range of agencies. The primary purpose remains – to conveniently interact with customers immediately when requested. The universal inbox feature makes it possible to outsource the chat support, as all of your clients can be in the same LiveAgent account.
Benefits of Live Chat and How to Use It | Live Agent05:52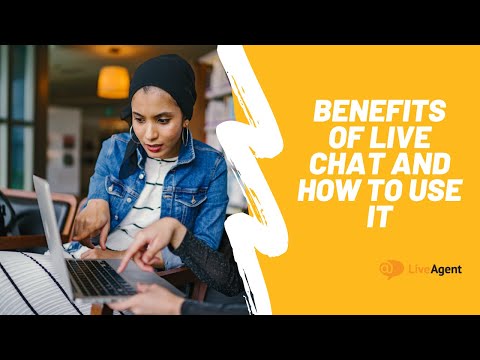 Live Agent
How to manage agency clients with LiveAgent?
LiveAgent's helpdesk software is a powerful support system, of which live chat is one of its core features. But what options can agencies offer to clients in terms of managing their accounts with the help of LiveAgent?
One account across the departments:
Useful for an agency that looks after web design and branding development or commissions frequent outsourcing. However, the client might not agree to have unfamiliar account communication included in their account, but it still represents a convenient option.
Multiple accounts with a custom domain:
An agency can custom design clients' one or even multiple domains according to their preference. The drawback of this setup might be that the rights to a design are owned by the agency instead of a client. On the contrary, it might be a type of service that is a part of an agency's offer.
Account set up for a client:
For a possible fee for an account set up or maintenance, clients can permit agency access to the account. This option is mainly advantageous for a client than a company, as the client can decide that this might be a one time deal. Nothing holds clients back from deciding to cut ties with an agency or to switch to a different agency at any time.
Integration and set up
Simple and fully supported native integration. Just a quick copy and paste of an HTML code in your LiveAgent account, it appears on yours or your client's website, and you can start chatting immediately. A further benefit is integration with third-party software or an app.
Knowledge base
Want to learn more? Head over to our knowledge base.
Still not sure if the live chat is the right tool for you?
Start a free-14 day trial and start exploring LiveAgent today
Frequently

asked questions
What is live chat?
Live chat is a communications tool that supports real-time interaction in B2B or B2C communications. The chat button, also known as chat widget, is strategically placed on a website to react and invite customers to connect with a live chat agent.
Why is live chat important to agencies?
It provides the highest ROI than any other communication channel. Reduces the need to use email and phone service. Increases the chance of conversion while simultaneously helping prospects navigate through the website. Customer communications software in general are a good investment for most agencies.
Which agencies can benefit from using live chat?
Multiple agencies can benefit from using live chat: 1. Advertising agencies 2. Digital agencies 3. Promotional agencies 4. Social media agencies 5. Account-based Marketing agencies (ABM) 6. Public Relations (PR) agencies 7. Travel and Tourism agencies 8. Freelancers 9. Other agencies.
How to integrate live chat?
Fully supported native integration. Quick copy and paste of an HTML code, and you can start chatting immediately.