Entering the eCommerce market opens up a world of possibilities. You'll be expanding your reach, increasing your client base, and spreading your brand awareness. But, you'll also take on the much harsher competition. 
After all, you won't be competing against just a few brick-and-mortar shops on the same street. You'll be competing against the whole Internet. To succeed in this task, you need to outperform your competitors in every way. That involves keeping your audience engaged and informed throughout their shopping experience. The best way to do that is by offering live chat customer support, and for this, you need the right software. 
So, let's look at some of the best small business live chat providers and help you find a solution tailored to your needs.
What is live chat? 
Live chat is a website feature that enables your customers to get in touch with your customer service teams in real-time. You've likely encountered this feature numerous times as you've browsed through different types of websites. Over a quarter of businesses have a live chat on their site, so it's unlikely you missed it. 
It's that small chat button that pops up in the bottom corner of your screen when you visit a page. It will usually contain an automated welcome message telling you that a customer service agent is immediately available if you need them. 
Live chat for small businesses makes your communication with customers effortless and enjoyable. Customers don't have to call customer service or wait for your email replies. They can interact with your agents in real-time, get the exact information they're searching for within seconds, and complete the sales process. 
The top live chat companies for small businesses will have software solutions that can be implemented on any site – whether you're using WordPress, Wix, Squarespace, Weebly, or any CMS in between. 
How does live chat work? 
Live chat is essentially a small pop-up window that offers messaging functionality. Your leads and customers can use it to type in their questions and queries, and you and your staff will see the messages and get to reply to them from your side of the customer engagement software.
Since it can be easy to overwhelm your customer service agents if hundreds of customers send messages simultaneously, most live chat software offers some form of automation. 
The top live chat customer support software for small businesses will enable you to send automated replies to simple and straightforward questions – without the need for human intervention. More complex queries will be transferred to your staff if a customer needs support from a live agent. 
Benefits of using live chat for startups and SMBs 
There are plenty of reasons why your small business needs live chat – it comes with valuable benefits that you wouldn't be able to enjoy otherwise. With a simple free live chat, small businesses can enjoy lower cart abandonment rates, boosted conversions, better engagement levels, improved service, and greater customer satisfaction. 
As it stands, the average cart abandonment rate is almost 70%. This means that 70% of businesses are successful in guiding their customers through their entire sales pipeline, and lose them at the very end – at the point of purchase. 
While there are many reasons why you could be facing high cart abandonment rates (complicated checkout form, unexpected costs, slow loading speed), you could solve many of these problems by offering live chat support. If your customer has last-minute concerns or questions, you can keep them informed and help them along your sales funnel, making sure they complete their purchase. 
Live chat can also inspire better conversions. Many leads and potential customers shy away from contacting businesses via phone or email unless they have a pressing problem that needs solving. So, if they don't understand something, it's much easier for them to move on to the next site and find the information there. Live chat for startups presents the perfect opportunity to assist your leads, inform them, and boost your conversion rates by as much as 45%. 
It can be utilized as a feedback tool as well. After each chat session, participants can rank the support agent's performance and fill out a short customer survey. 
With the best live chat customer service software for small businesses, you'll keep your leads engaged and increase customer retention. You'll show your customers that you're putting them first by improving your services and offering support every step of the way. In addition to that, you'll be able to improve customer satisfaction, keep your current customers loyal, and attract new leads. 
Top 5 live chat software
| | | | | |
| --- | --- | --- | --- | --- |
| Chat software | Capterra Rating | Free version  | Free trial | Starting price  |
| LiveAgent | 4.7/5 (approx. 1K reviews) | YES | YES | $9 per agent/mo |
| Acquire.io | 4.9/5 (19 reviews) | NO | NO | $90 per agent/mo |
| SnatchBot | n/a | NO | NO | $30 per agent/mo |
| Birdeye | 4.7/5 (379 reviews) | NO | YES | n/a |
| Hubspot | 4.8/5 (250 reviews) | YES | YES | $50 /mo |
Dated as of May 6th
20 live chat solutions for startups and SMBs
Now that you know how small businesses can benefit from live chat, it's time to find a solution best suited to your needs. 
To qualify as the top live chat customer support software for small business websites, the software needs to meet several criteria. It needs to have superior features, a user-friendly design, an excellent price-to-value ratio, and it needs to be easy to integrate with your website.
The best live chat software for business, free or paid, will meet all these criteria and offer even more. To make it easier to choose the best software for you, we've reviewed the best live chat companies for small businesses. 
1. LiveAgent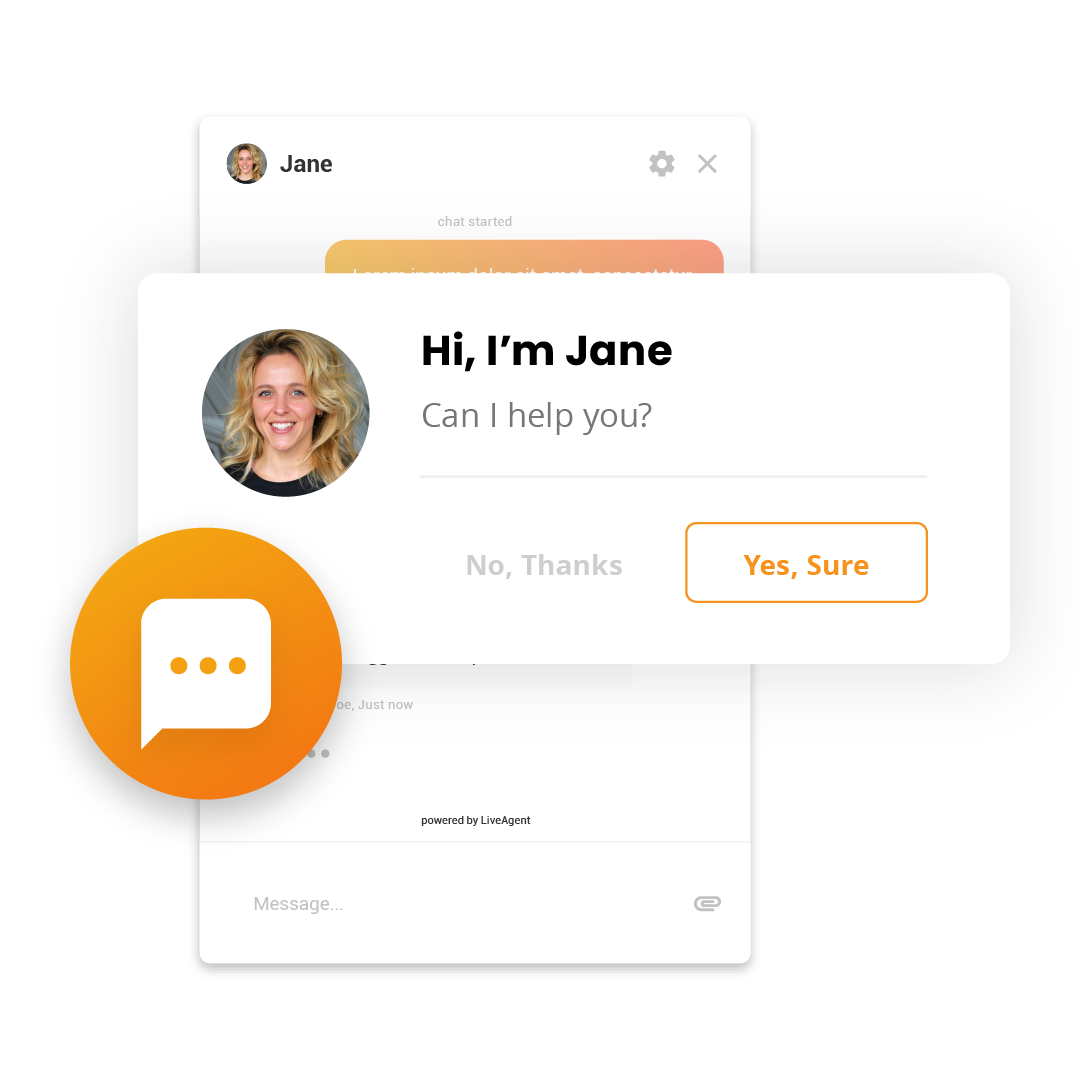 If you're looking for truly spectacular live chat software, then LiveAgent is the solution for you. It's by far the best live chat service for small businesses, large enterprises, and every type of company in between. Frequently rated at #1, it enjoys high-end customers like BMW, Yamaha, Huawei. 
It has excellent integrations with diverse platforms and channels like Fieber, Zoho Mail, Xero, PayPal, Asana, WooCommerce, HubSpot, and Salesflare, to name a few. 
LiveAgent's design is wonderfully streamlined to help you stay on top of all customer support teams and conversations. Fully customizable, it will ensure you leave a lasting impression after a single welcome message. 
It offers one of the best support ticket system solutions available on the market. From the universal inbox, you can access messages from your email, Facebook, Twitter, Instagram, forum posts, and more. 
The ticketing system is efficient and ensures that your agents respond to all customer inquiries in record time. Tickets can be automatically assigned to different sales reps to ensure that every customer gets the care they deserve. The hybrid ticket stream is an excellent addition that helps you keep an eye on customer resolution journeys through different channels. 
LiveAgent is jam-packed with features that are intuitive and user-friendly. Some of its key features include: 
Automated ticket distribution 
Internal tickets 
Mass action 
Spam filters 
WYSIWYG editor 
Automation rules 
Agent collision detection 
Agent ranking 
Real-time typing-view 
Internal chat 
Proactive chat invitations 
LiveAgent is an all-in-one solution that will enhance your customer relationship management and streamline your business processes. 
Price
A free 30-day trial is available; no credit card required.  You can also go for a free version that still offers excellent functionality, albeit with limited features. But, if you want to get the most out of LiveAgent, you should upgrade to one of its three subscription plans. You can get the Small plan for $9/mo, the Medium plan for $29/mo, or the Large $49/mo. 
Connect with your customers today
Try LiveAgent and test all of its available live chat features. Stay closer to your customers and improve your relations with them.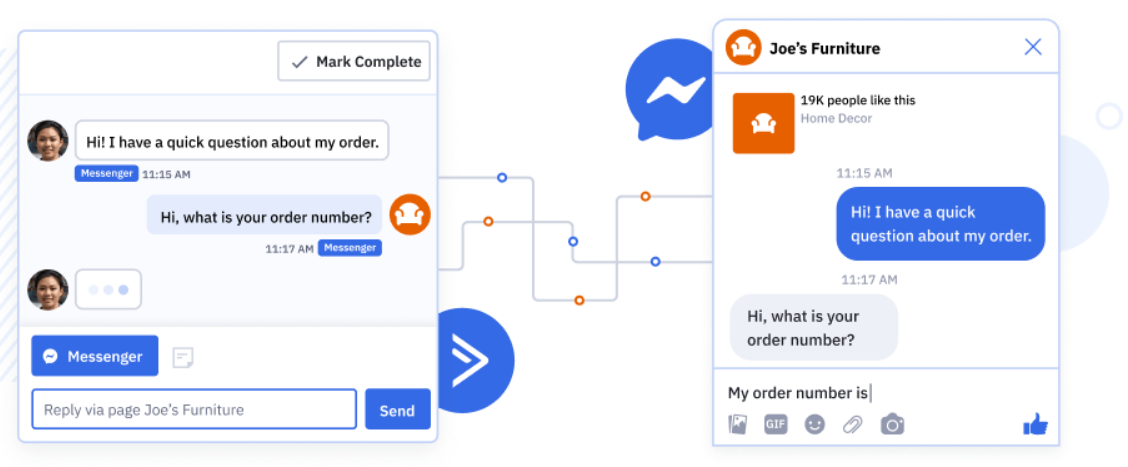 2. ActiveCampaign 
ActiveCampaign is a full-on customer service experience platform. It offers marketing automation,  sales automation, web personalization, and of course – one of the top live chat software for small businesses. 
Thousands of companies use the platform for improving customer satisfaction and boosting engagement levels. It's easily customizable to suit the needs of startups just as well as those of a large enterprise. 
Its key features include automated chatbots, a built-in Facebook Messenger integration, a unified inbox, and agent assignments. 
ActiveCampaign enables you to combine live chat functionality with the power of automation. You can use it to create automatic deals within the CRM, build loyalty with automated follow-up chats, add unique tags and custom information fields for more personalized future conversations.
The chatbot automation will help you handle simple customer questions with ease 24/7. You'll automatically gather relevant customer information that will ensure your sales reps have clear insights before they begin chatting (if necessary). That, together with a unified inbox, will minimize the need for customers to repeat themselves to several different agents before they receive answers (which is one of the biggest live chat mistakes you can make). 
ActiveCampaign has over 300 integrations, including Facebook, WordPress, and Salesforce. It's compatible with mobile devices for added convenience and offers advanced reporting features that enable you to stay organized. 
Price
ActiveCampaign is not a free live chat for small businesses, but a free trial is available. It has four subscription pricing tiers starting from Lite for $9/mo, Plus for $49/mo, Professional for $129/mo, and Enterprise for $229/mo. 
3. Acquire.io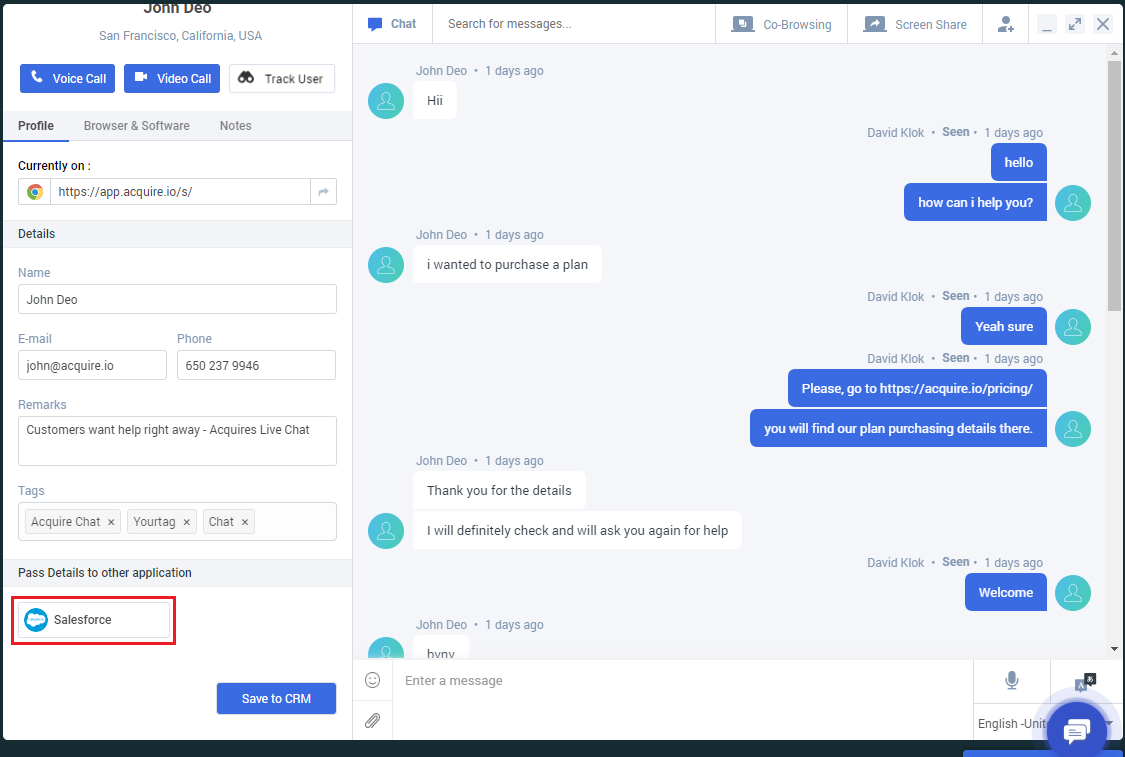 Multichannel communication tools and chatbots are Acquire's answer to handling live chat with customers. It's an excellent solution for companies experiencing some growing pains and struggling to keep up with the rising number of customer requests. 
The chat is fully customizable to suit your unique brand – pick the chat colors, connect relevant apps, and personalize the whole experience. It has dozens of integrations, being compatible with social networks like Twitter and Facebook, marketing platforms like MailChimp, scheduling software like Calendly, and more. 
The live chat supports all media types, enabling your sales reps and customers to share files with ease, co-browse, and screen share. Acquire.io supports audio and phone calls, and it even allows video chat. 
Its chatbots powered by AI can handle frequently asked questions, while more complex inquiries are routed to your customer support agents. 
A unique feature of Acquire.io live chat is that its AI is capable of translating over 100 languages in real-time, empowering you to connect with your audiences wherever they are and whichever language they're speaking. 
Price
The platform doesn't have standardized pricing plans. How much you'll pay for its services will depend on your unique team, needs, and circumstances. In any case, it's a pricier solution, and you can expect to pay upwards of $300/mo. 
4. Birdeye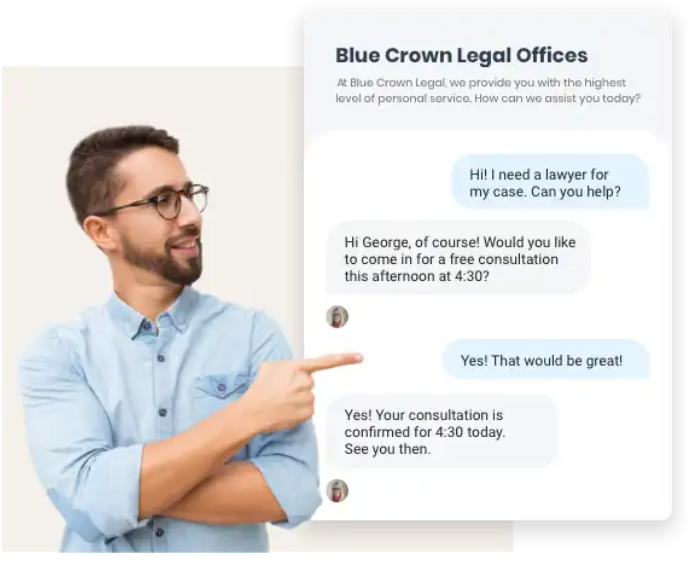 Birdeye is a reputation management company that offers some of the best small business live chat solutions. Since the company focuses on reputation management and expanding your brand awareness, it's not surprising that it has over 1,000 integrations. It's user-friendly, convenient, and you can launch your live chat on multiple websites simultaneously. 
Your sales reps can customize chat icons, colors, and greetings so that every lead is immediately informed about who is on the other side of the screen. Since each chat starts with a pre-chat form that requests a name and a phone number, you can even use this chat tool for seamless lead management. 
Birdeye has an AI-powered chatbot named Robin that can deliver automatic answers to all business-specific questions. Robin can even schedule appointments and close deals without the need for human intervention. 
Your sales reps will have complete insight into the chat history to minimize confusion and repetitive questions. They can immediately see if a coworker has read a message or is in the middle of typing a response. Birdeye offers internal chat features to enhance collaboration, and you can even use it to assign incoming messages to specific teams. 
Some of Birdeye's key features include: 
Video chat 
Call recording 
Screenshare 
Unified inbox 
Lead management 
Chatbot 
Mobile app 
Team management 
Contact importing 
Reporting and analytics 
Price
Birdeye pricing is customized to suit your needs and depends on your number of locations and the products you purchase. You can expect to pay at least $300/mo. 
5. Chaport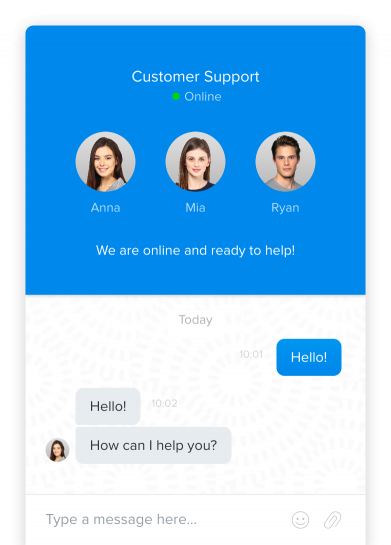 Chaport is an increasingly popular live chat solution that serves over 10,000 teams. It has 2,000 integrations, including WordPress, Joomla!, Facebook, Viber, and more. You can even integrate it with Google Analytics and get reports on chat events. 
Although it doesn't feature sophisticated automation and chatbots, it still offers quite advanced live chat functionality. You can connect with leads and customers in real-time, and if they send messages outside your office hours, you can easily use the chat widget to send a reply, and they'll receive an email notification. 
A unique feature of Chaport is group chat, enabling multiple sales reps to gain insight into a single conversation. You can transfer chats between coworkers, and authorized personnel can oversee chats in real-time. 
Chaport is available in multiple languages, so all users will automatically see the chat widget in their native language. 
What sets Chaport apart is that it's one of a few free live chat tools for startups, B2B, and B2C companies. It boasts a  generous free plan that offers unlimited chats and websites, 30-day chat history, basic customization, and reports. 
Price
The more sophisticated Pro plan is priced at just $9.80/mo. It offers extra live chat features such as the aforementioned group chats, typing insights that enable you to see visitor messages before they're sent, advanced customization options, auto-invitations, and more. 
6. Chatra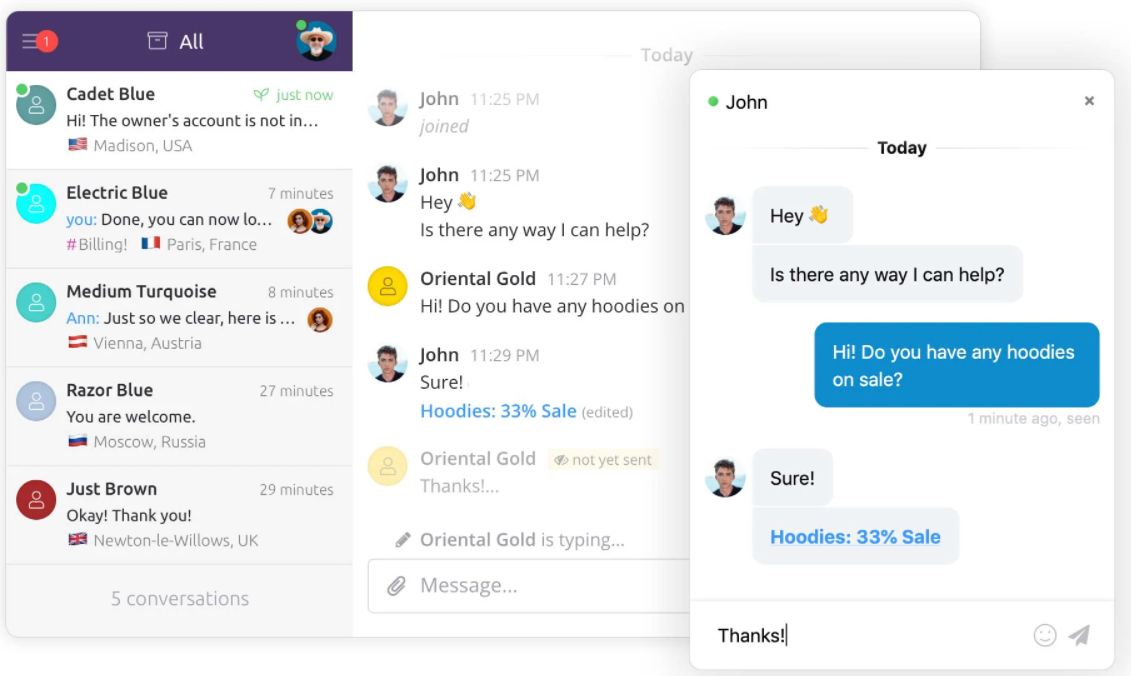 Chatra is an impressive live chat startup that companies and small businesses can utilize. Your sales reps can use the live chat functionality to connect with website visitors in real-time, or you can enable the messenger mode so that your staff can respond at their own pace. 
The platform features Facebook and email integrations and allows you to manage all messages from a single dashboard. Its capable chatbot can handle the more straightforward customer questions, and your visitors can always request to speak to a human representative if they prefer. The chatbot can also collect contact details to help your lead generation efforts. 
A mobile app is available for use on the go when your sales reps are away from their desks. 
What's unique about Chatra is that it provides you with real-time insight into your website visitors. You can use it to monitor who's currently on your site, which page they're on, and their location. That empowers you to engage with them through more personalized messages and greetings. 
Chatra is perhaps the most comprehensive free live chat for small businesses. Its free version offers widgets on unlimited websites, varied customization options, basic visitor information, desktop apps for Windows and Mac, mobile apps for Android and iOS, unlimited concurrent conversations, and more. 
Price
The Essential and Pro plans have more sophisticated features priced at $15/mo per agent and $23/mo per agent, respectively. 
7. CometChat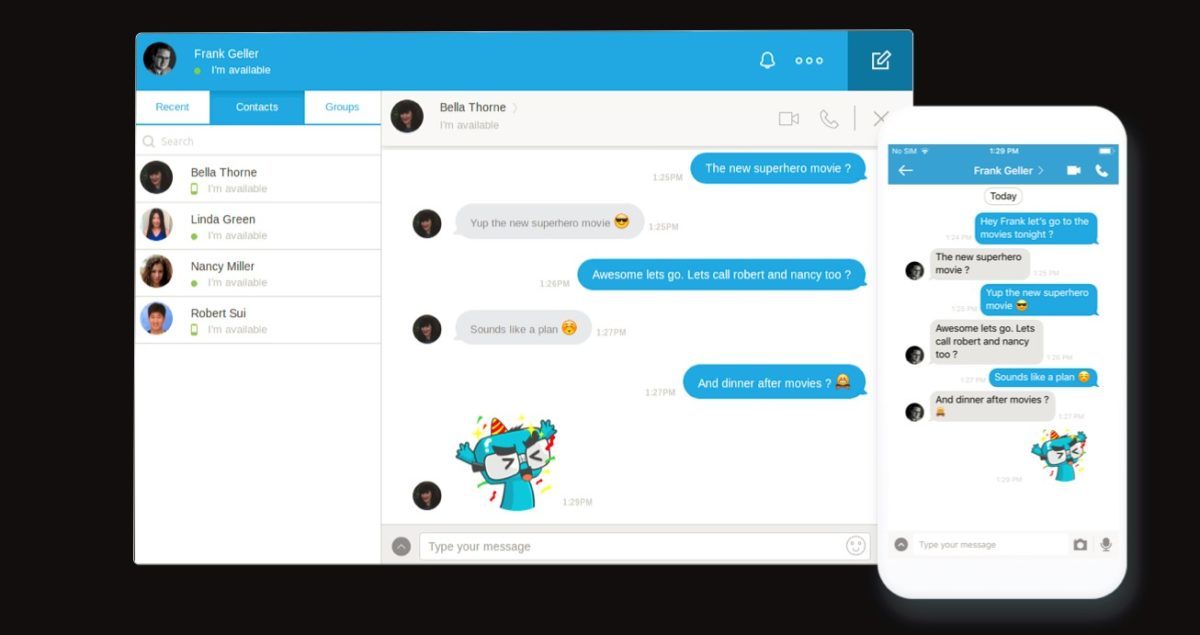 If Cometchat is not the best live chat service for small businesses, it certainly is the most unique. It's best-suited for dating apps, edu-tech and healthcare sites, live-streaming events, building social communities, and the like. 
It easily integrates with dozens of platforms, including WordPress, Joomla!, Moodle, and Easysocial, to name but a few. 
CometChat enables you to hold one-on-one and group conversations, see read receipts and typing indicators, share all files, use stickers and emojis for a more personalized touch, have voice and video calls, share screens, see real-time language translation, and more. 
It features a modern, user-friendly design; it's easy to integrate on your website and even easier to use. 
Price
There are four subscription tiers, each packed with more advanced features and better functionality. You can get the Lite plan for $49/mo, Startup plan for $99/mo, Growth plan for $199/mo, and Mega plan for $229/mo. 
8. Freshdesk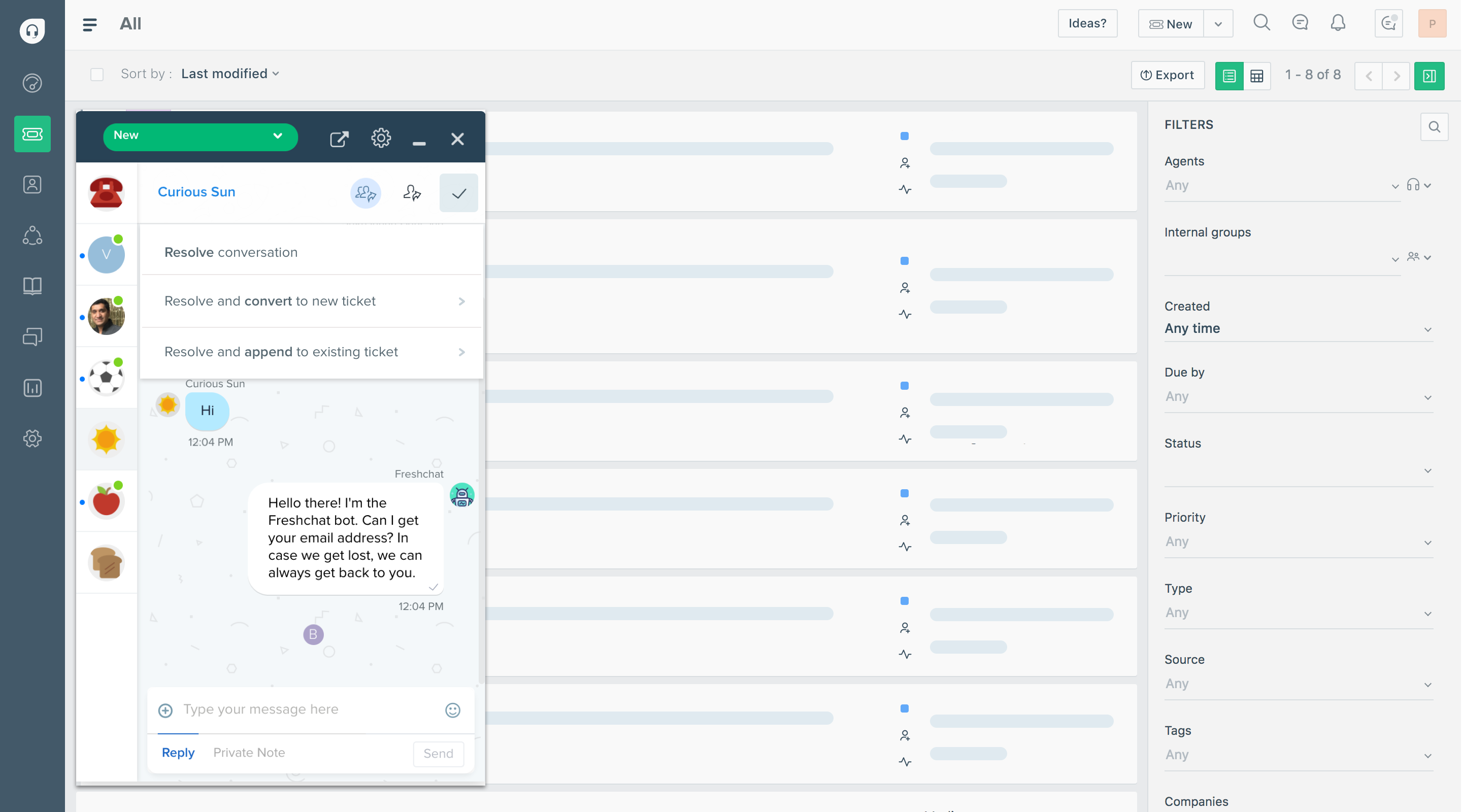 Freshdesk, powered by Freshchat solutions, is definitely among the best live chat software for companies of all sizes as it's easily scalable to meet your changing needs. 
You can use Freshdesk to monitor visitor behavior and trigger proactive messages that engage customers and keep them on the site longer. Assign conversations to specific staff members, and use contextual information such as user profiles and site paths to offer more relevant answers and lead data-driven conversations. 
Chat operatives can track all incoming messages from multiple channels with ease. You can categorize and prioritize conversations, prevent multiple agents from working on the same session, link chats and tickets, measure sales reps' performance, and more.
Price
Freshdesk is available as a free live chat for your small business website. The free version is appropriately named Sprout, as it's perfect for when you're just getting started. Paid plans with extra features include: 
Blossom at $15/mo 
Garden at $25/mo 
Estate at $49/mo 
Forest at $99/mo 
Many add-ons are available with every subscription plan to ensure you can offer the best customer service. 
9. Front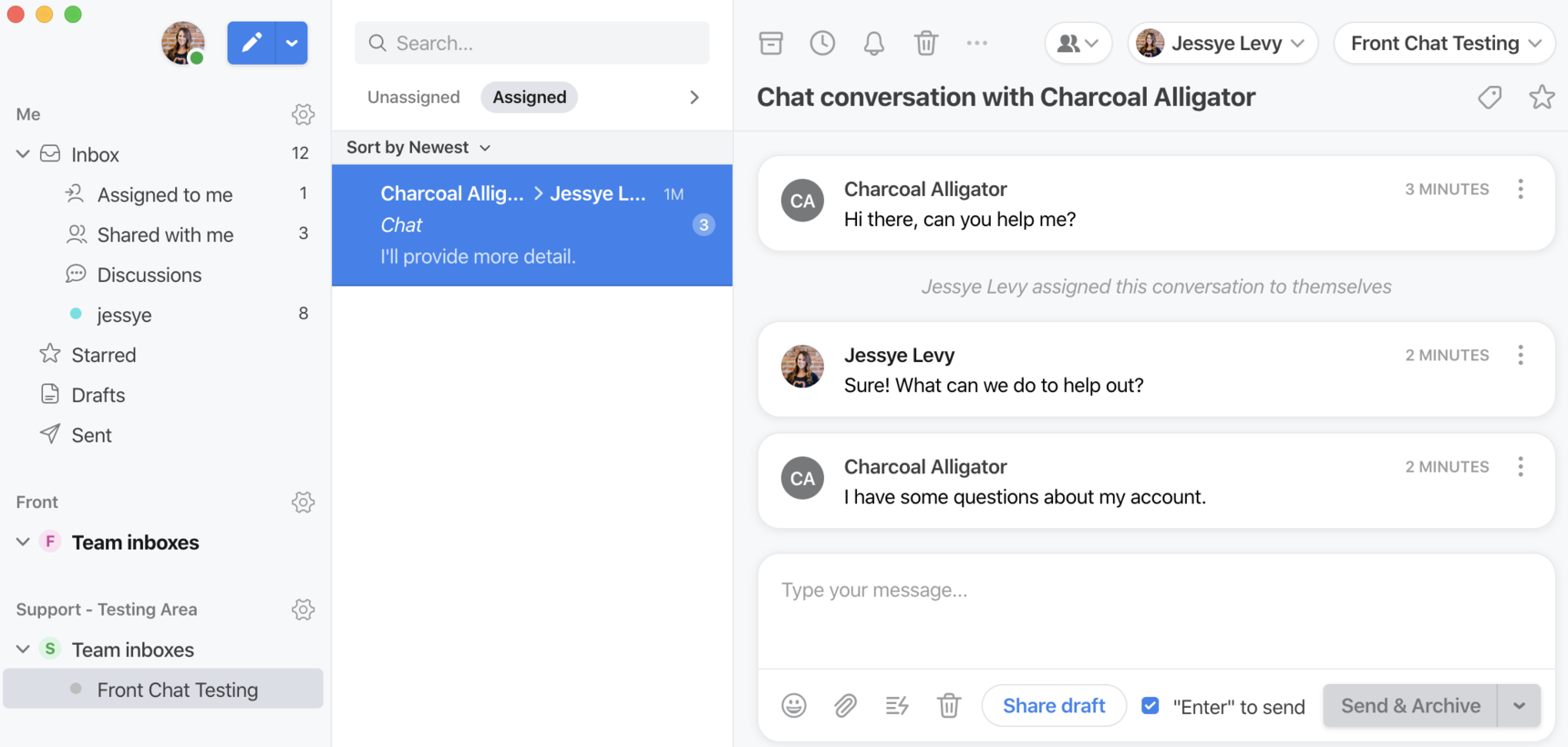 Front chat is one of the most straightforward live chat solutions you can implement on your site. It's simple, minimalistic, and powerful! It brings your email, apps, and live chats into a single, unified communications platform that makes a difference. 
The chatbox has basic customization options – you can determine the chat color, upload your logo, and set up the header greeting and welcome messages with ease. 
As a unified platform, Front enables you to receive all messages from all channels (chat, email, social media, and even SMS) in a single inbox. From there, you can set up rules that determine which sales reps will get assigned to which conversations, and you can mark conversations as urgent, @mention team members for assistance, and more. 
Front has basic automation in the form of canned responses. Simply create templates and fill in the specific text as needed. 
Price
Front has four subscription models, all for relatively affordable prices. You can get the Starter plan for $9/mo per user, the Plus plan for $24/mo per user, the Prime plan for $49/mo per user, or the Enterprise plan for $79/mo per user. Optional add-ons are available for each subscription plan at an additional cost. 
Lost in all the live chat software options?
The decision to select the best live chat software is complex. Try LiveAgent and its fastest live chat widget on the market today and start chatting immediately.
10. GetGist
GetGist is a software bundle created for assisting businesses of all sizes with marketing, sales, and communication. Its live chat software is easy to integrate with WooCommerce, WordPress, Facebook, Zoom, Zapier, SyncSpider, and countless other platforms. 
The chat design will appeal to all audiences due to its modern yet classic appearance. You can include images, emojis, GIFs, and more in your conversations to leave a better impression and connect with your audiences better. 
GetGist has multilingual functionalities, supporting English, German, French, Italian, Swedish, and Polish languages, making it ideal for businesses expanding to European markets. 
All the basic live chat functionality is there – assign and organize your conversations, create canned responses to common questions, add coworkers into conversations, and more. The GistBot will help you qualify leads and book automatic meetings, and you can set up triggers to activate it. 
Automatically trigger messages from different departments depending on where your visitor is in the customer journey. If someone's on the pricing page for a while, your sales team will get an automatic notification. If a VIP customer visits your pages, your customer success team will get an automatic notification. 
GetGist often adds new features and upgrades existing releases, so there's always something new you can expect from GetGist. 
Price
GetGist offers a generous free live chat, and Professional and Premium plans are available at $29/mo and $99/mo, respectively. 
 11. HappyFox Chat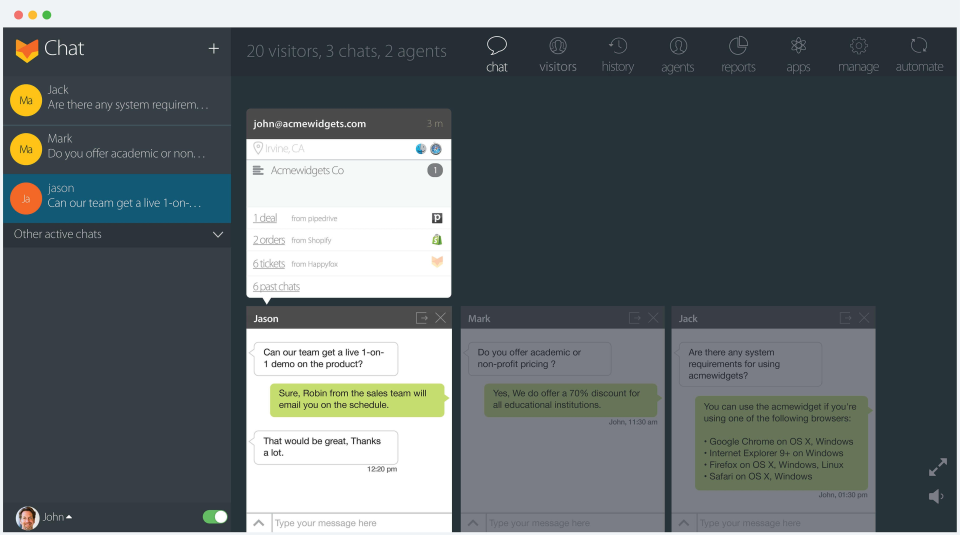 HappyFox Chat is a lightweight live chat software suitable for startups and SMBs with big expansion plans. Currently, it has only a few popular integrations such as Google Analytics, FB Messenger, Shopify, Slack, and the like, but more are in the works and should come out soon. 
The setup is easy and requires no previous experience in coding. You could set it up within minutes even if you don't have a skilled IT department. Every aspect is easily customizable to suit your brand persona, so you can have HappyFox Chat up and running in no time. 
Advanced AI powers the HappyFox Chatbot. It's programmed to handle most customer queries, leaving your support and sales teams to focus on more important matters at hand. 
The chat load is evenly distributed to reduce waiting times and ensure the utmost customer satisfaction. 
Different languages are detected automatically, and you'll receive immediate translations, connecting with website visitors from any part of the world. 
Price
HappyFox Chat has four subscription plans, Starter for $29/mo, Growth for $49/mo, Scale for $149/mo, and Scale Plus for $299/mo. Each plan comes with unlimited agents, but you do have a limit on the number of monthly chats. 
12. HubSpot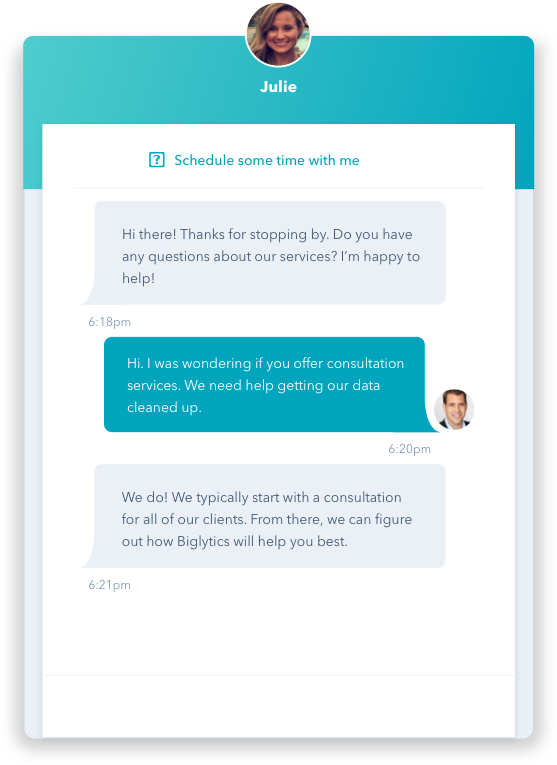 HubSpot is a renowned CRM software used by hundreds of companies around the world. The HubSpot live chat software quickly caught our attention since it is free yet offers excellent functionality, making it ideal for smaller businesses with limited resources. 
The chat widget is fully customizable to match your brand aesthetic. You can go so far as to create unique, targeted welcome messages for different platforms and channels. 
Your sales reps will have clear insights into every chat history as all conversations are automatically saved into a universal inbox to provide context for all kinds of customer interactions. You can easily add notes to chats, create tickets, and schedule follow-up tasks. 
Chatbots are available to ease the load on your staff members. You can improve their performance by including known information about a lead or customer so that they can develop a more personalized approach. 
Price
As mentioned, HubSpot live chat is available for free as standalone software, and you can also get it as an integral part of HubSpot's Marketing, CRM & Sales, and Customer Service software bundles. 
13. Intercom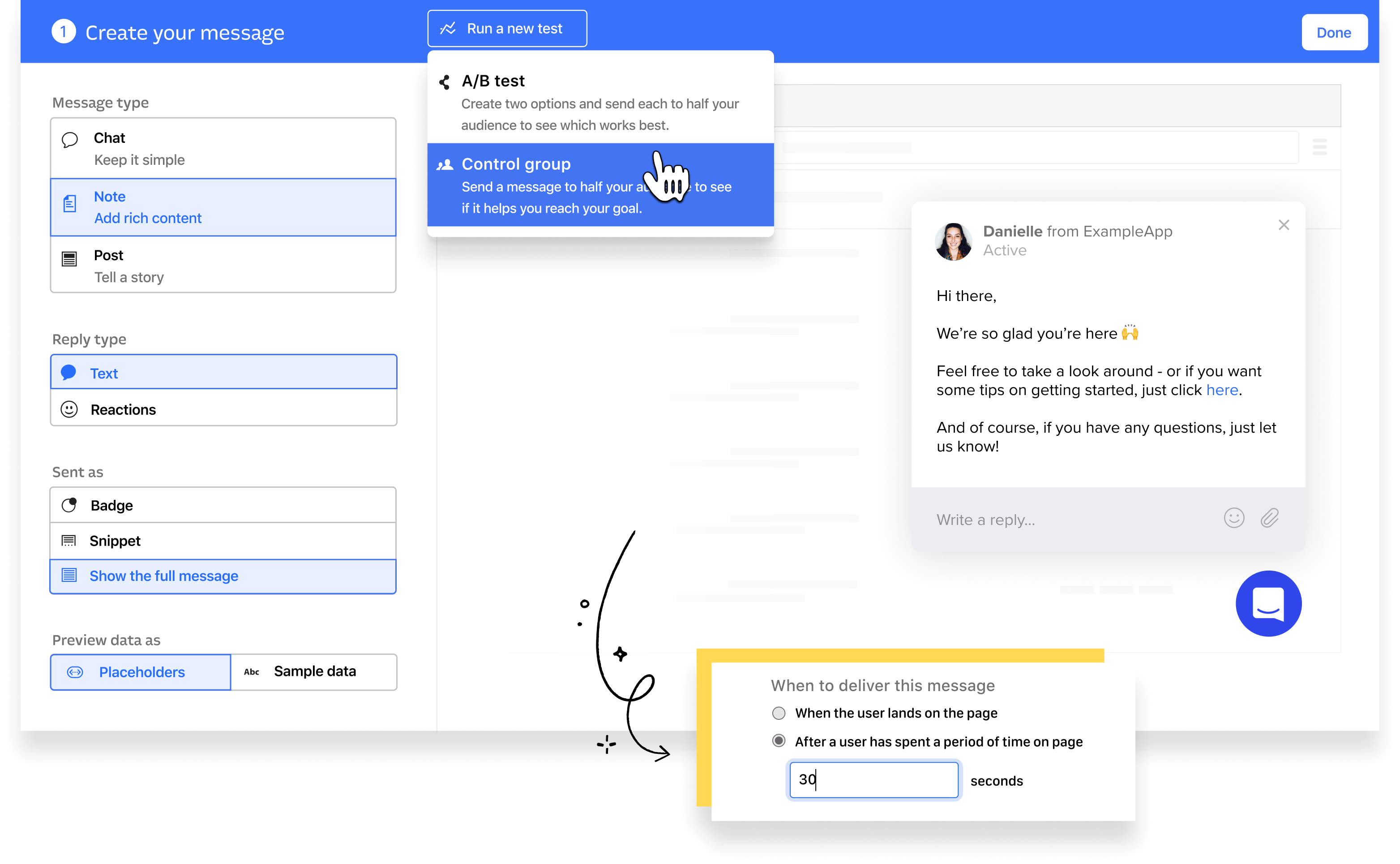 If you have a strong IT department, Intercom can be an excellent choice for you. It's a slightly more complicated piece of software to implement, but it can bring many benefits once it's up and running. 
It has a nice, sleek appeal with a customizable Messenger. You can configure it for web, iOS, and Android and launch it on a multitude of platforms and channels. 
The built-in apps enable you to automatically use Intercom for voice and video calling, screen sharing, and booking meetings. Use the collaborative inbox to disseminate information across departments and streamlining customer relationship management. 
Customer profiles provide actionable insights that can help you develop a more personalized approach to each conversation. 
Intercom chatbot is available to ensure your visitors can get in touch with you 24/7, regardless of their time zones and your office hours. The chatbot automatically qualifies and routes website visitors, answers common questions, and even books sales demos. 
Additional Intercom features include: 
Measuring customer acquisition ROI 
Analyzing team performance 
Reporting customer support insights 
Price
You can subscribe to Intercom for $39/mo with the Start plan, $99/mo with the Grow plan, $499/mo with the Accelerate plan, or $999/mo with the Scale plan. 
14. JivoChat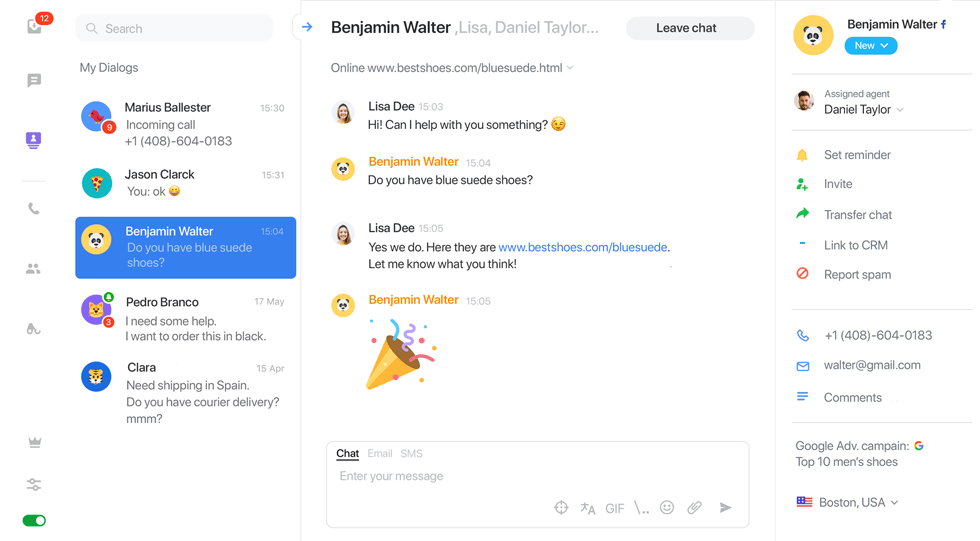 JivoChat is a popular live chat software used on almost 300,000 websites. It's compatible with all devices and can be launched on the web and accessed through any browser. It's also available as an iOS and Android app. 
You can also use JivoChat for telephone, email, WhatsApp, Telegram, and Facebook communications. 
The unified inbox is accessible to all the essential staff and departments for superior customer care, and it enables you to streamline all customer communications. Color-coded chats are an excellent addition that helps you stay organized. Live chat translation is available for 20 languages. 
JivoChat enables you to monitor team performance and service quality and shows you who's visiting your site and which pages they're viewing.
A handy feature that JivoChat has is reporting. The software will give you daily scores on your performance and offer suggestions for improvement. 
Price
The basic version of JivoChat is available for free for up to five agents. You can get the Professional plan for $13/mo per agent. A free 14-day trial is available. 
 15. LiveChat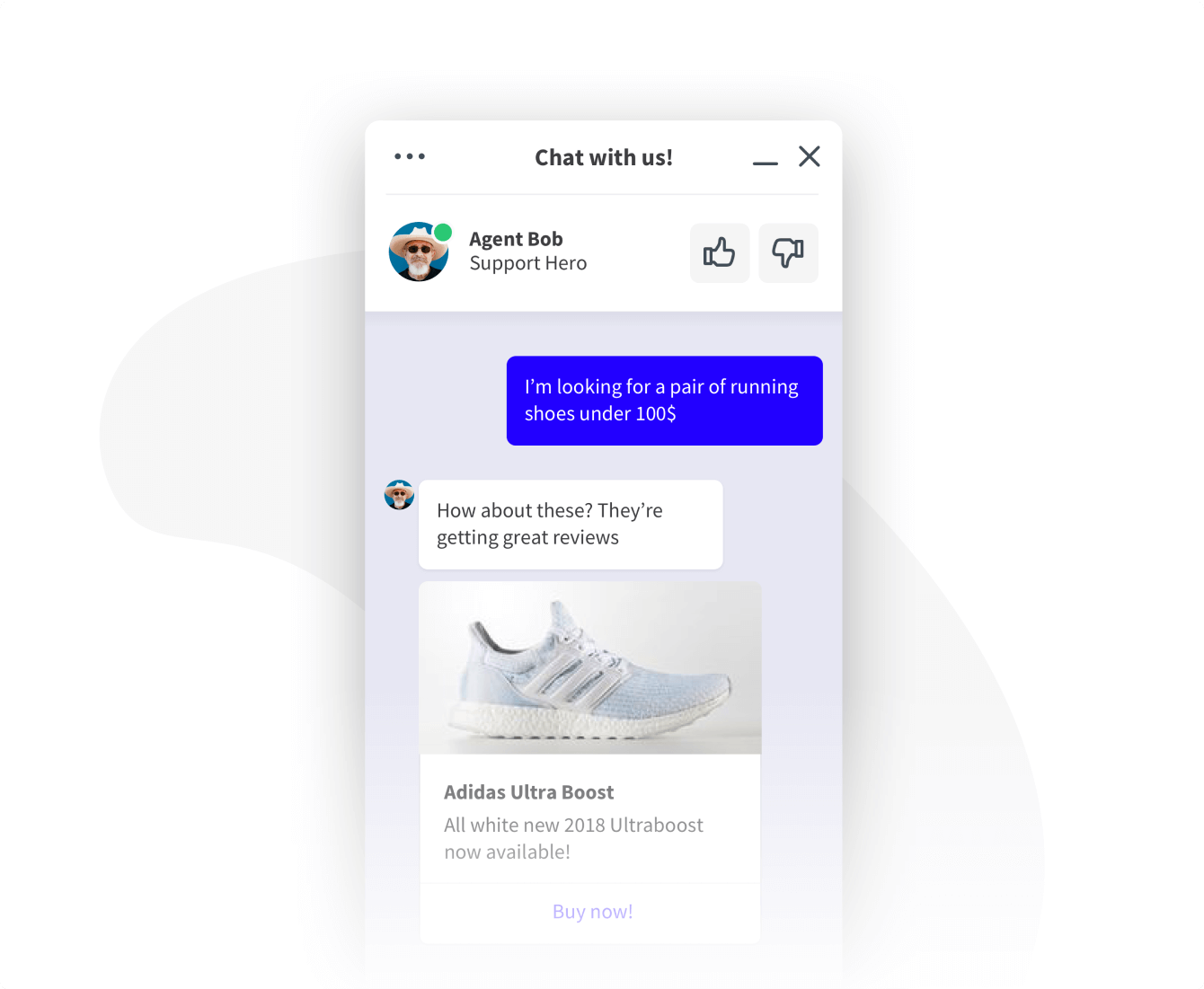 LiveChat is a feature-rich live chat software suitable for businesses across most industries and niches. It's used by hundreds of international companies, including Mercedes Benz, McDonald's, Adobe, and PayPal. 
It has all the necessary integrations that make it a valuable addition to any company. It's easy to set up and launch thanks to its simple WordPress plugin, so you'll start engaging with your leads and boosting your conversions in an instant. 
It has an elegant design and is compatible across all devices and browsers. Wherever your customers are coming from, you can rest assured you'll be able to assist them on the go. It supports over 45 languages, so the system will automatically translate all your chat widgets and greetings to the visitor's native language. 
Some of the features that stand out on LiveChat include: 
Message sneak peeks 
Chat ratings 
Chat transfer and routing 
Eye-catchers 
Chat transcripts 
Ticket reports 
Agent profiles 
Price
The Starter plan will set you back $16/mo per agent, the Team plan, $33/mo per agent, and the Business plan, $50/mo per agent. The Enterprise plan is available for fortune 500 companies, and its pricing is dependent on your specific needs. 
16. Olark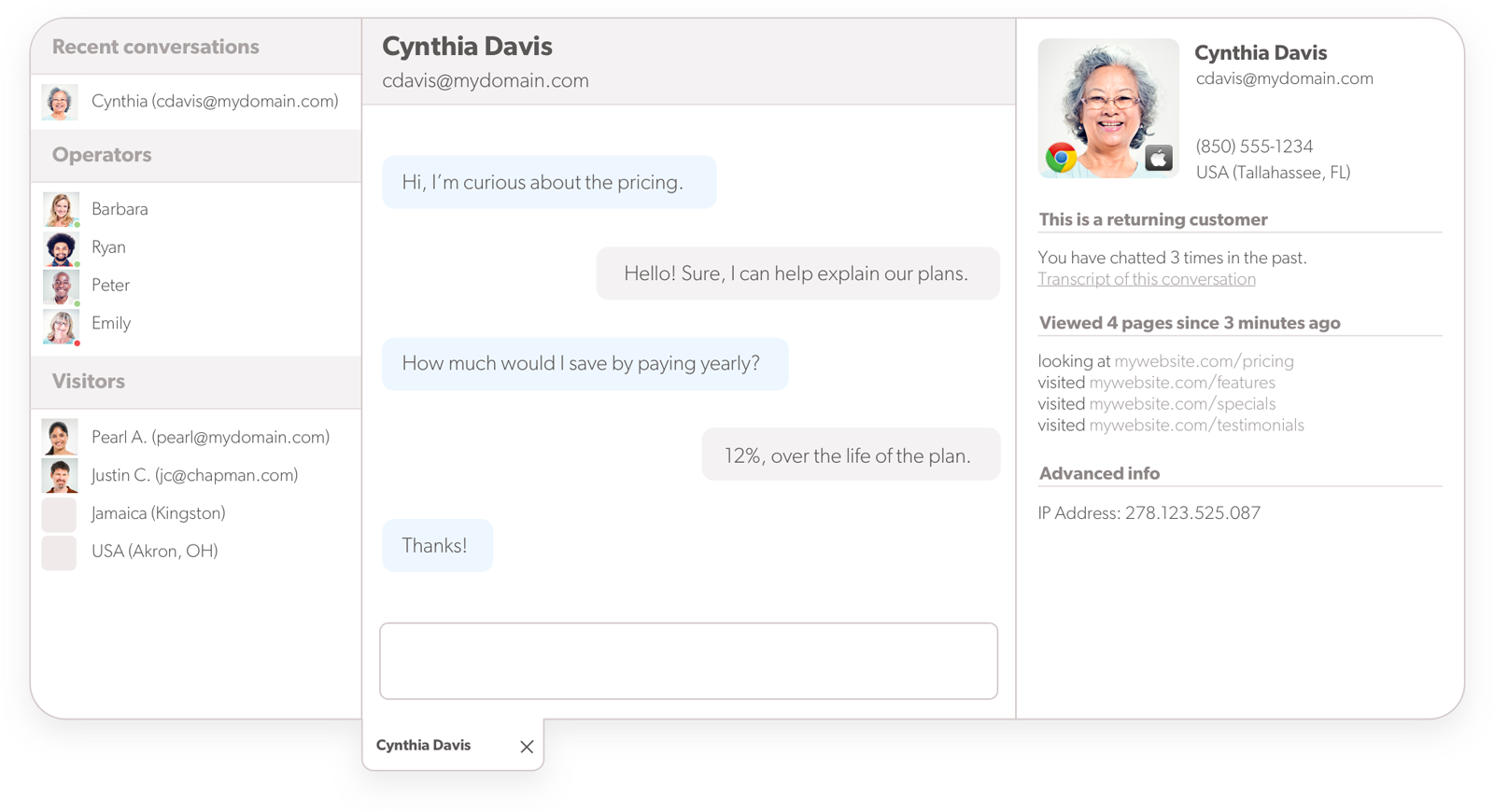 Olark is one of the simplest live chat software to implement. It's well-designed and has a user-friendly interface. It has virtually no learning curve, so you can rest assured that your team will master using it in no time. 
It features countless useful integrations. If you can't find the one you need, you can build a custom integration on your own (provided you have the necessary skills and knowledge for this endeavor). 
The live chat will connect you with customers from all over the world. You can use the Live Chat Translation Power-up to get real-time translations that your agents and visitors will get to enjoy. 
With live chat insights and analytics, you can instantly improve customer satisfaction and optimize your products and services. 
Create custom chatbox forms, make use of transcripts, deploy automation rules, route chats to the right personnel, and engage with your website visitors in real-time. 
Price
Olark has affordable subscription plans, and if you opt for a 2-year plan, you can get this software for only $12/mo per agent. Optional Power-ups are available with prices ranging from $29 to $99/mo. 
17. Podium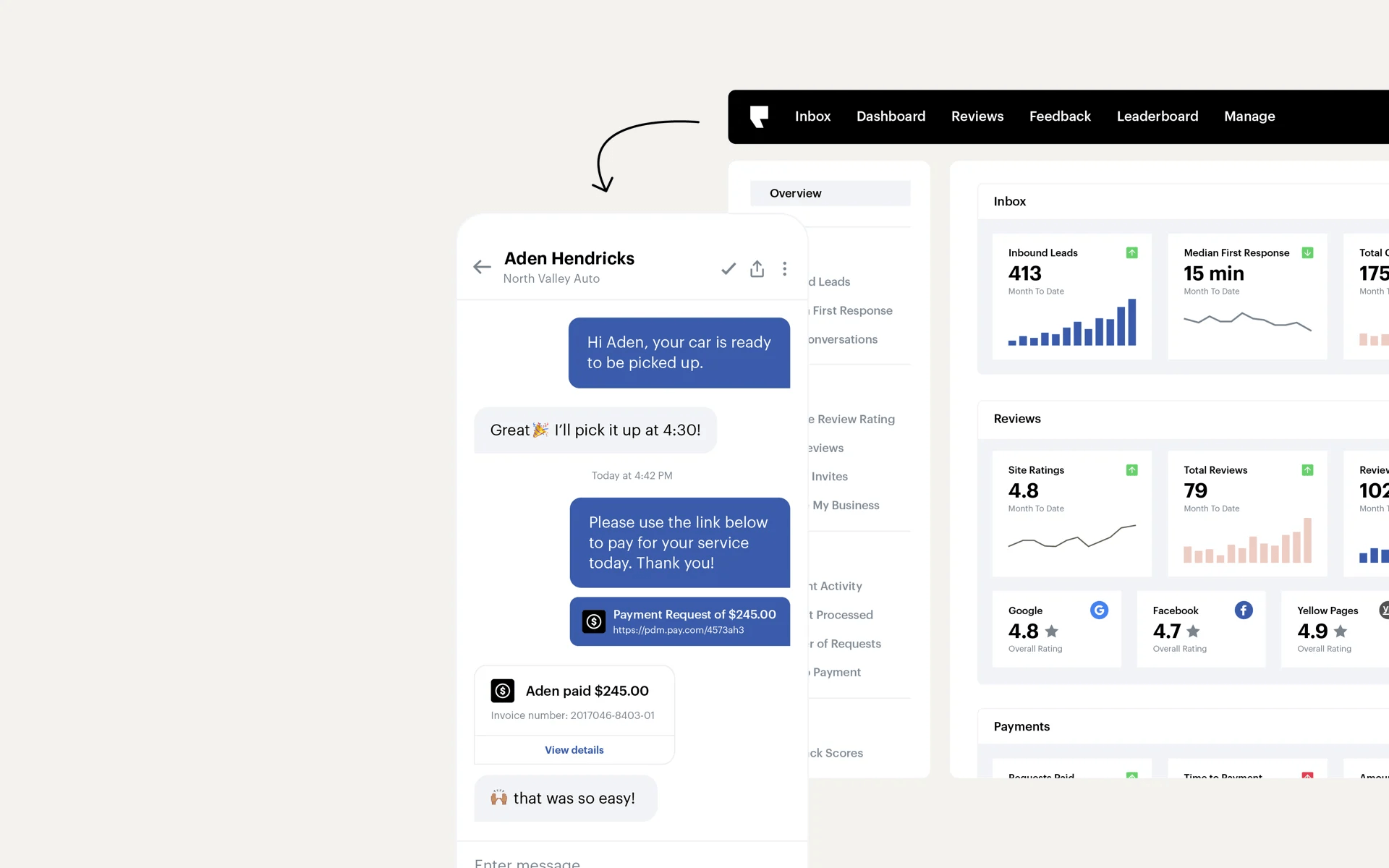 Podium connects you with your leads, loyal customers, and team members with ease, and as a bonus, it helps you manage your online reputation. 
You can use it to stay in touch with all website visitors, regardless of the browser they're using. The software encourages users to leave their contact information so you can answer any of their questions via email as well. 
Whether you're engaging with visitors via text, Facebook, or Google, you'll receive all chat information in a unified inbox. From there, the system can automatically route conversations to specific employees and departments for maximum efficiency. 
As far as Podium's online reputation management goes, you can use it to encourage customers to leave reviews and provide you with relevant feedback. Through your dashboard, you'll gain insight into all reviews you've received, so you'll be able to respond to them in record time. 
Price
Since Podium analyzes your business and industry to deliver products best-suited to your needs, pricing plans will vary from company to company. You can expect to pay around $399/mo, depending on your location and the products you've chosen. 
18. SnatchBot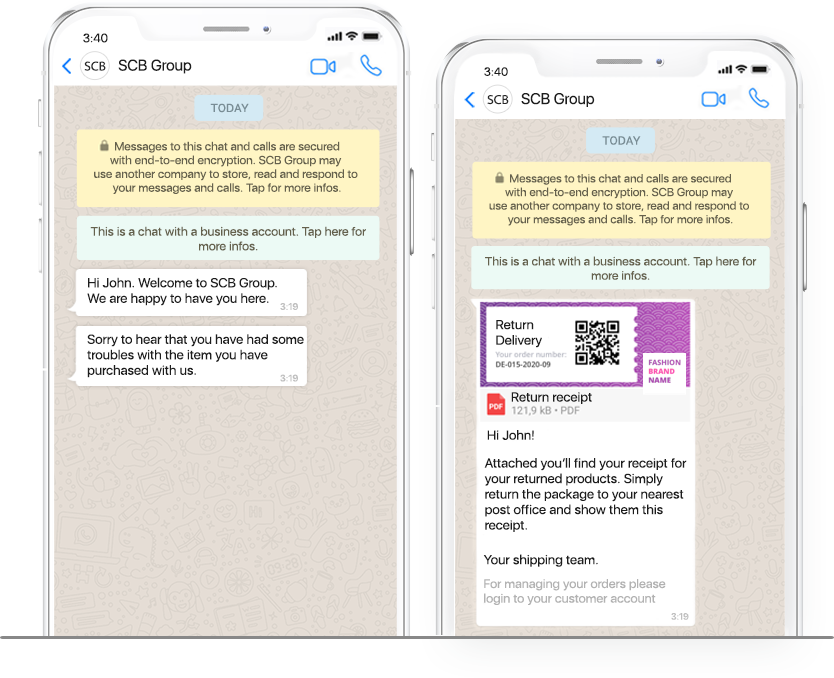 SnatchBot is a unique addition to this list as it's a specialized chatbot creation tool. And while this may seem somewhat frightening to users who don't define themselves as tech-savvy, it's actually a simple tool to use. No previous experience with chatbot creation or coding is required. The chatbot creation process is well-explained and easy, so you'll be able to launch your bot pretty quickly. 
It's an omnichannel platform that will make you available to your customers 24/7. The chatbot is controlled by sophisticated AI that boasts excellent speech recognition and natural language processing powers. 
You can completely customize your chatbot to match your brand persona and ensure it has the exact tone of voice you need – funny, formal, casual, witty, and even sarcastic. 
You can enjoy premium features such as chat translations, Google search, and geolocation. You'll get advanced analytics, easy collaboration tools, and you can even empower your bot with unique plugins and additional features. 
Of course, customer conversations can always be routed to human sales reps as needed. 
Price
SnatchBot has a free version with all the essential features. Pro plans can get quite expensive– anywhere from $30/mo to $999/mo, depending on your chosen features. 
19. Tidio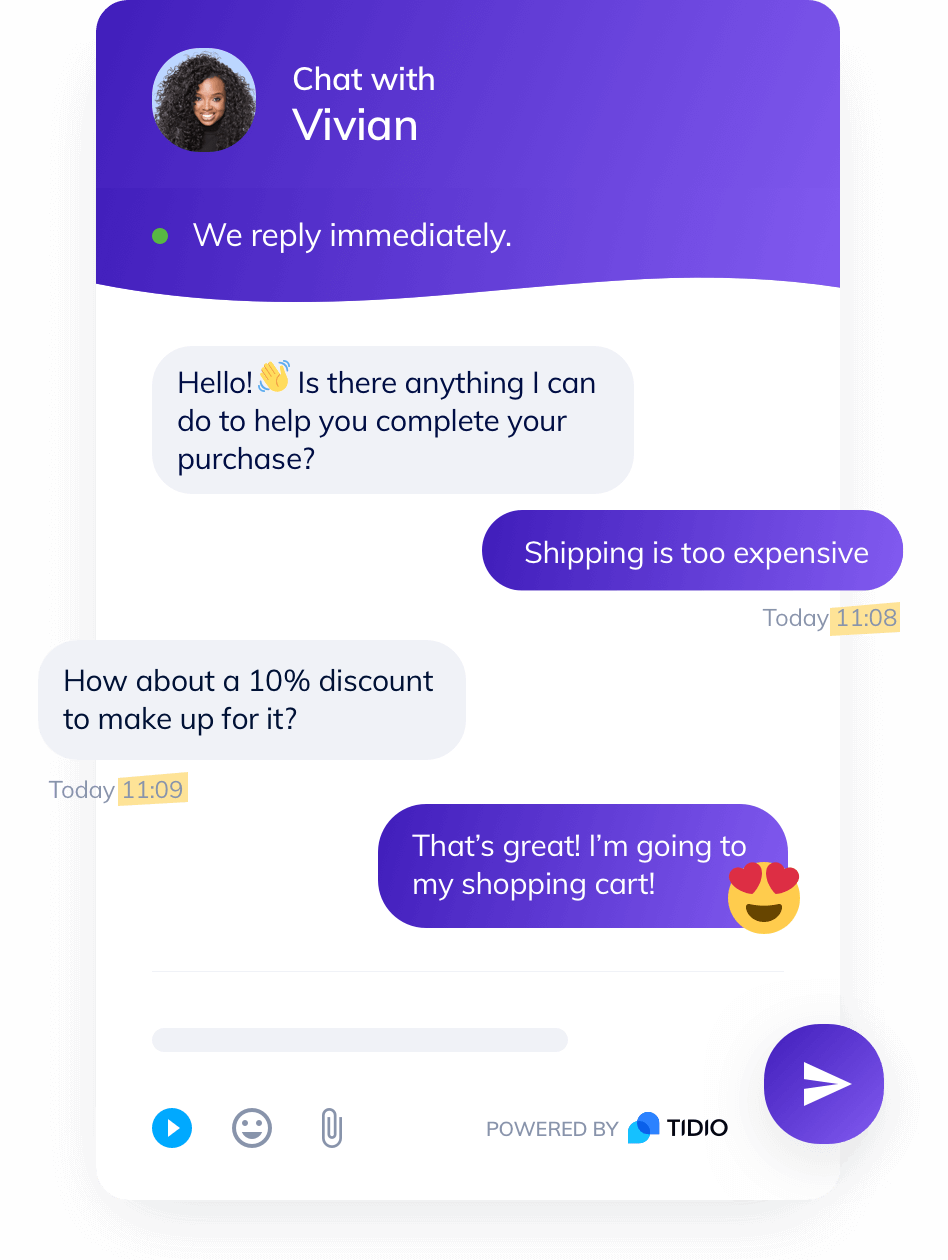 Tidio is a relative newcomer to the live chat service industry, and yet it boasts over 300,000 loyal clients already. It only takes a few minutes to get the software up and running on your site, so you won't have to worry about complex implementation. 
It has great customization options to ensure a good match for your brand and boasts all the integrations you may need – Wix, WordPress, Zapier, Shopify, and many more. 
Tidio can be accessed through any browser or device, and it's also available on desktop, iOS, and Android. 
You can use the software to monitor website visitors, engage with them in real-time, create deals, see where your customers are coming from, and automate your conversations. Choose a pre-made Tidio chatbot, launch it immediately, or create your own bot (no previous coding skills required).
Additional features include chat ratings, contact segmentation, an email template editor, live typing view, and more. 
Price
You can use the free version of Tidio and enjoy complete live chat capabilities or opt for one of their paid plans for extra features. The Chatbots plan starts at $18/mo, the Communicator plan starts at $18/mo, and the Email Marketing plan starts at $10/mo. 
20. Zoho Desk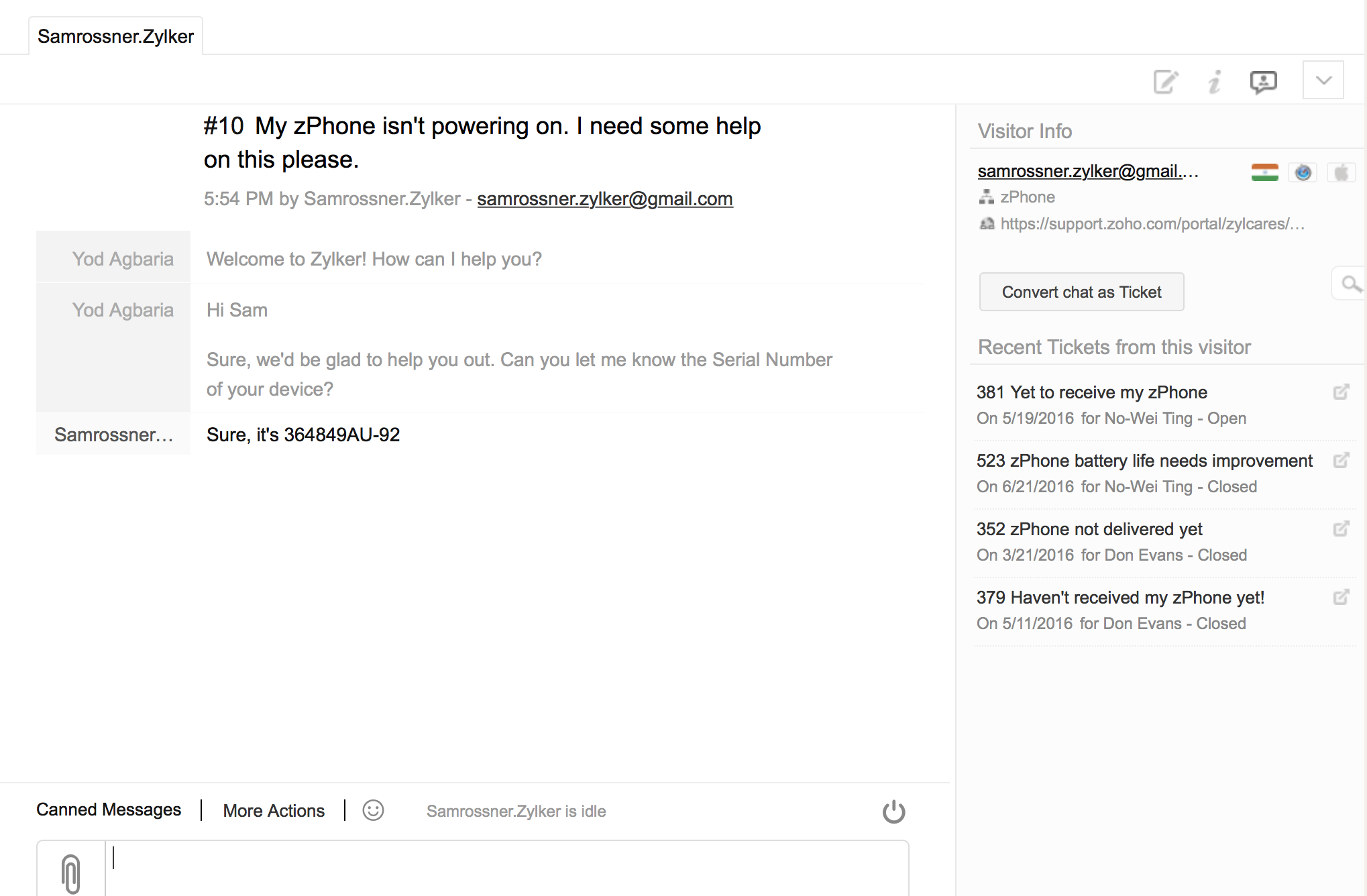 Finally, we have Zoho Desk, which offers excellent capabilities and integrations. Its layouts are fully customizable, and you can even rebrand with ease or create unique self-service portals for several different brands and product lines. 
Use tickets to manage conversations, route them to specific staff members, use the unified inbox that collects conversations across channels, and enable automation features to handle more straightforward customer requests. 
State-of-the-art AI enables you to automate virtually all tasks and conversations, handle multiple clients with ease, and stay on top of all of your website visitors. 
You can gather customer feedback directly in the live chat, boost customer satisfaction, trigger canned responses for efficient customer relationship management, and more. 
Price
Zoho Desk's live chat widget is available with the Enterprise plan for $35/mo per agent. 
Too many choices to choose from?
Try LiveAgent for a free 30-day trial, no credit card required.
Top 5 live chat solutions for startups and SMBs 
| | | | | |
| --- | --- | --- | --- | --- |
| Chat provider | Capterra Rating | Free version  | Free trial | Starting price  |
| LiveAgent | 4.7/5 (approx. 1K reviews) | YES | YES | $29 per agent/mo |
| Acquire.io | 4.9/5 (19 reviews) | NO | NO | $90 per agent/mo |
| SnatchBot | n/a | NO | NO | $30 per agent/mo |
| Birdeye | 4.7/5 (379 reviews) | NO | YES | n/a |
| Hubspot | 4.8/5 (250 reviews) | YES | YES | $50 /mo |
Dated as of May 6th
Depending on your needs and preferences, any of the above-mentioned live chat software solutions can work wonders for boosting customer engagement and increasing your conversion rates. However, if you're interested in the top solutions only, we've selected five that offer the most robust features that can help you take your company to the next level. 
Our favorite five solutions are: 
LiveAgent – the absolute best live chat for small businesses and large corporations alike
Acquire.io – the best multilingual support for companies expanding to international markets 
SnatchBot – the best for automation and Chatbot customization
Birdeye – the best for general reputation management
HubSpot – the best for overall customer relationship management
Choosing any of these five live chat software solutions is bound to bring measurable improvements to your business. All of them have excellent integrations that will ensure seamless implementation regardless of the systems, platforms, and channels you're using. 
They'll help you improve engagement, increase conversions, boost loyalty, enhance performance – all of which will positively impact your bottom line. 
These software solutions' unique features will ensure you reach a better understanding of your leads and customers in record time. They'll significantly cut down on your response time, keep visitors on your site longer, and ensure you leave a lasting impression. 
You'll get insightful analytics for improving your performance and team collaboration for happier, more satisfied customers. 
Choosing the right live chat software for your needs is of the utmost importance, so it's a good idea to test out a few different solutions before you commit. While you won't go wrong with any of our top five favorite solutions, you might find some of them more accessible than others. So, take your time, examine the solutions thoroughly, and find the one that suits you best. 
Conclusion 
Staying competitive in the eCommerce market means stepping up your game and delivering an impeccable customer experience. You need to ensure that every customer is well taken care of and that everyone gets the information they need. 
If you leave customer questions unanswered or don't assist them in the sales funnel, you'll only lose them to your competitors. To boost engagement, drive interest, attract attention, and stand out, you need to offer live chat solutions tailored to your customers' needs. Live chat software brings many benefits and has no disadvantages that could stand in your way – that is, if you choose a high-quality solution. 
The 20 live chat software solutions for small businesses and startups that we've discussed can help you drive your company forward. So, don't lag behind your competitors. Adopt the new technology and ensure an excellent customer experience with live chat solutions customized to your needs. 
Still not sure which live chat software is the right for you?
Discover all that LiveAgent live chat software has to offer, and delight your customers with reliable and efficient solution.
LiveAgent Product Tour | Live Agent02:25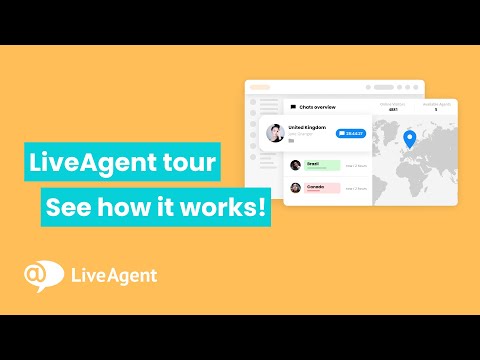 Live Agent
Frequently Asked Questions
Why should I add live chat support to my site?

Adding live chat support offers many advantages to businesses of all sizes. It helps you show your customers that you care about them and want to stay available to them at all times. It also keeps your website visitors on your site longer, presenting you with more opportunities to grab their attention and convert them to loyal customers. Live chat can improve customer satisfaction, customer conversion rates, engagement levels, and your overall performance.

Can I launch live chat on any website?

Yes, you can. Many live chat software solutions boast valuable integrations, meaning they can be launched on virtually any website. The most popular integrations include WordPress, Wix, Squarespace, Weebly, Joomla!, and more. To be safe, always check a software's integrations before you commit to it. If you're unsure whether live chat software can be launched on your site, you can always contact the provider's customer support.

How can I install live chat on my website?

Installing a chat plugin is usually a straightforward task that you should be able to complete within minutes, even without prior coding knowledge. You will likely need to create an account with your live chat service provider first. Then, you'll receive a code that you simply have to copy and paste to your site's header/footer. Follow the instructions provided by your live chat software, and you shouldn't have any issues with the installation.

How does live chat automation help me?

Live chat is an excellent tool to have on your site, with or without the automation features. However, it's still best to choose software with extensive automation. It will help lessen your sales reps' and customer service agents' workload, and it will ensure that all your customers get the help they need. With the help of automation, you can respond to frequently asked questions without the need for human intervention; you'll decrease your response times and help your teams stay organized.

What is the best live chat software on the market?

There are plenty of excellent live chat options out there, but some might be more suitable for you than others. Our top choice is LiveAgent due to its abundance of features, excellent integrations, affordable pricing, and ease of use. It can successfully connect you with your website visitors and help you convert them to life-long customers.