Nowadays many websites offer their visitors the possibility to connect in real-time using a free live chat tool. Think text messages, direct messages on social media, or even a Google Hangouts chat, as an example. Since all forms of instant messaging are practical solutions that facilitate the exchange of information; it's not surprising that companies want to utilize them for their customer service and marketing strategies.
However, the convenience of having a direct conversation with customers isn't the only benefit of chat tools. From the moment a visitor enters your website; live chat can accompany them along the whole customer journey and (hopefully) throughout the purchase process. 
That's why choosing a live chat tool that can be integrated with your webpage is necessary for most businesses today. LiveAgent's Free live chat software for your website, comes with many integrated systems. For example, a fast chat widget, a 7-day ticket history search, and one integration. Such as; live chat button, email address, contact form, or phone number.
If you're looking for more features and/or more advanced solutions such as; unlimited search history, social media integrations, or automation features, check out LiveAgent's paid plans.
However, even the limited functionality of a  free online chat tool will allow you to manage your business easily. How? Let's dig deeper into the details and have a closer look at this popular solution. 
Live chat software – What exactly is it?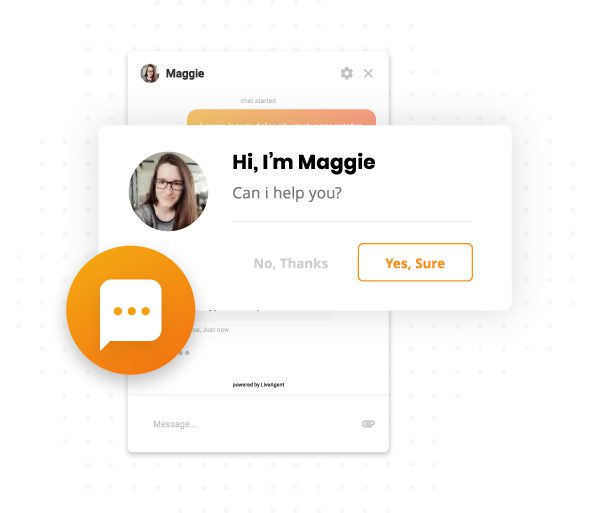 Live chat is a medium that enables you to interact with your website visitors. You can use the free chat service to initiate conversations with first-time visitors, interact with returning customers, and provide support to your existing users, all in real-time. It's a modern, continuous, and contextual way to generate more sales, close more deals, and keep existing customers happy and loyal.
A free online chat on your website brings the benefits of personalized customer experiences, better brand interactions, and a competitive advantage over your competitors. Implementing a free live chat app in your company will also be beneficial for all service agents as well as your marketing, sales, and development teams.
A live chat solution on a commercial website plays a definitive role in strengthening the link between a site and its visitors, as it allows the company's employees to capture and strengthen a customer's interest in the offered products or services.
When a visitor enters a website (either directly or through a search engine click-through), they can still identify the reasons that led them to carry out their search in the first place, which is why their willingness to establish the first contact is rather high.
That's why a free online chat allows you to take full advantage of this situation. It lets you garner consumer interest in your products by offering real-time assistance. Thanks to that, the level of interest and initial satisfaction of a visitor may increase and multiply even before they are converted into a prospect. This results in the optimization of investments that can then be reallocated to positioning or ad campaigns.
LiveAgent Live Chat Demo | Live Agent02:16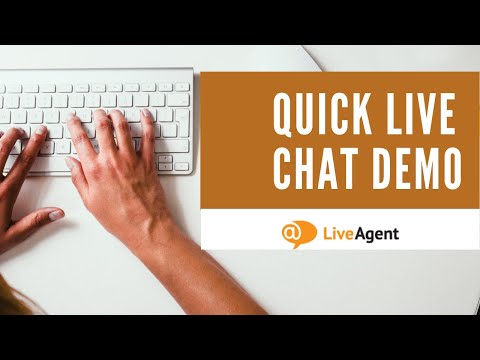 Live Agent
Why do you need live chat software for your website?
Customers will use a live chat widget to get quick and convenient answers to their questions or to ask for help when facing problems. Sales and marketing teams use such tools to collect leads and convert them into customers. Support or service teams use live chat to resolve customer issues quickly, provide better service, and provide more valuable experiences.
Every reliable free live chat solution can be incredibly valuable for B2C businesses that are operating online, as live chat tools can be used to capture leads, reduce bounce rate, and decrease shopping cart abandonment. 
Similarly, free live chat software for websites can help B2B businesses launch or modify campaigns. This is based on; user behavior, implementing interactive chats based on canned templates to speed up and facilitate communication with users, or to offer proactive support.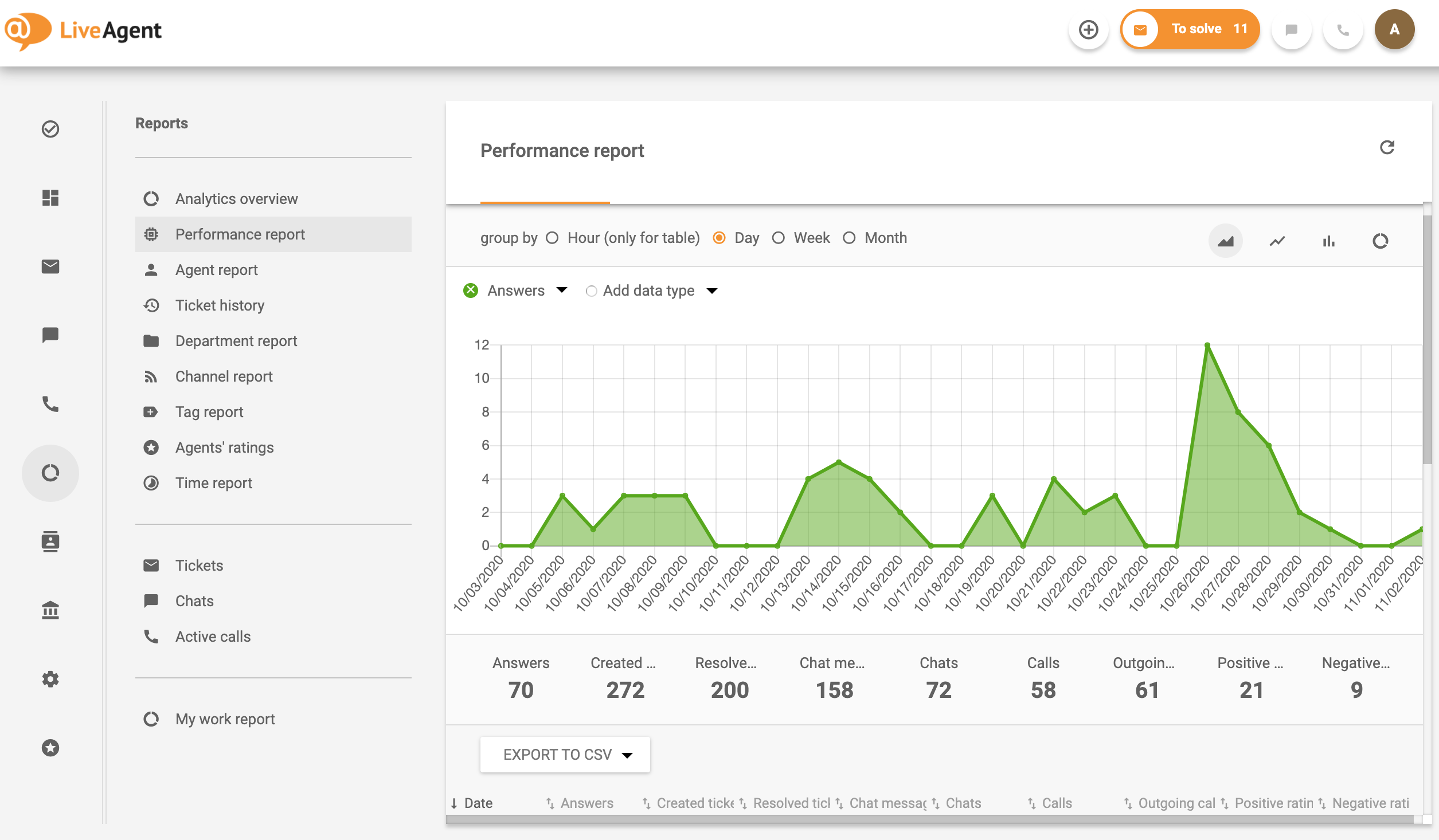 Keep reading to find out what advantages a free online chat tool can bring your business.
The advantages of free online live chat software 
1. Follow the trends of the future
Why is live chat trending worldwide as a customer service solution? The results of many surveys and research are clear.
Free online chat tools offer customers an omnichannel experience throughout their acquisition, incorporation, and technical support paths. It offers the customer a cohesive experience, no matter what stage of the purchase journey they're are at.
Moreover, 92% of users have a positive experience using a live chat tool compared to 88% for phone, 85% for email, 84% for Facebook, and 77% for Twitter (Inc). Additionally, 63% of customers agree that they are more likely to return to a site if they can talk to a representative via live chat (eMarketer).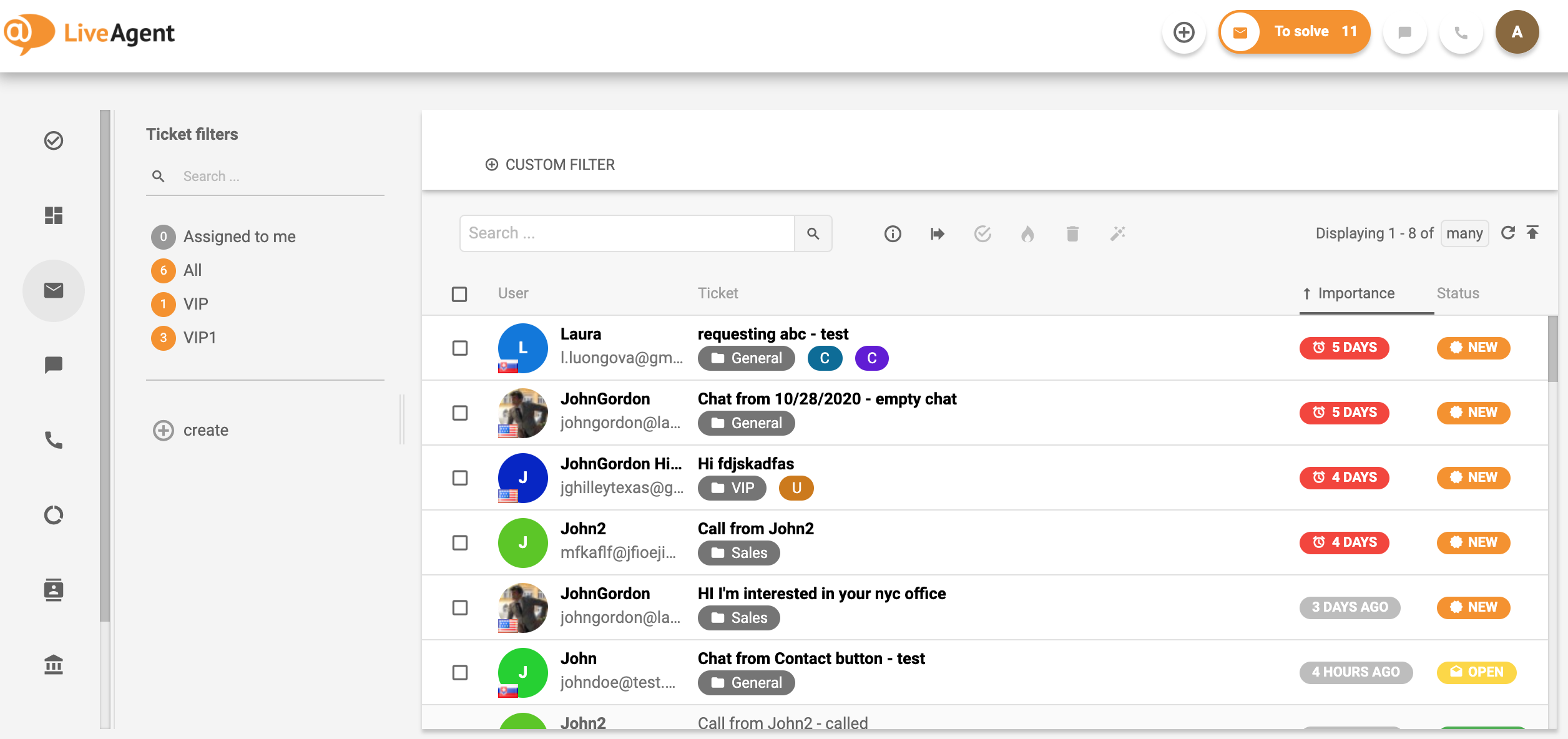 However, the main reason to implement such a solution is that nowadays your visitors expect to find an online chat on your site. And you don't want to disappoint customers or potential clients, right? To be more precise, more than 41% of customers expect to find a live chat window on your website (Forrester). If this doesn't convince you, we have 5 other reasons detailed below.
2. You will be able to respond faster
Customers appreciate instant messaging because, as the name suggests, it's instant! Users expect quick answers to their questions. 79% of customers say they prefer to chat with agents purely because of the immediacy it offers compared to other channels (Econsultancy). It seems logical that consumers want their answers in real-time, which is why live chat and social messaging have continued to gain increasingly larger followings while email has seen a steady decrease in use year after year. Because of this, more than 42% of customers prefer live chat usage to email, 23% to social media, and 16% to forums.
Being available more often is clearly a great way to build trust among your customers. In fact, placing a free online chat on your website can improve your first response time to less than 3 minutes (according to a global average across all industries.) 
However, not all live chat tools are created equal. Steer away from sole automation tools and chatbots. According to 99 Firms,  29% of live chat users hate scripted responses, and nearly 1/3 of consumers are not keen on canned responses used by live chat service agents since they lack personalization. Therefore, you should aim to provide your customers with personalized and customized experiences as often as possible.
Just like instant messaging applications, live chat conversations tend to be more relaxed and user-friendly, as they break down the barriers between businesses and customers.
3. Your website will work 24/7 for you
Perhaps the best benefit of using live chat is the ability to respond to your customers at any time of the day. 51% of customers want businesses to be available 24/7, so having this availability is a great advantage for every online business (Inc). However, you will most likely have other priorities (like sleeping, for example) which means you can't be online 24 hours a day, 7 days a week. This does not mean that the world will end, though, as you can let live chat work for you even when you're offline.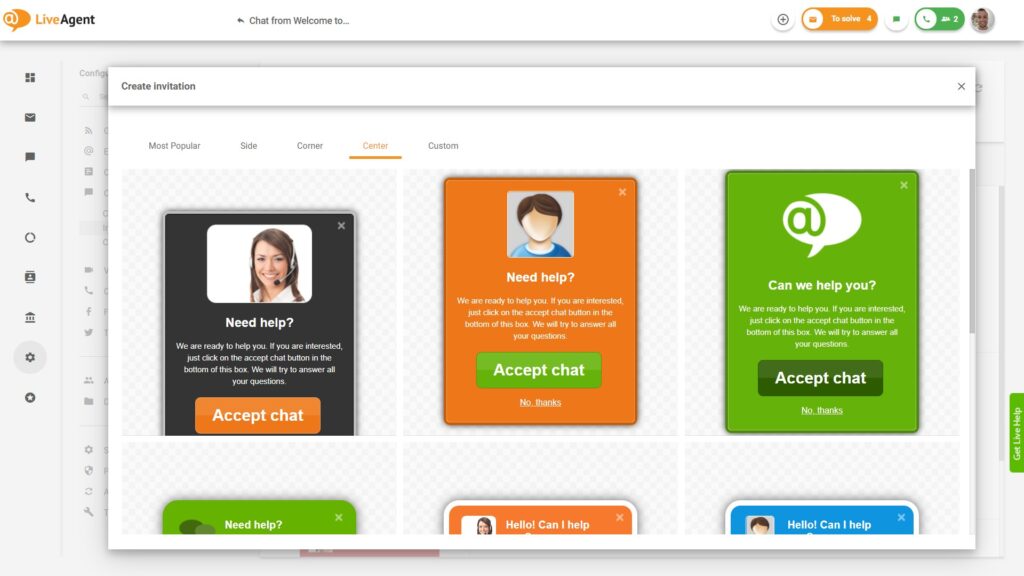 Advanced live chat tools let you create automated responses to different types of queries. This can be anything from a welcome message to a contact form. You can even ask visitors to submit their name, email, and phone number before they can start chatting with you.
The customer data gathered through live chat will be automatically saved if your solution is integrated with a CRM or help desk software. You can start customizing your responses and establishing relationships with your customers from the moment you start answering their messages. Unlike phone or email conversations, a reliable piece of free live chat software for your website also saves the transcripts of previous conversations in threads that are accessible to both agents and customers as soon as they open an online chat window.
Another option with live chat is to automate answers to frequently asked questions, which will save you tons of time in the long run and keep your customers happy too. The general idea is to show your visitors that you are there for them whenever they need you and initiate conversations to achieve conversions. 
4. Your clients will feel that you really care about them
One thing that distinguishes free live chat for websites from other tools is that it is a much more natural form of communication than email in the eyes of many users. Since conversations are conducted in real-time chats, they allow you to establish an immediate connection with your customers on a personal level.
However, live chat isn't all about quick response times. There's something even more important than that, and it's the fact that building a lasting relationship keeps customers coming back for more. This, in turn, results in more personalized conversations with customers that have already established a connection with your business.
Considering more technical aspects, free live chat on a website (unlike, in most cases, on mobile) enables your agents to share rich media files such as pictures, videos, or GIFs via a chat window. And, while you can do similar things via email, it's more contextual to do so through a live chat.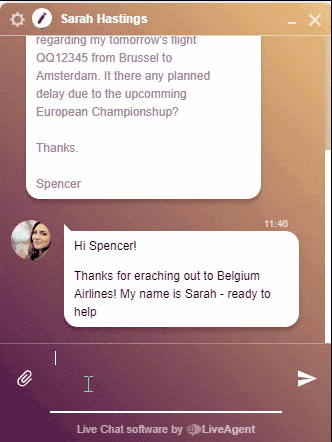 5. You will speed up the sales process
While responding to your customers via live chat from your desktop, you can also improve your conversational skills and close deals faster. When you use the universal inbox and a dashboard that gathers all user interactions (every decent free online chat should offer this), you can handle other business tasks while chatting with customers. This makes the whole sales process smoother and more efficient than ever before, including everything from processing payments and booking services, to sending price quotes, invoices, and even shipping information and process tracking.
In short, you'll have everything you need to market and sell your products in one place. This will surely have a positive influence on your sales results and will increase customer retention.
Let's have a look at some stats to back up this claim:
Live chat leads to a 48% increase in revenue per chat hour and a 40% increase in conversion rate (Icmi).
Website visitors that engage with your company via live chat are worth 4.5 times more than visitors who don't (Icmi).
Companies offering live chat report a 34% improvement in customer satisfaction rates and a 2.6x improvement in customer care costs. (Verint)
Live chat implementation drives a 3.84% increase in conversion rates and a 6% overall lift in revenue (Goinflow).
The average order value of sales from customers who engaged in a chat before making a purchase was 10% greater compared to those who didn't (Forrester).
22% of surveyed companies recorded a 5-10% increase in revenue via live chat (99 Firms).
Regardless of what you use — a free chat on a website or a paid software– both solutions are affordable for businesses of all sizes. In the first case, there is no cost for the service itself, but you still need to "pay" with your time to train agents to use and maintain the tool.
Fortunately, setting up a reliable free live chat software for your website is as simple as using plug-and-play software that doesn't require heavy IT work. Therefore, using a free chat tool should be a piece of cake for your experienced service agents. 
6. You will build long term relationships with customers
Live chat is a great channel to start conversations with customers to help them with their concerns. As we have already explained above, chats can cover everything from customer support to closing strategic deals. However, these things are just the beginning of a solid, long-term relationship that, if all goes well, you can build with each customer you have.
Once you receive a customer's contact information via live chat, you will be able to communicate with them via email and refer to any action that they took relating to your company. This could be thanking them for making a purchase, asking for feedback, or filling out a satisfaction survey. However, these processes can be automated. This will save you time and, most importantly, ensure that you do not miss the opportunity to talk to your customers and continue the conversation.
Free online chat trends
Companies are adopting live chat for their sales, marketing, and customer support needs on a large scale. Live chat is filling a huge gap in the customer experience industry. 
Even the simplest free online chat has the power to; impact the lives of customers, influence their decisions, and increase sales. There is a good reason why it is such a strong trend in the business world; and why live chat is gaining traction amongst companies in all sectors.
Adoption rates for companies that already use live chat continue to grow. So, it's simply a matter of time before all of your competitors implement it. This means that if you decide to add a live chat widget to your website now; you will be one step ahead of many competitors.
Comm100 discovered that 82% of customers were satisfied with their live chat experience. Thus fares much better than that of an email (61%) and telephone (44%). This is probably due to a combination of the aforementioned factors, such as personalization and speed.
42% of customers choose Live chat over a phone call because they hate being put on hold. (J.D. Power).
For B2B markets, live chat increases conversions by 20%. B2B customers who initiate a chat with a company are three times more likely to purchase than those who don't. For e-commerce websites, live chat helps eliminate 40% of cart abandonment. And that's not all! Customers who use live chat support spend an average of 60% more per purchase than those who don't.
So the conclusion is clear. Live chat software will continue to be trending in the upcoming months. The best thing you can do is to hop on the bandwagon and positively surprise customers with efficient communication.
Free online chat or paid live chat software – Which one to choose? 
Before selecting any piece of paid or free live chat software for your website, consider a few important metrics and aspects:
The number of clients who reach out to your company via different channels.
The level of security that your customers expect and value.
Headcount – does your service department employ enough agents who will be responsible for managing live chat?
What kind of service do your customers expect? Do they expect speedy responses? Are they keen on using newer technologies?
Free online chat allows operation from the cloud, so staff can access information and work from anywhere.
Are customer reps service-oriented or connected to the company's values and objectives?
The choice of any software solution for your company should be directly related to the objectives and goals of your company. 
However, when choosing your solution, it's also important to pay attention to the provider and the quality of the free online chat tool. If you don't know where to start, we recommend that you take a look at LiveAgent's free live chat solution, as well as their paid options. The company's offering is an excellent solution that integrates free live chat software for your website with the help desk. Thus, making it the ideal tool to empower your customer support department.
Discover on your own
LiveAgent 2021 | Better Customer Service Starts Today | Live Agent01:12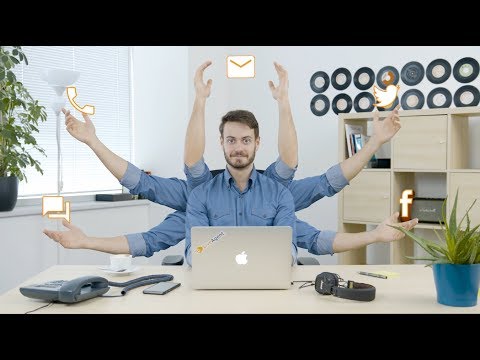 Live Agent
Try out LiveAgent for FREE
Handle all customer inquiries from one interface. Start improving your customer service with a 30-day free trial right away!
Frequently Asked Questions
Why should you have a live chat on your commercial website?

A live chat solution on a commercial website plays a definitive role in strengthening the link between a site and its visitors, as it allows the company's employees to capture and strengthen a customer's interest in the offered products or services.

How can you build long-term customer relationships?

Live chat is a great channel to start conversations with customers to help them with their concerns.

What exactly is live chat software?

Live chat is a medium that enables you to interact with your website visitors. You can use live chat to initiate conversations with first-time visitors, interact with returning customers, and provide support to your existing users, all in real-time.