One of the main differences between e-commerce and brick and mortar stores is the lack of immediate support in online stores compared to traditional shops. Even though the Internet can help shoppers solve the questions they have during the purchase process, customers expect immediate responses from the company they're intending to purchase from. Simply put, expectations are rising, while customer behavior patterns and product demands are evolving.
One of the most popular tools that solves this challenge is live chat software. This solution satisfies both users and companies by saving time and reducing costs, whilst also speeding up customer service and user support processes in real-time.
What do studies say about this solution? How does live chat help with improving the relationship between a company and its users?
What can chat do for you and your customers?
Live chat is a solution implemented on e-commerce sites that enables a conversation between a user browsing the web and a brand representative, salesperson, or customer service agent. Live chat is another way of personalizing and improving the user's experience and relationship with the brand, alongside other solutions like filters, a well-optimized website, or a search engine that facilitates user navigation through an e-store. After all, live chat is just another communication channel for users who prefer "human" support, rather than automated chatbots.
The impact of live chat support on in-store conversion varies greatly depending on who we ask, as some studies claim that this kind of widget influences the conversion rate negatively. However, most marketers would say that live chat is one of the customer service tools with the highest customer satisfaction rates. 
In fact, Companies offering live chat report a 34% improvement in customer satisfaction rates and a 2.6x improvement in customer care costs. (Verint) Data from Icmi support this claim – according to their study, live chat leads to a 48% increase in revenue per chat hour and a 40% increase in conversion rate. The same study indicates that live chat has become the leading digital contact method for online customers, as a staggering 46% of customers prefer live chat compared to just 29% for email and 16% for social media. (Icmi)
Another study shows that 92% of users have a positive experience after using a live chat tool compared to other forms of contact (phone: 88%, email: 85%, Facebook: 84%, Twitter: 77%) (Inc). Moreover, Goinflow noted that there was a 3.84% increase in conversion rates and a 6% overall lift in revenue for companies using live chat.
The data cited above comes from general studies. As usually happens with all the aspects of an e-commerce store, the conversion rates differ from industry to industry. Therefore, in many cases, it's not only about the live chat itself but also about how you use it and get the most out of the data and insights that it provides.
Regardless of its direct or indirect influence on conversion rates, chat improves user engagement and satisfaction. Analysis of these metrics can provide many useful insights and key information about customers that may result in valuable business opportunities. This allows companies to:
Get to know the most common and general doubts of their users
Improve services and/or products
Learn what kind of new products could be released
Detect "hot spots" on their website
Identify and quickly address issues in the purchasing process
Read more: The best issue tracking software
Chat versus other customer service channels
According to a study of 2,000 users published by eDigital's Customer Service Benchmark, online chat is the support channel with the highest user satisfaction when compared to other more common methods of communication.
The best scores are given to chat (73%) and email (61%), while telephone (44%) and SMS (41%) are the least satisfactory channels (interestingly enough, these methods are still the most used though).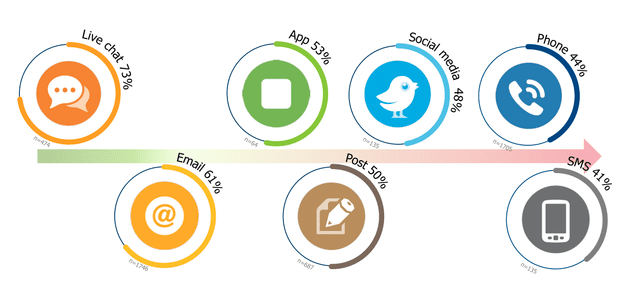 The main reasons why users assess chat so positively is the immediacy of the responses, the possibility of performing other tasks while talking to a consultant, and its effectiveness as a method of communication with a brand.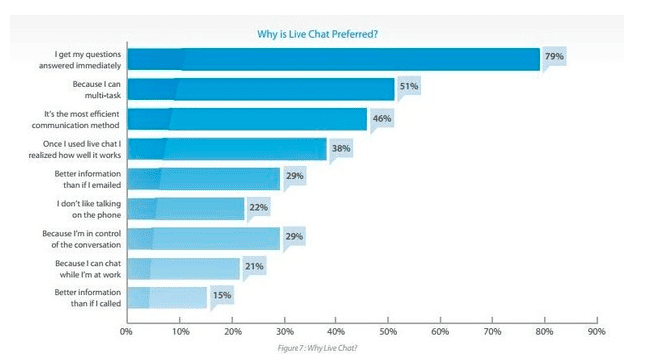 How do customers use live chat?
Before deciding whether live chat software is a good fit for your e-commerce store, it is necessary to check which users are most likely to use it and how they do so. One of the most popular studies on this subject was conducted by Software Advice. We present the most interesting conclusions below.
The youngest users are the most willing to use this support channel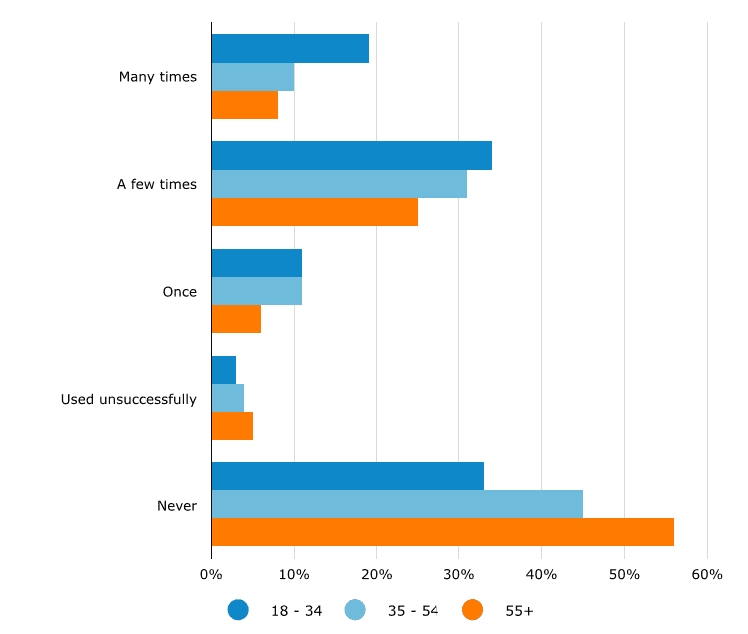 It is also one of the most preferred communication options when a user plans to spend a small amount of money.  Conversely, when a purchasing decision becomes more complicated and potential spending rises, support preferences become more diversified.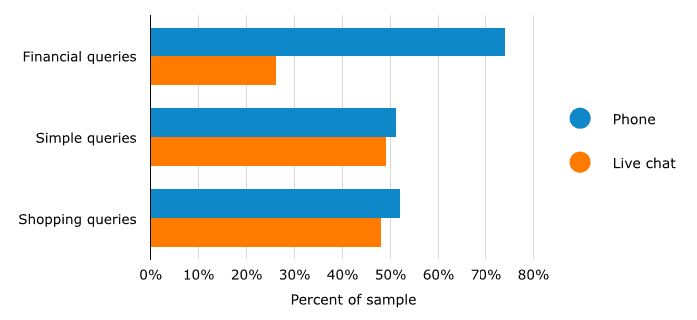 Neil Patel, one of the most renowned marketers, states that live chat does not support conversion, because in many cases, it distracts users from the main goal of each e-commerce store: finalizing a purchase. A significant percentage of users go to live chat right away because it is more attractive than browsing through CTAs. Also, since completing a purchase through a chat window is more complicated than browsing without support, a live chat tool ends up complicating the completion of many purchasing processes.
With this in mind, we recommend:
Studying the purchasing processes thoroughly before implementing live chat (if your website has a 2%-5% conversion rate)
Implement live chat if the conversion rate is < 2%.
Read more: 8 Reasons why your eCommerce website needs live chat support
General rules ensuring your live chat works properly and brings desired results
As in any online business, the success, and improvement of an e-commerce store is based on user testing and measuring the performance of specific features and options available for users. 
However, there are also some basic guidelines worth following during the implementation of a live chat tool.
Pre-Chat Preparation
First of all, you should decide what the main purpose of a chat window is, and where you want it to be located on your domain. Choose the most interesting and/or problematic pages to start using live chat on, and start thinking about its design. Maybe proactive chat invitations are a good solution for your website or, perhaps a live chat window should only open when prompted by website visitors.
Then, plan a shortlist of questions your live chat widget is going to "ask" each user at the beginning of the first conversation. It's not a bad idea to ask for some information before starting an actual live chat conversation, as the answers can provide you with valuable information. However, some users may perceive these forms as a barrier to start a consultation. Make sure that all the information you're asking for is absolutely necessary to have, and ask the rest during the conversation.
Make sure the chat works efficiently
The quality and agility of chat responses are what brings users value.
Live chats should be answered almost immediately, ideally within a few seconds.
Live chat should be available 24/7. Avoid offline mode ( Such as "Leave a message, and we'll get back to you tomorrow.")
Just like the assistance provided by a salesperson in a physical store, the chat service must be optimized along with other commercial strategies, such as up-selling and cross-selling initiatives.
Leverage post-chat surveys
One of the main reasons for implementing live chat software is the large amount of qualitative feedback we can collect from users using this communication tool. Use all the information you acquire to understand what your audience looks like and what they need. A live chat window is also a great place to conduct Customer Satisfaction Score surveys.
Wrap up
Deciding whether you should implement a live chat solution in your e-commerce store is not an easy task. If you would like to learn more, check out our article about WordPress chat plugins. But if you've already decided to go with LiveAgent, do not hesitate to contact us. Our LiveAgent consultants will be happy to present all the successful use cases our customers have achieved by implementing website live chat. Schedule a demo call or test our live chat software during a 30-day free trial. 
Improve customer satisfaction with live chat
Live chat is the most preferred customer service channel because it provides instant problem resolution and short waiting times. Give your customers what they want today.