Key takeaways
Pros
Problem-free integrations with social media
Good functionality from social media
Additional features from LiveAgent's ticketing system
Cons
All plans can get very expensive
Lack of certain types of functionality
Getting started with LiveAgent social media features
LiveAgent offers a very easy registration process through a simple trial form. You need to provide only basic information to get started and create your LiveAgent account. LiveAgent gives you a choice between a 7-day trial or a 30-day trial. You can get a 30-day trial only if you use a company email address during the registration. Users who register with a personal email address can still get 7 free days of LiveAgent. Once you get access to your account, you can take advantage of the get started guide available right on the first screen.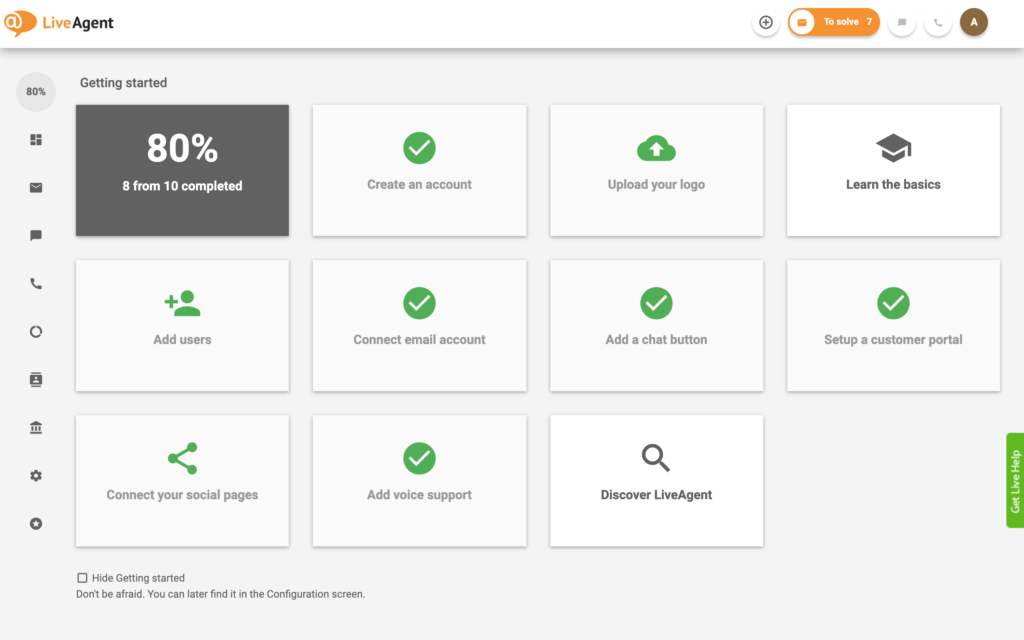 This guide can take you through the entire process of setting up your LiveAgent account. You can add emails, set up your chat and call center, and add your social media account with each separate step you see on the screen. It's only up to you (and your pricing plan) to select which tools you want to use first. You can select the social media option right away and start adding your account to the ticketing system.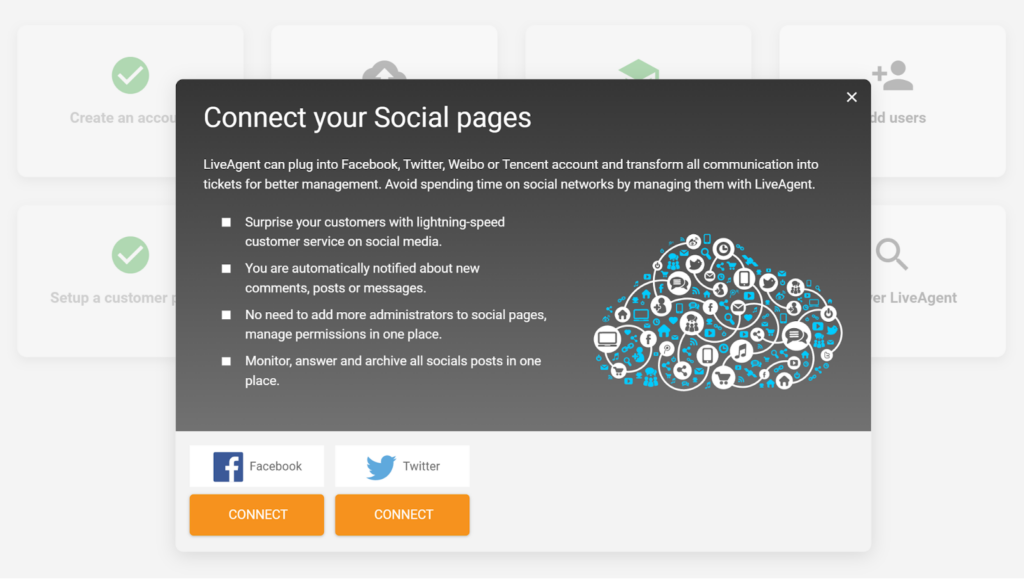 The first option offers a Facebook integration, so I picked that one to get started with. I simply had to log in to my Facebook account and provide all necessary access to the Facebook page of my fictional clothing business. After I got the message that the integration was successful, I got to choose which types of posts I would allow LiveAgent to connect to. I selected all of them to keep it simple. A nice touch is the option to select which department within LiveAgent will get access to the Facebook tickets, giving you the freedom to organize your communication accordingly.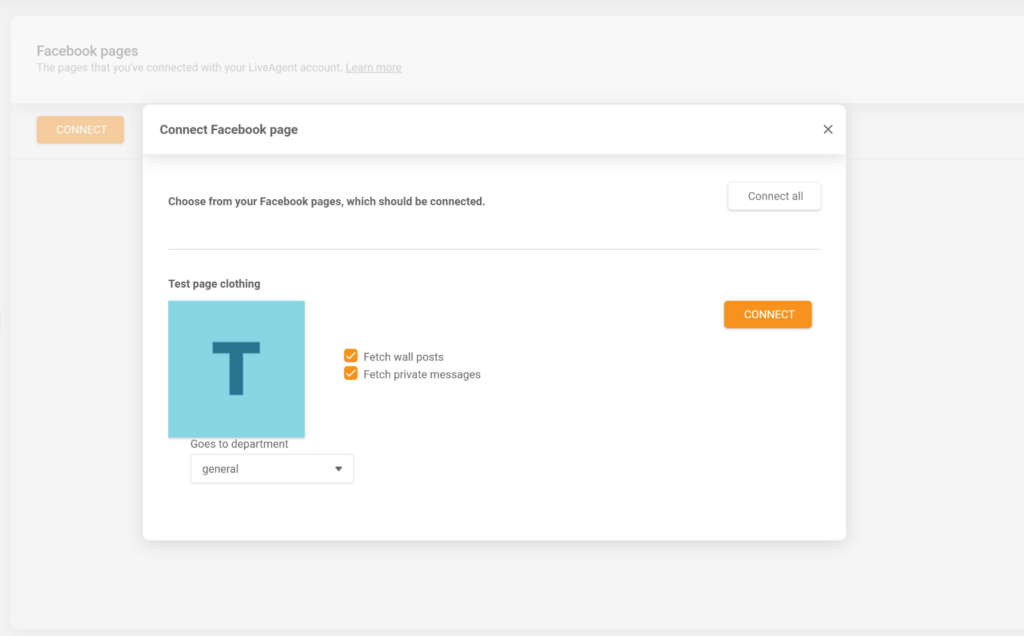 That's it. Connecting Facebook was extremely easy and it took less than a minute. The next step was to find out if it's just as easy with the Twitter integration. The option is available in the same menu section under the Settings in LiveAgent. You simply have to add your account and provide permissions to LiveAgent, just like in the previous step. This process will take you even less time than the Facebook integration.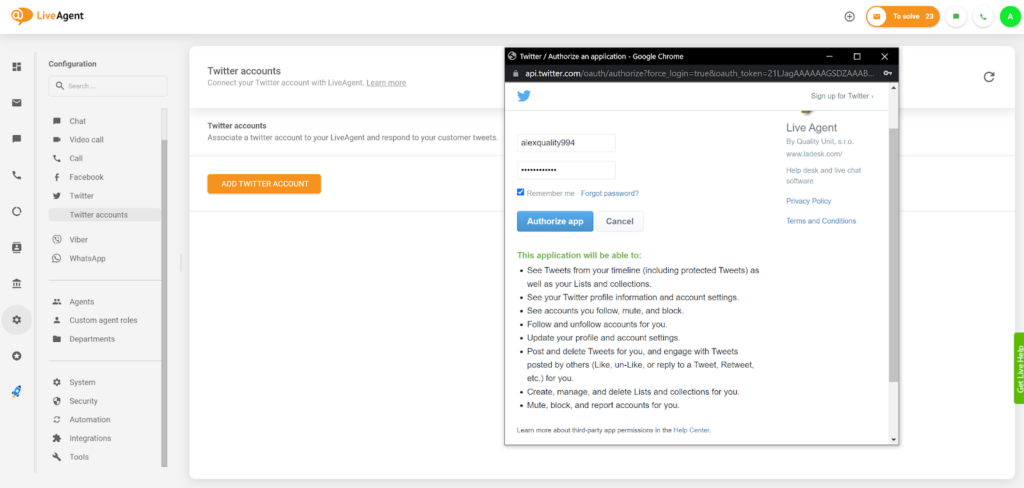 LiveAgent also offers an Instagram integration. It's not visible in the left side menu for some reason, but you can find it in the Settings, under the Plugins section. Once you activate the Plugin, you can see that the Facebook menu section on the left will update automatically to Facebook and Instagram. When you enter this section, you need to add another account by clicking the Connect button. You need to make sure that your Instagram account is connected to your Facebook, and you have it set as a professional account.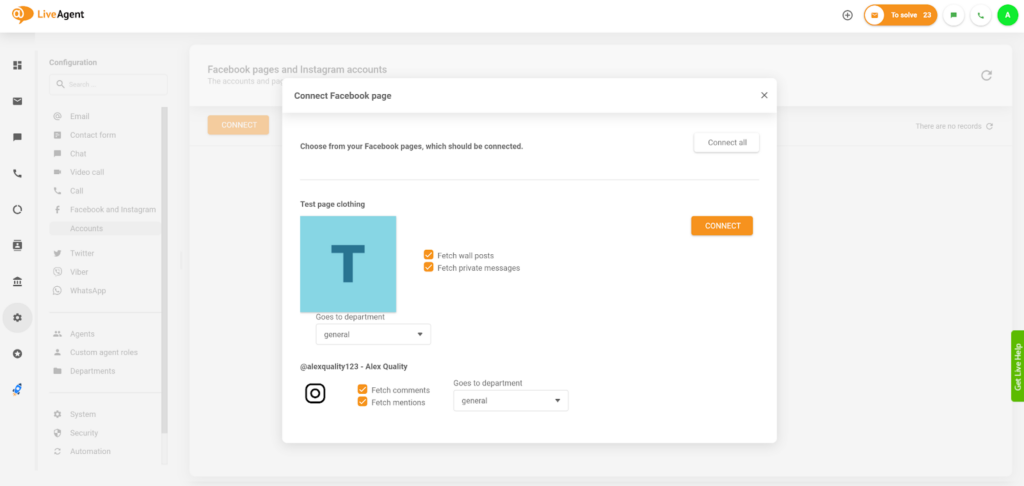 Any users who want to connect their Instagram account with LiveAgent should first make sure that their Facebook business page is connected with their Instagram first. I experienced some minor bugs while trying to do this in a different order. If you do it in the right order, you can connect your Facebook and Instagram with one integration instead of doing the same process twice.
Besides social media, LiveAgent can also handle messaging apps like Viber and WhatsApp, which we'll handle in a separate review. Before we get to the testing, let's take a look at the features related to LiveAgent's social media communication.
LiveAgent social media functionality & features
LiveAgent's social media functionality includes integrations with Facebook, Twitter, Instagram, as well as communication applications – Viber, WhatsApp, and Facebook Messenger. All social media channels are directly connected to the LiveAgent ticketing system which handles all incoming and outgoing communication. It also provides great features that can help you manage replies much faster and much more efficiently.
LiveAgent provides many features in this regard, such as automatic ticket distribution, collision detection, canned messages, ticket exports, filters, ticket merging or splitting, notes, rules and SLAs, and many more. Tickets in LiveAgent also support attachments and GIFs to help you make replies more engaging for your target audience. There are many more other features available, so feel free to check out the LiveAgent features page to learn more about them.
LiveAgent social media features user experience
Testing out the social media channels and features in LiveAgent was a pleasure. I used my test social media accounts to simulate the agent experience, and I'm pleased to say that all of them worked well. First, I wrote a comment on a status of my Facebook business page to find out if the integration works as it should. The comment arrived within a couple of seconds and appeared as a ticket in my universal inbox.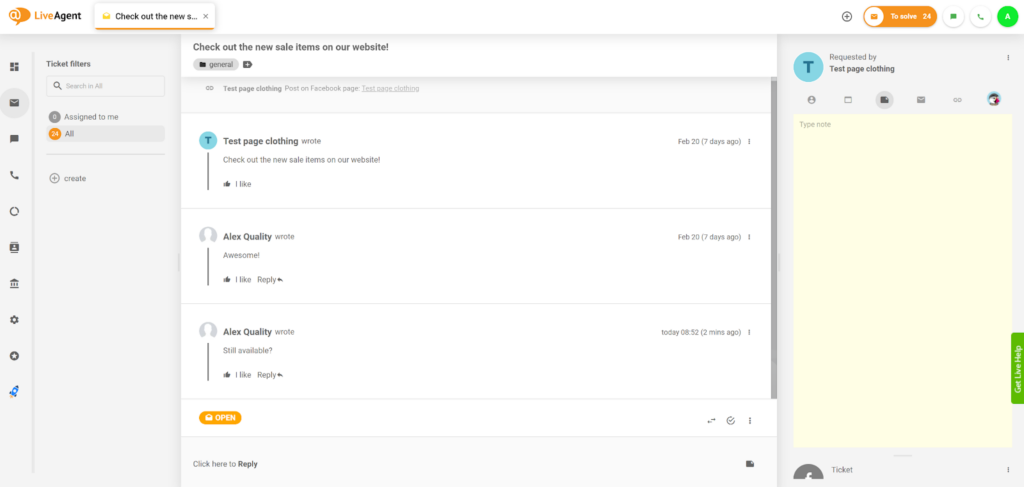 Replying was super easy, not only because of the easy-to-use interface, but also thanks to the available ticketing features. I got access to canned replies, attachments, notes, and other great functionality. The same experience was with answering Twitter tickets, and again, all features were readily available for use in the tickets. Instagram wasn't an exception to this, everything worked just as well as the previous channels.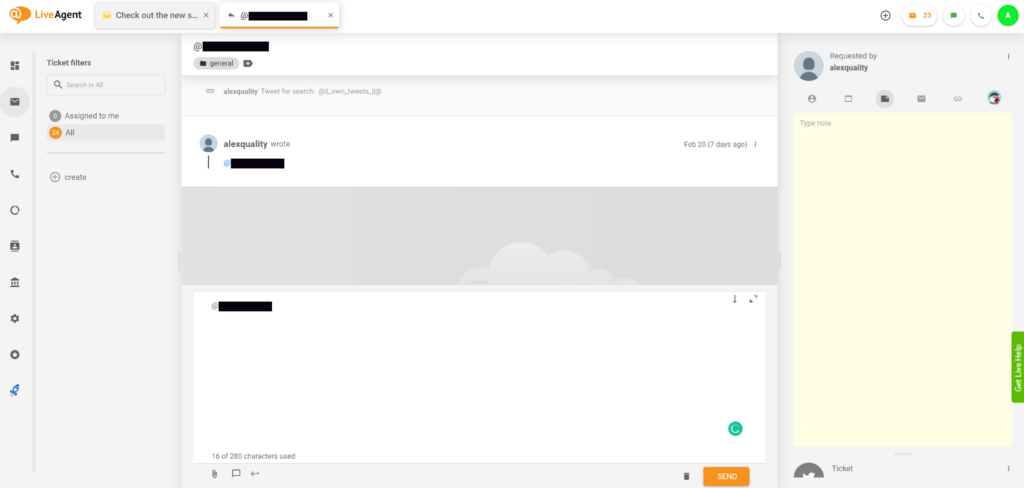 Overall, the social media capabilities of LiveAgent delivered a very good experience. The integration was as easy as it gets, while the ticketing system managed to fetch every Facebook message, Twitter mention, or Instagram comment (and other communication). LiveAgent has proved itself to be a good choice for social media customer service.
LiveAgent pricing
LiveAgent offers interesting pricing plans that come with a variety of features. Each more expensive plan comes with additional communication channels, giving you plenty of flexibility to choose which channels you want to focus on and pick the right plan for your business. Let's take a look at what you get with each LiveAgent plan. All plans except for the Free plan can give you access to social media integration.
Small
The Small plan costs $9 per month per agent. You get access to 1 incoming and 1 outgoing email account, 1 live chat button, chat satisfaction surveys, 1 API key, 1 integration, knowledge base, customer service, and white glove setup. You can get access to Facebook + Instagram for an additional $39 per month, as well as Twitter integration for an additional $39 per month.
Medium
The Medium plan costs $29 per month per agent. You get everything from the Small plan and additionally call center support, 10 departments, IVR, product training, custom domain hosting, 20 event rules, 10 time rules, 5 SLA levels. Just like with the Small plan, you can get access to Facebook + Instagram for an additional $39 per month, as well as Twitter integration for an additional $39 per month.
Large
The Large plan costs $49 per month per agent. You get everything from the previous two plans. Additionally, you get access to 1 WhatsApp account, 30 departments, a multi-knowledge base, senior account manager, 2 knowledge bases, 100 event rules, time report, 10 SLA levels, audit log, and more. The Large plan has all social media integrations included without any extra payments.
Enterprise
The Enterprise plan is the newest addition to the LiveAgent pricing options. It offers everything from all of the previous plans, but it adds a lot of additional services suitable for people who want something extra. You can customize your billing setup, get assisted WhatsApp integration, priority support, up to 40 custom roles, and much more.
Conclusion
LiveAgent offers everything you need to handle social media customer service effectively. All integrations with social media accounts work very well, and even though they don't bring all the functionalities they could, the ones that are there function without any trouble. LiveAgent is at its best when handling multi-channel support, regardless of what social media platform you want to use. All you need to consider is if it's well worth your money, as all plans can get quite expensive with the social media functionality.
When it comes to finding the right social media customer service software for your business, it is important to look into various options and find the one that fits your budget and meets all your needs. However, by using LiveAgent, companies can effectively manage customer inquiries, complaints, and feedback across popular social media platforms.