Superior customer service is a critical component of business success. A happy customer will come back again and again, but one bad experience could turn them away for good.
That's why it's important to have a plan in place to solve customer problems as efficiently as possible. In this checklist, we will discuss all of the necessary steps to providing an impeccable customer service experience from start to finish.
What is a customer service checklist?
Customer service checklists can vary from company to company, but typically include items such as addressing complaints, providing assistance and information, and thanking customers.
Other items that may be included are upselling or cross-selling products or services, confirming orders, and resolving any discrepancies.
The importance of a customer service checklist
A customer service checklist can help make sure you're providing the best possible experience to your customers in precious time. It can also help ensure that no steps are missed when dealing with a customer inquiry or issue.
It's important to have a solid customer service protocol in place so that all employees are aware of the steps they need to take to provide excellent customer service.
Regardless of who a customer interacts with at the company, a consistent customer experience is necessary. A customer service checklist also helps identify areas of improvement so that the level of service is maintained to the satisfaction of customers.
Who can benefit from a customer service checklist
A customer service checklist can be extremely helpful for agents who handle incoming inquiries or complaints. They must pay attention to details and follow a specific customer service process while communicating with the existing and potential customer.
Your company will stay consistent when dealing with multiple different employees if you have a solid set of guidelines. Also, it helps new hires get up to speed and avoid making errors and overwhelming customer service effort.
Business owners and leaders can use a customer service strategy to track the progress of their company's customer service department. They can review how well complaints are being handled and identify areas where improvements are needed.
They can also use it as a customer service tool to measure customer satisfaction levels and track changes. This can help business leader make decisions about where to allocate resources for customer service improvements.
Customer service managers and supervisors
A customer service checklist sample can be extremely beneficial for customer service managers and supervisors because they are responsible for overseeing the actions of employees. They need to make sure that employees are following company protocol when dealing with customers.
A checklist allows them to track customer service metrics and receive detailed reports about how well their entire customer support team is performing.
Explore the customer service checklist
It is a critical tool for any business to make sure customers are happy and satisfied. By following these simple steps, you can solve your customers' problems like a pro!
One of the first things your support team should do is make sure customers can easily contact them. Customers shouldn't have to search through pages of FAQs or send multiple emails before getting a response.
Why is an easily accessible support team important?
If customers can't get in touch with your support team, it will be difficult for them to resolve problems. They may become frustrated and take their business elsewhere if they do not receive assistance when they need it most.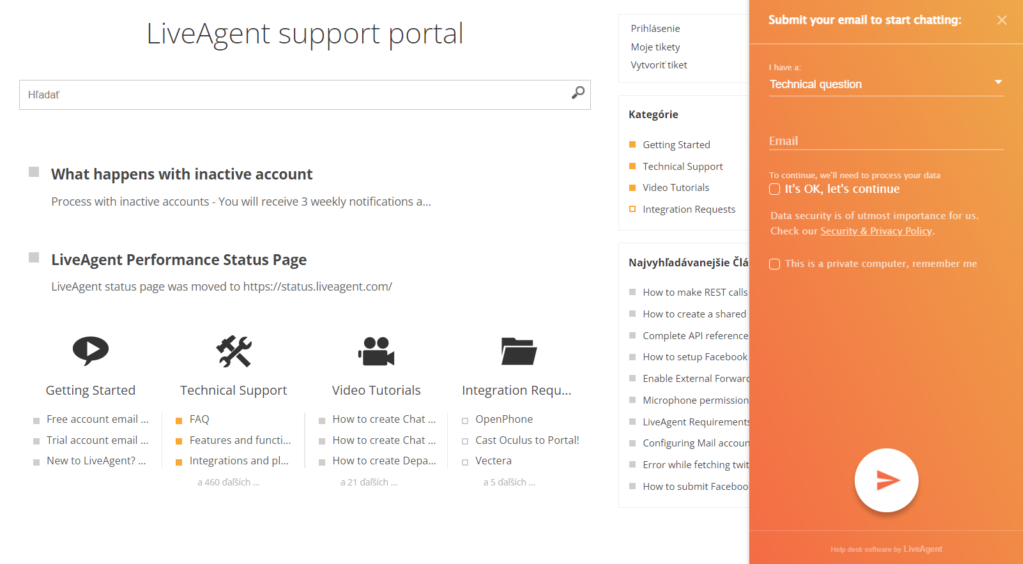 How to ensure your support team is easily accessible?
This will vary depending on your industry. Some companies offer 24-hour phone support while others provide chat features.
Some companies choose not to offer customer service over the phone but instead use different forms of communication like email or social media. The most important thing is that customers are able to quickly and easily get in touch with your team whenever they need assistance.
Don't forget that different types of inquiries may require more time than others, so it's important to be transparent with customers about how long they can expect to wait for a response.
time tracking apps
employee management software
customer support software
LiveAgent call center software
LiveAgent live chat software
Your customers need to know what kind of experience to expect when reaching out for assistance.
Why is setting clear customer service expectations important?
Clear expectations guide customers. Misunderstandings can be avoided before interaction between the customer and your team even begins.
How to set clear customer service expectations?
Customer service is expected to be correct, prompt, and pleasant. There are many ways you can set expectations, but the most important is to be consistent.
You want all your customers to have a similar personalized experience when they reach out for help. A clear understanding of what to expect from your business will help you avoid many problems down the road.
email ticketing system
LiveAgent ticketing software
employee management software
customer service software
a set of spreadsheets and charts
workforce planning app
It is important to notify customers of your business hours. They will know when you are available and what time zone to consider when reaching out for assistance.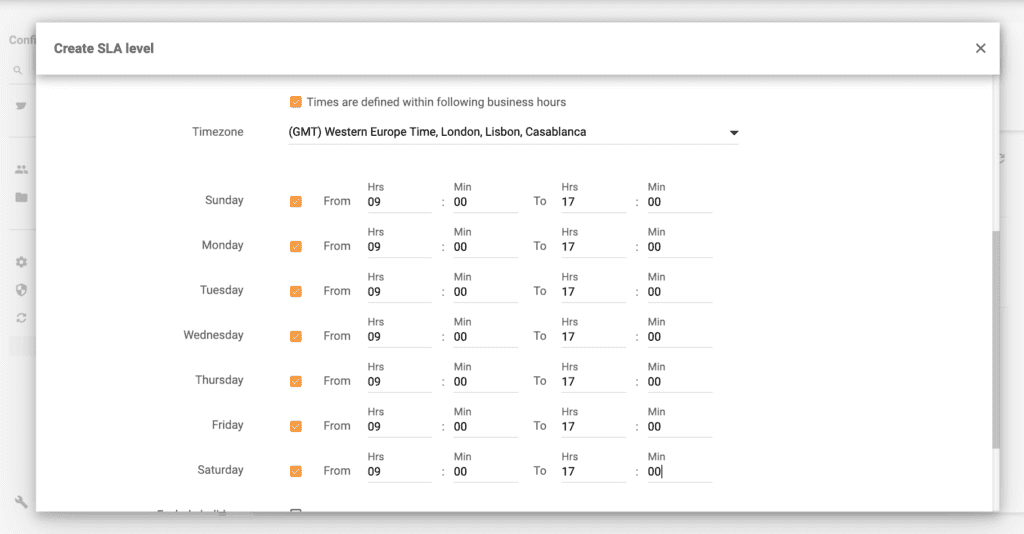 Why is specifying working hours important?
Specifying your support team's work hours explains limitations or delays.
If you are unable to offer customer service during certain times, it's best to let customers know. They should be able to easily find out when the business will be open for them before they reach out with a question or issue.
How to specify your working hours?
Choosing when you are available for support is your choice. However, you should consider how this may impact customers in different time zones or those who rely on other services at specific times.
If possible, try to be as accommodating as possible in order to provide the best customer service experience that you can.
LiveAgent time tracking app
working spreadsheets
industry benchmarks
One way to ensure your support team's quality is by using chatbots, which are computer programs that can mimic human conversations and help customers with their inquiries.
Why is taking advantage of a 24/7 chatbot important?
Chatbots are available at all times and can handle multiple conversations simultaneously. This way you can help more customers at any given time and avoid long wait times.
Chatbots are programmed to answer frequently asked questions, which frees up your support team's time for more complex inquiries.
There are many different chatbots out there to choose from, but it is important that they align with the type of customer service you want to provide and fit with your business goals.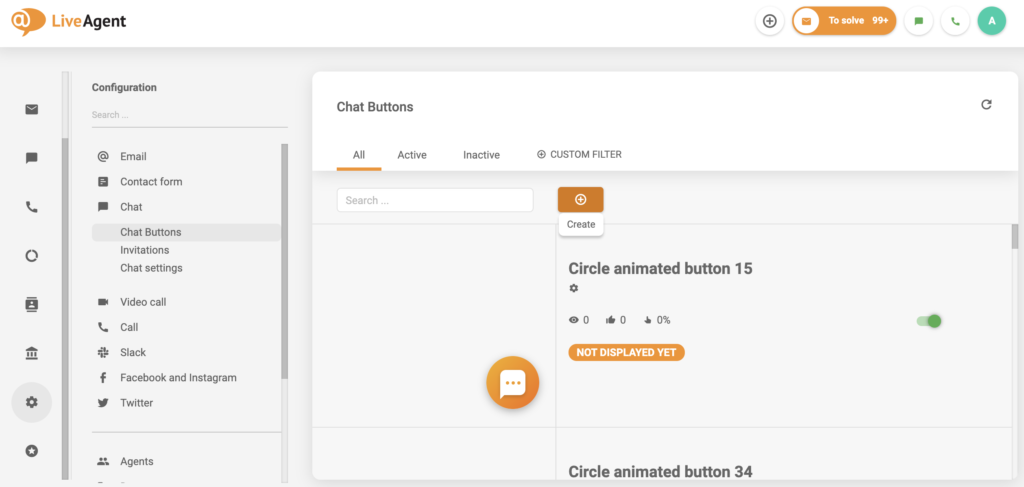 How to take advantage of a 24/7 chatbot?
You can use a chatbot on your website, social media platforms, or in your email marketing campaigns. You should ensure your team understands how to use the chatbot so that everyone is on the same page and knows how to make the most of it.
Make sure you know how to use the chatbot and onboard your team so that everyone will be on the same page and knows how to best use this valuable asset.
chatbot software
customer service chatbot
Knowing your products and services helps you provide better customer service. You can offer solutions to customers once you understand their requirements.
Why is becoming familiar with your products and services important?
Customers reach out for support because they have a question or issue that needs resolution. If you are familiar with your products and services, it will be easy to answer questions or help resolve issues.
Moreover, you will be able to provide solutions that are tailored to your products and services, which creates a better customer experience.
Get familiar with your product solutions and the different features they offer. This knowledge can then be passed on to customers who reach out for support.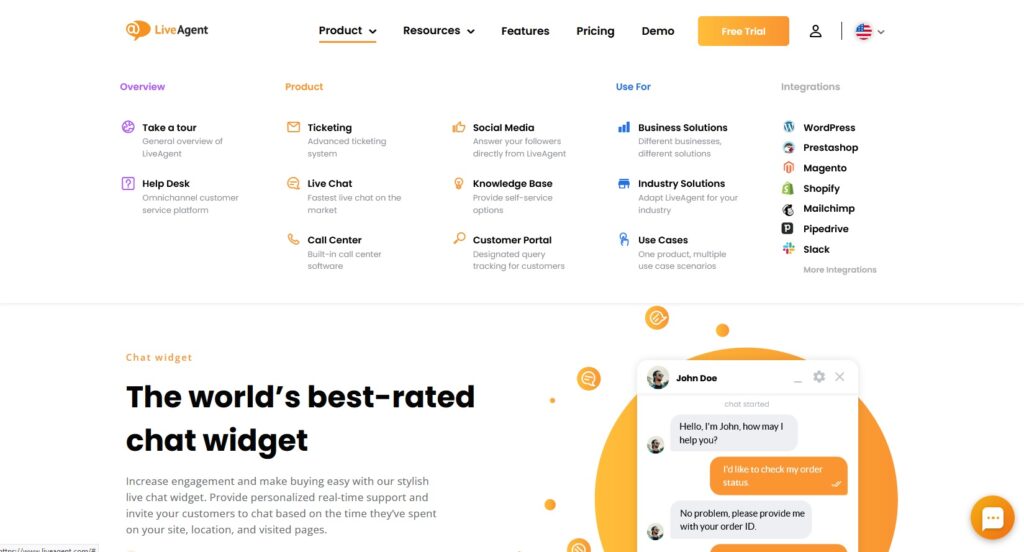 How to become familiar with your products?
You can easily enhance your product knowledge by reading through product documentation and learning the ins and outs of what each service has to offer. If you are not familiar with something, ask a teammate or senior colleague.
It is also important to test out your products and services so you are familiar with them. Additionally, attend webinars and product training sessions to learn more about what your company offers.
product manuals
training materials
webinars
support forums
When it comes to customer service, putting the customer first should always be your top priority. This means resolving their issues and answering their questions in a timely and efficient manner.
Why is putting the customer first important?
It is key to creating a positive customer experience. It helps your business's reputation and improves the overall perception of your brand. Furthermore, it will help you create loyal customers.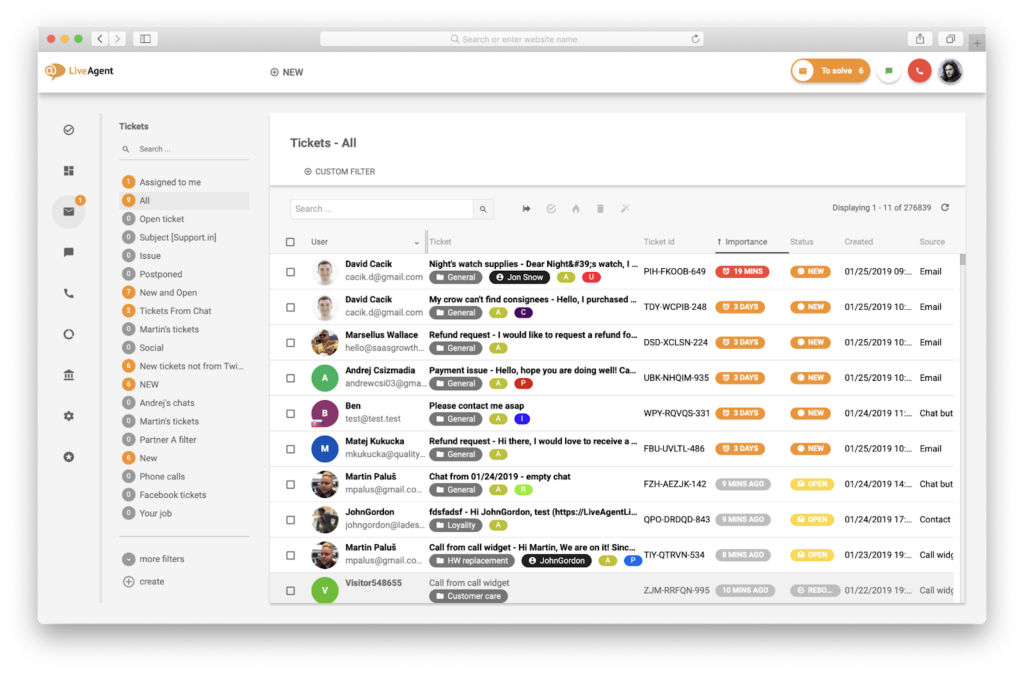 How do you put the customer first?
Provide quality customer service by resolving issues accurately via an efficient customer service system.
Listen to the needs of your customers and add features to your product or service based on what your customers want. Secure reliable service to them.
Use a goal management method like OKRs (objectives and key results). It is an effective strategy that can help you achieve daily goals while also staying on top of long-term objectives.
chatbot software
LiveAgent livechat and call center
customer service contact widgets
When it comes to customer service, responding quickly is essential. This means resolving inquiries and answering questions as soon as possible.
Why is responding quickly important?
Customers may become frustrated if you do not respond right away, and they may take their business elsewhere. In some cases, they might leave negative reviews which can damage your reputation.
And, if the issue is time-sensitive, not responding quickly can make the problem worse.
How to respond quickly?
You should always have a plan in place for how you will respond to customer inquiries. This includes setting up a process for how you will address different types of questions and resolve issues.
Additionally, make sure that you have the necessary resources in place so you can handle customer requests quickly. Establish a response time for your agents so they can deliver the level of customer service you expect.
live chat software
email support software
phone support/call center software
helpdesk software
social media monitoring
customer communication management tool (CCM)
When it comes to customer service, one of the most important skills (in addition to active listening) is being able to match customer needs with product solutions. This means understanding what each customer wants and needs, then providing them with the best possible solution.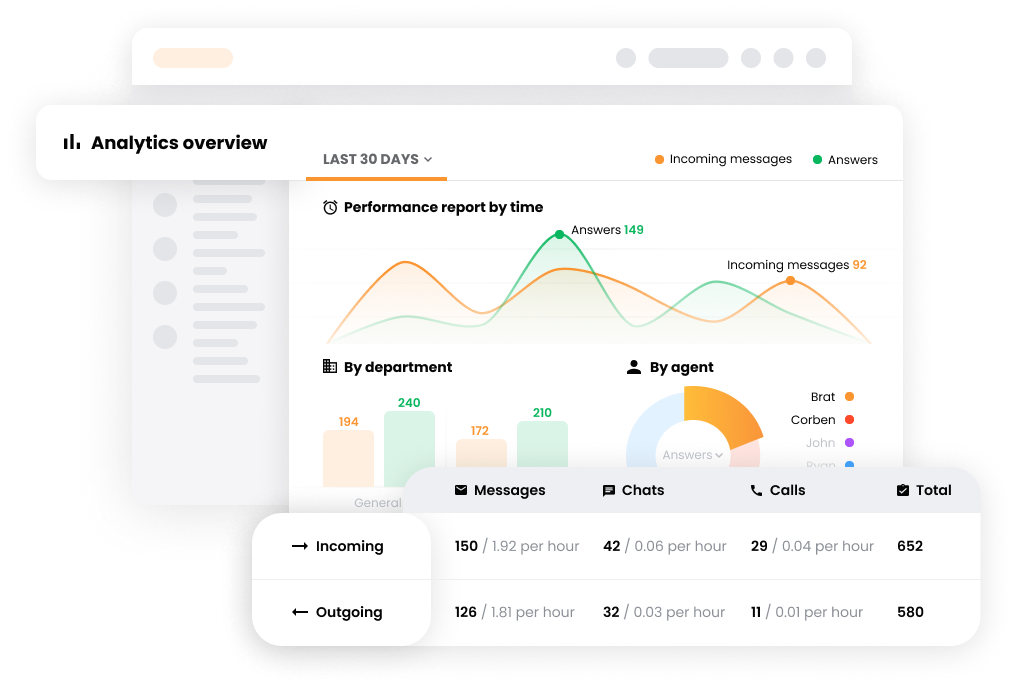 Why is matching customer needs with product solutions important?
It may be difficult to provide the best customer service if you are unable to match customer needs with product solutions. This can lead to lost sales, unhappy customers, and an overall negative impact on your business's reputation.
How to match customer needs with product solutions?
By properly training employees on how to ask questions during conversations with customers, you can gain valuable information on what product solutions customers want. See if you are able to provide these solutions in the future if you do not have them on offer yet. Be frank with your customers on what product solutions you have available.
buyer persona matrices
customer journey mapping
feature/functionality matrices
problem-solution fit matrices
product roadmap software
market analysis software
Keeping the customer informed at every stage of the resolution process is essential. This means letting them know what you are doing, how long it will take to resolve the issue, and when they can expect a response.
Why is keeping the customer informed important?
If you do not keep the customer informed, they may feel that their issue is not being taken seriously or that you are ignoring them.
This can lead to frustration and poor reviews which will hurt future sales. In a world where customer experience has huge power, this is the last thing you want.
How to keep the customer informed?
Make sure that you have a plan of the resolution process and how you will communicate it with your customers. Explain how you plan to resolve their issues, an estimate of when they can expect resolution, and what you will do if it cannot be resolved right away.
You should make sure your employees understand the importance of keeping your customers in the loop.
email address database
email forwarding solutions
CRM
tracking apps
One of the best ways to provide quick and easy customer service is by having ready-made answers to commonly asked questions.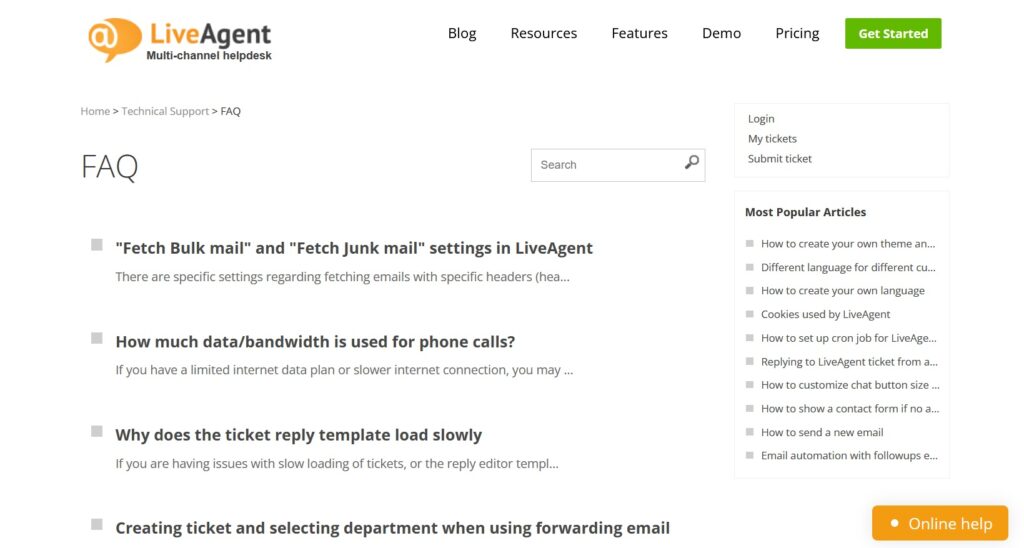 Why is preparing answers important?
Having ready-made answers for commonly asked questions reduces the number of emails and chats with customers. Therefore, your employees can spend their time on more important tasks, such as solving new customer problems or looking for ways to improve products and services.
How to prepare answers?
Create a list of the most frequently asked questions from customers so that you can prioritize them based on how often each one comes up.
Write detailed responses including possible solutions or next steps. You can then prepare your ready-made answers to ensure that customers are served quickly and efficiently.
social media management software
email autoresponders
email templates
chatbots
voice recognition software
If you're looking to provide quick and efficient customer service, it's important to determine a set timeline in which customers can expect answers or solutions to their inquiries.
Why is determining average response and resolution times important?
It allows you to set customer expectations and ensure that they are being met. It also lets you track your performance so you can see where improvements can be made.
Furthermore, it minimizes idle moments within your team and respects your customers' time.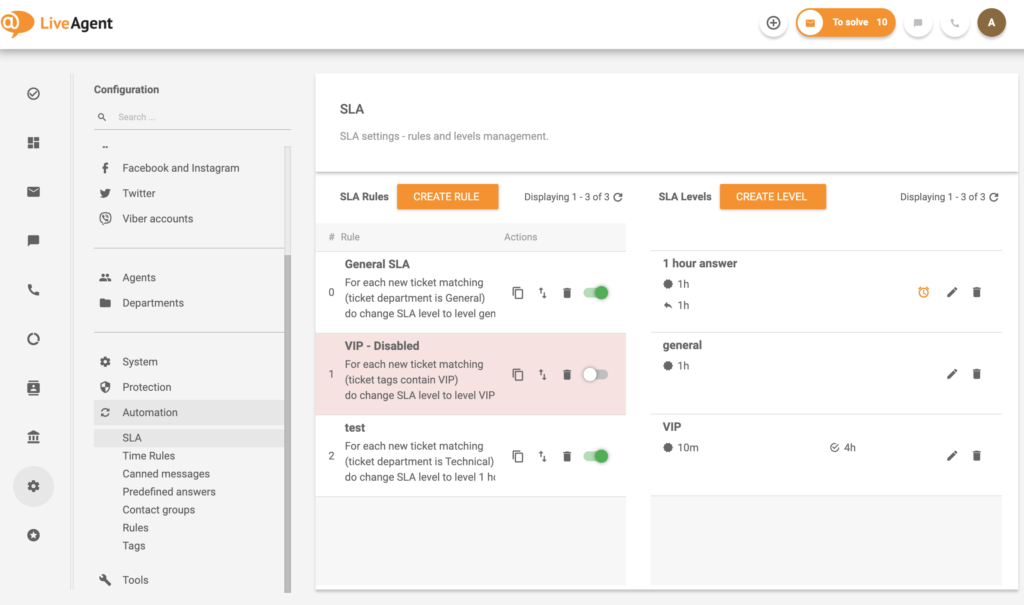 How do you determine average response and resolution times?
Start by measuring how long it takes you to respond to an inquiry from beginning to end.
Consider how long the customer waits for a response as well as how long it takes to fix the customer issue.
CRM
time management apps
tracking apps
help desk software
One of the biggest challenges you can face when providing customer service is managing your customers' emotionally charged responses. You need to know what to do when they are frustrated.
Why is managing customer frustration important?
Don't let your customers' frustration get in the way of efficiently resolving issues at hand.
It's important to ensure that you handle customers' negative emotions with empathy but without letting them take over completely. This will allow for a better resolution as well as an improved relationship with the customer.
How to manage customer frustration?
The first step is acknowledging how your customer is feeling. You should then try to understand why that is and if there's anything you can do to help resolve it.
It's important not to dismiss their feelings of anger, but instead work with them so they can overcome their frustrations. Furthermore, you should always apologize for any inconvenience caused and ensure that the customer is satisfied with the resolution.
NPS surveys
customer satisfaction surveys
empathy training
anger management training
customer service manuals
complaint handling procedures
After taking the time to understand your customer's frustration, try and help them resolve their problems as quickly as possible.
Whether it involves solving a billing issue or confirming an order. What matters is that you take care of their problem.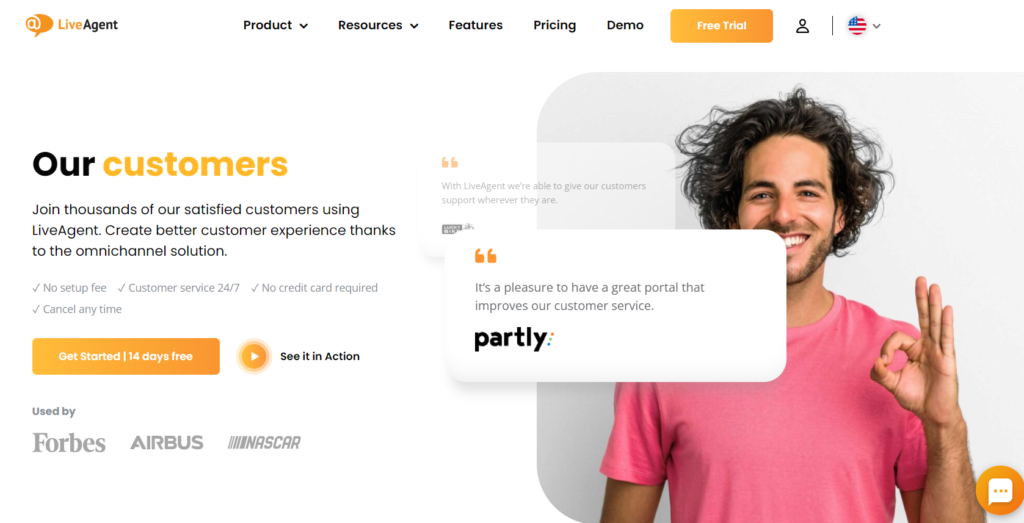 Why is resolving the problem important?
You should ensure that your customer's questions are answered to their utmost satisfaction. The act of going the extra mile shows your customer that you care about them. It will hopefully lead to them doing business with you in the future.
How to resolve the problem?
There are a few things you need to be aware of. The first is that not every customer's problem can be solved in the same way and from time to time you may need to get creative.
Secondly, it's important that you have all the necessary information so you can properly diagnose and resolve the issue. Last but not least, make sure your customer is satisfied with the solution before closing the case.
problem-solving skills
customer service manuals
complaint handling procedures
resolving customer complaints training course
Even when your client is dissatisfied or upset, it's critical to keep a pleasant and optimistic attitude. You should never blame them for the problem, but instead, try redirecting the conversation towards finding a solution that works best for everyone.
Why is it important to stay polite and use positive language?
When you are trying to resolve an issue with someone who might be feeling uncomfortable or angry, it's important to keep the conversation as positive and polite as possible.
This can help to diffuse the situation and make your customer more receptive to hearing what you have to say. It also shows that you are willing to work with them in order to resolve the issue.
How to stay polite and use positive language?
It can be challenging, but always stay respectful. Even if the customer isn't being polite themselves.
Using negative language won't get you anywhere. Make sure to keep your tone positive and upbeat – this will help set the mood for the conversation.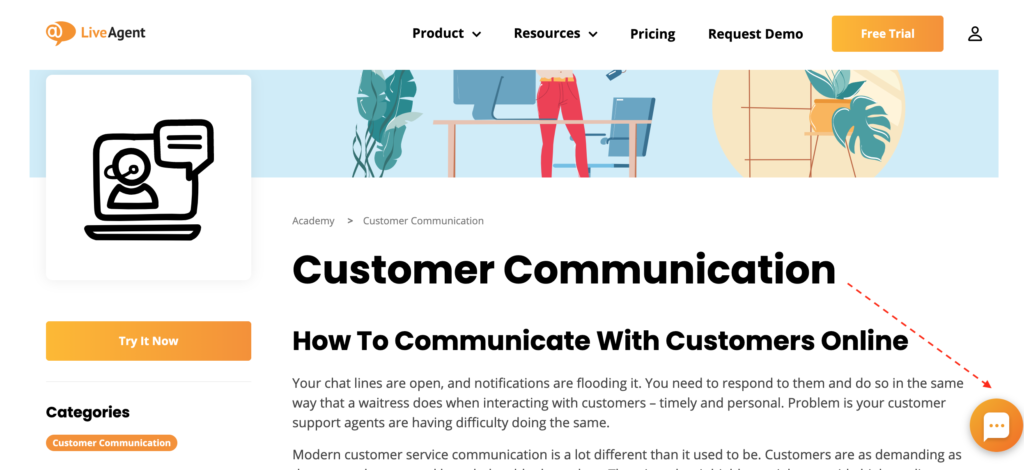 polite language skills
customer service manuals and templates
complaint handling procedures
positive attitude training course
It's perfectly normal to get upset or frustrated when you're having a dispute with one of your customers, but it is important that you keep those emotions in check.
Why is not getting emotional important?
When dealing with customer complaints and other issues, there are many points where the conversation can get heated. It's imperative that you keep your composure and stay calm. Getting emotional will only make things worse.
How to not get emotional?
There are a few tips to help you remain calm when dealing with customer complaints at work. For example, take some time for yourself. Breathe, take a short walk, or a sip of water.
This will help you to approach the situation with a clear head and be more receptive to what the customer is saying. You can also try actively listening. Try to understand their perspective.
emotional intelligence training course
hands-on approach and skills
internal policy and guidelines
customer service manuals and templates
complaint handling procedures
This helps to create a long-term relationship with a customer.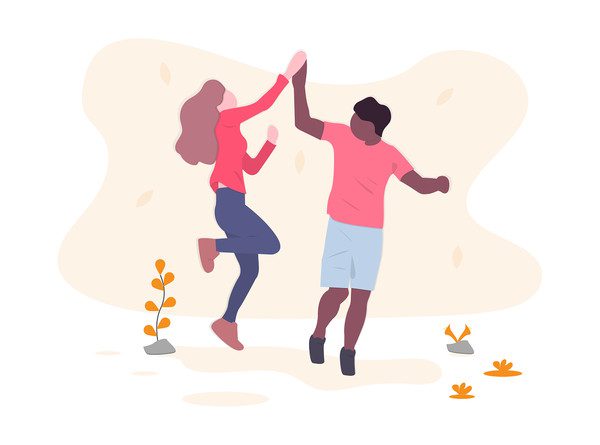 Why is it important to exceed expectations?
Making your clientele feel truly valued might encourage them to refer their friends and family members to do business with you. Also, it can be a great way to set yourself apart from your competition.
How to exceed expectations?
There are many ways to go above and beyond for your customers. For example, send them a handwritten note thanking them for their business, or give them a small gift as a token of appreciation.
If they have had a bad experience, you could go the extra mile and offer them a discount on their next purchase. Make sure to offer them something that they won't expect.
audience mapping
social media monitoring reports
customer feedback
surveys
extraordinary customer service skills
One thing we can agree on is that the customer is always right. Next time you're talking with a customer, be sure to ask for their feedback and suggestions.
As a business outcome, you will better understand what they expect from your business and they will feel more involved in your organization.
Why is asking for feedback important?
When you ask for feedback, it shows your customers that you care about their opinions and want to make changes based on what they have to say.
It gives them a voice, which can be really powerful when it comes to making changes at your company. It goes without saying that this can positively affect customer experience and loyalty.
How to ask for feedback?
There are many different methods for collecting customer feedback and reviews, but one of the best is simply asking them directly.
Send out an email campaign survey or use your social media customer service channel to start a discussion. If you're face-to-face with a customer, don't be afraid to ask for their thoughts on your services.
customer surveys
focus groups
online forms
social media listening
An audit of your customer service team can reveal room for improvement. You can use metrics to evaluate your performance including product training opportunities and opportunities for customer service representatives skills.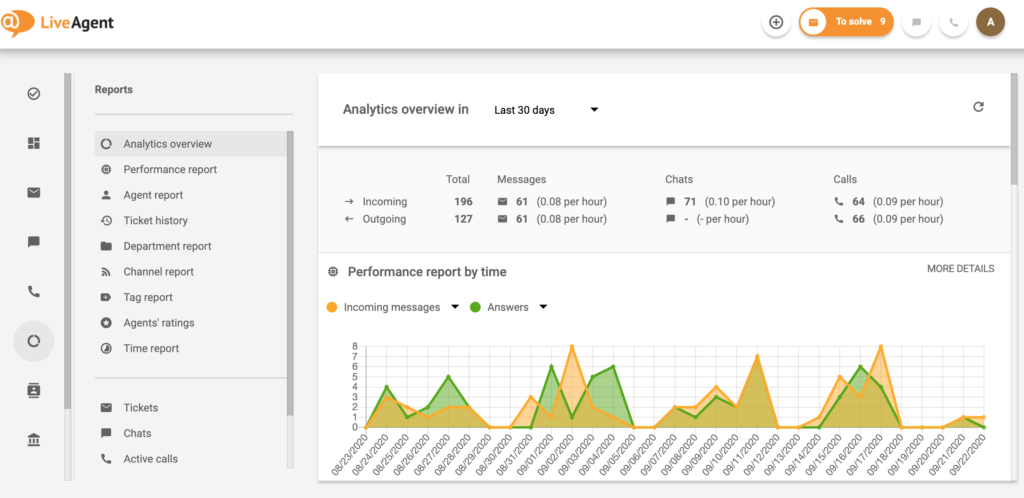 Why is it important to review your customer service performance?
Review your customer service performance periodically. Keep your business on top of its game by making sure that you are always providing the best experience for your customers.
How to review customer service performance?
Keep in mind that the most important aspect of performance reviews is to make sure you conduct them on a regular basis.
You could hold an annual review and see where your team is excelling, as well as what areas need improvement. The other option is to conduct quarterly reviews, which would mean you're taking a more proactive approach to providing feedback.
LiveAgent
call recordings
customer service surveys
NPS surveys
customer service analytics dashboard
Summary of the customer service checklist
Make your support team easily accessible
Set clear customer service expectations
Specify your working hours
Take advantage of a 24/7 chatbot
Become familiar with your products and services
Put the customer first
Respond as quickly as possible
Learn how to match customer needs with product solutions
Keep the customer informed at every stage
Prepare answers for commonly asked questions
Determine your average response and resolution time
Manage customer frustration
Resolve the problem
Stay polite and use positive language
Don't get emotional
Exceed expectations
Ask for feedback
Review your customer service performance
Frequently

asked questions
How to use checklists to improve customer support?
Create a checklist of common issues that customers encounter and ensure that your team knows how to address them. Checklists can also be used to monitor the progress of customer support tickets, so you can make sure they are handled as soon as possible. Lastly, checklists can be used as a training tool for new customer support staff to become familiar with processes and procedures.
How do you audit a customer service checklist?
Confirm that all necessary items are included and accurately described. For example, if the checklist says 'greet the customer', make sure it specifies how to do so (e.g. 'hello', 'welcome', or 'good morning/evening'). Finally, be sure to audit the checklist regularly to keep it up-to-date. Checklists can quickly become outdated, so it's important to review and update them periodically. Tailor the customer service checklist template to your brand's specific needs.
What are the 3 most important things in customer service?
We'd define it in these three terms: customer-centricity, empathy, and quality service. Why these? The former is the core of great customer service and can be accomplished by designing processes that make it easy for customers to do business with you (i.e. tell you what they want). Empathy is another crucial aspect of great customer service because it's through this emotion that your employees can know how to help every customer solve their problems without alienating them. The latter gives people something they'll remember and talk about, which plays a big role in how likely someone is to do business with you and even refer others.
What skills do you need to demonstrate in order to provide good customer service?
You should be able to communicate effectively, have a strong work ethic, and possess excellent problem-solving skills. Communication is key in customer service. To be able to effectively communicate with customers, you need to be able to relay information clearly and accurately. Having a strong work ethic is important as it ensures you are always doing your best to resolve any issues customers may have. The ability to quickly identify and solve any problems that may arise is also crucial for success.
Why do soft skills matter in customer service?
They allow customer service reps to connect with clients on a personal level. This helps build customer trust and customer loyalty, which leads to increased sales and better customer retention rates. In addition, soft skills help defuse difficult situations and resolve complaints in a positive way.