Many businesses have no idea how to handle customer complaints. This might be because they do not know the best way to communicate with customers or how to solve their problems.
This is a huge problem because unhappy customers will often tell their friends and family members about their negative experiences, which can lead to a loss of business. Do you want to know how to develop a plan to handle customer complaints? If so, keep reading.
The importance of a customer complaint handling procedure checklist
Customer complaints are a normal part of doing business. In fact, it's impossible to satisfy everyone at all times.
However, businesses that don't have a plan for dealing with customer complaints can quickly find themselves in trouble. If you don't take action to fix their issues, customers are going to feel insulted or ignored and may not return again in the future.
Being organized is key to being able to identify what type of complaint someone is bringing forward. This means that having a solid plan in place for dealing with different types of customer complaints is essential.
That's why it's so important to develop a customer complaint handling procedure checklist. This will help ensure that all complaints are dealt with properly and consistently, leading to happier customers.
Who can benefit from a customer complaint handling procedure checklist?
customer contact employees
customer support teams
customer service representatives
organizational leaders and managers
The performance of customer contact personnel is impacted by a customer complaint handling procedure checklist. It will be useful for any type of business unit that has customers and wants them to enjoy a positive experience each time they interact with the brand.
So no matter what type of company you have, if you're looking to improve your customer service and increase customer satisfaction then a customer complaint handling procedure checklist is for you.
Explore the customer complaint handling procedure checklist
It's not enough to just fix the issue at hand – you need to make sure that your customers are satisfied with how it was handled too. This means listening closely, taking notes about what has been said, following up on their complaints in a timely manner, and then sending an email or a letter once you have all of the information necessary.
Why is listening carefully important?
It's important to listen carefully because there may be other issues under the surface, especially if this is your first time dealing with that customer. You want to make sure that you understand where things went wrong so that it doesn't happen again in the future.
Listening to your customers will also help you build better relationships with them and increase their loyalty. When customers feel like they're being heard and their complaints are taken seriously, they're more likely to come back in the future and recommend your business to others.
How can you listen carefully?
It starts with paying attention. This means listening intently and not doing anything else while they are talking with you on the phone.
The next thing that you need to do is take notes about what has been said. This way, you can have all of your facts straight when it comes time for follow-up conversations further down the line.

Finally, make sure that you reply to them promptly and send an email or letter letting them know what has been done. Don't forget to add that their satisfaction is your top priority.
Call center software (e.g. LiveAgent)
active listening training sessions (or any other additional training)
social media monitoring – Facebook Insights, Google Alerts, Mediatoolkit
LiveAgent's inbox will come in handy here as well
Gathering information is an important part of handling customer complaints. This means getting all of the details about the situation so that you can properly assess and resolve it.
Why is gathering information important?
The information you collect will help you figure out what went wrong and how to fix it. Also, you must have complete information in order to provide your customers with accurate information.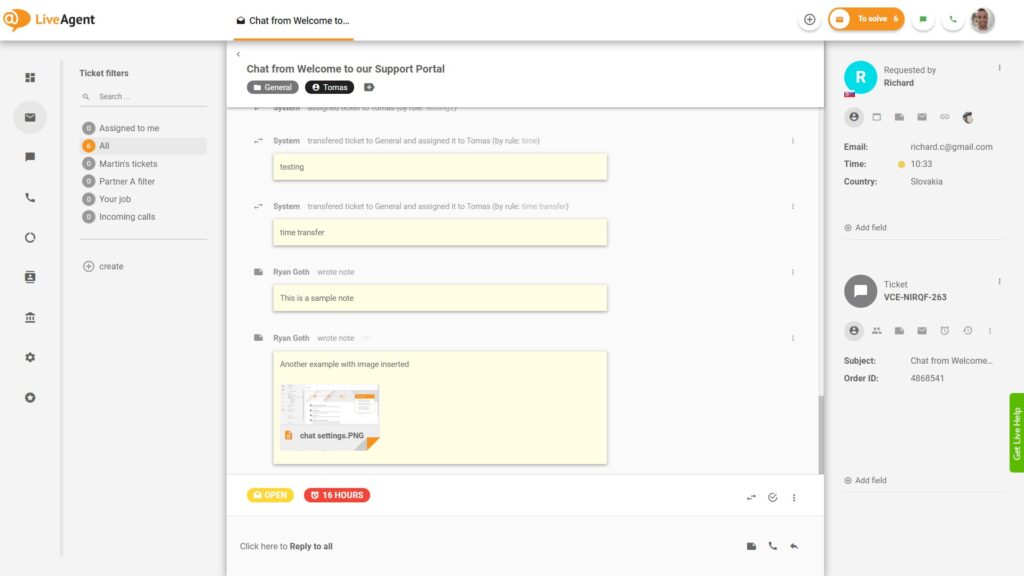 How can you gather information?
There are a few different ways that you can go about gathering information:
talk to the customer on the phone or by email
take notes during the conversation
ask for additional details in follow up calls or emails
LiveAgent
a CRM system such as Salesforce will allow you to track customer interactions and collect data about complaints (the streamlined process benefits both customers and agents)
survey software such as Survey Monkey can help you gather feedback from clients about their experience with your business
Notepad++ or Evernote for writing down comments
When you are ready to record a complaint, make sure that you do so in a way that will be helpful for improving your service quality and performance characteristics. Simply recording every single detail is not good enough, so instead, choose which points you need to include and why they're important.
Why should you record customer complaints?
Recording customer complaints can help you make continuous improvements to your service quality. This is done by gathering information that will help you assess the situation so that you can fix the issue.
How should you record customer complaints?
Recording customer complaints should be done in a way that is both useful and efficient. You want to gather all of the details, but you don't need to record them all at once. Make sure that you are recording information such as:
subject/title – write down the type of complaint (service quality, pricing, or product)
information about the customer – including their name, contact information, and account number
date – when it happened so that you have a timeline
details of the complaint – what they said about the problem
resolution – include what was done to resolve the complaint and how the customer felt about it
Be sure to inform the customers that the calls are recorded, otherwise, it can have unpleasant legal ramifications.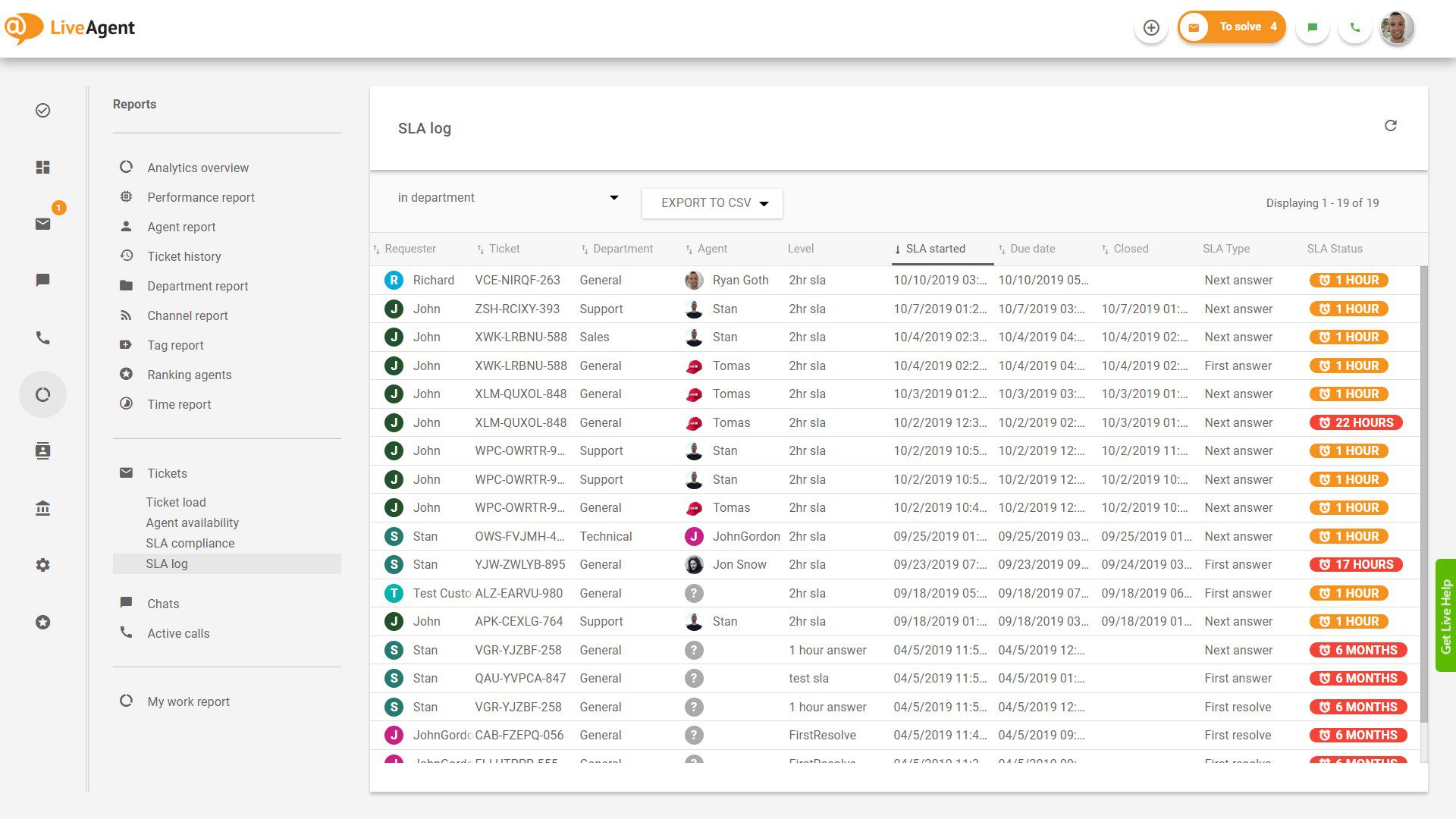 spreadsheet software – Excel or Google Sheets
SurveyMonkey or Google Forms – ask customers questions about their experience with your business
Help desk software by LiveAgent – allows you to record every customer interaction, have them all in one place, and write down details from each of them if needed
CRM systems such as the cloud-based Raynet
When a customer is voicing their complaint, it's important to show that you understand and care about what they're saying. Even if the issue is due to a user error, always make sure to address them politely and with compassion. This will help to build trust with the customer and make them feel like you are taking their concerns seriously.
Why should you show empathy to customers?
Showing empathy can help to improve your relationship with the customer as well as resolve the complaint. It can also increase your chances of retaining that customer for future business because it shows that you are willing to work with them and solve their problems in a way that makes sense for both parties.
How can you show empathy towards customers?
When listening to your customers, make sure that you are showing empathy by doing the following:
Listen – make sure that you hear what they have to say and don't interrupt them. During this step of the customer service process, it is important that you understand exactly why they are complaining.
Ask questions – this can help to clarify details about what exactly happened during the interaction. It will also give your customer an opportunity to talk more about why they are unhappy and what they would like to see happen as a resolution.
Acknowledge their feelings – let them know that you understand how they feel by saying things such as "That sounds very frustrating" or "I'm sorry that happened".
Don't argue – even if you don't agree with what the customer is saying, you can show empathy by listening and acknowledging their input.
the tone of your voice – make sure that it is sympathetic and understanding, not defensive or argumentative.
body language – make eye contact and use expressions such as nods and hand gestures to show understanding in person.
email response – sending a message, especially if you include an apology or explanation of what happened, can make your client feel that you are taking their complaint seriously and resolving it.
personalized messages – inform the customer about the stage of the complaint resolution process they are at.
When a customer complains about your business, it's important to thank them for doing so. This will make them feel like you appreciate their feedback and are happy to have an issue pointed out so that you can address it and prevent it from occurring again.
Why should you thank customers?
Sending your customers an email thanking them for bringing up concerns can help with relationship building as well as showing that you are working on resolving the issue. Thanking your customers can also make them feel appreciated and more likely to return in the future.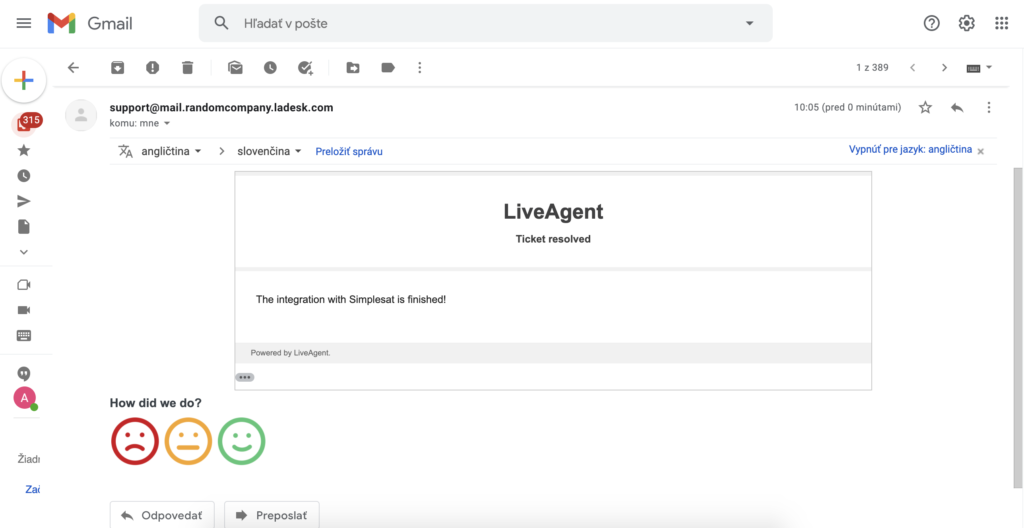 How do you thank customers?
There are a few different ways that you can say thank you to your customers for complaining:
Thank them for their feedback – this will show that you appreciate them taking the time to tell you about their experience.
Thank them for bringing the issue to your attention – this will let them know that you are grateful they contacted you and are working on fixing the problem.
Thank them for their patience – letting customers know that you understand they may be frustrated can help to calm the situation.
thank you email templates – sending out a template can help your business appear more professional, show that the team takes concerns seriously, and gives you some extra time for resolving problems.
personalized messages – thanking customers for their feedback will show that you took the time to read what they had to say and appreciate their input.
phone call – after resolving the complaint, a conversation with someone from your team can help show that you care about the customer's experience and want to ensure that they are satisfied.
When a customer complains, you need to remember that the issue may be with them, not your business. That does not change the fact that you should apologize to the customer even if you believe that your company did nothing wrong.
Why should you apologize to customers?
An apology can show a customer that you are taking their complaint seriously and are working on resolving their issue. This can also serve to demonstrate your sympathy towards their frustration and acknowledge any inconvenience caused by the problem they are having.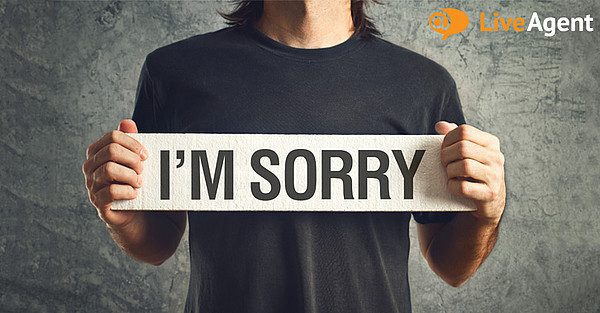 How do you apologize to customers?
In order to take customer complaints seriously, it's important for a company representative to apologize directly to the client. Be sincere in your apology and take responsibility for the issue.
If you are not the person who handled the customer's complaint, be sure to pass along a message of apology as soon as possible.
apology email templates – a generic apology template can be sent to the customer after resolving their issue. This will show that you are concerned about how they were treated and want them to know that you care about the reputation of your business and are proactive in fixing any issues with service or products.
phone call – a good way to let the customer know that someone is personally handling their problem.
After apologizing to the customer, it's important to offer a solution. This can be anything from a discount on their next purchase to a full refund.
Why should you offer a solution to customers?
Offering a solution shows that you are taking action to fix the problem and want to make things right for the customer. It can also be a way to please them and retain their business in the future.
How do you offer a solution to customers?
When you are offering a solution, it's important to follow the procedure and to not make promises that your company cannot keep. Instead, focus on giving an accurate description of what will happen next. This helps show the customer that you have listened to their complaint and are working on a resolution.
coupons – if the solution is a discount off their next purchase, send the client a code that they can use on your site or in-store
thank you letter/email – sending a thank you message after the issue has been resolved can help show that you appreciate the client's business and are sorry for any inconvenience caused
gift cards – sent to the customer in the mail or electronically
After offering a solution, it's important to discuss the options that are available. This can help the customer feel heard and valued, as well as that you take their complaint seriously and work towards resolving it.
Why is discussing possible solutions important?
Discussing the possible solutions with the customer allows them to choose one that is best for them. It also shows that you are willing to work with them and are not just trying to push a solution on them that may not be suitable.
How do you discuss possible solutions?
It's best to let your customers know about all of their choices before making any decisions on what to do next. This way, they will feel that their suggestions are being taken into account and can be part of the decision-making process.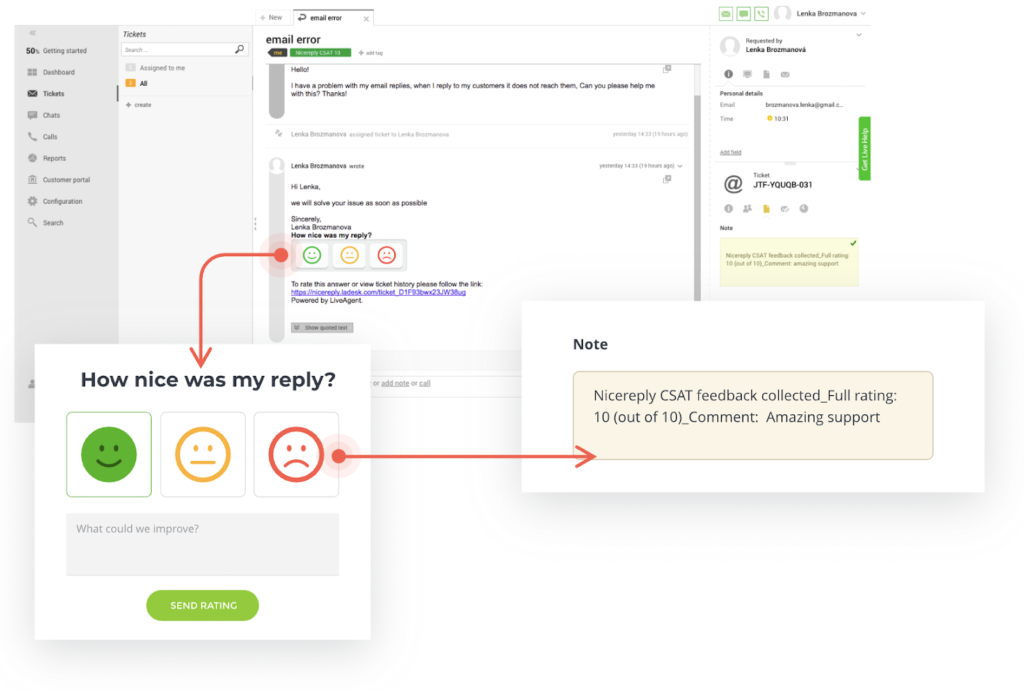 customer satisfaction survey – collect suggestions from your clients and make them feel heard
email template for follow-up – send the customer a message with all of their options included in it so that they know what will happen next after discussing solutions with them
After the customer's complaint has been handled, it is important to follow through on your promises. This shows that you are genuine in resolving their issues and want to keep them happy with your business, protecting you from reputation risks.
Why should you keep your promises to customers?
Keeping a promise lets the customer know that their needs have been met and can help build trust between your business and them. It also helps show that you are reliable, trustworthy, and a business that customers can count on to get the job done.
How do you keep your promises to customers?
Set clear guidelines for support agents as to what they can offer in a given situation. This way, everyone will be on the same page and no misunderstandings will occur.
You need to be really careful not to miss any deadlines or make any promises that your business cannot keep. This can damage customer relationships and create the impression that you are unreliable, which is something that no one wants.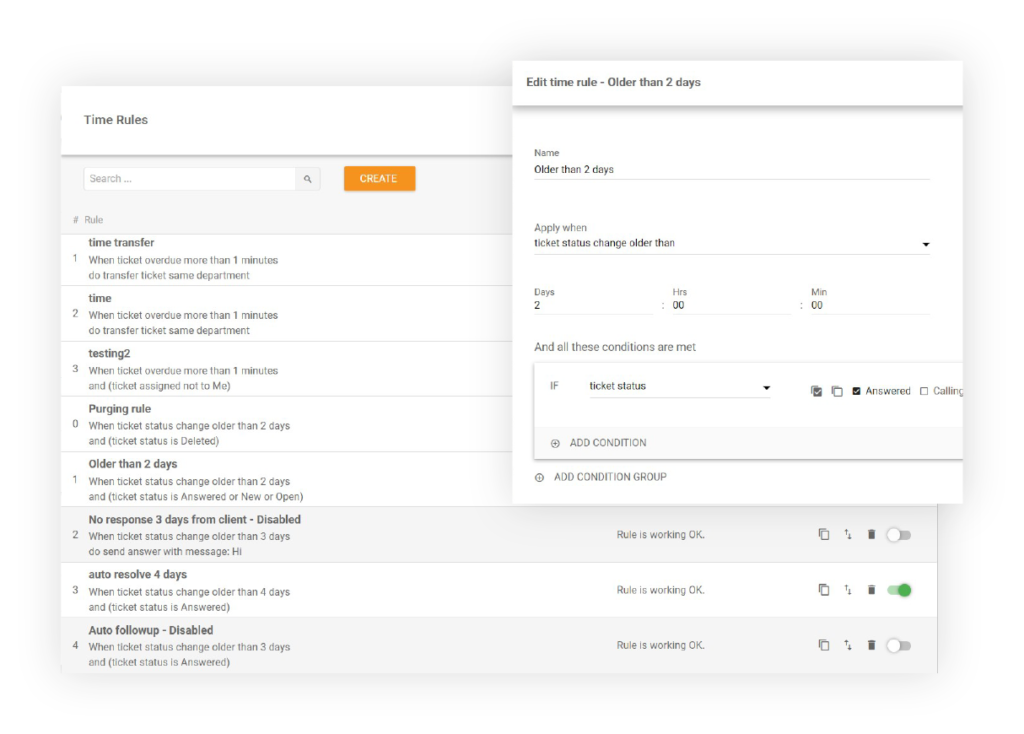 guide to complaint resolution
LiveAgent – keep track of all customer complaints and how they were resolved in one place.
CRM – make note of all the promises you have made to customers, as well as when and what happened afterwards
notes – record how the issue was resolved in case you need to reference it later on
well-defined customer complaint policy
After the complaint has been handled, it's important to thank your customers and ask them for feedback.
Why is asking for feedback important?
Using the information acquired through a customer satisfaction survey highlights how much your business values its clients, which can increase loyalty towards your brand. Additionally, it helps identify areas that need to be improved so that similar issues do not recur in the future and improves customer perception of your brand.
How to ask for feedback from customers?
You should explain to your customers why you need their feedback, as well as what information will be used and who will receive it. This way, they know that their opinion matters and can understand what impact it will have on your business.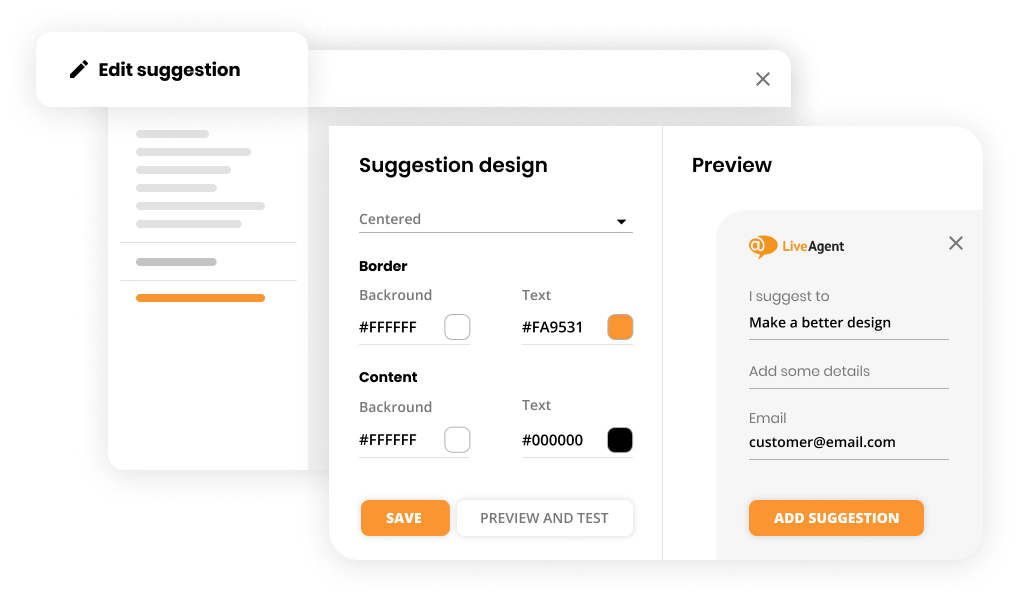 survey – create a questionnaire and send it to your customers after they have had an interaction with your business to get to know customer requirements better
feedback form – add it to your website or blog so that customers can leave their thoughts about their experience at any time
thank you email template – send a message to your customers after they have taken the time to provide feedback
Once the complaint has been resolved, it's important to take direct control to ensure that the quality of your service or product does not suffer. This means monitoring customer feedback and taking action when necessary.
Why are controls important?
For every step of the handling process to be transparent, internal controls are necessary. This way, you can monitor the quality of your business's service and make changes when needed.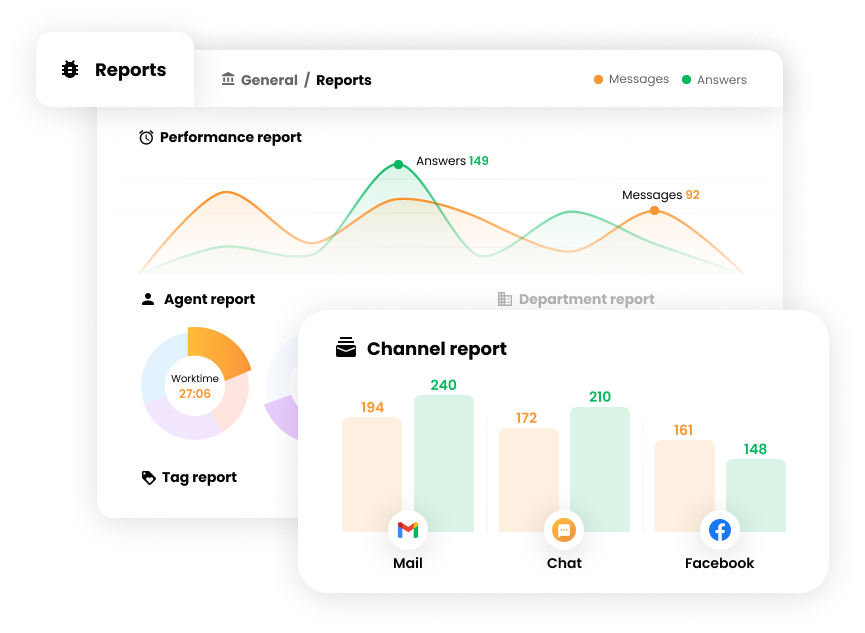 How to handle internal control testing?
Control programs help identify risks within an organization that could result in customer complaints or damaged reputations. They also give a big picture of performance so you can make appropriate business continuity plans.
To ensure that your quality control is effective, it's crucial to test the internal controls regularly. Internal control testing can be done through different methods such as desk audits or interviews with customers who have filed complaints.
audit report – taking regular reports help detect any gaps for improvement faster. Set up performance metrics to measure whether you are meeting your business strategy.
agent performance tracking – this will help you have direct control over your agents' performance, keep track of the agents handling customer complaints and ensure that they are following the correct procedures.
customer service software – this will allow you to keep track of all customer interactions, including those that result in a complaint being filed. This can help identify trends or areas where your company needs to make changes.
complaint tracking system – having a system in place for tracking complaints will help you keep track of the resolution process and ensure that all steps are being followed.
Summary of customer complaint handling procedure checklist
Take action as soon as possible
Listen carefully to your customers
Gather information that you need to resolve the problem
Record complaints
Show empathy for your customer's concerns
Thank your customers for complaining
Apologize even if you did not cause the problem
Offer a solution
Discuss possible solutions
Keep your promises
Ask for feedback and thank your customer again
Control the quality of the service
Frequently

asked questions
What are the three steps to follow when receiving a customer complaint?
The first step is to listen, which involves understanding what the customer's complaints and concerns are. The second step is to empathize with them by showing that you understand their frustrations about the issue at hand. The third step is to resolve their issues in an effective manner so they feel satisfied with how things were handled.
How do I maintain an effective relationship with my customers while resolving their issues?
It's important to maintain an effective relationship with your customers while resolving their issues by being responsive to their inquiries, keeping them updated on the progress of their complaints, and apologizing for any inconvenience that may have been caused. Additionally, businesses should take steps to ensure that these types of problems do not occur again in the future.
What are customer handling skills?
Customer handling skills are the abilities and techniques that businesses use to deal with customer complaints. They can include listening to customers' concerns, empathizing with them, and resolving their issues in a satisfactory way.
What are some common types of complaints?
The most common types of complaints can vary depending on the industry that your business is in, but some of the most common include problems with products or services, billing or payments errors and delivery or shipping delays.
Why is it important to have a customer complaint handling procedure in place?
Having a customer complaint handling procedure in place is important because it helps the business identify when issues are occurring and what steps need to be taken to address them. It also provides clients with information about how their complaints will be handled, which can lead to increased trust between them and your business. Managing complaints is an inherent risk of doing business – you never know how the customer will react and how you will be able to meet their needs. That's why having a clear procedure is like having risk management guidance – it's essential to make sure that your business will not suffer.
Where should I place a customer complaint form?
A customer complaint form should be placed in an area where clients can easily access it This can be the contact page of your website or in an email that is sent after they have an interaction with your business.