A chat support system wears a bunch of different hats. It can provide customer support, directions for customers who are looking for a specific product, and an effective way to generate leads.
It's all about the human touch. If you show your customers and leads that you care about their needs, you can more effectively nurture people through your sales funnel. Perhaps even more importantly, you build a stronger brand image and more brand loyalty.
But how does a chat support system work? And how can you use it for lead generation, in combination with other lead generation tools like popups?
What Is a Live Chat Support System and How Does It Work?
A live chat support system enables your staff to communicate with customers in real time. A subtle invitation to your website visitors enables them to get answers to their questions without picking up a phone or searching a lengthy FAQ page.
The best live chat software enables you to extend invitations either manually or automatically. They also allow docking, which means that website visitors can minimize the chat box if they don't have any reason to engage with your sales team. Later, they can reopen it if they wish.
After you install a live chat support system on your website, you can immediately start conversing with customers. Let them guide the conversation so they feel welcome, accepted, and appreciated.
Live Chat Support Statistics
According to the ICMI, more than half of all respondents to one survey said they wouldprefer to use live chat over calling customer support. Additionally, more than 80 percent said that they would use mobile live chat if it were available to them.
Those are pretty incredible statistics, especially considering how few brands are using live chat these days. It's a form of permission marketing that doesn't intrude on the website visitor unnecessarily or disrupt the user experience.
What is the Value of Having a Chat Support System on Your Website?
Regardless of the type of product or service you sell, setting up a live chat support system can have an immediate impact on customer service, lead generation, and more. Between 72 and 91 percent of customers say they're very satisfied with their live chat experiences, depending on which devices they use.
Based on the ICMI report, implementing live chat services can improve overall revenue as well as cross-sell and upsell revenue, decrease shopping cart abandonment rates, and reduce customer care costs by as much as 2.6 times.
Every visitor to your website is unique and the questions they have about your product or service are likely to be different too. As a marketer, it is not always possible to have all these questions answered on a landing page. Yet, these pertinent questions can potentially make or break a sale.
A live chat widget allows your website visitors to quickly and seamlessly get their questions answered. Unlike phone or email support, they do not disrupt the visitor's workflow which makes them more likely to convert into a sale. Live chat widgets like LiveAgent are also extremely cost effective and are great for bootstrapped businesses who build and manage their websites on a budget.
What Are Popups and Why Are They Important to Your Lead Generation Strategy?
A popup is simply an overlay or modal that appears over the regular content on your website. Visitors can choose whether or not they want to engage with them.
Over the years, popups have developed a bad rap — but not because they're ineffective. Consumers have complained about popups that are difficult to close, that appear too soon in the user experience, and that distract visitors from their goals when visiting a website.
You can avoid those pitfalls by deploying popups in a customer-centric way. In other words, consider how website visitors will react to a given popup and whether the popup adds value to the overall experience.
We'll get into this more later, but multiple types of popups exist. The best live chat support services enable you to activate a chat popup on specific pages on your website, such as a pricing comparison page or a product page.
You can also use popups to invite visitors to take action. For instance, you might use an exit intent popup to collect email addresses with Hello Bar.
How to Integrate a Chat Support System In Your Sales Funnel
Companies with live chat support can integrate a chat support system as part of the site's overall UX. It doesn't have to be disruptive — in fact, that's the opposite of what you want.
LiveAgent gives you total control over the live chat support system so you can decide when and where you want to deploy it. You can collect information from your website visitors and turn them into leads, for instance, all while remaining GDPR compliant.
When combined with sales funnel builders like Kajabi, Hello Bar, or AWeber, live chat becomes a way to fulfill your customers' every need. They can opt-in to receive emails from you, get information about your products, find out about pricing variations, and more.
7 Reasons to Integrate a Live Agent Chat Support System Into Your Lead Generation Strategy
If you're not sure yet how your business will benefit from a live chat support system, let's look at seven critical ways to use this technology to your advantage. Not only will it help you build better relationships with your customers, but it will help customers feel safer in your hands.
1. Activate Live Chat Support to Gather Valuable Information From Website Visitors
Lead generation is all about email collection. You want to be able to reach out to your leads with important messages, discounts, incentives, and more.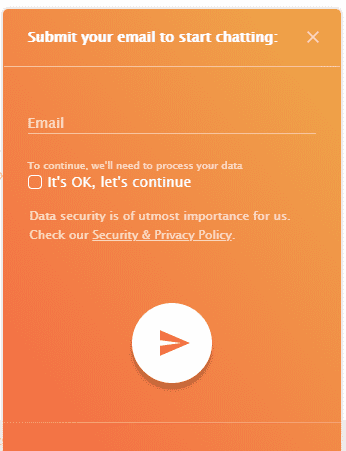 By collecting this data from your website visitors, you increase their chances of coming back. You don't want to waste organic traffic that might bounce and never return. Instead, capture information in the moment so you can nurture those leads.
2. Use Live Support to Respond to Visitors Faster and Increase Customer Satisfaction
Time is of the essence when it comes to customer service. You want your audience to be able to reach out whenever they need support, and an 800 number doesn't always cut it.
Consumers can use your live chat support system even when they're in a meeting or sitting in a waiting room. They won't disturb other people by talking on the phone.
Furthermore, live chat takes less time. A consumer can ask a quick question, receive a quick answer, and move on with his or her day.
3. People Prefer Using Live Chats for Customer Service Inquiries
As we mentioned above, the vast majority of customers prefer live chat over other customer support methods. It's faster, easier, and less clunky. They don't have to open another application on their devices.
Let's say that a customer urgently needs a widget you make, but isn't sure what size. Your website offers a live chat support system, but your competitor's website doesn't.
The customer is in a hurry and needs the widget, so which company do you think he or she will choose? Probably yours because you've made your brand accessible to them.
4. People Expect Companies to Provide Customer Service on Social Media
The best live chat support companies integrate with social channels, such as Facebook and Twitter, so you can optimize your customer support system and get to inquiries faster.
We've all seen customer service snafus blow up on Twitter, for instance. An irate customer slams the brand for not getting back to him or her even after tagging the brand in tweets and asking for help.
You can avoid this by tracking tweets and brand mentions so you dispel any issues and leave customers feeling appreciated.
5. You Can Qualify Leads Very Fast With a Chatting Experience
Many marketers believe that lead qualification exists exclusively for the brand. That's not the case. Instead, it goes both ways.
Let's say Customer A visits your website in search of a widget you sell. The customer engages one of your sales professionals via live chat, and during the conversation, Customer A explains his budget.
The budget doesn't match any of the widgets you sell. The sales agent can politely explain this fact and help the customer find what he needs elsewhere. It saves the company time, but it's also beneficial for the customer.
6. You Can Use These Tips to Generate the Most Leads Possible Using a Live Chat Support System
A chat support system is awesome for lead generation and customer support, but you'll get more out of a live chat tool if you know how to use it properly.
Add a Welcoming and Uplifting First Message
The point of live chat is to greet your customers warmly and extend a hand when needed. Your first message should make your customers feel warm and fuzzy.
Try to Be Compelling and Helpful
Train your sales professionals to make suggestions, offer support, and educate the customer. The more helpful you are, the better the exchange becomes for the customer.
Ask Questions and "Create a Cool Chatting Personality" to Match Your Brand
You don't have to go overboard here, but make sure you're chatting like a person. Adding some personality to your live chat experience helps customers better understand your brand. If you can make the visitor laugh, you'll vastly improve the UX.
Use Visual Components When Appropriate to Engage Your Leads
Live chat support systems like LiveAgent allow you to choose from different visuals to help engage your audience.
7. Combine Your Chat Support With Other Lead Generation Tools Like Popups to Insanely Increase Conversion Rates
You don't have to limit yourself to just one lead generation tool. In fact, you shouldn't. Different tools are designed for different purposes.
For instance, popups work best on pages with high bounce rates. You want to give those visitors incentives to stay on your site and explore your products or services more thoroughly.
Meanwhile, a chat support system works extremely well on product pages, comparison pages, and landing pages. Here, visitors tend to spend more time exploring, so you can extend a hand if visitors need any help.
There are several popups that can help reduce bounce rates and generate more leads. You can create each one in just minutes using Hello Bar.
Exit Intent Popups
Exit intent popups have proven to work well when they're compelling, well-designed, and full of incentive.
They appear when your visitor demonstrates the intent to leave your site.
Top Bar
Top bars are useful for collecting email addresses quickly and painlessly. They appear at the top of your website, and you can animate the CTA button to attract attention.
If you want, you can publish different top bars on different pages based on what visitors might value most.
Scroll Popups
A scroll popup appears when a visitor scrolls a certain way down the page. Since they don't appear immediately, your visitor doesn't feel blindsided.
8. Implement These Quick Tips to Create Great Popups
If you want your popups to work in tandem with your chat support system, follow these tips:
Use Compelling Copywriting: Make your words sing. The more you play with language, the better your popup headlines and CTAs become.
Make it Visually Appealing: Add images, unique fonts, and other visual elements to attract your audience's attention.
Make Your Call to Action "Impossible to Miss": Think about what your audience values most, then create an incentive to appeal directly to those consumers.
Use a Powerful Call-to-Action Phrase to Generate the Most Leads: Strong verbs and adjectives make CTAs more compelling.
Live Chat Support System Case Studies and Examples To Inspire Your Lead Generation Strategy
If you're still not convinced that live chat support systems can help you generate leads and improve customer service, let's look at a couple case studies and improve customer service, let's look at a couple case studies.
Aquasprouts, an aquaponics gardening company, used LiveAgent to achieve customer satisfaction ratings of 96.5 percent. Using five support agents, Aquasprouts has handled 500 inquiries per month since joining LiveAgent and switched from ZenDesk.
Web hosting company Websupport had even greater customer service needs. The company used LiveAgent's chat support system to get a customer satisfaction rating of just over 95 percent and to handle nearly 71,000 inquiries per month.
Conclusion
If you're looking for the perfect combination between customer service and lead generation, a chat support system and popup tool can make a huge difference.
As long as you're focused on maintaining a good UX and providing your visitors and customers with as much help as possible, you'll see customer satisfaction grow. As a result, consumers will feel more comfortable handing over their email addresses and other contact information.
Sign up for a free Hello Bar account today to start reaping the rewards of a healthy email list.
Qualify leads and convert in seconds
Monitor website visitor behavior and jump in when the time is right. Offer to help, upsell, cross-sell and delight your customers with superior customer service.