What is a knowledge base?
Knowledge base is a part of your Help Center, which offers self-service content. It provides the customers with documentation of your products.
Knowledge base can be beneficial for both the customers and agent. Customers can find solutions to their problems here, without having to contact support team. Agents are enabled to work with less tickets and can see them directly in the Knowledge base. With free knowledge base software, your agents can focus on critical issues and spend less time dealing with repetitive inquiries.
Learn more about Knowledge Base in LiveAgent.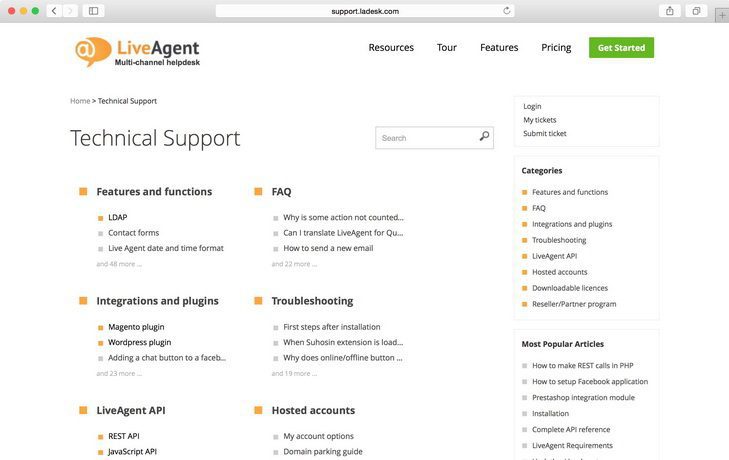 Frequently

asked questions
What is a knowledge base?
A knowledge base is an online self-service library that contains information about products and services, specific issues, and other brand-specific topics. They help clients, but also employees, to acquire knowledge that they do not have and they need to solve the problem.
What does a knowledge base include?
What the knowledge base contains depends on its purpose. If it is needed for internal use of the company, it contains information on individual processes of the HR department or the legal department, explains exactly how the product works, and how to solve the client's problem. It can also be for external use, in which case it will contain information about products and services that may be useful to customers.
How does the knowledge base work in LiveAgent?
The Knowledge Base in LiveAgent allows you to create categories in the customer portal based on your products and services as well as customer types. Customers have access to content (in a form of articles, videos, tutorials, etc.) that can help them handle problems they may experience while using products or services offered by your company. You can customize it according to the available templates or adapt it to your needs.
Expert note
A knowledge base empowers customers to find solutions quickly and efficiently while freeing up agents to focus on complex issues. It is an essential tool for providing stellar customer service.

Andrej Saxon
Sales manager