Key takeaways
Pros
Easy integration
Great advanced customization options that let you go deep
Cool in-chat functionality for agents and customers
Cons
Less flexible pricing with predetermined user seats
The interface might be slightly confusing (it's still great though)
Getting started with Userlike live chat
Userlike is a dedicated live chat software focused on providing a reliable live chat solution for sales and customer service. It offers a unified solution that brings a reliable live chat to your website together with advanced customization options, analytics, reporting features, and much more. Today, we'll take the Userlike live chat for a spin and see how it performs in action.
Starting with Userlike is a piece of cake. You only need to register for a free trial or pick a plan if you're interested in it right from the start. As it's customary with most software, Userlike will ask you a couple of questions about your purpose of use, and about your company. It's an easy process and you can be done with it very quickly. Afterward, you will be presented with a welcome video to show you the ropes. You can skip it if you want, but it's appreciated to have a get-started guide right off the bat.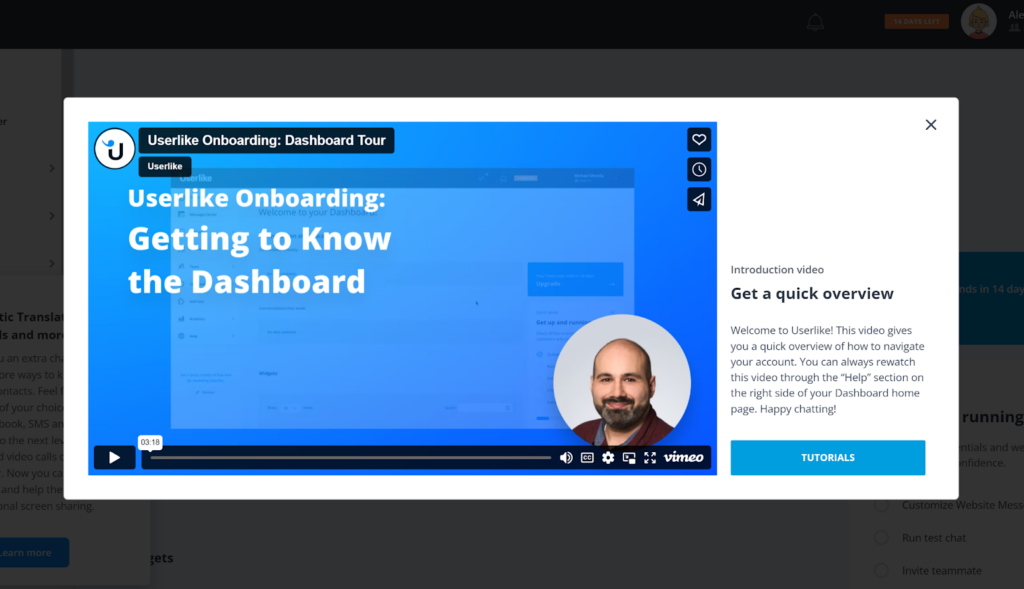 You can start discovering the interface, which is very good-looking. It uses a subtle color scheme with shades of gray and it's not cluttered with unnecessary elements and options. Everything seems to be easily accessible right from the start. The main dashboard shows statistics and you get a quick start guide in the right-lower corner to help you get familiar with the interface even quicker. It's well-designed and some other solutions could learn from this user-centric approach.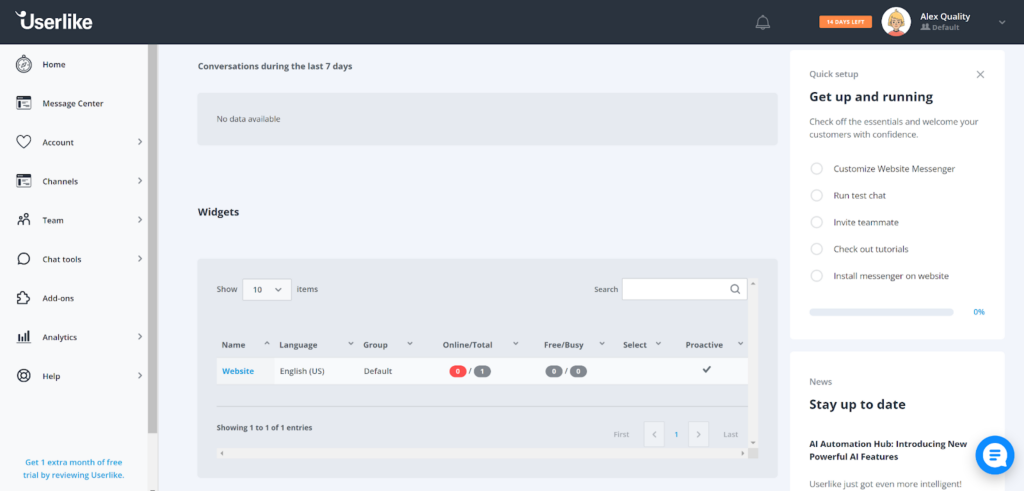 The menu on the right presents the entire available Userlike toolset, including the chat tools. Once you click on the item, you might be slightly disappointed with the confusing view. It presents only conversation statistics. However, there doesn't seem to be a way to create or add a live chat, which leads to a longer search around the interface. The actual option is hidden under the Channels menu where you can create new website widgets.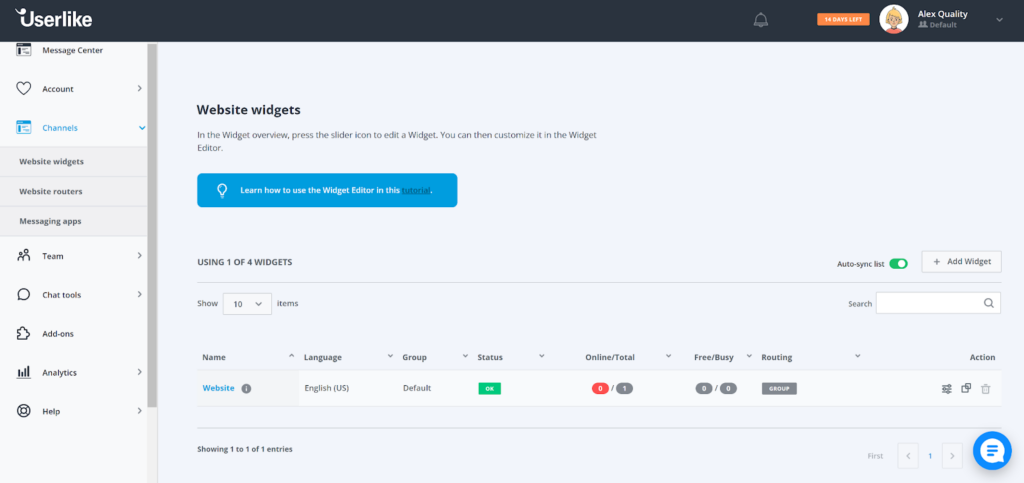 I'm glad to say that the rest of the process is a lot more intuitive. Once you click on Add widget, you can choose the purpose, language, and widget type. The widget-type option has some explanations available to help you figure out what are the differences between them, but the names themselves are pretty self-explanatory. Once you're done with this section, the only options left are to integrate the widget or configure it first.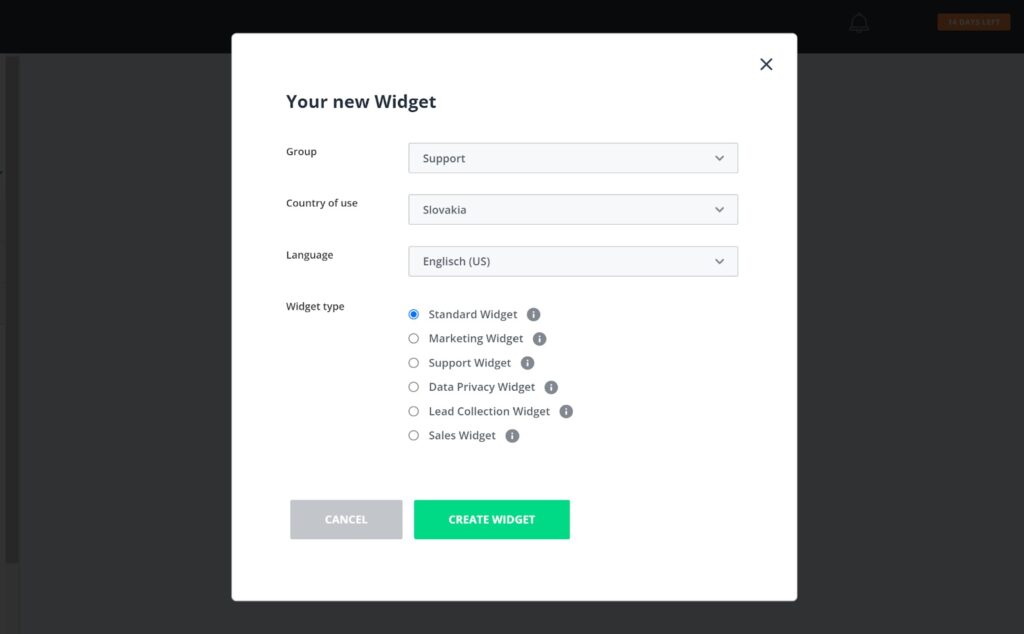 The customization options are pretty wide. There are general settings, appearance options, wording options for almost every item and element in the chat, chat behavior and routing, and plenty more. It's unlike anything I've seen so far, although I don't doubt there are many other chat solutions with such an extensive configuration selection. Although it's great to have a lot of customization options, it does get a little bit tedious to go through all of them, and I think some of them are not entirely necessary to be here. Regardless, I applaud the effort.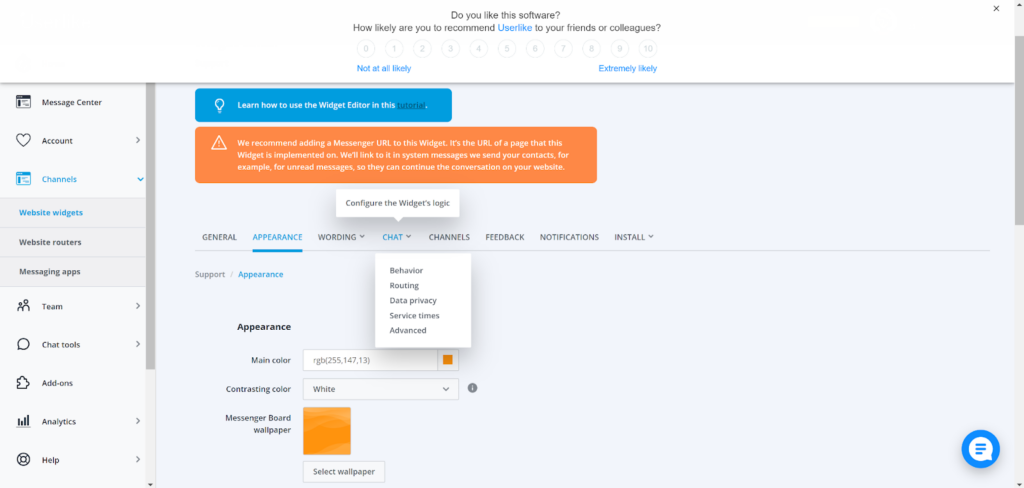 When you're finished with the entire customization and configuration, it's time to install the chat widget. The page presents one installation option via copy-pasting a live chat code directly to your website. There's also a button to help you contact your website programmer to do it for you, which will take you to a simple contact form where you can send the request to your programmer's email address. I chose to do it myself, so I copied and pasted the code into my test website. Everything worked without any trouble and I was ready to start testing. But first, let's look at what to expect from the Userlike live chat features.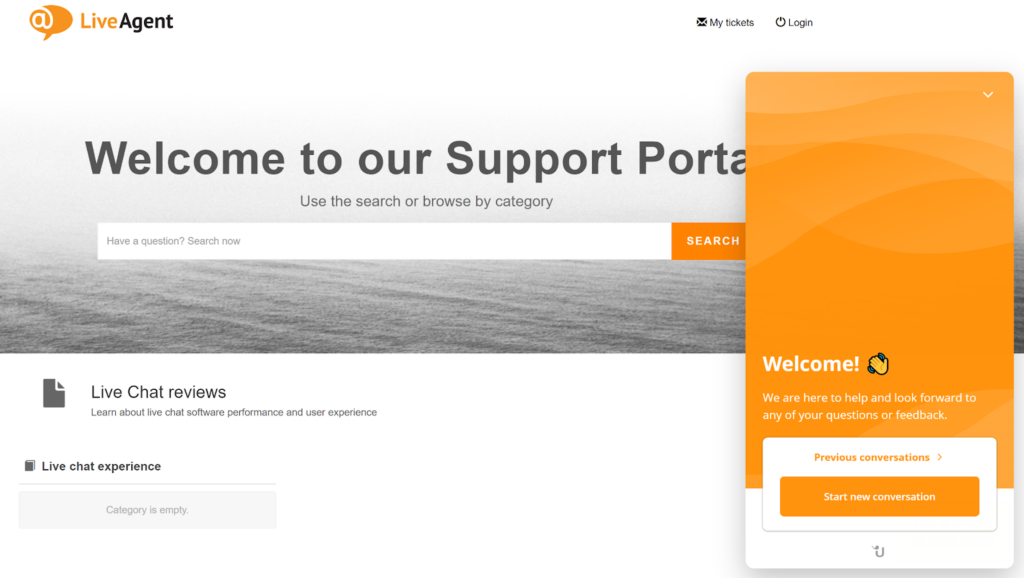 Features and user interface
Userlike offers a varied and unique feature set in many areas and it's trying to do something new for the live chat game. The live chat supports chat forwarding which allows you to transfer chats to another colleague. This is quite similar to ticket transfers in ticketing software, which is pretty useful in many situations. Userlike also offers an option to choose the main skills for each chat agent, so customers can select which expert they want to talk to. This option is also seen in ticketing software, and it's known as chat routing. It's a great feature to have in live chat and even better to see it with further routing options based on skills.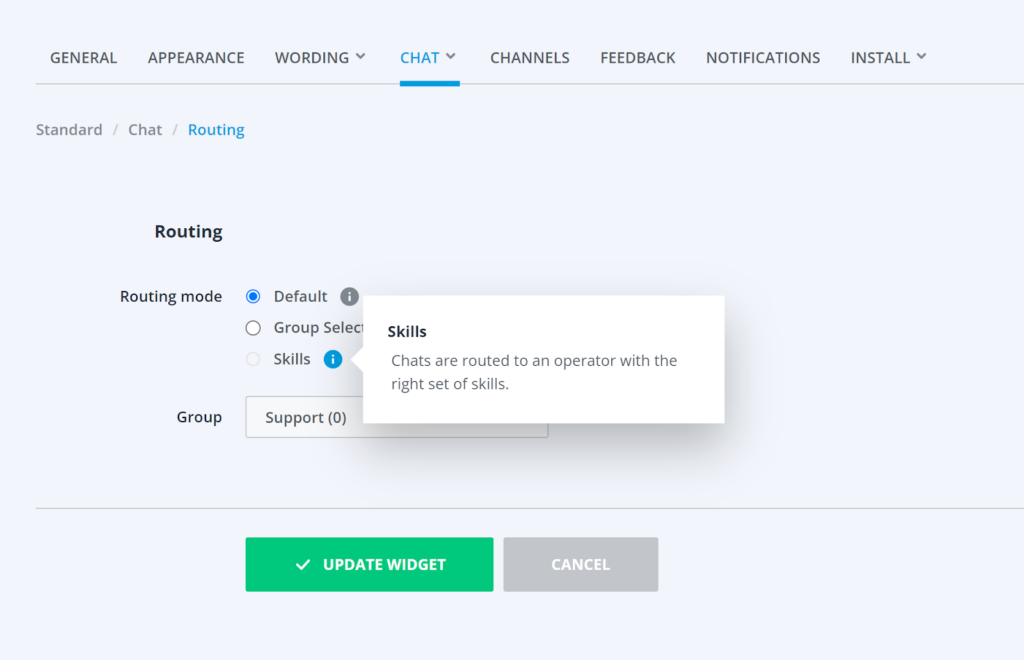 Another mentionable feature is called Sticky chat, and it's another smart routing feature that connects customers to agents they chatted with previously. It makes it easier for agents to recall the customer and the information exchanged during the chat. Next, there are the Smart customer profiles features which automatically build customer profiles if the website visitor who engages with your chat decides to provide you with an email address. Userlike also supports a certain degree of automation where you can customize offline messages, welcome bubbles, forwarding messages, and much more.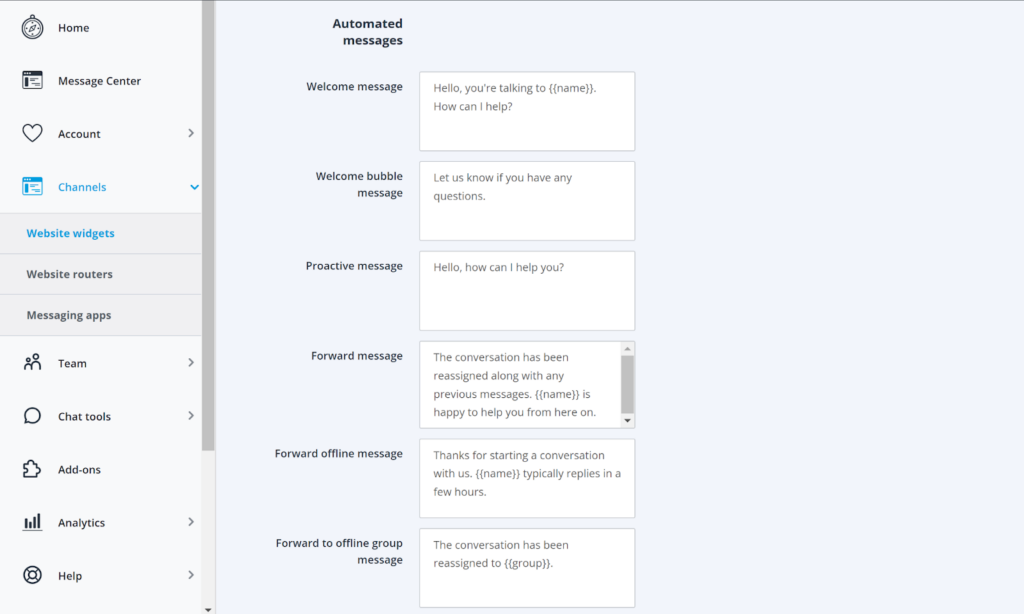 Userlike also offers a feedback feature and post-chat surveys that can be customized with your own questions and answers. Besides that, you can activate proactive chat invitations or configure chat routing to ensure the customer conversations will go to the right agents. This feature is different from the agent skills mentioned above, and it resembles classic routing options you might know from different chat solutions or IVR software. There are plenty of other Userlike features to discover and all of them work pretty well.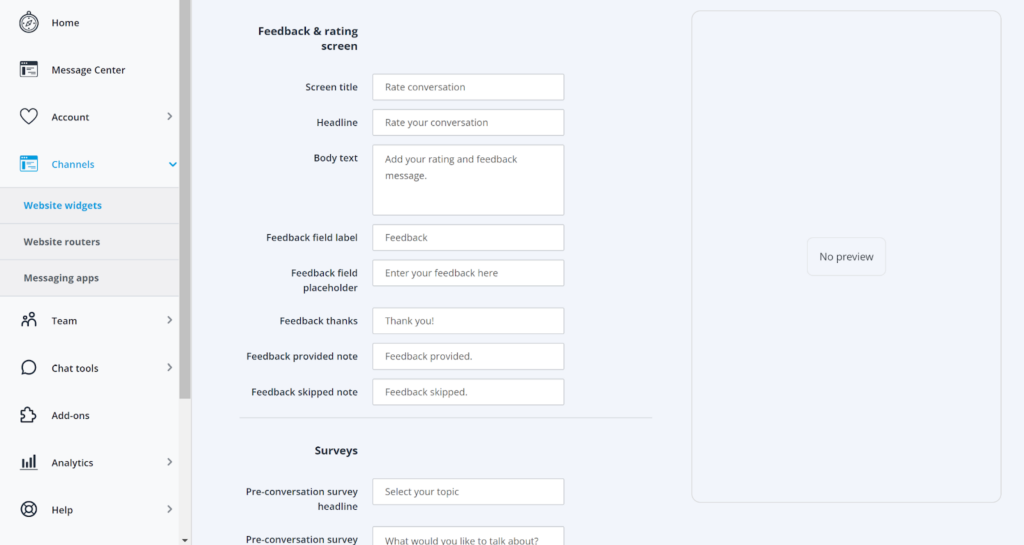 Live chat performance and user experience
Now it's time to test the live chat widget in action. I tested the live chat from both sides of the experience so you can get an idea of the agent and customer side simultaneously. I clicked on the chat widget and started a new conversation, which prompted the automated welcome message to show up right away. However, I also noticed that it mentioned all agents are offline (even though I was currently in the Userlike application logged in as an agent). I discovered that the reason behind this is that I wasn't directly in the All conversations sections of the app, so make sure you avoid this mistake. You can self-assign a chat here.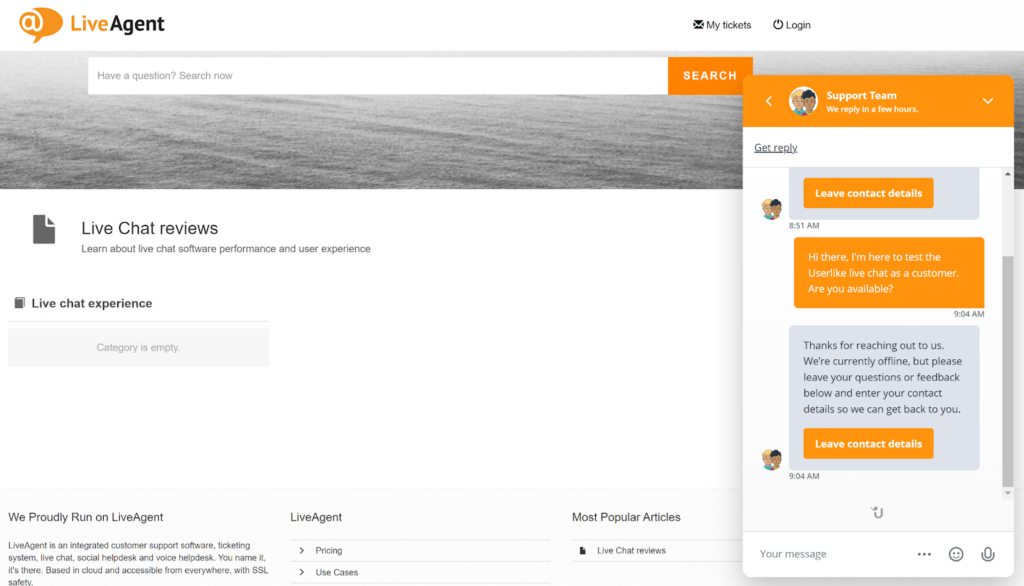 After self-assigning the chat, I started replying to the visitor. I have to say the speeds are alright and you don't have to wait too long for messages to deliver. The first discovery was that Userlike doesn't offer a real-time typing view feature, but this is not a necessary feature for the correct operation of any live chat. It would just be nice to have. However, the automation seems to be working very well, as the chat widget automatically sends messages during longer idle periods on the agent side. This is all part of the setup, and it works great.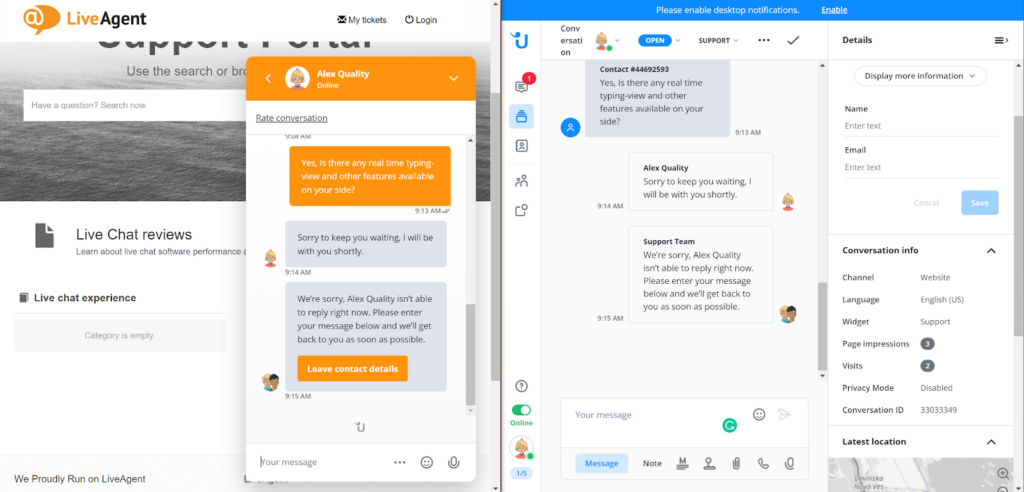 The customer side of the widget includes the standard options for sending, adding smileys, and even transferring files and requesting a chat transcript. These features are great and very useful for customers. What's nice is that there isn't anything that would be cluttering or overbearing for customers. The same applies to the agent side of the chat view, but with more options available – send macros, offer a call, send attachments, record a voice message, and trigger commands.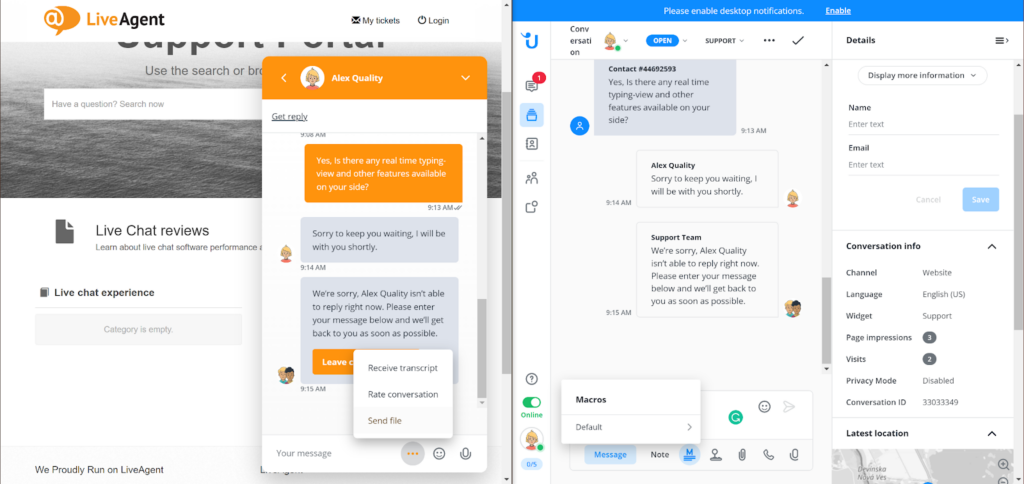 The trigger command option is particularly interesting, as it allows users to quickly perform actions with just a few clicks. There are a couple of options available – block contacts, transfer conversations, request transcripts, add notes, change conversation status, and many more. All of these actions can be also prompted via keyboard shortcuts which you can easily memorize and use without clicking any buttons.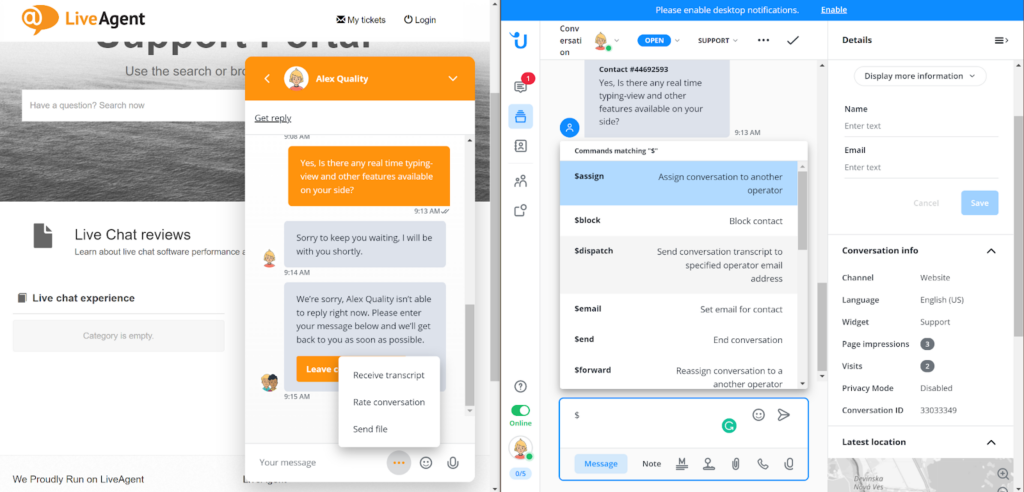 Overall, the Userlike live chat experience is great for both sides and I haven't encountered any major or minor problems during my testing. You can engage with other tools in your Userlike dashboard as an agent and take a look at all relevant statistics and analytics available to you. Userlike is a great tool to have and it shouldn't let you down under any circumstances.
Pricing
Userlike offers four pricing plans with multiple pricing options, including a free tier. The plans come with a predetermined number of users, so if you want to upscale you need to be ready to pay extra for a higher plan, instead of just paying for more users in the same plan. Now, let's take a look at each package and their features.
Free
The free plan offers one widget for one user. You receive all core features, unlimited conversations, unlimited contacts, and a website manager for free.
Team
The Team plan offers four widgets for four users and two messaging apps for $100 per month. Besides all features from the previous tier, you get access to add-ons, WhatsApp channel, messaging apps, live translation, video calls, screen sharing, and basic API access.
Corporate
The Corporate plan offers 10 widgets for 10 users and four messaging apps for $320 per month. You get all previously mentioned features and additionally AI automation hub, chatbots, and analytics features.
Flex
The Flex plan is the most expensive one with 10+ widgets, 10+ seats, and 4+ messaging apps for a custom price tailored to your business needs. In addition to features from all previous plans, you get a white label, advanced routing, professional onboarding, organizations, and a dedicated account manager.
Conclusion
Userlike is a great chat solution that offers everything you expect from live chat. Even though the pricing might seem a bit expensive, it's cheaper than it seems when you consider the predetermined number of user seats in each plan. Userlike offers many features and customization options that ensure your experience will be truly personalized to your situation. If it's a dedicated live chat solution you need, you can't really go wrong with Userlike.
Frequently Asked Questions
Only one Userlike operator receives chats

If only one of the live chat operators receives incoming chats, the issue might have numerous solutions. First of all, check if the remaining operators who don't receive chats are in the correct operator group. Each live chat widget has settings related to operator groups or departments. Open the chat widget settings and go to Chat > Routing and change the group, or add the remaining agents who don't receive chats to the same group as the operator who receives chats. The second solution might be related to the availability of chat slots. The operator with the highest number of open slots is more likely to receive new chats. You can adjust the number of slots under Team > Operators in each operator profile. Another solution is to check if all operators are online. Last but not least, if there are any recurring contacts using the live chat, they will be more likely to get connected with the same operator they've chatted with before.

Userlike live chat button doesn't appear on my website

There might be a few reasons why this issue happened. Firstly, double-check if you correctly integrated the Userlike widget into your website, and check for missing parts of the code or any typos that might've been added by accident. The second reason might be that the option to hide the button when there are no available operators is active. You can find this option under Widget settings > Chat > Advanced. Make sure that this option is deactivated to make the chat widget appear at all times. The third reason might be related to cookies, as Userlike needs certain permissions to function correctly. Userlike needs to be integrated into your Cookie Consent Manager.

Userlike analytics is not loading and not showing any data

The reason why no Analytics data shows might be related to the use of certain Adblockers. Make sure to whitelist Userlike or disable ad blocking on the Userlike domain. You can also lose access to specific values when you activate the Analytics privacy filter in your Organization settings. If the option to Hide operator details is active, you won't be able to see any data in Analytics > Operator status.

I can't log in after the 14-day trial of Userlike

Only the account owner can log in after the free trial period passes. To allow access to other users, you need to upgrade to a paid option, because the free version of Userlike only supports one user seat.