Key takeaways
Pros
Easy to set up and use
Affordable price
Customizable
Cons
Missing tutorial
Can be a little glitchy at times
The user-friendly interface gives you a wide range of options on how to configure call branches without being overwhelming for new users. You can forward calls, play pre-recorded messages, or even configure HTTP requests. Besides the little inconvenience of missing a tutorial in the beginning, CloudTalk's IVR software leaves little to be desired. And if you're looking for reliable software that lets you play around with your IVR menu, this is a great option for you.
Getting started with the CloudTalk IVR feature
Setting up a trial account with CloudTalk is a piece of cake. Once you fill out your information, you automatically receive a phone number and a credit of 5€. Once you log into your account, you'll see a clean and user-friendly interface with a dashboard and a left-side menu. On the dashboard, you can see a simple overview of your calls and the activity of your contact center. This can be very helpful for smaller teams that can immediately analyze their call activity.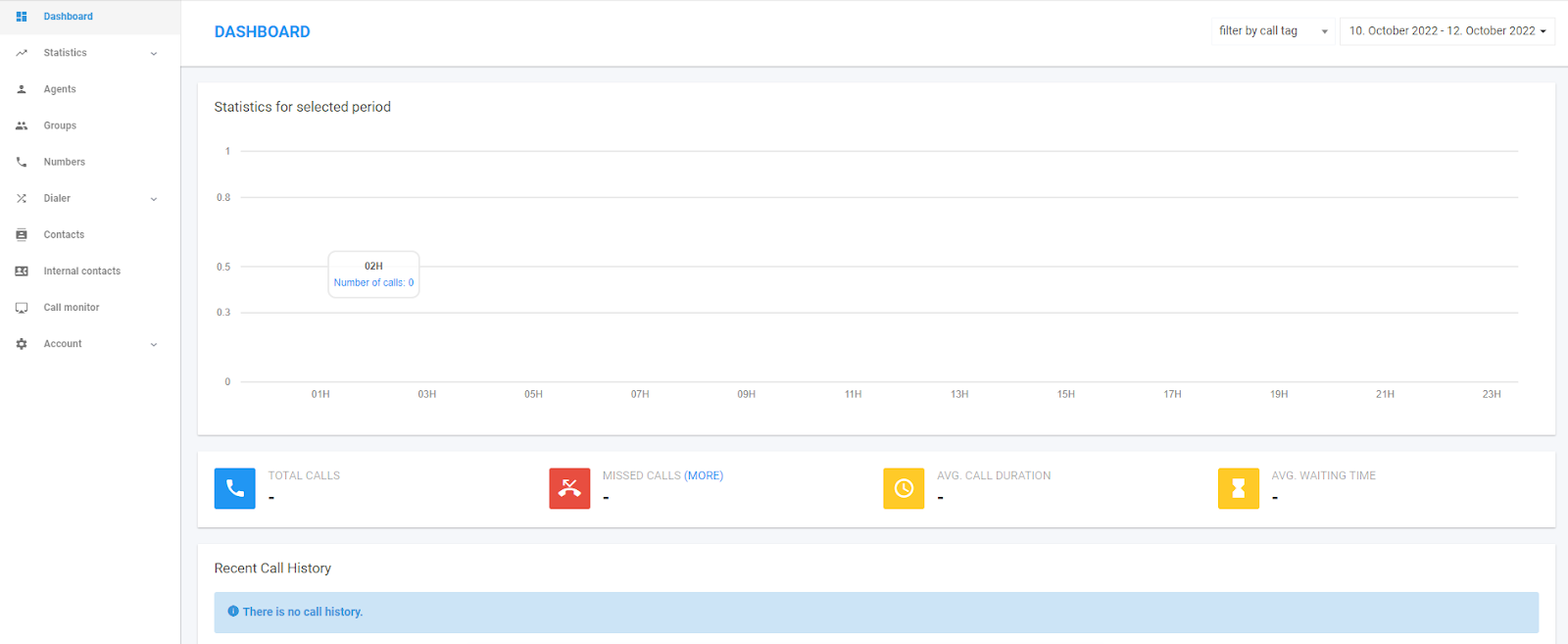 To start configuring the IVR function, go to the Numbers tab in the menu. Then, continue by clicking on the Edit button next to the phone number you wish to work with.

After that, you can start creating and customizing call branches.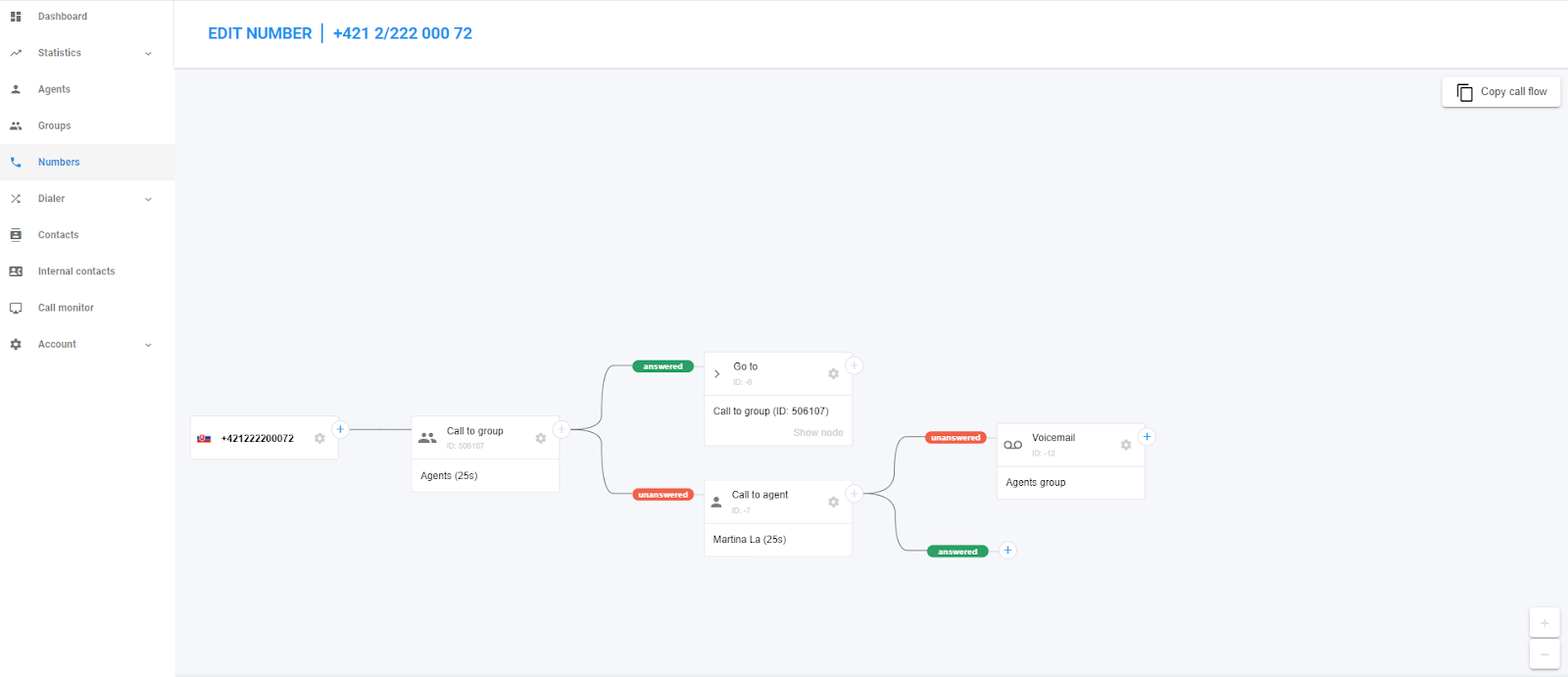 What I liked about the IVR software CloudTalk is how customizable it is while staying user-friendly. You can configure each part of the branch and even create more elaborate multi-level IVR menus.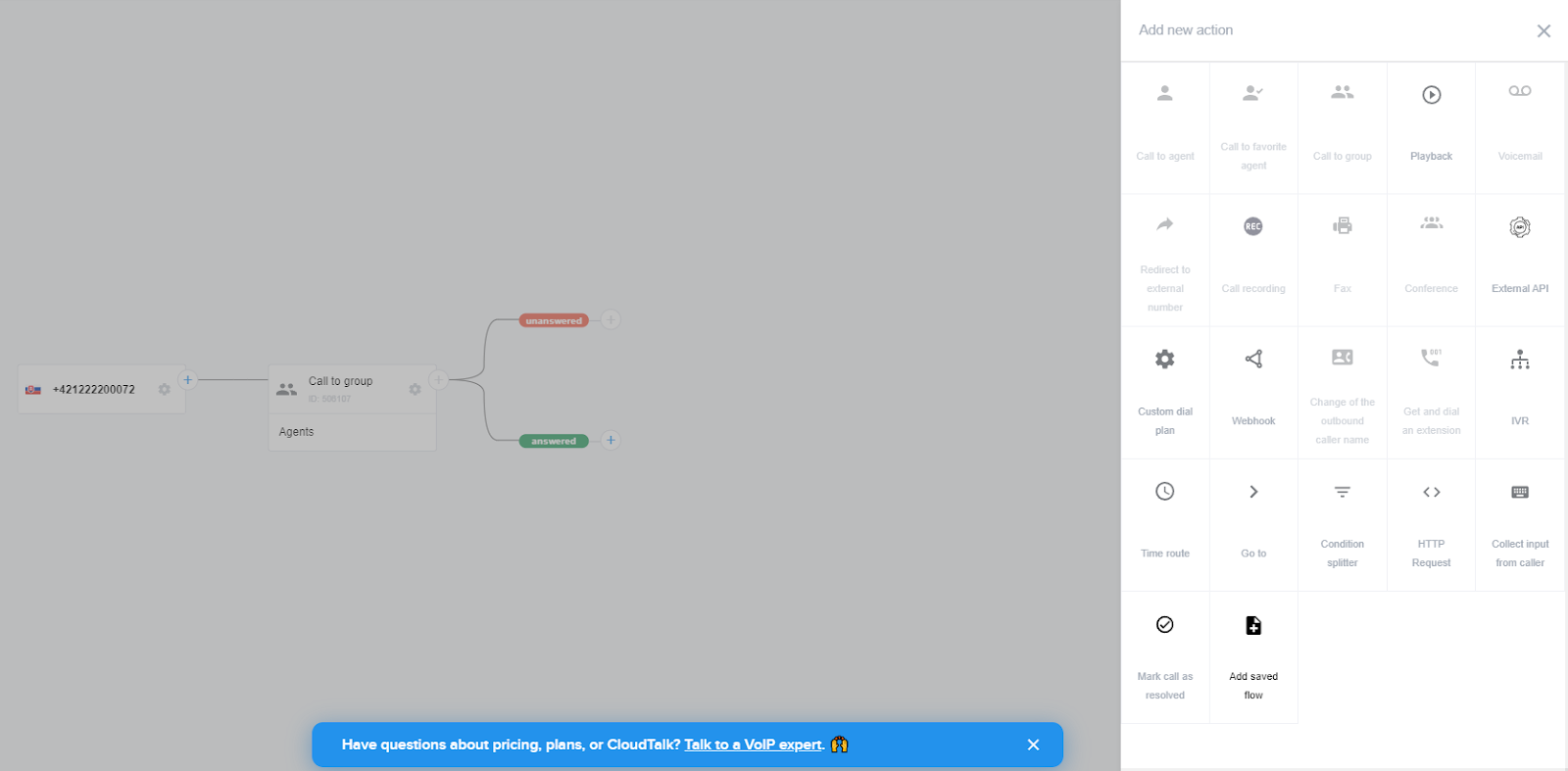 You can forward calls, and assign unanswered calls to other agents, groups, or departments very easily. There are many options to choose from and even more advanced actions you can configure. However, it still remains polished and easy to navigate, so even the less tech-savvy users can get everything they need and not get overwhelmed.
You can add a message to your call branch by clicking on the IVR tile in the menu. There, you can set up a text-to-speech message, or an audio recording. You can either upload an audio file from your computer or you can record it directly in CloudTalk.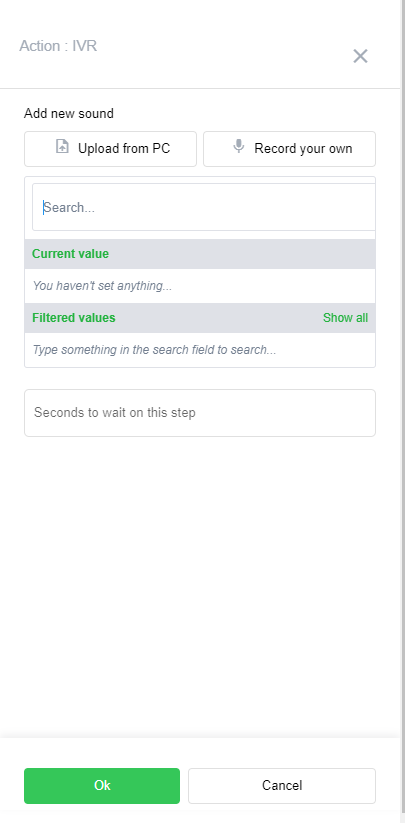 Something I appreciate about this software is the option to send a voicemail to the agent's email. You can configure your IVR to record a customer's voice message and not only notify your agent about it, but send it as an email attachment. This is a great way to streamline communication in your contact center and make sure all customer inquiries are received.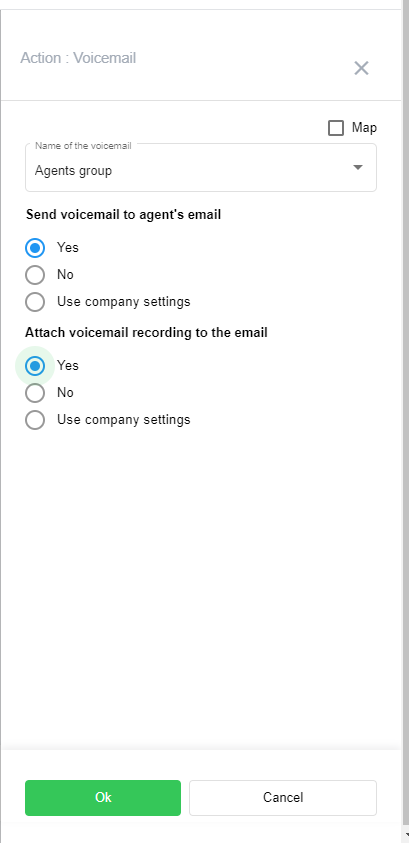 Adding a quick tutorial would be one of my suggestions for improving CloudTalk's IVR functionality. Even though the software is easy to use, it can still be daunting for some less experienced users. A quick tutorial going over the basic options and setup can help busy agents and managers save time browsing the support center. That being said, CloudTalk offers a video tutorial on the website, so you can still find an accessible guide if you need it.
How does the IVR perform?
CloudTalk's IVR function is reliable and performs exactly as intended. It can accommodate the needs of small contact centers with basic call branches, as well as larger companies with its various configurations and multichannel options. Its user interface is clear and concise, making it easy to use for anyone no matter their level of technical proficiency. Although it's missing a setup tutorial, the functionality is not difficult to figure out.
Pricing
CloudTalk provides the IVR function in their second pricing tier – the Essential plan. Accompanied by other features, you can purchase this plan for $30 per user per month.
Conclusion
For many people, there is something inherently intimidating when it comes to setting up any kind of automation. The good news is that CloudTalk makes it incredibly easy and accessible to configure your IVR menu and start automating your call flows. With an easy-to-navigate interface, you don't have to worry about getting overwhelmed with huge blocks of code and variables you don't understand. CloudTalk's IVR software makes it very easy to naturally figure out the steps a user needs to take to configure their own automated call flow. CloudTalk's IVR functionality can help many businesses with their daily contact center operations at a reasonable cost offering a wide range of capabilities.
Frequently Asked Questions
I don't know if my call dropped in the queue or IVR

If you're not sure whether a call dropped in your IVR, the first thing you should do is check your flow design. Using the Call Flow route, you can see when Missed Calls > filter(ed) by group would have dropped. You can also check Call History in the Statistics section to see your missed call statistics.

My IVR is not working

Make sure to double-check for any mistakes in your IVR flow design and remove them. If you are still experiencing difficulties with your IVR, consult the CloudTalk help section to see if there are any available solutions for your problem, or contact their customer service.