Key takeaways
Pros
Easy to use and navigate
Free version
Chat-like interface
Cons
Free version could offer some additional features
No free trial
Getting started with Spike
Setting up Spike is pretty simple and it only takes a few minutes. You can sign in with Google, or you can use any other email account that you use. After creating your account with Spike, you can upload your picture and edit the name that will appear to your colleagues.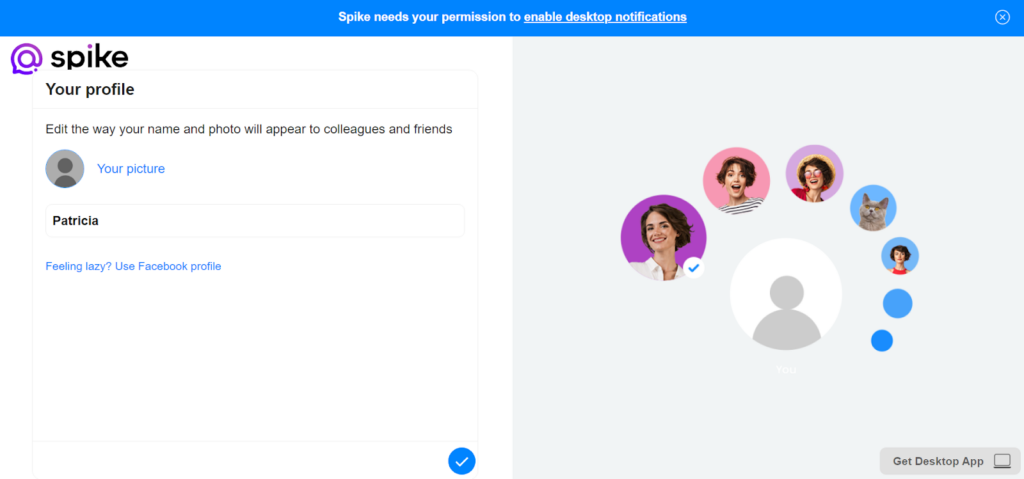 After setting up your account, name and picture, you can start your real-time collaboration with other teammates by sending them an invitation. You can also skip this step at this time, and do it later.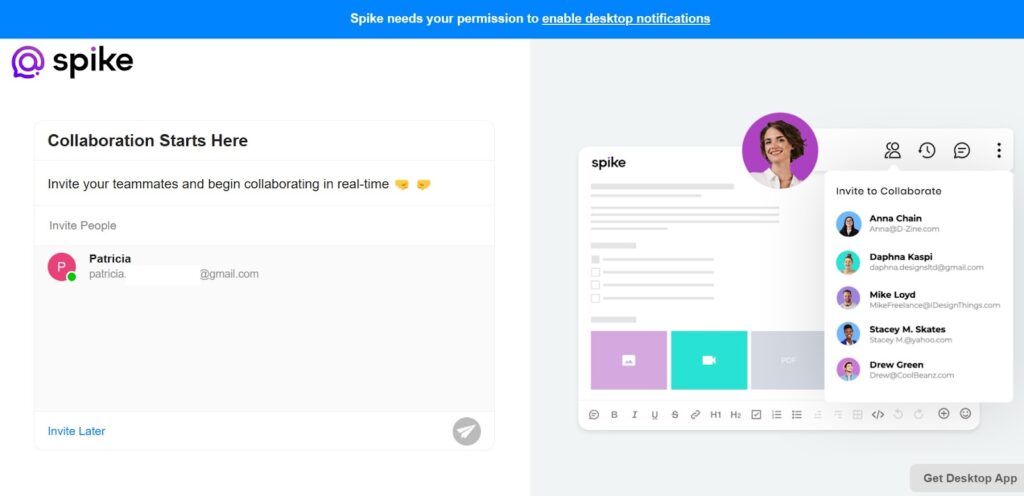 After this step, you will be able to see your full inbox with all your messages. At the first glance, Spike is very easy to navigate and it is very easy to find all the necessary features and options.
Spike features
We are testing the free version that Spike offers, which means that there are only basic features available. However, these features should be enough to get an understanding of how it works, and how easy or difficult it is to navigate around their email management tool.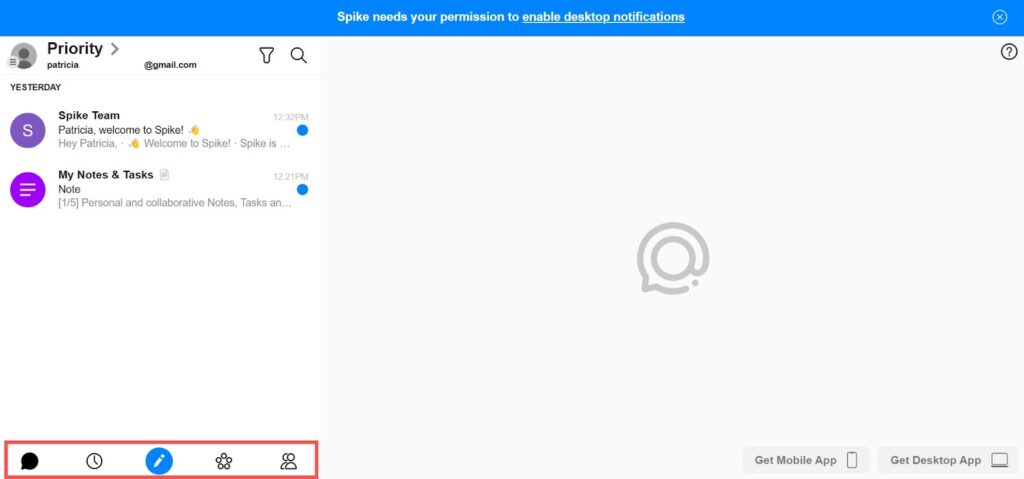 On the bottom left corner, you have 5 different icons. The first icon is "Home" and it shows you all your messages and emails that you have in your inbox.
The second icon is "Timeline" and it is basically a calendar that allows you to schedule different events, reminders, meetings, etc.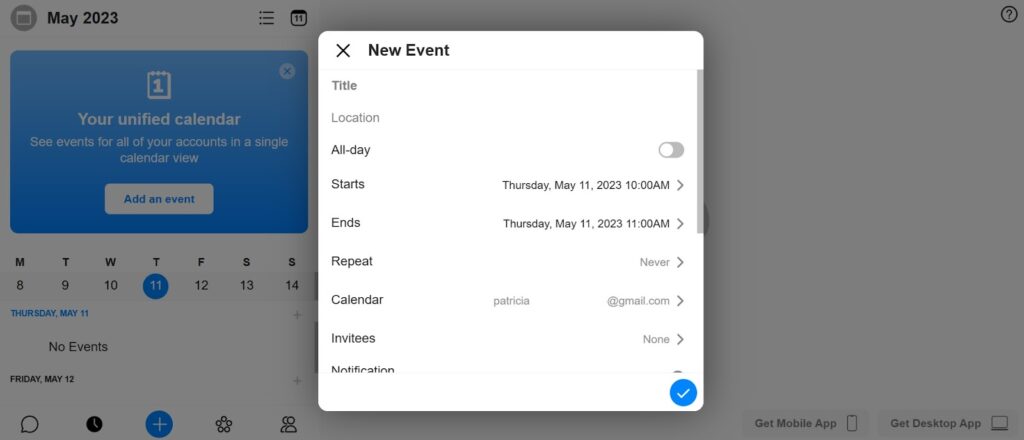 The icon in the middle serves to create a new message, new group, new note or any other thing that is connected to the surrounding icons.
The fourth icon is called "Groups" which allows you to create different groups of people to keep everything more organized. You can create groups based on projects you are working on, family members, study groups, friend groups, and many others. Just name the group, write a short description, and invite people to the group.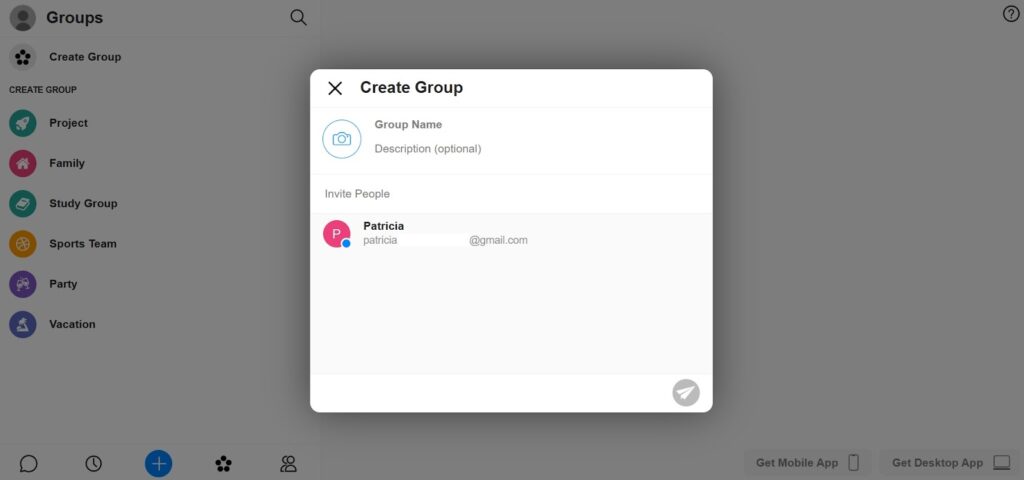 The last one is "Contacts". Here, you will be able to see the list of all the contacts that you have saved in Spike, add new contacts and send notes to each other. You can also send notes to yourself.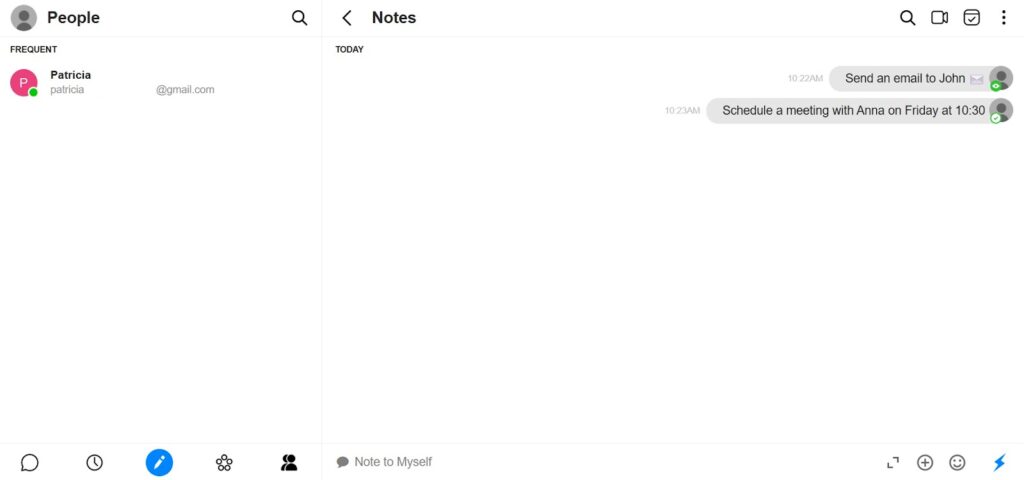 One-on-one calls
The free version also offers the ability to have a one-on-one video call or voice call. All you have to do is click on the small camera icon in the top right corner and choose if you want to initiate a video call, or a voice call with the other person. You can also share your screen with each other, which can improve the quality of the meeting and collaboration.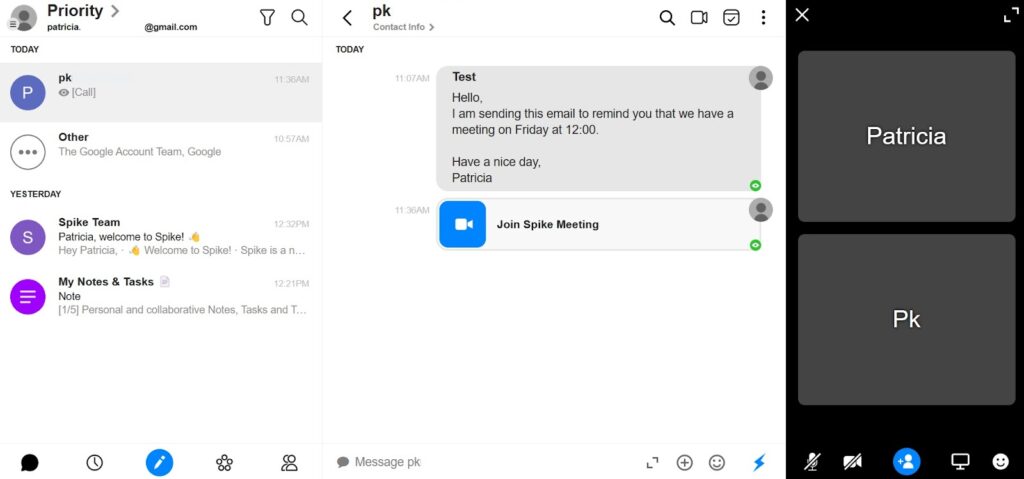 Translator
Another great feature is the translator. It can translate your messages into many languages in a matter of seconds which provides easy communication if you have international contacts. You just have to click on the "three dots" next to the message and select "Translate".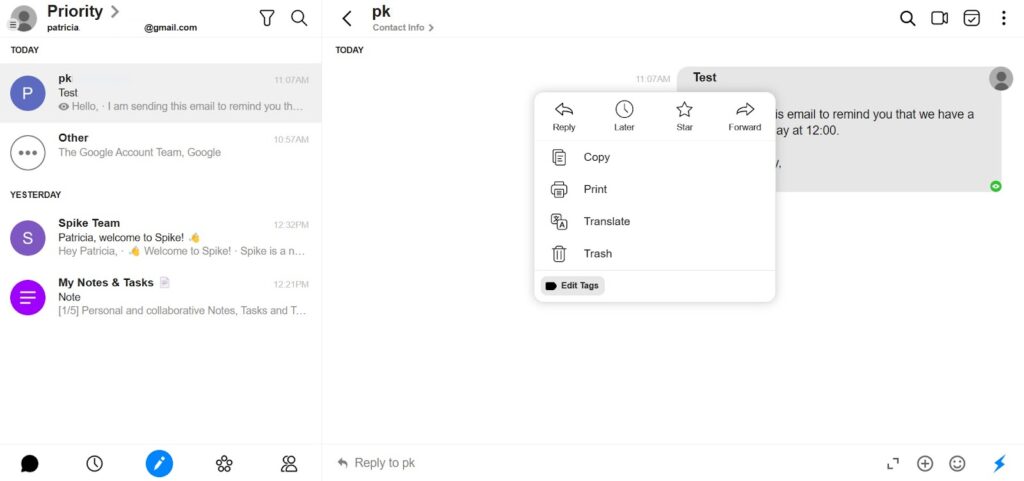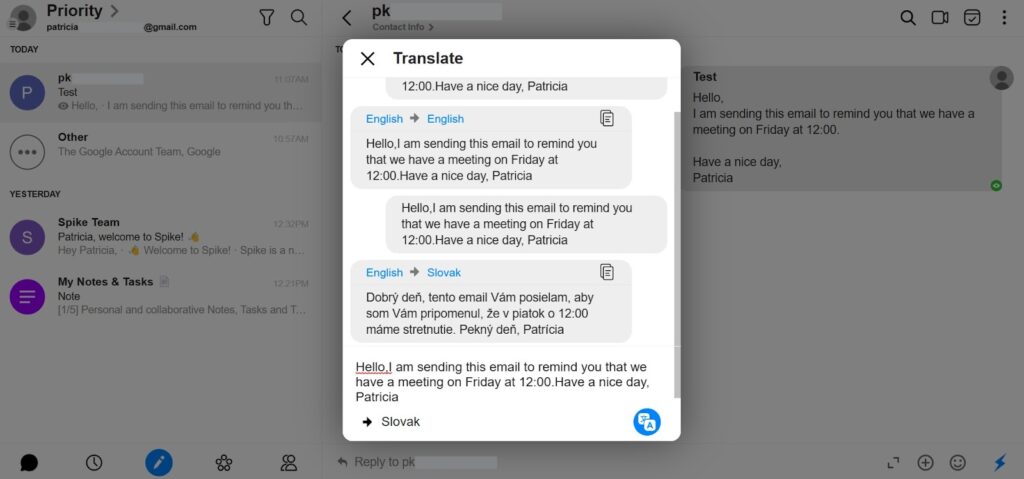 Customization options
When you go to your "Account settings", you will be able to find multiple customization options. You can change and customize the color of your account, or change your signature at the end of the emails that you send. You can also create, remove and edit tags, or message templates. However, the customization options in the free version are quite limited.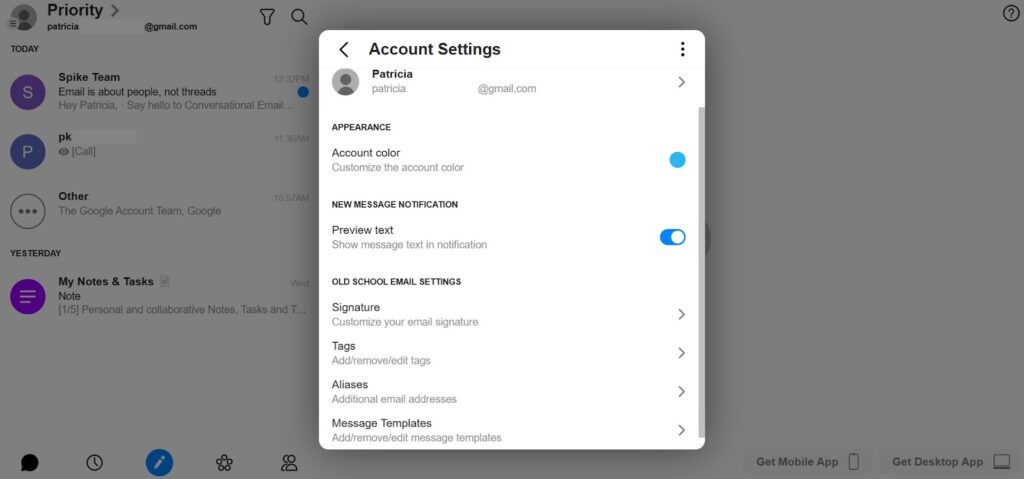 Desktop and mobile applications
Spike also offers 3 different ways you can use their services. It is available as a web app that works without the need to download anything onto your computer or any other device. Alternatively, you can download the desktop version of the app that works with Windows and Mac, or a mobile app that is available for both iOS and Android.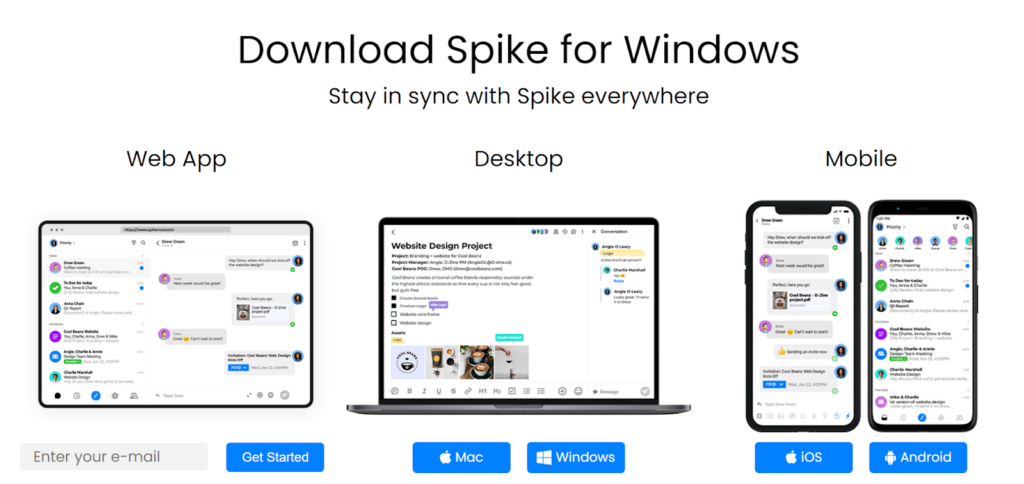 Performance and user experience
As mentioned previously, Spike is a tool that is very intuitive even for a new user, because it is very well organized, and its chat-like interface is very unique compared to many other email management systems. It makes the conversations and messages look more informal and innovative.
All the features that are available in the free version work well and these basic features can be very beneficial for an everyday user. However, if you own a business and your needs and requirements are higher, I would recommend opting for one of the paid subscription plans because they offer more advanced features.
The "Timeline" feature, or calendar, is great if you need to schedule different events, meetings or set reminders to yourself. However, it could use a little improvement to see the different months more clearly and make it a little bit more user-friendly and clear.
The apps work great as well. The desktop app is exactly the same as the web app, therefore it is only up to you if you want to download it onto your computer or laptop. The mobile app works well for iOS and Android and it is also basically the same as the web app. Everything is easy to find and I haven't experienced any issues while trying it.
Spike pricing
Spike offers three different subscription plans. Each of these plans offers a different set of features, which allows you to choose the best version to fit your needs and budget. If you opt for one of the paid subscription plans, you can also decide if you would like to pay monthly or annually. You can always upgrade or downgrade your plan based on your needs.
Free:
The free version has unlimited time and offers a nice set of basic features such as mobile app, unlimited collaboration notes, unlimited groups, 1 GB of storage, one-on-one video calls, and file upload up to 30 MB.
Pro:
This subscription costs either $8 per user per month, or if you decide to be billed annually, it will cost you $5 per user per month. The Pro subscription offers all the features included in the free plan, plus some additional features such as unlimited search history, video calls with 5 participants, 5 GB of storage, file upload up to 100 MG, and priority customer support.
Business:
The business plan also has two different prices. You can pay $16 per user per month, or it can cost $10 per user per month if you decide to pay annually. This plan comes with advanced features that are not available in the previous two plans. These features include: VIP customer support, video call recording, SAML-SSO across devices, 20 GB of storage space, up to 10 participants in a video call and file upload up to 1 GB.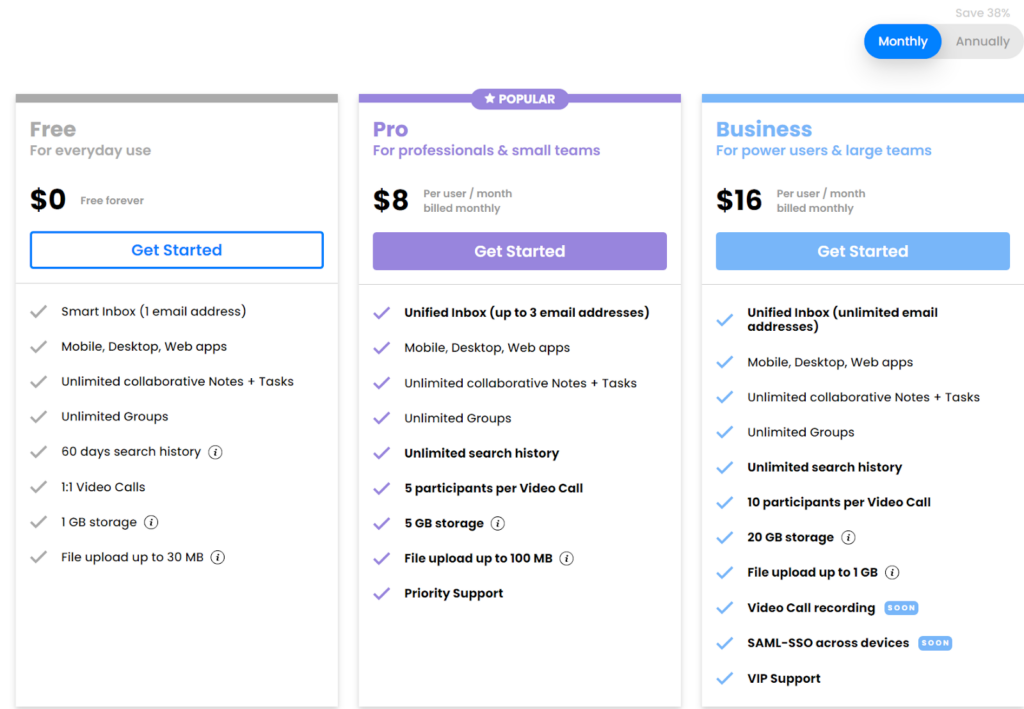 Conclusion
In conclusion, Spike email management software is a great tool for those that are looking to streamline their inbox and improve productivity, and collaboration. Its easy-to-use interface and chat-like messaging system make it simple to navigate and stay on top of your emails.
While the free version offers useful features, some users may require additional features that are only available in the paid subscriptions. It's important to note that different pricing plans may fit different users based on their needs and requirements.
Frequently Asked Questions
Deleting your Spike account

When you want to delete your account, you can do so by going into "Settings" and selecting which account you wish to remove. Then, click on "Remove account". However, this will only remove the specific account from that device only. You will still be able to use the email account on other devices. If you want to remove other accounts, you need to repeat these steps for each email account on the device.

Refund for your subscription

Yearly subscriptions can be canceled within the first 14 days after the initial purchase. When you decide to cancel your subscription, your refund will be a prorated amount from the day of your cancellation.Monthly subscription plans are non-refundable. When you want to cancel a monthly subscription, it will be effective from the end of the current billing cycle. Therefore, you will still have access to the account for the remainder of the billing period.