The desire to own a home or any other type of real-estate is inherently human. The majority of the population have purchased or will purchase their new property from a certified real estate agency or an agent.
That equates to massive numbers of valuable prospects. But the days when it was enough to have an appealing display of properties on the window of your agency are seemingly long gone. Of course, it is still necessary to have that, but a significant part of the buying public is shifting their attention online.
Purchasing products online can be difficult. The main reason is that you cannot view the products in the real-world before making a decision.
It is even more stressful to purchase a property this way. You want to be able to interact with, check each room, read the contract, and generally have your questions and concerns answered by the realtor immediately.
The phone is a good way to do that, but live chat is a more convenient and productive option for online communication.
Are you ready to lay down the first building block of your customer service success?
Let's get to work.
How can live chat support the real estate industry?
Start the online support right and provide a positive experience to online clients searching for their new home.
The so-called window shopping was an opportunity for a potential buyer to check the properties on a real estate agency's displays.
The chance of catching the attention of the prospect was redesigned online as well. It has been observed that to catch a prospect's attention, the time to do that is between 5-10 minutes.
What are the benefits of live chat for five main categories or real estate?
Residential
Commercial
Industrial
Raw land
Special use
Timed and strategically positioned proactive chat invitations on pages that routinely generate high traffic numbers, for example, a pricing or product page.
Even though live chat is primarily an active tool for chatting in real-time, it offers a feature for the outside of business hours communication, and that is contact forms. As with other features, contact forms are fully customizable.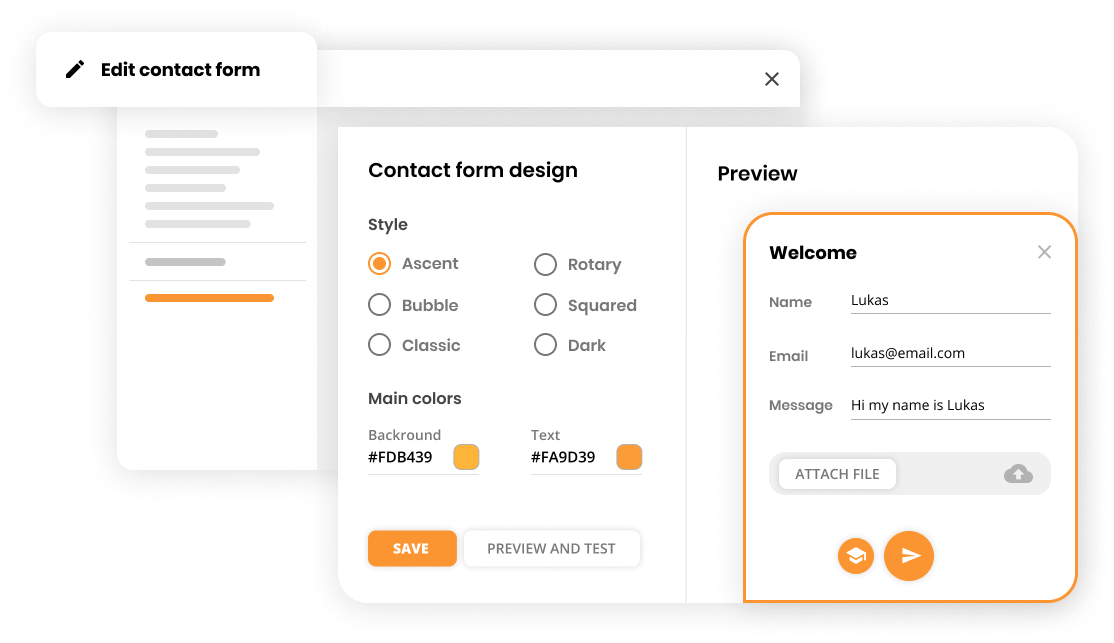 Due to various reasons, it is sometimes not possible to schedule a viewing of the property. But with the added feature of video chat, your real estate agents can provide virtual tours to their prospective buyers. LiveAgent's video chat is browser-based, and as it is part of your account plan, you do not need any additional third party application to run it. Either create or choose a video chat button from our gallery, and place it on the website, and you can enjoy a face to face conversation in real-time.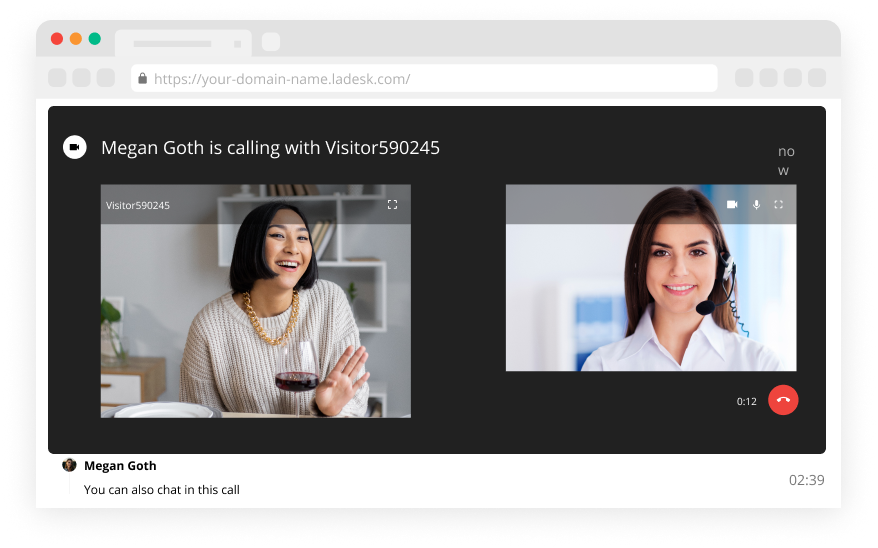 The live chat can in real estate agent's shares of the profit as it easy to monitor the conversion rate and, therefore, accurately reward the agent in terms of commission.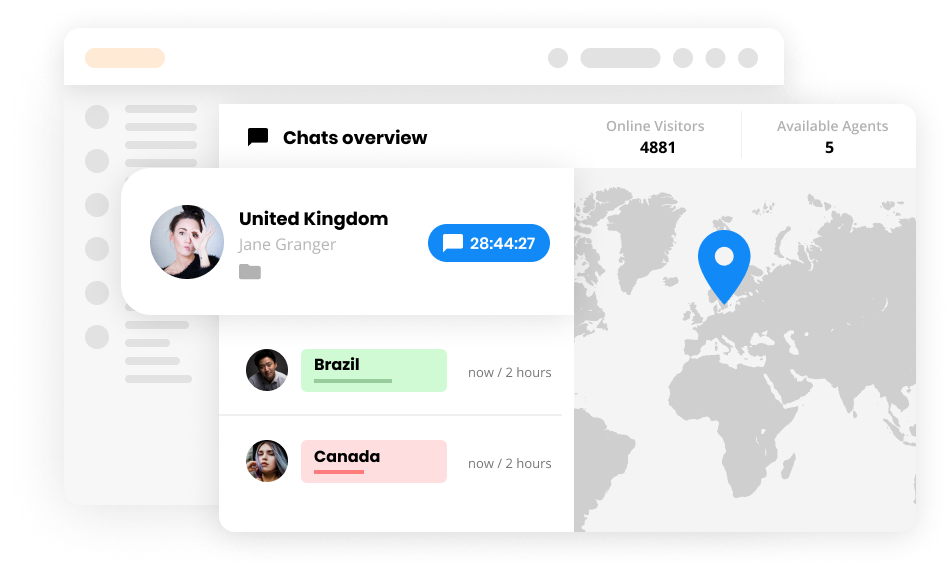 How live chat compares to phone and email support?
It is a more cost-effective method of providing online assistance to prospective homeowners, leads, and regular clients than phone or email support. The significant difference is that managing live chat conversations is not necessary to perform in large numbers.
A single agent can handle multiple chats at the same time. The quick and topical responses are invaluable time savers. Attaching the vital documents gives clients an idea of what legal and financial requirements are required to purchase a property.
How to train real estate agents for live chat communication?
The successful live chat interaction wouldn't exist without skilled and knowledgeable staff. They are the essential component of positive customer experience and, ultimately, conversion.
Online communication is different than the usual face-to-face interaction real-estate agents have been used to in the past. If you wish to provide a highly personalized and human live chat service, there are specific guidelines for your real estate agents to follow.
The real estate agents act as consultants that guide investors along their property search journey, so having practical training and etiquette in place is crucial.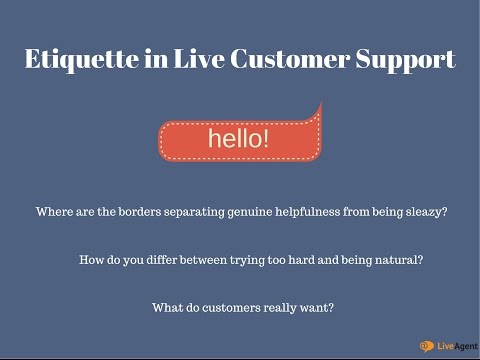 Consequently, you will be able to make an executive decision of which of your agents should be handling your chat service. The thing is, not everyone is cut out for that, and some might be more prone to mistakes than others.
What can live chat provide to make your customer service better?
Omnichannel support
Improved average waiting time
Reduced email volume
Higher conversion rate
Decreased bounce rate
Convenient communication
Increased engagement
Higher customer satisfaction score
Always keep in mind the old retail adage: Customers remember the service a lot longer than they remember the price.
Live chat's main features
Live chat and its features are all part of our omnichannel help desk software.
Universal inbox: Each chat session is converted into tickets and saved in a universal, shared inbox. Any chat agent with access can search for and bring up any client's profile or history of previous interactions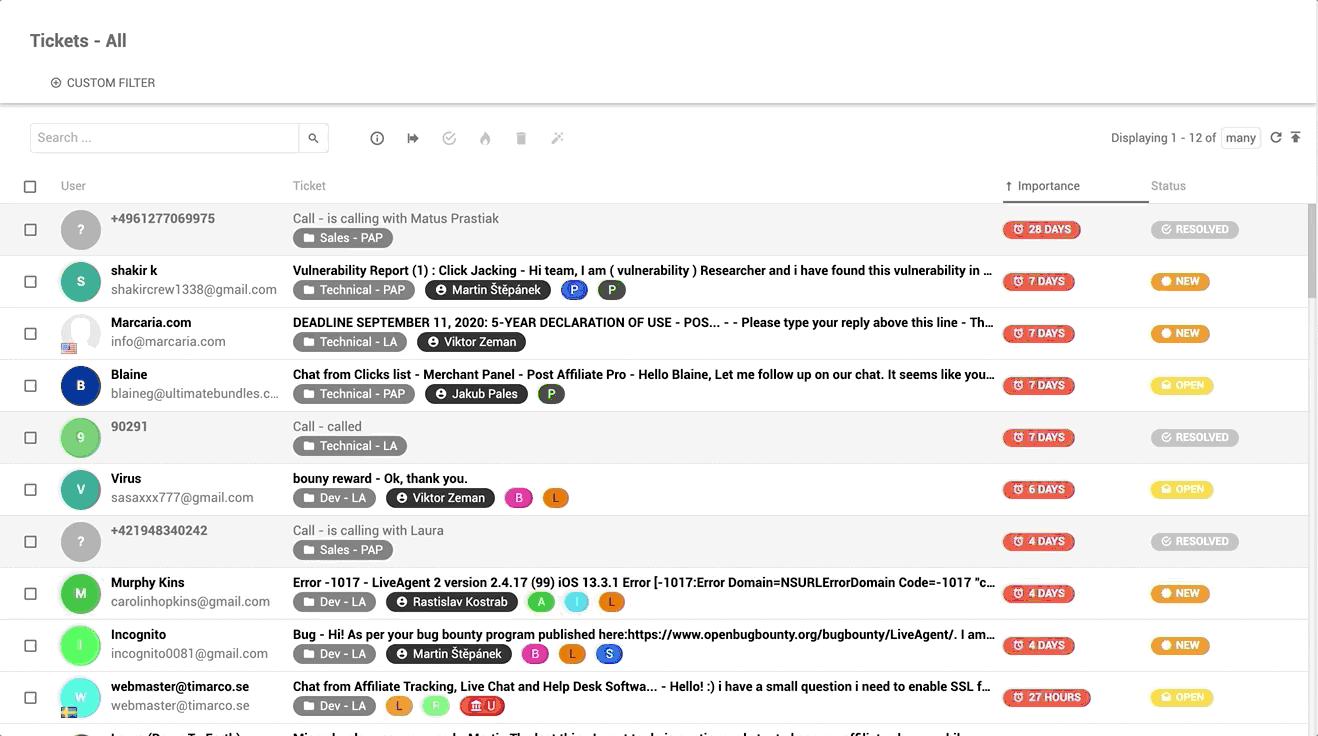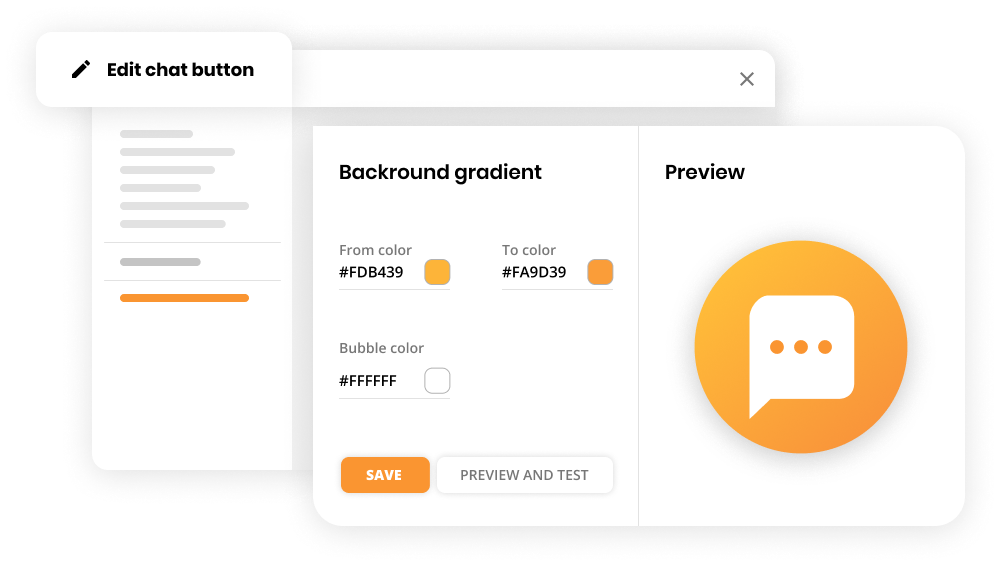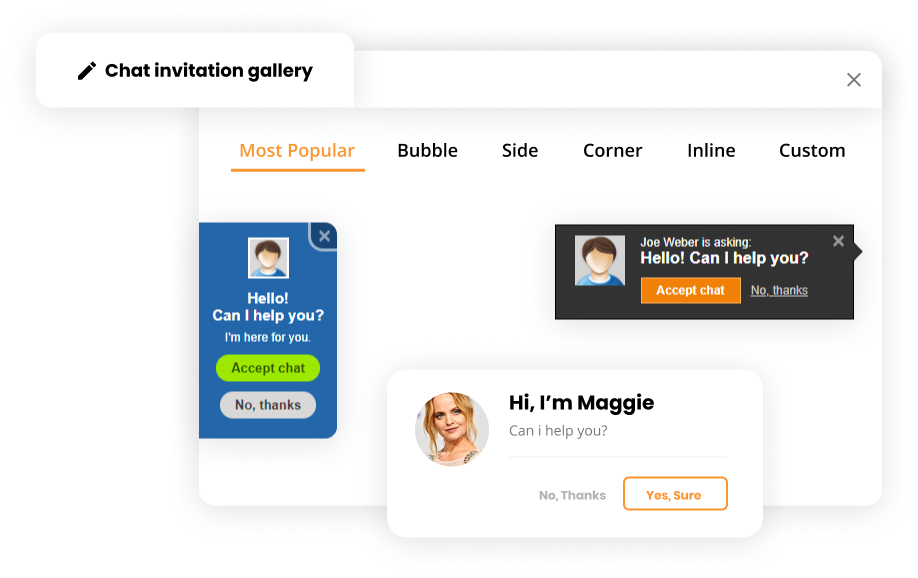 Canned responses and predefined answers: Invaluable time-saver for replying to frequently asked questions. Canned responses and predefined answers are an absolute necessity to maintain a healthy inbox.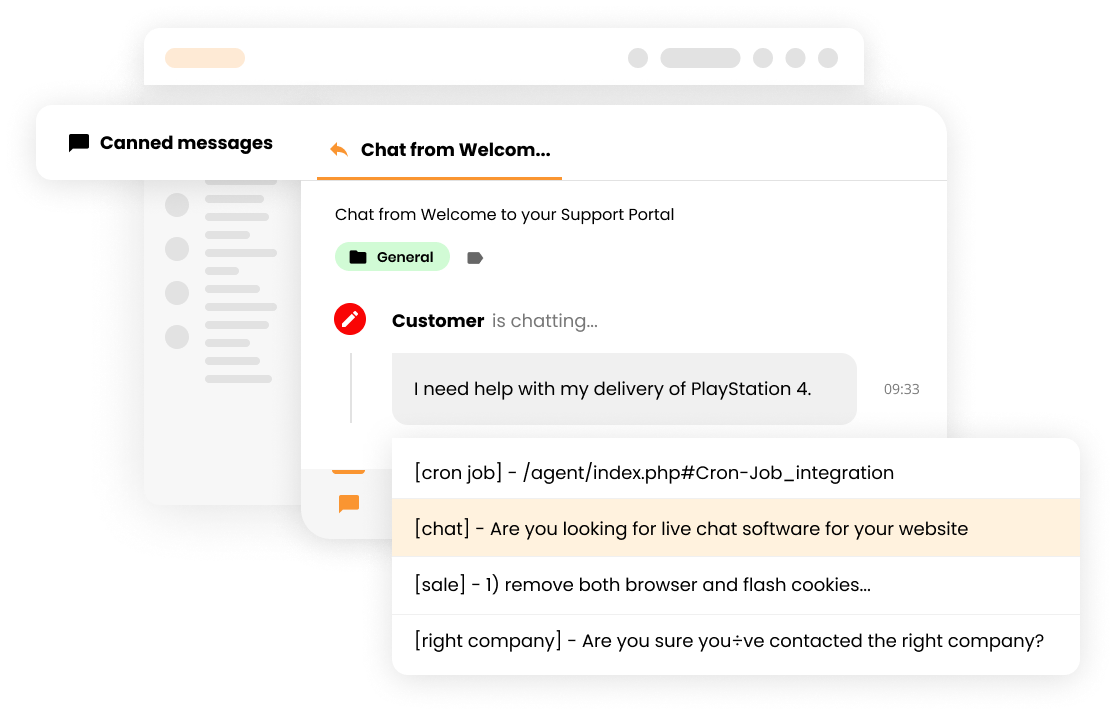 Chat overview: Would you like to know more about your website visitors and be prepared for any chat beforehand? Look no further. Chat overview presents the general picture of the number of visitors waiting in a queue, URLs, location, or other useful information.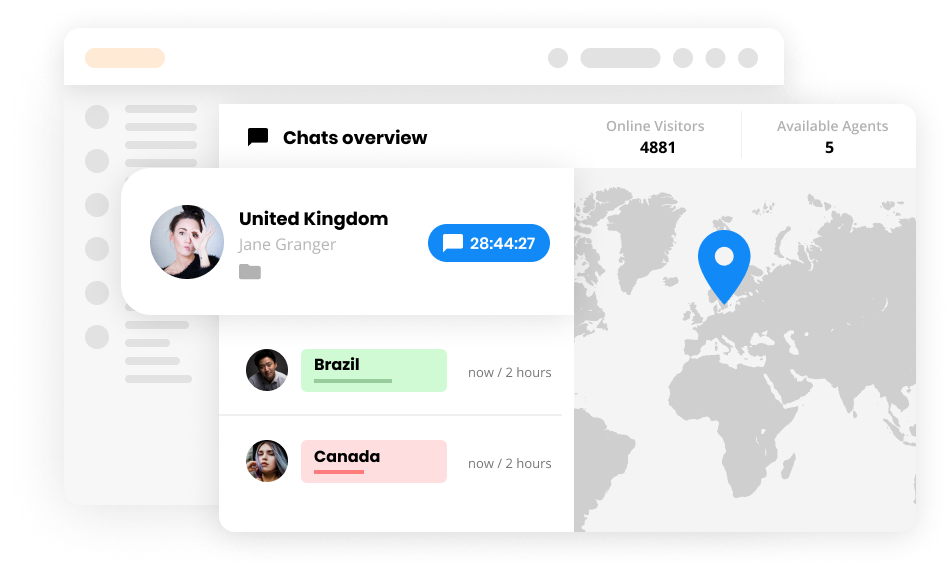 Chat distribution: Transfer of chats to available agents or automatic routing of chats by choosing three predefined route options – random assignment, ring to all, max utilization.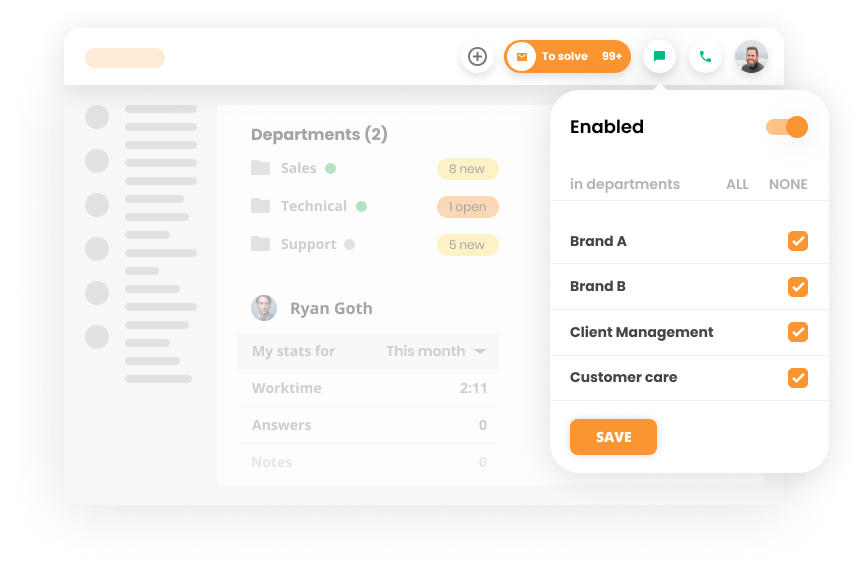 Contact forms: Enables clients to send messages through a contact form outside of business hours or when a specific agent is offline.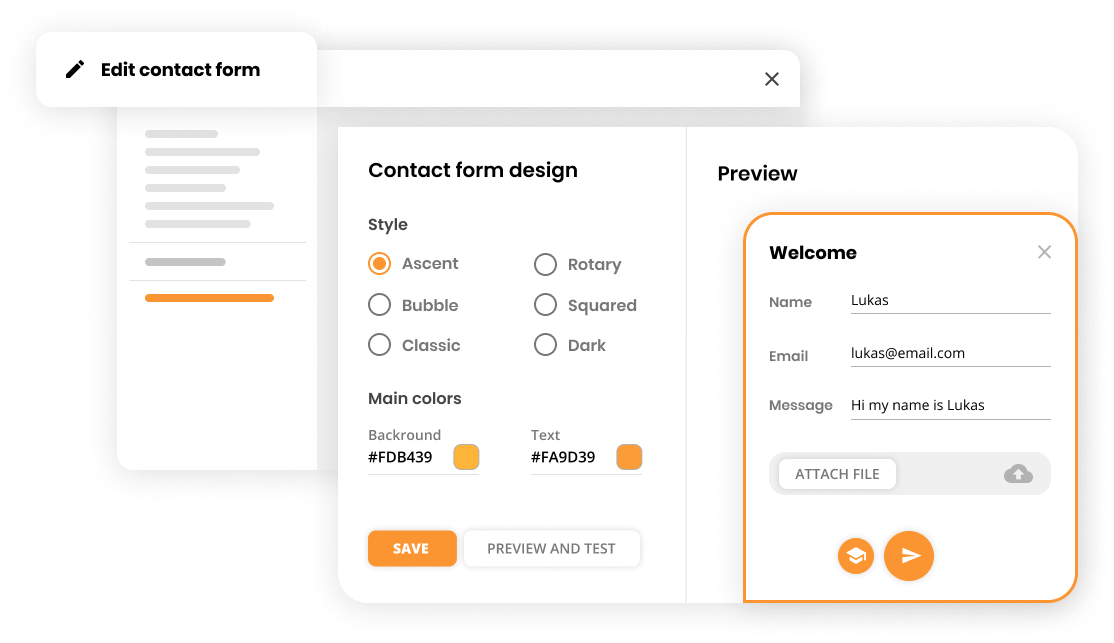 Post chat survey: Permits input and feedback from clients and ranking of agent's efficiency or the overall satisfaction with a chat session.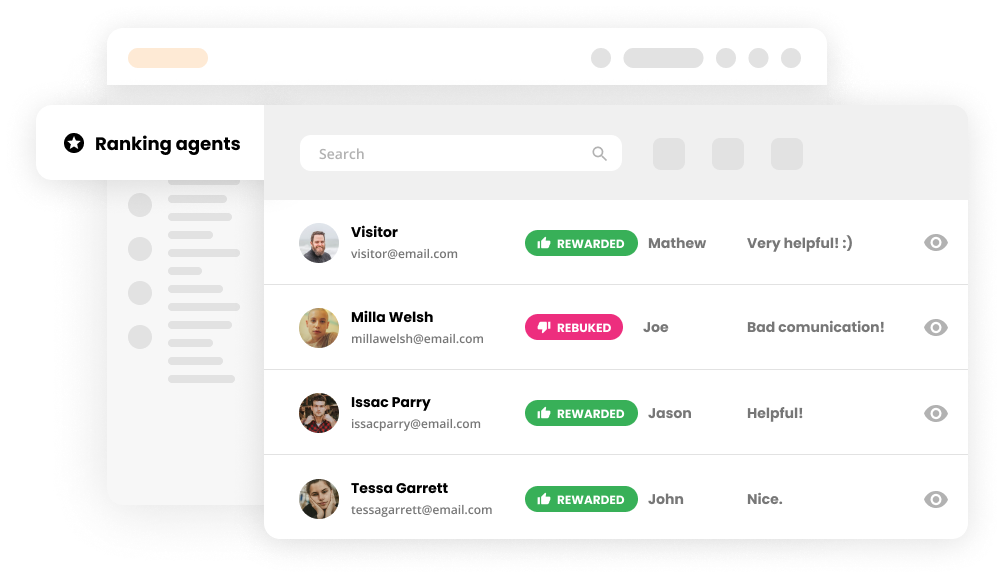 Live chat integration
Native integration done right. Simple copy and paste of a short HTML code in your LiveAgent account, and the chat button will appear on your or your client's website, prepared for any incoming chat request. An added benefit is integration with third-party software or an app.
What are live chat's security features?
Data protection, account security, and privacy matters are essential topics for anyone who manages and conducts their business online. LiveAgent is no different. Here are some of the top security features.
If you would like to learn more, read LiveAgent's Security Privacy Policy.
Knowledge base
If you want to learn more, head over to our knowledge base for additional information.
Still not sure if the live chat is the right tool for you?
Start a free-14 day trial, no credit card required.
Frequently

asked questions
What is live chat?
Live chat is a communication tool that can either react to the chat request or serve as an instigator of live chat communication. This is performed by implementing a chat widget, commonly referred to as a chat button on the website.
What are the main features?
The core features of live chat are: Universal inbox, Customizable chat button and other chat related functions, Proactive chat invitations, Canned responses, and predefined answers, Chat overview, Chat distribution, Contact forms, Post chat survey.
How is live chat more beneficial in comparison to phone and email?
More cost and time effective than phone or email service due to its inherent speed and personalized approach.
How to train real estate customer service agents?
The training and handling of the live chat service are advisable to agents who have an affinity and necessary writing skills to keep the seamless flow of conversation.
Why is live chat important for the real estate industry?
The live chat is mainly used for assistance to potential or existing customers, but it can perform well also as a vehicle to drive conversions.
How to integrate live chat?
Fully supported native integration. Quick copy and paste of an HTML code, and you can chat immediately.
What are live chat's security features?
Core security features are: BAN IPs, 2-step verification, HTTPS Encryption, Multiple Data Centers, GDPR.