Some technological solutions are bound to disrupt specific processes across the industries. Contact center software is one of the few exceptions. While it opens up the doors for various improvements, it doesn't come with a long list of requirements and a lengthy implementation period. 
Given that the contact center software industry is flourishing, the market is flooded with all sorts of solutions from different brands. 
So, how do you pick the right one? 
Contact center software can improve and streamline inbound and outbound communication. To make such an important business decision, you need access to as much information as possible.
Here is everything you need to know about contact center software, the best solutions on the market, and what makes every solution unique in terms of what it has to offer to your business.
What is a contact center?
The majority of businesses deal with a large volume of telephone inquiries on a day-to-day basis. To gain complete control of telephone inquiries and streamline these processes, companies often deploy a centralized office. This brings us to the definition of a contact center:
"Contact center is a business office specializing in receiving and transmitting telephone inquiries."
A contact center often includes several call centers. While they handle receiving and transmitting customer telephone inquiries, they can also manage and process other contact types made by customers. These include social media interactions, live chat, forums, video calls, and email. 
When it comes to call centers, there are two options to choose from: inbound call center and outbound call center. 
The purpose of an inbound call center is to receive incoming calls from customers. Customer support teams usually use this type of call center. Their job is to monitor the situation and take over any calls from customers who experience product or service issues or have any questions.
An outbound call center is dedicated to handling outgoing calls to consumers. Unlike inbound call centers that are of interest to support teams, outbound ones help sales teams. Sales managers use outbound call centers to inform potential and existing customers about new offers and other important information. These centers are also used to streamline market research and survey consumers. 
Due to the sheer volume of telephone inquiries, many companies decide to implement contact center software. It is a contact center solution created to enable companies to keep up with a high volume of both inbound and outbound customer communications. They often have support for various communication channels to help companies centralize inbound and outbound communication. Additionally, contact center software often includes the best helpdesk ticketing system to further streamline customer support processes.
Finally, contact center software can be an on-premise or cloud contact center solution. On-premise contact center software is installed on the company's servers. Cloud contact center software is on a remote server cluster, popularly called "cloud."  LiveAgent is among the top 5 cloud contact center providers capable of streamlining all customer communication channels into a single unified inbox.
Cloud contact center solutions have grown in popularity because they offer better scalability and increased flexibility compared to on-premise solutions. The automated updates that are immediately available to end-users and the software maintenance that the software company handles are also worth mentioning.
Why use a contact center in your business?
Given that a contact center implementation requires planning, time, effort, and additional resources and assets, businesses need to plan before implementing one. If you wonder why it is essential for a company to have a contact center, the following benefits may help you understand its importance.
Improved customer satisfaction
An adequately managed contact center leads to improved customer satisfaction. No matter how good your product and service descriptions, instructions, and FAQs are, customers will always have questions. For some of them, your products or services might not work as intended. Others might misinterpret the instructions. A customer center plays a vital role in efficiently resolving these issues. 
It provides businesses with all the tools they need to streamline communication with customers. With flawless customer interactions, you can improve customer satisfaction, retention and get to the heart of your customer's needs. Businesses that use analytics features within contact center software have 89% customer retention rates on average.
Customer service teams can also benefit from having access to a robust call center. Whether they need to make inbound or inbound calls, they can do so with a simple click of a button.
Streamlined customer relationship management
In the customer-centric era, customer experience plays a vital role in ensuring customers return and create a stable revenue stream for your business. Call centers with customer relationship functionalities can help businesses ensure customers return by storing critical information related to their customers. Companies can have instant insight into the entire interaction history between the brand and the customer, providing knowledgeable and personalized service.
In fact, due to their ability to store the entire customer history, CRM features of contact centers play the role of a case management tool. This is a great perk to look for in contact center software. 
Allowing customer service and support agents to instantly access relevant customer data when they start talking with customers is advantageous.
It sends a strong message to customers that your company cares about them. In this scenario, the agents on call don't have to focus on data entry. Instead, they can remain focused on helping the customers as soon as possible. With access to previous interactions and past purchases, marketing teams can personalize the offer to drive customer engagement further. 
Next level quality management
Businesses focused on improving customer relationship processes often have quality monitoring in place. It allows them to ensure that every customer service and support agent delivers the best possible care to every customer. However, with the increasing volume of inquiries and communication channels, quality management becomes borderline impossible.
Thanks to contact center software, companies can streamline quality management. Modern contact center solutions have call recording capabilities. Department managers can regularly check call recordings to ensure all contact center agents are on point when it comes to best practices. 
With such a powerful contact center tool at their disposal, businesses can step up their quality assurance game. They can use interaction recordings to identify mistakes early on and use the data to train their staff. With support to monitor, track and record communication across channels, businesses can also streamline omnichannel quality management from one location.
Improved communication across all channels
The number of communication channels consumers prefer to interact with businesses is increasing. More accurately, 62% of customers favor email, 48% favor the phone, 42% favor live chat, and 36% favor contact forms as their preferred channel of choice. 
Add the internal communication channels to the mix, and it becomes tough to standardize communication. Staying compliant remains the number one priority, especially for multinational companies serving international markets.
Whether you want to improve business communications or focus on improving outbound communication, modern contact center software can streamline things for your team. Don't forget that it is a centralized solution meaning that everyone can communicate via one platform. Agents can tag others during the communication to quickly bring them up to speed too.
Finally, state-of-the-art contact center solutions come with the operational brilliance of Castel Communications. It will help your contact center quickly achieve goals while handling compliance proactively. You will also have access to best practices derived from copious amounts of data which would be impossible to decipher without proper tools. The data is compiled from other contact centers and analyzed for repeating patterns. 
Best contact center features
With so many contact center solutions out there, some with over 200 features, it becomes rather arduous to navigate this specific software industry. To help you out, we have listed out the best contact center features to look for when choosing a solution for your business.
Every contact center solution is compatible with a specific set of call devices. It is imperative to pay attention to both what devices your business currently uses and your customer's preferred communication channels.
Make sure to check the supported devices, which can include headsets, mobile, and browser-based devices. While you're at it, check the hardware requirement for supported devices in the contact center software specifications. 
If you want to use softphones, check the supported clients and limitations. The best software will support several softphone clients and iOS and Android devices with SIP functionality. Best platforms will have support for both physical and virtual call devices.
VoIP has become a standard feature for contact center solutions. However, not all tools on the market come with the exact scope of support for providers from different countries and the number of providers on offer.
Make sure to check the contact center software documentation. Cross-reference the list of country providers and the number of available providers with your specific business needs. You can even consider going for solutions that support counties you don't yet do business in if you plan on growing and expanding.
Every contact center platform has specific features that they offer: storage, call logging/recording, escalation management, and reporting & analytics.
Dive deep into these features to learn whether they reflect your contact center operational needs. Some platforms have unlimited storage, while others have limited storage that scales up with pricing plans.
Check how the platform handles call logging and recording and for how long you can keep them stored. Escalation management is also essential. Best platforms come with the capability to map agents and escalate tickets with a simple click on one button. 
Finally, when it comes to must-have features, reporting & analytics are definitely at the very top of the list. With these features, you will be able to monitor, record, and analyze your service and support agents' performance, identify bottlenecks and improve your processes on the go.
"Blended call center" is a term that refers to a call center that handles both inbound and outbound communication. If you run such a center, it is of utmost importance to narrow down your search to contact center software supporting inbound and outbound calls. 
There is no need to make your tech stack even more complex by implementing two different software solutions for inbound and outbound call management.
"Internal call" is a feature that enables your staff to communicate with each other. The latest contact center solutions have a voice chat option for internal calls to make communication more convenient. It can come in handy when an agent needs to get the correct answer quickly from more experienced colleagues. 
The "Video calls" is considered the best feature because it introduces video chat capabilities. Your agents will be able to use the video call option to chat with customers or colleagues. It can be an invaluable resource if your customer has to show your agents something so that they can understand them and provide the right solution efficiently.
Call transfers can be divided into two groups – cold and attended transfers. Attended call transfers are a much better option because they allow you to treat your customers politely. With attended call transfers, the software waits to terminate the call until one of the three conditions is met – the call is picked up, rejected, or unanswered. 
Interactive Voice Response or IVR enables you to make a completely customized IVR tree so that you can route calls to agents and departments. The best solutions come with an online IVR designer tool that you can use without technical knowledge to build an IVR tree that reflects your exact service and supports the department's structure.
Routing or call routing is an essential feature of any contact center software. IVR, which we've just talked about, is just one of them. It allows a customer to select the most relevant department or person to solve their issue(s). Other routing types include random and priority assignment. 
Random assignment does what the name suggests it does – it assigns callers to random agents who are available to pick up a call at that moment. Priority assignments route a call to an agent with the longest time since their last intervention and based on the highest priority. 
Finally, the latest type of routing is routing to a personal device. With this feature, you can route calls to the agent's personal device to make it more convenient for agents on the go.
If the queue exceeds the limits of your contact center's capabilities, it is crucial to have access to queue management features. For instance, a max queue length will help you temporarily restrict access to your agents. It saves time for your customers, improves customer satisfaction, and protects your agents from burning out. 
Types of dialing
Lastly, you should explore which types of dialing are supported as a part of the contact center solution. The manual dialer is a standard in the industry and is featured in most contact center software solutions. 
A predictive dialer is designed to dial numbers automatically. After it detects a connection, it routes the call to an agent. The progressive dialer is an automatic dialing system great for busy contact centers. Before dialing the customer's number, it shows the contact information to an agent. 
After the agent approves, the system proceeds to make the call. It is the best type of dialing system because it makes sure that the agent is available to take a call, thus preventing customers from waiting. 
How much does a contact center cost?
Finally, you should take into account how much a specific contact center solution costs. Not all contact center software comes with the same pricing plans and pricing models. The most important things to pay attention to are the cost of the agent or user per month and if there are any minutes per-user limits. Some software providers offer a custom pricing model, which is excellent for companies with specific needs.
Top 25 contact center solution
1. LiveAgent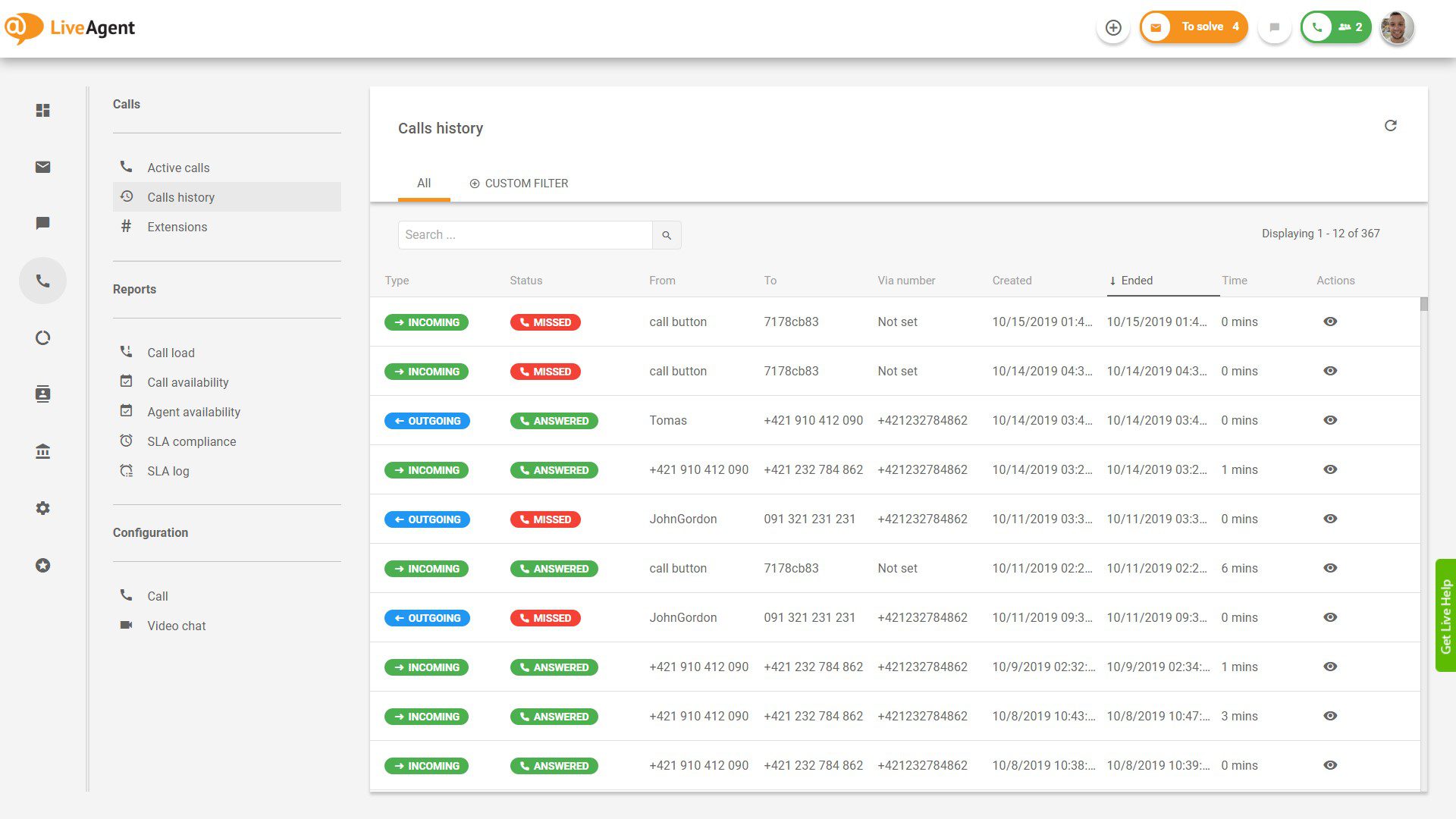 LiveAgent is one of the best contact cloud-based center software solutions on the market. It is at the absolute top of our list due to its versatility, abundance of features, and several supported channels. It is perfect for small and medium-sized businesses. With over 26 awards in various categories, LiveAgent is an option to consider if you want to deliver customer support at ultra-fast speeds.
Key Features
Blended call center;
Softphone (MicroSIP, X-Lite, Ekiga, Jitsi, Linphone, Icanbulk, and more clients);
Call logging, monitoring, recording, reporting, routing, & scripting;
Automated routing;
Real-time alerts and escalation;
Assignment management;
Archiving and retention;
Interactive voice response;
Click-to-call;
CRM;
Automated callbacks;
Pros
Great support and documentation;
Support for a lot of digital communication channels (Facebook, Slack, Twitter, Viber, WhatsApp, Mail, Chat, Calls, Video calls, Forum, Contact forms, & Feedbacks);
Functionality and ease of use;
Cons
It can take longer than usual to set up;
An abundance of features come with a semi-steep learning curve;
Price
Pricing plans start at $9 per agent per month, but you can also find the free version.
Engage with the customers from a single interface
Discover all contact center features that LiveAgent has to offer.
2. Zendesk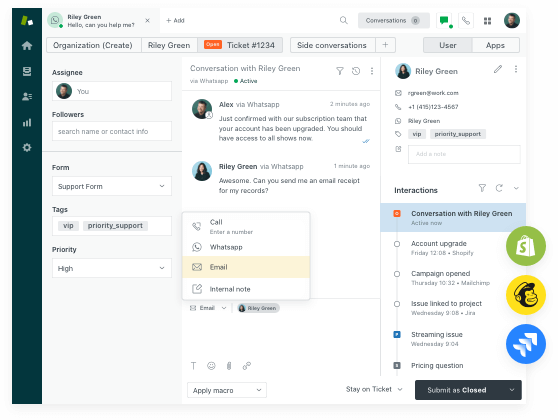 Being a service-first CRM company made it easy for Zendesk to develop a state-of-the-art contact center solution. Zendesk is easy to use, works right out of the box and comes with many useful features. It is designed to improve agent productivity while increasing customer satisfaction. The user interface is clean, and its features are easy to use.
Key Features
IVR / Voice recognition;
Collaboration tools;
Softphones support;
Queue management;
Sentiment analysis;
Reporting & analytics;
Social media monitoring;
Task management;
Pros
Easy to integrate with apps from Zendesk marketplace;
Reliable and fast platform;
Easy tracking thanks to pre-defined triggers;
Cons
Too many options on the settings page are not beginner-friendly;
Merging tickets can be tricky;
Prices are above the industry average;
Price
Pricing starts at $19 per user per month.
3. Zoho Desk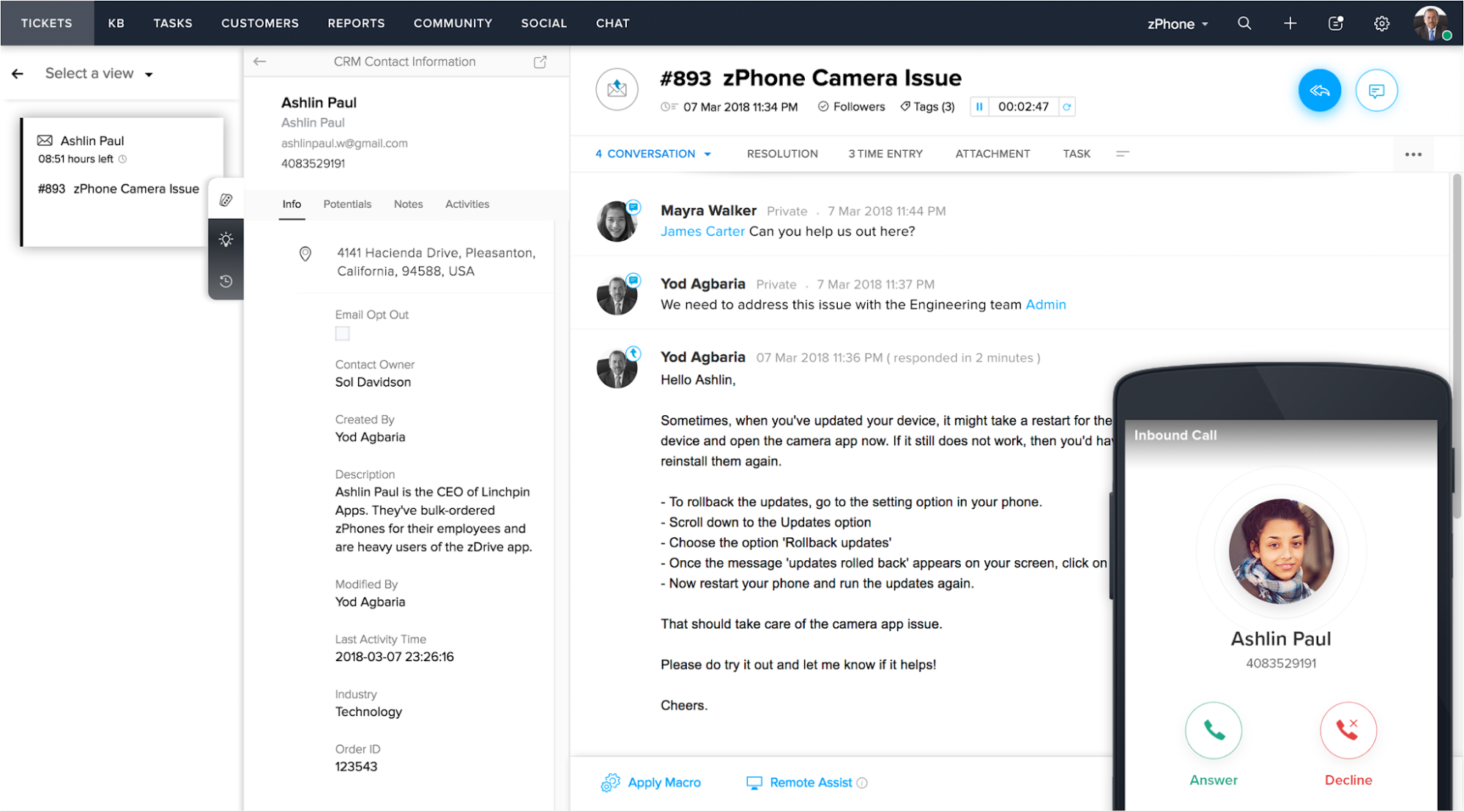 Zoho Desk is another web-based contact center software with all the tools you'll ever need to deliver what your customers require. Zoho Desk is entirely customizable so that you can set it up to reflect your specific needs and goals. The number of options can be overwhelming for an inexperienced user, but the company has done its best to enhance ease of use as much as possible.
Key Features
Contact center queue management;
Reporting & analytics;
Collaboration tools;
Chatbot;
Automated routing;
Softphone support;
SLA management;
Pros
Extremely useful customer issue categorization;
Great visualization capabilities;
Supports integration with other Zoho apps;
Cons
Automation setup requires technical experience;
Default reports don't come with a complete set of data;
Complicated to set up;
Price
It starts at $20 per user per month.
4. Talkdesk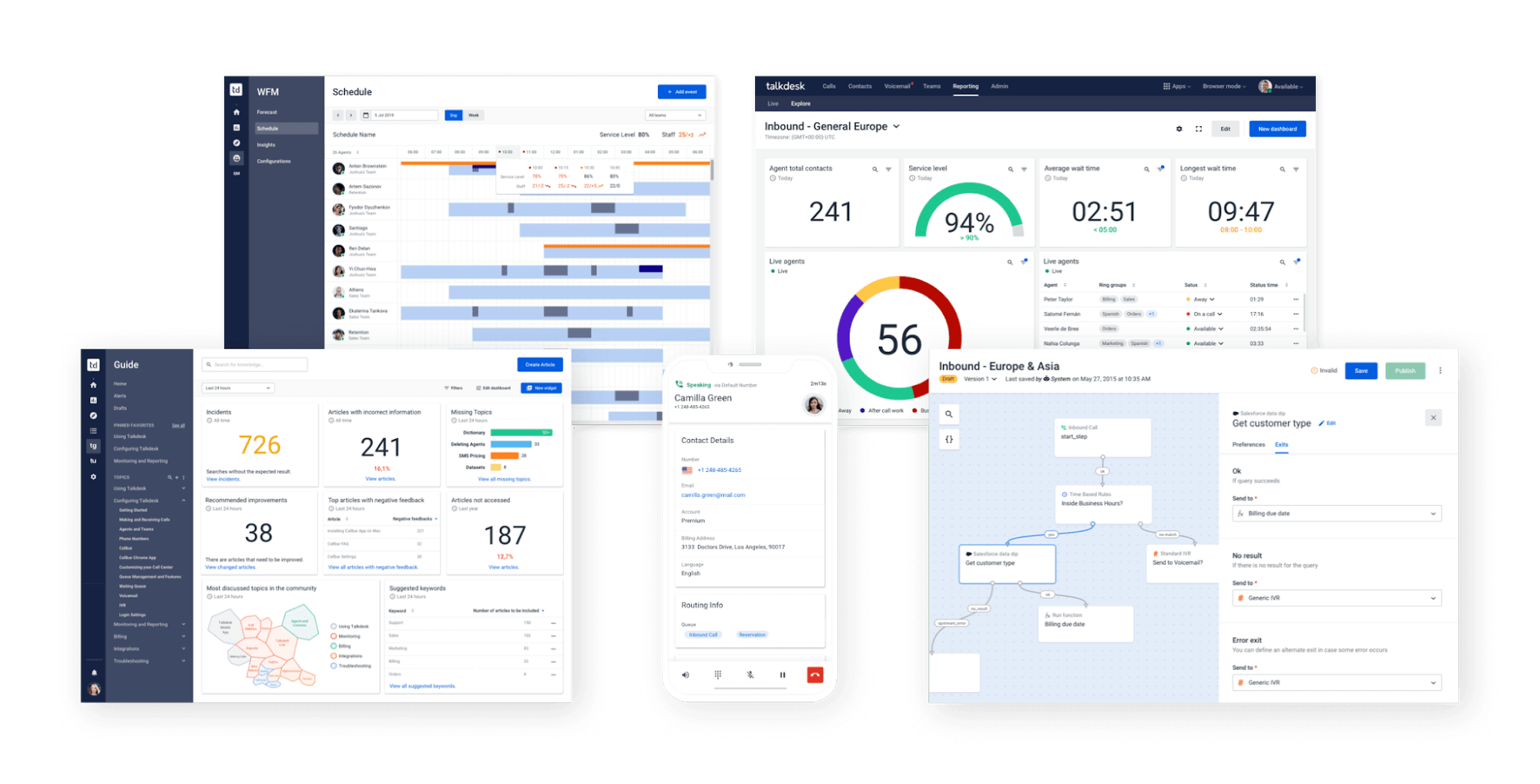 Talkdesk is a versatile yet straightforward cloud-based contact center platform. It comes with personalization features to help businesses enhance their customer-centric approach. It has a clean user interface and dozens of features built to streamline communication between business and customers. With support for various third-party integrations, Talkdesk can become a really powerful system.
Key Features
IVR support;
Blended call center;
Outbound dialer;
Quality and performance management;
Call recording;
AI trainer;
Analytics & Insights;
Integrations (Salesforce, Zendesk, Slack, & more);
Mobile agent;
Pros
Very easy to receive and make calls;
Great live dashboard for key insights;
Great app design promotes ease of use;
Cons
Needs more billing transparency;
Studio flows are hard to set up;
Random call quality issues;
Price
Price for all pricing plans only available at request.
5. GoToConnect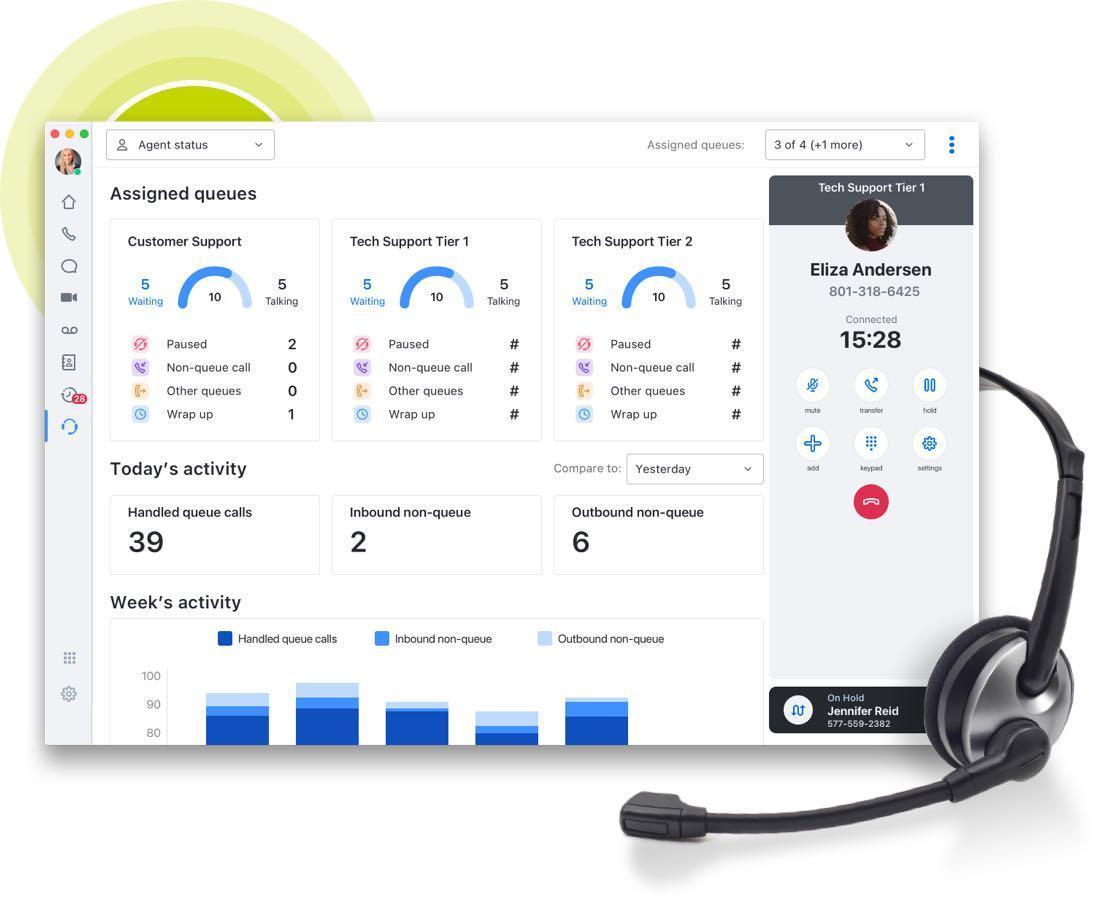 GoToConnect platform leverages GoToMeeting and Jive's cloud-based VoIP phone. It has a unique approach to solving common contact center challenges by pairing reliable phone systems with a flexible web-based audio and video conferencing system. The focus is on delivering exceptional customer experiences while enabling internal collaboration hassle-free. 
Key Features
Queue management;
Reporting & Analytics;
Collaboration tools;
CRM integrations and more;
Simplified workflow;
Call routing and caller ID;
Unlimited call queues;
Advanced ring strategies;
Pros
Highly reliable platform;
Easy to set up and use;
Streamlines collaboration for remote teams;
Cons
The mobile app can be clunky;
Limited omnichannel support;
Requires a solid internet bandwidth;
Price
Pricing plans start at $24.00 per 1 user per month.
6. Salesforce Service Cloud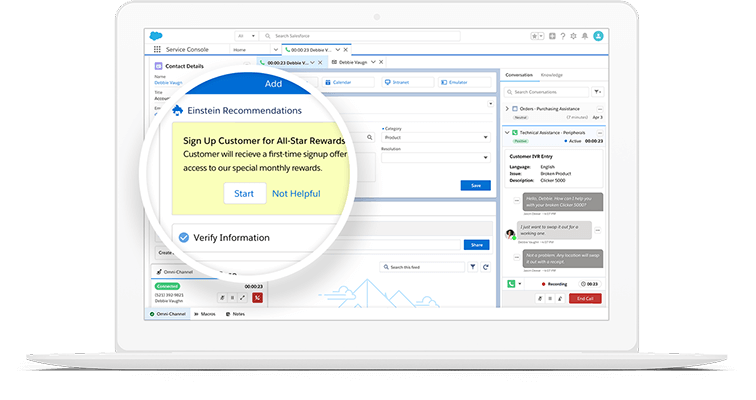 Salesforce Service Cloud is a comprehensive platform. It is built to empower every service or support agent, whether in-house or remote. It is focused on empowering teams and managers to make data-driven decisions and provide informed answers to customers. The platform is under continuous development, and new features arrive every couple of months. 
Key Features
Case management;
Drag-and-drop Lightning Flow service process and automation editor;
Omni-channel routing;
Service analytics;
Telephony integration;
Service Cloud Voice;
AI-powered recommendations from Einstein;
Quality management;
Pros
Easy onboarding for new users;
Great software integration with Salesforce CRM;
Excellent mobile support;
Cons
Advanced configurations are too complex for average users;
No access to a unified overview of all solved and opened tickets;
Performance issues with large customer databases;
Price
Price plans start at $25 per user per month. 
7. Bitrix24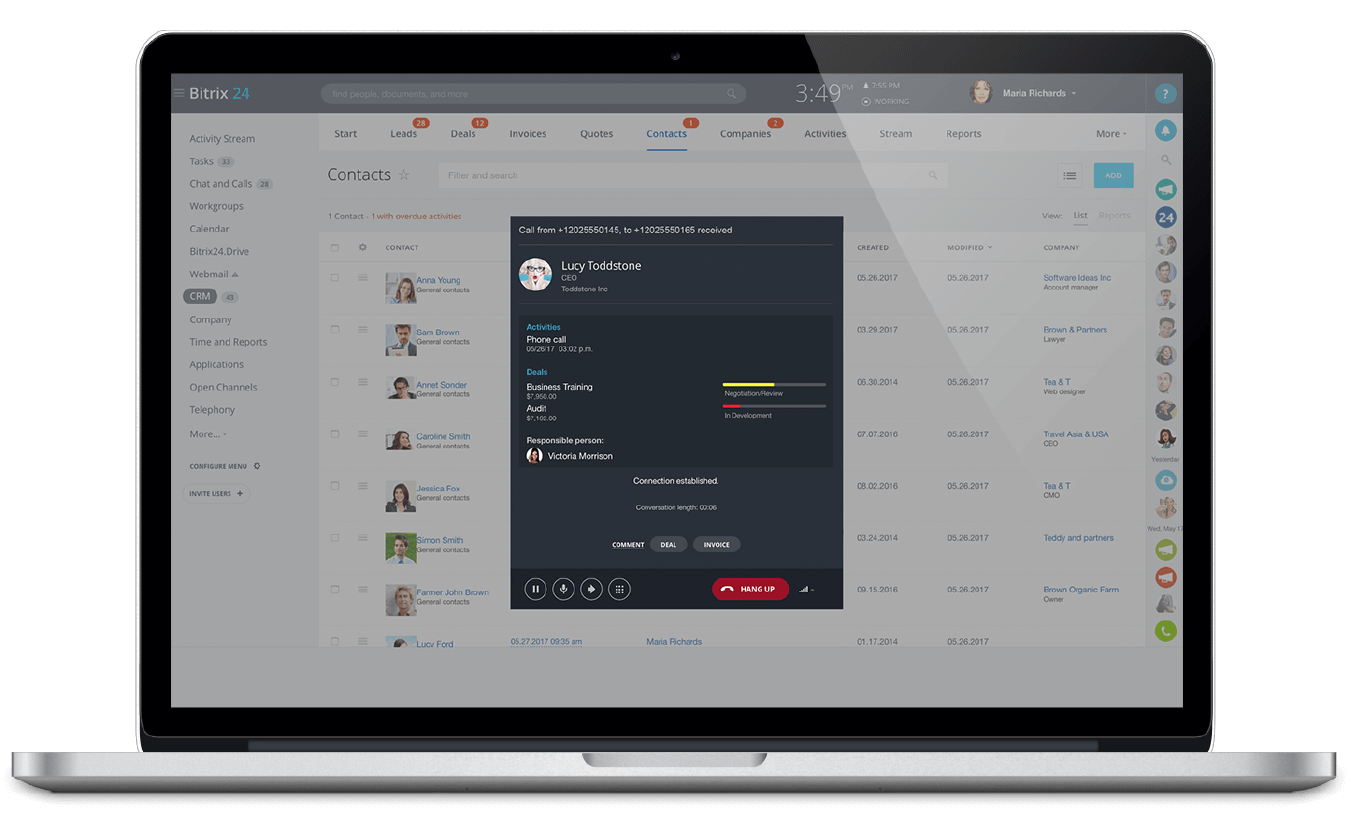 Bitrix24 is a cloud platform designed to streamline collaboration and communication for small and medium-sized businesses. However, it can be installed on-premise too. It features a telephony tool that can help you improve the workflow in your contact center. With a dedicated Bitrix24 standard business phone system, your service and support agents will be able to serve more customers and provide personalized support to each one of them.
Key Features
CRM web forms;
Bots and AI;
Instant Messenger;
Integrated social channels; 
Call tracking;
Caller data storing to CRM;
SIP phone and Softphone support;
Callback widget;
Pros
Directly contact customers from CRM;
Great for service and support teams administration;
Great automation capabilities;
Cons
Features are bundled together, and user might end up with a tool they won't use;
The mobile app lacks some functionality the web-app has;
Pricing can be challenging for small companies;
Price
Bitrix24 contact center is available in the Start+ pricing plan, which starts at $24 per user per month.
8. NICE inContact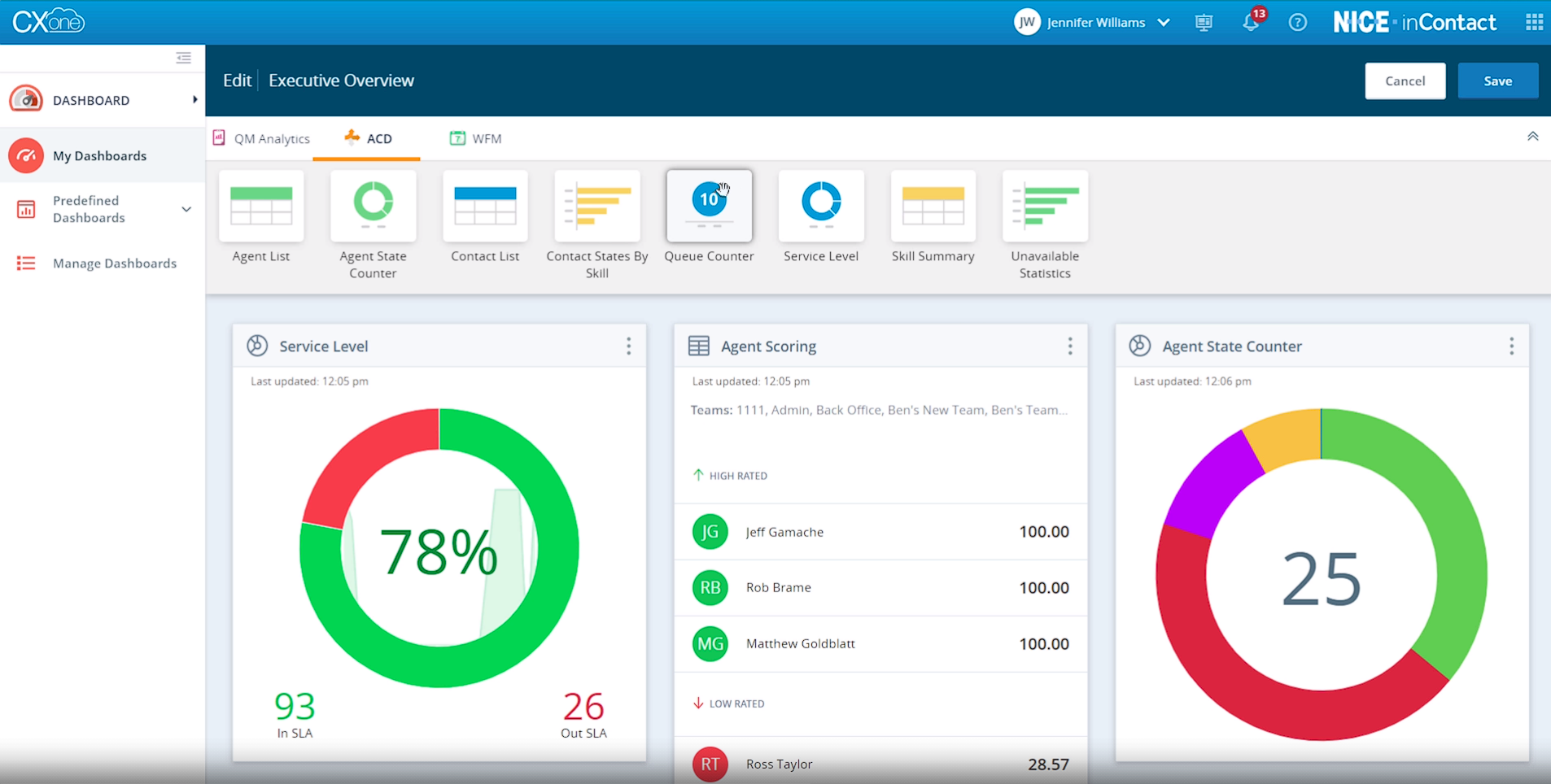 NICE inContact is another great contact center solution. It comes with a simple user interface and support for various contact center processes, including omnichannel communication, routing, analytics, and automation. Thanks to well-planned scalability options, Nice inContact can meet contact center requirements in small, medium, and enterprise organizations.
Key Features
Predictive dialer;
Automatic call distribution;
IVR support;
Performance and quality management;
Voice authentication;
Omnichannel support;
Workforce management;
Call and screen recording;
Pros
Unparalleled scalability;
Businesses can build their own contact center tech stack;
Easy to use CXOne and inContact Central features;
Cons
Pulling specific reports can be difficult for beginners;
No sentiment analysis for some communication channels;
It becomes harder to set up the more features users introduce;
Price
Price available at request.
9. Dialpad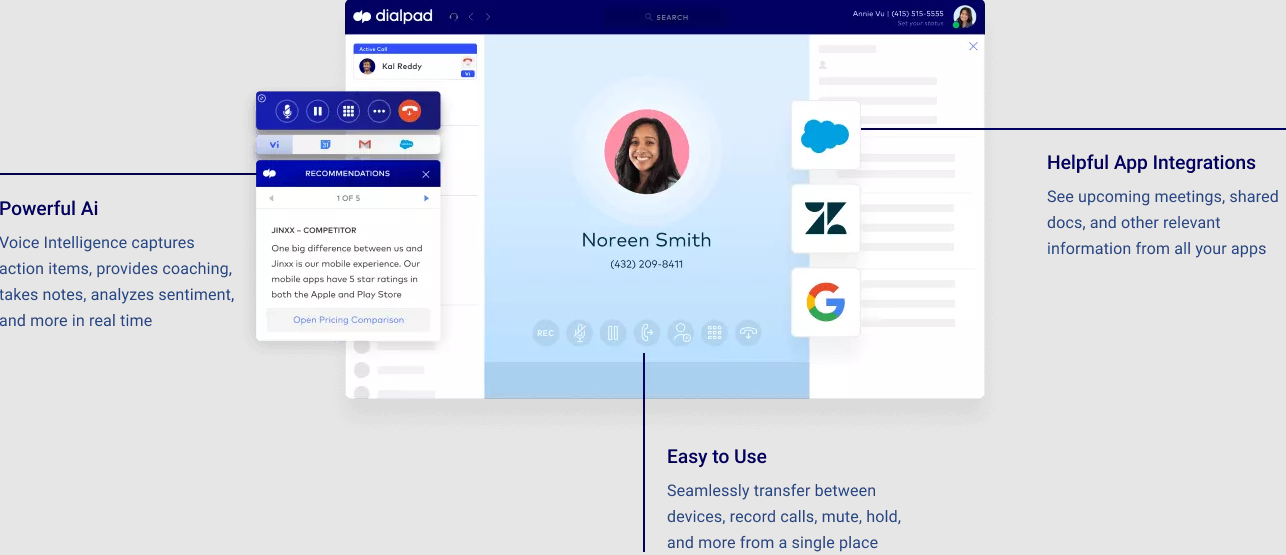 Dialpad is developed with small businesses in mind. On the other hand, it doesn't make any compromises when it comes to the number of available features. It is a cloud-based call center solution with which you can monitor and coach agents in real-time. With comprehensive analytics and reporting, it is a go-to solution for many businesses across industries.
Key Features
Voice AI;
Omnichannel support;
Automatic customer survey;
Speech analysis;
Dialpad app;
Automatic call distributor and call recording;
Support for conference phones;
Video call support;
Pros
Easy to identify the matter of a call;
Ability to analyze every interaction;
Streamlined deployment and easy to use;
Cons
iPhone app doesn't show notifications properly;
Only the standard plan is affordable;
Lack of user group settings;
Price
Pricing plans start at $20 per user per month.
10. Agile CRM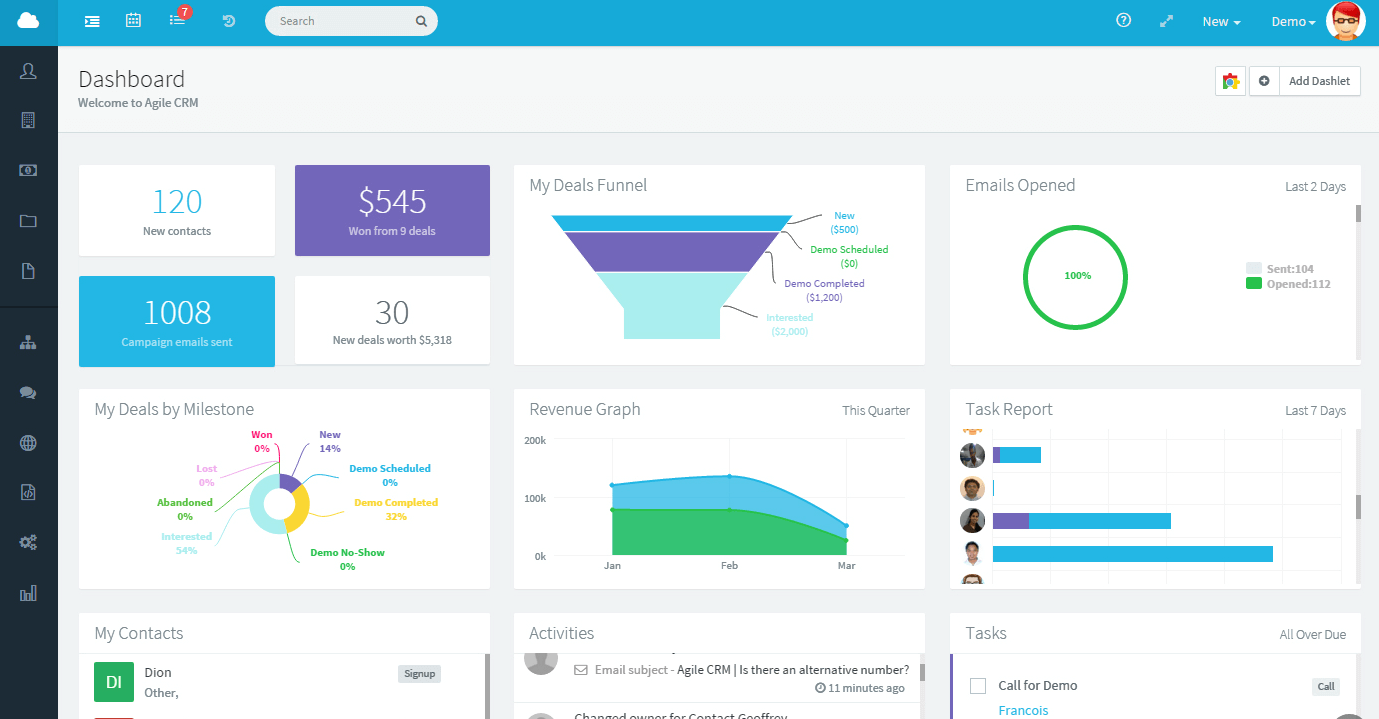 If you are on the lookout for an all-in-one CRM software, Agile CRM holds the answers to all your needs due to its versatile capabilities. It is a compelling  CRM platform with hundreds of features, such as CRM, telephony, helpdesk, and content management. The platform is cloud-based and offers a unique pricing plan charging their clients per feature. 
Key Features
Autodialer;
One-click dialing;
Call recording & playback;
Call logs;
Outreach analysis;
Reporting;
Inbound and outbound contact center;
Call tags;
Pros
Ability to build your unique app stack;
Enriched customer profiles;
Streamlined access to actionable information;
Cons
The lack of detailed software documentation;
The user interface is not intuitive;
The dedicated mobile app is available through WebView instead of a custom-made app;
Price
2-way Telephony is a contact center feature available in a "Regular" pricing plan which starts at $29.99 per user per month.
Improve your communication with customers
Be there for your customers 24/7 and help them on their journey.
11. Five9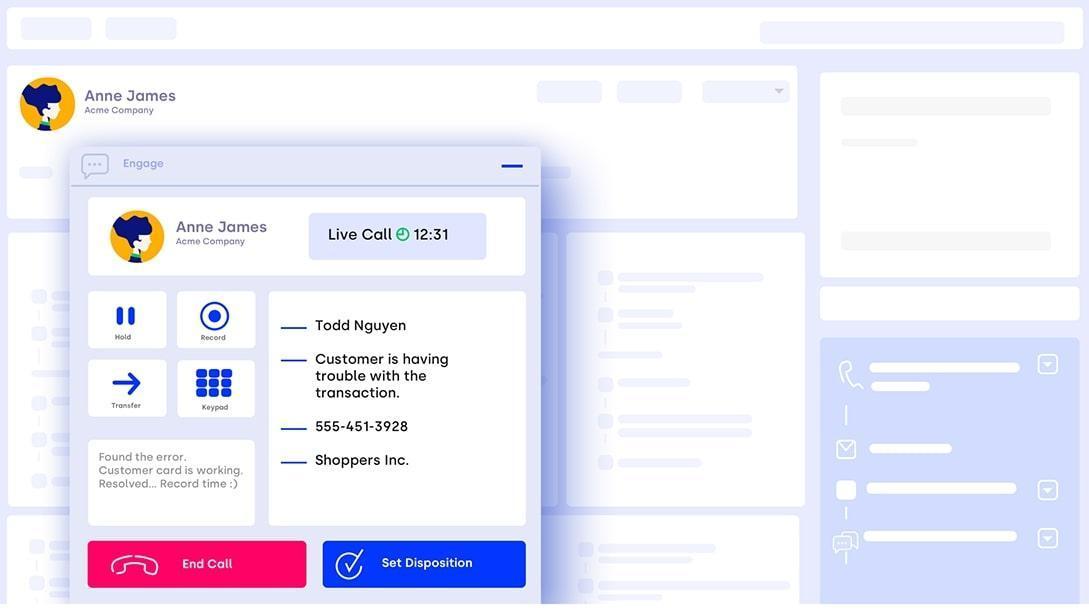 Five9 is an all-around cloud contact center solution with great support and a comprehensive list of features. It relies on the latest technologies, including AI. It uses AI to unlock new levels of efficiency for service and support teams. The software shines both in inbound and outbound calls, equipping agents with customer-intended data for better decision making.
Key Features
Agent assistant;
Support for voice and other digital communication channels;
Intelligent omnichannel routing;
IVR and CTI support;
Predictive, power, progressive, and preview dialer;
Reporting & Analytics;
Quality management;
Customer journey and CRM tools;
Pros
Great uptime and unquestionable reliability;
Customizable reporting;
Great dialing features;
Cons
Admin is not web-based, and it needs Java to run;
Implementation takes more time than other solutions;
Blocking spam is hard;
Price
Product price available upon request.
12. CallHippo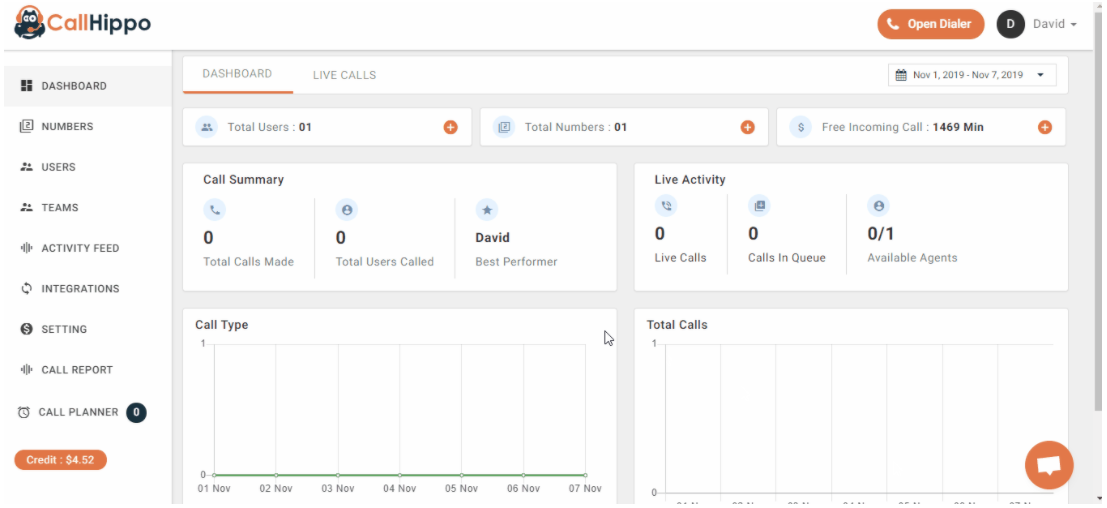 CallHippo brings simplicity to the world of contact center software. However, even though it is easy to use,  it delivers some high-end features such as automatic call distribution. With analytics and reporting, you can optimize your agents' workflow while giving them all the tools they need to provide exceptional customer service and support.
Key Features
Power dialer;
Call transfer, conference, queuing, barging, recording;
Analytics & reporting;
On hold music;
Voice mail;
Smart call forwarding and switch;
Team number assignment;
Support for virtual phone numbers;
Pros
Practical and intuitive agent interface;
Affordable cost compared to other solutions;
Dual-channel switch options enhance network connectivity;
Cons
There are bugs in the PC application;
There are no plans with unlimited calls;
Voice recordings are of poor quality;
Price
Pricing plans start at $20 per user per month.
13. VICIdial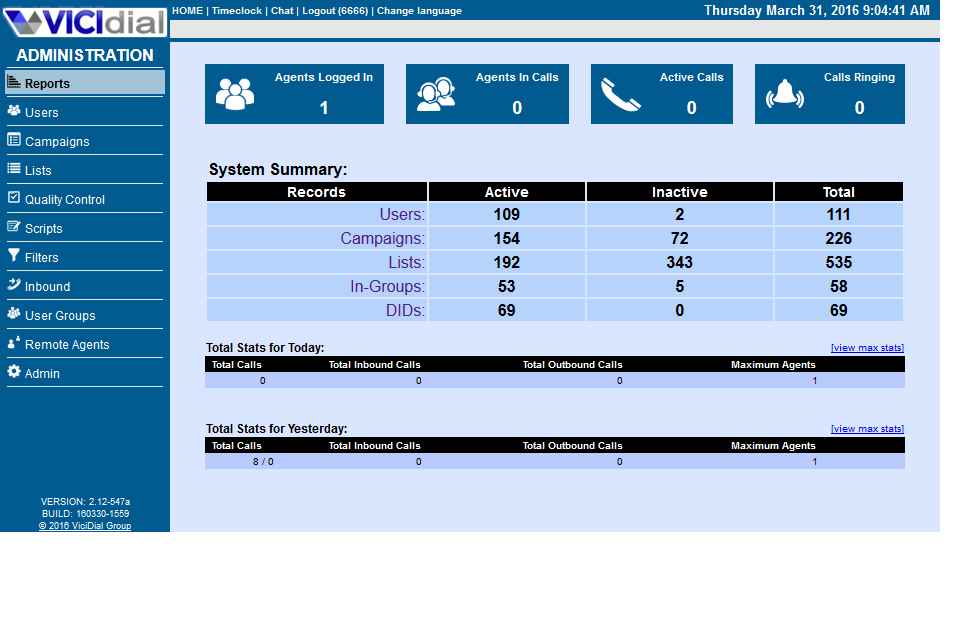 Open source contact center solutions are hard to come by. VICIdial is one of the few exceptions when it comes to this. Don't let the open-source part mislead you into concluding that it lacks features. VICIdial comes with many tools you can find in premium solutions, such as inbound and outbound phone calls, predictive dialer, and live website chat.
Key Features
On-premise or cloud-based calling;
Auto-dial campaigns;
Automatic call routing;
Predictive dialer with an adaptive dialing algorithm;
IVR support;
Automatic CallerID collection;
Real-time campaign display screens;
Multi-Language support;
Pros
It's completely free;
Feature-rich;
1-screen reporting for instant insights;
Cons
It can take a while to configure every feature;
Lack of integrations;
Outdated user interface;
Price
VICIdial is free-to-use.
14. MiCloud Connect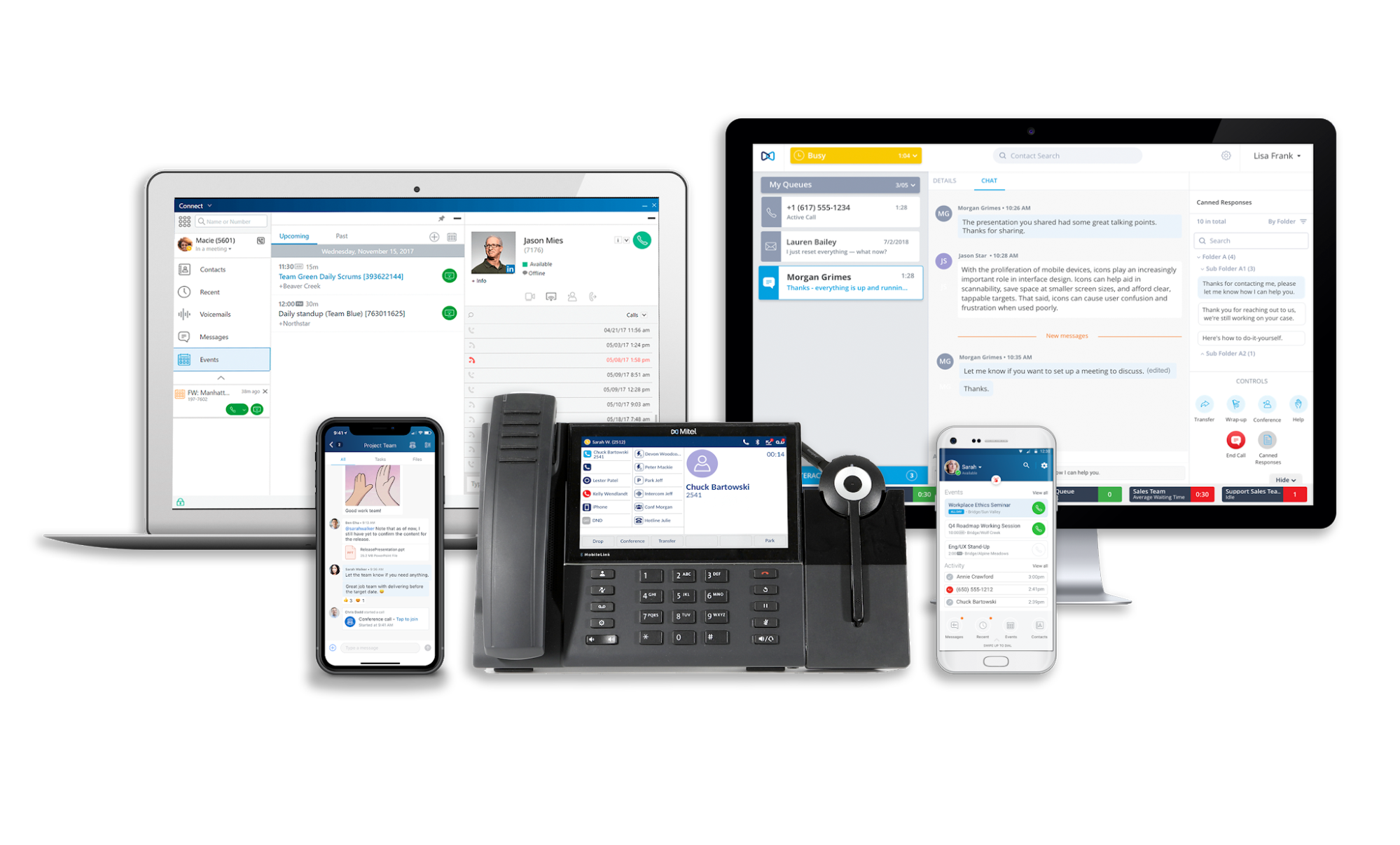 MiCloud Connect is built to streamline call center management. It provides access to advanced features to enable service and support agents to save time and improve productivity. MiCloud Connect contact center software caters to the needs of businesses of all sizes. It comes with default help desk features and offers contact center capabilities on top. 
Key Features
Softphone and web dialer;
IP desk phones;
Integrated contact center;
Built-in VPN;
Available on all platforms;
CRM and business process integrations;
Disaster recovery for 24/7/365 uptimes;
Call control features;
Pros
Great integration capabilities;
Low day-to-day maintenance;
Extremely easy to use even with no technical background;
Cons
Reporting and analytics come with some limitations;
Low call recordings quality;
Tech support only available through expensive plans;
Price
MiCloud Connect price is only available at request.
15. Twilio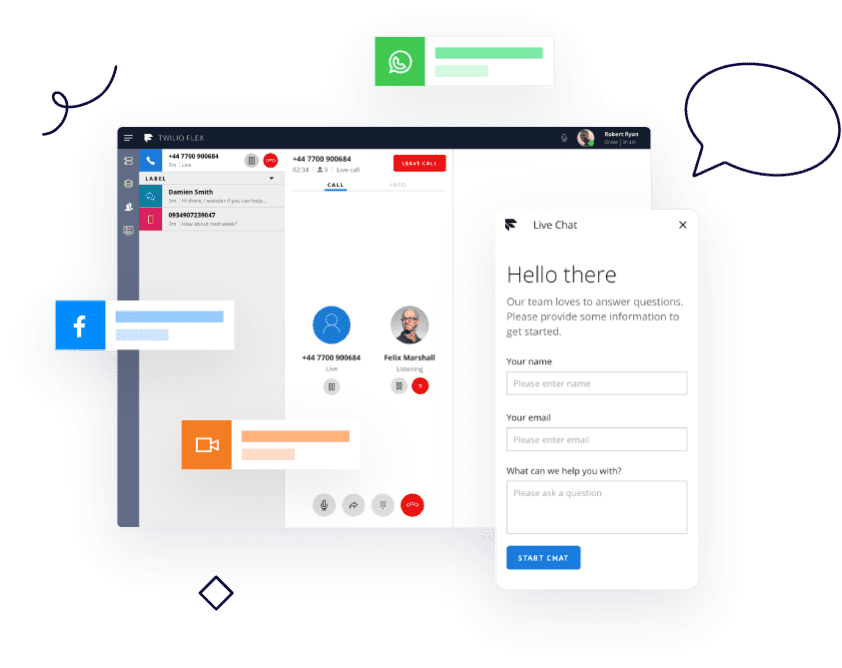 Twilio is a full-stack contact center platform. It's a fully customizable platform which makes it perfect for companies with unique contact center needs. Twilio enables companies to optimize every aspect of their support and service operations with corresponding features. The optimization options start with the user interface and go all the way to reporting and interaction routing. 
Key Features
Completely customizable features;
Intelligent IVR and chatbot;
Support for several channels;
Intelligent routing;
Engagement workflows;
Powerful integrations;
Custom analytics and reporting;
Flexible pricing;
Pros
Completely customizable;
Affordable pricing for all business sizes;
Actionable instructions and rich documentation;
Cons
Not suitable for absolute beginners;
Support only available through email;
Obviously targets tech-savvy consumers;
Price
$1 per active user hour;
$150 flat rate per named use per month;
16. 3CX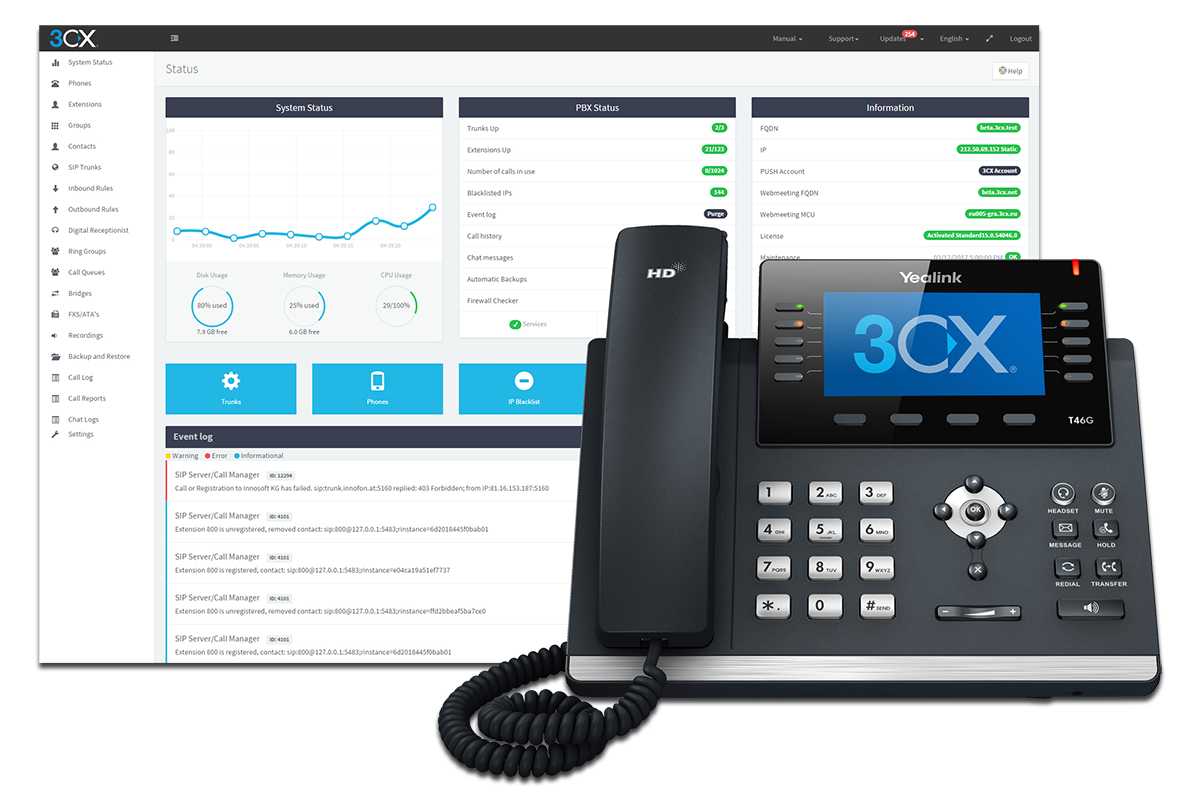 3CX is a solution that comes with complex contact center features. The platform enables unified communications from one user interface. It is built to cater to the needs of businesses of all sizes regardless of the industry. In essence, it is an open standard IP PBX that you can deploy on-premise, on private cloud, or outsource hosting to 3CX. 
Key Features
Remote assistance tools;
Live chat for website;
Great scalability;
Call queues to groups or individuals;
Support for advanced queuing strategies;
Call back option support;
Call recording;
Quality assurance;
Pros
It comes with a free plan perfect for small businesses;
Affordable option when compared to other VoIP solutions;
Easy installation and configuration for fast deployment;
Cons
Limited customization options;
Outdated design makes the user interface less intuitive;
Slight delays when accessing features;
Price
Pricing plans start at $20.83 per user per month.
17. Front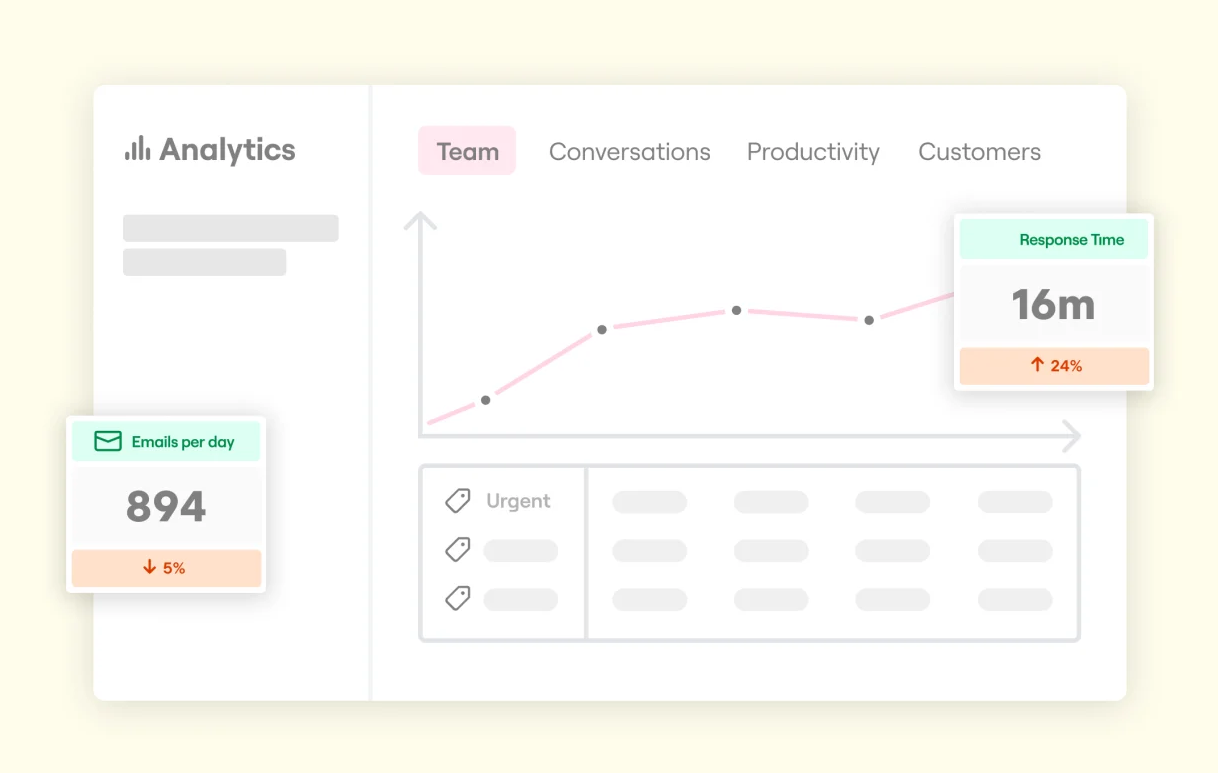 Front offers a uniform solution to the majority of contact center challenges. With an end-to-end approach, Front delivers a platform where sales, service, and support agents can achieve maximum productivity. However, Front specializes in email communication and offers features developed to streamline it. It helps companies abandon a generic ticketing system and offer a personalized customer experience instead.
Key Features
Team management;
Collaboration within the support request;
All tools and data in one inbox;
Build automatic workflows and manage SLAs;
Analytics for support activity and response time;
Support for CRM integration;
Pros
Plenty of integration options;
Ability to share emails without forwarding them;
Internal team chat within an email;
Cons
Some integrations are still buggy;
Issues with text and table formatting in the app;
Limited calendar functionality;
Price
Front pricing plans start at $19 per user per month billed annually.
18. CloudTalk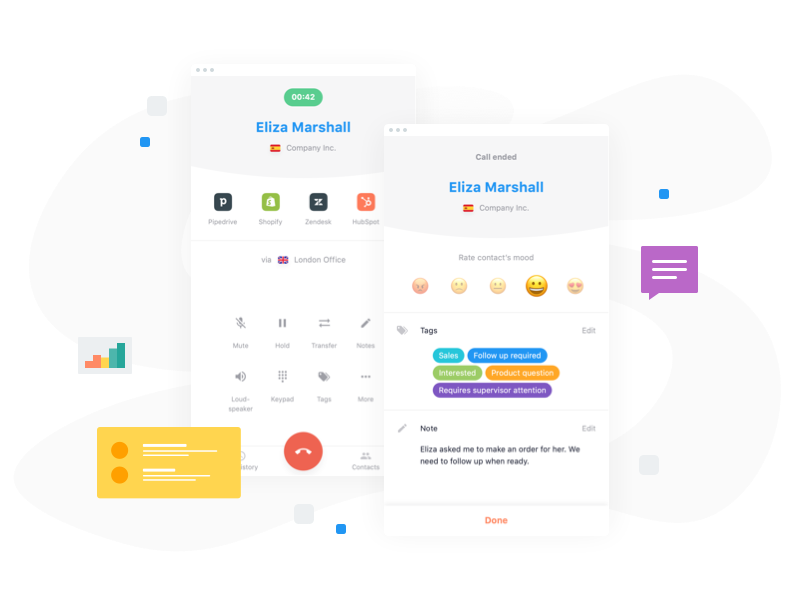 The CloudTalk contact center software covers both inbound and outbound call center support. The platform is tailored to the needs of small and medium-sized businesses. It uses cutting-edge technologies to deliver outstanding services to businesses. The system supports dozens of third party apps to make the lives of your service and support agents easier. 
Key Features
Call queuing, recording, and masking;
Internal calls;
Voicemail;
IVR;
Automated call distribution;
Skills-based routing;
Preferred agent;
Smart dialer;
Statistics and monitoring;
Pros
Extremely easy to use right out-of-the-box;
Clean and intuitive interface;
Interactive voice replies;
Cons
Random call and SMS logging issues;
Supervisors can join the call, but the consumer has to know it;
Price
CloudTalk pricing plans start at $25 per user per month.
19. 8×8 Virtual Office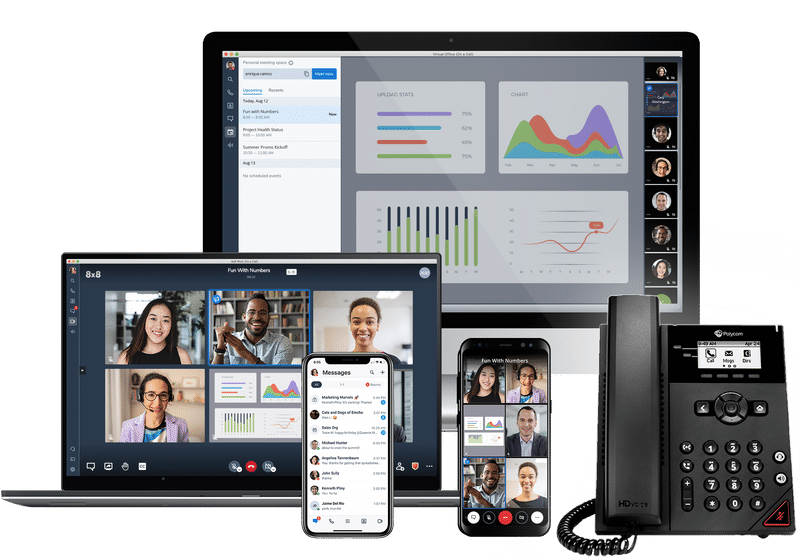 8X8 Virtual Office is packed with features. This contact center software offers access to collaboration tools, internal chat, and softphones. It also has dedicated mobile apps for both Android and iOS. It doesn't fall behind the competition in the integration department. It supports integration with popularly used cloud-based business solutions. 
Key Features
Omnichannel support;
Omnichannel routing;
IVR and ACD;
Predictive dialer;
Speech and customer experience analytics;
Workforce and quality management;
CRM;
Virtual agent;
Pros
Abundance of settings streamline customizations;
Great scalability;
Great customer service;
Cons
Pricing plans significantly above the industry average;
Outdated design on some of the app screens;
Insufficient spam filters;
Price
Pricing plans start at $113 per user per month.
20. Aircall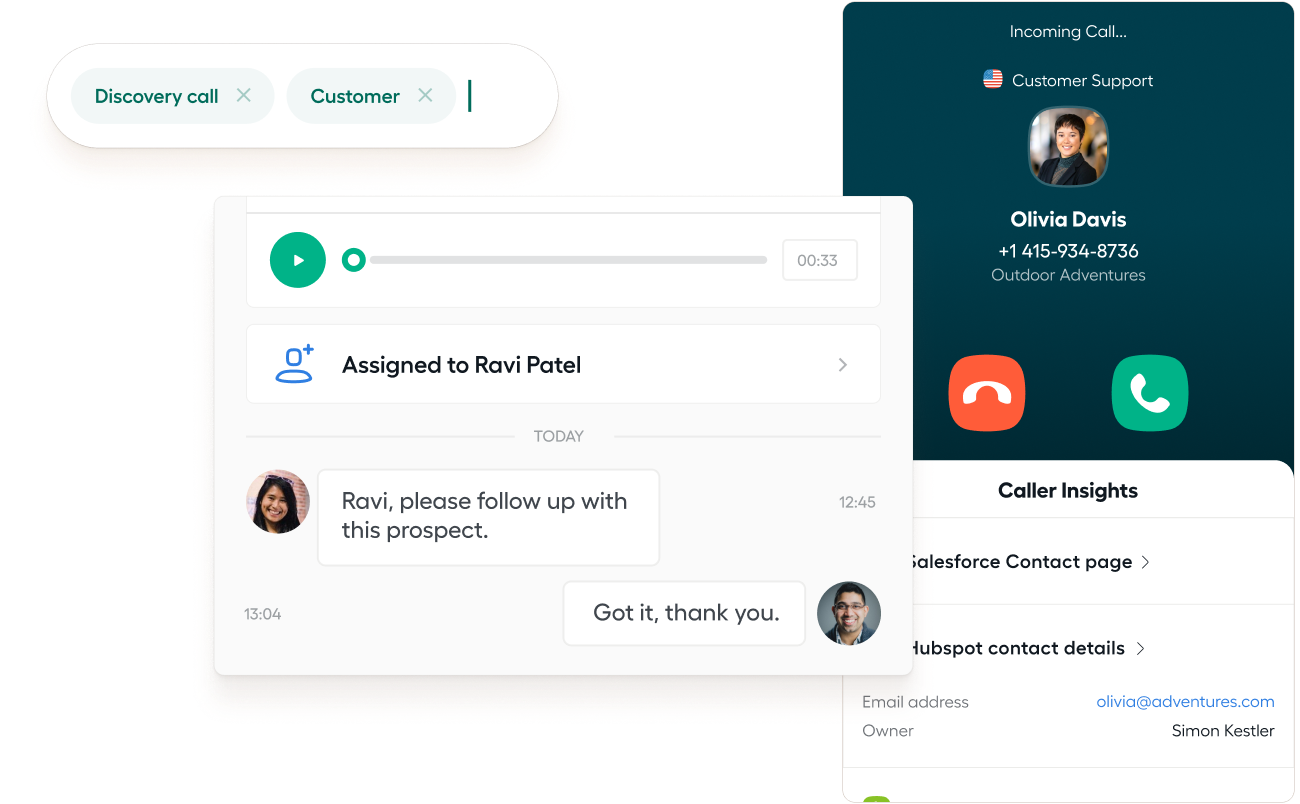 If you already have your own tech stack but only need a pure end-to-end contact center platform, you should checkout Aircall. It comes with all must-have contact center features such as IVR, advanced call routing, and call tagging. However, its seamless integration capabilities are where Aircall shines. It supports integration with over 70 widely used business tools. 
Key Features
Call conferencing and routing;
Blacklist numbers;
Toll-free numbers and extensions;
Shared contacts and call inbox;
Call commenting and assignment;
Power dialer;
Call queuing and recoding (pause/resume);
Advanced analytics and reporting;
Pros
Fast deployment and ease of use;
Automatically displays contact info the moment the call is made;
Apps for all popular operating systems;
Cons
No support for SMS and MMS;
Not regularly updated;
Issues with dashboard auto-refresh;
Price
Pricing plans start at $30 per user per month, billed annually.
21. RingCentral Contact Center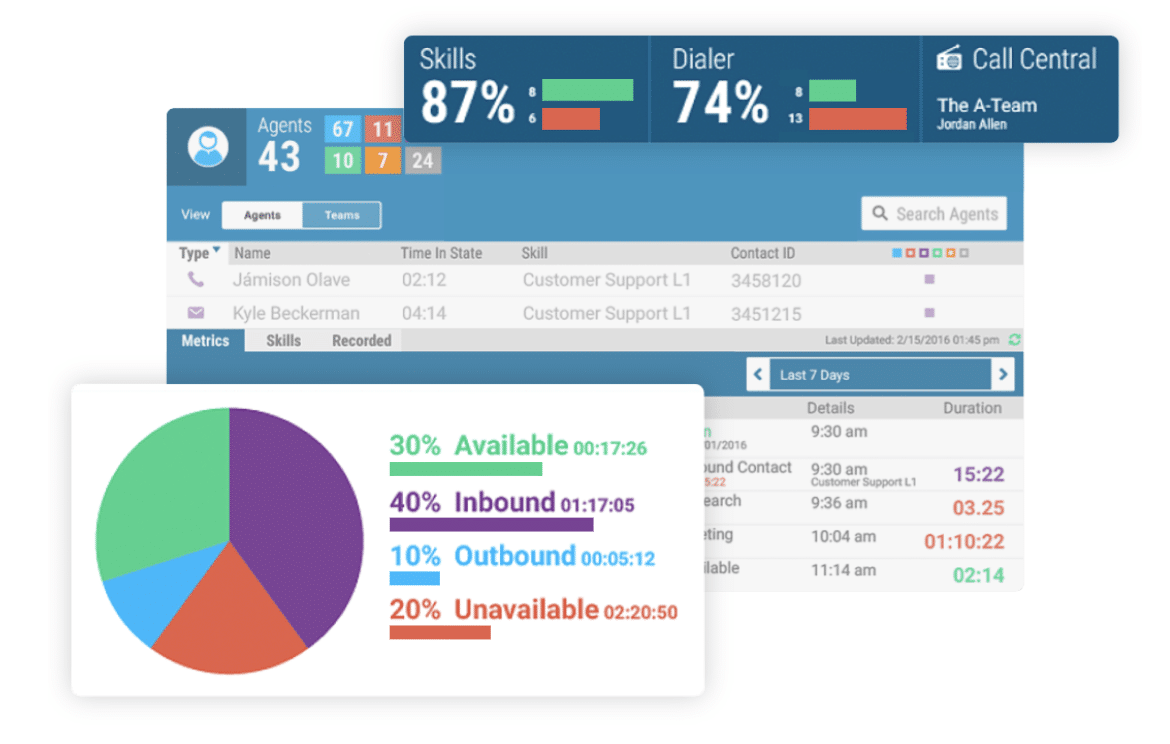 RingCentral Contact Center software covers the needs of big contact centers. It is a platform packed with a variety of features and is built to be customer-centric. It enables agents to meet the customers exactly where they want to be met. With advanced queuing and distribution, it's perfect for centers that deal with large volumes of calls on a day-to-day basis. 
Key Features
Blended call center;
Omnichannel support;
Omnichannel, skills-based, AI, Voicemail, and Data-driven routing;
IVR self-service;
Virtual hold;
Chatbots;
Call deflection;
Predictive, proactive, and progressive dialers;
Quality assurance;
Pros
Lots of customization options;
Supports different call flows for individual agents;
Dedicated mobile app;
Cons
Can be challenging to configure call routing;
Random delays during conversation;
Above average price;
Price
Price only available at request.
22. TenFold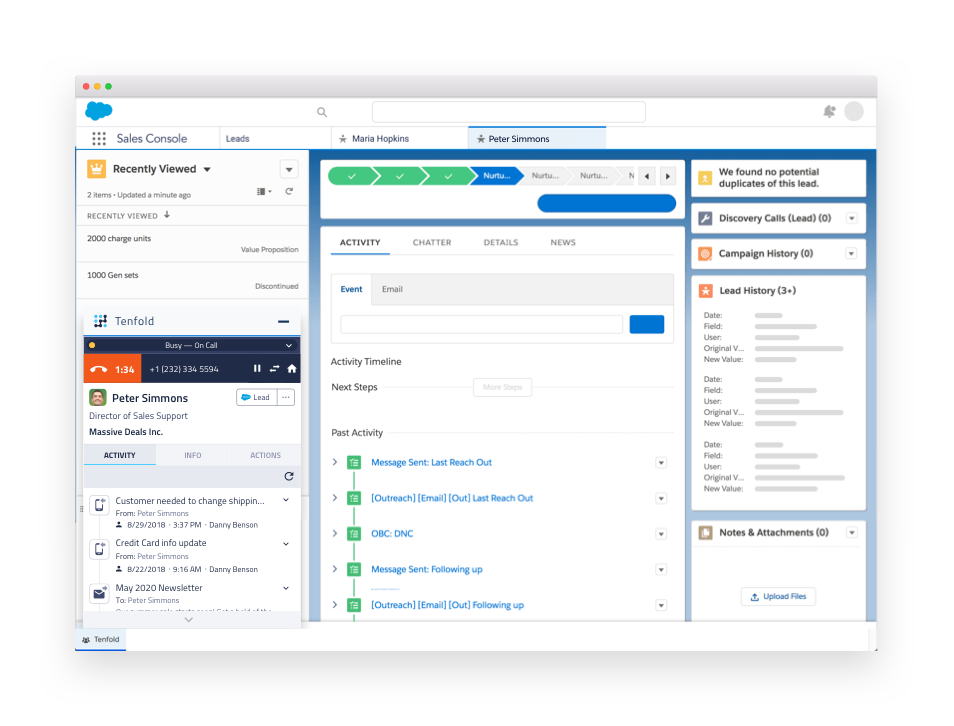 TenFold is another contact center solution built for larger teams. It is a platform suitable for groups encompassing at least ten agents. TenFold is a powerful solution with extensive integration capabilities. Feature-wise it doesn't fall behind the competition. The platform comes with automatic call logging, click-to-dial, and other features that make conversations with customers a walk in the park. 
Key Features
Inbound and outbound call center;
Automatic call logging;
Workforce management;
Click to dial;
Desktop apps for Mac and PC;
Powerful integrations (CISCO, Salesforce, Genesys, MS Dynamics, & more);
NLP;
Notification system;
Pros
Real-time reporting insights into team performance;
Excellent customer service;
Customer information popups the moment the phone rings;
Cons
Lack of customization options;
There are still some bugs;
Call notes go to the comments section for no apparent reason;
Price
Price only available at request.
23. Kixie PowerCall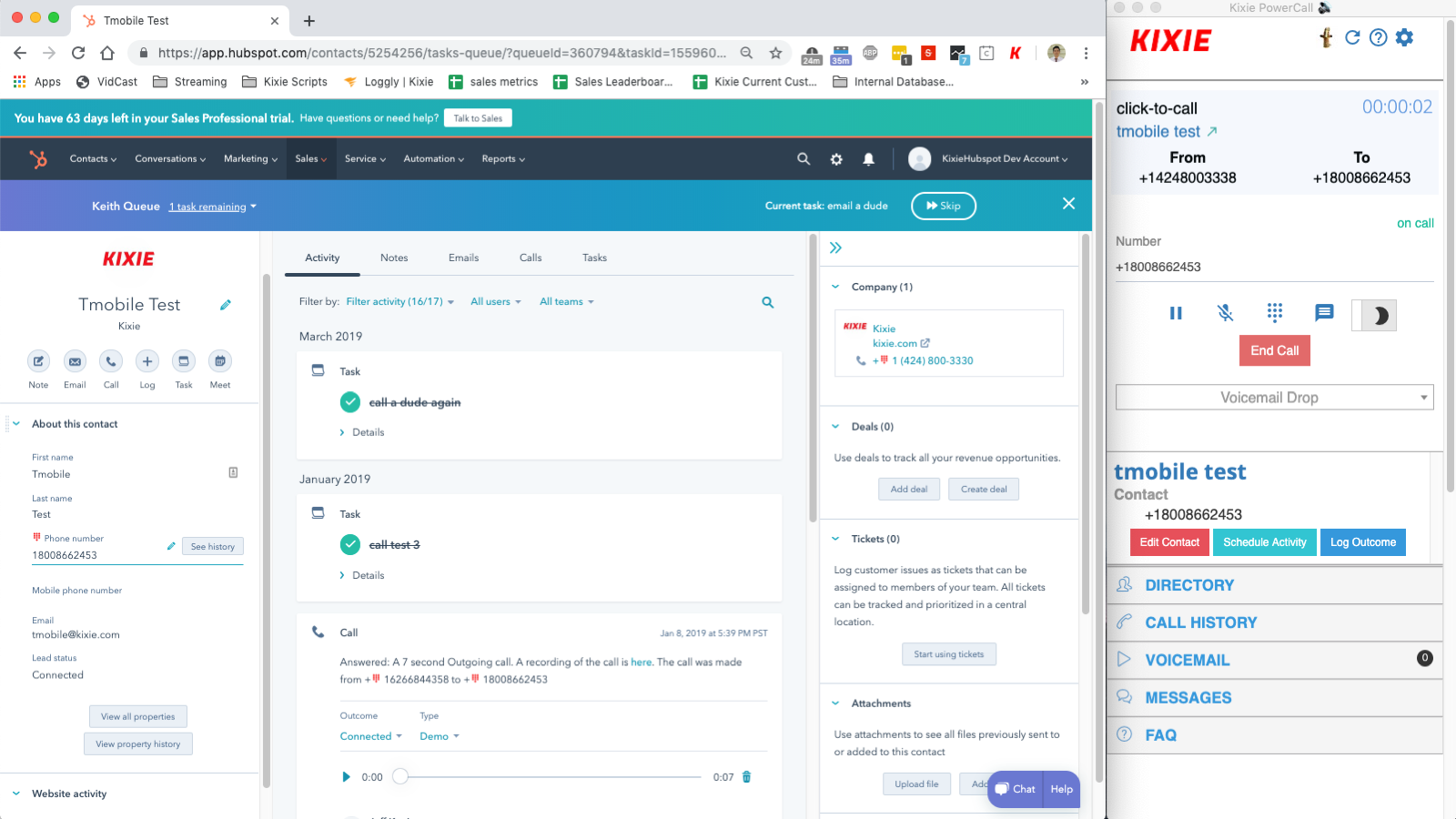 Kixie PowerCall is an excellent extension to an already superior platform built to help sales, service, and support personnel. At its core, it is a sales engagement platform, but it comes with automated texting, calling features, and integrations that significantly extend its functionality. With additional collaboration and monitoring features, companies can use Kixie PowerCall to improve their contact center processes.
Key Features
Click-to-call;
Call recording;
Screen pops;
AI-powered Local Presence;
Custom call dispositions;
Call metrics reports;
Live call coaching;
Pros
Very easy to use;
Great softphone coverage for North America;
Easily integrates with other tools such as HubSpot;
Cons
Advanced features require integrations;
It still has a few bugs;
No search for call history;
Price
Pricing plans start at $35 per month per 3 users billed quarterly.
24. PhoneBurner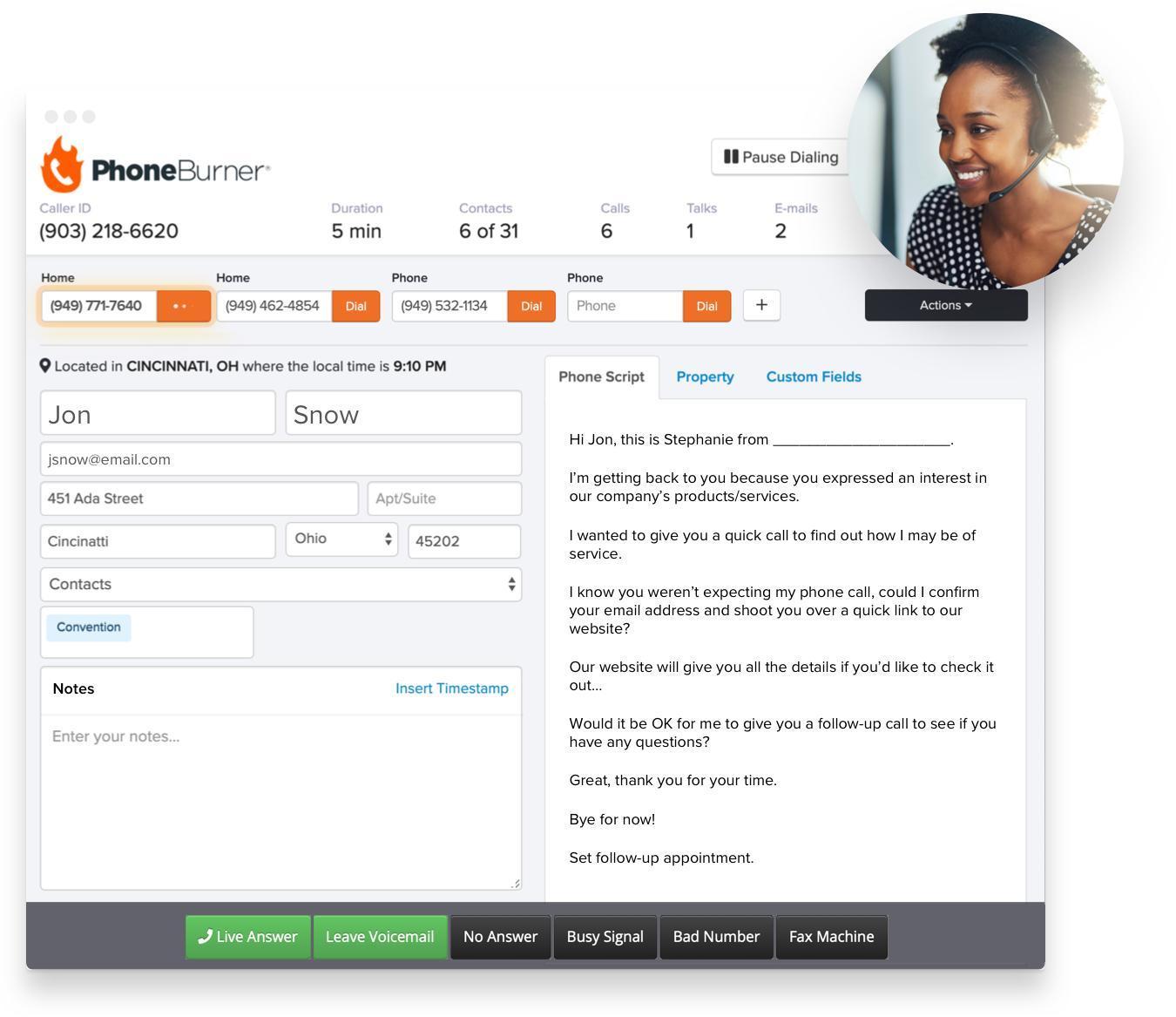 With the PhoneBurner's power dialing system, businesses can engage with their customers more efficiently. While it is a standalone platform, PhoneBurner also supports integrations with other business software. It enables users to customize the platform all the way down to changing the dialer buttons. With everything being in the cloud, companies can also empower agents on the go.
Key Features
Power dialer;
Outbound contact center;
Local caller ID;
Post-call process automation;
Automatic call tracking;
Smart lead distribution;
Call recording;
Real-time leaderboards;
Pros
Great automation features;
Fully customizable;
Dedicated customer support;
Cons
Sales analytics require integration with other software;
Can't identify fax numbers;
Lack of reporting options;
Price
Pricing starts at $149 per user per month.
25. ChaseData CCaaS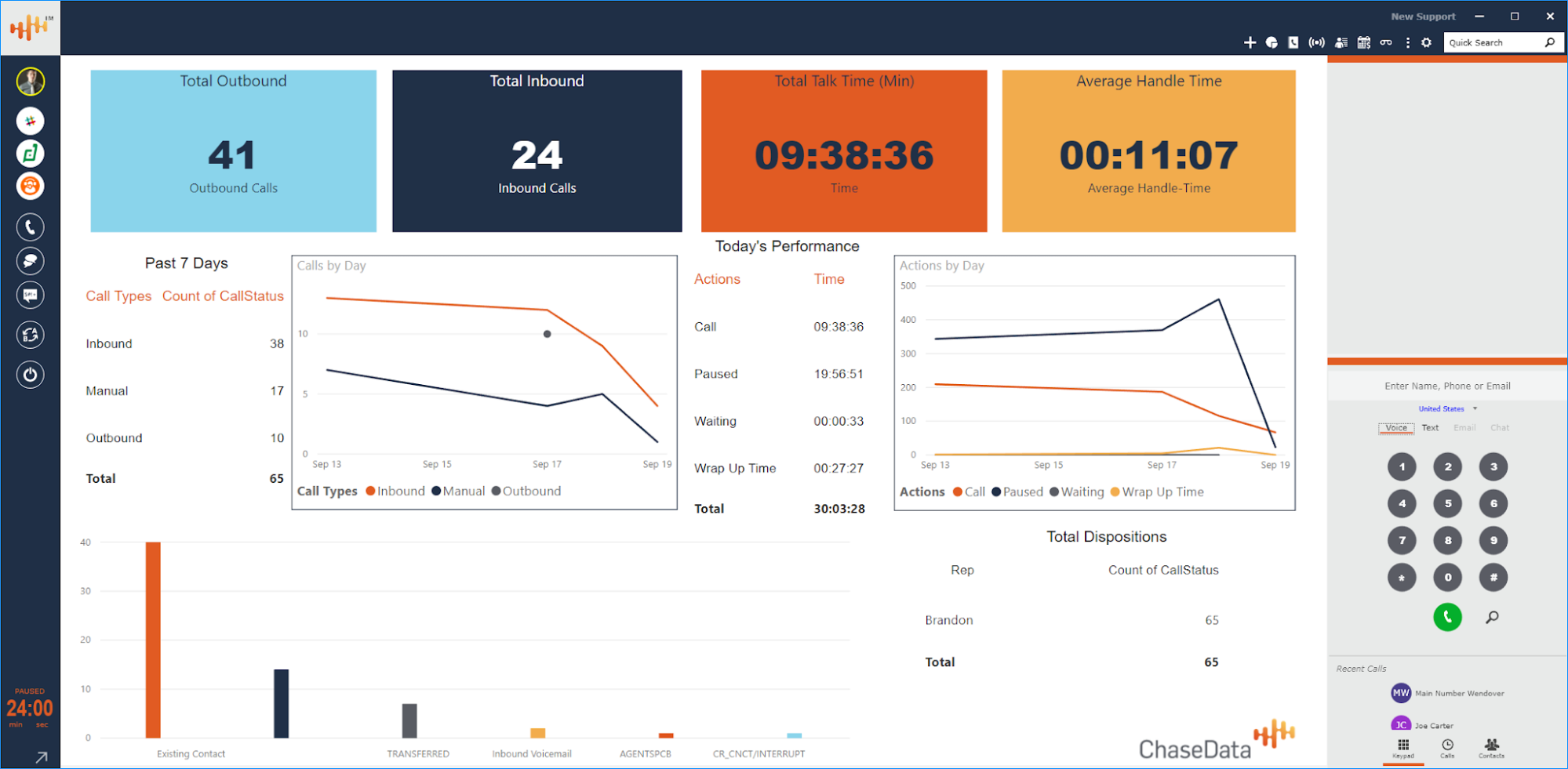 Last but not least, we have ChaseData CCaaS, which is a popular choice for many businesses. Built on cutting-edge technologies, this contact center software offers consistent performance and a great user experience. The platform features several dialing options, reporting, and support for integrations. It has a beautiful user interface that promotes ease of use.
Key Features
Blended contact center;
Predictive dialing;
Queued progressive dialing;
Managed preview dialing;
Agentless dialer;
Skills-based dialer;
IVR support;
Automatic call distribution;
Pros
User-friendly interface;
Deep customizations (call outcomes, auto-greetings, & more);
Very powerful dialer;
Cons
Deployment can take more than with some other solutions;
Limited customer support availability;
Price above the industry average;
Price
Pricing plans start at $89 per agent per month.
Decisions, decisions, decisions.
Choosing the right software can be challenging. Put your mind at ease and trust LiveAgent to meet your expectations.
Top 5 contact centers compared
We've already touched each one of the top 5 contact centers in our previous sections. So, let's keep the comparison brief and only mention what makes every contact center software unique.
| | | | | | |
| --- | --- | --- | --- | --- | --- |
| Contact center | Capterra Rating | Web based | Free version  | Free trial | Starting price  |
| LiveAgent | 4.7/5 (approx. 1K reviews) | YES | YES | YES | $9 per agent/mo |
| Zendesk | 4.3/5 (approx. 2.5K reviews) | YES | YES | NO | $19 per agent/mo |
| Zoho Desk | 4.5/5 (approx. 1.6K reviews) | YES | YES | YES | $14 per agent/mo |
| Talkdesk  | 4.6/5 (approx. 660 reviews) | YES | NO | NO | $65 per agent/mo |
| GoToConnect | 4.5/5 (approx. 570 reviews) | YES | NO | YES | $19.95 /mo |
Dated as of May 6th
1. LiveAgent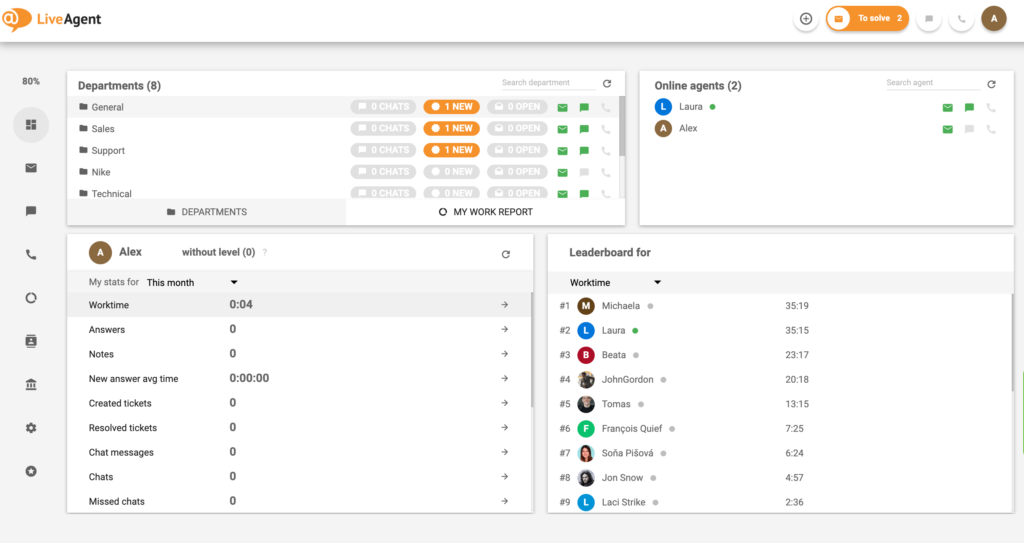 LiveAgent is on the top of the list because it is the most reliable and feature-rich contact center solution on the market. Out of these 5 top contact centers, it is the only one that has an Agent Interface, which is essential for companies who want to give their agents complete control of all activities related to their work. It is the highest-rated contact center software on Capterra and comes with an impressive "89.2% likelihood to recommend" rating. 
When it comes to recognition, LiveAgent received considerably more awards than any other solution on the list. It offers over 200 features making it the most versatile solution that can satisfy any contact center needs no matter how specific they are. Finally, if you consider the price for LiveAgent, it will be challenging to find a platform that can deliver more value than this one.
2. Zendesk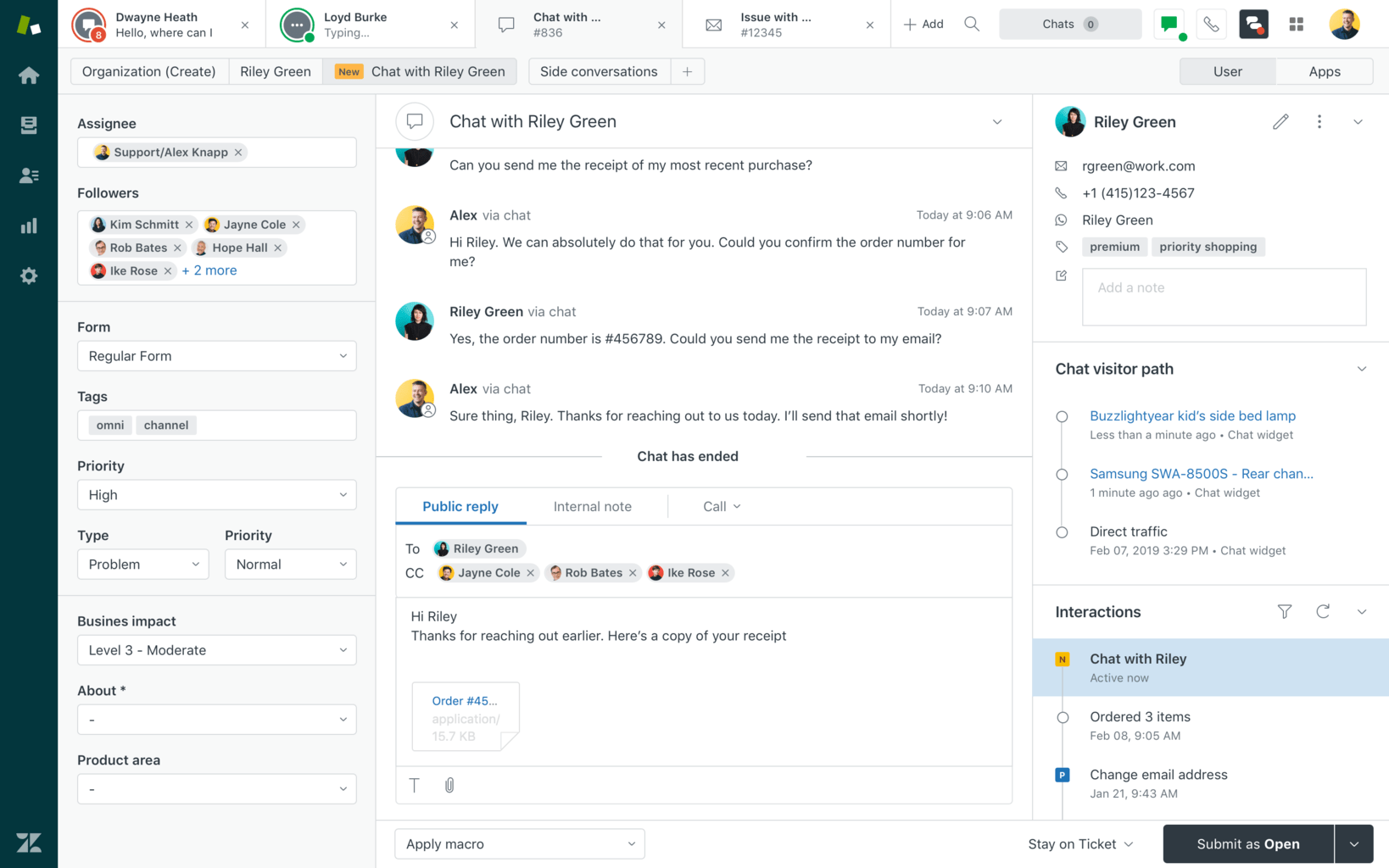 Zendesk is also at the very top of our list. It's simply because the platform promotes ease of use while delivering plenty of features to help businesses streamline contact center processes. However, it ships out with considerably fewer features than LiveAgent and doesn't have LiveAgent's extensive support for VoIP and softphones.
It is also less affordable than LiveAgent and can't be deployed on-premise. It's still a cutting-edge platform, and many businesses opt for using it.
3. Zoho Desk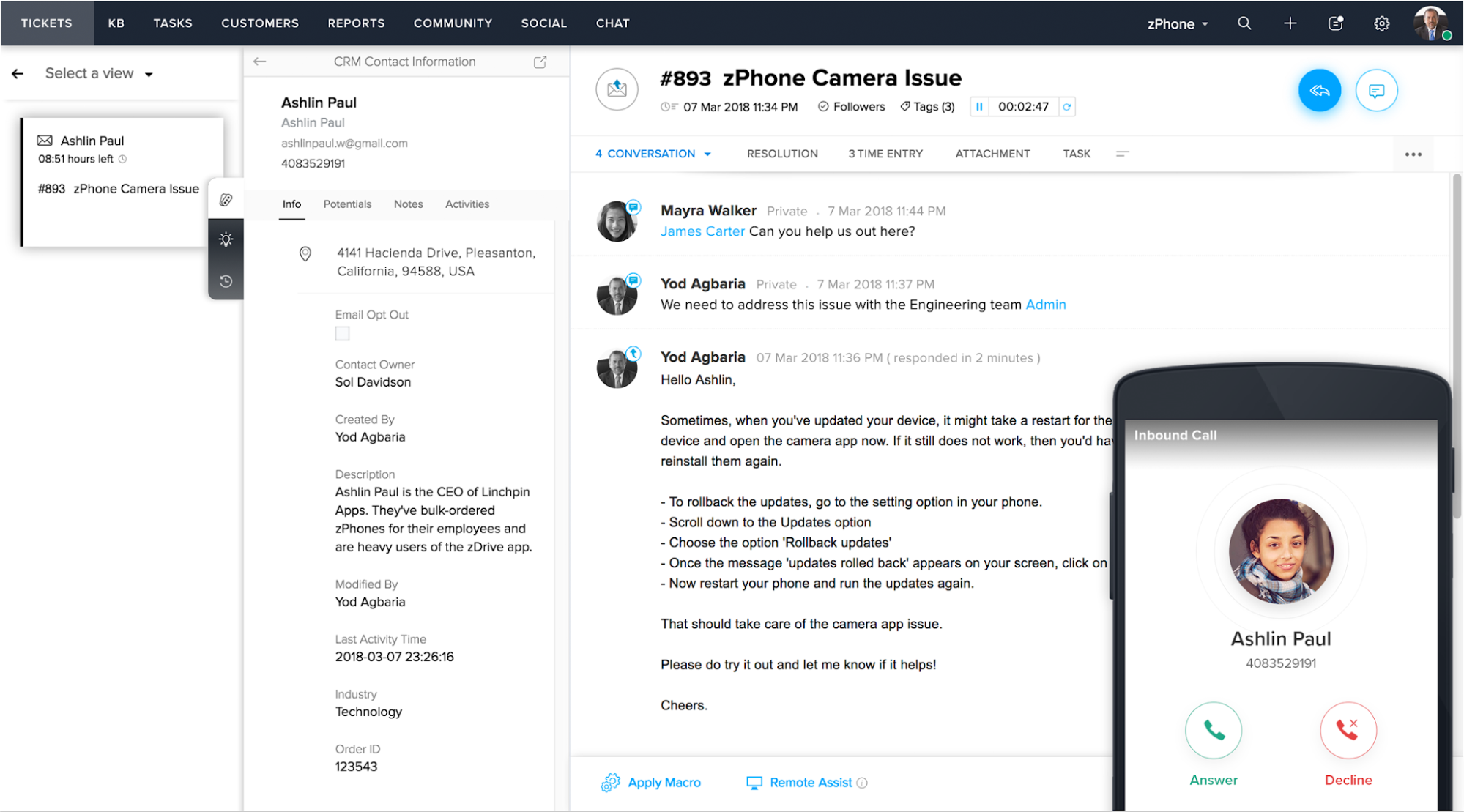 Zoho Desk is another excellent contact center software. While it doesn't have as many features as Zendesk and LiveAgent, it does come with a chatbot, which some businesses may value. It's more affordable than Zendesk and LiveAgent, but it catches up with the more advanced pricing plans.
Unlike LiveAgent, it can be deployed on desktop Mac and Windows machines but doesn't support on-premise deployment for businesses running a Linux or Windows server.
4. Talkdesk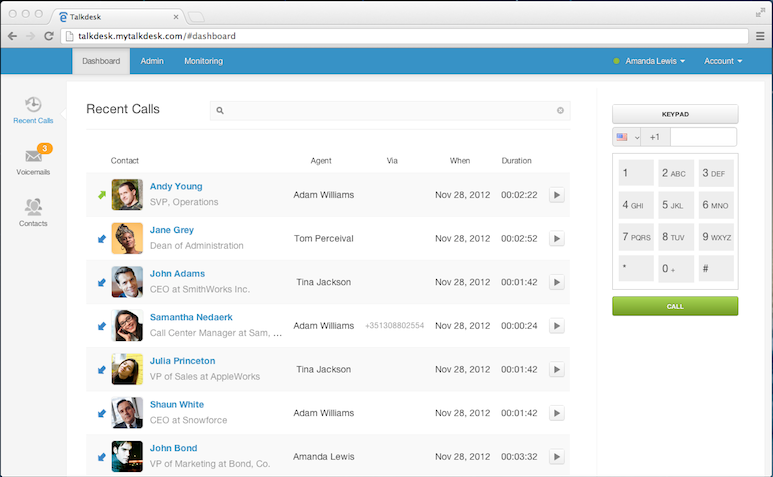 With a 4.6 overall rating on Capterra, Talkdesk is the second best-rated contact center software on the market. It ships out with a lot of useful features, and it's the only one in the top solutions section with the auto-dialer features.
The downside is that there is no free trial, and businesses have to request a quote to find out the price. It is more focused on streamlining the contact center process for medium businesses and enterprises.
5. GoToConnect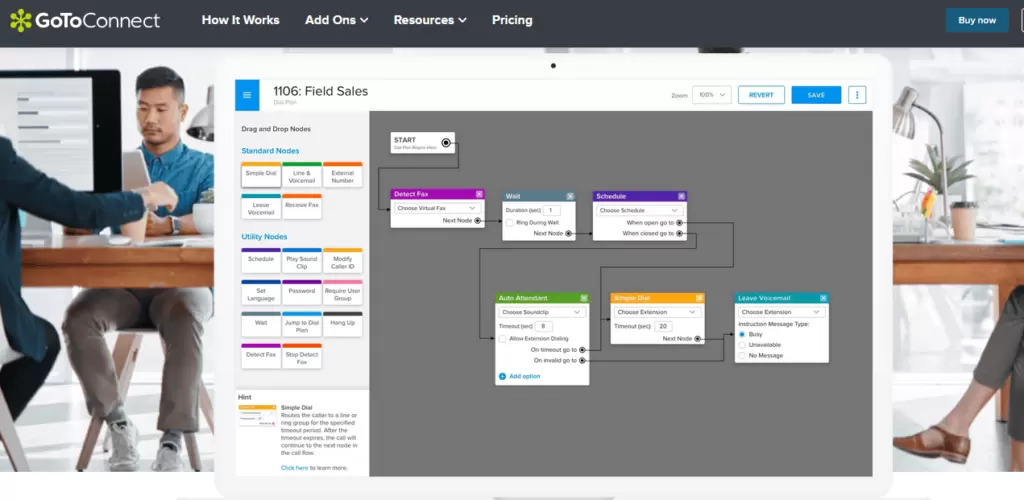 Finally, we have GoToConnect. Unlike LiveAgent and Zoho Desk, it doesn't feature Automated routing, which can be a problem for businesses with a large volume of daily calls. It is more pricey than any other solution in our top 5 categories.
However, due to the platform's reliability and stability, it is one of the most sought-after contact center solutions on the market, with an 85.2% likelihood to recommend metric on Capterra. 
Conclusion
When picking out a contact center for your company, you have to pay attention to many details. As a parting gift, we offer you several Q&As to help you make an informed decision.
Which contact center solution is right for your business?
There is no straightforward answer to this question because every business has unique needs and goals. However, opting for a scalable solution that is feature-rich, easy to deploy, and use, such as LiveAgent, is something you should generally aim to reach.
What are the best all-in-one contact center solutions?
The best all-in-one contact center solutions are the ones that enable both inbound and outbound contact center operations. They should also have advanced dialer and routing options. Some of the best all-in-one contact center solutions include LiveAgent and Five9.
Which is the best contact center software with built-in ticketing and live chat?
The best contact center with built-in ticketing and live chat capabilities is LiveAgent. It delivers a full scope of features service and support agents can use to engage with customers across multiple digital channels.
Which is the best contact center feature-wise?
Feature-wise the best contact center is LiveAgent because it comes with nearly 200 features you can immediately use.
Which contact center has the best value for money?
Considering that LiveAgent pricing plans start at $9 per user per month, the abundance of features, and easy deployment, LiveAgent contact center offers the best value for money.
Which is the top-rated contact center software?
The top-rated contact center on the market is LiveAgent, with an overall rating of 4.7 on Capterra. 
Which one is the easiest contact center to setup & use?
Again, the easiest contact center to set up and use is LiveAgent. It requires little to no tech background to set it up and use.
Still looking for the right contact center software?
Leverage the full power of LiveAgent and provide the best customer service on the market.
LiveAgent Product Tour | Live Agent02:25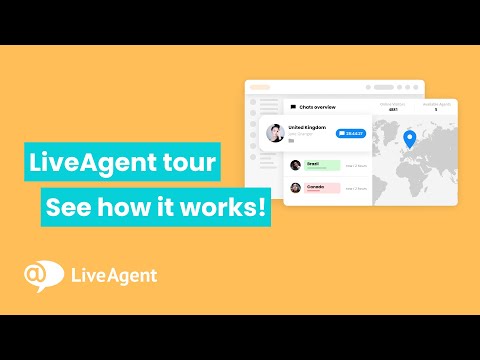 Live Agent