What is an effective customer service?
Customer support software, also known as a service desk software or help desk software, is a program that provides a help with customer support to companies. It consist of many parts and one of them is called as a ticketing system. Customers can call agents for help, send them an email or chat with them through live chat and everything will be saved on tickets. It saves time and raises the bar for the organization of customer service staff.
There are many ways and principles how to deliver a quality customer service. It can be about understanding customer needs, exceeding them or about using a quality help desk software, such as LiveAgent.
Discover 8 practical tips for delivering exceptional customer service
Master the art of exceptional customer service with these 8 essential tips. Simplify your processes, demonstrate respect to your customers, and actively seek their feedback. Watch now and deliver unparalleled customer service that leaves a lasting impact, setting your business apart from the competition. Your customers deserve the best – let's exceed their expectations together.
8 tips to delivering excellent customer service | Lagos State Employment Trust Fund02:12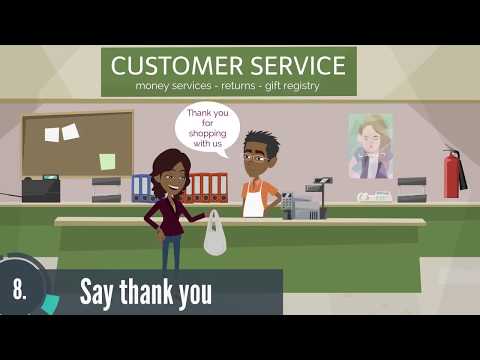 Lagos State Employment Trust Fund
Topics
Customer service
Tips for excellent customer service
Example of Total Nigeria PLC
Video summary
The video discusses the importance of good customer service and provides eight tips for creating a pattern of excellent customer service in a small business. The tips include knowing the product and service, simplifying processes, showing respect to customers, being responsive, asking for feedback, using feedback to make specific changes, saying thank you, and seeking ways to keep customers satisfied. The video uses the example of Total Nigeria PLC, which has won the Nigeria Customer Service award in the oil and gas sector multiple times due to combining excellent products with top-notch delivery of services, including the simple act of giving customers a windscreen clean while servicing them. The content was developed by DIY and the Lagos State Employment Trust Fund.
Frequently

asked questions
What is the definition of effective customer service?
Excellent customer service goes beyond the basic customer needs. This means, exactly, doing whatever the company can do to make the customer truly satisfied with the products and services they offer. The service means that when choosing between companies offering similar products, the customer will choose the one with a better approach to the customer.
How to offer effective customer service?
In order to offer effective customer service, you must first of all know your product and services perfectly. Another important issue is trained service, which is focused on customer support, has the right dose of empathy and hard and soft skills. Another important point is listening to the client and their problems. Thanks to this, the staff offers the help that the client needs, and can also improve the level of their activities.
What are the most common mistakes that negatively influence effective customer service?
The most common mistakes that may adversely affect effective customer service are primarily the lack of proper agent training and a bad approach to customers. This can be manifested in the lack of quick messages to simple questions, low level of agent communication, whereby customers can be misled. Other mistakes are, for example, not listening to your customers, so customer feedback is not used for business development and service. Another mistake may also be the lack of gathering an archive about clients and conversations with them.
Expert note
Effective customer service involves understanding customer needs, providing trained and empathetic support, and avoiding common mistakes like improper agent training and lack of communication.

Andrej Saxon
Sales manager