What is a competitive advantage?
The thing that makes you better than other companies and competitors is called competitive advantage. Every company has its own competitive advantage. It can be a lower price, quality product, service or something else. Companies have to know which customers buy products or services from them and know how they can make them satisfied. Customer support service can be a great competitive advantage for every company. Give your customers what they demand every time and resolve their issues and queries.
Watch the lecture about competitive advantage
Competitive advantage in marketing refers to the unique set of attributes and strategies that enable certain organizations to outperform their competition in the marketplace.These advantages can arise from various factors such as product differentiation, cost leadership, superior customer service, or technological innovation. The creation of competitive advantage is driven by a deep understanding of the market, customer needs, and effective resource allocation.
Positioning & Competitive Advantage | Dr. David Atkinson | IBS Americas MasterClass Series | Americas Business Channel21:00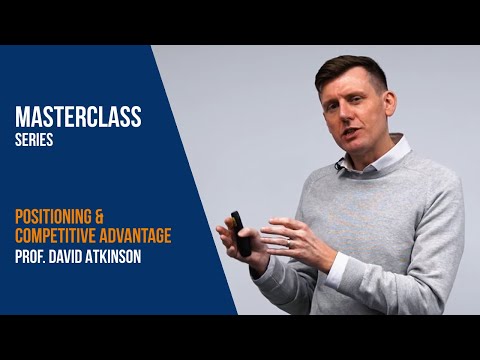 Americas Business Channel
Topics
Video summary
Frequently asked questions
What is a competitive advantage?

Competitive advantage are the factors that influence if the production of goods or services are better and cheaper than the competition. As a result, the company can generate more sales and profits compared to the competition.

How to build a competitive advantage?

Building a competitive advantage is possible thanks to various factors. These include: costs and their structure, building brand awareness and recognition, distribution network of products and services, quality of the offer, as well as customer service.

Does a company need a competitive advantage?

A business needs a competitive advantage to be profitable. Thanks to the greater advantage, the company has a chance for greater recognition and more favorable terms of sale of its products and services. Ultimately, this should translate into profit and more sales.
Expert note
<p>In today's competitive business world, having a competitive advantage is essential. Providing exceptional customer service is a great way to gain that edge. </p>

Andrej Saxon
Sales manager