Email is one of the most commonly used tools for customer service. It's quick, easy to use, and can be accessed from anywhere. However, it can also be a major time-sink if you're not careful. So in this blog post, we will discuss 9 email productivity tips that will help you serve all your customers quickly and efficiently.
But first, let's discuss why an efficient customer support team is so important.
The importance of an efficient customer support team
In today's digital age, a well-run customer support team is essential for any business. Customers expect fast, accurate responses to their questions, and they won't hesitate to take their business elsewhere if they don't receive the level of service they expect.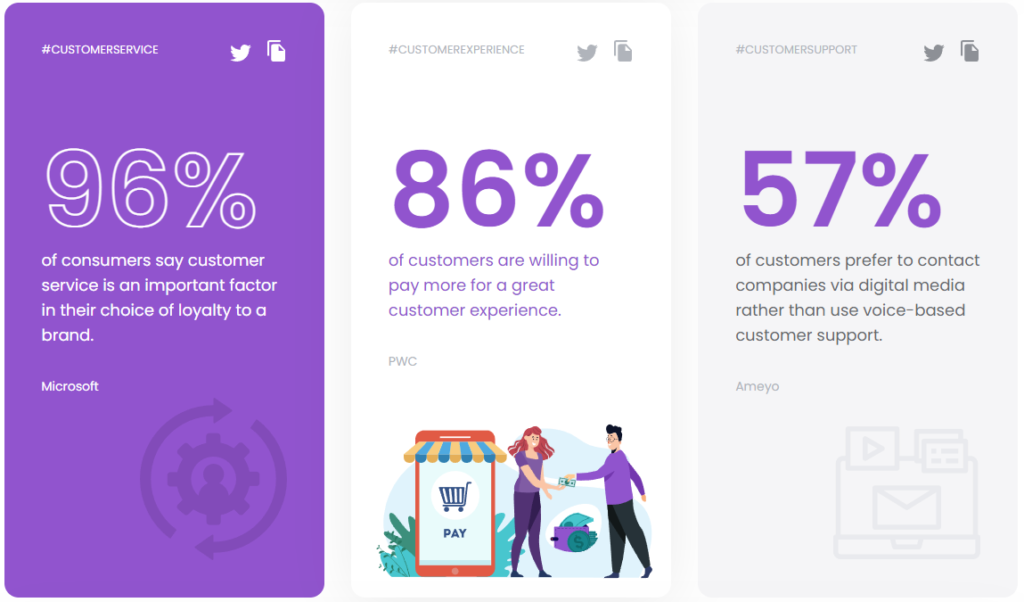 Furthermore, online reviews can make or break a business. A single negative review based on a bad customer experience can drive potential clients away, while a flurry of positive reviews can attract new customers. This is why it's so important to have an efficient customer support team that can respond quickly and accurately to all inquiries (and negative reviews).
An efficient customer support team can also free up time for other members of the company to focus on more important tasks. For example, if the customer support team is able to resolve a customer's issue quickly, the sales team can then follow up with that customer and close the deal.
Take a look at these stats highlighting the importance of an efficient customer support team.
According to research on what customers think, 86% of customers are willing to pay more for a great customer experience.
We also know that companies that provide excellent customer service outperform their competitors by nearly 80%. Creating an engaged and loyal customer base is one of the most significant pillars that support your business's growth. A study by Harward Business Review shows that increasing customer retention rates by just five percent can increase profits by 25% to 95%.
But what makes a customer support team efficient? Well, there are three core elements to an efficient customer support team. First, the team must be able to quickly and accurately resolve customer issues.
Secondly, the team should be proactive in following up with customers after their issue has been resolved.
Finally, the team should have a good working knowledge of the company's products and services as part of their day-to-day customer service representative duties. By meeting these criteria, your customer support team can ensure that all customers are satisfied with their experience.
It's clear that an efficient customer support team is essential for any business that wants to succeed. But how can you ensure that your team is as efficient as possible? In the next section, we will discuss 9 email productivity tips that can help your customer service team outperform others.
9 Email Tips to Make Your Customer Support Team More Efficient
1. Divide your team by expertise and assign tasks accordingly
When you're dealing with a customer support issue, it's important to have the right person responding to the inquiry. So it's crucial to divide your team by expertise and assign tasks accordingly.
For example, if you currently offer 4 services, you can divide your customer support team into two groups and assign each group 2 services to master.
This approach will ensure that customers are always speaking to the right person and that they receive fast and accurate responses. It will also free up other customer service agents to focus on more important tasks. A resource management tool can help you manage larger teams and monitor their performance.
2. Not every customer is the same — prioritize paid customers
When it comes to customer support, not every customer is the same. Paying customers should always be given priority over free customers. This is because paid customers are more likely to be vocal about their dissatisfaction if they don't receive the level of service they expect. Remember, angry customers are more likely to leave negative customer feedback.
Free customers, on the other hand, may not be as vocal (or as demanding) about their customer experience.
This doesn't mean that you should ignore your free customers — after all, they're still important for your business. But it does mean that you should prioritize paying customers first and make sure that they always receive prompt and accurate support.
Remember: happy customers will refer your product to their friends and family, which can result in more business for you. This, in turn, will allow you to invest in tools and training to improve your customer service.
Many customer service management tools allow you to easily prioritize paying customers over free users. In case you're just starting out and aren't using dedicated customer management software, you might have to manually divide free users from paid customers.
One good way to do this is using Gmail tags, so emails from free and paying users land in separate folders. You can then ask your team to prioritize the paying folder. This is what tags (also called labels) look like in Gmail:

3. Use pre-made templates
One way to ensure that your team is providing quick, accurate support is by using pre-made templates for common questions. This will speed up the process of responding to customers, and it will also ensure that all responses are consistent. Plus, templates are easy to create and customize, so they won't take too much of your team's time.
There are many different types of customer support templates that you can use, such as:
Ticket escalation matrix
Technical problem-solving guides
One way to create templates is by using canned responses in Gmail. This feature allows you to save common phrases (or even shorter emails) as a response that can be quickly sent when needed.
To set up canned responses (now called Templates) in Gmail:
Open Gmail and click on the gear icon at the top right corner of the screen
Select Settings from the menu that appears
Go to the Advanced tab
Click on Enable in the Templates section
You can now create an email template by composing a new email and writing down your template. Once you're done, click on the three dots on the bottom right, go to templates, and click on Save As Template. Here's a GIF to make this more clear: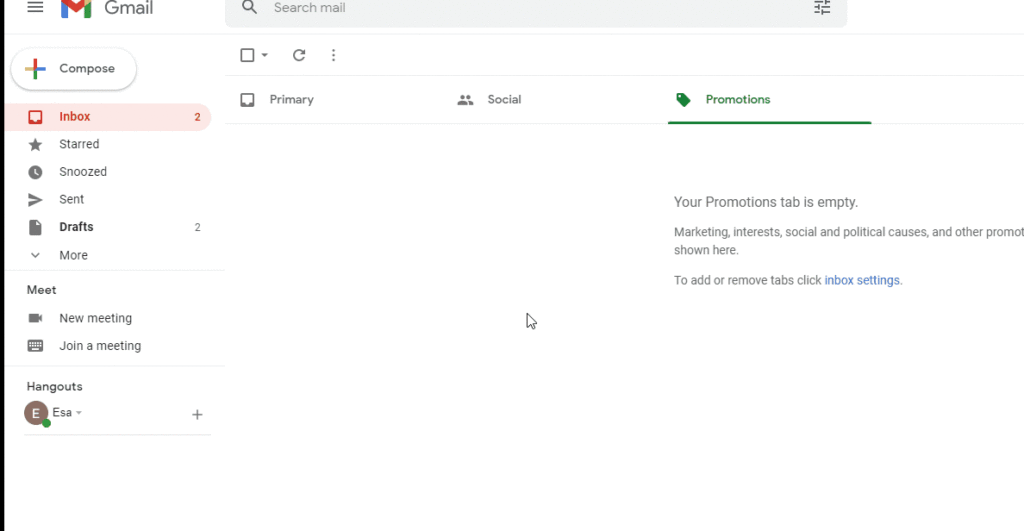 The next time you need to write a similar response, just add the template you created and modify it if you have to. Here's how you can add a template: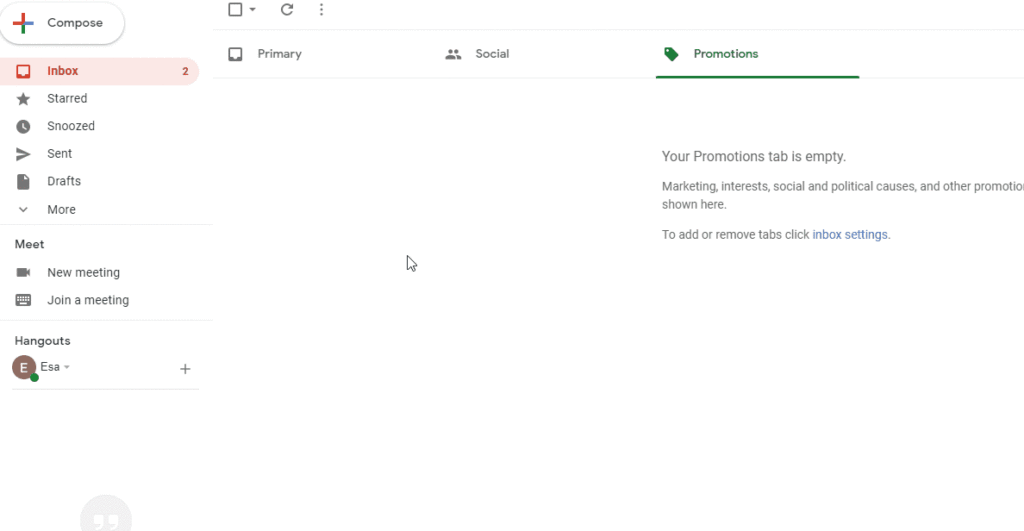 4. Use empathy to write good customer support emails
When you're writing customer support emails, it's important to remember that there is a real person on the other end. This may seem like common sense, but you'd be surprised how many companies forget it.
Using empathy in your customer support emails will help you create a more personal connection with the customer, which can go a long way in ensuring that they have a positive experience.
Some ways to use empathy in your customer support emails include:
Addressing the customer by name
Asking how their day is going
Thanking them for their patience
Showing genuine concern for their problem
Trying to understand their problem and being proactive about solving related issues
It's important to remember that using empathy doesn't mean being overly friendly or making small talk. It's simply about taking the time to connect with the customer on a personal level.
One way to do this is by using an email signature that includes a message like "If there's anything I can do to help, please let me know." This will remind you to always put the customer first, even after they've received their answer.
Writing empathy-based emails are especially important if you're responding to a B2B customer support email. A good email is sometimes all it takes to close the deal. Many email finder tools offer email enrichment, which gives you vital information about an email address. For example, it can provide you the social media accounts of your prospect, which you can use to make them relate with you.
A great option is to create a job aid to help them to write effective emails. These can assist your agents in staying on track and delivering high-quality customer interactions. Remember, by training your team to write empathetic emails, you will enable them to be proactive about solving customer problems. This will ultimately translate into better emails and reduce the need for long back-and-forth sessions.
To train your staff effectively, you can create a training document giving examples of the emails and responses. It's also a good idea to have training webinars with your team to answer questions in real time.
5. Focus on clear communication (and writing)
It's important to remember that not everyone uses email in the same way.
Some people prefer short, concise messages while others like to receive more detailed information. While it might be easy to write clear short emails, longer ones are difficult to pull off perfectly.
But it's important to focus on clear communication in your customer support emails so that the client understands what you're trying to say.
Here are some tips for writing clear customer support emails:
Use simple language and avoid jargon
Get to the point quickly
Break up long paragraphs into shorter ones
Use bullet points when possible
Include links or attachments if they would be helpful — many customer support personnel try to cram as much information in their emails as possible. While this might be helpful, it can leave customers confused and overwhelmed. Replacing detailed information with links to relevant resources is a good way to avoid this.
All of these will ensure that the customer understands the message. If they have to decipher your email, they're more likely to become frustrated and may even leave a negative review. Confusion will also lead to more emails, which will reduce the productivity of your team.
Grammarly is a good app to try for clear writing. It's one of the tools that work smoothly with your Gmail inbox. The only downside to Grammarly is that it can be quite time-consuming, which means it might not be practical to use it in a customer support setting where you're dealing with hundreds of emails per day.
Still, if you want your team to give it a try, ask them to focus only on the blue suggestions the tool offers.
Blue suggestions are designed to improve the clarity of your emails. By making your emails clear, the tool reduces the need for long back-and-forth sessions and improves the productivity of your team.
If you're using Gmail to tackle customer support queries, it might be helpful to install Grammarly's Google Chrome extension, so your team can receive writing suggestions within Gmail's interface. This is how it looks: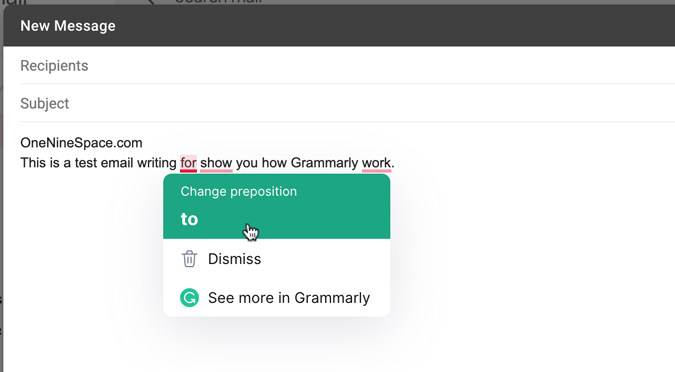 6. Reduce the use of email and focus on instant communication
It goes without saying that providing awesome email customer service is one of the key ways to build a loyal customer base. However, if you want to reduce the load on your email support team, it's a good idea to invest in instant customer support tools. One example is chatbots, which work by responding to customer queries in real time.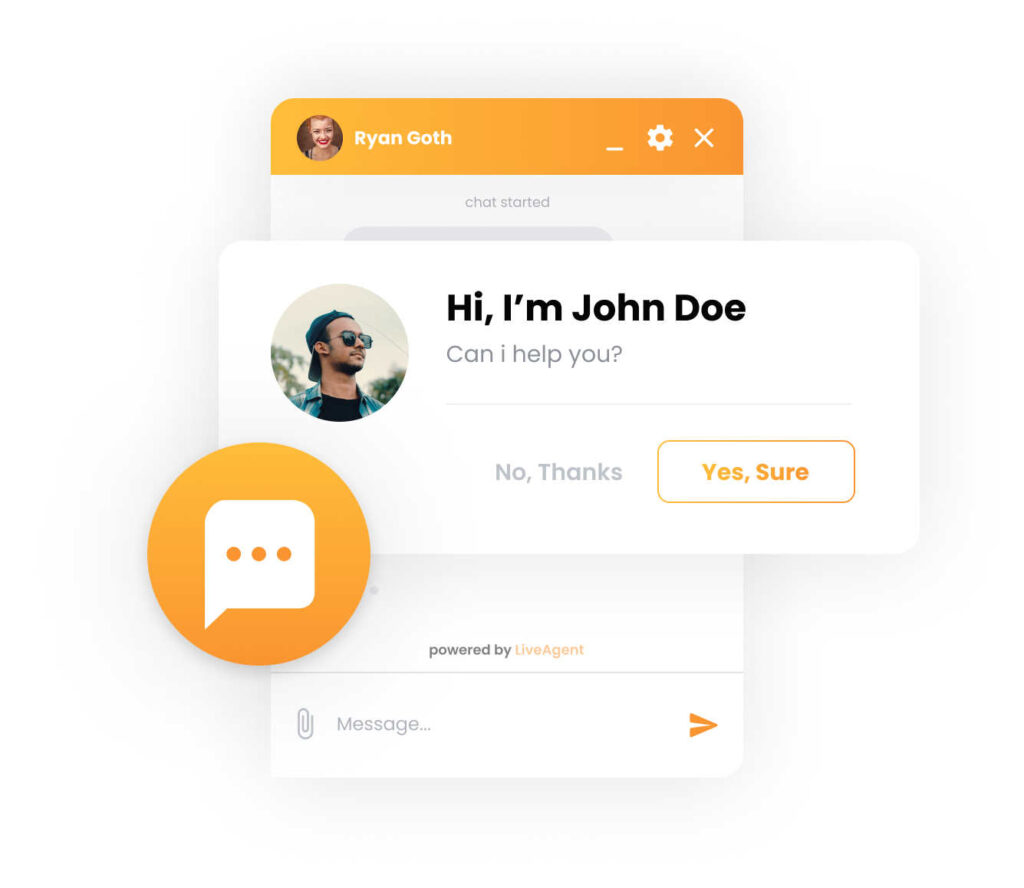 Another great example is live chat, which is an especially good option for companies that offer 24/7 support. It's interesting to note that 51% of customers want businesses to be available 24/7. So by implementing live chat customer support, you're automatically satisfying half your customers.
Live chat customer support leaves less room for miscommunication, making it an effective way to quickly wrap up customer support queries and improve your team's productivity.
Good thing is that if you purchase a reliable web based ticketing system, at least some instant messaging tools are available right from the get-go, or you can connect them to your help desk software later on.
7. Define your customer support style to eliminate guesswork
It's important to have a defined customer support style so that your team knows how to handle different types of inquiries.
For example, some companies prefer to use a more formal tone while others prefer a more casual one. By defining your customer support style, you can ensure that all of your customer service representatives are on the same page and are providing consistent support.
8. Teach your team to set their personal issues aside while working
Focused team members are crucial for a productive customer support team. And one part of staying focused is setting your personal problems aside.
This is especially important when it comes to customer support. If your team is constantly dealing with personal issues, they'll be less productive and may even start taking their frustrations out on customers.
In order to prevent this from happening, teach your team to set their personal stuff aside while working. This will help them stay focused and avoid getting sidetracked.
If possible, try to create a separate space for customer support work so that employees can easily transition into 'work mode.'
It's also a good idea to introduce your team to notification-blocking apps for both mobiles and desktops. That's because notifications are the single most harmful source of distractions for people who work in a digital environment.
9. Teach your team the 1-touch and 5-minute rules
The 1-touch and 5-minute rules are super-helpful when it comes to email productivity. According to the 1-touch rule, you have to take action once you open an email. You can reply to it, delete it, or archive it for later use. But you can't ignore it.
This is very useful for wading through an overflowing inbox and wrapping up email-related tasks as quickly as possible.
The 5-minute rule says that every time you open an email, you ask yourself if you can respond to it in under 5 minutes. If you can't, you move on to the next email.
Keep in mind that these rules are not set in stone. They are general email productivity guidelines and should be tailored according to the nature of the work your team does. For example, ignoring urgent customer support emails under the 5-minute rule is not a good idea.
So make sure you teach these rules to your team and encourage them to modify them according to their needs.
Provide the best support
With LiveAgent you can provide fast and on-point support to all your clients, so they'll always be satisfied. Curious about all the features?
To sum it up…
While it's impossible to cover all the nuances of customer support in one blog post, we hope these email productivity tips will help you get started on creating an efficient system that works for both you and your customers.
By dividing your team by expertise, using templates as a guideline, and implementing the 1-touch and 5-minute rules, you can create a customer service process that is clear, concise, and responsive.
And finally, remember to always focus on clear communication when writing emails — it's the key to keeping your customers happy.