Key takeaways
Pros
Very affordable ticketing system
Works without any major issues
Fast setup and good startup guide
Project management tools
Cons
Clunky interface in certain sections
Lack of communication channel integrations
Getting started with OneDesk ticketing
OneDesk ticketing software offers an easy registration process with no credit card requirements or other obstacles. You can simply sign up and start your free trial before you decide to start a paid plan. OneDesk will load up your new dashboard and welcome you with a simple but effective startup guide that will guide you through the basic setup of your new work space. You can skip it and finish the setup later if you want to.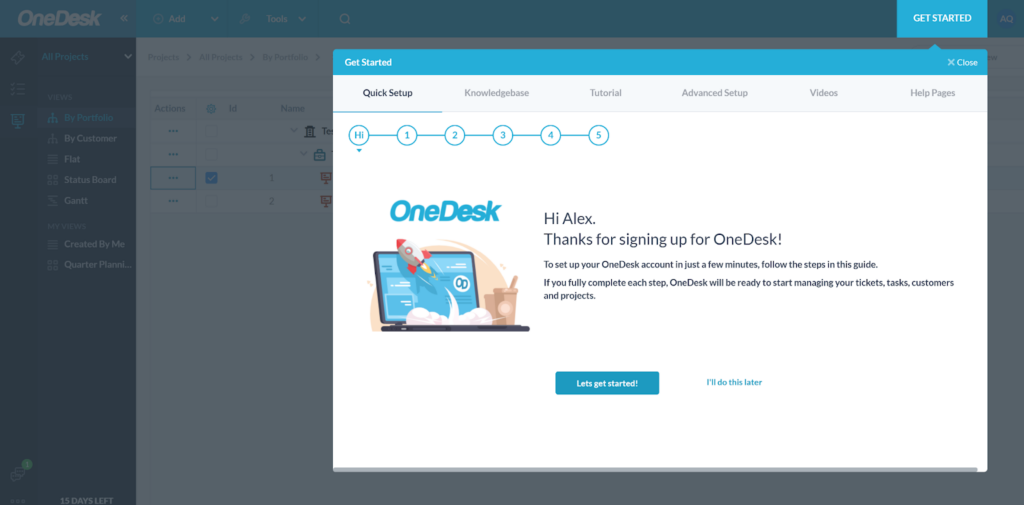 I recommend not skipping this guide, as you can take care of some important things first. You can set up your profile picture and signature, connect your support email from Outlook or Gmail, select alternative email forwarding, invite your colleagues, and much more. More importantly, you can set up other OneDesk features, such as knowledge management, and take a short tutorial to get an overview of the application.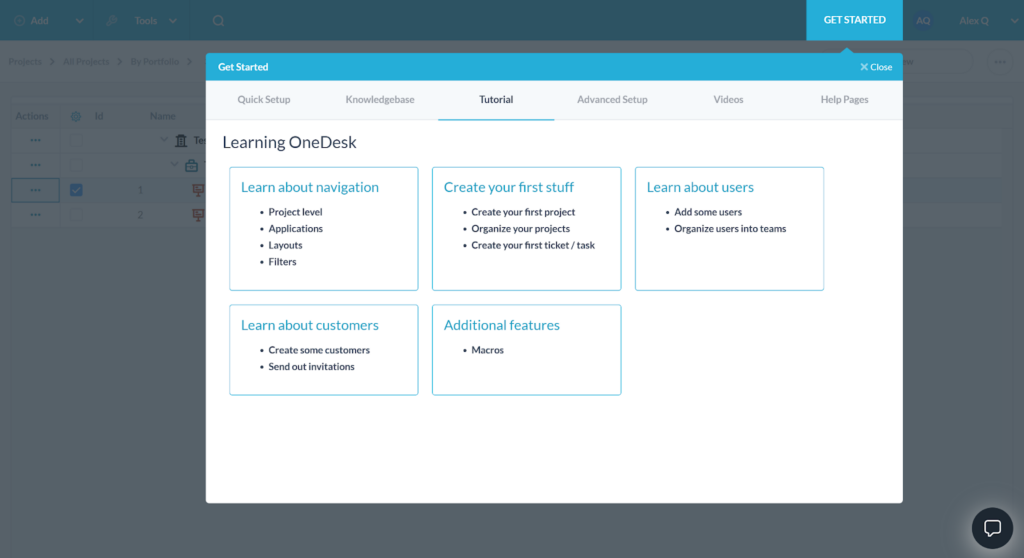 After you finish or skip the guide, you can start taking a look at the OneDesk interface and the ticketing system. The interface is okay; its design is not the best among ticketing software, but it looks and feels modern. It seems a little cluttered, but it's not a major issue and definitely not a deal breaker. You can get used to it pretty quickly and you shouldn't have any trouble with navigation. The ticketing interface has a couple of sample tickets right from the start to help you get adjusted to the workflow in OneDesk.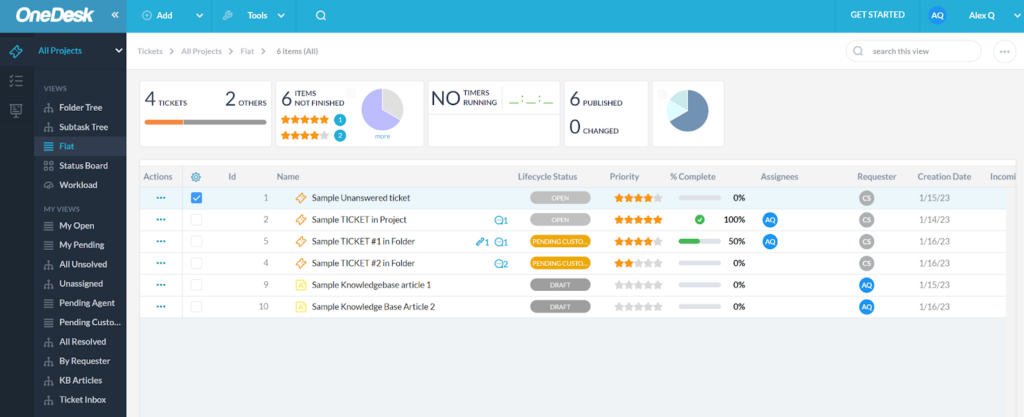 The ticketing system interface overview looks pretty good. It might take a while to get used to it, but should be easy to use once you do. You can access most inbox options in the left menu bar and sort tickets according to various criteria, as you can see in the screenshot above. The upper menu bar offers access to a couple of tools, and the "Add" button which lets you create new tickets, projects, tasks, folders, and much more.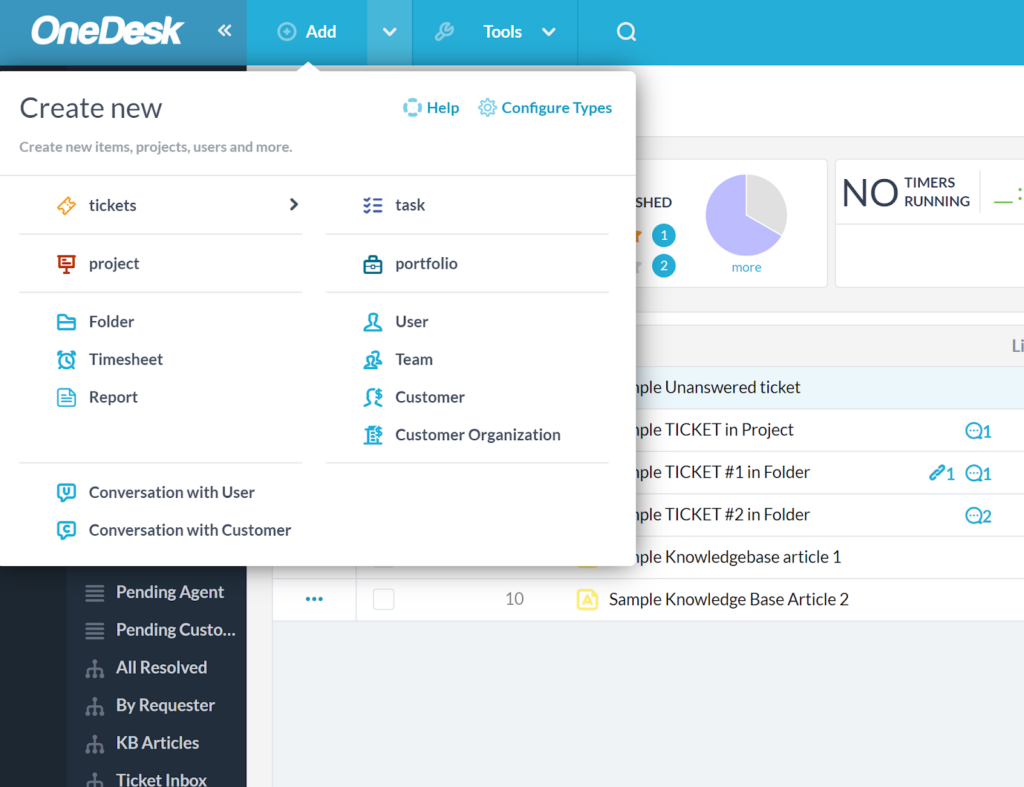 Overall, getting started with OneDesk is pretty easy. It definitely is an impressive feat, since some of the competing products with larger budgets and brand name often have a problem with designing an easy to use user interface and ticketing systems. However, I was disappointed to find out that OneDesk doesn't provide a default support email address and you have to mandatorily connect your own email to get the system working correctly. Before we get to the testing part of the review, let's take a look at the OneDesk feature set and see what kind of bang you can get for your buck.
OneDesk ticketing system features
Considering OneDesk's fairly low pricing, the features are quite impressive. You get access to multichannel ticketing that can handle emails, live chat, and knowledge base, which is usually everything most modern help desks need to provide sufficient customer support. The only thing missing is the call center, but considering the pricing, I think everyone will be getting a pretty good deal regardless of that.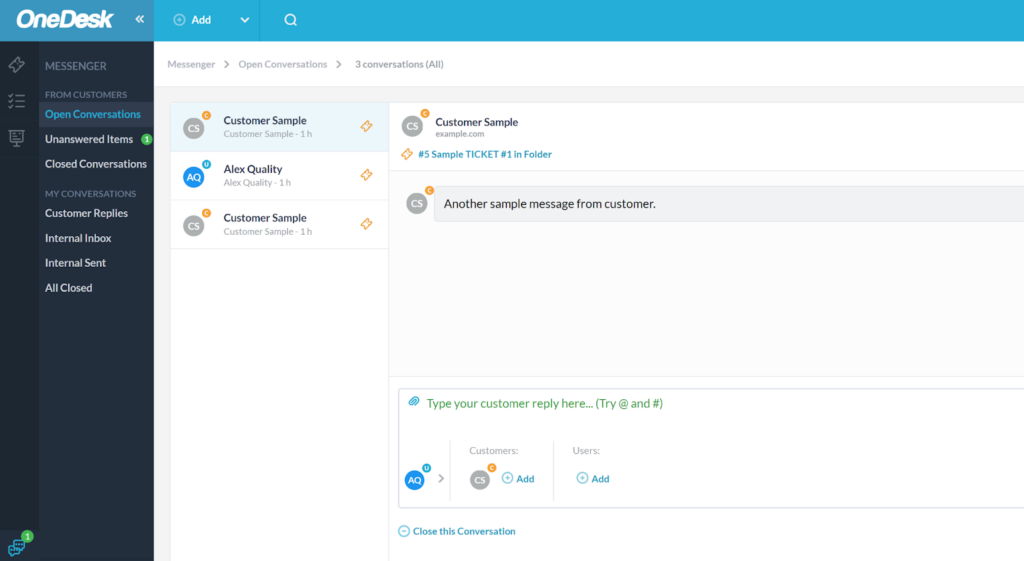 OneDesk also offers some automation features that can help you with auto-responses to tickets, automatic classification of tickets according to various criteria, notifications, time tracking, and ticket status updates, among other things. You can also access and start using customer surveys, use canned messages, track and plan profits earned from solving tickets, use reports, or take advantage of mobile apps. There is much more to OneDesk than it seems.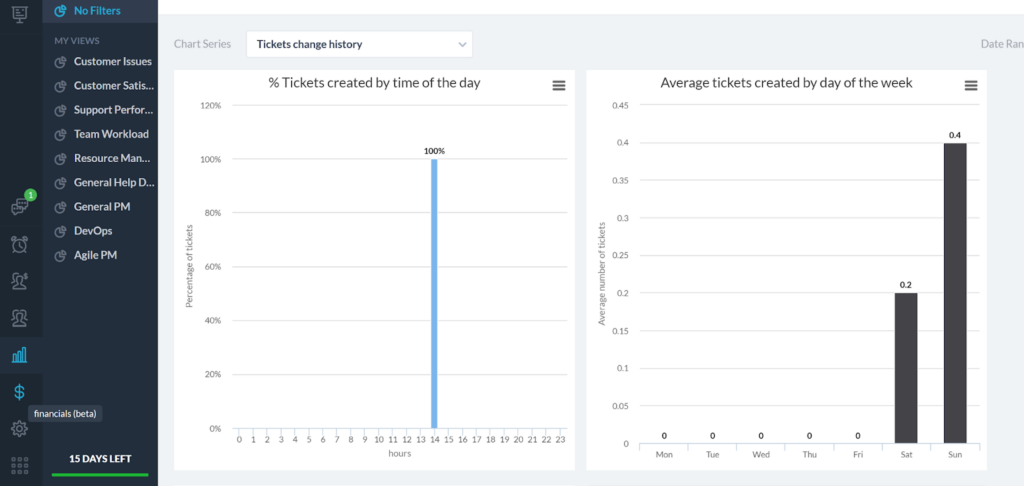 Now it's time to test out some of these ticketing features in action. Let's get started.
OneDesk ticketing system performance and user experience
I tested out the ticketing tool on my own. The focus is mainly on the agent experience and ease of use. I used my own email to start a conversation with myself and create a new incoming ticket in the OneDesk system. Once the email arrived, I started replying. The interface in open tickets is not designed very well; it's pretty confusing and looks very cluttered. It's usable, but it's not the best design for easy navigation.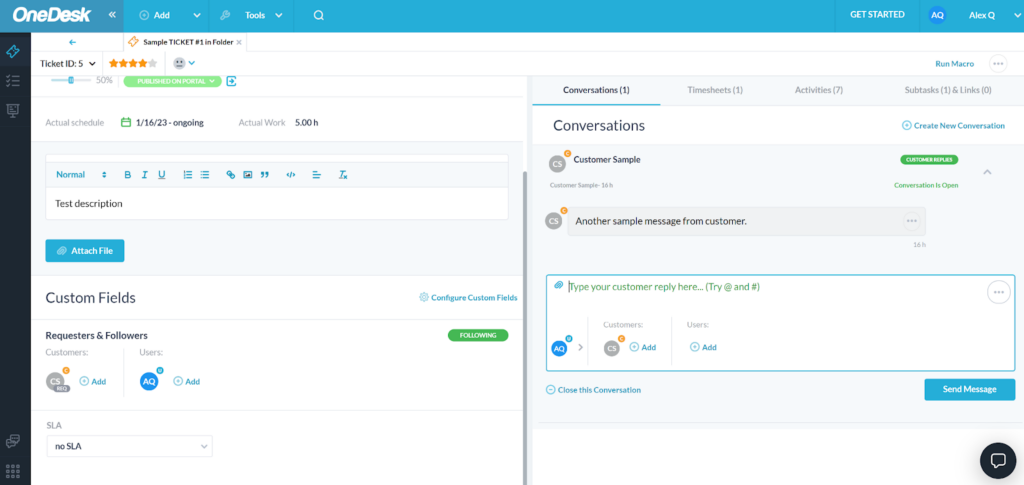 What is quite the unusual design choice is that the ticket message and reply field is on the right side, while all other fields are on the left. It's baffling, most of the application looks quite well, yet the most important part seems like it got less attention from the designers. The fact that the ticket fields take up half of the screen is not a great thing either. It's simply unnecessary and takes focus away from the important part of the ticket: the customer message. A similar trend continues when creating a new ticket from scratch.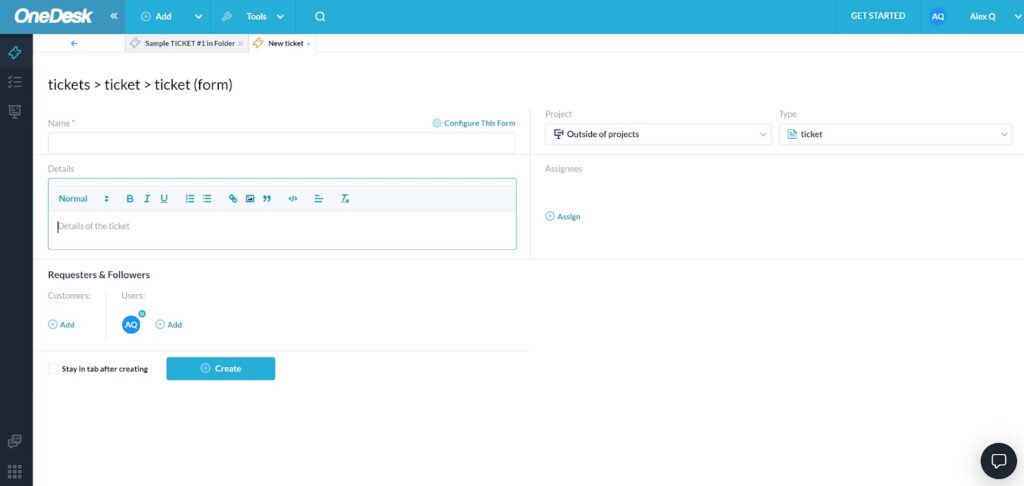 Writing replies is less than ideal too. Since the reply window in tickets is too small, the general feel is constrictive, like the software doesn't want you to reply with wordy emails. The reply field, however, does automatically extend whenever you get across a certain character count. This remedies the issue a little, but it's nowhere near as comfortable as having a proper large reply field available at all times. The features are there but they aren't the easiest to navigate. Button sizes are varied, with some of them being more prominent in size and placement which creates the illusion of importance. For example, the large button with three dots is canned replies, while attachments are very small and placed in the corner.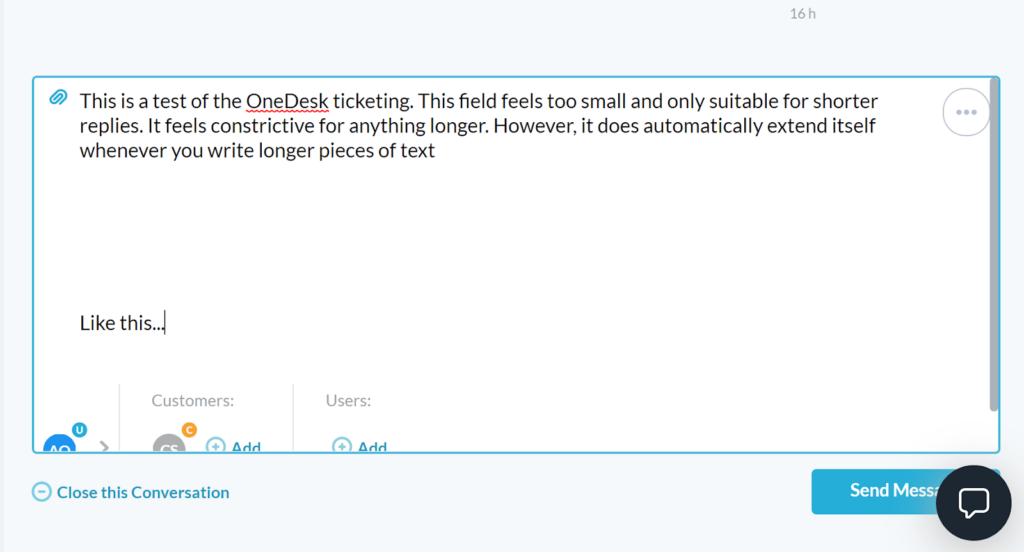 While everything works as intended and without any trouble, OneDesk definitely needs to improve their user interface. It's not a deal breaker though; the ticketing system works just fine, and the features are sufficient enough to help any agent get the job done correctly. It might take you a while to get used to it, but your patience might be rewarded. Another reason to consider OneDesk is the pricing.
Pricing
OneDesk offers just a single pricing plan which makes decisions significantly easier. It offers all available features and functionality. The only major decisions you have to make is to choose between monthly or annual billing, and select the number of agents you want to host in your OneDesk account. OneDesk costs $11 per month per agent with the monthly billing, or you can select the annual billing and pay $9 for each agent. There is no minimum limit for agents, so you can get OneDesk for as little as $9 per month with a single agent seat. You have access to all features available, making this a considerably cheap investment especially for small businesses or solopreneurs who require ticketing.
Conclusion
OneDesk has the potential to become a better ticketing software with some effort. It's perfectly functional as it is right now, and while it doesn't offer all the multi-channel capabilities that some competitors do, you can get it for a very affordable price. OneDesk has a massive room for improvement when it comes to the ticketing system interface, but its current state doesn't have to be a deal breaker for everyone. Either way, OneDesk won't let you down where it counts and you can rely on it at all times.