Key takeaways
Pros
Amazing, simple to use interface
Good ticketing system with no clutter
All essential features are there
Cons
Lack of some advanced features
Might be too expensive if you focus on just the ticketing functionality
Getting started with HelpScout ticketing
Starting with HelpScout is easy thanks to the free trial option. The only limitation is that you have to use your company email address, as your personal email will be rejected. Once you provide your company email and other essential information, you will gain access to your new HelpScout dashboard almost immediately. You will also get the option to connect your email address with HelpScout, but you can skip this option and set it up later if you want.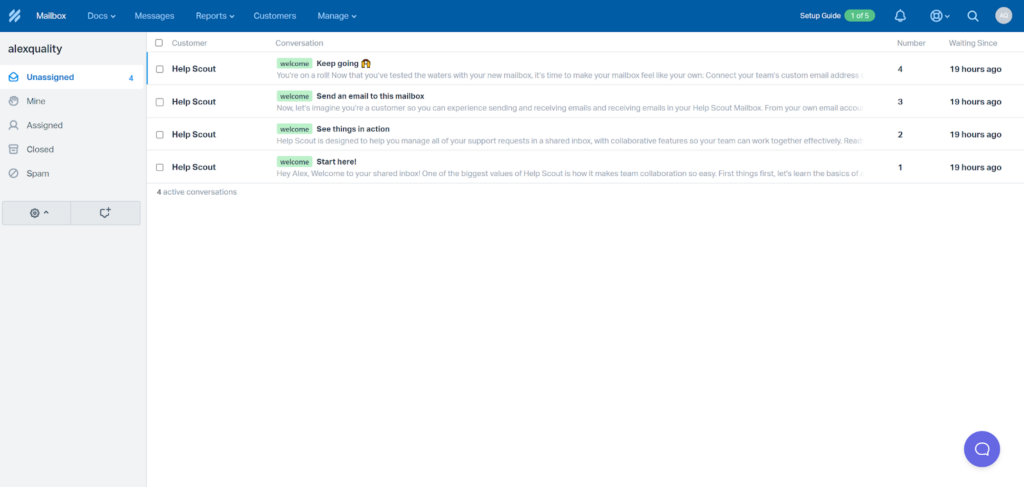 HelpScout takes you directly to the ticketing system, which is called the Mailbox. You can take a first look at the ticketing interface, or get familiar with the entire software first. You can access a setup guide at the top right corner. It consists of five steps that will help you take care of the basic configuration of HelpScout. I didn't find it especially helpful with ticketing setup, but you can take advantage of it if you want to get started with other HelpScout functionalities.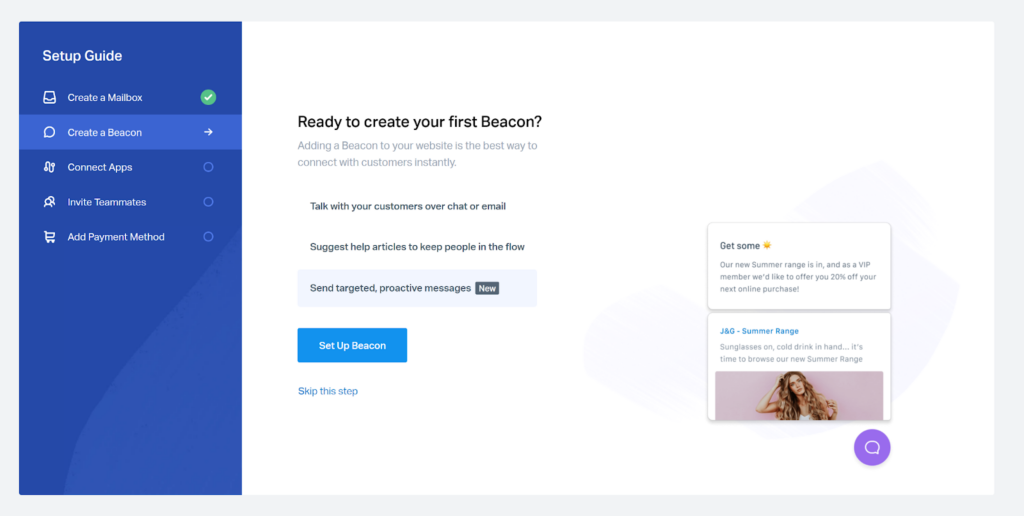 The entire HelpScout interface is pretty well designed. It's clean-looking with straightforward menu options for easy navigation and contrasting sections which bring attention to the right parts of the interface. You should have absolutely no problems navigating through the interface, especially since the ticketing system is the main screen. What's good too is that HelpScout allows you to create your new support email address during the registration process, so you're good to go as soon as you take a first look at the web application.
HelpScout ticketing system features
HelpScout offers a set of useful features that come in handy when replying to customer inquiries. You can take advantage of the shared inbox which supports some great collaboration features. You can manage ticket assignments to departments and individuals, as well as take advantage of private notes that can be used to share information between departments and agents.
Another interesting feature is saved replies. This feature allows you to browse through a library of commonly used answers to common questions. You can use these replies in a couple of clicks. It serves as a combination of a basic knowledge base, as well as the canned replies feature that's common in many other help desk and ticketing software. HelpScout also offers tagging for categorizing.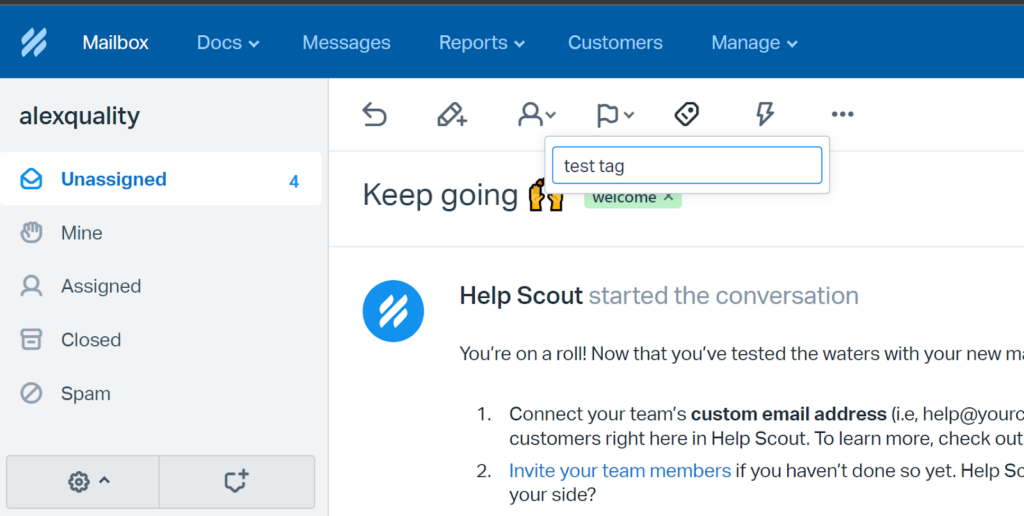 HelpScout also has customer contact management features that offer a decent overview of important contact information within each ticket. Last but not least, HelpScout supports workflows and automation features. You can use it to automate certain actions or send bulk replies to customer tickets.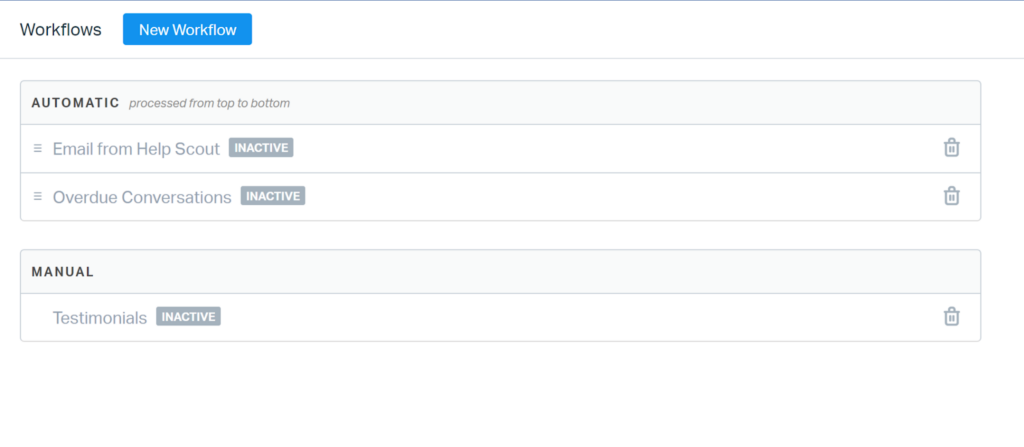 HelpScout ticketing system performance and user experience
The testing part of this review takes a look primarily at the agent experience of working with HelpScout ticketing system. I sent myself a couple of messages to test out the speed and general performance of HelpScout ticketing. The emails arrived quickly and without any hiccups. I was a little surprised to find out that HelpScout doesn't display images in tickets by default, you need to click on the option to display them. This is not necessarily a bad thing, it can help agents save data in case they're limited and working remotely via mobile hotspots.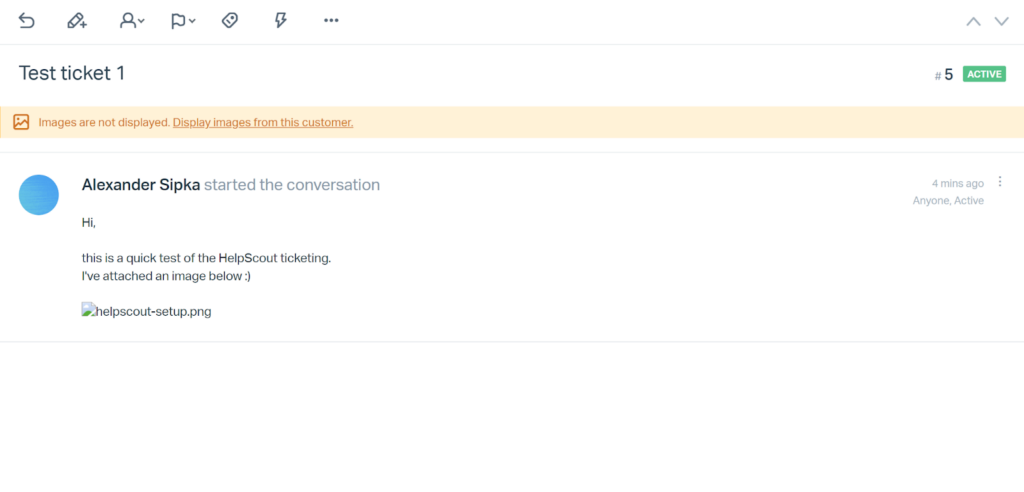 The ticket interface itself looks quite good albeit with some things that could be improved. For example, you can't reply to a ticket immediately after you open it. There is no visible field for replies unless you click on the reply button first. Only then you can start replying and get access to all text editing and formatting tools.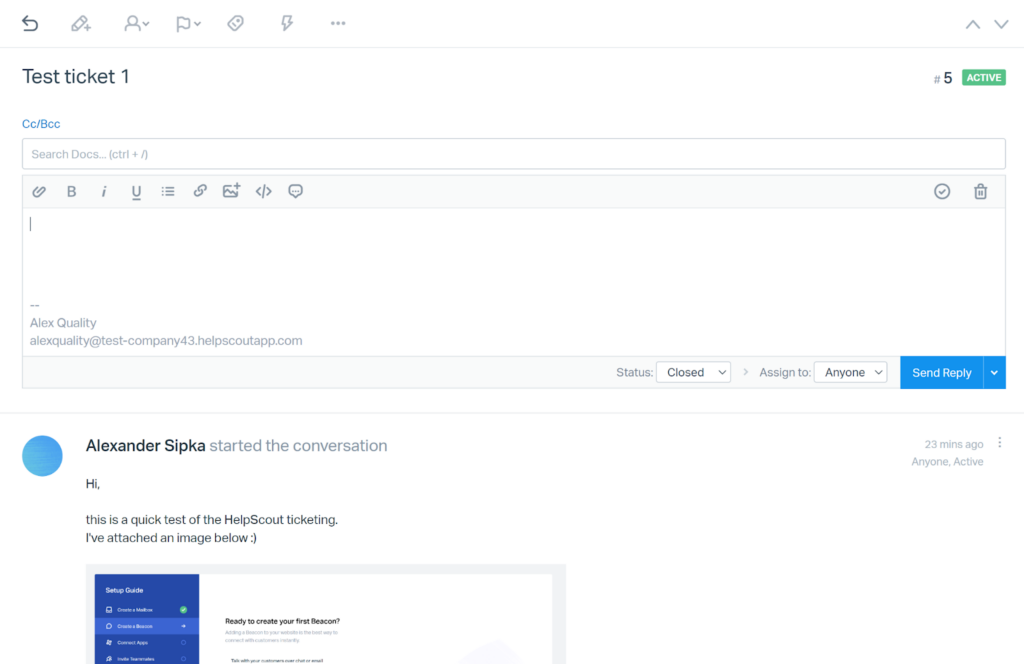 The selection of available tools for editing is sufficient enough to help you craft short and long structured messages. The ticketing features are alright, but HelpScout would definitely benefit from an update that would bring the communication options up to par with more elaborate ticketing solutions. For example, there is no option to split tickets, as well as no advanced filtering options or ticket search. However, you can still do a very good job with what HelpScout offers as a standard.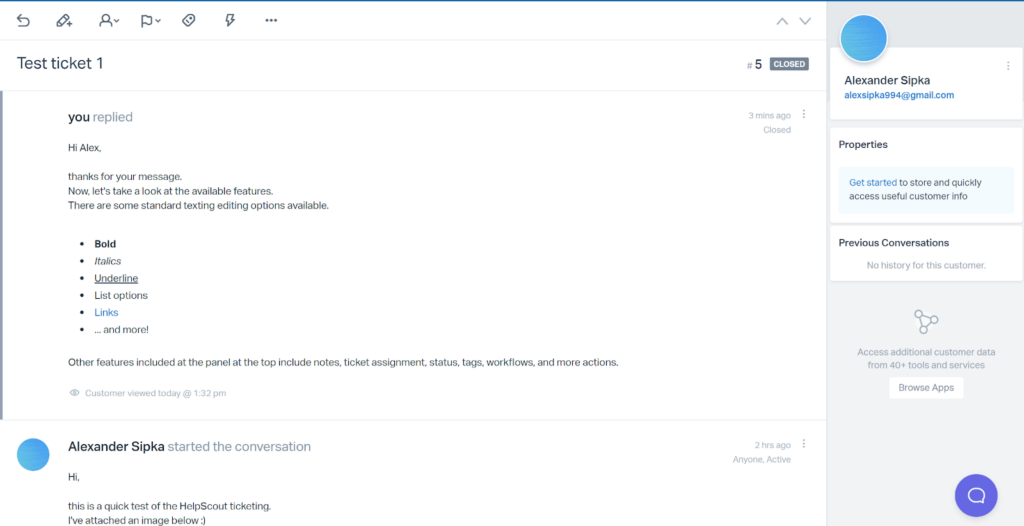 HelpScout automatically saves unsent replies to tickets as drafts so you won't lose your progress if you misclicked or had to handle more urgent issues. Once you send out your message, you can find it in the Closed tickets item in the left menu, if you selected the preset status. You can change what happens with an answered ticket thanks to the options available at the bottom panel of the ticket interface.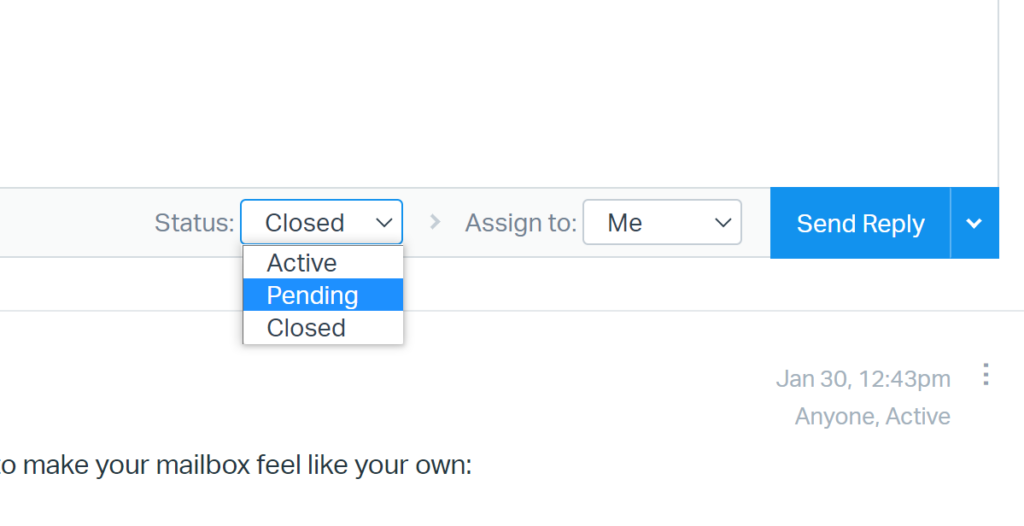 Overall, the HelpScout ticketing experience is pretty good, but definitely not the best among ticketing systems. It functions very well and you get all necessary features available in a very well designed interface. Even if HelpScout doesn't offer the most advanced feature set, you can definitely use everything at your disposal to communicate with customers effectively.
HelpScout Pricing
HelpScout offers three paid plans with differences in features and pricing. There is no free ticketing tool plan, but you can try out each one of the paid plans with a free trial. Each plan is suitable for a different type and size of business, mostly focused on providing necessary features for various use cases. Let's see what each plan offers.
Standard
The Standard plan will cost you $25 per month per user with monthly payments, or $20 monthly with annual payments. You get access to two mailboxes, one knowledge base, and you can add up to 25 additional users. HelpScout also offers a live chat, messaging, help widget, customized reports, workflows and automations, API, over 50 integrations, and more.
Plus
The Plus plan can be yours for $50 per month per user with monthly pricing, or $40 monthly with annual pricing. You will get five mailboxes, two knowledge bases, and no maximum limit for users. Additionally you can use advanced permissions, reporting history, advanced API access, more integration options, teams and more.
Pro
The Pro plan comes only with the annual subscription option. It costs $65 per month per user and it includes all features from the previous plans. Additional features include 25 mailboxes, 10 knowledge bases, enterprise security, HIPAA compliance, increased API rate limit, onboarding services, an account manager, account optimization reviews, and more.
Conclusion
HelpScout is a well-rounded ticketing tool that doesn't excel in any particular area. It focuses on providing a steady and effortless experience with just the right amount of features. The features are usable in most use cases and even though you might be missing some advanced features in certain situations, you won't find HelpScout to be poorly balanced. HelpScout is a great solution that offers ticketing, but its main selling point lies in other available functionalities.
Frequently Asked Questions
My ticket disappeared after replying in HelpScout

You most likely selected the option to close the ticket after replying to it. You can find these tickets in your Mailbox under Closed tickets. If you wish to change the ticket status, open the ticket and select the status options in the top menu bar. Switch the ticket status from Closed to Pending, or any other available option.

I can't see image attachments in HelpScout tickets

HelpScout doesn't show images in tickets by default. Instead it hides them and gives you the option to reveal them if you want to. Next time you encounter an image in the ticket, check for the option to show images in the top of the ticket view. Select the option to view images.